This article provides tons of details on the best Pasadena hikes and walks!
I am pretty sure you have heard about Pasadena.
The city takes the spotlight every January 1st because of the Rose Parade, an event that has taken place since 1890.
If you are not from the Los Angeles area, you may not be aware that Pasadena is located on the foothills of the San Gabriel Mountains and surrounded by other minor mountain ranges.  
Therefore, the nearby hiking, camping, and outdoor activities are innumerable.
Here is a compilation of the best Pasadena hikes!
Please note: This article contains affiliate links, meaning I may earn a commission if you make a purchase by clicking a link. Of course, this comes at no extra cost to you and helps me to keep offering solid information to readers.
About These Pasadena Hikes
Pasadena is a city located in Los Angeles.  It is well-known because of the Rose Parade, Rose Bowl, NASA's Jet Propulsion Lab, and California Institute of Technology (CalTech).  The city is located about 35 miles from Anaheim, 130 miles from San Diego, and only 11 miles from Downtown Los Angeles.
This article focuses on hiking in Pasadena.  I will cover a bit of hiking near Pasadena as well.  Not all recommendations will fall within city limits.  But, I promise I'll keep my recommendations within a few miles from the city center.
Pasadena Hikes: Best Trails and Hiking Areas
Let's get to the fun part of the article.  Here's a handpicked list of some of the best Pasadena hikes to try on your next visit.
Lower Arroyo Seco Trail
Distance from Downtown Pasadena: 3.5 miles
When in Pasadena and its surrounding communities, you will probably hear the term "Arroyo Seco" a lot. 
This stream, which ironically is called "Dry Creek" in Spanish, originates in the San Gabriel Mountains and meets the Los Angeles River around the Downtown LA area.  It flows for over 20 miles.  There are several trails from which the Arroyo can be enjoyed.
One of those trails is the Lower Arroyo Seco Trail, a 3-mile loop located on the western side of Pasadena.  This trail is considered easy and suitable for people of all ages.  Dog are allowed (on-leash).
There are many ways to access this trail but I recommend starting close to the intersection of San Pascual Avenue and Arroyo Drive (close to the San Pascual Stables).  Walking north, you will encounter La Loma Bridge and Colorado Street Bridge.  The first bridge restored a few years ago, features beautiful neoclassical architecture.  
The second bridge, a stunning structure composed of several arches, has appeared in numerous movies, TV shows, and music videos (from Charles Chaplin's movies to La La Land).  We can say the Colorado Street Bridge is an icon of the Los Angeles area.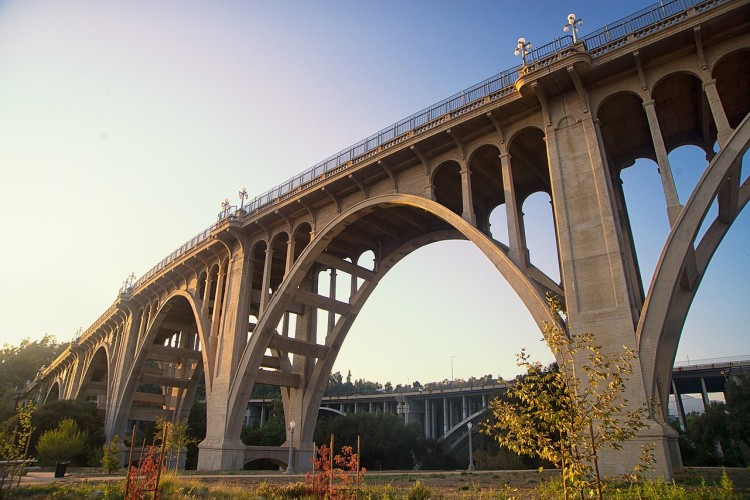 Photo by Kleaphotographer
Rose Bowl Loop
Distance from Downtown Pasadena: 2 miles
Not really a hike, but this 3.2-mile circuit around the Rose Bowl Stadium is more suited for walkers, joggers, and cyclists. It can get crowded during weekends, and being so close to the street, it may not be ideal for small kids. There is plenty of parking space, but check out if there any events planned for the day first.
For those that want to avoid crowds, there is an alternate route that borders the Brookside Golf Country Club (this route is mostly shaded). Cross West Drive using the crosswalk just north of the stadium and step into the path to begin your walk. Expect some stream-crossing if you visit after a storm.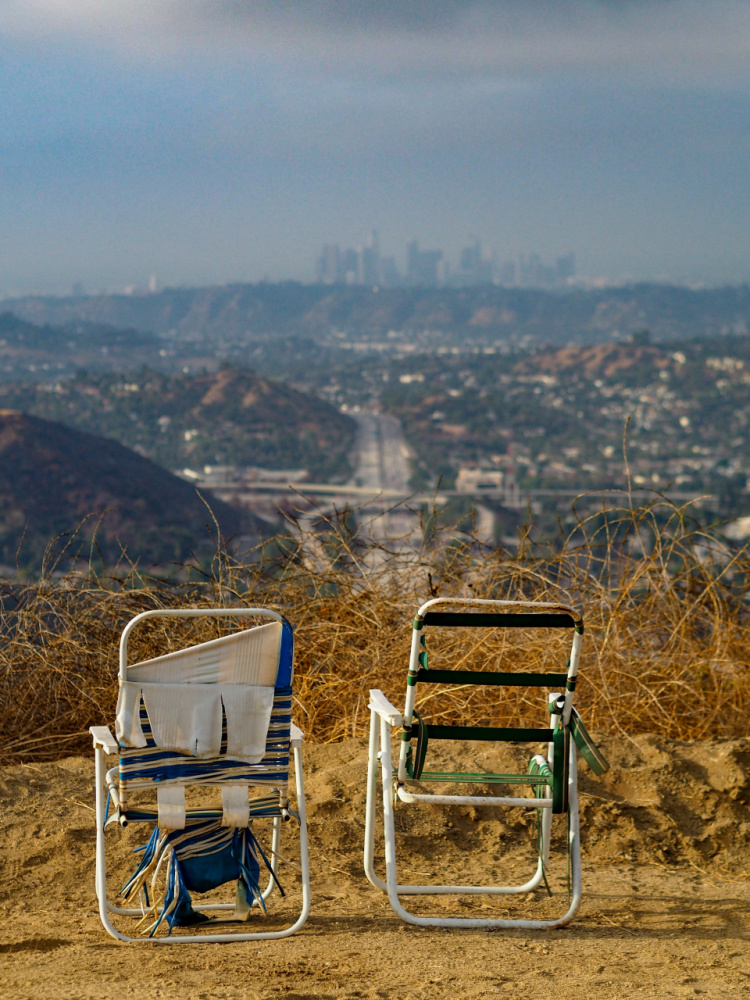 Eaton Canyon
Distance from Downtown Pasadena: 6 miles
There are several trails one can complete in Eaton Canyon, with the most popular being the Waterfall Trail. It is a clearly marked trail, ideal for the entire family and beginner hikers. It is 3.5 miles long (roundtrip) and, at a leisurely pace to take in the scenery, it should take approximately 2 hours to complete. 
Entry is free and booking a day in advance is essential as no same-day walk-ins are permitted. Pets must be on a leash.
There are great views of the San Gabriel and Santa Monica mountains along the way, with the highlight being the beautiful 40-foot waterfall and pool at the end (where one could stop and cool off). 
During spring the landscape becomes ablaze with colorful wildflowers everywhere. The first section is pretty flat and easy, but once you enter the canyon, it gets a little rugged and the scenery spectacular. There will be some boulder hopping and streams to cross, so wear decent hiking shoes and carry an extra pair of socks.
Parking and bathroom facilities are available at the entrance to the Eaton Canyon Nature Center. 
This trail can become a little crowded during weekends but less on weekdays.  The trailhead is located at 1750 North Altadena Drive Pasadena, and reservations can be made online at https://reservations.lacounty.gov 
Important Note: There are other waterfalls in the canyon but there is not a safe way to reach them.  You may notice people climbing and scrambling to reach these other spots.  Please be safe and limit yourself to the established trails.
Read More: Hiking to Eaton Canyon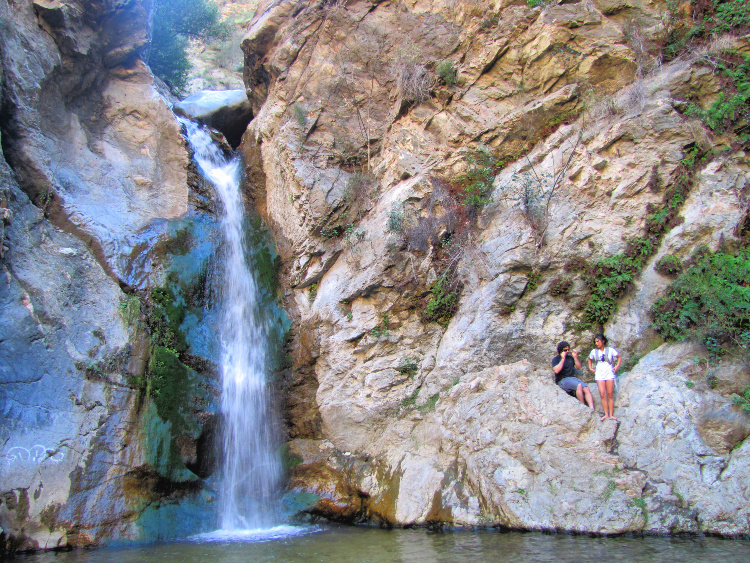 Eagle Rock Canyon
Distance from Downtown Pasadena: 5 miles
Eagle Rock is a big, dome-shaped promontory.  It has been declared a historical landmark since there is nothing like it in the area.
Eagle Rock Canyon Trail leads to viewpoints above the rock.  From the top, there are views of the Hollywood Hills, Pacific Ocean, and even Catalina Island.
The trailhead can be accessed from Scholl Canyon Drive or Eagle Rock View Drive.  Look for the Richard Alatorre Park.  Parking is on the street.  Dogs are allowed on leash.
After parking, follow the signs for the trail.  The trail divides into two early on.  Both legs will take you to panoramic views.  The right leg climbs fast while the left leg has switchbacks that allow for a more gentle climb.  In total, expect to walk 1 to 1.5 miles depending on the route you take.
The walk is rated easy but caution should be exercised since there is loose terrain in some spots.
Note:  Do not get confused! The is a rock formation called Eagle Rock in Topanga State Park.  And, there is another one in San Diego County.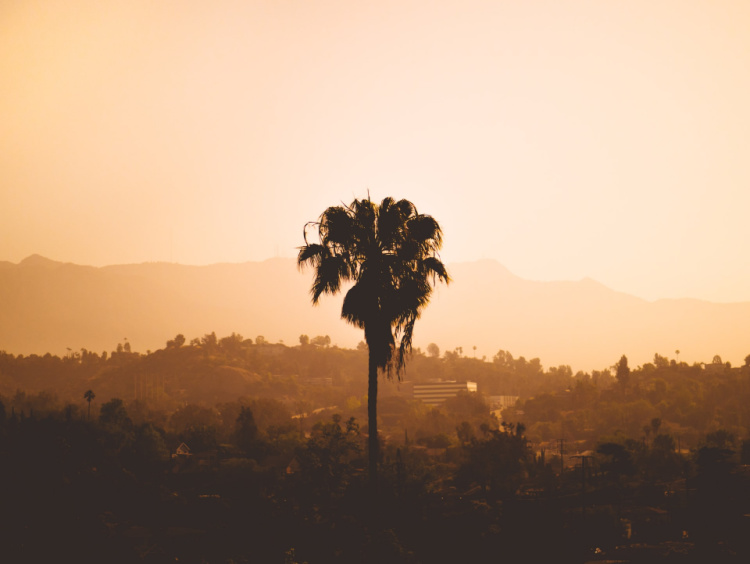 Hahamongna Watershed Park
Distance from Downtown Pasadena: 5 miles
Hahamongna is a large park surrounding the Devil's Gate Reservoir.  The reservoir was formed when the Arroyo Seco stream was damned (the dam can be seen in the south end of the park).
There are several trails around the park including one where the entire perimeter can be walked. 
Expect to walk 2 to 5 miles (depending on how far you want to go).  This walk is considered easy.  However, be prepared for some sandy spots and lots of sun exposure.  The trail system can be accessed from the east entrance parking lot or from the Windsor Avenue parking lot (west side).
The trails on the south part of the park are open and dusty. On the contrary, north side trails offer shade since there are plenty of mature trees along.  Keep that in mind when trying to decide which way to go.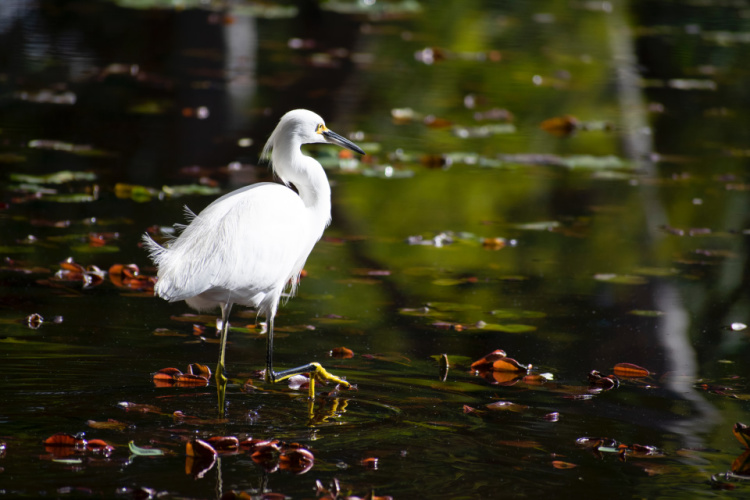 Gabrielino Trail
Distance from Downtown Pasadena: 5 miles
The Gabrielino Trail extends for about 29 miles through Angeles National Forest.  It covers the mountainous terrain in a semicircular way.  Most people tackle the trail in two or three days since there are campsites along the way.
If you are an experienced hiker you can give the entire trail a go.  But, if you are less experienced (like me), I recommend hiking the portion of the trail starting at Hahamongna Watershed Park and ending at Brown Mountain Dam. This hike is rated as easy.  Total mileage comes to about 9 miles and even though that sounds like a lot, you can be done in under 4 hours.  Plus, you will enjoy the lush foliage, a stream (the famous Arroyo Seco), and water falling from the dam for the grand finale.
Access the trail from Hahamongna's Windsor Avenue parking lot.  Make sure you bring a pair of waterproof or water-resistant shoes.
El Prieto Trail
Distance from Downtown Pasadena: 5 miles
This is yet another hike that can be started from Hahamongna's Windsor Avenue parking lot.  After parking, take the Gabrielino Trail.  After walking for about a mile, you will see signs pointing to "El Prieto."  This trail is rated moderate and covers about 6 miles (roundtrip).
The route I am suggesting goes till the junction of El Prieto Trail with Fern Truck Trail.  You can go back the same way or connect with El Prieto Road.  This is what some call El Prieto Loop.  
Once on the trail, you can connect with many other trails in the forest.  I recommend getting familiar with the trails, bringing a map, or downloading a map to your phone prior to hiking.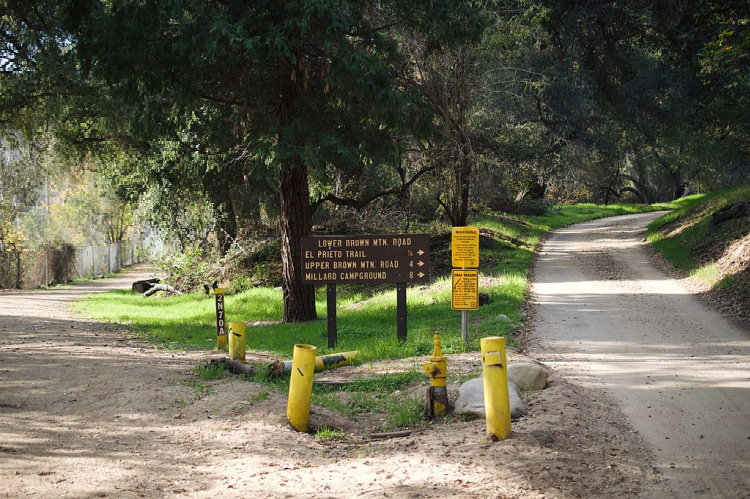 Photo by Levi Clancy
Echo Mountain via Sam Merrill Trail
Distance from Downtown Pasadena: 5 miles
For amazing views of Pasadena, its adjacent cities, and even Downtown LA, head to Echo Mountain.
There are many ways to reach the top but starting at the Sam Merrill Trail seems to be one of the best ways to go.  The trailhead is located close to the intersection of Loma Alta Drive and Lake Avenue.  Make sure you are taking the correct trail since the trailhead to the Cobb Estate Trail is located in the area as well.
Once at the trail, it is about 2.5 miles to the top (5 miles roundtrip).  This hike is rated moderate since the elevation is gained gradually.  Keep in mind it can be hard for untrained hikers. Close to the top, you will need to connect to the Mt Lowe Railway Trail.  
Good hiking shoes are recommended.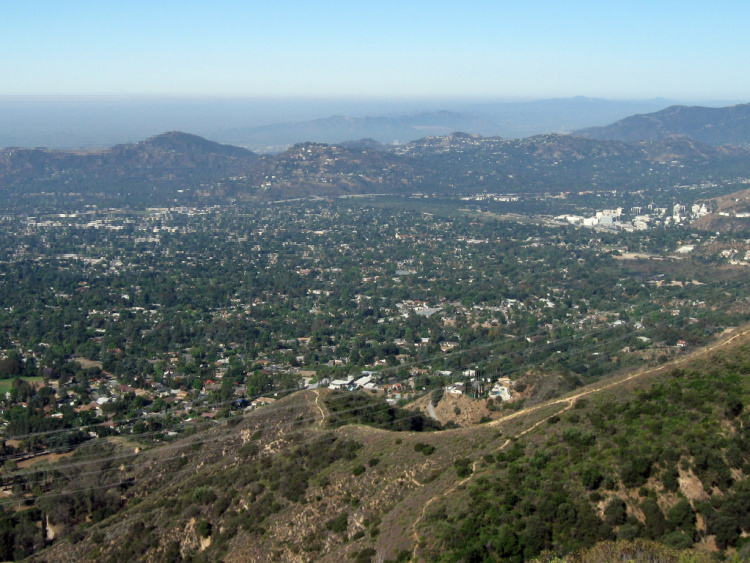 Photo by Mitch Barrie
Altadena Crest Trail
Distance from Downtown Pasadena: 6 miles
This is another trail offering panoramic views of the valleys adjacent to the San Gabriel Mountains.  The hike is rated moderate and has a length of 2 miles (4 miles roundtrip).
You start from the Zane Grey Trailhead (Zane Gray Terrace road) or Pine Crest Trailhead.  This second trailhead is located close to the Eaton Canyon Falls starting point.
Ernest E. Debs Regional Park
Distance from Downtown Pasadena: 5 miles
This big park located between Dodger Stadium and Pasadena is home to an Audubon Nature and Science Center, picnic spots, sports fields, trails, bike paths, restrooms, and a fishing pond.
Easy hikes in the park include the Wild Mustard Loop (2.3 miles roundtrip) and Peanut Lake (2.3 miles roundtrip).
Moderate hikes include the City View, Walnut Forest, and Scrubb Jay Trails.
Using the designated trails, you can complete a 5-miles park loop.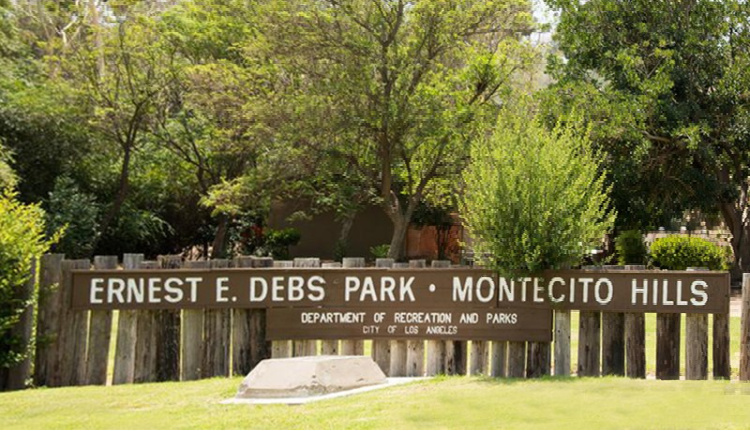 Photo by Phatblackmama
Secret Stairs
Distance from Downtown Pasadena: 5 miles
What about an urban hike involving stairs? 
If you are up for it (pun intended), head to the corner of La Loma Road and Elmwood Drive on Pasadena's western side.  On Elmwood Drive, you will find a set of stairs leading to Redwood Drive.  It is about 100 steps to make it to the top.
But, that is not all.  Once on Redwood Drive, the stairs continue all the way to Cherry Drive.  That is an additional 266 steps.  You will have views of nearby Eagle Rock from that vantage point.
Other than the views, you will be able to experience a mix of architectural styles, mature trees, and gardens.  And, maybe you will also experience dreams of living in such a cute neighborhood. But, that is another story.
You can go back through the same route or make it a loop using this story from Weekend Sherpa as your guide.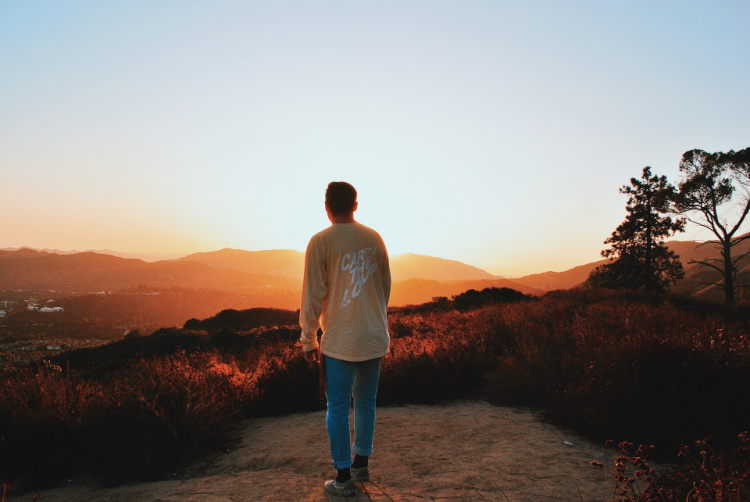 Bailey Canyon Wilderness Park
Distance from Downtown Pasadena: 7 miles
In this beautiful park nestled against the San Gabriel Mountains, you have access to two trails.  The Live Oak Self-guided Nature Trail goes for an eighth of a mile.
The Canyon View Nature Trail takes you through a canyon and footbridge to a small waterfall (seasonal).  The length of the hike is about 1 mile (roundtrip).
This trail connects to the Jones Peak Trail.  The combination of Bailey Canyon and Jones Peak is rated as hard.  It is a 6 miles trip (out and back, 2200 feet elevation gain).  Even though is considered difficult, hikes rave about the views.  In some cases, it is used to train for more difficult trails.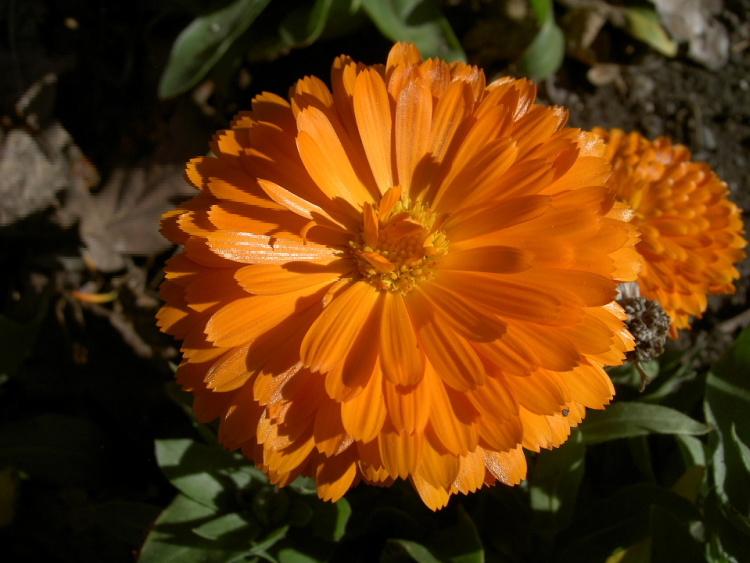 San Rafael Hills in Glendale
Distance from Downtown Pasadena: 7 miles
The portion of the San Rafael Hills located in the city of Glendale (east of the Glendale Freeway) is full of well-maintained trails.  I recommend taking a look at a trail map before heading to the area since there are many routes.  A map can be found here.
One of the most popular routes starts close to Descanso Gardens and takes hikers all the way to the Lookout Fire Tower on Cerro Negro.  This is an approximate 5 miles roundtrip hike.  The hike is rated moderate but it can be difficult for those who do not hike often.  Keep in mind a lot of these trails have been designed for bikes.  Therefore, be ready to share to yield to bikers.
Another popular route starts from Cherry Canyon Park or Trailhead (around 4157 Hampstead Rd).  From the Cherry Canyon Motorway, hikers connect to the trail which takes them to the Cerro Negro Tower.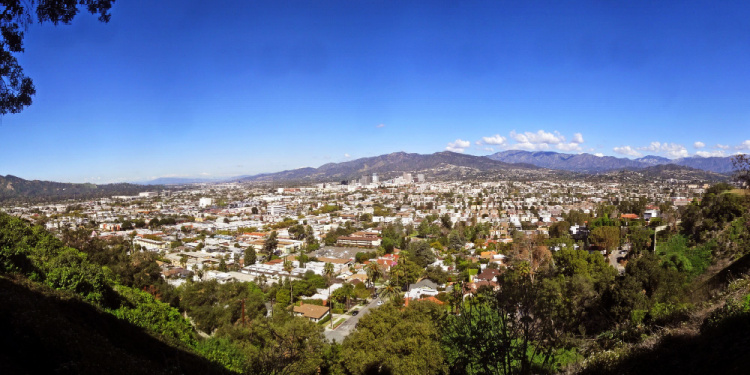 Photo by Vahe Martirosyan
Sturtevant Falls
Distance from Downtown Pasadena: 12 miles
Here in Southern California, we love our waterfalls.  Maybe it is because we do not have a lot of them.  That is why I am including another waterfall hike.
The hike to Sturtevant Falls starts from the Chantry Flats Recreational Area.  Remember the Gabrielino Trail? Well, this is the eastern start/terminus of the trail (the western one is located in Hahamongna Watershed Park).  As you can see, this is a super popular hiking gathering spot.  The parking space fills quickly during weekends and holidays.  Head to the area early if you are visiting during one of those days.
From the trailhead, it is about 2 miles to the base of the 50-foot waterfall (4 miles roundtrip).  This hike is rated moderate.
Some people are brave enough to get under the icy waters.  If you want to do this, keep in mind there are no facilities once on-site.
Also, many sources describe this waterfall as perennial (flows all year long) but the flow during summer can be minimal.  Just a heads up since I do not want you to be disappointed.
From Chantry Flats, you can start the hike to Hermit Falls, a small waterfall with a swimming hole, as well.  This is a 2.5 miles (roundtrip), moderate hike.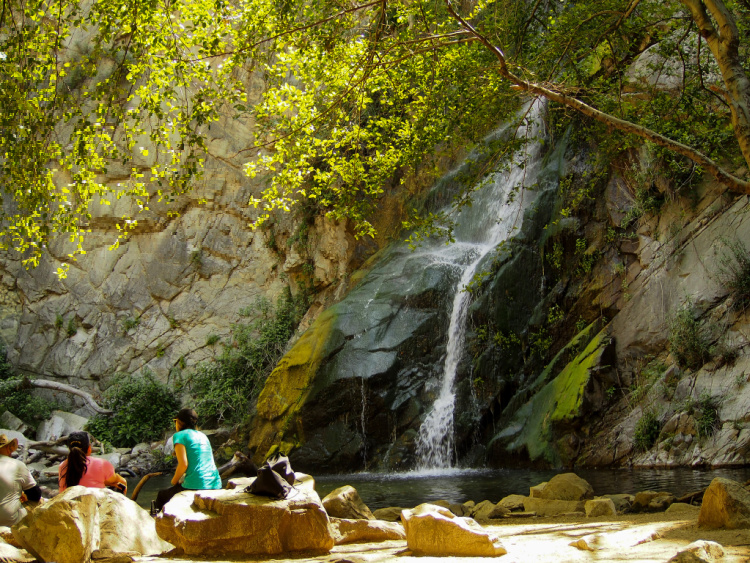 Photo by Person-with-No Name
Pasadena Hiking: When to Hike
Pasadena's summer temperatures range from 80 to 90 degrees Fahrenheit.
Based on those numbers, I would advise hiking in Pasadena during spring, fall, and winter.  Keep in mind your body may feel temperatures higher than what they are.  Also, most of the trails at lower elevations do not have shade.  You will be hiking under direct sunlight.
If you want to hike during summer, hit the trails before or after the daily maximums (early morning or late afternoon). Or, concentrate efforts on Pasadena's mountain trails.
Important Note: I recommend NOT hiking when temperatures are over 100 degrees Fahrenheit.  Of course, the exception is shaded trails.  Always check weather conditions before leading to a trailhead.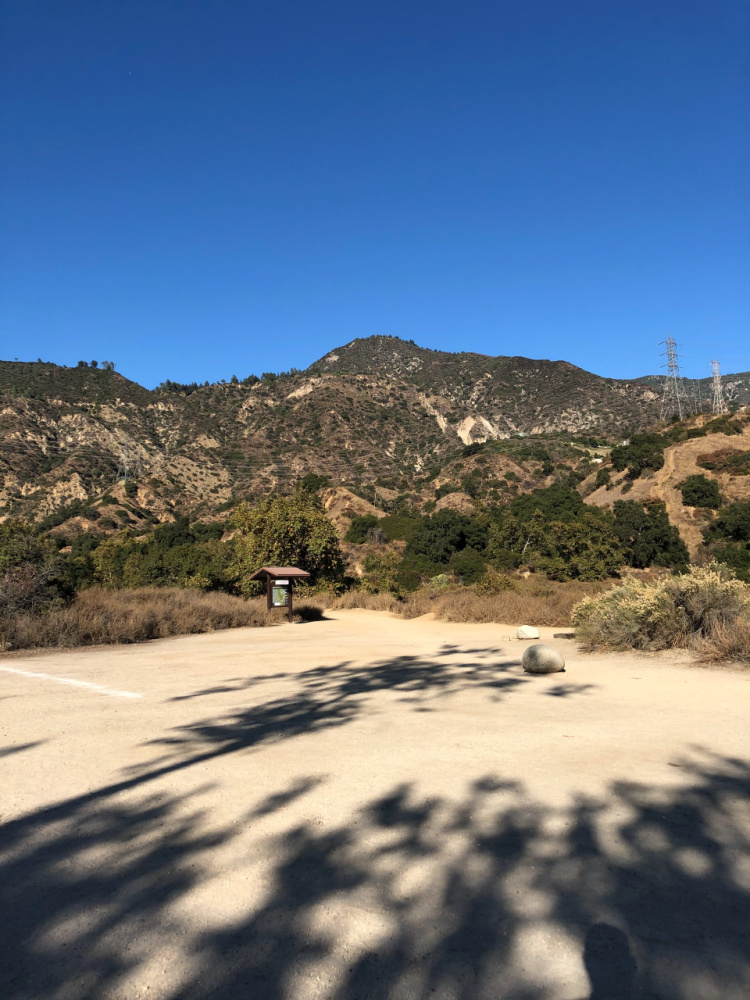 Hiking Gear
Having the right gear can make your life way easier.  Check out below my recommendations when it comes to hitting the Pasadena trails.
Hiking Shoes – Wearing the right shoes is essential when hiking.  I recommend investing in a good pair.  Merrell shoes have always been good for my crooked feet.  Not long ago, I was using tennis shoes to hit the trails.  That was until I hurt my left foot.  Since then, hiking shoes have done wonders for me. >Check out my hiking shoes
My husband is more of a fan of the Salomon brand when it comes to hiking.  >Check out Salomon hiking shoes
Hiking Socks – Wool hiking socks provide support, cushion, and prevent blisters. EnerWear sells an excellent 4-pair set for a good price.  >Check them out here
Insoles – Insoles are another way to protect your feet when hiking.  They do a great job absorbing shock.  Walk Hero's insoles have some of the best ratings in the market.   >Get them here
Crossbody Bag – I take the minimum with me when I go on trails.  I keep everything organized in a small Herschel crossbody bag.  >Buy this great crossbody bag here
Day Pack – My husband prefers to take a small backpack to carry drinks and essentials.  >Buy a lightweight, water resistant day pack here
Hiking Poles – Hiking poles are lifesavers on trails with an incline (more if you have wobbly knees). TrailBuddy's trekking poles are such a great help. >Check these hiking poles
Sun Block – Do not leave the house (or the car) without applying sunblock.  I repeat, always wear sunblock when outdoors. >Buy sun block here
Lip Balm with Sunscreen – Protect your lips by applying a balm with sunscreen. >Get one of the best lip balms here
Wide Brim Hat – A wide brim hat is a great way to protect your scalp, face, and neck.  The ones manufactured by FURTALK come with an anti-UV function.  >Buy this amazing hat here
Sunglasses – These are another must when it comes to protecting from the sun.  A polarized, sporty pair works better for hiking. >Take a look at this wonderful pair
Water Bottle – Do not forget to bring water! Keep yours cold by taking a beautiful Hydro Flask water bottle.  >Check out the insane options her
Snacks – It is a good idea to carry snacks such as granola bars, protein bars, trail mix, nut, and jerky
Camera – I have never gotten used to taking pictures exclusively with my phone.  I prefer to use the Sony Alpha a6000.  It is compact and takes gorgeous pictures. >Buy Sony Camera here
After reading this article, I hope you are excited about hiking in Pasadena!
Hiking in Southern California
More of Southern California
Los Angeles Ultimate Bucket List
Ultimate San Diego Bucket List
150+ Places to Go in Orange County
200+ Places to Visit in Santa Barbara
What are your favorite Pasadena hikes?
Pin "Best Pasadena Hikes" for later!