My relationship with horses has been tough since one of those four legged creatures threw me into a pile of mud a couple of years ago in Costa Rica.  Since that, I have been hesitant to ride a horse.
That doesn't mean I have steered clear from those beautiful beasts.  As a matter of fact, I became very excited with the idea of visiting the Quicksilver Ranch in the Santa Ynez Valley.  This particular area has a long history of western traditions.  I was able to observe cowboy style towns, horse ranches and carriages.
Quicksilver Ranch has contributed to maintain the area heritage but has also given a twist to the horse breeding business.  The place is dedicated to breed fine, miniature horses.  Yes, you read right.  Adorable horses roam among rolling hills, shady oaks and perfectly planted vineyards.
If you take Alamo Pintado Road from Solvang towards Los Olivos, the ranch is easily spotted on the right side (ask for directions in Solvang's visitors center).  The best part is that you can get pretty close to the horses for free.
The ranch is not a petting zoo or amusement park.  After parking inside the facilities, it is possible to walk around the pens and observe the horses.  A lot of people stop on the street to take a look but I do not recommend this for security reasons.  Walking around is not going to take long (unless you are with kids).
The pens are large.  Therefore, the horses have plenty of space and shadow to move around and rest.
I wasn't expecting to see that many horses (more than 50).  What is more, the bigger pens were occupied by mares and their foals!
The foals were so cute and funny. They were twisting and turning into the ground like puppies.  At all times, they were keeping their mothers in sight.  One playful foal jumped around while his mother was flirting with a male in another pen.
The Santa Ynez Valley is one of the most beautiful and peaceful places I have visited.  These little horses add another wonderful dimension to this already magical place.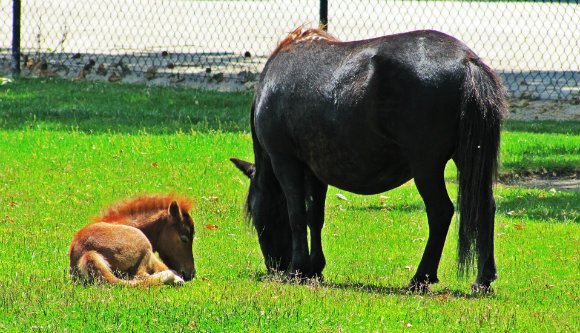 Have you visited miniature horses?