The signs urging visitors to visit "the real ghost town" intrigued me.
I was already walking the streets of a presumably haunted town full of ruins and structures hanging from a 5,000 feet high mountain.  The galleries, coffeehouses, restaurants and historic buildings of Jerome, the old mining town overlooking the Verde Valley, had me fascinated.
But according to the signs, there was more to be discovered.
In a blink of curiosity, we followed the signs leading through Jerome's slender streets.  A short one-mile ride allowed us to see multi-colored mountains and old machinery. The sun-bathed valley floor appeared to the right.
Once we arrived to a spot full of antique cars (in a surprising good condition) and dusty buildings, I got the impression that we were headed to a tourist trap.
We decided to give it a try anyway.
After joking a little bit with the attendant, proving we were under 65 and paying a small fee, we were able to enter the King Gold Mine.
Now, I do not how to describe this place.  Think about it as an area covered in 1900s machinery, wood shacks and tons of antique vehicles.  Then, add all kinds of rusty tools, tanks, buckets, oil pumps, barb wire, chains and hens running around. Think about chaos, disorganization and a high level of despair. It is like a plague or some sort of natural disaster hit a town.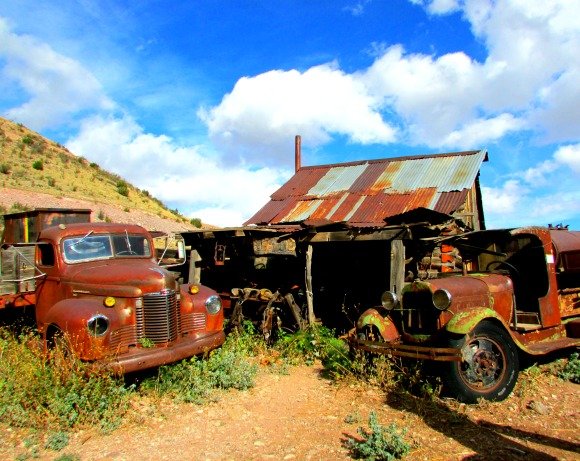 I have probably described the place in a very grim way but I ended up enjoying every corner of it.  I know it sounds crazy.  However, in my opinion, the place gives you a good idea of how the people at the beginning of the 1900s used to live in a mining camp.  In addition, it is interesting to see some of the old machinery still working.
Turns out this place, which nowadays is a tourist attraction, used to be a town called Haynes (Arizona).  In 1890, it was the home of the Gold King Mine and a bustling suburb of Jerome. Astride one of the richest copper deposits in history, the Haynes Copper Company sank a shaft 1200 feet into the mountain. Though they didn't find copper, they got even luckier and discovered gold. In 1901, it boasted a population of 301 people. Even though it was so close to Jerome, it boasted its own post office from 1908 to 1922.
But, for Haynes, like Jerome and other area mines, the ore wouldn't last forever. By 1914, it was called home to only 14 people and soon emptied out completely. In the 1960s it was sold and turned into what we can see today.
In the area, you can still see some original buildings like the blacksmith shop.
The sawmill is from the beginning of the century too.  People in the area still use it to get lumber.
Other buildings were brought from other camps and bought to the site.  For example, they have a dentist office (in reality a small shack).  The chair and equipment can be seen inside.  I still have nightmares thinking about the anesthesia free procedures performed with the knives seen in the photo below (look at the right side).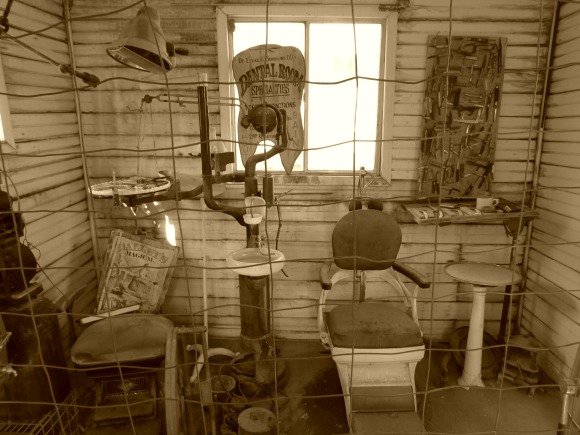 You are able to peek inside the shoe repair shop and the jail.
It was interesting to take a look inside the school house.  Desks, toys, a map in the wall and kid's paper projects are inside.
Of course, the huge machinery used to run the mine is there.  If I am not mistaken, it is possible to walk inside the mine too.  I guess I didn't feel like taking advantage of that feature (maybe because of sanity reasons).
I was surprised to see the huge amount of two and four wheels vehicles present in the lot.  They had the following:
Cars
Pickup trucks
A tanker
A police car
A race car
Motorcycles
A tricycle
Vans
A school bus
Tractors
A firefighter car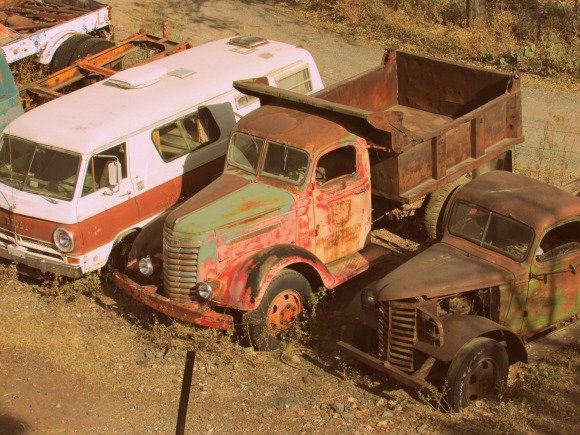 I felt like in a scene of the movie 'Cars.' Most of the vehicles are in pretty good conditions.  It would be cool to take them for a ride around the surrounding scenic area.
After about an hour wandering around, we continued our journey to the Mingus Mountains with a better understanding of life during the old mining days.  Jerome is fantastic but the King Gold Mine adds its own unique twist to the intriguing history of the area.
Details
Address: Perkinsville Road, Jerome, AZ
For directions, follow the signs in located throughout Jerome.
There is a fee to enter the place (about $5 for adults)
Have you been to a ghost town?