I have always loved the scrumptious Danish butter cookies, the ones which come in a nearly impossible to open blue tin. My siblings and I were in trouble every time my Dad bought a tin.  We ended up grounded because of the fights emerging due to the difficult task of deciding how many each of our favorites we were going to eat.  I have always preferred the ones with the sugar crystals on top.
The battles and indecisions moved into adulthood.  I discovered my husband is obsessed with the cookies as well when I brought a tin home.  We had to set a limit on how many we were allowed to eat at a given time.  In our defense, I have to say the childish behavior is not our fault.  Why are those cookies so addictive?
Since I have confessed my debility for these sweets, imagine my surprise when a hotel attendant gave me a bag of fresh butter cookies in Solvang, the Danish village at the heart of Santa Barbara County.  If the cookies coming in a tin are delicious, the freshly baked specimens are mega delectable.  They are melt in your mouth goodness (it is so sad when they are gone).  And yes, I had to share the cookies with my other half.  Not even the celebration of my birthday sent an ounce of compassion to my cookie hungry husband.
Solvang is full of authentic Danish bakeries.  The owners are third and fourth generation Danes that use centuries old recipes and premium ingredients in their products.   In the small village, full of fairy tale like buildings, it is possible to enjoy flaky pastries, butter shortbread, napoleons, chocolate éclairs, kringles, marzipan, almond rings, cakes, cookies, tarts and breads.  To make things more mouth watering, tourism officials have put together a Sweet Treat Trail with the purpose of spreading the village's traditions and helping visitors to enjoy top quality offerings.
Traditional Danish Bakeries
For authentic Danish sweets and breads visit the following bakeries:
–          Olsen's Danish Village Bakery – One of the oldest and most popular bakeries in town.  They specialize in kringles (pastry filled with almond paste, custard cream and raisins), Danish pastries filled with every fruit you can imagine, cream puffs, butter ring or seven sisters (coffee cake, almond paste and custard cream), Danish waffles, pumpernickel and cardamom bread, kransekage (tower made with individual pastry rings) and much more.  Don't forget to get your tube of butter cookies (contains 5 dozens).
–          The Solvang Bakery – They specialize in almond kringles, strudels, butter rings, owl eyes, fancy tarts, napoleon hats and much more.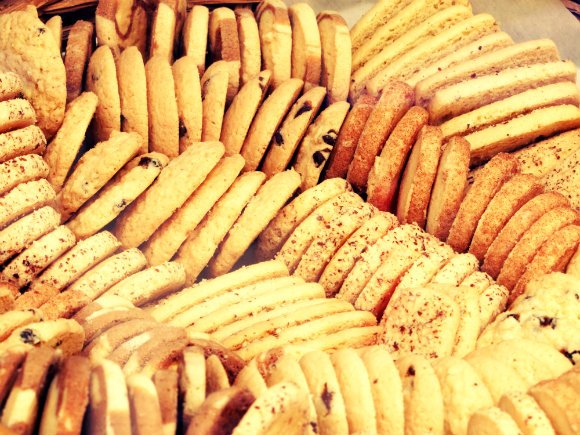 –          Danish Mill Bakery – Another place to get pastries and butter cookies.
–          Mortesen's Danish Bakery – Family owned business founded by a baker from Copenhagen.
Danish Chocolates
–          Ingeborg's – This chocolate factory was first opened in 1961. The traditional chocolate recipes were first brought to Solvang by Ingeborg Larsen, a chocolate dipper in one of Denmark's largest chocolate factories. Nowadays, 70 different types of handmade chocolates are offered.
Aebleskievers
These traditional Danish pancakes in a distinctive shape of a sphere deserve to be mentioned on their own category.  They are slightly toasted on the outside, soft on the inside and covered in raspberry jam and powdered sugar.
The little balls are one of the most famous things to try on Solvang.  Their photos are everywhere (they even are featured in postcards). I tried them at The Solvang Restaurant and have to say they were pretty good.
Stores in town have a special window in the front from where you can order aebleskievers (think of a drive-thru for humans).  Therefore, you don't have to sit down on a restaurant to enjoy the treats.
Ice Cream
–          Café Dolce – This store offers gelato, smoothies, vegetable juices, shaved ice and coffee.
–          Whip-a-Peel – Ice cream and yogurt.
Other Sweets
–          Candy Shop – Candy and Fudge
–          Enjoy Cupcakes – Cupcakes
–          Rocky Mountain Chocolate Factory – Popcorn, dipped apples and strawberries
Additional Information
–          Find a map of the Sweet Treats Trail here.
–          Stop at the visitor's center for recommendations and coupons.
–          Some hotels include complimentary breakfast at one of the town's bakeries.  Do not skip it.
Have you tried any of these sweet treats?
Photo Credits: First Photo, Photos under chocolates headline 1, 2