This article provides details about Little Corona del Mar (beach, tidepools) and Inspiration Point.
Corona del Mar (Crown of the Sea) is a neighborhood (some even say a town) belonging to Southern California's renowned Newport Beach.
The small community is notorious for its elegant mansions, gardens filled with native plants, high profile shopping, and surf breaks.
I came to the area with the desire to take a look at a cove protected by cliffs where tide pools abound and a natural arch rises from the waves.
I wanted to explore Little Corona del Mar.
Little Corona del Mar
Little Corona del Mar is an interesting option for those wanting to avoid the area's crowded beaches.  
Corona del Mar occupies the southernmost part of Newport Beach.  On its shores, you can visit China Cove Beach and Corona State Beach.  These provide all sorts of amenities and, as a consequence, see a lot of visitors.
Little Corona del Mar, which can be seen as a cove, is more secluded. The coast here is rugged and cliffy.  
Before heading down to the beach, you are going to bump into Inspiration Point.  From here, you can take a look at the turquoise waters of the cove and Arch Rock looming in the distance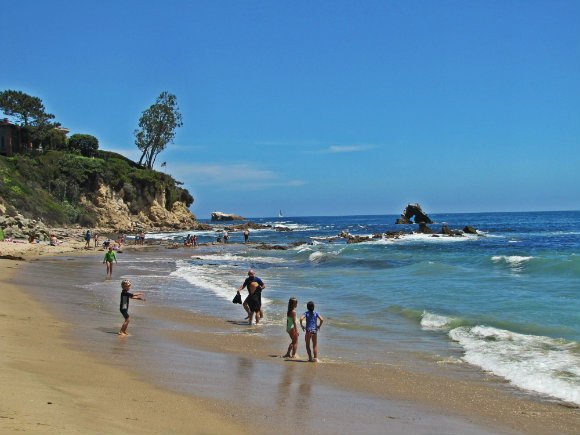 The cove or beach is full of tide pools.  These are some of the best pools I have visited in Southern California. I saw starfish, anemones, crabs, and more sea creatures.  You just need to time your visit with the tides in order to make the most of the experience.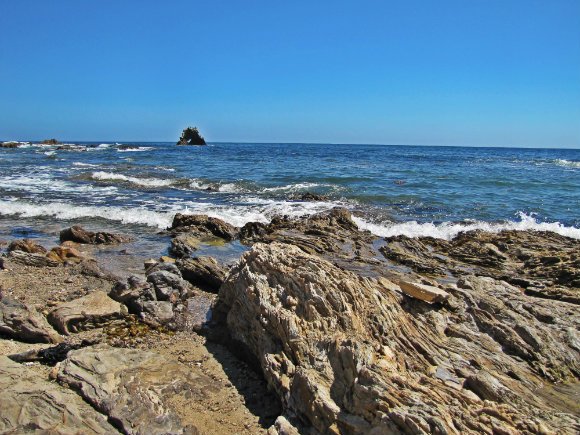 During low tide, it is possible to walk a few miles to Crystal Cove State Park.  The beach between Corona del Mar and Little Treasure Cove (the first cove or beach in the state park) is called Cameo Shores Beach.  There is a big arch (also known as the Cliff Island Arch), which is often photographed during sunset.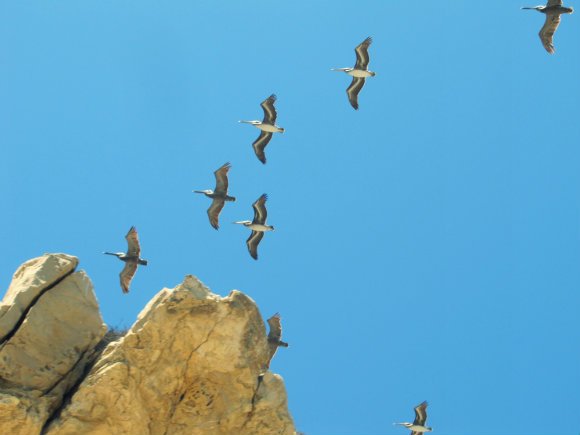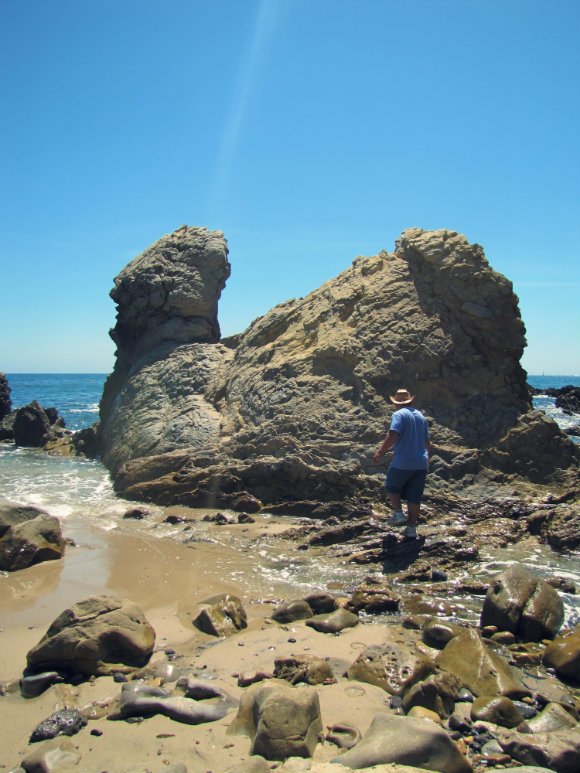 If you are walking along the shore or checking the tide pools, wearing water shoes is recommended.  Do not attempt crossing from one place to another if the tide is high or the ocean rough.  Be alert and do not give your back to the sea.
Little Corona del Mar – Details
Little Corona Beach can be accessed from the Pacific Coast Highway (CA-1). While driving south between Newport Beach and Laguna Beach, turn right on Poppy Avenue.  The entry point to the beach is near Poppy Avenue and Ocean Boulevard.  Parking is free on the street but read signs for restrictions.
It is also possible to park in the Corona del Mar State Beach area (fee) and walk to the cove through Ocean Boulevard (about 1 mile).
Newport Beach is located 45 miles from Los Angeles, 20 miles from Anaheim, and 90 miles from San Diego.
Nearby Attractions
If you want to combine a visit to the cove with other pleasant spots, here are some nearby attractions to consider:
Crystal Cove State Park – This state park is one of the most beautiful in Southern California.  It offers access to miles of undeveloped coastline and backcountry.  There is a historic district with cottages, a restaurant, and shack selling milkshakes.  In addition, there is a campground in the Morro Canyon section.
Read More: Crystal Cove State Park
Corona del Mar State Beach – As mentioned, this state beach is located about a mile north of Little Corona del Mar.  It has a half-mile sand strand and nearby green areas.  People enjoy walking around the area (from beach to beach) with views of the ocean.
Sherman Library & Garden – This is a 2.2 acres botanical garden located in Corona del Mar (about 1 mile from the beach).  If visiting, you will have the opportunity to observe 100 species of palms, a rose garden, a kop pond, carnivorous plants, and succulents.
Jasmine View Park – This park has great views of the city and ocean.  Many stop to watch the sunset from it.
Balboa Island – Balboa Island is pure charm.  It can be accessed by using Marine Avenue but taking the ferry from the Balboa Peninsula is more fun.  See the mansions on Bay Front Street, check out the businesses on Marine Avenue, explore the Grand Canal, and try a Balboa Bar.
Fashion Island – This shopping and entertainment center has enough restaurants, stores, and welcoming open spaces to keep you busy for hours.
More of Orange County
Camping in Southern California
Have you been to this part of Newport Beach?