Today, Anna from Expert World Travel shows us how to plan the perfect Switzerland road trip!
There are many reasons why Switzerland is an amazing destination for epic road trips. The Swiss Alps make for a magical backdrop as travelers navigate through serpentine roads and mountain passes.
Switzerland is also a relatively small country, and it's quite easy to include several must-see destinations in the itinerary within a few hours of each other. For first time visitors, however, a road trip around one of the most beautiful European countries entails a visit to some of the most popular and iconic cities.
If you've never been to Switzerland before, here is the perfect itinerary for your most memorable road trip.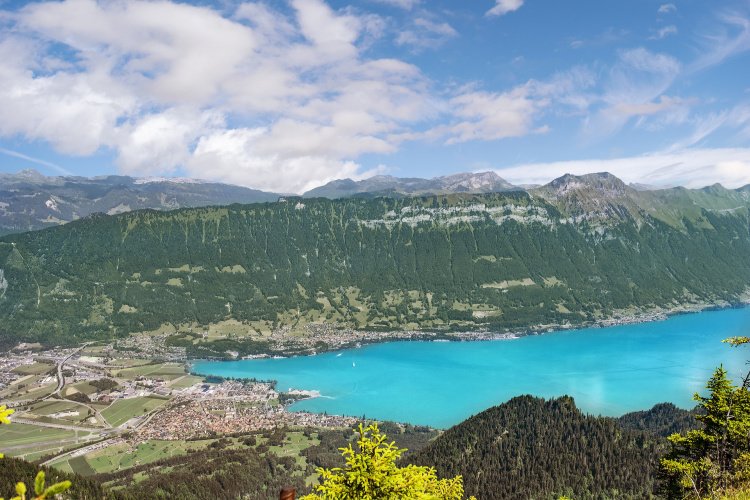 Switzerland Road Trip – Before you Go
Switzerland requires vehicles traveling the motorways and autobahns to display a special sticker on their windshields called a "vignette". The prices vary depending on where you get them. However, the current price is 40 CHF (41 dollars or 37 euros). 
They're available at car rental offices, border crossings, and most gas stations. Make sure you get one for your vehicle before embarking on your road trip as the fines for not having one are expensive.
Also, be aware that parking in Switzerland is difficult compared to most countries. In the majority of cases, you are going to have to pay. Either for street parking, which is rare or for parking lots in garages. Plan ahead where you can and know where the closest parking is to your destination as it will save you a lot of time and frustration when arriving in a new destination.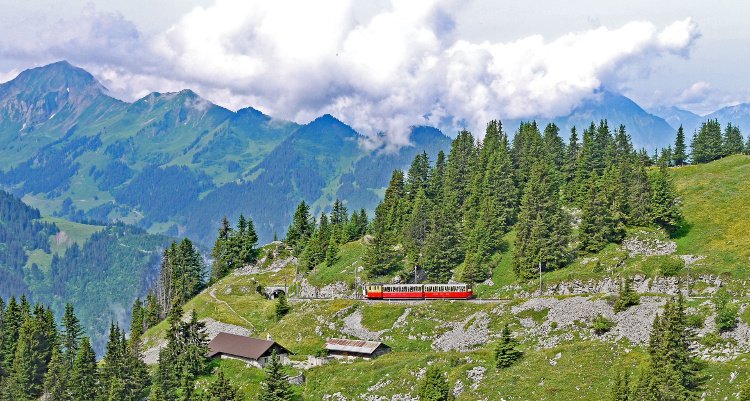 Best Time to Visit
Switzerland is an all-season destination. You will find plenty of things to do in any given month of the year.
However, for a road trip, I recommend visiting between April and June or September and October.  During those months, the weather is mild (sometimes warm), most hiking trails are open, days have a nice amount of sunlight and crowds are thin.
Summer days are beautiful but you will have to share the wonders of the country with way more people and the heat may be uncomfortable in certain areas (especially in the cities).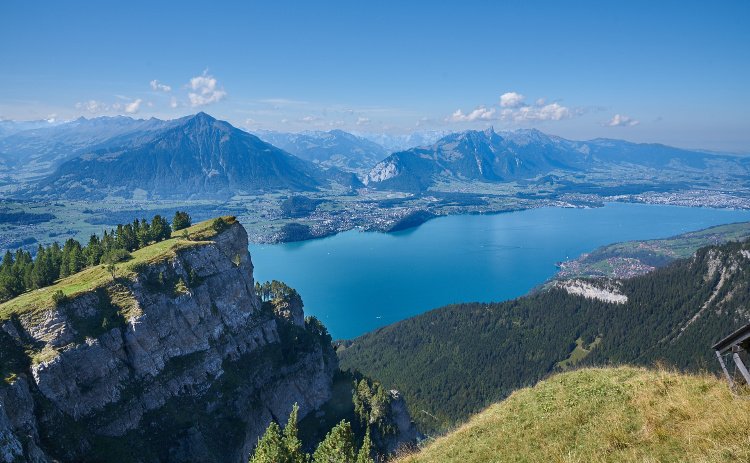 Itinerary at a Glance
To summarize, this is the itinerary that is going to be discussed in this article:
Day 1 Zurich -> Day 2 Bern -> Day 3 Gruyere -> Day 4 Zermatt -> Day 5 Locarno -> Day 6 Lucerne -> Day 7 Return to Zurich or Extend your Trip
Switzerland Road Trip Day 1: Zurich
Zurich is a great spot to start off your adventure. As the largest city in Switzerland, you'll never run out of things to do. At the same time, it's a beautiful mix of historic treasures and ultra-modern lifestyle being the financial capital of the country.
Walk around Zurich's Old Town, decked out in cobblestone streets and well-preserved medieval structures. One of the most popular landmarks is the Grossmunster, a 12th-century cathedral said to have been built over the graves of the city's patron saints, Felix and Regula.
You can also stroll through the ritzy Bahnhofstrasse for some luxury (window) shopping. Of course, you can't miss the massive Lake Zurich and its glistening waters reflecting the city lights and Alpine peaks.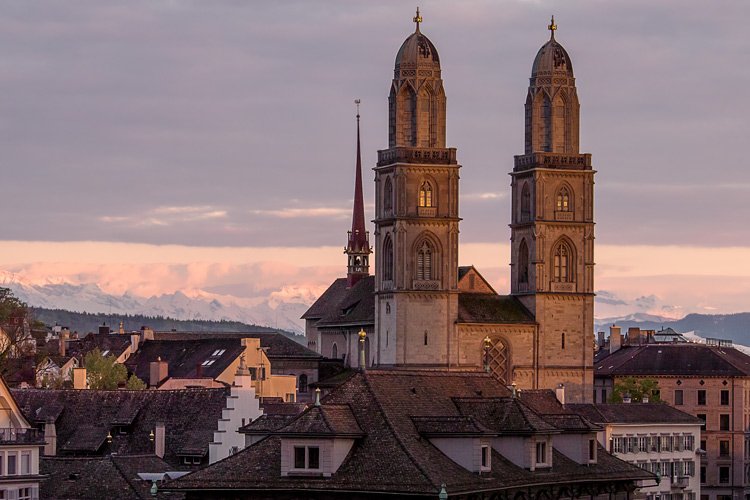 Switzerland Road Trip Day 2: Bern
Zurich to Bern: 1 hour, 30 minutes, 125 kilometers (78 miles)
The 125-kilometer drive from Zurich to Bern will take you through rolling hills and national parks. Once you reach the capital city, you can explore Bern's beautiful Old Town surrounded by the River Aare.
The medieval astronomical tower, the Zytglogge, is one of the city's most notable landmarks that stands at the city's center. The relatively small city is great for a relaxing stroll to explore the many historical spots and landmarks.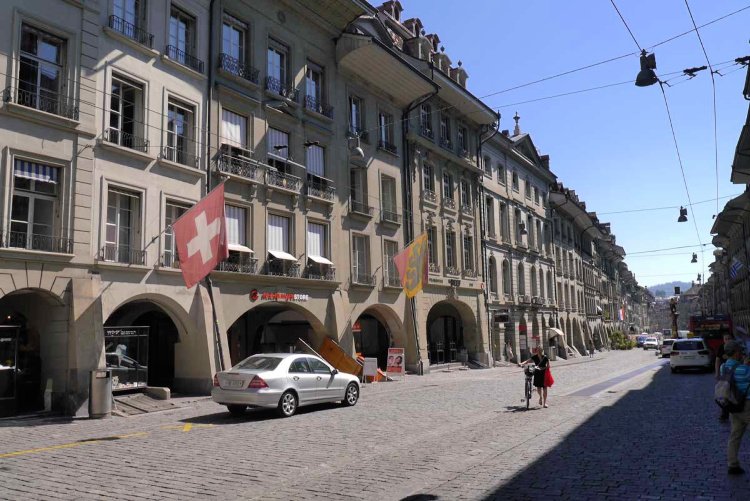 Switzerland Road Trip Day 3: Gruyere
Bern to Gruyeres: 51 minutes, 65 kilometers (40 miles)
Get on the A12 and head for the medieval town of Gruyeres. This well-preserved town has maintained its historical structures for the past 800 years. The most notable landmark is the Gruyeres Castle, built between 1270 and 1282. 
There are many events and shows held here, so check out the website to see if any will be playing during your visit. Of course, as a souvenir, don't forget to grab some Gruyere cheese, which originated from this town. Swiss chocolate is also in abundance and can make for a very Swiss package to take home.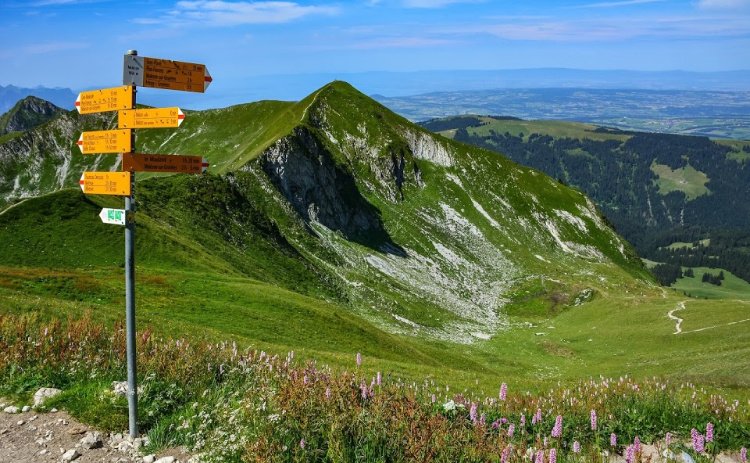 Switzerland Road Trip Day 4: Zermatt
Gruyeres to Zermatt: 2 hours, 44 minutes, 145 kilometers (90 miles)
Whether skiing is in your bucket list or not, a stopover at Zermatt is a must. The town is nestled at the foot of the iconic Matterhorn, which makes it one of the most popular tourist destinations in Switzerland. Zermatt is car-free, so all vehicles must be left at Täsch, which is the town you arrive at just before Zermatt.
There are 2,100 parking spaces at the covered lot at the Matterhorn Terminal in Täsch. From there, you need to take the 12-minute train ride to Zermatt. This brings you right into the center of town
At Zermatt, the possibilities are endless. You can stay in the town and admire the Matterhorn towering from above, or ride a train or cable car to the Matterhorn ski paradise. Here you can go snowboarding, skiing, or trekking through the many trails around the area. There are many ways to spend your day at Zermatt, so plan accordingly.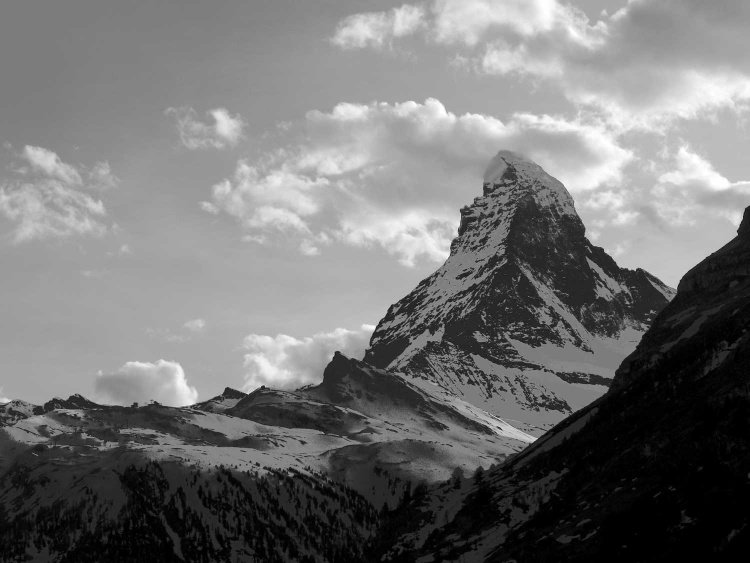 Switzerland Road Trip Day 5: Locarno
Zermatt to Locarno: 2 hours, 54 minutes, 225 kilometers (140 miles)
Sneak in a quick trip to Italy by visiting the warmest town in Switzerland, Locarno. The drive to Locarno takes you in and out of Italy where you'll see cupola towers, private villas, stone buildings, and Italian staples like Vespas and gelaterias. 
Arriving at the Swiss town even feels like arriving at an Italian city, standing at the northern shores of Lago Maggiore and characterized by very Italian structures and authentic Italian cuisine.
Climb the narrow alleys to Piazza Grande or stay at Hotel Belvedere and stroll the manicured lawns with flower gardens and fountains. Spend time at Locarno's historic center or walk along the shores of Lake Maggiore.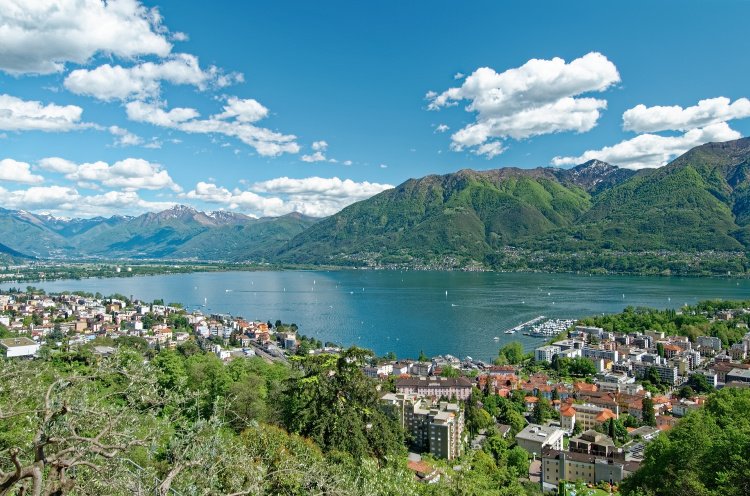 Switzerland Road Trip Day 6: Lucerne
Locarno to Lucerne: 46 minutes, 52 kilometers (52 miles)
Head back to quintessential Swiss towns and make your way to the beautiful town of Lucerne. Lucerne is yet another must-visit in Switzerland for its historic landmarks, iconic architecture, and relevant artwork. There's something for everyone, and one day will not be enough to go through all the things you can do in this town.
If you only have time for the highlights, head to Lake Lucerne, the fourth largest lake in Switzerland, for a ferry ride or a steam cruiser in the evening. Walk around the Old Town to see beautiful buildings and stunning monuments. There are also many restaurants and cafes for a quick break. 
Experience the Nine Towers at the Musegammer, the iconic city wall built back in the 14th century. There will be lots of stairs, but the views at the top are well worth the effort.
Finally, the most iconic landmark is the famous Chapel Bridge. The iconic 14th-century bridge is at the center of the Old Town and crosses the River Reuss. Paintings and artwork deck out the interior of the bridge (telling of the history of Lucerne).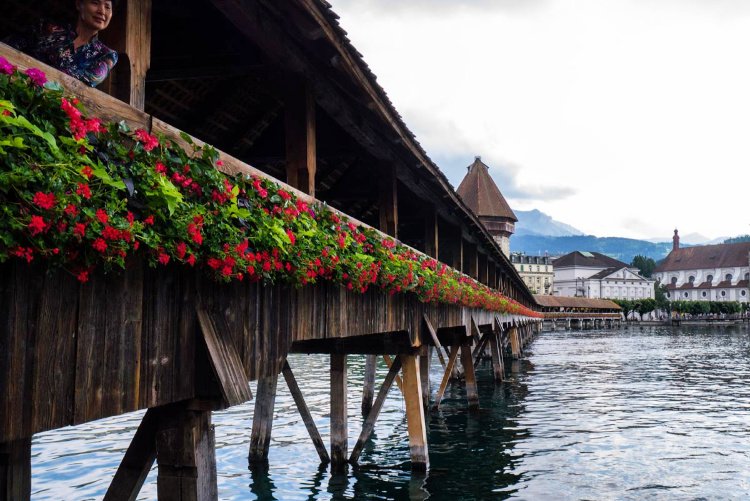 Ending Your Road Trip
From Lucerne, there are many ways to end your road trip.
If you've run out of time, you can head back to Zurich and spend a couple of days to rest and recover before flying back to your home country. If you have a couple more days to spare, you can head to different nearby towns that are also worth the visit.
Interlaken is a great place to visit for some outdoor adventure. This picturesque town is known for paragliding, hiking at the Interlaken-Harder Alpine Game Park, or standing above Lakes Brienz and Thun at Harder Kulm. 
You can also chase waterfalls at Lauterbrunnen, known for its 72 natural waterfalls. The most popular ones are the Staubbach Falls, the largest of them all plummeting down 300 meters into the valley, and the Trummelbach Falls, Europe's largest subterranean waterfalls.
From both towns, you can take a trip to Jungfraujoch. Aptly known as the Top of Europe, this mountain station at 3,500 meters is the highest mountain station in all of Europe. From here, you can view the famous peaks of the Jungfrau, Eiger, and Monch, and enjoy several exhibits and snow activities.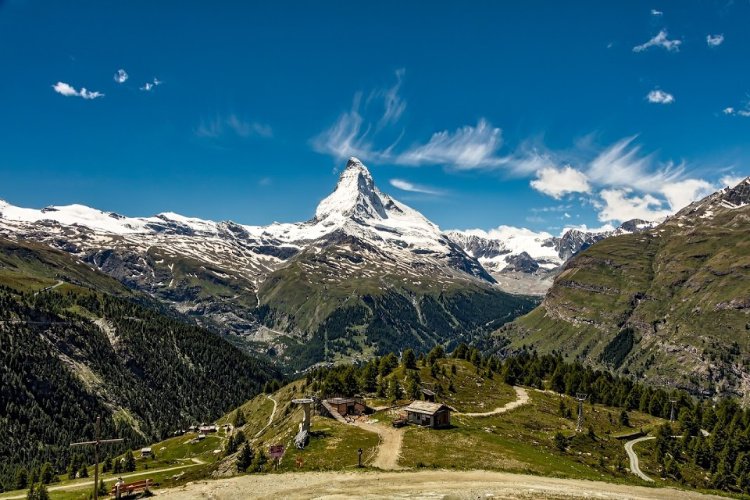 Road Trip Costs
Calculating trip costs is a tricky endeavor due to the many factors affecting the final amounts. 
The aim of this section is to provide a general idea of how much a Switzerland road trip costs.  By no means, this is an exact estimate. I encourage you to do your own research and reach your own conclusions.
As a general rule, budget $90 per day, per person on a low-cost trip and $200 per day, per person on a mid-range trip. These prices do not include airfare.
My best piece of advice is to book as well-ahead as possible.  Most booking companies have excellent cancelation policies.
Car Rental
Cars (smallest cars available) can be rented from the Zurich airport for as low as $35 per day.  In addition, the price assumes the car is going to be dropped off at the same pickup location. Estimate $210 – $250 for a 6 day car rental.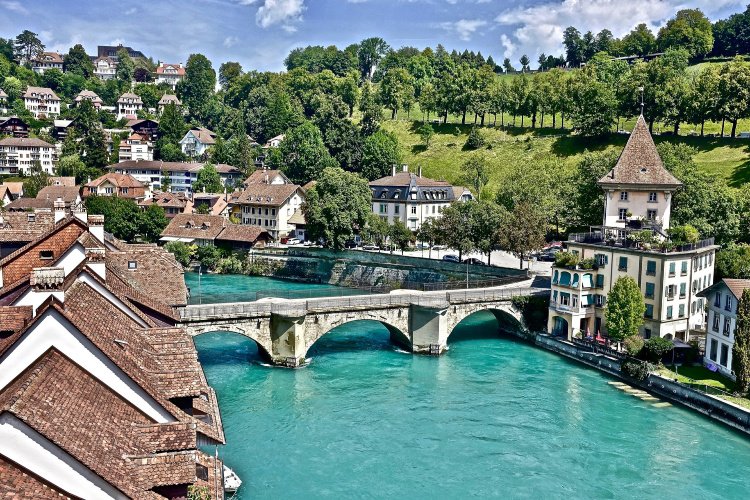 Gas
At publication time, a gallon of gas in Switzerland was averaging $6.  Prices may increase during the summer months. Filling a 16-gallon car tank oscillates between $96 to $100.
Accommodations
Research indicates booking sites have a solid selection of medium-range hotels or apartments within the $110 – $160 range per night.  Budget $660 to $960 for six nights of accommodations (based on double occupancy).
With a car, you can choose to stay several miles away from city centers and save while doing so.
Meals
You can eat in Switzerland at $50 per day.  The total for 6 days is $300. Ingesting alcoholic beverages will increase the daily average.
Other Costs
Other costs include parking, insurance, entertainment, and incidentals.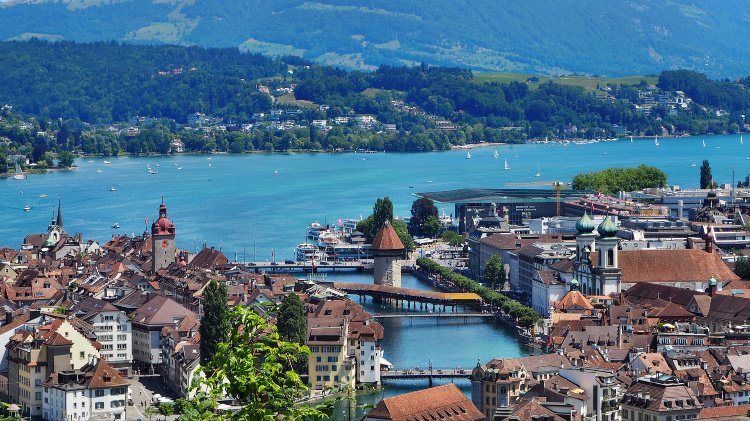 Well, there you have it.  Wish you happy travels around Switzerland!
___
Anna was born to travel the world having studied languages all her life. Although she has traveled the world, she now calls Switzerland home and spends her time writing about her experiences on Expert World Travel. You can follow her on Twitter and Pinterest. 
More European Itineraries
What to Do in Vienna in 1 to 3 Days
Have you done a Switzerland road trip? What are your recommendations?
Pin for later!