Looks like bad weather is following me wherever I go (remember my Palm Springs odyssey).  I just returned from Temecula but, this time, rain didn't deter me from having a fantastic culinary adventure.
This area may have some high end restaurants, presided by very talented chefs but, in this post, I would like to refer to the specialty food stores located in Old Town.  Why? Because they are located in a compact area and they offer the opportunity to sample unique products. Plus, what I think is more amazing, you can have great food at very affordable prices.
Here are the places I tried:
Temecula Valley Cheese Company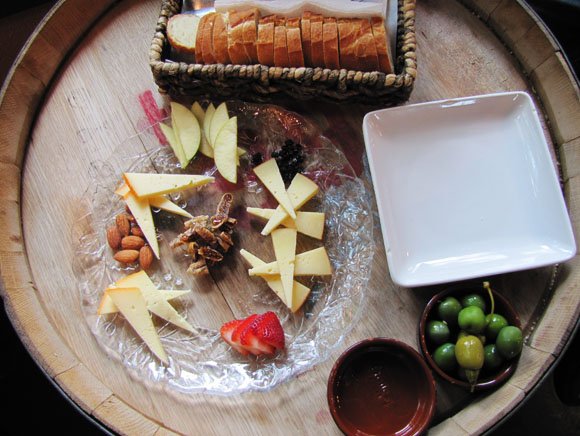 From all the places I researched in Temecula, this is the one I wanted to visit the most.  The opportunity of trying new cheeses kept me floating thru the sidewalk. 
To be honest, I wasn't impressed at first.  The shop is a dimly lit, open space with few but elegant pieces of furniture positioned in certain areas.  The variety of cheeses in the fridge looked small to me but it got difficult to decide what to choose for my cheese plate.
I ended up ordering a Mahon (from Menorca, Spain) and Idiazabal (from Basque Country, Spain) cheese plate.  I got really excited when I was delivered a basket of French, crusty bread and a big plate with the cheeses, apples, strawberries, almonds, figs drizzled with honey and the smallest, sweetest raisins I have ever tried.  A small plate of green olives was included too.
Everything was top notch and I could have eaten more but we visited after lunch.  In addition, I asked for a sample of Sage Derby since its green color caught my attention.  I just loved how different this cheese is.
Details: You can order two, three and four cheese plates.  When I visited, there were cheese from Spain, France, England, Italy, Greece and other countries.  There were a lot of varieties I have never seen in supermarkets.  There is an option to add meat to your plates.  And of course, you can buy a small or big quantity of your favorite cheese.
Price: $12 for a two cheese plate
Temecula Olive Oil Co.
The attendants in this store have to be the nicest people in town.  From the moment you enter the store, a group of very sweet ladies direct you to the tasting room.  You don't have to go if you don't want but I can't imagine somebody turning over the opportunity of a free tasting.  I know it sounds weird, olive oil tasting, but you will get surprised at the flavors that get mixed.
The lady that was pouring the samples started by offering us 'shots' of extra virgin olive oil.  Then, she poured some blood orange and basil infused oils.  It was time to mix the oils with balsamic vinegars.   I don't remember the exact mixes but I remember the garlic, chili, vanilla, pomegranate and honey flavors.  I wasn't expecting something so good.  Believe me, you have to try this even though you will end with greasy lips.
Details:  All the oils in the store are made with Californian olives.  They also sell balsamic vinegars, sauces, spreads, pasta and other products such as sea salts and soaps.
Price: Tasting is free.  A bottle of olive oil is around $18 and one of balsamic vinegar is about $16.  However, you are not obligated to buy.
Old Town Sweet Shop
As soon as I entered this store, my mouth started to water.  Close to the front door, there is a large variety of taffy, gummies, licorice, chocolate, rock candy and jelly beans.  In the back, they have hand-made fudge, chocolate covered strawberries, caramel covered apples and chocolate truffles.  The smell is heavenly. 
Details: It is not possible to describe everything that is inside this store.  They have over 300 candies and hand scooped ice cream.  I bet you can find your childhood favorite here.
Price: Variable.  Depends on how much you buy.
Old Town Rootbeer Company
There are fewer things that gross me more than root beer (or cream soda or Dr. Pepper).  Because I am a good wife (wink, wink), I told my root beer lover husband about this store in Old Town.  The attendant told me the place has every type of soda you can imagine of.  My husband tried two varieties and he said they were delicious.  He ended up buying some to go.
Even though I didn't try anything in here, I ended up having a good laugh. Some of the beverage's labels were described as dog slime, toxic waste, apple pie, bubble gum and jalapeno.  The labels were equally original and disturbing (one had Osama Bin Laden face, go figure). 
Details: Like I said, all sort of flavors you have never seen before. They also have root beer floats.
Price: $2 to $3 dollars for individual bottles.
Other stores to try:
Del Rios Cupcakes and Supplies
Old Town Spice Merchants
The Chili Gourmet
Jerky House
Also check out Old Town Temecula Farmer's Market for delicious specialties from the area.
What would you like to try in Old Town Temecula?