Get ready to learn about one of the most popular hiking destinations in Los Angeles: Temescal Gateway Park.
Nestled in the heart of Pacific Palisades, Temescal Gateway Park is a breathtaking natural wonder that offers a peaceful escape from the hustle and bustle of city life. 
With its sprawling 141 acres of diverse landscapes and breathtaking scenery, this park has become one of the most popular hiking destinations in the Santa Monica Mountains. 
Whether you're a seasoned hiker or simply looking for a beautiful place to spend a day, Temescal Gateway Park has something to offer for everyone. 
From scenic views of the Pacific Ocean to stunning canyons, waterfalls, and wildlife, this park is a true gem in the heart of Los Angeles. Join us as we explore the park's trails and offerings!
Please note: This article contains affiliate links, meaning I may earn a commission if you make a purchase by clicking a link. Of course, this comes at no extra cost to you and helps me to keep offering solid information to readers.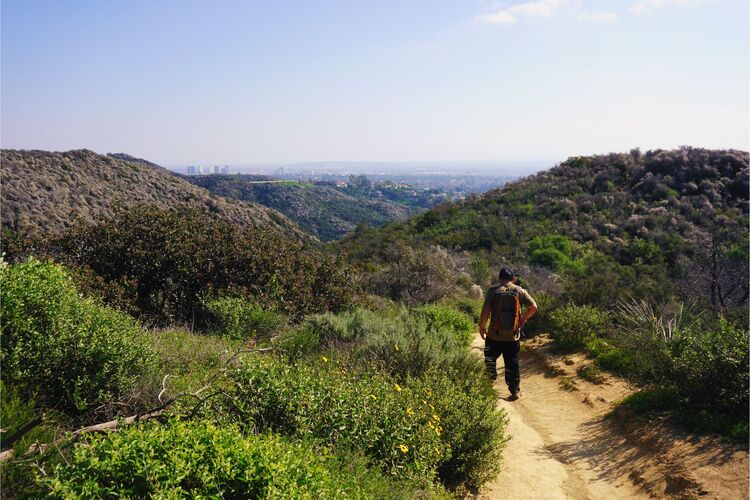 Temescal Gateway Park Trail System
Temescal Gateway Park boasts a diverse trail system that offers something for hikers of all levels. From easy, scenic walks to challenging, mountainous hikes, the park's trails will take you on a journey through the heart of the Santa Monica Mountains. 
Popular Trails
Temescal Canyon Loop
This is the park's most popular trail (and one of the most popular Los Angeles hikes) and offers a moderate 3.5-mile hike through the heart of Temescal Canyon. The trail offers breathtaking views of the park's natural beauty. 
The loop is created by the Temescal Canyon and the Temescal Ridge Trails.  You can start the loop at the trailhead of one of these trails (access both trailheads from the parking lot area).  The trails meet at the top of the canyon.
The Temescal Canyon Trail is surrounded by towering trees.  During winter and spring, you will encounter a creek gushing through the canyon and a small (but beautiful) waterfall.
The Temescal Ridge Trail landscape is more barren.  You are going to be exposed to the sun most of the time.
I have hiked this loop in both directions.  To me, it is easier to ascend by the canyon and descend by the ridge.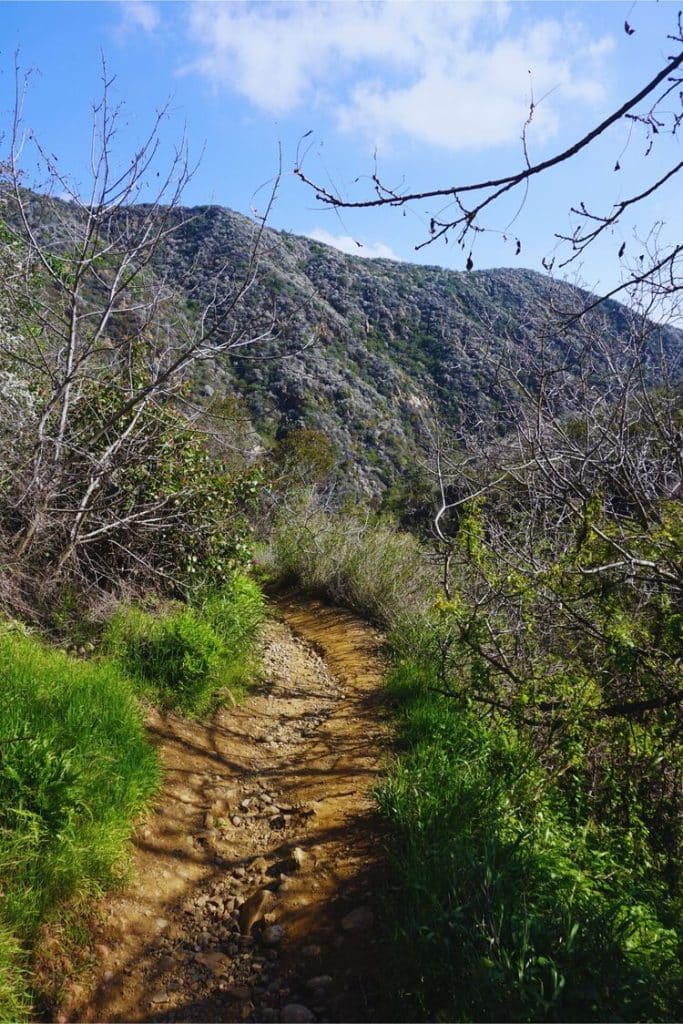 Temescal Canyon Trail 
As mentioned, this trail meanders next to the Temescal Canyon.  Some people hike to the Temescal Canyon Waterfall and return to the trailhead (about 2.5 miles round trip).  Others continue to the Temescal Ridge Trail to complete the park's main loop.  If you make it to the waterfall, my recommendation is to keep going since you are pretty much done with the hard part of the hike.  Plus, the views awaiting you are incredible.
More advanced hikers stay on this trail (instead of deviating to the Temescal Ridge Trail) to reach Skull Rock and other trails in Topanga State Park.
Temescal Ridge Trail
Some visitors decide to hike to the park's main viewpoint through the Temescal Ridge Trail  They go back to the parking lot area through the same trail (2.4 miles roundtrip).
El Medio Trail
This trail is a short and easy walk that takes you through the park's lush vegetation. With its gentle incline and scenic views, it's a perfect trail for families and visitors looking for a relaxing hike.
The trailhead is located at the end of El Medio Avenue (outside park boundaries). Alternatively, you can connect to the trail through the Temescal Ridge Trail.  
Rivas Canyon Trail
This trail, connecting to Will Rogers State Historic Park, is a hidden gem, offering a challenging hike through a beautiful canyon (4.6 miles roundtrip). The trail is less crowded than the other trails in the park and offers a peaceful escape from the city.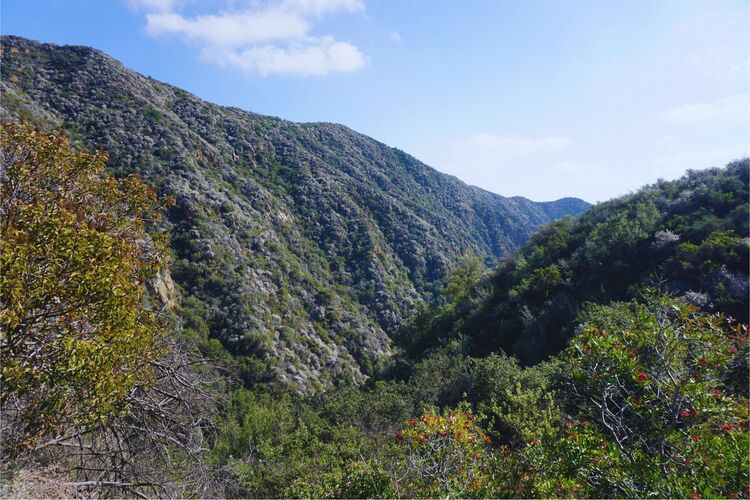 Difficulty Level of Trails
The Temescal Canyon hikes vary in difficulty, with some trails being easy and others being challenging. 
The Temescal Canyon Trail is considered a moderate to challenging hike (depending on how far you kike), while the Temescal Ridge Trail and El Medio Trail are considered easy to moderate. 
The Rivas Canyon Trail is considered a challenging hike due to its steep incline and rugged terrain. 
Trail Maps and Markers
Temescal Gateway Park provides well-marked trails and maps to help visitors navigate the park's trail system. The park's trails are marked with signs and markers to help hikers stay on the correct path and avoid getting lost. 
In addition, maps of the park's trails are available at the park's entrance and at various points along the trails. These maps provide an overview of the park's trails, including their length, difficulty, and scenic highlights. 
Tip: Take a picture of the trail map with your cell phone's camera.  In that way, you will have the map with you for reference.
The park provides information and recommendations on its website, including recommended trails, safety tips, and park rules. By taking advantage of these resources, visitors can ensure a safe and enjoyable hike.
What to Expect on Your Hike
Scenic Views
Temescal Gateway Park is renowned for its breathtaking scenic views, and visitors will have ample opportunity to take in the beauty of the park on their hike. From panoramic views of the Pacific Ocean to the lush canyons and rolling hills of the Santa Monica Mountains, this park has something to offer everyone. 
Wildlife Viewing
The park is home to a diverse array of wildlife, including deer, squirrels, rabbits, and various bird species. Visitors to the park will have the chance to see these creatures in their natural habitats and learn more about the park's ecology. Whether you're a nature lover or simply enjoy observing wildlife, this park is a great place to do so.
Birdwatching
Temescal Gateway Park is a birdwatcher's paradise, with over 200 species of birds known to reside in the park. From the colorful Western Tanagers to the majestic Bald Eagles, this park is a haven for bird enthusiasts. Whether you're an experienced birdwatcher or simply enjoy observing birds, this park is a great place to explore the feathered friends that call this area home.
Picnic Areas
After a long hike through the park, visitors can take a break and enjoy a picnic in one of the park's scenic picnic areas. These areas provide the perfect spot to relax, have a bite to eat, and soak in the beauty of the park. With plenty of tables, benches, and shade trees, the picnic areas are perfect for families, friends, and anyone looking to spend a day outdoors.
The picnic areas are located throughout the park and offer a variety of amenities, including barbecue grills, picnic tables, and shade shelters.
Visitors to the park are encouraged to bring their own food and drinks, as there are no food concessions or vending machines in the park. 
Restrooms
Clean restrooms are located close to the park's entrance.  There are more restrooms near the park's main trailheads.
Safety Tips for Hikers
Preparation is key when hiking. Please take to heart the following advice.
Importance of Staying on the Trail
One of the most important things to keep in mind when hiking is to stay on the designated trail. Venturing off the trail can damage the park's sensitive ecosystem and put you at risk of getting lost or injured. Additionally, staying on the trail helps to preserve the park for future generations of hikers and nature lovers.
Awareness of Wildlife
Temescal Park is home to a diverse array of wildlife, including deer, squirrels, rabbits, and a variety of bird species. While these creatures are generally harmless, it's important to be aware of your surroundings and give wildlife plenty of space. Hikers should never approach or feed wildlife, as this can cause harm to the animals and put you at risk.
Carrying Adequate Supplies
Before heading out on your hike, it's important to carry adequate supplies to ensure your safety. This includes plenty of water, food, a first aid kit, and appropriate clothing and footwear. Additionally, it's a good idea to carry a map of the park and a charged cell phone in case of an emergency.
Sun and Heat Protection
Winter, early spring, and late fall are the best times to hike in the park. Temperatures can get quite hot during the summer months. I do not recommend hiking if the temperature is over 100 degrees Fahrenheit. I would reconsider hiking even if the temperature is over 90.
Regardless of temperature, it is important to stay hydrated and protect yourself from the sun by wearing a hat, sunglasses, and applying sunscreen. Additionally, it's a good idea to hike during the cooler parts of the day and take plenty of breaks in the shade.
Ask for help if you start feeling ill.
Getting to Temescal Gateway Park
Temescal Canyon Parking Options
Temescal Gateway Park is located in Pacific Palisades, Los Angeles, and is easily accessible by car. There are several parking options available for visitors, including a large parking lot at the park's entrance. The cost to park in the park's lot is $12.
Free street parking along Temescal Canyon Road is available. Just take into consideration that walking from the street to the trailhead will add length to your total hiking mileage.
Visitors are encouraged to arrive early, as the parking lot can fill up quickly on weekends and during peak hiking season (remember this is one of the top Pacific Palisades hikes). 
Public Transportation
For those who prefer to use public transportation, the park is conveniently located near several bus lines. The nearest bus stop is located on Sunset Boulevard, and visitors can take the Santa Monica Big Blue Bus Line 534 to reach the park. 
Nearby Attractions
Temescal Park is located in the heart of Pacific Palisades, Los Angeles, and is surrounded by a wealth of attractions and activities for visitors to enjoy. Some of the nearby attractions include:
Topanga State Park 
I think Temescal Gateway Park is part of Topanga State Park and then Topanga is part of the Santa Monica Mountains National Recreation Area.  I know.  It gets complicated.
Anyway, the point is that you can connect to Topanga State Park's trail systems from Temescal Gateway Park. Or, you can drive to other notorious trailheads in the park such as Trippet Ranch. Visitors can explore the park's canyons, ridges, and coastal bluffs, making it a popular destination for nature lovers and hikers.
Fun Fact: Topanga is the largest wilderness in the US located within a city (Los Angeles).
Santa Monica Mountains
There is way more to discover in the Santa Monica Mountains.  I recommend checking places such as Corral Canyon, Solstice Canyon, Tuna Canyon Park, and Escondido Canyon. 
I have tons of recommendations in my Malibu Hikes article.
Pacific Palisades Village
This charming coastal village is located just a few miles from the park and is home to a variety of shops, restaurants, and cafes. Visitors can explore the village's historic architecture, enjoy a meal at one of the many local restaurants, or spend the day browsing the shops and boutiques.
Will Rogers State Beach
You can head to the beach after hiking!  Will Roger is the northern terminus of the Marvin Braude Trail.  You can walk or bike a bit.  Or, just relax at the beach.
Other Los Angeles Beaches
The city of Los Angeles is home to a variety of world-famous beach cities, including Venice Beach, Santa Monica, and Malibu. Visitors to Temescal Gateway Park can easily access the beaches in these cities and spend the day relaxing on the sand, swimming in the ocean, or trying out a variety of water sports.
Hiking Gear
I recommend taking into consideration the following gear for day hikes: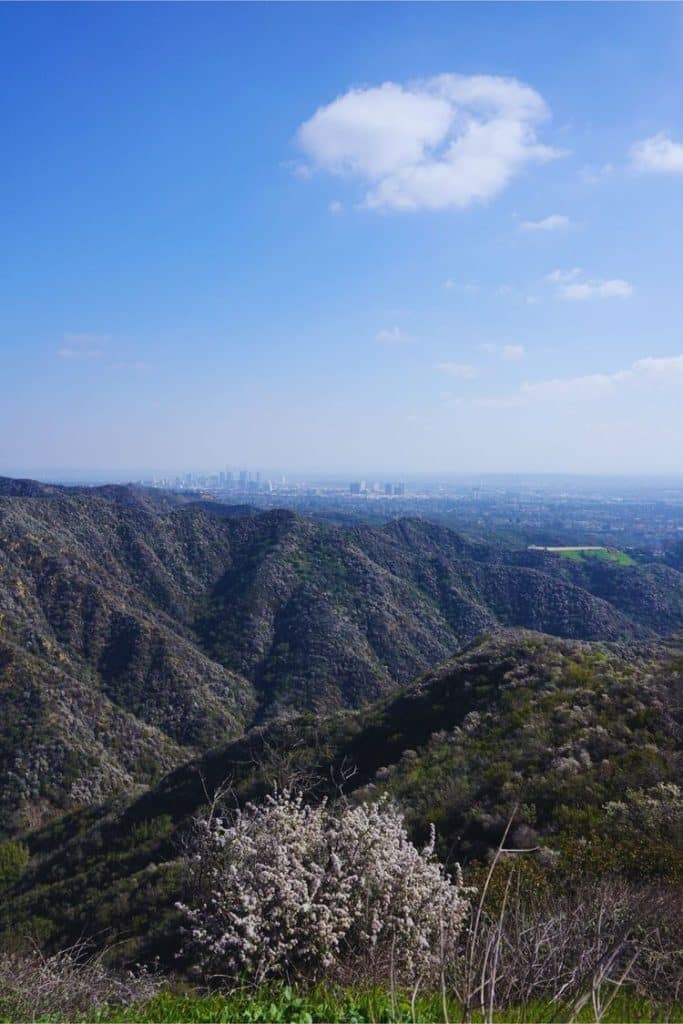 We encourage you to visit Temescal Gateway Park and experience the beauty and adventure that it has to offer. Whether you're a local or just visiting, this park is a true gem in the heart of Los Angeles and is sure to leave you with memories to last a lifetime.
More Hikes in Southern California
Have you embarked on a Temes al Gateway Park Hike?
Do not forget to share!
Pin for later!