Today, I invite you to visit Wonderland.  Yes, that same place Alice went on a trip.  Well, at least this is my version of Wonderland. Before you guys start to roll your eyes (even if you are already rolling them), let me explain.
The real name of the Wonderland I am referring to is Paraty.  This Portuguese colonial town is located in the biggest country of South America, no other than Brazil. It is sandwiched between the bay of Paraty (part of the Costa Verde) and the Serra do Mare mountains. Therefore, the town is not only graced with human created exquisiteness but is also surrounded by natural lure.
Paraty (which means "river of fish" in the Tupi language) was once an important gold port.  It was the end of the infamous "Gold Trail".  At the end of the 1600s, gold was discovered in what is today the Minas Gerais state.  A road was built to connect the town of Diamantina (in Minas Gerias) with Paraty.
After arriving to Paraty, the gold was later transported to Rio de Janeiro or Portugal.  With time, the glory of the city declined because (1) another trial was built to transport gold (the original Gold Trail was the blank of many pirate attacks) (2) the gold began to run out.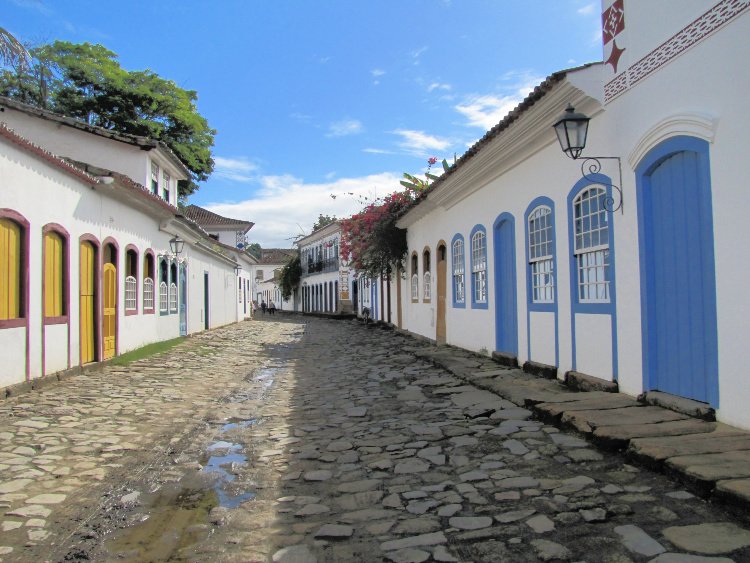 After the gold period, the town had two smaller economic revivals after coffee and cachaca production increased in the area (this happened at the beginning of the 19th century).
Most of the architecture has not changed in 250 years.  The construction of the highway between the Rio de Janeiro and Sao Paulo states (in the 70s) has converted the city into an artistic haven and touristic destination.
After that short history lesson, let me tell why I think Paratiy is so unique (besides its supreme conservation state).  If you visit a colonial town, you are going to notice the brightly painted, centuries-old buildings.  Parati is different.  The buildings are completely white.
The color comes from the door and window frames.  You read right, the doors and windows provide most of the color in town.  But let me clarify, we are not talking about any colors.  I am referring to colors so bright and different that are impossible to describe.  I think crayon makers go there for inspiration (or fashion designers, or painters, etc.)
Ok, no more writing.  Let's take a look at the doors and windows I am talking about.
There are windows that let a princess enter her palace.
And another which provides shelter to a friendly dog.
There is a simple sky blue door that is cutely accompanied by a solitary lantern.
And let's not forget about this canary yellow door.  It looks so simple but it takes you to a place where messages are written into your skin (tattoo parlor).
Not all doors are tall and handsome.  There are some old but exude certain charm and security.
There are doors and windows side by side in unusual colors patterns.  I bet you haven't seen anybody wearing clothes with those color combinations.
Some doors are not alone.  They have good friends that like to copy them.
An interesting case is when you see a door that doesn't take you anywhere (where is the knob?).
And, what about doors with twins?
Oh, and there are doors who want to stand out from others.
There are windows with unique patterns (hard to find anywhere else in the world).
This is one of the most unique pattern I saw.  Not sure if all of these are doors.
This red door definetly stands out!
Yes, the architecture gives the city that old world charm, colonial feeling.  However, it is not the only element adding to the traditional, lost in time vibe.
Let's take transportation as an example. The colonial center of town is closed to motorized vehicles.  You may think this is a conservation initiative. Well, yes it is. Nevertheless, the streets of Paraty were made with big, rounded rocks.  This makes the terrain almost impossible to navigate with modern vehicles.
The point is that residents and visitors have to move around in non-motorized vehicles.  Bicycles are the preferred mode of transportation. I don't know. To me bicycles add an interesting touch to a beautiful city like this.
Let me not forget about one of the things that made me feel like I was really in those Portuguese colonial days. As I walked close to the bay, I noticed some of the streets were inundated.  This was not a deficiency or problem. The Portuguese designed the city like this on purpose.
When the tide goes up, the water enters the streets cleaning them. When the tide goes down, the water in the streets recede. What an ingenious way to maintain a clean city.
Remember I mentioned Paraty started to change in the 70s? A lot of artisans and crafters have converted traditional houses into studios.  I had the opportunity to talk to a lady who works with coins. She removes (with special equipment) the spaces between the coin's edge and main figure.
Then she uses the piece to create pendants, bracelets and rings. I was able to observe many unique crafts. In here, you have the opportunity to take home something different.
There are ateliers where innovative fashion designs are created. There are boutiques selling clothes curated by highly talented individuals.
As you can imagine, artist have opened galleries to expose a variety of works of art.
There are many musical and cultural events, the most prominent of which is the Festa Literaria Internacional de Parati (International Literary Festival of Parati).
The Casa da Cultura Parati (House of Culture) was opened to the public in 2004 and holds a permanent exhibition on local history and culture.  It also contains a library carrying interesting books about the area.
It is also interesting to notice how the restaurant scene goes to the street at night.  Restaurants accommodate tables and chair over the streets of the historic center. You can walk around deciding where to have dinner under the stars.
As you can see, Parati is full of tradition.  However, the elements connecting this town to the past are not factors stopping the development of a cheerful community.
A lot of people have worked in creating a cozy and prosperous town. I saw many young families enjoying the streets, parks and offerings.
So, Paraty may be the perfect balance between old and new, melancholic and cheerful, artificial and natural. Hope the town continues to reinvent itself without losing its roots.
Do you saw all those colors? Don't tell me they are not amazing.  Paraty is definitely a gem in the Rio de Janeiro (and my own definition of Wonderland).
What was your favorite door or color?  Would you paint your house in one of these colors?  Have you visited Paraty? Let me know in the comments section below.
If you want to travel around Paraty, take into consideration this Rio de Janeiro Itinerary.  It will show you how to see Rio de Janeiro (city) and Paraty.
More Itineraries
Pin for later!