This post discusses the top things to do in Cayucos, California (Central Coast).  This beach town offers an uncrowded, pet-friendly beach, surfing, kayaking, a historic pier, and plenty of restaurants.
The other day, I showed a coworker photos of my recent Central Coast trip.
After grabbing my phone and scrolling throughout the photos, she asked me in disbelief: "Is this California?"
"Yup, that is our state," I replied.
"Oohhh, looks like a perfect place to take my kids," she said before proceeding to ask me more details about the area.
I am not sure how to describe my emotions after that interchange of words.  Giddy. Proud. Inspired.  I feel good when people are surprised by the beauty of California.  At the same time, it is a pleasure to spark the flame of adventure in others.
Bearing that in mind, I decided to put together all my knowledge about another treasure of our Central Coast.  To be honest, I would like to keep this one a secret.  Nevertheless, I feel like sharing today.
On San Luis Obispo County, 6 miles north of Morro Bay, lies Cayucos, a laid-back beach town inhabited by 3,000 residents (add to that tons of birds, otters, seals, and other cute creatures).
About Cayucos
Human history in Cayucos dates back to the Chumash people, the Native Americans that inhabited the area before our era.
Cayucos means kayak or canoe. The term refers to a small boat used to hunt otters along the coast.  It is believed Spaniards Hispanized the word used by Chumash to refer to the area.
In 1867, Captain James Cass settled part of the original "Rancho Moro y Cayucos" land grant.  Cass saw the business opportunities at the location.  He proceeded to build a pier, store, and warehouse.  The idea was to transport merchandise to Los Angeles or San Francisco.
Eventually, Cass left but the area continued to prosper.  Nowadays, Cayucos retains its "Old California" vibe.  There are no high rises buildings, a sense of community is felt everywhere and a long stretch of beach runs along the town.
This article will help you to discover the unique charms of this beautiful town.  If you are planning a visit, use this write-up as your guide.
Beach Town Gear
As I spend a lot of time on beach towns, I have my gear packed and ready to throw in the car.  Here is an idea of what I take to the beach.
Things to Do in Cayucos, California
Laid-Back Town
In Cayucos, Ocean Avenue is where you are going to find a lot of the action.  This street is full of antique stores, restaurants selling scrumptious food and cozy hotels.
If you are into old-fashioned main streets, make sure to check historic places such as the Cayucos Tavern and Card Room.
Remember When and Remember When – Too are excellent options for those looking for antiques, garden fixtures, and home goods. Other stores sell jewelry, gifts, and souvenirs.
Murals
The Cayucos Mural Society supports the painting of quality murals on historical and environmental topics which characterize Cayucos, on walls dedicated by merchants and by private citizens, involving many artists, contributing to the enhancement of town, and increasing awareness of public art.
The town's 9 murals can be toured using the guide found in here.
Cayucos Pier
In California, we take our piers seriously.  It is like beach towns are closer to our hearts when a pier is present.
Guess what?  Cayucos has a 982 feet beauty waiting for you.  As I mentioned, the original pier was built in 1872 and rebuilt in 1876 after a storm damaged the first structure.
If you are visiting the town, take a stroll along the pier and take in the views of the Pacific Ocean, the nearby bluffs, and the Santa Lucia Mountains.  And, of course, Moro Rock is visible in the distance!
Fishing is permitted from the pier (free of charge, no license required).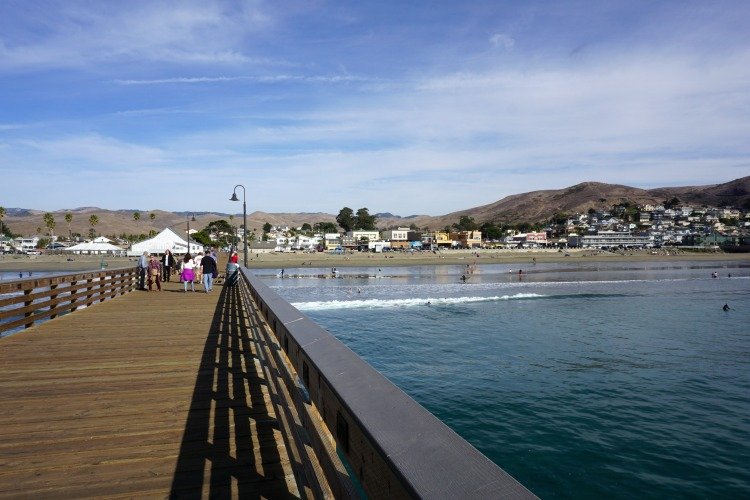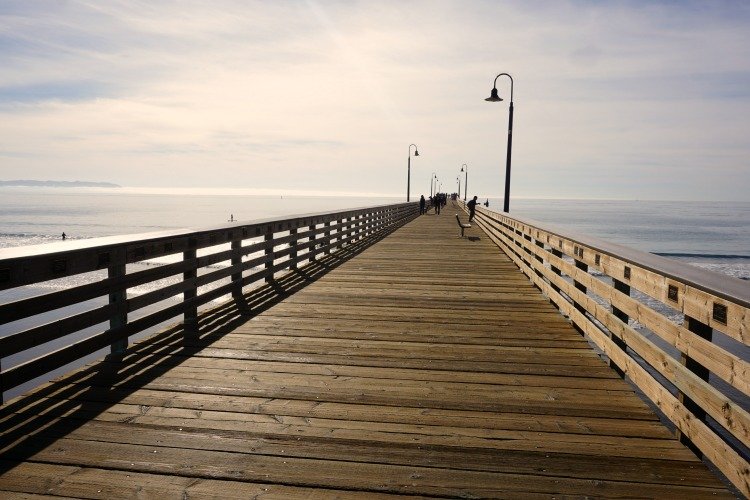 Cayucos State Beach
This long stretch of beach offers surfing, swimming, and tidepooling opportunities. The mild weather allows for enjoyment of this resource throughout the year.  In reality, the weather doesn't matter.  People seem to jump into the water even in winter.  A Polar Plunge is celebrated every January 1st
Walking away from the pier (north, towards Morro Bay) will take you to an area full of boulders.  Those create ideal conditions for tide pools.  Spend some time looking for colorful creatures such as anemones, sea stars, and crabs.
The beach has picnic tables, restrooms, and showers.  Find more info in here.
Practice Watersports
Cayucos is a playground for those who enjoy surfing, kayaking, and paddleboarding.
No worries if you do not have your own equipment. Good Clean Fun offers surf lessons, kayak tours, and beach equipment rentals and a collection of comfortable casual quality clothing and footwear.
Cayucos Surf Co. offers wetsuits, boogie boards, and surfboards rentals.  The sell apparel and boards (surf and skate) too.
Brown Butter Cookie Company
Now things are getting into the delicious realm!
Actually, I discovered Cayucos when I heard two kids, in Morro Bay, talking about their favorite brown butter sea salt cookies.  They were describing in awesome detail the taste of the cookies. The day after that, while driving on CA-1, I saw a sign stating "Welcome to Cayucos, Home of the Brown Butter Cookie Company." I told my husband, "Take that exit right now!"
The Brown Butter Cookie Company is a local, small business started by two sisters.  All the products offered are made in town.
The delightful creations can be compared to shortbread cookies but with a rich and nuttier flavor because of the brown butter (butter is browned in the stove-top before using it in the batter) used in the preparation. A pinch of thick sea salt is added to the mixture to create a unique sweet and salty contrast.
I will not leave town without stopping by to try flavors such as cocoa, espresso, almond, citrus, cinnamon and original.  They have seasonal flavors too.
Ruddell's Smokehouse
Seems like I cannot stop talking about food but that is an impossible thing to do when you are surrounded by so much goodness.
During my most recent trip, I had an epiphany when I bite into a taco from Ruddell's.  An explosion of flavors took me by surprise.
This shack specializes in one thing: smoking.  And, let me tell you something.  In life, if you can make one thing well, you made me it.
This shack smokes albacore, ahi, salmon, shrimp, pork loin, and chicken.  They serve the proteins in tacos, sandwiches or salads.  Their simple but flavorful approach has gained them raving fans.
I cannot recommend this place enough. I dream about those tacos!
Estero Bluffs State Park
If you like to hike, the Estero Bluffs Park is for you!
This park protects coastal salt marsh, freshwater marsh, coastal foredune, coastal and riparian scrub and grassland. In addition, it offers incredible views of sea stacks, cliffs, and coves.  When the tides are low, it is possible to go down to the sand.
The flat terrain allows for easy walking.  You can climb a hill (easy to do too) to have a bird's eye view of the area.  Keeps eyes peeled for hawks and golden eagles (I saw them on trees).
Note: This park is located about 3 miles north of Cayucos.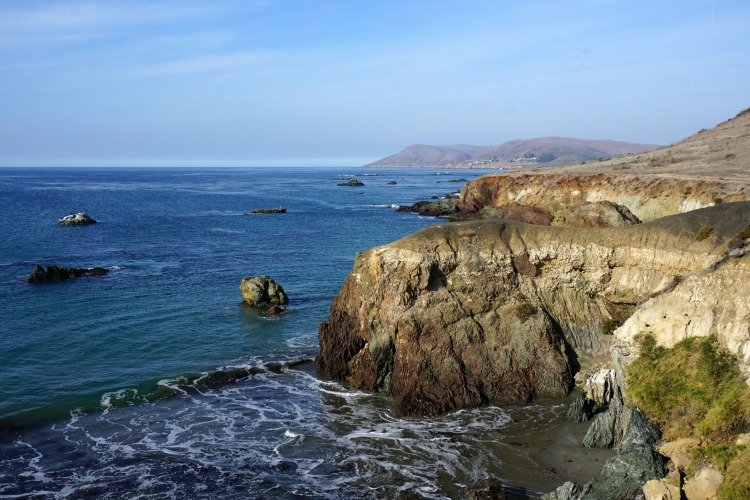 Harmony Headlands State Park
This is another State Park protecting a stunning piece of coastline, prairie grasses and meadows. In addition, it has an interesting history involving Chumash people, cattle ranching, and seaweed harvesting.  The area was slated to be developed into houses overlooking the ocean.  In 2003, several agencies and non-profits funded a $17 million purchase to protect the land in perpetuity.
Take into consideration the walk from the parking lot to the water is one and a half mile long.  That first portion of the walk does not offer a lot in term of views.  Once the water is in view, the trail goes longer along bluffs.  So, you may end up walking 4 to 5 miles from here.  Take precautions and come prepared!
Note: This park is located about 6 miles north of Cayucos.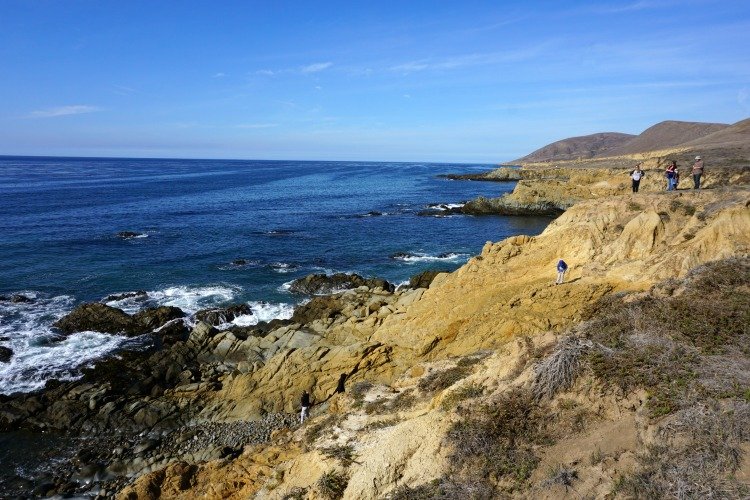 Cass House
Captain Cass, born in England, arrived in California in 1849 in order to pursue the merchant and mining businesses.  After residing in Sacramento for some time, he arrived in San Luis Obispo County and decided to start a business in Cayucos.  As I have said, he built the pier and other buildings.
He built a two-story, wood residence too.  Several fixtures and materials were acquired in Europe.  His purchases were transported by ship from San Francisco.
The house has been conserved in excellent estate and converted to a boutique hotel.  If you are not staying there, you can still enjoy the elaborate interior by visiting its fine-dining restaurant or bakery.
Photo was taken from Booking.com
Historic Museum
This museum, located at Chamber Visitor Center, has many items from Captain Cass along with 1000 images and a permanent collection of artifacts of Cayucos' rich history
Cayucos Restaurants
I have professed my love for Ruddell's Smokeshop and the Brown Butter Cookie Company already.  But, that is not all Cayucos has to offer.  There is way more wonderful food in town!
The Sea Shanty offers big breakfasts and hot coffee.
And, talking about coffee, if you cannot live without a good brew, you should stop by Top Dog Coffee Bar and Café or Luna Coffee Bar.
Seafood lovers may want to check Duckies Chowder House (for clam chowder, of course) and Schooners Warf.
Lunada Garden Bistro promises rustic cuisine full of European and American flavors.  Authentic Italian cuisine can be found at Café dell Via.
For dishes prepared using fresh ingredients from the area, visit The Grill at Cass House.
To Take Home: Cayucos Hot Sauce
This sauce was created in town by surfers.  Cayucos Hot Sauce can be on seafood, steak, chicken, eggs, tacos, sushi, soups, oysters, sandwiches, and pizza.
The sauce is sold all over the area.  Find retailers here.
Nearby Attractions
Stunning Morro Bay is located only five miles from Cayucos.  Check out my guide on what to do, see and eat there.
If this is not fun enough, remember there is a lot more to see close to Morro Bay.  In less than an hour, you can reach Pismo Beach, Avila Beach, San Luis Obispo, Cayucos, Cambria, Hearst Castle and San Simeon.
General Information
Cayucos is ideal for those who want to have a budget vacation or getaway. Things in here cost way less than in Los Angeles, San Francisco, or Santa Barbara.  Most of my recommendations are free of charge.
Parking is free in the town
This is a good place to visit with kids. Every time I visit, I see tons of families with small children enjoying the area and its natural resources
Dogs are permitted to be on the beach without a leash.
Please, take care of the environment. Do not litter and follow park instructions
Have you been here? Tell me more about things to do in Cayucos!
Pin "Things to Do in Cayucos" for later!