This article discusses tons of interesting and fun things to do in Culver City!
Culver City may not be as widely recognized as other communities in the Los Angeles area.  However, the city has an excellent location (close to the action), a golden gastronomic scene, and many attractions to keep yourself busy.
I invite you to discover the many gems of this moviemaking hub.
Please note: This article contains affiliate links, meaning I may earn a commission if you make a purchase by clicking a link. Of course, this comes at no extra cost to you and helps me to keep offering solid information to readers.
Best Things to Do in Culver City
Culver City is a wonderful place to stay when visiting Los Angeles.  The city is close to Santa Monica, Venice Beach, Marina del Rey, and Beverly Hills.
There are many things to do in Culver City and eating may be the most exciting activity.  I have plenty of recommendations related to food and balance those with active endeavors.
Let's dig in!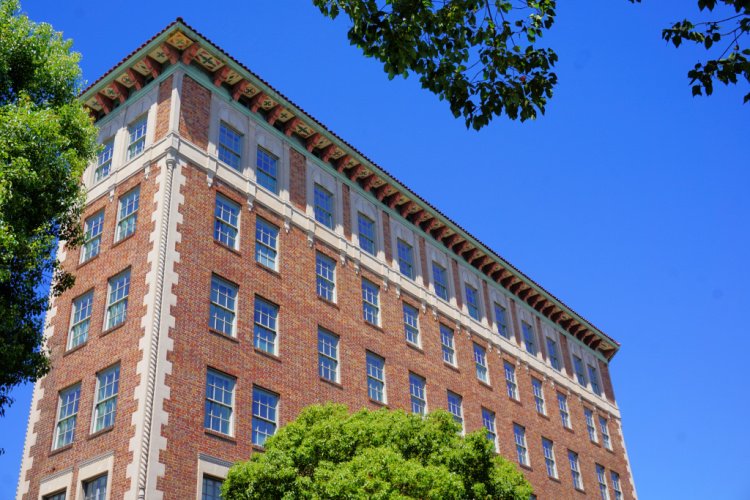 Check Downtown Culver City
I love when cities, even when they are part of humongous metropolises, maintain an air of small-town feeling within their boundaries.  They protect certain pockets containing historical structures, walkable boulevards, and small businesses.
Downtown Culver City certainly transports you outside Los Angeles.  The compact area located mainly along Culver Blvd can be walked in about an hour.  However, you need more time to discover its treasures.
When in this area, a "tall" building is going to catch your attention.  The historic Culver Hotel, considered a skyscraper when built in the 20s, maintains its grandiose aspect (even though it is almost 100 years old).  I was surprised by the beautiful details in the upper part of the structure.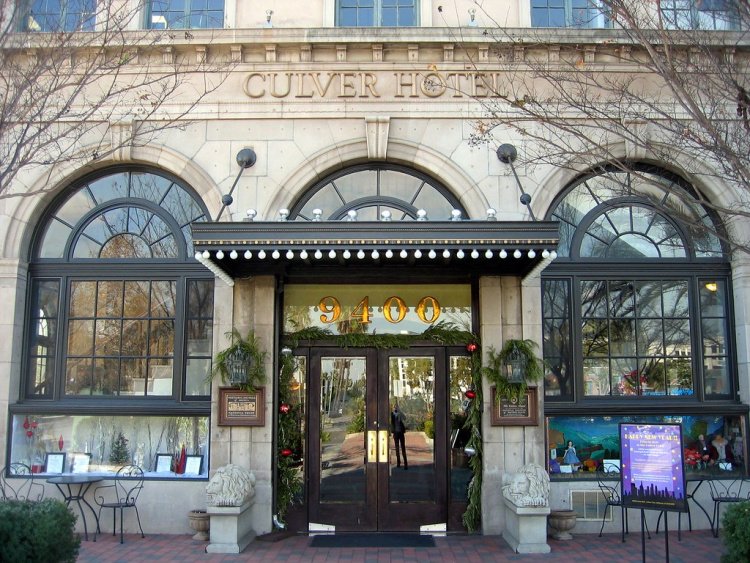 Photo by Eli Pousson
If you are not a guest, the hotel's restaurant is open for breakfast, lunch, high tea, happy hour, and dinner. The Grand Lobby transforms into a piano bar every day after 7:30 p.m. Those looking for a more unique experience should head to The Velvet Lounge, a space designed to look like a speakeasy from the 20s.  During those times, Culver City used to be bootleg central (because of the movie studios).
Behind the hotel, you will find The Lion's Fountain, a total hit with kids.  I found the main fountain statue so cute. 
Steps away, you can take a break at the Arclight Cinemas or one of the restaurants along that row.  Keep your eyes open since there are a lot of public artworks scattered around (mural, statues, etc.)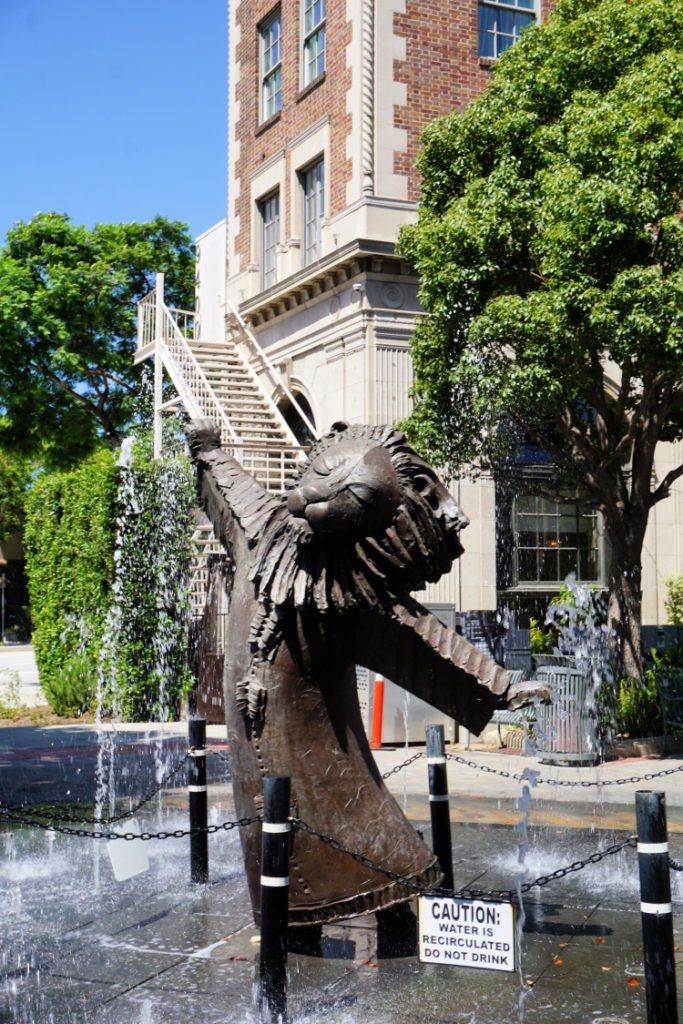 Across the street, you will find the main drag (part of it is called Bagley Avenue) and tons of restaurants serving finger-licking, delicious dishes.  I mean, Culver City has restaurants serving some mean food.
If you can't resist, I recommend the following places:
The Wallace – Open for dinner and weekend brunch, this restaurant serves seasonal dishes like grilled octopus, duck breast, and pork tenderloin.  It is best to reserve ahead of a visit.
Grand Casino Bakery & Cafe – Just by the name, you would not guess this establishment specializes in Argentinean dishes and baked goods (surprise, surprise).  You can sit down to have a parrillada, milanesa (breaded cutlet) or empanada. Or, you can grab facturas (pastries), bread, and alfajores to go.
Ugo Cafe – This cafe serves authentic Neapolitan pizza (they are part of the Associazione Verace Pizza Napoletana).  They have essentials such as the Caputo flour, San Marzano tomatoes, and fresh mozzarella down. I really like the final product.  In addition, they serve pasta, salads, and desserts.

Honey's Kettle Fried Chicken – You will know this place is good because of the eternal lines that do not seem to fade.  Yes, the chicken is crispy and well-seasoned. Sides include macaroni salad, hotcakes, and maple-glazed yams.
Wildcraft – My only complaint about this place is that it is not close enough to my house (I need to get on the freeway to get there).  Other than that, I dream about the great pizzas, duck ragu, and squid ink tagliatelle. They have a good brunch too.
Cafe Vida – This spot is very popular because of the healthy and fresh options on the menu.  They do salads, soups, burgers, tacos, quesadillas, bowls, and more. Accompany your food with a smoothie, shake, or fresh-squeezed juice.
Note: You will have to visit Downtown several times to get a good grasp of the gastronomic scene.  There is too much to take in one seating. Part of Downtown extends to Washington Blvd and other minor streets.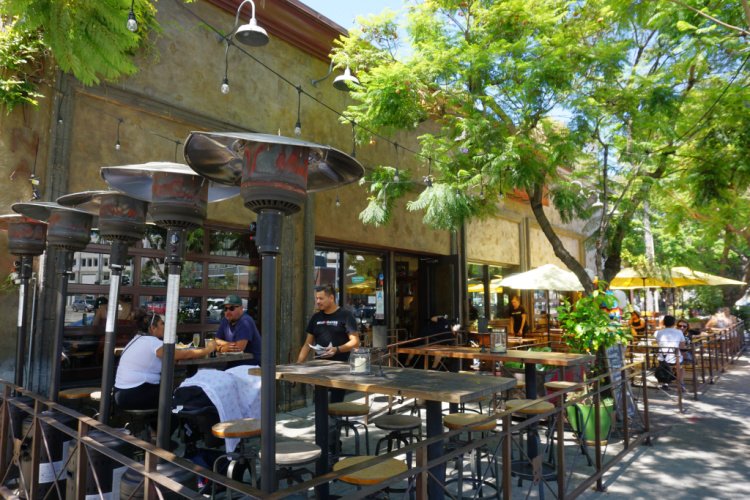 On the entertainment front, you can check the offerings of the Kirk Douglas Theatre and The Actor's Gang. The Kirk Douglas Theatre is one of the venues where the CenterTheatre Group, one of the largest theatre companies in the United States, performs.
Do not leave the area without checking the City Hall.
Visit the Arts District
The Culver City Arts District is a swath of land bounded by the 10 Freeway, Venice Beach Boulevard, National Boulevard, and Washington Boulevard.
The area is home to over 20 galleries, retails shops, coffee shops, and restaurants.  It is a nice place to get your creative juices flowing while walking at a relaxed pace.
A cluster of galleries is located in La Cienega Boulevard (west of Washington Boulevard).  Pay a visit to places such as Kopeikin, Edward Cella Art & Architecture, George Billis, Honor Fraser, Walter Maciel, and Anat Egbi.
Other cool spaces (Thinkspace Gallery, Klowden Mann) are located along Washington Boulevard.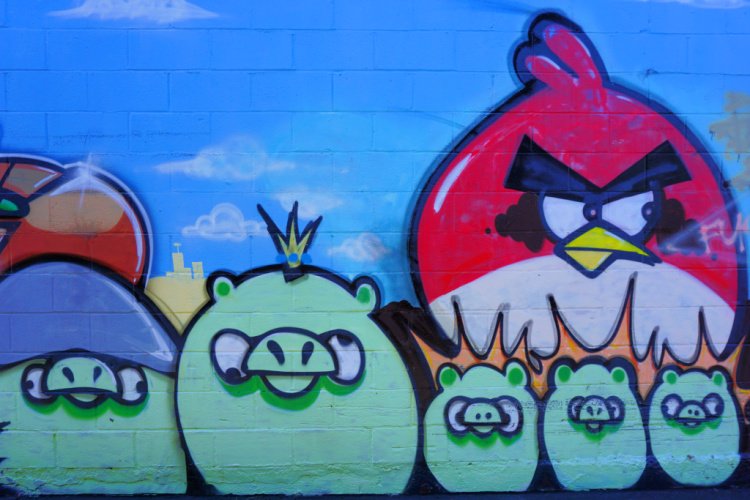 If you are feeling hungry, do not miss the delicious Oaxacan flavors at EK Valley.  The food there is memorable. Element 29 is a gourmet deli and Bar & Garden offers spirits, beer, and wine tastings.
For a small bite, stop by The CoolHaus Shop or Cognoscenti Coffee.
The Arts District host an Art Walk & Roll Festival (yearly, October) and an Art Walk every second Saturday of the month.
And, keep your camera at hand since there is a lot of cool art in the area.  I found a lot of murals along Washington boulevard.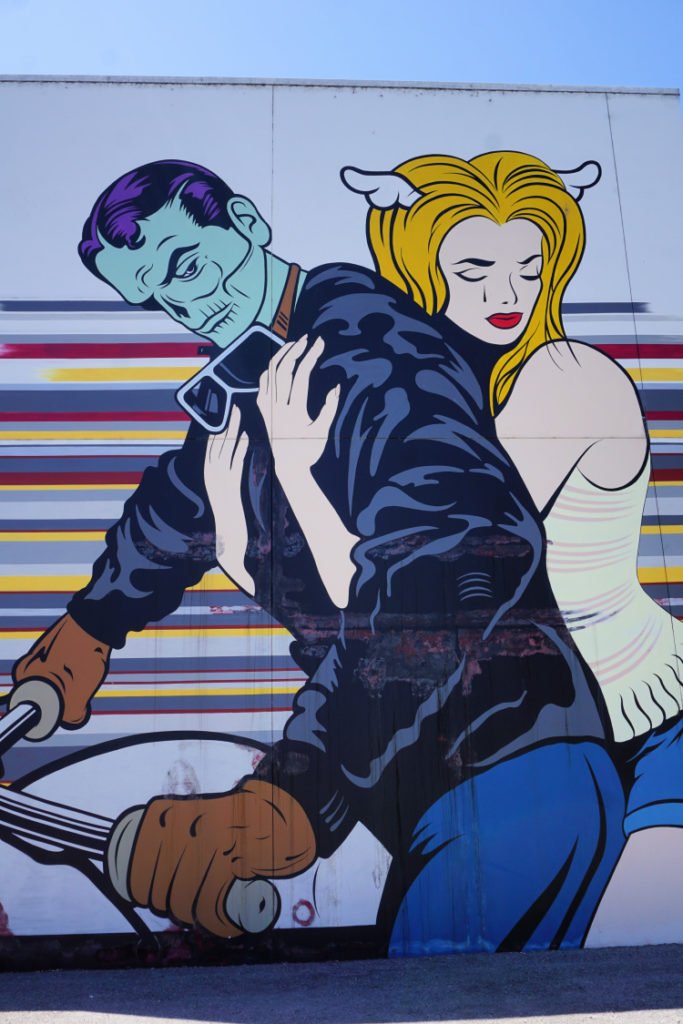 Stroll the Helms Bakery District
Ok, the Helms Bakery District is actually part of the Arts District but I felt like giving it its own entry on the article.  
Helms Bakery, a once well-known bakery in Southern California, operated from 1931 to 1969.  Its fame was associated with providing all baking goods to the 1932 Olympics (Los Angeles). After that event, it continued providing its product to Olympians from different countries.
Nowadays, the industrial complex where the company was located, has been repurposed as open-air retail, design, dining, and relaxing space.  You can enjoy stores such as Arcana: Book on the Arts and Buttercup or restaurants like Father's Office and Lukshon. Or, it is easy to relax next to the trees and fountains.
There are rumors about the Helms Bakery rising from the ashes.  Well, at least, a cafe is expected in the near future.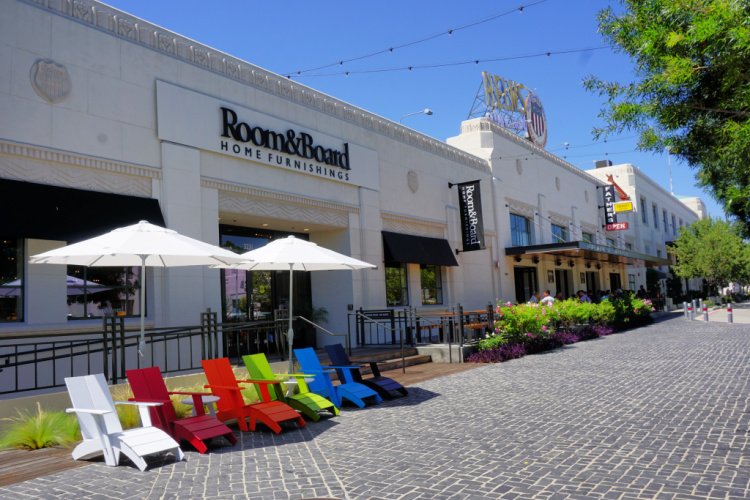 Tour the Sony Pictures Studios
I do not have to say this but Los Angeles will be always associated with the film and TV industries.
Therefore, it makes sense to get a glimpse of where some of the magic is created during a visit.
In Culver City, you can book a spot at the Sony Pictures Studio Tour.  In two hours, you will have the opportunity to visit TV sets (Jeopardy, Wheel of Fortune, Seinfield), admire recording studios, and see props used in movies (the car used in Ghostbusters, motorcycles from Men in Black).
Now, I urge you to make your research before booking this tour.  The guide will cover a lot of information and interaction is kept at a minimum.  This is not the scripted tour you will encounter at Universal Studios or Warner Bros.  Some people find it boring and not ideal for children.
Assess if this is the type of activity you will enjoy.  Price is $50 per person (not negligible, so make sure this is your thing).
Marvel at The Museum of Jurassic Technology
Close to the Downtown area, you will find the often described as bizarre Museum of Jurassic Technology.  While technically not part of Culver City, it is too close for me not to include in this article.
This is not your typical museum.  Exhibitions include miniatures, floral radiographs, knots, and insights into the lives of dogs that were used for Soviet space programs (!). A tea room and theater are located on the second floor. 
As for the name of the museum, nobody seems to be sure why it was chosen.  I guess that is part of the fun.
A donation of $10 is asked to enter.  Openings days are Thursday to Sunday (afternoon).  Photography or videos are not permitted on the premises.
Learn at The Wende Museum
Keeping in the realm of out-of-the-ordinary museums, The Wende is a space dedicated to the Cold War.  Sounds boring? As a matter of fact, I found this museum super interesting.
When I visited, they had exhibits about TV, and its influence, during the Soviet era, and the ties of Tito (former Yugoslavia president) with African nations.  Their exhibitions rotate so, you can visit every six months and see something different.
In addition, they have a permanent collection of items from the Soviet Union and Eastern Bloc (including pieces of the Berlin Wall) and a garden featuring a Wartburg, a car manufactured in Eastern Germany.
The museum is open from Friday to Sunday.  The entrance is free.
Fact: Wende is a German word that means "Turning Point."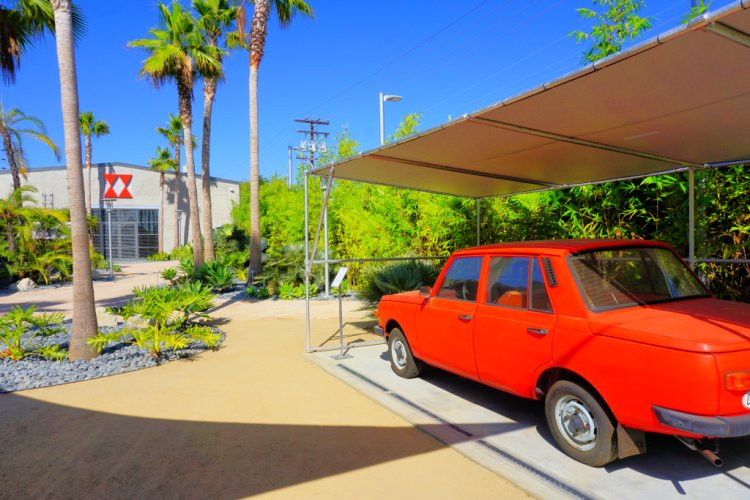 Learn About Wildlife at the STAR Eco Station
The STAR Eco Station provides a home to exotic animals.  In partnership with the U.S. Fish and Wildlife Service, they acquire species that are illegally trafficked or abandoned by owners. As you can imagine, these animals cannot return to their natural habitats.  In this environment, they are given a chance to live as happily as possible.
Guided public tours are offered on Saturdays and Sundays.  You can join a tour every hour from 10:00 a.m. to 4:00 pm.
The ratings of this place are out of this world.  Check out what visitors have to stay and get motivated to stop by. 
Hike at the Baldwin Hills Scenic Overlook
Lately, people seem to have an obsession with stairs (thanks to Instagram).  So, you are going to have visitors all over Los Angeles looking for the most popular ones.
The Culver City Stairs have attained a certain level of fame.  Residents of the area mention "the stairs" frequently.
Well, the hundreds of (irregular) steps are part of the Baldwin Park Scenic Overlook.  Think about this place as a hill in the middle of a plain. From the top, you have 360 views of Greater Los Angeles, including Downtown, Wilshire Boulevard, LAX, and the ocean.
The stairs allow you to climb the hill.  But, lazy people like me prefer to drive to the top (I know, so disappointing). 
This is a neat place and I cannot recommend it enough.  This is a cool spot to take your out-of-town visitors. A visitor's center with historic, natural, and interactive exhibits is located on-site.  This is a free attraction but keep in mind parking starts at $2 per hour. You can leave your car outside the boundaries of the park to avoid paying to park.  However, you will need to climb that hill!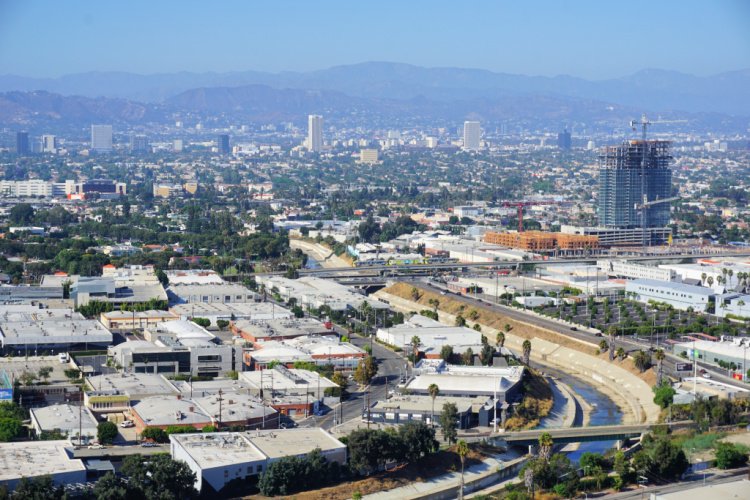 Stretch your Legs at the Culver City Park
Meters away from the Baldwin Hills Scenic Overlook area, you will find the 41 acre Culver City Park.  As a matter of fact, a trail connects the two recreation areas.
This big park has amenities that make it an ideal place for family or friends' gatherings.  You will find BBQs, picnic tables (some are shaded), parking lots, playgrounds, potable water, and restrooms.  Sporting facilities include a basketball court, skate park, and walking path.  Dog owners can take their pooches to an off-leash area or walk them in a designated path.
Admire the Views from Kenneth Hahn 
Just across the Baldwin Hills Scenic Overlook, the Kenneth Hahn State Recreation Area offers a similar experience. 
Each park has its own unique features but Kenneth Hahn is somehow more developed and offers more to the visitor.  Plus, the views of Downtown Los Angeles are great from here.
The area counts with 7 miles of trails, picnic sites, a fishing lake, a pond, playgrounds, a basketball court, a volleyball court, and baseball diamonds.  It is a nice place to be as active or inactive as you want.
There is a $6 entrance fee during weekends and holidays.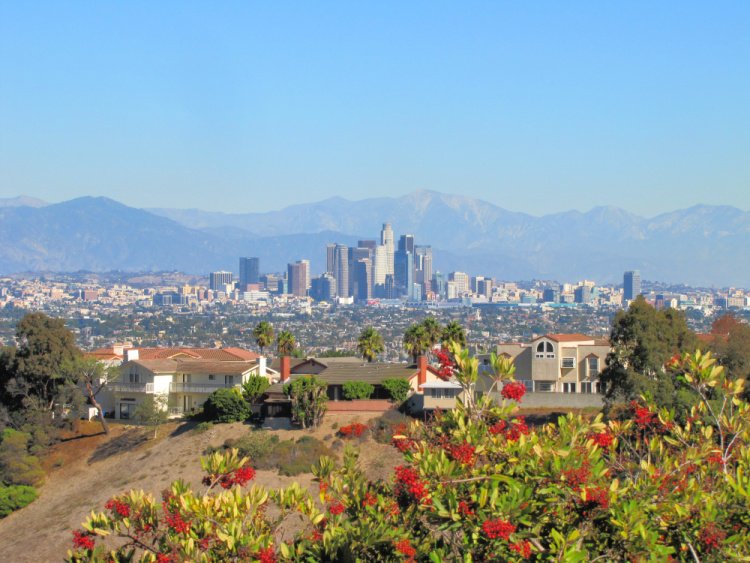 Ride the Ballona Creek Bike Path
As we have seen, Culver City offers many outdoor activities.  Well, there is yet another fun undertaking for active types.
The Ballona Creek Path extends for 7 miles from Syd Kronenthal Park (Culver City) to Marina del Rey (to the ocean).
You do not have to bike the entire path.  There are 13 entrances along the way. Check this site to check where to join the trail.
Shop, Dine and Explore at Platform
I am not a big fan of malls.  Nevertheless, Platform, a revitalized industrial space, tries to break the mold of retail spaces.
The creators of the concept want to provide a space for creatives, chefs, fashion designers, and entrepreneurs. Pop-ups, events, and exhibitions are constant.
On the culinary front, you can visit restaurants like Loqui (Baja taqueria), Roberta's (pizza joint from Brooklyn), Margot (Coastal Mediterranean with views of the city), and Sao Acai.
Retailers include Monocle, Poketo, and Aquelarre.  
Do not miss the cool mural painted on the parking structure.  It is one of the most characteristics of the city.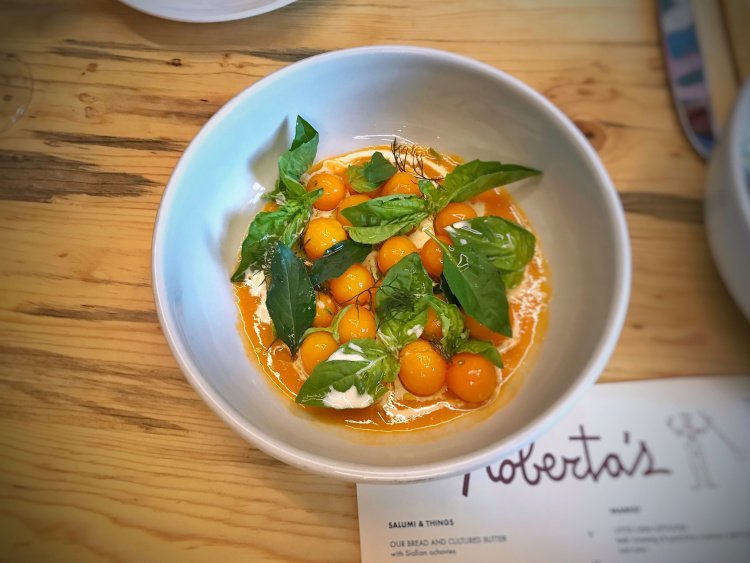 Photo by T. Tseng
Bike (or Walk) the Culver Boulevard Bike Path
By now, you have probably noticed Culver City has a lot to offer in terms of outdoor attractions.  Since that seems to be the nom, let add another sporty activity to the list.
The Culver Boulevard Bike Path stretches for about 2 miles along the Culver Boulevard.  The path starts south of Downtown at Huron Avenue and goes all the way to McConnell Avenue in Playa del Rey.  You can use McConnell Avenue to connect to the Ballona Creek Bike Path and pedal all the way to the ocean.
The Culver Boulevard Bike Path has a parallel pedestrian path which, by the way, is wheelchair accessible.
Stop by the Holy Cross Catholic Cemetery
In a place so entangled with film and TV, I believe it is not out of the ordinary to suggest a visit to a cemetery.  After all other cemeteries like Hollywood Forever and Forest Lawn are popular touristic attractions in Los Angeles.
At the Holy Cross Catholic Cemetery, you will find the grave of stars such as Bing Crosby, Loretta Young, Ray Bolger, Jimmy Durante, Fred MacMurray, Rosalind Russell, Lawrence Welk, and John Candy.  For a complete list, take a look at this article.
Please keep in mind this is a place of rest.  Follow rules and be respectful if you decide to visit.
Culver City Events
As we have seen Culver City seems to hit the mark when it comes to outdoor, cultural, and gastronomic activities.  So, it is not a surprise that the city's events offering is varied.  Here is a sample of the events that can be enjoyed around the year.
Martin Luther King Celebration (January)
Culver City Car Show (May)
Taste of the Nation (June)
Culver City's Music Summer Festival
Fiesta La Ballona (August)
Asian World Film Festival (November)
Things to Do Near Culver City
If you want to continue exploring the Los Angeles area, make sure to check the following areas and cities.
Sawtelle Boulevard – This is the place to eat Japanese food.  You will get surprised by the huge amount of options (ramen, udon, soba, tempura, sushi, et.)
Sawtelle Restaurants: LA's Japantown
Marina del Rey – This unincorporated area described itself as Los Angeles' Marina.  There is a lot to do from beaches to watersports and from a fisherman's village to yoga over water.
Things to Do in Marina del Rey
Venice Beach – You cannot leave Los Angeles without feeling the vibe of the hippest part of the city.  Venice has a weird side and an upscale one. It is up to you to choose which one is preferred.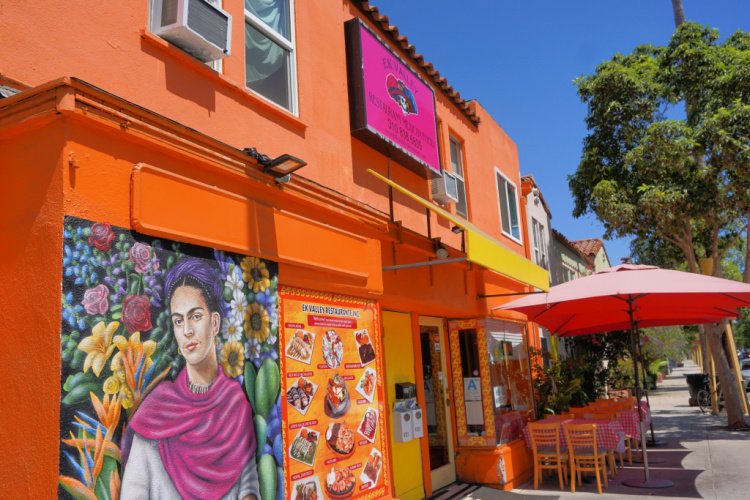 Gastronomic Experiences in Culver City
We have discussed places to eat here and there.  Although, I want to bring your attention to some specific cuisines.
I cannot talk about Culver City without mentioning EK Valley, a restaurant serving authentic Oaxacan cuisine.  And, when I say authentic, I mean it. The food here blew my mind.
My husband had a Tlayuda with the three main proteins of Oaxaca (tasajo, cecina, and chorizo).  I had chicken enchiladas covered with black mole (enmoladas). If you love food, you have to visit this place!
Other nearby places serving Oaxacan food are Sabores de Oaxaca, Casa Oaxaca, and Juquila.
Another cuisine to try is Jamaican.  The Jerk Spot and Janga by Derrick's serve jerk chicken, oxtail, curry goat, blackened snapper, and, of course, patties.  
In terms of Indian cuisine, I recommend visiting Annapurna Cuisine, Mayura, and Zafran Spot.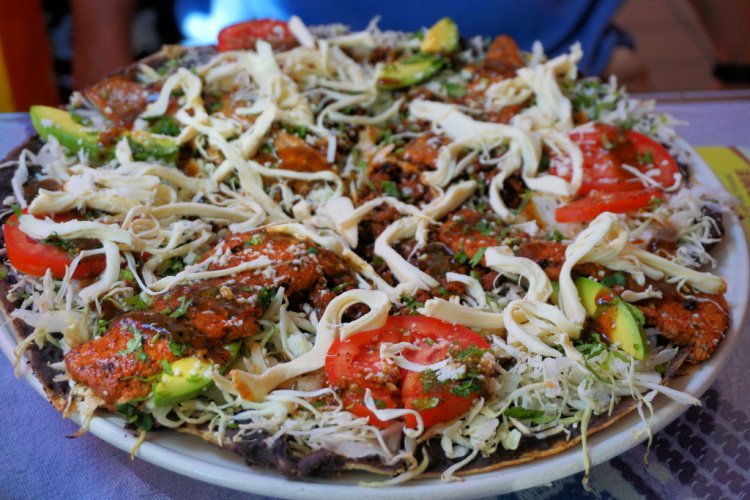 Restaurants in Culver City
Yet another section dedicated to food! It may look a bit excessive but not for a person like me.  The dining scene in Culver City is one of the city's greatest assets.
Make sure to add the following to your gastronomic bucket list.
Ramen Yamadaya – This establishment serves the classic Tonkotsu ramen, as well as a spicy and cold version.  In addition, they have Tusukumen, rice bowls, bento boxes, and salads.
Metro Café – This is an excellent version for breakfast, brunch, and lunch.  They serve omelets, pancakes, scrambles, salads, sandwiches, and burgers. Be ready to wait for a table.
A-Frame – Thinking about this place makes my mouth water.  Dishes have a Hawaiian and Californian twist. For example, they serve pork fried rice, loco moco, and barramundi in citrus-curry broth.
Akasha – There are tons of seasonal options on Akasha's menu.  You can opt for the beets & avocado salad, seafood curry, BBQ pork ribs, hamburgers, and fried chicken sandwich.
Humble Potato – Do not be fooled by the name.  This is a burger joint. And, what a burger joint! Ther have a selection of burgers featuring beef, pork belly, and tempeh patties. Complement your meal with small bites, sandwiches, and hot dogs.
Maple Block Meat Company – Another dreamy place where brisket, ribs, and sausages are served.  For the sides, braised greens, mac & cheese, and white cheddar grits are available.
Tito's Tacos – I personally do not like this place but I am including it since it has a cult following.  Expect an Americanized version of several Mexican staples.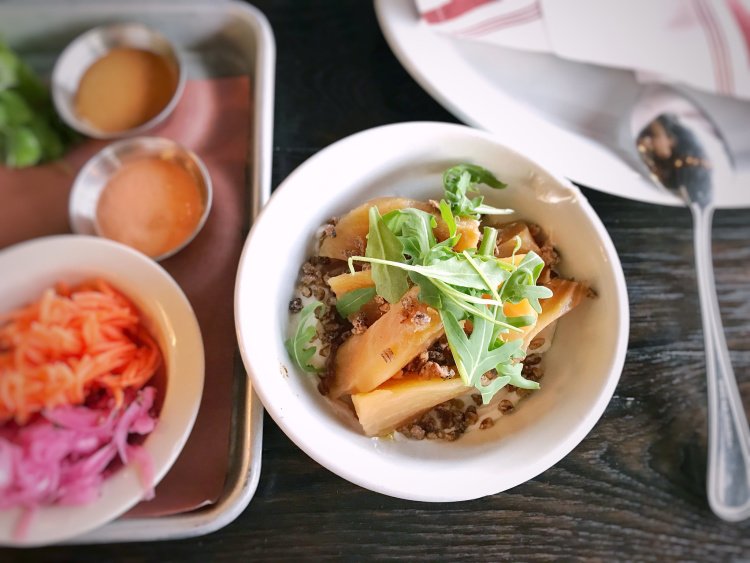 Photo by T.Tseng
Sightseeing Gear
Get ready for a day of sightseeing by bringing the right gear.  Here is a list of the items I pack to would take to explore Culver City tourist attractions.
Frequently Asked Question
Here are some of the most common questions I get about Culver City.
What is Culver City known for?
Culver City is known for its location (close to Santa Monica, Venice Beach, Marina del Rey, and Beverly Hills), ties to the film and TV industries, Sony Pictures Studios, Titos Tacos, and its excellent restaurants.
What are some free things to do in Culver City?
In Culver City, you can explore Downtown, the Arts District, the Helms Bakery District, and the Platform shopping center for free.  These places offer wonderful photo opportunities.
The Wende Museum, Culver City Park, and bike/walk paths are free.
The Kenneth Hanh Recreational Area is free during the week (it charged $7 during the weekends and holidays).  The Baldwin Hills Scenic Overlook is free but you have to pay $2 per hour for parking (which is more than reasonable).
What are some things to do in Culver City at night?
Culver City is great when it comes to nightlife. Culver City bars, lounges, and music venues include Flora Rooftop Bar, The Cinema Bar, Alley Lounge, Accomplice Bar, ArtBatLA, and The Velvet Lounge.  
Wine Bars include Ugo Wine Bar, Belle Vie, and Bottle Rock.  For Karaoke, you can go to Backstage and Boardwalk 11.  Blind Barber is a fun speakeasy.  And, do not discard hotels.  The bar at The Culver Hotel is a great place to have drinks before dinner.
There are many other places clustered Downtown.
What are some Culver City Fun Facts?
Culver City is named after its founder, Harry Culver.
Metro Goldwyn Meyer built their studios in the 20s in Culver City.  If you have not realized it that is what MGM (like in MGM Studios) stands for.  Of course, we are all familiar with the lion as their symbol.  The headquarters are now located in Beverly Hills. The facilities were taken over by Sony.
Classics such as The Wizard of Oz and Gone with the Wind were filmed in Culver City.  Part of Grease was filmed there as well.
Howard Hughes opened his aircraft plant in Culver City.
More of Los Angeles
Here is a look at some more things to do in LA.
Los Angeles Ultimate Bucket List
Weekend Getaways from Los Angeles
Things to Do in Downtown Los Angeles
A Day in LA: 4 Amazing Downtown Itineraries
Well, what do you think about Culver City now?  Cool, right? Let me know what do you like about the city.
What things to do in Culver City do you recommend?
Pin "Things to Do in Culver City California" for later!