Today, Sam from Sam Sees the Worlds shares with us the best things to do in Kotor, Montenegro.  Her two-day itinerary will make you want to spend some time in this beautiful city!
Located at the base of the Bay of Kotor sits the small yet stunning city of Kotor, Montenegro. This is a charming city that is full of exciting things to do, see, eat and experience. Here you will find a plethora of historical significance, beauty, and surprises around every corner. 
Its small size means that exploring it in one or two days is enough, and if you are a fast traveler you can even experience some of Montenegro beyond Kotor. It takes only 4 hours to drive from one end of Montenegro to the complete opposite end. This means most cities are only about 30 minutes apart and seeing multiple cities and attractions in a day is more than doable! 
With this in mind, this two-day Kotor itinerary is focused on one day in Kotor and the other exploring some of the surrounding attractions. However, you can modify this to your needs. If you feel like you need more time in Kotor, feel free to ditch the other activities and keep the explorations going!
How to Get to Kotor
Nowadays, getting to Kotor is relatively easy due to the many ways the city is connected to other parts of Europe.  Find more details below.
By Plane
Airlines such as Delta, Air France, Ryanair, and Alitalia fly directly to Podgorica, Montenegro's capital (1.5-hour drive to Kotor).  Recently, Jet2 opened a flight to Tivat (10-minute drive to Kotor) from Stansted (London).
The other option is to fly to Dubrovnik (Croatia), stay there several days and then, move to Kotor by bus (1.5-hour drive) or private shuttle.
For people coming from the U.S., it is usually cheaper to connect to Montenegro through London.
By Road
As mentioned, reaching Kotor from Dubrovnik is straightforward.  Kotor's bus station is located close to Old Town.
It is possible to reach Kotor, by bus, from cities such as Shkoder (Albania) and Mostar (Bosnia and Herzegovina), as well that from other cities in the country and Croatia.
Hotels and travel agencies can help you to book a spot on a private vehicle in order to avoid the bus system.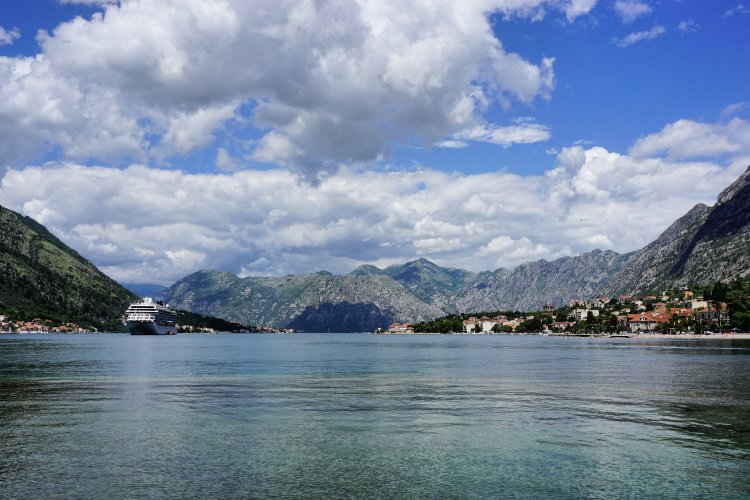 Things to Do in Kotor – Day One
On your first day in Kotor, get ready to experience the best the city has to offer.
Hike the Kotor Fortress
The Kotor fortress is one of the main attractions in Kotor and for very good reason, in fact, it is one of the best places to visit in Montenegro! Up 1300+ from the bottom of Kotor's old town sits an old stone fortress built into the mountainside. From up here, you are blessed with some of the most breathtaking panoramic views of the Bay of Kotor that are unlike anything you've ever seen. 
Three years ago, the hike was free, two years ago it was 3 euros each, this past year (2019) it was 8 euros each! The price seems to be continually going up, and it is not that cheap for a grueling hike that will exhaust you. However, the views from the top are 100% worth it.
It is best to do this hike first thing in the morning. Starting it between 7 AM – 9 AM is best because the sun hasn't made its way over the mountain and you will welcome the shade this provides! The whole hike takes around 30 minutes each way (if you walk quickly) and there are some water stands along the way in case you get thirsty.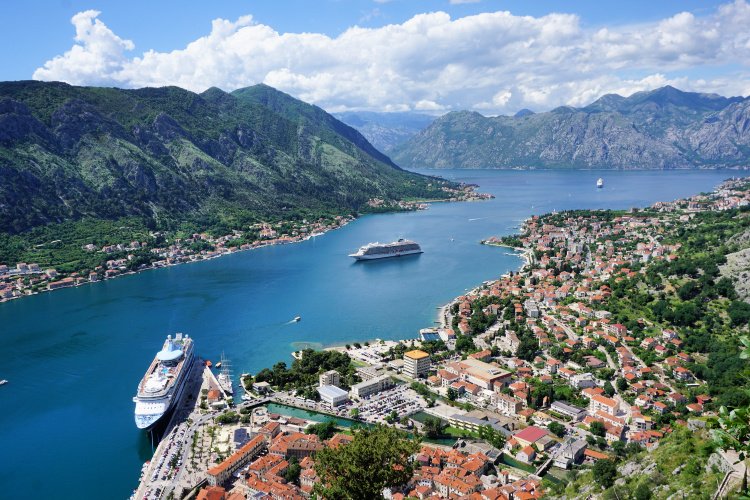 Breakfast in the Old Town
After the hike, you will most likely be very hungry and thirsty and ready for a break. This is why I suggest you head to one of the restaurants located in the Old Town and have a nice sit-down breakfast. Consider one of these places for a nice breakfast: Cukar or Astoria Restaurant.  
Walk Around the Old Town 
The old town in Kotor is beyond stunning and interestingly enough it is a designated UNESCO World Heritage Site. It really holds that authentic medieval look and feels like a set from Game of Thrones. There are so many little streets and hidden alleys to walk down and explore, which is why spending multiple hours here is a must. In fact, you might lose track of all time while exploring this enchanting Kotor hot spot.  
This is the ideal time to soak in the historic cobblestone streets, green shutters, and orange roofed houses that have been inhabited for centuries! If you are only in Kotor for a day or two you will most likely spend the majority of your time in the old town due to its beauty and excitement.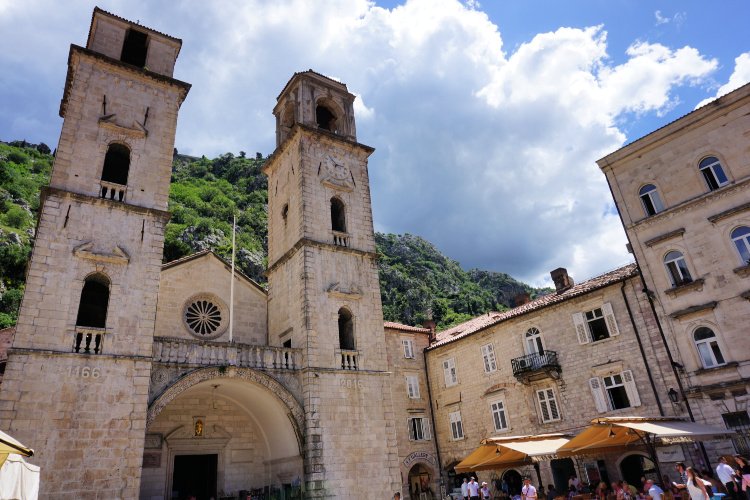 Go Shopping in Authentic Stores
Kotor's old town is full of authentic Montenegrin shops that have souvenirs, jewelry, art and more. If you are looking for something to bring home for yourself or as a gift this is the time to find it. Just be on the lookout, you may find the best shops hidden down side streets and alleyways as this is where the local vendors are.
View the Old Palaces
Kotor used to be the home place for the Nobles of Montenegro, due to its location at the end of the bay and surrounded by mountains it was very safe. As a result, there are some palaces left from then that are still standing to this day. They are not like the royal palaces you would expect but they are still nice to venture to and see.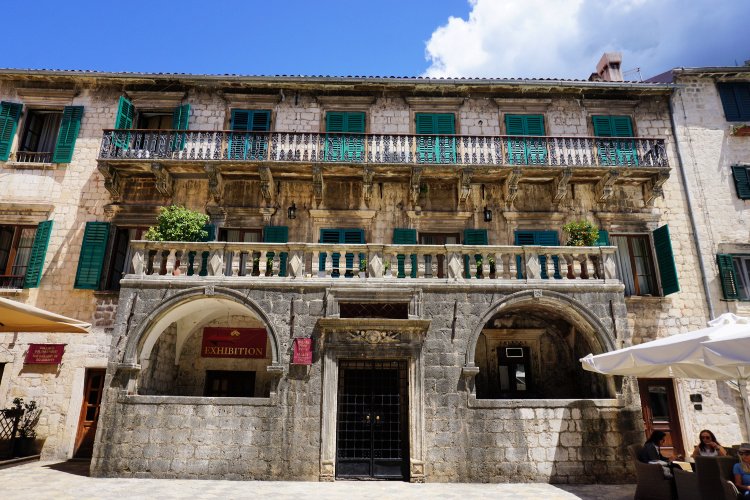 Visit an Ancient Church
Kotor is full of old churches all with their own unique story and interesting artifacts. You will see them scattered around the old town but there are two main ones you must see! 
The first is Tryphon Cathedral which dates back to 1166, although it is not in its original form because it has been reconstructed several times due to earthquakes in the area. This is the most prominent church in Kotor's old town and one of two roman catholic cathedrals in Montenegro. 
For your information, the religion practiced in Montenegro is Orthodox Serbian. Be sure to head inside this church and have a look around, plus look at the two pillars that are built to different heights! The height difference is because the city ran out of funds during reconstruction and had to complete one at a different height. 
The second church you must visit is St. Lukes which dates back to 1195 and is still standing in its original form! This is a historic church that is well worth a visit and you can even see some of the original artwork painted on the walls inside.
Eat authentic Montenegrin food for lunch
Montenegro has its own special dishes that you must try while visiting Kotor. The cuisine here is a mix of Mediterranean, Italian, and Turkish! Some dishes you have to taste for yourself are Cevapi which are small sausages made of pork and beef, punjene paprike which are stuffed peppers, and any type of seafood and a local fish option. 
Walk along the pier
Since Kotor lines the Bay of Kotor there is a nice pier that goes along the waterline just waiting to be walked. It is best to do this at night or during sunset so you can see all of the Bay and surrounding mountains alight in a soft warm glow. Plus, during the day the shore is full of cruise ships and during the night they will have left.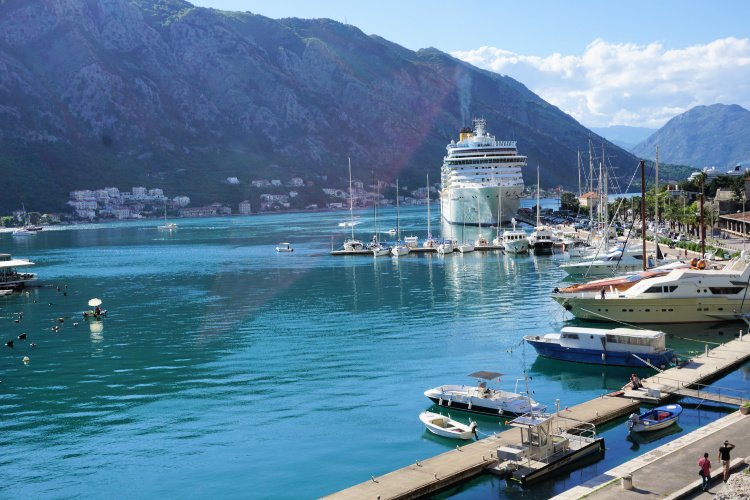 Things to Do in Kotor – Day 2
Day 2 is all about getting outside the city and exploring the surroundings. The city is beyond pretty but, believe me, you want to get out and see more of the country.
Get a small breakfast from a bakery
Kotor has quite a few small bakeries that are full of morning treats at a very low cost. Find one of the many in Kotor's old town and grab a fresh croissant or pain au chocolate. You can also find a nice place to sit in the old town before it gets busy with tourists, or you can eat it along the waterfront. 
On day two you have a decision to either take a boat tour and see Our Lady of the Rocks and Perast or take a bus to Tivat.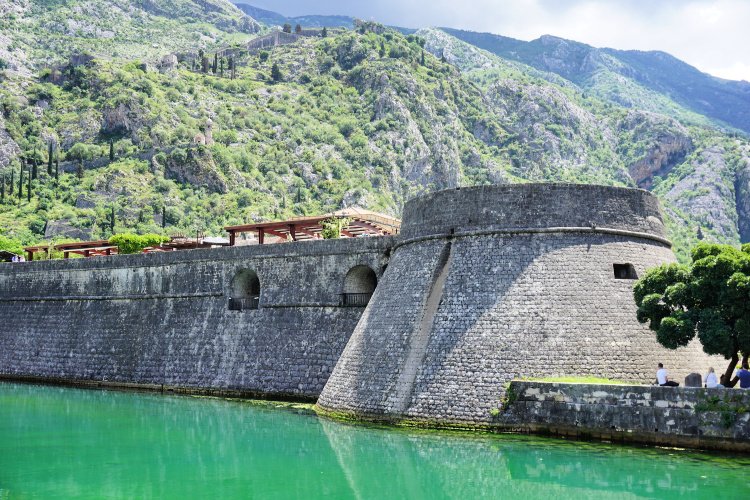 Things to Do in Kotor – Option 1: Visit Tivat
Tivat is a very interesting city in Montenegro that is very different from the others. It is very modern and underwent recent updates that have made it quite luxurious and high end. This is now the main yacht port of Montenegro and a great place to spend the day. There are tons of things to do in Tivat that are well worth your time. 
Things to Do in Kotor – Option 2: Boat ride to Our Lady of the Rocks
A quick 15-minute boat ride from Kotor is the must-see island called Our Lady of the Rocks. It is actually an artificial island created by throwing rocks into the water and sinking old ships! The island is located in the middle of the Bay of Kotor and is home to one church. The church is very recognizable by its blue-domed top and looks amazing up close up.
The whole island is quite small but offers a great view of the surrounding mountains, and 360-degree views of the Bay of Kotor. You are welcome to just walk around the small island, but you can also enter the church for a small fee. The inside is almost like a museum filled with old artifacts, paintings, and historic information.  
Boat to Perast 
From Our Lady of the Rocks, it only makes sense to also venture over to Perast, a quaint village that lines the Bay. Although it is small, it does have a few museums, some nice restaurants and some places to swim. Going here is a must and offers a welcome escape from the busy streets of Kotor during midday. 
As mentioned, Perast has various restaurants and cafes for you to dine in. They are all very authentic and offer Montenegrin cuisine for you to eat. This is a great place to eat seafood as it is usually very fresh and straight from the source.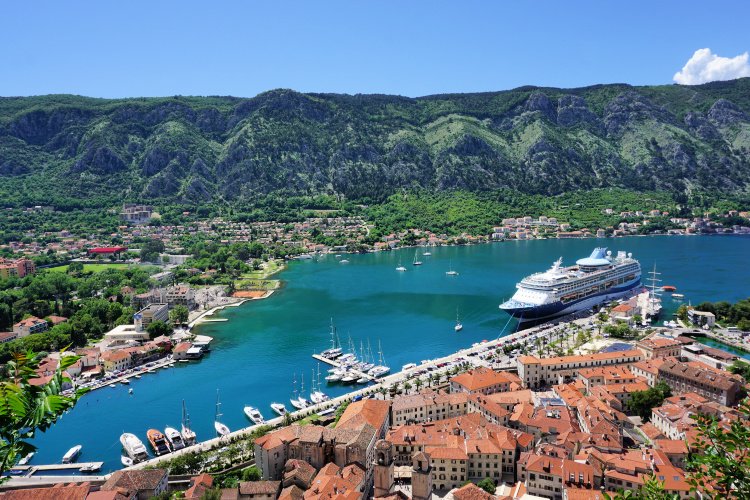 Dinner with a view in Kotor
After a day away from Kotor, it is time to spend some quality time in the beautiful city. One of the best ways to really soak up the beauty of Kotor and see it in its tranquil state is by enjoying a delicious dinner with a view. Some great options are Pirun & Ozica, Konoba Bonaca, and Galion. 
Exploring Kotor in 2 days is more than achievable. This small city holds a strong punch and depending on your travel styles you can spend the full two days there, or also explore some neighboring sites. Just be sure to appreciate this historic and magical city and all it has to offer.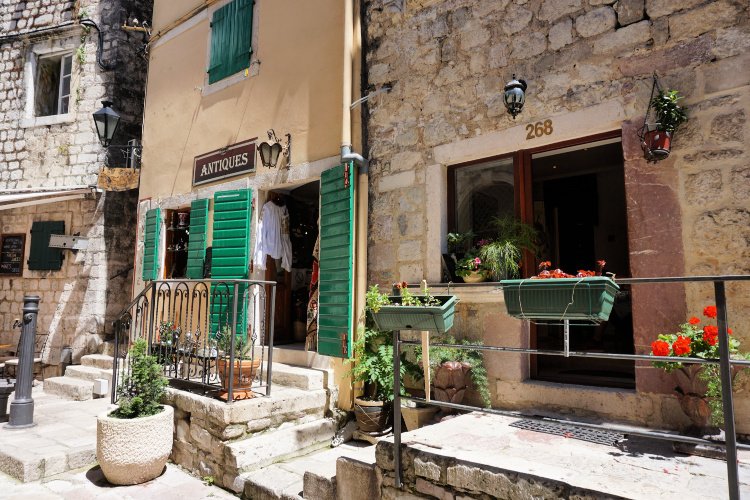 Things to Do in Kotor – Additional Days
Kotor is a pretty nice place to use as a base to explore Montenegro.  You can easily spend a week here without getting bored. Here are some ideas on how to spend additional days in the city.
Do the Great Montenegro Tour with 360 Monte – On this full-day tour, you will be taken to Njegusi (the dry-cured ham village), Lovcen National Park, Cetinje (the old capital), and Skadar Lake.  This is one of the best day trips I have done in my entire life.
Do the North Montenegro Tour with 360 Monte – On this tour, you will visit Perast, Niksic, Tara Canyon, Black Lake, and Ostrog Monastery
Visit Budva and Sveti Stefan –  These can easily be reached by bus from Kotor.
Cycle the Kotor Bay
Visit Herceg Novi, the Blue Cave, and Desolated Beaches
Note: When I visited Montenegro, I paid for my own tours.  I am recommending a particular agency because my experience with them surpassed m expectations.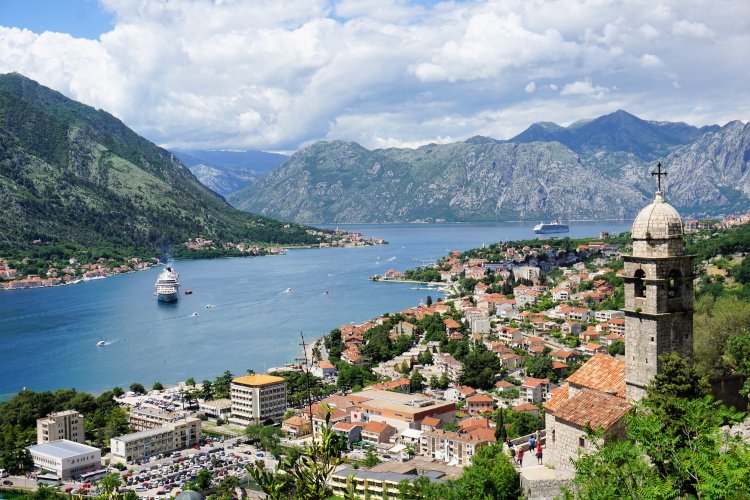 Things to Do in Kotor – Day trip from Dubrovnik?
I do not recommend visiting Kotor as a day trip from Dubrovnik.  I understand this may be the only option for some people.
However, as you may have perceived from this article, there is quite a lot of things to do in Kotor (and Montenegro).  I encourage you to make the proper arrangements to get to experience the city.
___
Samantha Karen is the founder of the travel bog Sam Sees World. She is a millennial traveler on a mission to seek the new and unknown so she can document her experiences and inspire others to explore this wondrous world. Her objective is to provide valuable information on the best things to do, see, eat, and experience while traveling and getting some good Instagram photos along the way. Follow her on Pinterest and Instagram.
More About the Area
Things to Do in Cavtat, Croatia
Visiting Plitvice National Park
What things to do in Kotor do you recommend?
Pin "Things to Do on Kotor" for later!