This article highlights the best things to do in Lancaster, California.
Lancaster, California really surprised me.
Many years ago, I came to see the poppies and skipped town.  Recently, the poppies lured me back to the area but this time I gave myself time to explore.
And, let me tell you, that was a smart idea.  The number of things to do in Lancaster blew my mind. I stayed the entire weekend since there was no way to pack all I wanted to see in one day.
After my experience, I am ready to tell you everything about this high desert community in Los Angeles County.  What I discovered is more fascinating than I thought. So, come with me for the ride!
Please note: This article contains affiliate links, meaning I may earn a commission if you make a purchase by clicking a link. Of course, this comes at no extra cost to you and helps me to keep offering solid information to readers.
Things to Do in Lancaster, California
In this article, I want to give you as much information as possible about the indoor and outdoor things to do in Lancaster.  This is an important point to take into consideration since the weather will have a significant influence on your plans.
As usual, I am focusing on Lancaster itself.  I will provide ideas on nearby attractions later.
The Must See:  Antelope Valley Poppy Reserve
There are not many things as Californian as the poppy (Eschscholzia californica).  Therefore, when the flower is in bloom, residents make as much effort as possible to admire them.
The Antelope Valley Poppy Reserve (or Antelope Valley California Poppy Reserve State Natural Reserve) is one of the best places to see the state's flower in all its glory.  I have been to other places where the poppies bloom but, for some reason,  the orange color is very intense on this spot. You see the hills covered in "fire" from miles afar.
The other important thing to mention is that in the Antelope Valley Reserve there are 25-30 different species of plants blooming along with the poppies.  On a recent visit, I saw shades of yellow, pink, purple, and white. That made the natural spectacle so much impressive.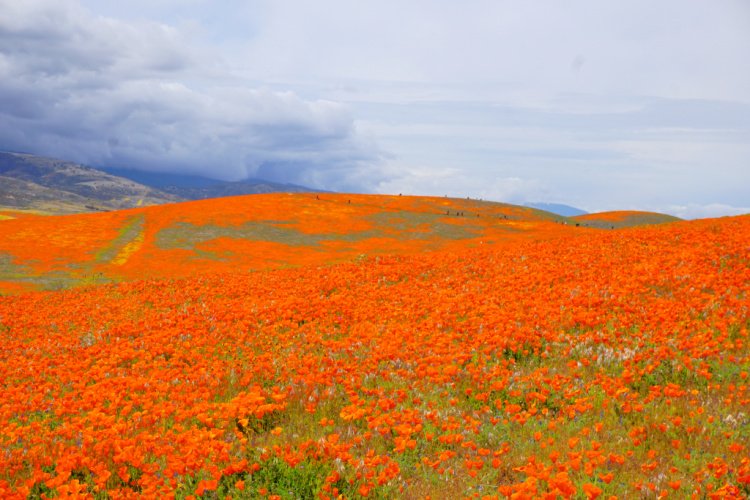 The reserve is equipped with a visitor's center, restrooms, potable water, and miles of trails.  Most trails are easy and suitable for all ages. Rangers can help you to plan your day or point you to the correct spot if you are looking for a specific flower.
Now, poppies bloom from mid-March to mid-April.  The intensity of the blooms depends on several factors (mainly winter rain). As a consequence, some years may not be good for the flowers.  My suggestion: if you keep hearing the term "super bloom," plan your visit ASAP. It may be several years before they are in full bloom again.
The Reserve fee is $10  per car.
Tip:  Be patient since you will have to deal with crowds while going to see the flowers.
Advice: If you park outside the reserve and enter by foot, consider making a donation at the visitor's center.  In that way, you are still contributing to the maintenance of the California State Parks and Reserves.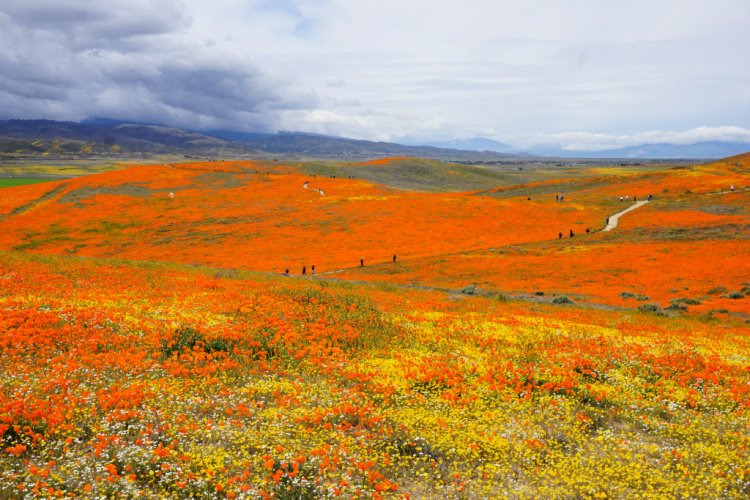 See the Joshua Trees at the Arthur B. Ripley Desert Woodland State Park
Seven miles west of the Poppy Reserve, you will find the Arthur B. Ripley Desert Woodland State Park.  
This place is known for its Joshua Trees and junipers.  There are two easy trails that allow visitors to see these two species.
This park provides a great opportunity to those who have never seen Joshua Trees up-close or do not know the role this "tree" has had in the survival of the Mojave Desert inhabitants.
Read More: Things to Do in Joshua Tree National Park
Learn About the Area's History
Turns out the Antelope Valley was a trade corridor used by the Great Basin (mostly Nevada), Southwest, and California Indian cultures.
The Antelope Valley Indian Museum State Historic Park exhibits more than 3,000 objects from these cultures and makes an excellent job teaching visitors how life was during ancient times.
The museum building per se is an attraction (it has even been used as a Hollywood set) due to its architecture and surroundings (big boulders, Joshua Trees, etc.)  The natural surrounding can be enjoyed via a half-mile trail (pick up a brochure for more details).
Found more about events held at the museum here.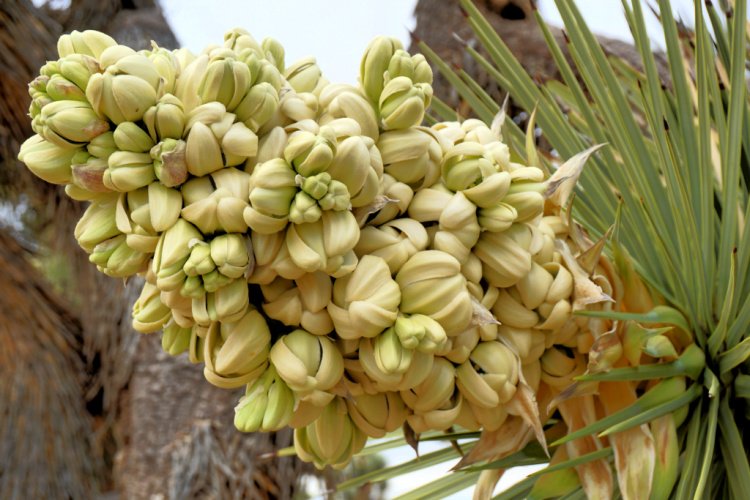 Pay a Visit to the Butte
The previous line is a bit cheeky but, hey, you need to have fun once in a while!
Joke aside, if you are in the Indian Museum vicinity, you may want to visit Saddleback Butte State Park.
The park protects a granite mountain that towers several thousand feet over the desert floor.  The top is reached via a 2.5-3 mile trail. In addition, the park affords the opportunity to run into foxes, rabbits, tortoises, and squirrels.  Just be careful with the snakes.
The park counts with a campsite, day-use area, and an equestrian trail.
Drive the Musical Road
When I read about the Musical Road, I thought somebody was pulling my hair.  A road that produces music as you drive by? Nah!
Well, let me tell you the music is for real! I tested it myself!
The Musical Road was developed as a publicity campaign by Honda (that is why some call it the Civic Musical Road).  Parches similar to rumble strips were placed strategically along with the asphalt.  So, when a car drives by, a tune is created. By design, the road is supposed to replicate the finale of William Tell Overture (opera by Rossini).
The campaign was a total success and has attracted a lot of attention to the city of Lancaster.  The Musical Road is located on Avenue G between 30th and 40th streets. You should drive around 55 to 60 mph to get the best tune.
Find Peace at the Prime Desert Woodland Preserve
The outdoor attractions I have mentioned are located a bit away from the city center.  
If you do not want to drive far, you can still enjoy the peacefulness of nature at the Prime Desert Woodland Preserve, a place located less than 4 miles from Downtown Lancaster.
The preserve counts with about 3 miles of trails and there are plans to further develop the space.  During my visit, I was lucky to see cottontail rabbits, hares (my favorite), squirrels, hummingbirds, and many other birds.  On top of that, I delighted on watching flowering Joshua Trees up-close.
On the preserve grounds, you will find the Elyze Clifford Interpretative Center, a natural history museum focusing on the high desert.  This center was redesigned by the Lancaster Museum of Art and History (I will discuss this place later in the article) last year.  The refresh brought interactive and artful exhibitions.
The preserve is open daily and the interpretative center Wednesdays, Saturdays, and Sundays.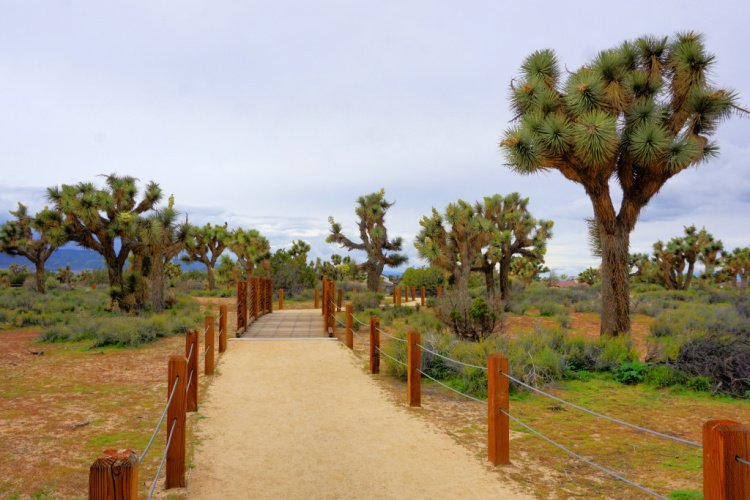 Spend a Good Amount of Time at The BLVD
For those of you who are not aware, Lancaster's main Downtown drag, known as The BLVD, was named a California Cultural District.  This one-mile corridor shares the distinction with places such as Little Tokyo in Los Angeles and the Barrio Logan in San Diego.
As you can imagine, that means this place has everything you can imagine in terms of culture, arts, and entertainment.
There are a lot of things to see and do along The BLVD.  I want to highlight some but make sure to get the complete lowdown at the Destination Lancaster Visitor Center (554 West Lancaster Boulevard).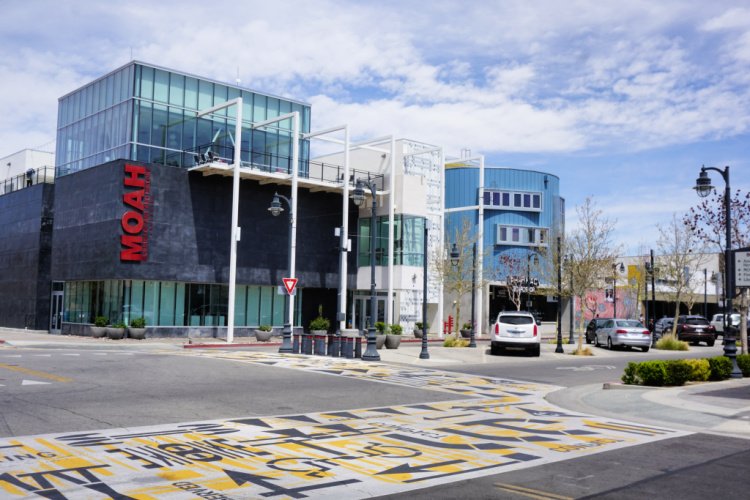 To start with, The BLVD has an impressive variety of restaurants and cuisines.  Places such as Don Sal, Cuban Express, Rio Brazilian Grill, and Cantarito Salvadorean pack a punch of Latin flavors.
Olive's Meditteranean Cafe, Pour D' Vino, The Lemon Leaf Cafe, and The Modern Tea Room are loved by locals.  Just take a look at how highly rated these places are.
Dessert lovers can get their fix at Zero Degrees and Caramel Pastries.
Those in search of entertainment can catch a movie at the Regency Theaters, bowl at the Underground Bowling Lounge, catch a performance at the Lancaster Performing Arts Center or play video games at the SpadeFox Gaming Area.  
Shoppers will find unique stores like VooDoo Vinyl (records), Li'l Book Bug, Five & Dime Candy Store and Bee Honey (all things honey).
Lastly, pay attention to the plaques commemorating Edwards Air Force Base test pilots.  The Aerospace Walk of Honor recognizes pilots whose accomplishments go beyond the norm.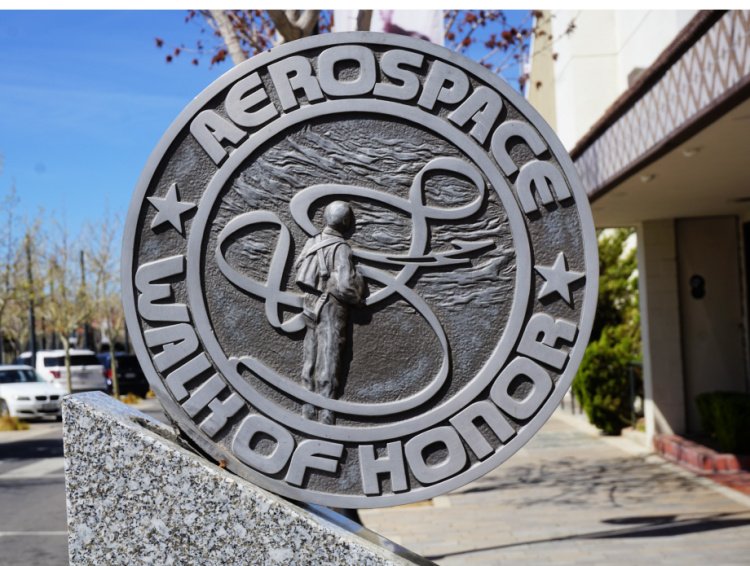 Visit a Museum
In The BLVD,  you have several options in terms of museums.  
You cannot go wrong by visiting the Lancaster Museum of Art and History (MOAH).  The modern installation hosts exhibits, events, and workshops.  What I loved about this place is that each work of art is related to the high desert experience.  Also, the pieces are original, colorful, and even surprising.
Entrance is free but consider making a donation (every dollar counts).
The museum runs a gallery called MOAH:CEDAR.  The place displays its own exhibitions and promotes local talent through juried art exhibitions.
The Western Hotel Museum can be visited on self-guided tours every 2nd and 4th Friday and Saturday of the month.  It showcases life in Victorian Era Lancaster.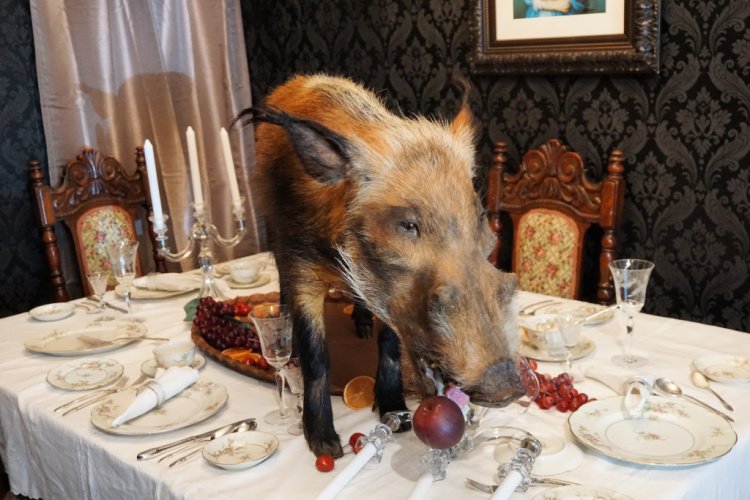 Go Mural Hunting
There is yet another fun attraction in The BLVD I have to mention.
Street art lovers may be familiar with POW! WOW!, a concept originated in Hawaii to celebrate culture, music, and art.  A lot of things happen during POW! WOW! (lectures, concerts, art exhibitions) but its main feature is the creation of murals in a specific location.
Lancaster has hosted POW! WOW! twice.  In 2016 and 2018, 12 and 20 murals were painted respectively.  Most of these murals are scattered around The BLVD. You will find them in the front or on the side of buildings.  Some are a bit more hidden behind buildings.
You will see a lot of them just by walking around.  You can pick a detailed guide at the MOAH. POW! WOW! Is expected to return to Lancaster in 2020.  
Take a Break at the Park
After a long day of walking and sightseeing, a well-deserved break is needed. Luckily, Lancaster counts with a wide range of parks and sporting facilities.
If you want to get the desert oasis feel, I recommend visiting the Apollo Community Regional Park, a 54-acre space featuring three lakes, picnic tables, trails, and playgrounds. Fishing is allowed (licenses can be obtained on-site)
Other parks in the city include Skytower Park, Tierra Bonita Park, American Heroes Park, and the Sgt. Steve Owen Memorial Park (formerly Lancaster City Park).
Keep in mind the Lancaster National Soccer Center and The Hangar, the home stadium of the JetHawks, are located in the city.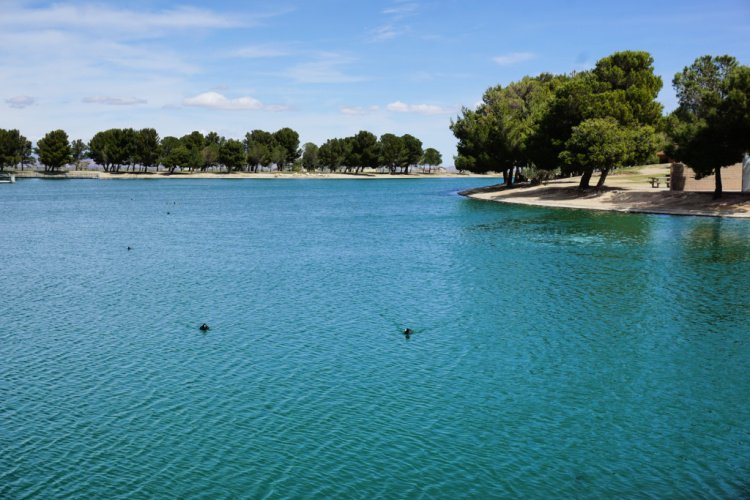 Go Wine Tasting
This may sound like a surprising suggestion.  The truth is that the area from Agua Dulce to Tehachapi has more than 35 vineyards and, at least, three American Viticultural Areas (AVAs, Antelope Valley, Sierra Pelona, and Leona Valley).
In Lancaster, you can find the following tasting rooms:
Barrett Cellars – Quaint tasting room with friendly service and nice music.  There is space for big groups (10-12 persons) and the guys pouring are willing to share all their knowledge on where to eat and drink.
Stephen Hemmert –  Modernly furnished tasting room, good wines, and cheese/olive pairings.  What is not to like about this place? Plus, it is a delight to talk to Stephen himself and share stories about his wines.  This place is on par with tasting rooms in Temecula and the Santa Ynez Valley.
Antelope Valley Winery – This space is a tasting room, touring facility, and gift shop.  You can taste two of their offerings for free. They sell grass-fed buffalo, venison, pheasant, and wild boar meats. Ask to see what they have in the fridge.
Coruce Winery – Nice tasting room offering plenty of wines.
Thief & Barrel tasting room is also located in Palmdale.  Outside the city (but nearby) you will find places such as Agua Dulce Winery, Reyes Winery, and Triassic Vineyards.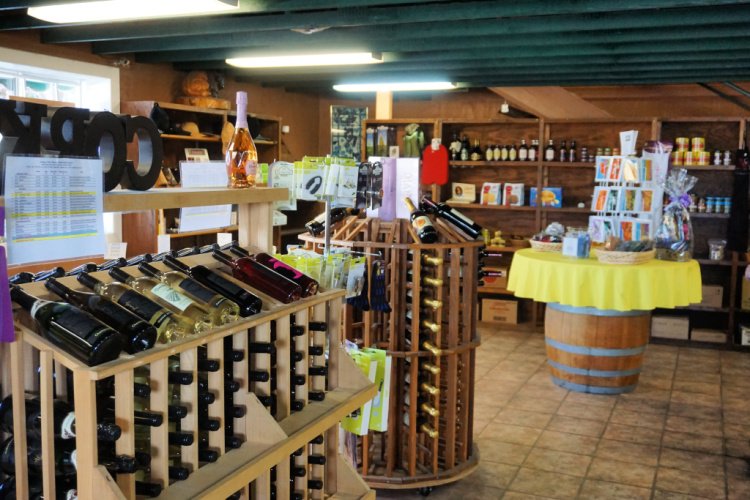 Attend an Event
If you know me, you know I am a big fan of local events.  They afford the opportunity to get a taste of local flavor and mingle with residents.
In Lancaster, you can plan to attend events such as the California Poppy Festival (April), the Antelope Valley Fair & Alfalfa Festival (August), and the Los Angeles County Air Show (October).
A farmers market takes place every Thursday at The BLVD and a series of summer concerts are free to attend during summer.
Stop by the Kill Bill Church
I need to include this unique attraction since there seems to be a lot of Kill Bill fans out there.  The church used in the wedding massacre scene in the Kill Bill Vol. 1 movie is located at 19809 E Ave G (in Lancaster's outskirts).  Don't be surprised if you find other fans when you visit.
Things to Do Near Lancaster
I know there are a lot of things to do in Lancaster but it doesn't hurt to highlight other attractions in the area.  My objective is to showcase the richness of the Antelope Valley.  Therefore, here are some cool things to do in the Antelope Valley (and beyond).
Palmdale – Palmdale is a city adjacent to Lancaster.  Things to do in Palmdale include the Mulligan Family Fun Center, Dry Town Water Park, and Transplants Brewing Company.
Exotic Feline Breeding Compound (18 miles, Rosamond) – Non-profit dedicated to the protection and preservation of endangered and rare felines.  They are open daily to visitors (except Wednesdays).
Quail Run Ostrich Ranch (21 miles, Lake Hughes) – Guided tours and feeding opportunities!
Animal Tracks (29 miles, Agua Dulce) – Sanctuary for exotic animals (monkeys, kangaroos, wolves, etc) that cannot be returned to the wild.  Tours are offered during the weekend.
Vasquez Rocks Natural Area Park (28 miles, Agua Dulce) – Area protecting unique rock formations.  The park is known because it has been featured in tons of movies, TV shows, and commercials.  Star Trek fans will recognize the spot.
Gibbon Conservation Center (40 miles, Santa Clarita) – Non-profit dedicated to the conservation of gibbons and other primates.  The center is open to the public Saturdays and Sundays.
Red Rock Canyon State Park (50 miles) – Beautiful rock formations and campsites. Nice stop if you are driving to Bishop or Mammoth Lakes. You can find my article about this park here.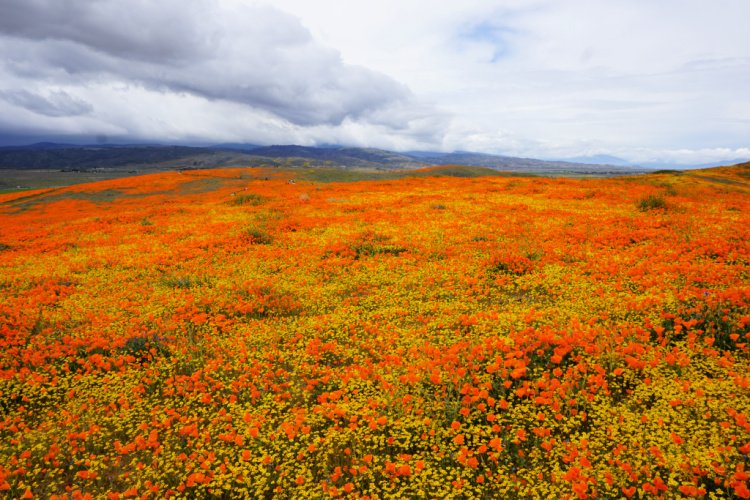 Where to Eat in Lancaster CA
The food scene in Lancaster is fantastic!
I am not even sure how to start describing it.  I will present a list of highlights but keep in mind there is a ridiculous amount of good choices.
Katz N' Jammers – This is the place to go if you want to have monster breakfast plates.  I had one of their skillets (eggs, ham, onions, peppers, mushrooms, potatoes, and cheese) and it tasted great.  Order their biscuits and gravy as a side since they are delicious (and I do not like biscuits and gravy)
Foxy's Landing and Restaurant – This restaurant is located next to General William J. Fox Airfield.  Therefore, it is a unique place to have breakfast or lunch. Not sure what is happening with the food portions in Lancaster but the dishes here are humongous too.  You have to see the size of the burger my husband ordered. I have warned you!
Easy Egg Cafe – I hope I can have this establishment's Cinnamon French Toast every day.  Since that is not possible, I will dream about them till I can taste them again.  By the way, they also serve corned beef hash, eggs benedict, and burgers.
Don Sal Cocina –  I knew I was going to like this place when they served me a big basket of chips, salsa, and beans covered in melted cheese.  Our main dishes were full of flavor and the service was great (i felt like family).
20/20 The Cafe – Everything I tried here was scrumptious.  The things they sell (wings, poke, empanadas, chicken sandwiches) do not seem to have a coherent theme but who cares?  Everything was so good. Highly recommended!
Saku Saki Sushi – Good option for those looking for sushi and specialty rolls. Locals rave about their lunch combos and specials.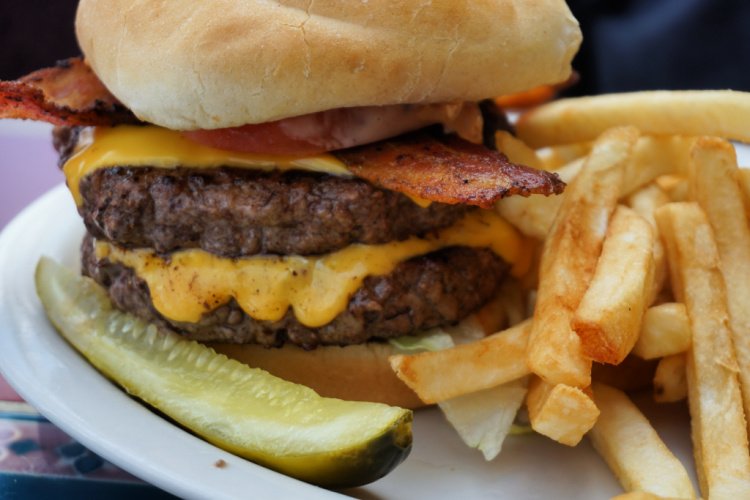 Location
Lancaster is located 70 miles from Downtown Los Angeles.  Depending on traffic, it will take you 1.5 to 2 hours to reach the city.  
Visitors from Los Angeles use the I-5 and CA-14 freeways to reach Lancaster.  The connection between these two freeways (close to Santa Clarita) is heavily trafficked during rush hours.  Because of that, I recommend avoiding this spot during those times.
The city is located close enough to visit as a day trip.  Most visitors arrive by car. However, it is possible to take the train (Metrolink) to town.
Free parking is available in most areas of interest.
When to Visit
Since this is the desert, winter, early spring, and late fall are the ideal times to visit.  
Summer temperatures can reach 105 – 110 degrees Fahrenheit.  On days like those, I advise not to engage in outdoor activities on zero or low shade areas.  I have provided a lot of indoor ideas for those hot days (I still think it is worth visiting in summer).
Winds can be very strong in the area.  Exercise caution when opening car doors, driving on the freeway, or walking in an open area (dust may be a concern).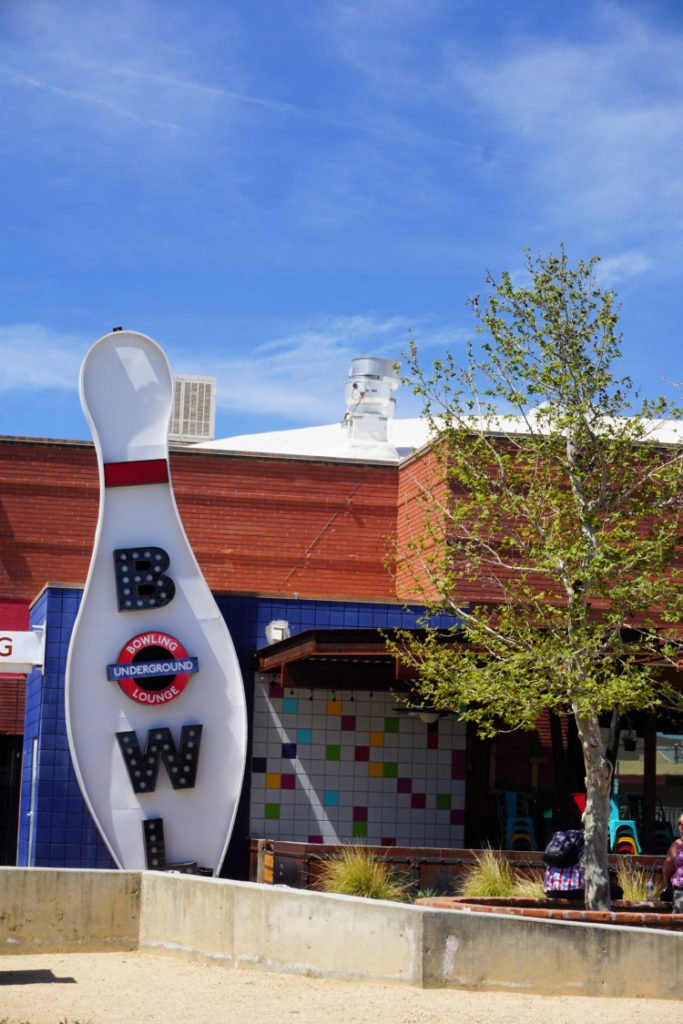 Sightseeing Gear
Get ready for a day of sightseeing by bringing the right gear.  Here is a list of the items I would pack to explore the Antelope Valley attractions.
I hope you have enjoyed my guide to all things Lancaster, California. Feel free to reach out if you need additional info.
More of Southern California

Find out how to spend one fun-filled day in Los Angeles
Get inspiration by reading my Los Angeles Ultimate Bucket List
Ultimate San Diego Bucket List
150+ Places to Go in Orange County
200+ Places to Visit in Santa Barbara
What things to do in Lancaster, California do you recommend?
If you enjoyed this post, remember to share!
Pin "Things to Do in Lancaster California" for later!