This article highlights the best things to do in Marina del Rey, California.
One of the things I enjoy the most about living in Greater Los Angeles is the proximity to the water.  
If I want I can go and take a look at the ocean every day. It is hard to beat the sense of tranquility you get when you are exposed to the sun, sand, and sound of the waves.
I love sailing and boating too.  Actually, those are some of my favorite activities.  When I feel like interacting more deeply with the water, I head to Marina del Rey.
All beach towns in the Los Angeles area offer water-related activities and services. However, Marina del Rey was built to sustain the cruising, yachting, and boating lifestyle in the city.  It is the place to go for the ultimate water recreation activities.
This article will discuss all things Marina del Rey: what to do, where to eat, and how to move around.
Please note: This article contains affiliate links, meaning I may earn a commission if you make a purchase by clicking a link. Of course, this comes at no extra cost to you and helps me to keep offering solid information to readers.
Things to Do in Marina del Rey
Alright, it is time to discuss all the fun things to do in Marina del Rey.  Yes, there are a lot of options for outdoor activities lovers but those wanting to chill would encounter their sweet spot too.
If you are a resident or frequent visitor, you can fill many days with wonderful things to do.  Visitors can choose to use Marina del Rey as their base since the community has an excellent touristic infrastructure and it is close to the main tourist attractions.
Let's take a look at the options!
Stroll the Fisherman's Village
The Fisherman's Village, a waterfront multi-purpose development, was built in the style of a New England village.  It consists of several wood buildings (or cottages) painted in vivid colors. A lighthouse, promenade, fountain, and abundance of bougainvillea complete the charming scene.
Attractions include waterfront restaurants, concerts, harbor or dining cruises, rentals, and bike trails.  The village is one of the best points to observe fireworks on the 4th of July and the boat parade during the annual Festival of Lights.
This is a nice place to have breakfast (or a snack) while watching the surrounding activities.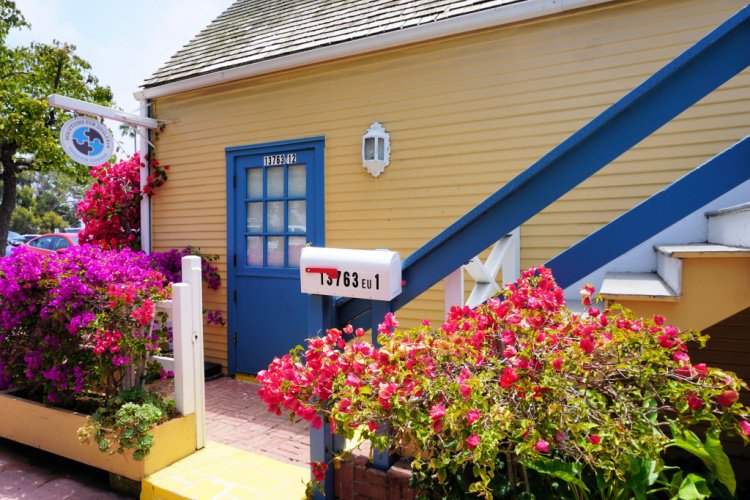 Visit the Marina del Rey Historical Society
Located on the Fisherman's Village, the Marina del Rey Historical Society displays objects, photos, diagrams, maps, and paintings about the area.  I found all of these interesting since there are several photos showing the land pre-marina development. It was almost shocking to see the many oil towers along the coast.
Other displays show how the area has changed through the years until becoming what we have today.
In the same building, you can find a gift shop and touristic information.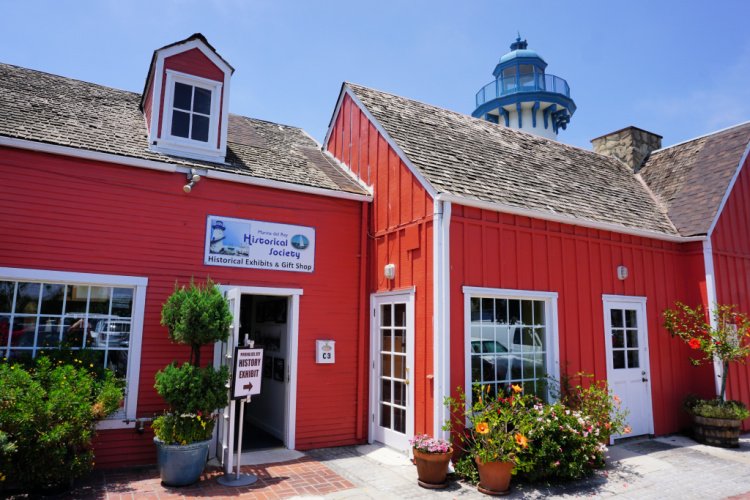 Bike the Marvin Braude Trail
The Marvin Braude Coastal Bike Trail (otherwise known as The Strand) is a 22-mile paved path extending from Pacific Palisades (close to Santa Monica) to Torrance.
The Marina del Rey section of the trail goes inland to avoid the marina jetty (the opening to the sea).  However, the ride will take you around million-dollar condos, parks, and docks.
The cool thing about this section of the trail is that you are basically circling the marina and its main points of interest.  You can ride and stop on the spots that call your attraction. The total length of the Marina path is 1.5 miles.
You can extend your biking adventure by pedaling to the north towards Venice Beach and Santa Monica.  To the south, you are going to encounter Ballona Creek, Playa del Rey, and Dockweiler Beach. Those sections of the trail offer ocean views.
Bike rentals are available at Daniel's or Active Movement.  In Venice Beach, you can rent at Ride! Venice.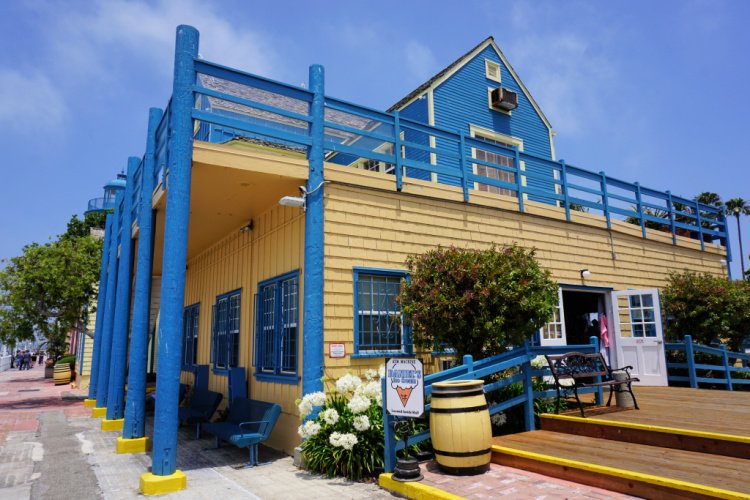 Relax at the Burton Chace Park
The largest park in Marina del Rey has an extension of 12 acres.  It is surrounded on three sides by water and a green knoll rises in the center.
In a way, the park is a community gathering point.  This is where some of the most important activities and events (like the summer concerts) take place.  Facilities include benches, barbecue grills, showers, restrooms, water fountains, and guest docks.
The park's parking lot is very small and can fill quickly.  There is a bigger lot located less than a quarter-mile away.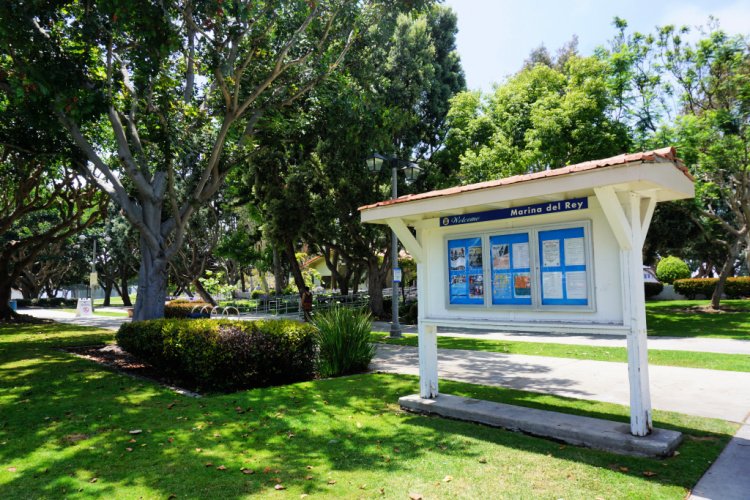 Take a Dip at Marina Beach
Being from the Caribbean, I have never got used to the rough waters of the Pacific Ocean.  You have to be on the lookout if you do not want to be hit by a big wave.
Well, Marina Beach (or Mother's Beach) does not have waves or currents.  It is like getting in a bathtub.
The big sandy cove is ideal for relaxing, families with small kids (a big playground is located on-site) and people learning to kayak or paddleboard.  There is plenty of space to lay a chair and umbrella. Plus, there are several eating options around.
Pick and Choose Between Water Activities
Marina del Rey shines at water-related activities.  I can assure you will not find a larger concentration of outfitters in Los Angeles County.
The difficult part is to pick what to do. You can choose to paddle, kayak, parasail, jet ski or windsurf.  Here is a partial list of businesses offering these activities:
Marina del Rey Boat Rentals – Located on the Fishermen's Village, this operator offers kayak, jet ski, and Duffy boat rentals.  The Duffy boat fits up t 12 people and can be driven around the marina (you cannot hit open water).
Pro SUP Shop – This business offers kayak and stand-up paddle rentals in the Mother's Beach area.  This is one of the best-rated operators in the city.
Paddle Method – If you have never paddle boarded, what about taking some classes to master the sport?  Classes take place on shallow and calm waters.
Marina Aquatic Center – This center owned by the University of California Los Angeles (UCLA) offers kayak, paddleboard, and windsurfing rentals.  Guided services are offered too.
Marina del Rey Parasailing – You can take a look at Greater Los Angeles from a sail flying between 500 to 800 feet of altitude.  Private or group outings can be arranged. The other cool thing is that you can fly by yourself or with a partner.
In the high season (summer), I recommend making reservations or calling to check availability.  In the low season (winter), confirm hours of operation since some companies have limited offerings during that time.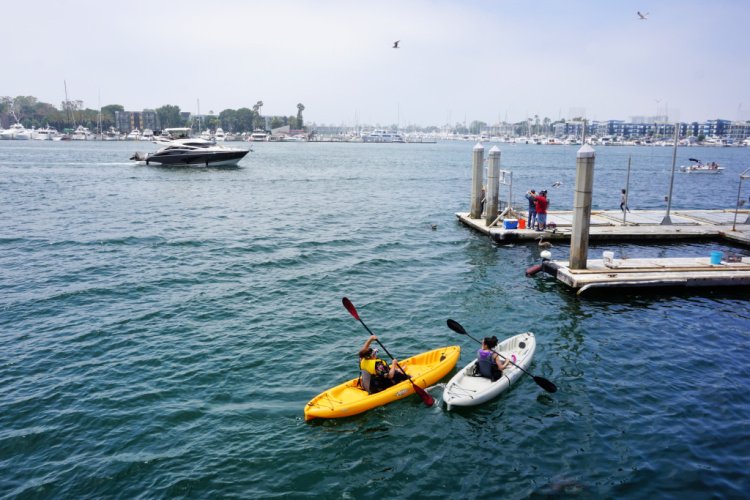 Learn to Sail
If you love being on the water, what about learning to sail?  I have several friends who have taken classes (no prior experience) and they are surprised at how simple it is to learn the basics.
Outfitters such as Blue Pacific Yachting, Bluewater Sailing, and Marina Sailing teach the basics and help students get certified. Advanced courses are offered too.
If you already know how to sail, you can rent a wide array of vessels from these companies. They are available for half-day, full-day, overnight and multi-day trips.
Take a Cruise
For those who love to be on the water but do not want to worry about being in charge of a boat, Marina del Rey boat rides and harbor cruises are the way to go.  
The fun thing is that cruises around the Marina are thematic.  Yes, there are some that can be taken for pure sightseeing but you can choose one focused on brunching, dining, dancing, partying, or romance.  
Check out the following companies and their offerings:
FantaSea Yachts
Hornblower Cruises
Mojo Sailing
Remedy Yacht
Tiki Mermaid Charter Yachts
Yachts 4 Fun
If you are looking for something different, a company called Gondola D'Amore offers harbor cruises on an Italian gondola.
Marina del Rey whale watching excursions are available seasonally (November-April).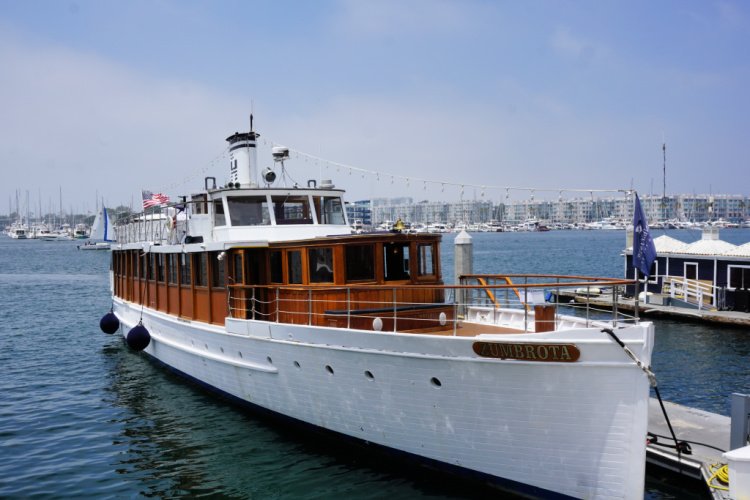 Go on a Fishing Excursion
Marina del Rey Sportfishing is the top choice for those who want to participate in a half-day or three-quarter-day deep-sea fishing excursion.  On Santa Monica Bay, you can encounter barracuda, halibut, sand bass, and yellowtail.
Land-based fishing is allowed at the north and south jetties (a license is required) or at the Marina del Rey Sportfishing bait dock (located at the Fisherman's Village).
Practice Yoga Over Water
One of the most unique activities found in the Marina is YOGAqua or yoga practiced over a standup paddle.
Classes are 90 minutes long and consist of a paddleboard session (30 minutes) and a yoga over water session (60 minutes).  During the yoga part of the class, paddleboards are anchored to the bottom of the cove to avoid drift.
All levels are welcome.  Classes are offered at the Marina or Mother's Beach.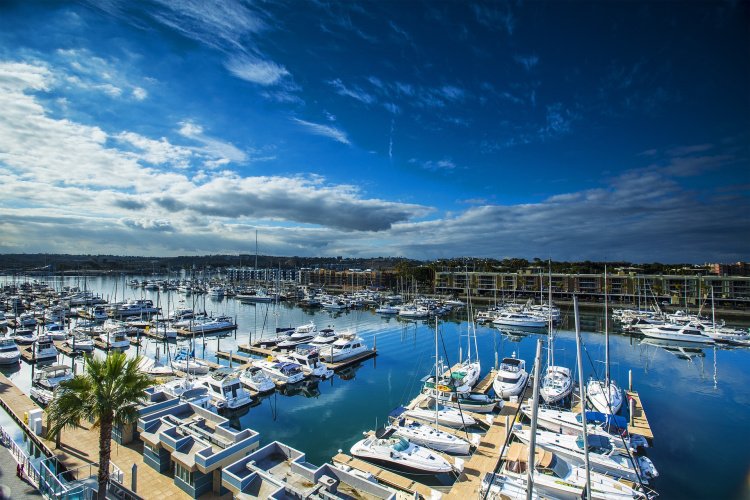 Shopping in Marina del Rey
Shopping fanatics rejoice! Marina del Rey counts with two main shopping centers: Waterside, Marina del Rey, and Villa Marina Marketplace.  
On those, you will encounter shops such as Barnes & Noble, DSW (Designer Shoe Warehouse), Pier 1, White House Black Market, and Sephora.  
In addition, you can find a movie theater, hair salons, shipping services, supermarkets, coffee shops, and banks.
Attend a Festival or Event
Marina del Rey has an excellent offering of festivals and events.  It is possible to fill weekends with concerts, movies, and markets.
Here is a sample of events you can attend:
Beach Eats – Food trucks gathering at the Marina Beach parking lot (Thursdays from May to September)
ARTsea – Art festival next to the beach (May)
4th of July Fireworks
Summer Concerts (selected days during summer)
Movie Nights (selected Saturdays from July to September)
Marina Lights (December)
Holiday Boat Parade (December)
Farmers' Market (Saturdays year-round from 9 a.m. to 2 p.m. at the Marina Beach parking lot).
Things to Do Near Marina del Rey
As mentioned, Marina del Rey is located close to the main attractions in Los Angeles.  Here are some of the places I recommend adding to your itinerary:
Ballona Wetlands – This protected habitat, located south of Marina del Rey, has a walking trail that allows visitors to discover the site at their own pace.
Santa Monica (5 miles) – Santa Monica is a Los Angeles and Southern California classic.  It makes total sense to combine with a stop at Marina del Rey.  You can head to the world-famous Santa Monica Pier, Third Street Promenade, Boardwalk, beach, and Santa Monica Place.
Venice Beach (1.5 miles) – Venice Beach is famous for its hipster, irreverent and youthful scene.  It is the place to visit if you want to see one of the most unique beach areas in California.
Dockweiler Beach and El Segundo (8 miles) –  If you are looking for a long stretch of beach, head to Dockeweiler, a 3-mile stretch with fire rings, bike path, and other services.  The town of El Segundo, located nearby, has many amenities and places to eat.
Other Beach Cities – The cities of Manhattan Beach, Hermosa Beach, and Redondo Beach are filled with locals, small downtowns, great beaches, and good eats.  Head to these if you want to get a more local flavor of Los Angeles.
Things to Do in Manhattan Beach
Redondo Beach Pier: What to Do, See and Eat
Hermosa Beach: Things to Do, See and Eat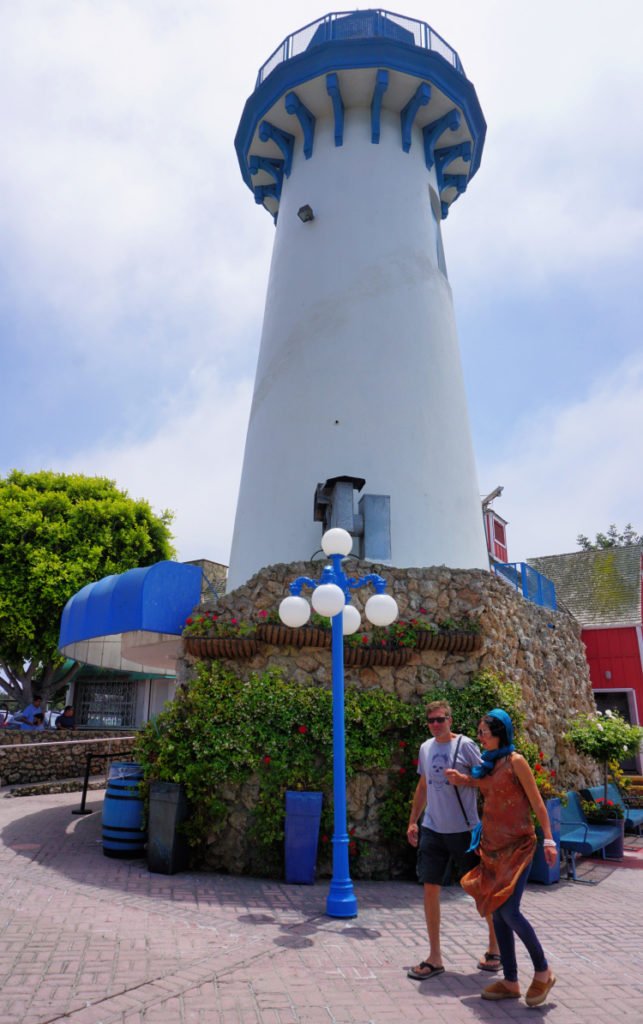 Places to Eat in Marina del Rey
I love the restaurant offering in Marina del Rey.  Here are some of the best places to eat:
Tony P's Dockside Grill – This restaurant located in Admiralty Way has been featured in many local publications.  Dishes include fish & chips, seafood pasta, pulled pork platter, filet mignon, and cowboy ribeye.  Happy hour days go from Mondays to Fridays.
Beachside Restaurant – At this restaurant, you will find brunch served daily.  There are choices such as pancake stacks, tacos, burgers, ceviche, and fried chicken sandwiches.  
SALT Restaurant – This spot located at the Marina del Rey hotel offers great views of the water.  As you can imagine, it is a great place to have brunch with friends or a date night.  The menu features a lot of the things we love to eat in Los Angeles (burgers, tacos, smoked salmon toast, breakfast burritos, and blue crab dip).
Cafe Buna – I adore this breakfast and lunch place.  The menu features all the staples you can think about but they give dishes a twist.  For example, they serve double fudge pancakes, red velvet pancakes with white chocolate chips, and Hawaiian French toast.
Sampa's Pizza Cafe – This restaurant specializing in Brazilian pizzas serves some of the best pies in the area.
About Marina del Rey
Marina del Rey is an unincorporated community in Los Angeles County.  It is located 5 miles from Santa Monica, 6 miles from the Los Angeles International Airport, and 20 miles from Downtown Los Angeles.
As the name implies, most of the area within the community limits is taken by a marina with a capacity for 5,000 boats.  This makes it the largest man-made small-craft harbor in North America.  
Nowadays, the area is considered Los Angeles' Marina.  Water-related activities are supported by restaurants, shopping centers, spas, hotels, and multi-disciplinary events.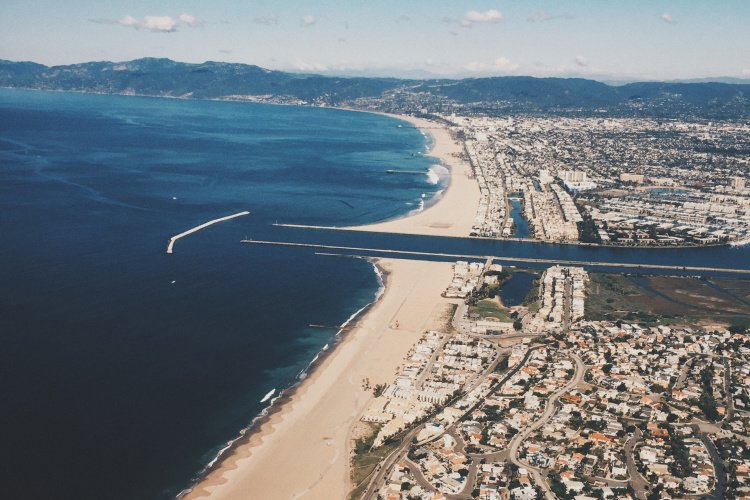 Beach Town Gear
As I spend a lot of time on beach towns, I have my gear packed and ready to throw in the car.  Here is an idea of what I would take to check the Marina del Rey activities.
More of Los Angeles
Los Angeles Ultimate Bucket List
One Day in LA: Itinerary for First-Time Visitors
Things to Do in Downtown Los Angeles
A Day in Los Angeles: 4 Downtown Itineraries
More of Southern California
Ultimate San Diego Bucket List
150+ Places to Go in Orange County
200+ Places to Visit in Santa Barbara
What other fun things to do in Marina del Rey do you recommend?
If you enjoyed this post, remember to share!
Pin "Things to Do in Marina del Rey California" for later!