Looking for a place full of land-based, water-based, cultural, and gastronomical activities?  Look no more! This article showcases the best things to do in Oceanside, a beach city located in San Diego County.
As a long-time Southern California resident, I have visited Oceanside many times.
The thing is that I will continue visiting the city.
See, Oceanside has all the elements that make a Southern California beach great.  But, it doesn't stop there.  The city offers a wide variety of inland and cultural activities as well.  And, let's not forget about the eclectic dining and drinking scene.
If you are looking to spend a day or two trying new things, you need to stop by.  Here I present you with a massive list of things to do in Oceanside.
Please note: This article contains affiliate links, meaning I may earn a commission if you make a purchase by clicking a link. Of course, this comes at no extra cost to you and helps me to keep offering solid information to readers.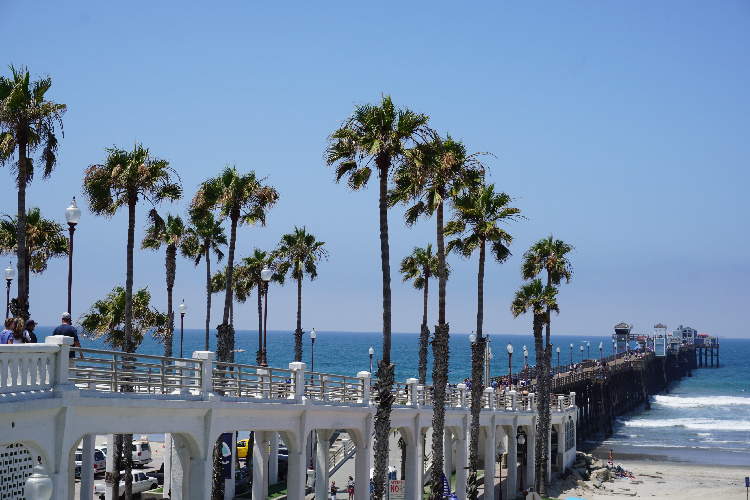 Things to Do in Oceanside
In terms of sights, activities, and attractions, Oceanside offers one of the most complete selections in Southern California.  It is impossible to see everything the city has to offer in a visit or two.
The fun part is that you can keep coming back for more.  Below, I have tried my best to provide a comprehensive list of the best things to do in Oceanside.   Note I have noted the free things to do in Oceanside (or low-cost things to do).
Stroll Downtown Oceanside
Make no mistake.
Oceanside is a gorgeous beach town but it is a California Cultural District too.  This designation is given to places where the arts and cultural diversity thrive.  You can explore this side of the city by strolling its Downtown.
I recommend starting your stroll at the Civic Center.  In the area, you will find the Oceanside City Hall, Oceanside Public Library, and Oceanside Museum of Art.  At the corner of Ditmar Street and Pier View Way, you will find St. Mary, Star of the Sea Catholic Church.
Walk on Ditmar Street towards Mission Avenue, a thoroughfare full of coffee shops, tasting rooms, and fun places to eat.  Walking down Mission Avenue, you will bump into Artist Alley, an area covered in murals and works of art.
On the Coast Highway, two theaters are worth a look: Sunshine Brooks (home of the Oceanside Theater Company) and Star (an example of Googie architecture, a style influenced by the space age).
You can continue walking towards the ocean (Pier View Way to Mission Avenue) until you reach the pier.  On the way, you will encounter even more dining, drinking, and entertainment.
Enjoy the Views from the Oceanside Pier
Oceanside's wooden pier extends 1,954 feet into the Pacific Ocean.  This is probably the city's most beloved sight so, I recommend not missing it.
People visit the pier to take in the glorious views, see surfers catching the waves or watch the sunset.  In addition, you can do the following:
Fish (a fish bait shop is located in the middle of the pier)
Eat or have a snack at Ruby's, a dinner located at the end of the pier
Rent bikes
Walk The Strand (also known as the Oceanside Boardwalk)
Claim a spot on the sand
Do not forget to pay a visit to the pelicans that congregate next to the bait shop.  They hang around waiting for people to feed them fish.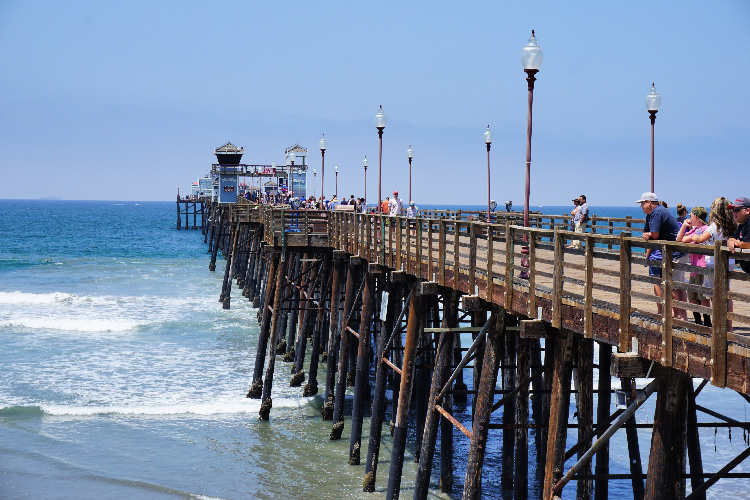 Check Out the Oceanside Harbor
Let me see if I get this.  Oceanside is cool because it has a pier.  On top of that, it has a harbor.  See why I told you there are way too many things to do here?
The harbor is known for its water activities, quiet waters, and a multitude of boats. In addition, it is home to a New England-style colorful village.  The buildings house fish and chips joints, coffee shops, gift shops, and a lighthouse.
From this spot, you can take surf lessons, rent a paddleboard, pedal boat, kayak or jetski, take a whale-watching cruise, or sail.
If you have time, walking along Harbor Drive is a good idea (as much as you want).  By doing this, you will be able to appreciate the boats, see the Oceanside Sign, explore small piers and observe wildlife (sea lions, pelicans, and more).
Beaches in Oceanside
With 3 miles of coastline, there are definitely tons of options when it comes to picking a spot in the sand in Oceanside.
Below, you will find a list of beaches in the city and their corresponding amenities.  And, do not take the word beach too seriously. In reality, this is a long strip of sand divided by the locals into different areas (and given particular names).
Harbor Beach Oceanside – Widest beach in the city, it is delimited by jetties, amenities include volleyball courts, a lifeguard tower, BBQs, fire pits, picnic tables, showers, and restrooms.
Strand Beach (includes the spot at the end on Breakwater Way) – Beach located between the harbor and the pier. Restrooms and showers are available.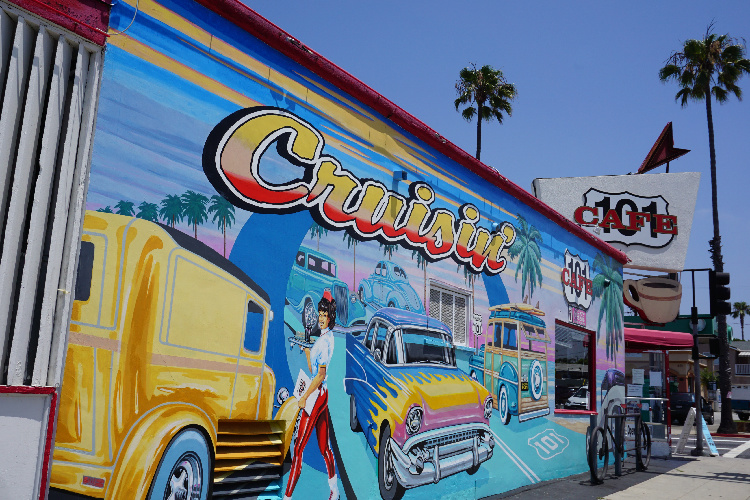 Pier or City Beach – Beach located on both sides of the pier. This is the most centric beach but, at the same time, the busiest one. Sometimes, this stretch of sand is seen as two beaches (Pier View North and Pier View South).
Tyson Street, Wisconsin Street, and Oceanside Boulevard Beaches – These beaches are located south of the pier, at the end of the aforementioned streets. Restrooms, showers, and picnic tables are available.
Buccaneer Beach – This small beach is located close to a park, playground, and cool scene in South Oceanside.
South Oceanside Beach – This thin strip of sand is located at the end of Cassidy Street (sometimes it is known as Cassidy Street Beach).  No facilities are available on site but it is a short walk to Buccaneer Beach.
St. Malo Beach – This beach is located in front of a gated community.  Therefore, it has to be accessed from South Oceanside Beach.  It is better to visit during low tide.  No facilities are available on-site.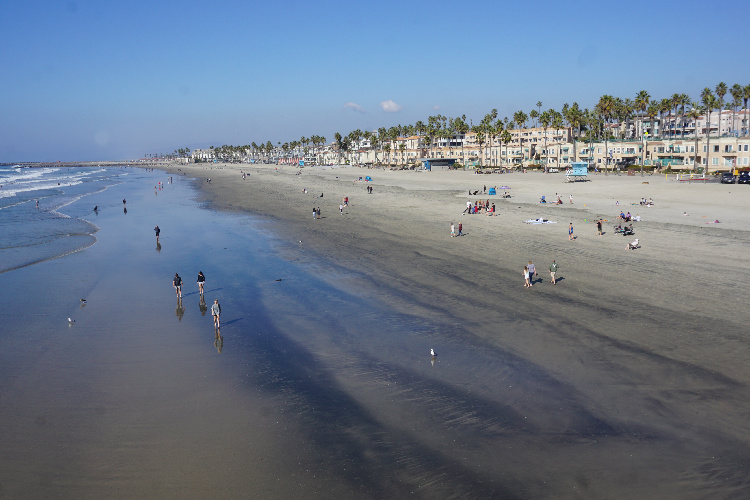 Go Mural Hunting in South Oceanside
As mentioned, Oceanside is an art city. There are plenty of murals Downtown waiting to be explored.
However, I want to bring your attention to other areas heavy with paintings and deserving a visit.
There are about 7 murals on Wisconsin Avenue between Coast Highway and Myers Street.  
Also, there are tons of colorful murals (I particularly love these) on Coast Highway between Cassidy Street and Vista Way. This area has outstanding restaurants such as Beach Break Cafe, Panca Peruvian, Don's Country Kitchen, and Hill Street Donut House.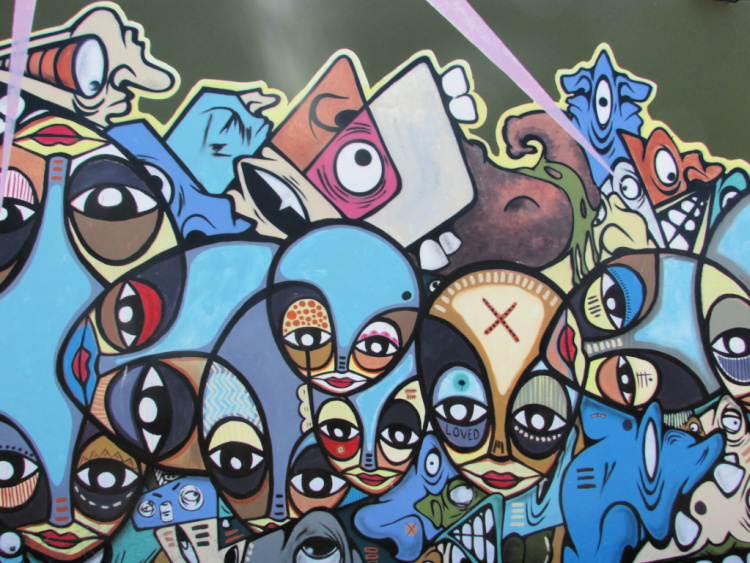 Visit a Museum
If you choose to visit only one museum in Oceanside, make that museum the California Surf Museum.  I am telling you, even if you do not like museums, give this one a chance.
This museum showcases surfers, surfboards, and photography.  It also has special exhibitions on interesting topics such as surfing in Vietnam during the war era.
The Oceanside Museum of Art is another good option especially for those who love paintings, sculptures, and mixed material works.
At the Oceanside Historical Society, you can learn more beginnings and development of the city.  The Society offers walks around Downtown once per month.  A self-guided walking tour can be found on their website.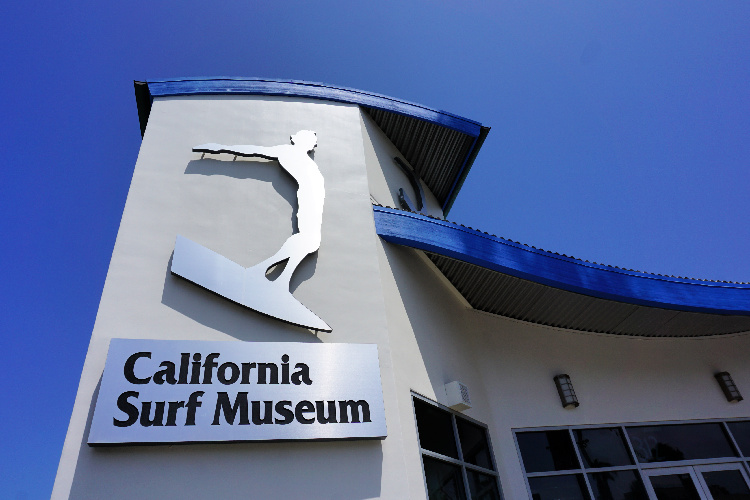 Do Not Miss the Mission
Things get even more interesting with Oceanside!
Do you know there is a Mission located within the city limits? As a matter of fact, Mission San Luis Rey de Francia is the biggest mission in California (or the King of Missions).
The historic building, including a church and a long arched corridor, is located about 11 miles from Downtown Oceanside.  A visit can be combined with other sights located in the inland area of the city.
There is an on-site museum, stand-alone arches, sunken gardens, industrial ruins, and a cemetery.
You may also consider a visit to the nearby Heritage Park Village, a small settlement featuring Downtown Ocenaside's original buildings. Guided tours are available during the weekends.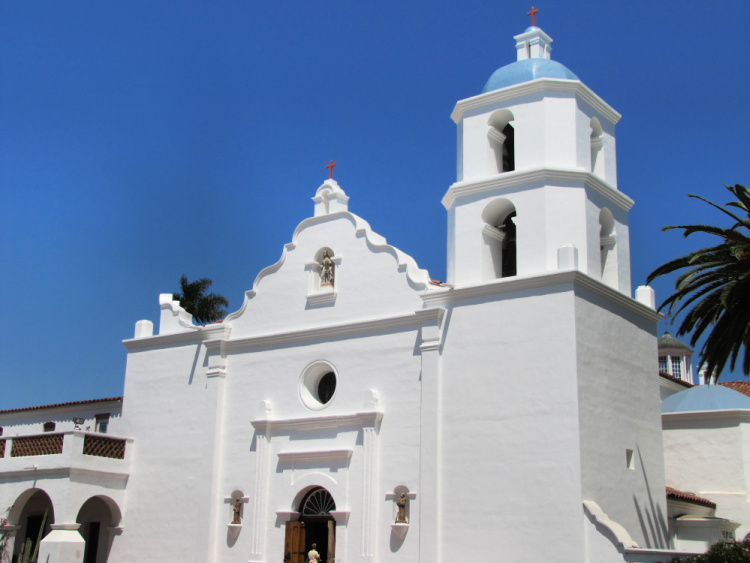 Go on a Walk or Hike
If you know me, you know I love a good walk and hike.  And, how not to?  Southern California has so much natural beauty.  And, with the awesome weather, who will miss the opportunity to be outside.
In Oceanside, I like to walk from the pier to the harbor and vice versa.  This easy, flat walk is about 4 miles roundtrip.
Another option is to walk south of the pier to Oceanside Boulevard (this is more or less where The  Strand ends). This is an easy 3-mile roundtrip walk.
For a change of pace, head to the Rancho Guajome Regional Park (some call it Guajome County Park), a green space with 4.5 miles of trails, a lake, two ponds, picnic sites, playgrounds, sporting facilities, and campsites.  The trails here are super easy and scenic.
Tip: A couple of miles away from the Rancho Guajome Regional Park, you will find the actual Rancho Guajome, a gorgeous 19th-century hacienda.  While technically located in Vista, it makes sense to visit this free attraction if you are in the area.  I can also recommend the Antique Gas & Steam Engine Museum.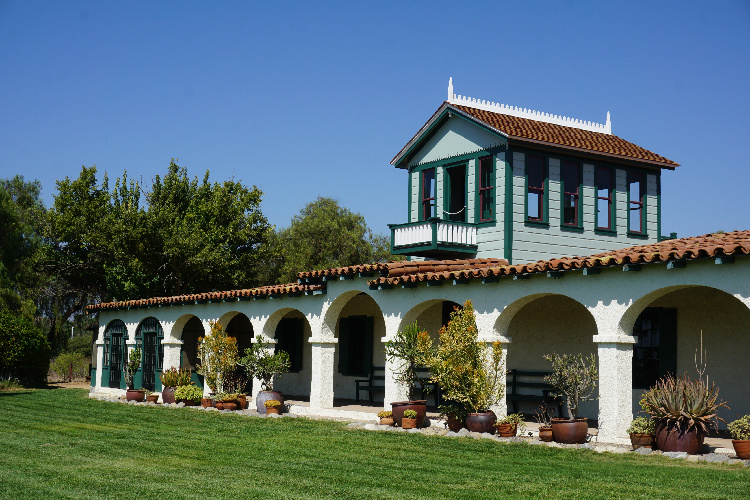 Another wonderful hiking option in the city is the Buena Vista Lagoon.  Even though the majority of the lagoon is located in Carlsbad, the Buena Vista Audubon Society and Nature Center is on the Oceanside side. Here, you can browse the exhibitions, learn about the conservation efforts in the area, walk the trails, watch birds and observe the flora in coastal marshes.
The Oak Riparian Park is a small recreation area with short trails connecting to the larger Calavera Trail System, a network that can be used to explore Mount Calavera and Calavera Lake.  Mount Calavera is one of North America's smallest volcanoes.  If that fact sounds interesting, definitely head to the top for fantastic views.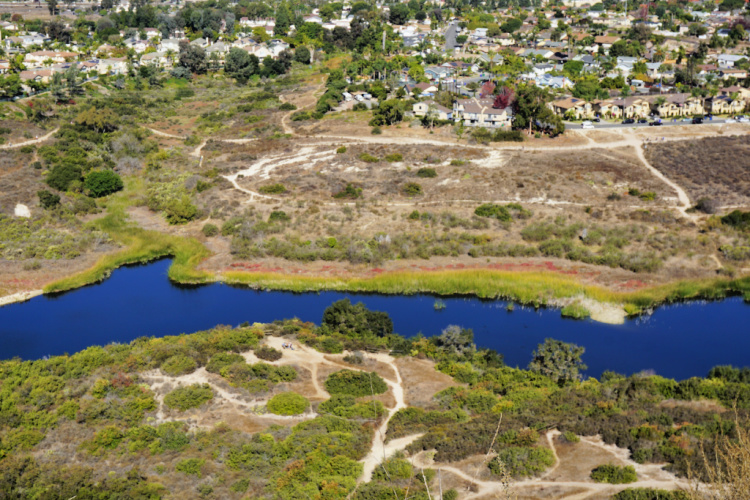 Hop on a Bike
So, yes, biking around a Californian beach town is one of the coolest ways to spend time.  And, let's not forget that you will be able to cover more terrain than on foot.
The options mentioned in the hiking section with respect to The Strand (going from the pier to the harbor or from the pier to the end of The Strand) are good routes to complete on a bike.  You can continue biking all the way to the Carlsbad Village or Encinitas.
The 11-mile San Luis Rey River Trail connects the coast to the inland part of the city.  You can use the trail to connect to the Mission or Rancho Guajome Regional Park.  Pedestrians can use the trail as well.
The Coastal Rail Trail goes from the Oceanside Transit Center to Oceanside Boulevard.  This trail is part of a bigger project which will connect the entire San Diego County coast.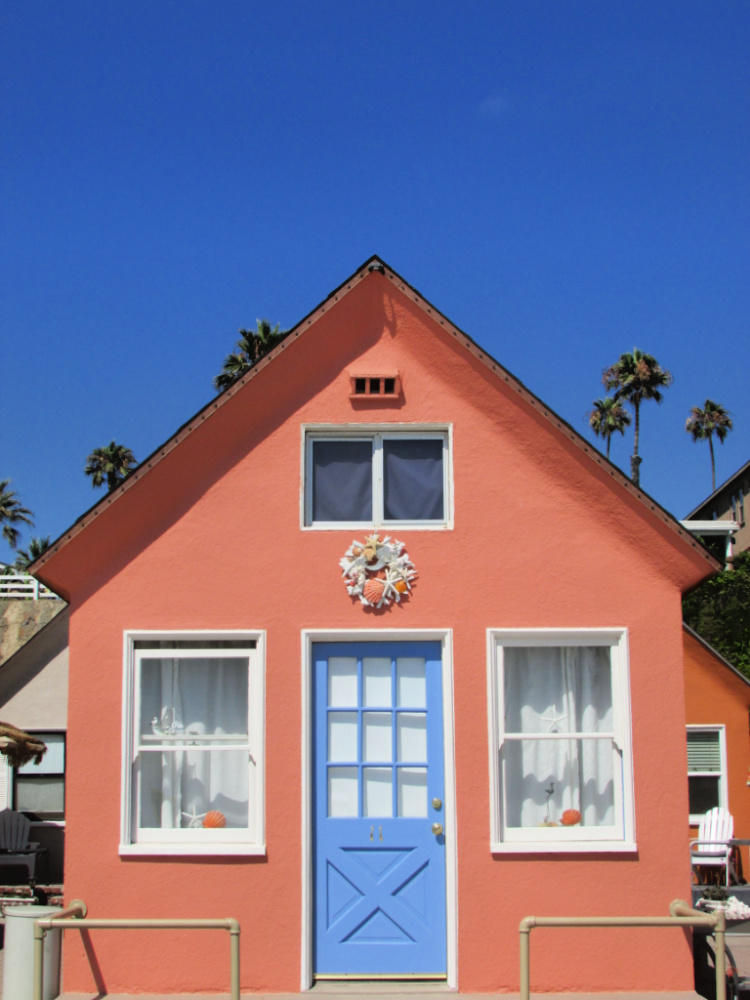 Stop by a Brewery
Well, what can I say about the Oceanside brewery scene?  It is beyond your wildest dreams.  After all, this is San Diego.  And, for those of you not in the know, San Diego is the craft beer capital of the United States.
Below is a selection of breweries you can visit.
Coast
Northern Pine Brewing
Stone Brewing Tap Room
Booz Brothers
Kilowatt Brewery – The sausages and hot dogs served here are insanely delicious.
Inland
Oceanside Brewing Company
Legacy Brewing Company
Belching Beaver Brewery – You can also visit the location in Vista.  That one has is a full-service restaurant with delicious food.
Horus Aged Ales
Oceanside Ale Works
Black Plague Brewery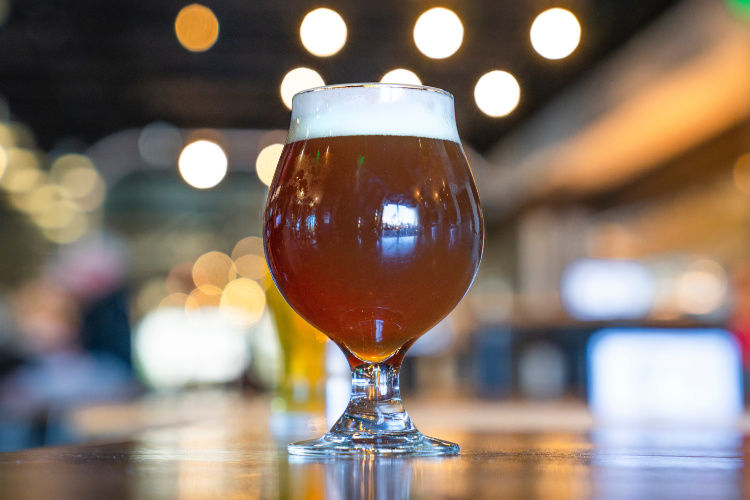 Brewpubs
Mission Avenue Bar and Grill – This establishment offers kombucha, cider, and cocktails too. The food is out of this world.
Barrel Republic
Craft Coast Beer & Tacos – One of the best places to eat and drink in the city.  The Baja-style tacos are the real deal.
Breakwater
Local Tap House
Bagby Beer Company – Different beer styles. Very unique brews.
Non-beer drinkers do not have to worry since most of the establishments mentioned above offer a selection of seltzers, ciders, kombucha, mead, and cocktails.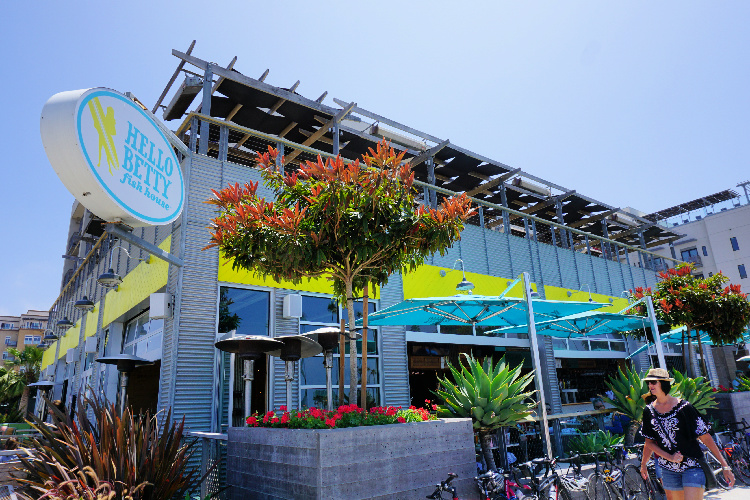 Or, Go After the Wine
If you are a wine lover, you need to check out the Beach House Winery.  In this place, you can taste wine, during the weekends, while enjoying glorious views.  They produce Chardonnay, Sangiovese, Zinfandel, Cabernet Sauvignon, and more.
Note: The winery is located about 13 miles from the Oceanside Pier.  It makes sense to combine a visit with other inland activities in the city.  Or, you can visit other wineries in nearby Fallbrook.
In Downtown, you can wine taste at Coomber Craft Wines, The Privateer Marketplace, or Orfila Vineyards.
Enjoy the Oceanside Sunset Market
The Sunset Market is one of the most characteristic events in Oceanside.  More than a market, it feels like a fair because of its many vendors (about 200), live music, and international food court.
The Sunset Market Oceanside takes place every Thursday from 5:00 p.m. to 9:00 p.m.
And Stop by the Farmers Market Too
In Oceanside, Thursday is market day.  In addition to the Sunset Market, a farmers market takes place from 9:00 a.m. to 1:00 p.m.
Note that by purchasing from the vendors in the markets, you are supporting small, local businesses.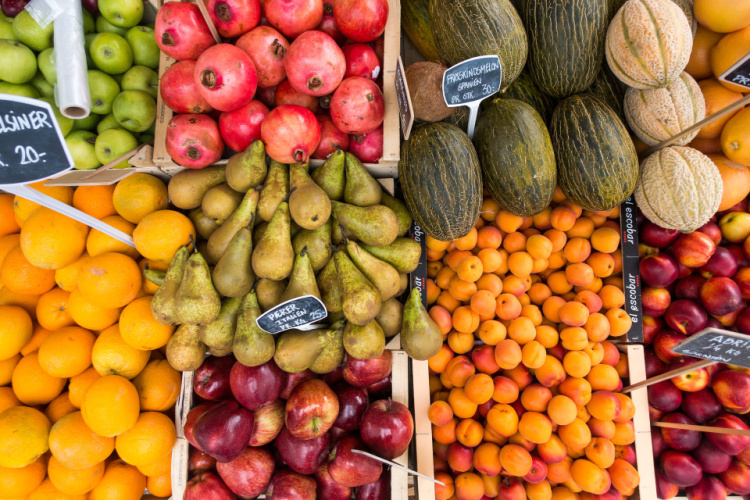 Oceanside Attractions and Activities
Wait! There is more!
There are a lot of places to go in Oceanside but there are a lot of activities to join as well.
Below, I am breaking down paid activities, rentals, and tours.  Take into consideration some of these require reservations.
Indoor Skydiving
iFly offers indoor flights for people of all ages (3+ years).  They make the process very easy and provide all the necessary equipment.  Instructors show visitors the basic techniques and guide them through every step of the process.
Skydiving
Go Jump Oceanside offers tandem skydives.  The departing point is the Oceanside Municipal Airport.  From the plane, there are gorgeous views of the coast, pier, and harbor.  Of course, the views get better when you jump.
Helicopter Rides
Waverider Helicopter Tours offers sightseeing tours (San Diego County, Orange County, and Temecula), trips to Big Bear, trips to Catalina Island, trips to wineries, and electric bikes/flying combos.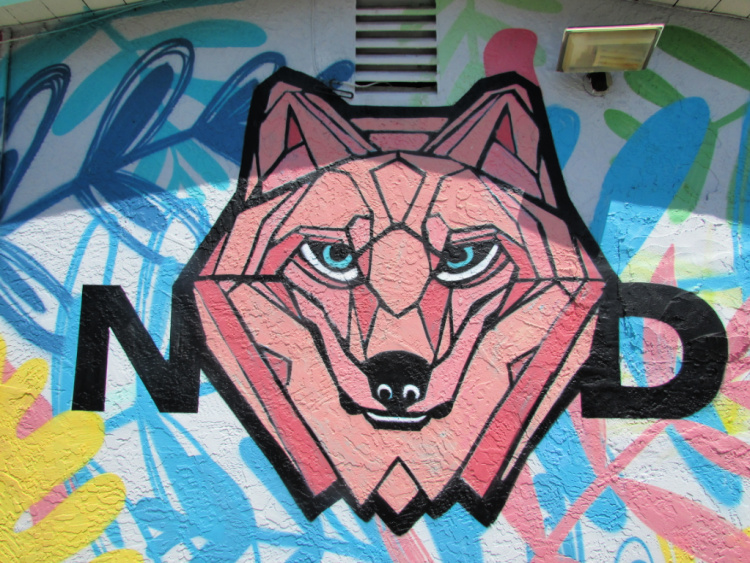 Surf Lessons
Most surfing schools offer private one on one lessons, private group lessons, coaching, and guiding.  Some offer summer camps, photo packages, surf tours, and corporate team building.  Reservations are a must.
The companies highlighted below have top reviews.  You are guaranteed to have a good time with them.  A final selection may come down to pricing and convenience (prices are not that different).  Make sure you understand what is included before booking.
Harbor 
Learn to Rip
North County Surf Academy
Pier
Tyson Street Beach
Oceanside Surf School
Wavehuggers
Marks Surf Instruction – This is one of the best-priced options on the list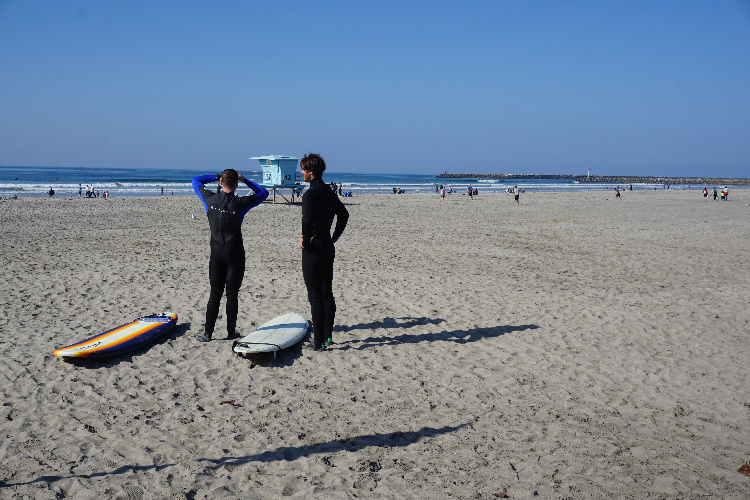 Bike and Surrey Rentals
I have provided several biking routes above.  If you do not have a bike, you can rent one in one of the establishments listed below. 
Pier
Wheel Fun Rentals – The rental options are huge! You can select from bikes, surreys, double surreys, choppers, quad sports, e-bikes, tandem bikes, and child trailers.  Al rentals come with a lock, helmet, and bag to securely hold belongings.
Ride Oside – This company rents e-bikes and scooters (these are "fat tire," sit down scooters, not the standing ones).
South Oceanside
Oceanside Beach Cruiser Rentals
SoCal Bike – This bike store offers e-bikes, beach cruisers, child carriers, child trailers, and tandem rentals.  Depending on where you are staying, they can take the rental to your hotel.  The delivery service applies to most coastal towns in San Diego County.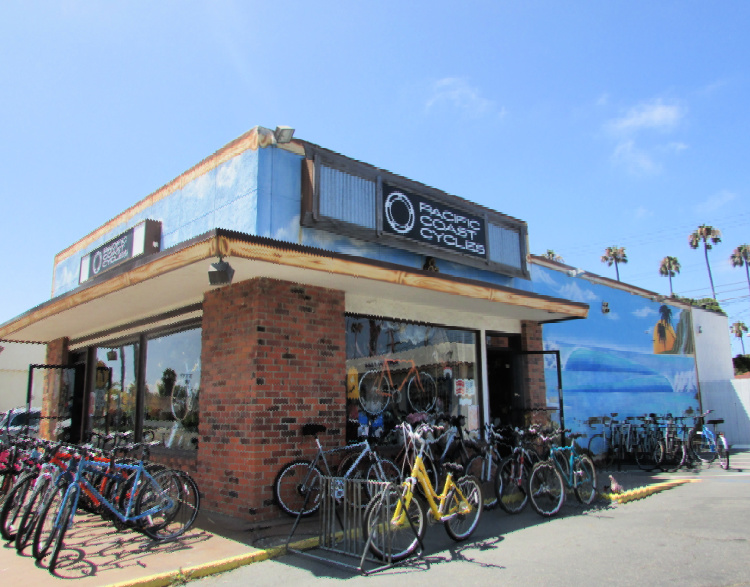 Rent Water Equipment
The same goes for water equipment.  Most rentals are offered in the harbor area.
Wheel Fun Rentals – This company, specializing in bikes, offers stand up paddleboard rentals. A lifejacket is included in the rental price.
Oceanside Boat Rentals – This may be your one-stop for powerboats, Duffy boats, kayaks, stand up paddleboards, pedal boats, and jet skis, 
Sunset Sails – Offer sail rental, tours, and sunset tours.
UP Sports Oceanside Surf Shop – This shop rents a wide variety of surfboards, skimboards, bodyboards, standup paddleboards, and wetsuits.
Whale and Dolphin Watching Cruises
Prime whale watching season goes from November to April.  This corresponds to the months when gray whales migrate from Alaska to Mexico (and vice versa).
Whale watching is an exhilarating activity and I recommend giving it a try if you have not done it before.  Excursions last 1 to 2 hours.  Oceanside is a great place to take an excursion since boats can be in the open ocean in 5 minutes.  That maximizes the time looking for whales.  
Companies offering these services bring cetacean experts onboard.  Therefore, you can learn a lot about whale behavior and get answers to all your questions.
The following companies offer whale watching services:
Note: If you are prone to seasickness, come prepared with the proper medication or equipment.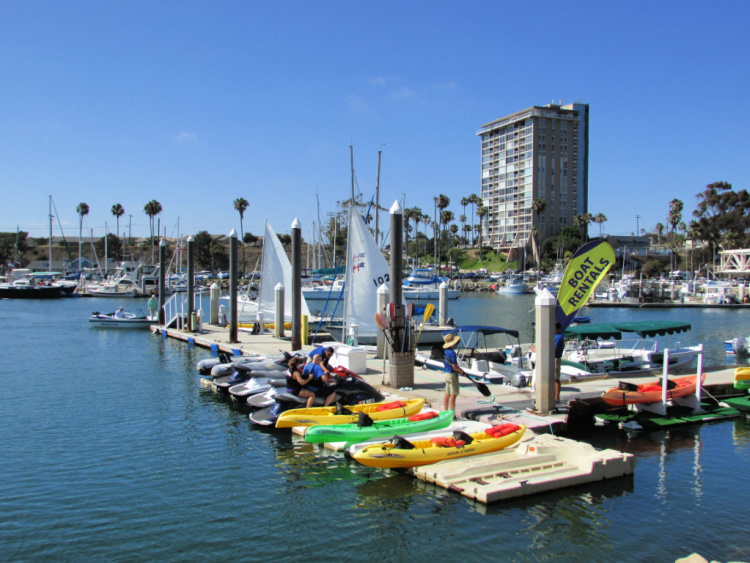 Golf
Oceanside is a golfing paradise too.  
Goat Hill Park is a public 18-hole course with ocean views.  This place offers the best bank for your buck.  One round costs $34 – $40 (plus cart fees). Discounts are offered for seniors, active military, teens, and children.  9-hole and twilight (after 4:00 p.m.) are cheaper.
Private options include Emerald Isle Golf Court, Ely Callaway Golf, and El Camino Country Club.
Best Restaurants in Oceanside
Throughout the article, I have mentioned several places to eat in Oceanside.  In this section, I am emphasizing my favorite restaurants.
Beach Break Cafe – This is my top breakfast option.  There is so much good food to have here.  I love their seafood omelet.  Do not forget to get the coffee cake as a side dish.
Don's Country Kitchen – This is another solid place for breakfast.  I dig their corn beef hash, stuffed hash browns (yes, you read that right), and country potatoes.
Mission Bar and Grill – This place has tons of offerings when it comes to delicious food, beer, and cocktails.  Their happy hour offerings are great.  
Hello Betty (Betty Fish House) – This beautiful place (with outdoor sitting and cute flower pots hanging around) specializes in tacos, ceviche, poke, grilled fish, and sandwiches.
Local Tap House – Don't get fooled by the name.  Of course, this place has an insane tap list.  Nevertheless, the food is excellent.  They serve sandwiches, burgers, salads, and snacks cooked with premium ingredients.
Miramar Fish Tacos & Beer – If you want to have your taste buds blown by fish tacos, this is the place to visit.  I am super picky when it comes to tacos but I dream about this place. They also have shrimp, octopus, salmon, and smoked tuna tacos.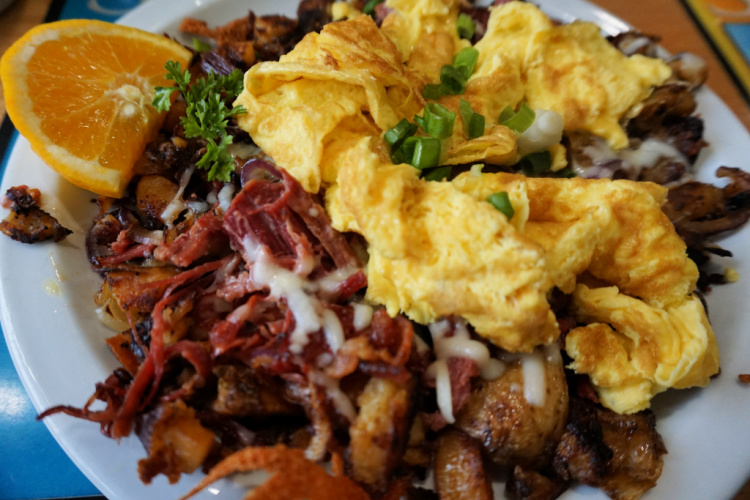 Camping in Oceanside
The only camping option in Oceanside is the Guajome Regional Park.  It offers 33 sites and an abundance of facilities. 
Due to its location, the sites get reserved fast.  I recommend planning way ahead.  However, in my experience, it is easier to spot a campsite here than on the beach.  If you cannot find a spot, keep checking the site since some sites may open up (due to cancelations).
Nearby campgrounds include:
San Clemente State Beach (22 miles) – 160 individual sites (72 RV, the rest for tents) and 2 group sites
San Onofre Bluffs (22 miles) – 175 sites, located above the beach, super scenic area
San Mateo Campground (22 miles) – 157 sites, located inland but a short drive to the beach, there is a trail connecting to the beach
South Carlsbad State Beach (also known as Ponto, 11 miles) – One of the best places to camp in Southern California.  Direct ocean views.
Things to Do Near Oceanside
I know there is an overwhelming number of things to do in Oceanside.  But, bear with me.  
There are some nearby places (with even more attractions) that I recommend paying a visit to or combining with a visit to Oceanside.
Vista (10 miles) – You do not hear a lot about the city of Vista.  As a matter of fact, I ended up there by mistake.  But, I am glad I did because I love every inch of this place.  Downtown Vista is full of restaurants, breweries, murals, and works of art.  
Carlsbad – Oceanside's southern neighbor is a world onto itself. Things to do in Carlsbad include the Carlsbad Village, beaches, hiking, museums, theme parks, restaurants, and a huge shopping scene. 
San Clemente (22 miles) – The famous "Spanish Village by the Sea" has tons of Old World charm like San Juan Capistrano.  This surf town has a pier, coastal trail, cute main street, and eateries full of mouthwatering dishes.
Encinitas (14 miles) – Encinitas is one of the most popular surfing spots in California.  So, if surfing is your thing, you show definite check Swami's (and other breakpoints).  Other things to do in Encinitas include eating, shopping, beer tasting, beach hopping, biking, and museum visits.
Legoland (9 miles) – Located in Carlsbad, Legoland has become a mini-empire with a park, hotel, and shops.
Disneyland Resort – Anaheim, home of the original Disneyland, is located 60 miles away.
San Diego Zoo Safari Park – This park located in Escondido is only about 30 miles away from Oceanside.  This is a great option if you cannot make it to the bigger San Diego Zoo.  In some aspects, I prefer this park since it gives you an African safari experience and has amazing animal shows.
How to Reach Oceanside
Oceanside is located 40 miles from San Diego, 60 miles from Anaheim, and 85 miles from Los Angeles.
This is San Diego County's northernmost city and it borders the well-known Camp Pendleton Marine Corp Base.
Oceanside can be accessed by air from the San Diego International Airport (40 miles), John Wayne International Airport (50 miles), or Los Angeles International Airport (90 miles).  
Most visitors arrive at the city by car.  Arriving by train is an option too. The main transit center is located close to Downtown and the Beach. 
If you need any help with your travel plans, make sure to stop by the California Welcome Center (928 North Coast Highway). This is a state-of-the-art facility with excellent information.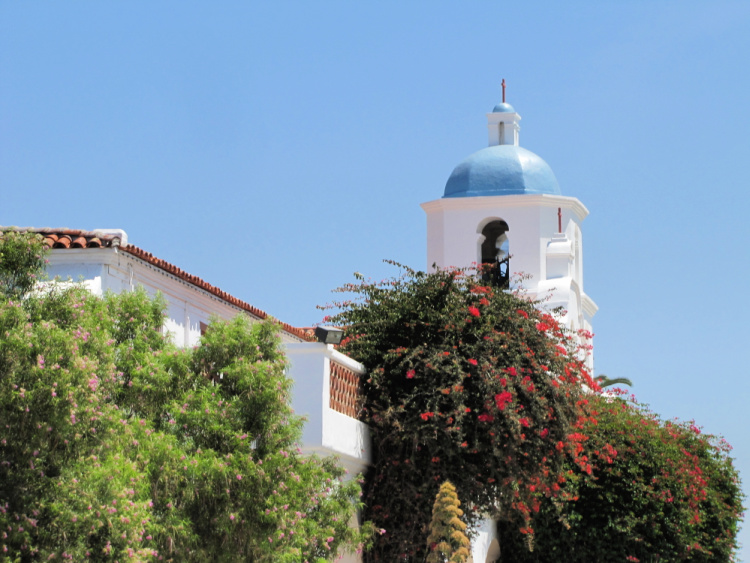 When to Visit – Oceanside Weather
Due to the mild Southern California climate, Oceanside can be visited all year round.
Winter high temperatures reach the mid 60 degrees Fahrenheit.  On the same note, summer high temperatures can reach the high 80s or low 90 degrees Fahrenheit.
Overall, most of the activities discussed in this article are suitable for all seasons. Activities involving direct water contact are the exception (unless you wear a wetsuit).  Keep in mind that during the low season some businesses operate during limited hours (since the days are shorter).
During the winter, long pants paired with a sweatshirt, sweater, or jacket should suffice.  Do not forget to pack an extra layer or two.  This will help you to conquer chilly mornings and nights.  This advice applies to summer too.
During summer, you want to pack as much sun protection as possible.  It is a good idea to plan indoor activities for the hottest hours of the day.
Beach Town Gear
As I spend a lot of time on beach towns, I have my gear packed and ready to throw in the car.  Here is an idea of what I would take to check out Oceanside activities.
Hope you have found this article helpful!
More of San Diego
Since Oceanside is located in San Diego County, here are some ideas on things to do in San Diego.
Ultimate San Diego Bucket List
More of Southern California
150+ Places to Go in Orange County
Los Angeles Ultimate Bucket List
200+ Places to Visit in Santa Barbara
What other fun things to do in Oceanside do you recommend?
Pin "Things to Do in Oceanside California" for later!