Are you taking a trip to Los Angeles anytime soon? If so, take a look at the many fun things to do in Pacific Palisades!
Brimming with the luxury of Los Angeles neighborhoods and the serenity of coastal cities, Pacific Palisades checks all boxes as a relaxing getaway. 
So, if you're planning on visiting this opulent neighborhood anytime soon, keep scrolling for a list of wonderful things to do in Pacific Palisades!
Please note: This article contains affiliate links, meaning I may earn a commission if you make a purchase by clicking a link. Of course, this comes at no extra cost to you and helps me to keep offering solid information to readers.
Things to Do in Pacific Palisades
In this article, we will focus on things to do within the Pacific Palisades neighborhood limits or things to do in adjacent communities.  There are certain places/attractions that are not technically in Pacific Palisades but pretty much everybody refers to them as being in Pacific Palisades.
I know, this can be confusing. But, do not worry.  The important thing is that this article is a useful resource for those wanting to explore the Pacific Palisades area.
Take a Stroll in Will Rogers State Historic Park
Although he already passed nearly 90 years ago, Will Rogers is still deemed one of the best performers in American history. His former state was transformed into a 186-acre state park in 1944.  Then, about 30 years later, it joined the National Register of Historic Places, hence the current name.
One of the highlights of the park is the Will Rogers Ranch House, which was the former home of Will Rogers and his family. The house has been restored and is now open to the public for tours, providing a glimpse into the life of this beloved American figure. You can also explore the Visitor Center and Museum, which features exhibits about Will Rogers and his legacy, as well as a gift shop where you can pick up souvenirs.
In addition to the historic aspects of the park, there are also plenty of outdoor activities to enjoy. The park has several hiking trails that offer breathtaking views of the Pacific Ocean and the surrounding mountains. One of the most popular trails is the Inspiration Point Trail, which is a moderate 2.5-mile hike that takes you to the top of a hill where you can enjoy panoramic views of the coastline.
For those who prefer a more leisurely pace, the park also has a beautiful polo field where you can watch matches on Sundays from April through October. The field is surrounded by views of the mountains and ocean, making it a perfect spot to enjoy a picnic or just relax and take in the scenery.
If visiting make sure to arrive early since the parking lot and spot on the ranch tours can fill in quickly (especially during weekends).
Time-Travel to the Ancient World in Getty Villa
Situated near the Malibu Coast, Getty Villa is a museum dedicated to honoring the Greek and Roman legacy. With over 40,000 antiquities among its walls, the museum will take you on an unforgettable time-traveling trip to the BC era.
The Getty Villa was modeled after an ancient Roman country house (Villa of the Papyri in Herculaneum, Italy), providing a unique setting for visitors to immerse themselves in the ancient world. The museum is arranged thematically, with exhibits that focus on various aspects of ancient life, including religion, mythology, and daily life. The collection includes many famous works of art, such as the Lansdowne Herakles and the Statue of a Victorious Youth.
In addition to the museum's impressive collection, the Getty Villa also features beautiful gardens, fountains, reflecting pools, and a replica of a Roman theater. Be on the lookout for these since they serve as great backgrounds for photos.
The Getty Villa also offers a range of educational programs and events for visitors of all ages. There are guided tours of the museum and gardens, as well as lectures and workshops on topics related to ancient art and culture.
Entering Getty Villa is free.  They are open daily (except Tuesdays) from 10 am to 5 pm. There are parking spots onsite where you can leave your car or motorcycle, but you'll have to pay a fee. That is the "trick." The museum is free but the parking is not.
Note: You can visit the Getty Villa and Getty Center on the same day and pay for parking only once (keep the ticket).
Read More: The Getty Villa
Take Your Family to the Palisades Recreation Center
If you want a family-friendly area where your kids can have the time of their lives, the Palisades Recreation Center is your best bet. It's located on Alma Real Drive and has a thing for everybody. The center doesn't lack fun activities, from sports and fitness programs to basketball, baseball, and football.
Activities in the center include crafts for little kids, dance exercises, and camps. And for double the fun, you can visit the recreation center during a special event.
Get in Touch With Your Spirituality in Lake Shrine Temple and Retreat
Situated near the Pacific Ocean, Lake Shrine Temple, and Retreat is a 10-acre spiritual sanctuary where you can get in touch with your religious beliefs. It honors Islam, Christianity, Judaism, Hinduism, and Buddhism in its Court of Religions, where a symbol of each religion is displayed.
The shrine features a beautiful meditation garden, a lake, and a temple dedicated to Paramahansa Yogananda, a spiritual leader who introduced yoga to the Western world.
The meditation garden is the centerpiece of the shrine, and it offers visitors a peaceful and serene environment to relax and meditate. The garden is filled with lush greenery, colorful flowers, and sparkling fountains, providing a calming and tranquil atmosphere. The lake is home to several graceful swans, which add to the serene ambiance of the area.
You also get to see the Mahatma Gandhi World Peace Memorial, pay respect to Gandhi's ashes, and buy souvenirs from the temple's gift shop. 
In addition to the beautiful surroundings, the Self-Realization Fellowship Lake Shrine also offers meditation and yoga classes for those who want to deepen their spiritual practice. The classes are taught by experienced instructors and are suitable for all levels of experience.
Entry to the Lake Shrine Tempe is through reservations only.
Take a Hike up the Temescal Canyon Trail
Pacific Palisades isn't all relaxation; you can channel your adventurous soul and hike up the Temescal Canyon Trail. It's a moderately-challenging 3.4-mile trail that goes through Temescal Gateway Park (part of Topanga State Park). You'll enjoy a breathtaking view of the canyon and the ocean.
Most of the trail is shaded, and you'll see flowers, rock formations, a waterfall, and more on your way up. As you hike, you'll encounter various wildlife, including rabbits, squirrels, and lizards, which add to the natural beauty of the area.
On your way down, there are several lookout points, which provide panoramic views of the Pacific Ocean, Downtown Los Angeles, and other cities in the metro area.
Since this is a popular hiking spot, you can be sure that you'll meet many friendly people during your time in the park. However, beware that you'll have to pay a parking fee if you bring your car, and if you have a dog, it won't be allowed on the trail.
I have an entire article dedicated to this trail and its surroundings.  Make sure to read it to get all the details.
Keep Hiking in the Area
In the previous entry, I focused on Temescal Getaway Park.  This is by far the most popular hiking destination in the Pacific Palisades area.
Now, the hiking possibilities around here are vast.
Here is an example of the trails you can attempt to conquer:
Los Liones Trail
Paseo Miramar Trail
Sullivan Canyon
Murphy Ranch Trail
I have an entire article dedicated to the best Pacific Palisades hikes & trails.  Also, I have an article covering a bunch of Malibu trails.
If hiking is your thing, definitely check out the articles since there are a lot of wonderful trails in the area.
Dip Your Toes in the Sand at Will Rogers State Beach
If you want to unwind from the buzzing noise of the city and sunbathe for hours, take a short drive to Will Rogers State Beach. 
It's a 103-acre beach park where you and your family can swim, sunbathe, and build sandcastles. Best of all, the beach isn't usually as crowded as the other beaches in Los Angeles.
For those who enjoy surfing, Will Rogers State Beach has some of the best waves in the area. The beach is known for its consistent surf, with waves that are suitable for all levels of surfers, from beginners to pros. There are also several surf schools in the area that offer lessons for those who want to learn how to surf.
In addition to the beach itself, Will Rogers State Beach also has several amenities to make your day at the beach more enjoyable. There are restrooms, showers, changing rooms, and playgrounds for kids, as well as a concession stand that sells snacks and drinks. The beach also has volleyball courts and picnic tables, making it a great spot for a family outing or a day with friends.
Let me also mention Will Rogers State Beach is the northern terminus of the Marvin Braude Bike Trail.  This 22-mile bike path, colloquially known as The Strand, goes all the way to the southernmost part of Santa Monica Bay.  It passes beach towns such as Venice Beach, Manhattan Beach, and Hermosa Beach.  
Maintain Your Workout Routine at the Santa Monica Stairs
Do you want to squeeze in a quick workout between tourist attractions? Look no further than the Santa Monica Stairs. With 170 wooden and 199 concrete steps, this workout destination is challenging for residents and visitors alike.
The wooden steps are wider and easier to climb, while the concrete poses a challenge because of its steepness. You can buy a bottle of water on your way up and expect crowds because the place is one of the most famous in Pacific Palisades. Besides the steps, you can bring your jumping rope, dumbbells, or any workout equipment and enjoy an athletic day! 
Enjoy a Stroll in Palisades Village
Palisades Village is a social and cultural destination, ideal for groups of friends and families. Situated in the heart of Pacific Palisades, you can enjoy a variety of shopping options, including high-end boutiques, specialty shops, and unique retailers.
In addition to shopping, Palisades Village is home to several dining options, ranging from casual eateries to upscale restaurants. Whether you're looking for a quick bite or a leisurely meal, there are plenty of options to choose from, with a variety of cuisines represented.
And if you're lucky enough, you'll visit it during a live music event or a special fitness event.
The Village is designed to evoke the feeling of a small, idyllic town, with beautiful architecture, lush landscaping (including a central park with a fountain), and a pedestrian-friendly layout. 
Palisades Village is open all week from 11 am to 7 pm, except Sundays when it closes at 6 pm. You'll find onsite parking spots at an affordable fee. Only self-parking services are available.
Play Golf at the Riviera Country Club
The Riviera Country Club is a prestigious golf club located, known for its beautiful greens, challenging courses, and stunning views of the Pacific Ocean. Founded in 1926, the club has hosted several major golf tournaments, including the U.S. Open and the PGA Championship.
The Riviera Country Club is a must-visit destination for golf enthusiasts visiting Pacific Palisades. The course offers a challenging and rewarding golfing experience for players of all skill levels, with 18 holes of rolling fairways, fast greens, and stunning views of the Pacific Ocean.
Playing a round of golf at the Riviera Country Club is a truly memorable experience, as visitors have the opportunity to follow in the footsteps of golfing legends like Ben Hogan and Tom Watson, who have won major tournaments on the course.
In addition to the exceptional golfing experience, the Riviera Country Club offers several other amenities, including a state-of-the-art fitness center, a swimming pool, and a clubhouse with fine dining options. The clubhouse features several luxurious lounges and bars, perfect for relaxing after a round of golf.
Stop by the Pacific Palisades Certified Farmers Market
The Pacific Palisades Farmers Market is a weekly community event that brings together local farmers, artisans, and producers to offer a wide range of fresh, locally-sourced products. Held every Sunday from 8 am to 1 pm in the heart of the Pacific Palisades Village.
The farmers market is known for its high-quality produce, with many of the vendors practicing sustainable and organic farming methods. Visitors can purchase fresh-picked fruits and vegetables, including seasonal specialties like heirloom tomatoes, berries, and citrus fruits. They can also find locally-raised meats, free-range eggs, artisanal cheeses, and freshly-baked bread.
In addition to food products, the market also features a variety of handmade crafts and artisanal goods. You can browse through stalls selling handmade jewelry, clothing, ceramics, and other unique items.
This is more than just a place to shop; it's a community gathering spot where visitors can enjoy live music, catch up with friends and neighbors, and enjoy a leisurely Sunday morning. 
Things to Do Near Pacific Palisades
While there are plenty of things to do in Pacific Palisades, I recommend taking a look at the neighboring cities.  I mean, Pacific Palisades has an enviable location between Santa Monica and Malibu.  You need to check out those places as well!
Here are some of the top things to do near Pacific Palisades:
Enjoy the Annenberg Beach Community House
This Annenberg Community Beach House was originally built in the 1920s as a private estate for Marion Davies and William Randolph Hearst, but today it has been transformed into a public facility that offers a wide range of amenities for visitors.
The Beach House is situated on five acres of prime beachfront property and offers stunning views of the Pacific Ocean. The facility features a large swimming pool (with tiled murals and a historic diving platform), a children's splash area, a playground, a beach volleyball court, and plenty of open space for sunbathing and relaxing.
A visit to this gem hiding in plain sight is highly recommended!
Visit Santa Monica Pier
Located just a few miles south of Pacific Palisades, the Santa Monica Pier is a popular attraction featuring a variety of amusement park rides, restaurants, and shops. Visitors can also enjoy the beautiful ocean views and take a stroll on the pier.
And, I am focusing on the pier but you can walk to the Third Street Promenade and other nearby attractions to get get to know more of Santa Monica.
Explore the Getty Center
Another popular museum in the area is the Getty Center, which is located in nearby Brentwood. The Getty Center is home to an extensive collection of art and artifacts, as well as beautiful gardens and architecture.
This museum and cultural center is administered by the same foundation that administers the Getty Villa.  I mentioned it is possible to visit both institutions on the same day (and pay for the parking only once).
The Getty Is not your typical museum.  I can guarantee it is a place that can be enjoyed by museum lovers and non-museum lovers.
Read More: The Getty Center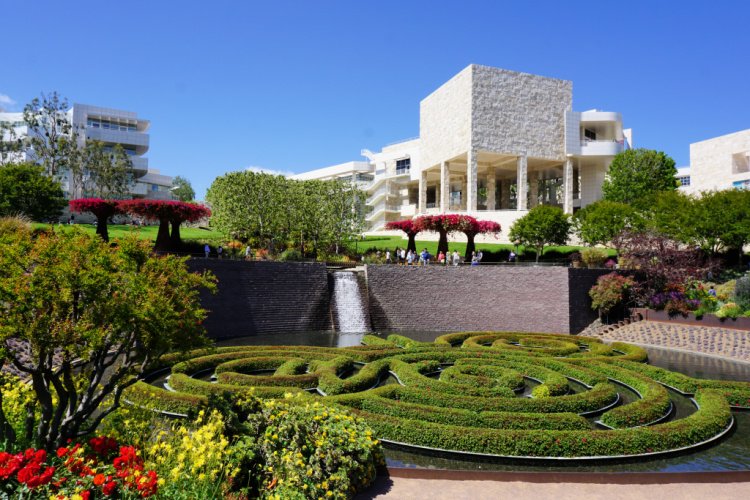 Hike in Topanga State Park
Topanga State Park is a beautiful natural area located just north of Pacific Palisades. The park features several hiking trails with breathtaking views of the Santa Monica Mountains and the Pacific Ocean.
I have details about trails in the park in my Pacific Palisades hikes article.
Enjoy the Beaches of Malibu
Malibu is also home to some of the most beautiful beaches in Southern California. You can enjoy sunbathing, swimming, and surfing at popular beaches like Zuma Beach and Malibu Lagoon State Beach, or lesser-known beaches such as Escondido Beach and Latigo Beach.
Take a Day Trip to Venice Beach
Just a short drive south of Pacific Palisades, Venice Beach is a place of extremes. You can see the most eclectic part of Los Angeles at The Boardwalk, a path close to the ocean featuring street performers, artists, unique shops, and restaurants.  On the other hand, you can head to Abbot Kinney Boulevard to enjoy the hipster vibe.
Read More: Things to Do in Venice Beach
Restaurants in Pacific Palisades
Pacific Palisades is home to a diverse range of restaurants that offer a variety of cuisines and dining experiences. 
Here are some of the top restaurants to try in Pacific Palisades:
Cafe Vida is a popular spot for healthy and delicious breakfast and lunch options. Their menu includes items like organic omelets, avocado toast, and acai bowls.
Piatti is an Italian restaurant with a cozy and welcoming atmosphere. Their menu features classic Italian dishes like pasta, pizza, and risotto, as well as fresh seafood and salads.
Hank's is a casual American restaurant with a laid-back vibe. Their menu features comfort food favorites like burgers, fries, and fried chicken sandwiches, as well as craft beer and cocktails.
The Draycott is a British-inspired restaurant with a sophisticated and elegant atmosphere. Their menu features classic dishes like fish and chips, shepherd's pie, and roasted chicken, as well as a variety of cocktails and wines.
Casa Nostra Ristorante is a cozy Italian restaurant that offers a romantic and intimate dining experience. Their menu includes traditional Italian dishes like pasta, pizza, and seafood, as well as an extensive wine list.
About Pacific Palisades
Pacific Palisades is a neighborhood located in the western part of Los Angeles. The area is bordered by the Pacific Ocean to the west, the Santa Monica Mountains to the north, and the city of Santa Monica to the east.
One of the best things about Pacific Palisades is its convenient location. The neighborhood is easily accessible by car, with the Pacific Coast Highway (PCH) running along the coast and providing a scenic drive through the area. The neighborhood is also located near several major freeways, including the 405 and 10 freeways, making it easy to reach from other parts of Los Angeles.
Pacific Palisades generally experiences warm and sunny weather throughout the year. The area has a Mediterranean climate with mild, wet winters and hot, dry summers.
Things to Do in Pacific Palisades – Sightseeing Gear
As I spend a lot of time in beach towns, I have my gear packed and ready to throw in the car.  Here is an idea of what I would take to explore Pacific Palisades.
Alright, hope you have enjoyed the article.  See you soon in Pacific Palisades!
More of Los Angeles
Los Angeles Ultimate Bucket List
One Day in Los Angeles: Itinerary for First-Time Visitors
Two Days in Los Angeles: Downtown-Based Itinerary
Los Angeles Itinerary: 2, 3, or 4 Days in Los Angeles
Weekend Getaways from Los Angeles
More of Southern California
Ultimate San Diego Bucket List
150+ Places to Go in Orange County
200+ Places to Visit in Santa Barbara
What other things to do in Pacific Palisades would you recommend?