This article explores the best things to do in Palm Springs.
Palms Springs is known for many things.
The city is linked to Modernism, Hollywood stars, snowbirds, bachelorette parties, pool gatherings, hip hotels, immaculate golf courses, and delightful spas.
Even though what has been mentioned above is pretty appealing, there is more to Palm Springs than what certain mediums want us to perceive.
The city has so many offerings! The best thing is that there are offerings for all tastes and budgets.
Today, I invite you to check out my massive (oh, yes!) list of things to do in Palm Springs.
Please note: This article contains affiliate links, meaning I may earn a commission if you make a purchase by clicking a link. Of course, this comes at no extra cost to you and helps me to keep offering solid information to readers.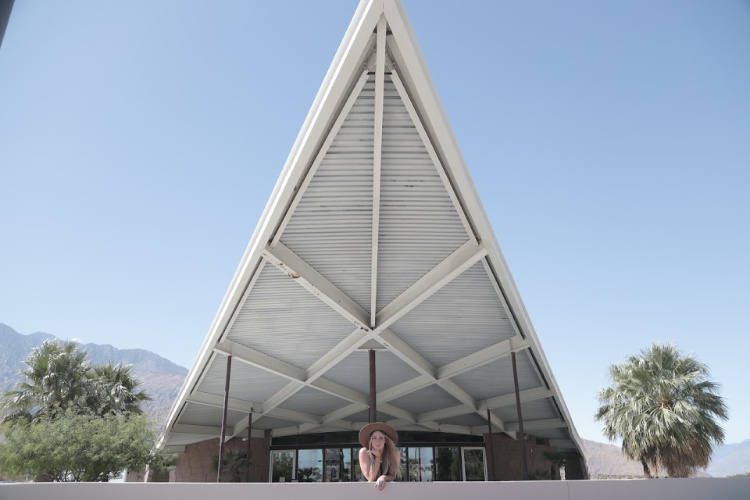 Know Before You Go
Temperatures in Palm Springs and other communities in the Coachella Valley can reach more than 110 degrees Fahrenheit during summer.  Temperatures can be high even during May and October (over 90, shoulder season).
Therefore, late fall and winter (November to April) are the prime times to visit.  Weather is going to be pleasant (maybe a bit chilly at night) and perfect for outdoor activities. But, expect higher prices and crowds during high season.
If you are considering visiting during the hot months, no, you are not crazy.  As a matter of fact, the city portrays itself as an all-season tourist destination.  You just have to avoid direct sun contact from 10:00 a.m. to 3:00 p.m. You will find plenty of indoor activities in this article.
Another important thing to take into consideration is wind conditions. When driving to Palm Springs from Los Angeles or Orange County, along the US-10, you are going to notice an abundance of wind turbines.  This is because the area (the San Gorgonio Pass, to be exact) is one of the windiest places in the United States.
April is the windiest month of the year.  During a wind "storm," you may need to stay indoors (staying outdoors become a hazard).  Road closures can happen during this time.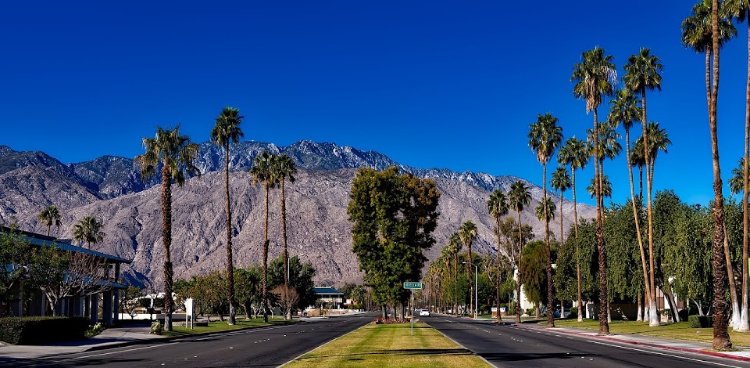 Sightseeing Gear
Get ready for a day of sightseeing by bringing the right gear.  Here is a list of the items I pack to explore cities and towns in California.
Things to Do in Palm Springs – Attractions
We'll start our list of things to do in Palm Springs by discussing some of the main attractions.  Notice this article focuses on recommendations within the Palm Springs city limits (I try as much as possible to follow this guideline). I will provide ideas on what to do in nearby cities at the end of the article.
Visitors Center
In my opinion, every visit to Palm Springs should start at the Visitors Center.  The building, now operated by the Palm Springs Bureau of Tourism, served as a gas station and has attained entry into the U.S. National Registry of Historic Places because of its peculiar architecture.
On the inside, you will find all sorts of information related to the city, a desk operated by the Agua Caliente Band of Cahuilla Indian, books, souvenirs, postcards, etc.  I like to browse the different brochures and pamphlets to see if I can score discounts (mainly on restaurants).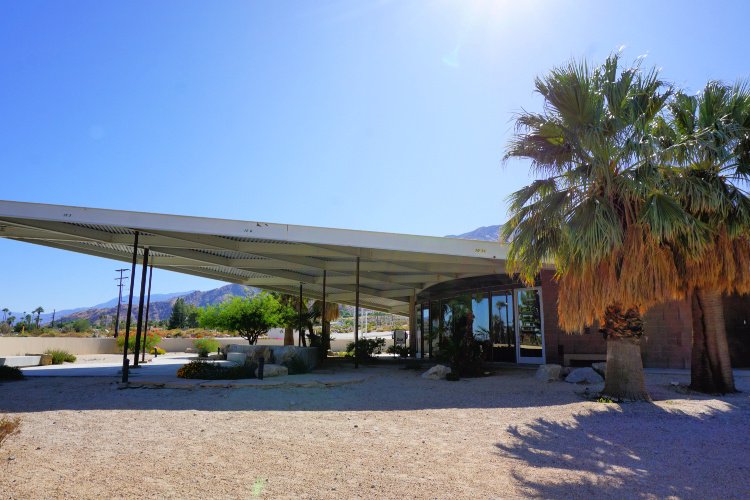 Palm Springs Aerial Tramway
This one is a classic!  You have to take the tram at least once!
This tram has the largest rotating tram cars in the world.  It ascends about 6,000 feet in twelve and a half minutes. Yes, your ears are going to clog and your head may feel like exploding.  But, all those worries are going to disappear once you see the amazing views of the Coachella Valley from the top.  
At the tram's high station, you can have a meal, walk to several viewpoints, hike, learn about the area's ecosystems and stay around as long as you want.  Keep in mind the temperature at the top is about 30 degrees cooler than the desert. In winter, the top is covered in snow. Go prepared!
This is not the most budget-friendly attraction (adult ticket $26) but, as mentioned, the experience is incredible.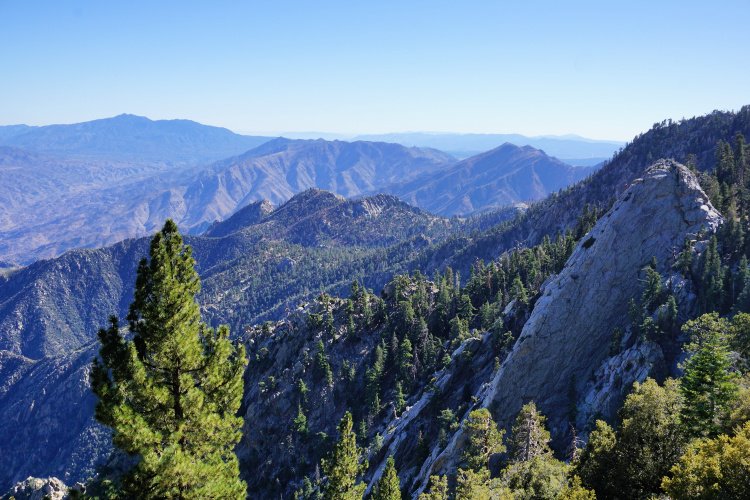 Downtown Palm Springs
Now, this is where the action takes place!
When we are talking about Downtown Palm Springs we tend to refer to the portion of Palm Canyon Drive and Indian Canyon Drive between Alejo Road and Sunny Dune Road.  Granted, the area is technically bigger. However, visitors go where the restaurants, shops, cafes, and hotels are concentrated.
There is a lot to see, do and eat here.  You will need to walk up and down several times to capture all the details.
If hungry, head to Las Casuelas (Mexican), The Sandwich Spot, The Tonga Hut, Haus of Poke, Peabody's Cafe, Tyler's Burgers, Bill's Pizza or Pomme Fritte.  Several eateries offer food and drink specials daily.
Lulu California Bistro is great for people watching. For something sweet, visit Great Shakes or Lappert's Premium Gourmet Ice Cream.
Shoppers will find fine art, home goods, designer clothes, sunglasses, souvenirs and more.  There are several museums and public art displays around the perimeter.
In short, you can spend a big chunk of the day exploring the neighborhood.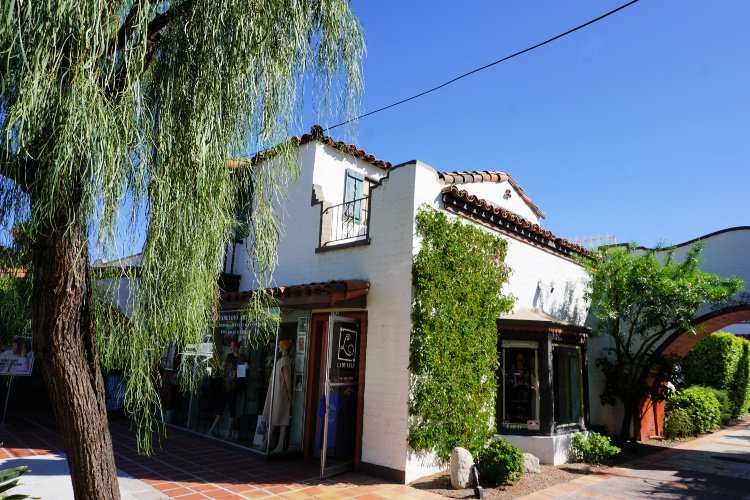 Uptown Palm Springs
It is easy to determine that Uptown Palm Springs is located north of Downtown Palm Springs (did you get that?)
Of course, I recommend not skipping this part of town.  This is where you are going to find art galleries, design centers, murals and incredible stores such as Pelago, Bon Vivant, Just Fabulous, and Grace Home Furnishings. You can spend hours checking the goods.
Plus, this is where you will find some of Palm Springs' most popular restaurants.  For example, the place where "everybody" wants to have breakfast, Cheeky's, is located here.  Other outstanding restaurants include Jake's, Trio, Mid Mod Cafe, Workshop Kitchen and Copley's.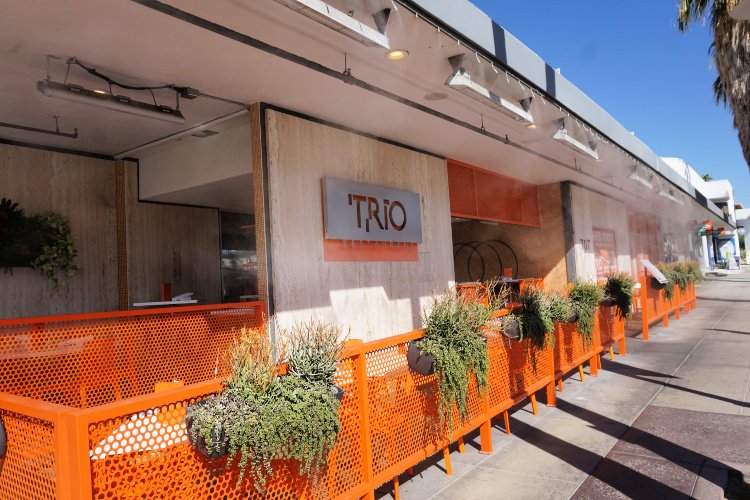 Walk of Stars
Remember I said Palm Springs is associated with celebrities, singers, directors, actors, and actresses?  Well, very similar to Hollywood, there are "Golden Palm Stars" honoring prominent individuals who have lived in the greater Palm Springs area.
Around Downtown, you can find stars with Frank Sinatra, Sophia Loren, and Marylin Monroe's names.  It is fun to follow the stars and see which names you can recognize.
The star shown below bears the name of Huell Howser, the host of a TV show called California's Gold.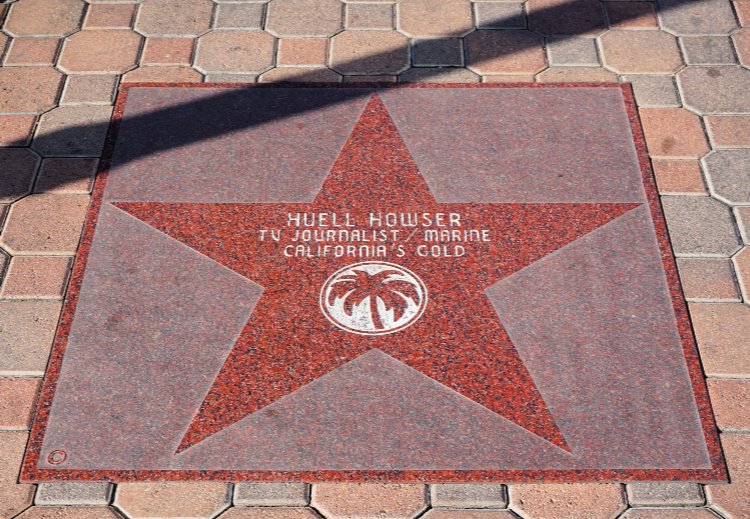 Moorten Botanical Garden
Wow! I love this place!
Tucked in a quiet corner, not far from the Downtown area, this garden features desert plants from all over the world.  Most of the exhibits are scattered in an open-air lot but you can visit the covered "cactarium" (with rare plants), the cactus castle and the sales space.
They also have land turtles on-site.  When I visited, they had baby turtles (three and one-month-old, one hatched the morning of the day I visited).  They were so cute.
I cannot recommend this place enough.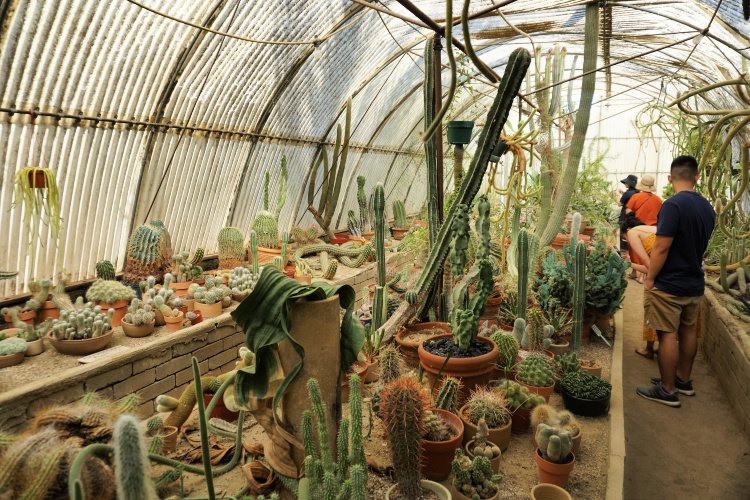 Desert Rocks Indoor Climbing Gym
For those days when you want to be adventurous, but the temperature is over 100 degrees Fahrenheit, indoor climbing may be your best bet.
Desert Rocks offers rock climbing (more like wall climbing) for all ages and levels.  Staff is eager to help is you (or somebody in your group) do not have climbing experience.  Their rates are pretty good, so make sure to check them out!
Escape Room Palm Springs
If you are not familiar with the concept, in an escape room, a team of people works together on finding clues and accomplishing tasks in order to exit the room or move to the next level.  A time limit is usually imposed.
The Escape Room in Palm Springs has excellent online reviews, has won numerous prizes and claims to be the biggest of its kind in Southern California.  There are 6 private rooms to play in. One of the biggest perks is that you have until 7:00 p.m. to walk in and play.
Wet 'N' Wild Palm Springs
I know, I know.  Sometimes we need ways to beat the heat, especially when we are in the Coachella Valley.
Wet 'N' Wild is an aquatic park featuring pools (including a wave one), slides, a lazy river, and an interactive funhouse.  This is a place to spend the entire day with family and friends.
Note: The park was sold in 2019 and it is expected to open in 2020 completely remodeled.
Swim Center
If you need to refresh but do not feel like paying the prices of a private water park, keep in mind there is a public swim center located in the city.
The center is open 7 days a week for lap and recreational swimming.
Skate Park
Next to the swim center, you will find a skate park.  This facility, one of the best in the state of California, consists of 30,000 square feet. The features have been designed to challenge skaters' abilities.
Admission of free of charge but rules need to be observed.
Indian Canyons Neighborhood (Door Tour)
I am not exactly sure this one can be classified as an attraction but I'll mention it since it seems to be of interest to visitors.
One of the most Instagrammable places in Palm Springs is a white residence with a pink door.  The hashtag #thatpinkdoor even exists.
The pink door can be found on the Indian Canyons Neighborhood on Sierra Way.  Turns out this neighborhood is full of midcentury homes with gorgeous, colorful doors.  Many people drive, walk or bike around the neighborhood posing or taking pictures.
If you are interested in doing something similar, you can stop by Sierra Way, Calle Palo Fierro, Calle Granada, Camino Real, and Kings Road.
Please, keep in mind these are private homes.  In my opinion, photos must be taken from the sidewalk or street.  Do not cross into the driveway, lawn or walkway.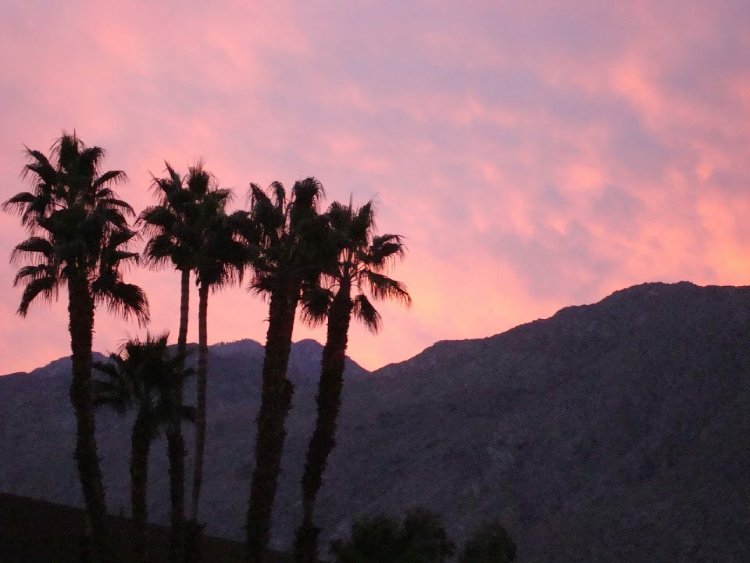 Things to Do in Palm Springs – Rentals
If you want to cover more ground, renting a bicycle or off-road vehicle is the way to go.
Bicycles
Businesses such as BIKE (Indian Canyon Drive) and Pedego (La Plaza) rent bikes on half-day, full-day or weekly increments.  They provide maps and safety equipment. The other cool thing is that you can reserve online and pick up at the physical store.
If you want to prepare your own biking tour, it may be a good idea to get familiar with the bike trails in the city.  Find more information here.
Scooters
Scoot Palm Springs rents scooters (small motorcycles, think of a Vespa) for those who want to tour the most picturesque areas/neighborhoods without a lot of effort.  Tour maps are provided.
Off-Road Vehicles
A company called Off Road Rentals allows visitors to ride ATVs in a private desert property.  Safety equipment is provided and a driver's license is not required (but there are age restrictions).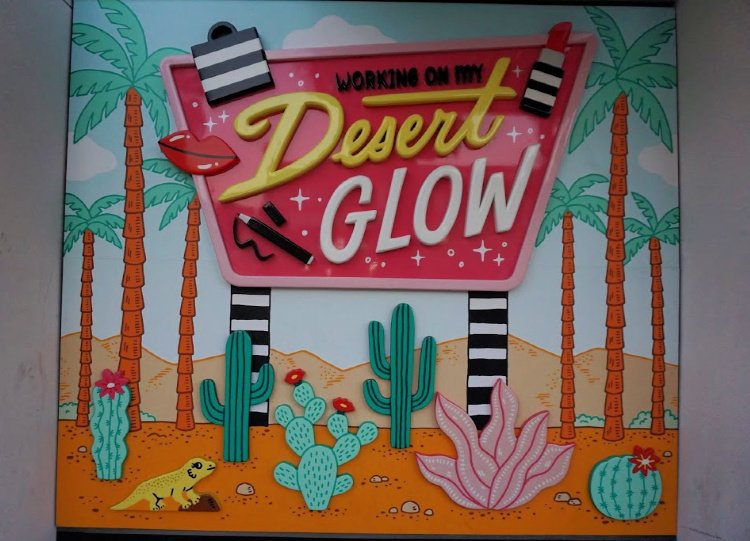 Things to Do in Palm Springs – Hiking
Palm Springs is located on the west side of the Coachella Valley.  You feel like you can touch the mountains when strolling around the main streets.
Now, those mountains are full of canyons, oases, flora, fauna and even waterfalls.  It is an entire world to discover. So, get your hiking shoes ready since there are many trails in this desert city.
Indian Canyons
The Indian Canyons are owned and administered by the Agua Caliente Band of Cahuilla Indians.  Admission grant you access to three canyons, over 60 miles of trails, guided walks, talks and facilities such as restrooms and potable water fountain.
This is a fascinating place to visit since one of the canyons has the largest fan palm (a palm native to the West) oasis in the world.  After a visit, you will understand why the city is called Palm Springs.
Read More: Indian Canyons in Palm Springs
Tahquitz Canyon
This is another canyon (located in a different location) on Agua Caliente land.  You can join a guided hike (recommended, you learn a lot) or explore independently.  The highlight of the walk is a waterfall located at the end of the canyon.
Read More: Tahquitz Canyon
Other Hikes
You can also access trails without having to pay any fee.  You can ask for recommendations on the Visitors Center (there is plenty of info online but I will check current conditions, level of effort and equipment needed with the experts).
Possible options
Museum Trail
North Lykken Trail
South Lykken Trail
Araby Trail
Remember you can also hike at the upper tramway station.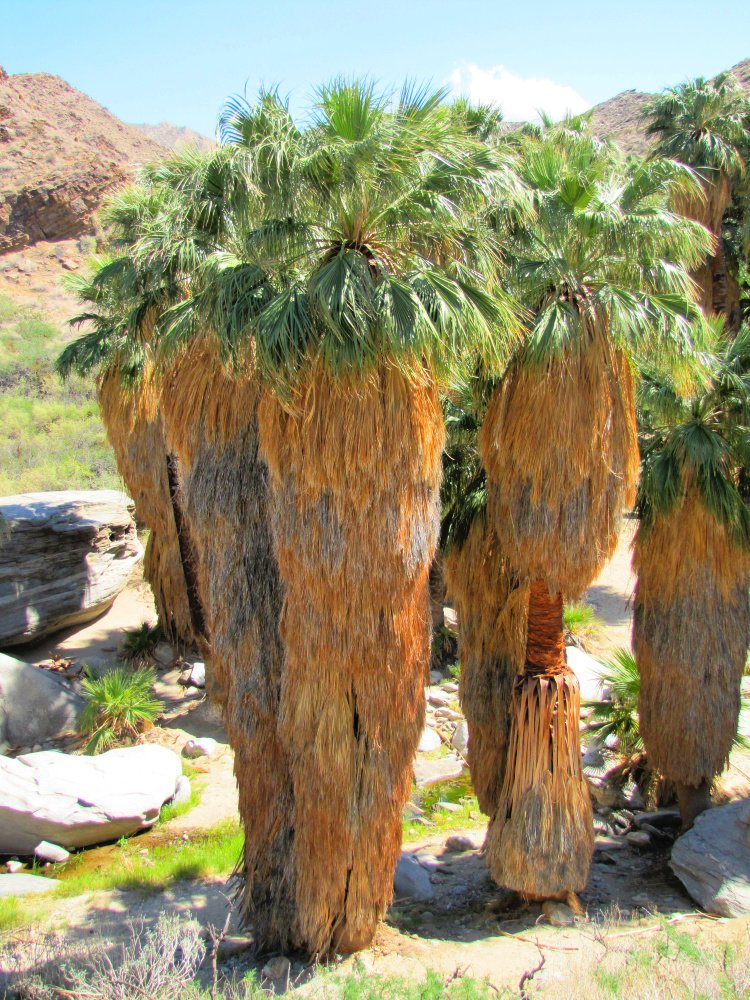 Things to Do in Palm Springs – Museums
On a hot day, spending some time on an air-conditioned space feels divine.  Visiting a museum will allow you to cool down and learn something new. Check out the nice selection Palm Springs has to offer.
Village Green Heritage Center
In the heart of Downtown, you will find this center dedicated to Native American culture and pioneers/early settlers.
Visitors are welcomed to explore the four buildings surrounding an open space (resembles a plaza): the McCallum Adobe, Miss Cornelia White's House, the Agua Caliente Cultural Museum and Ruddy's General Store (my favorite).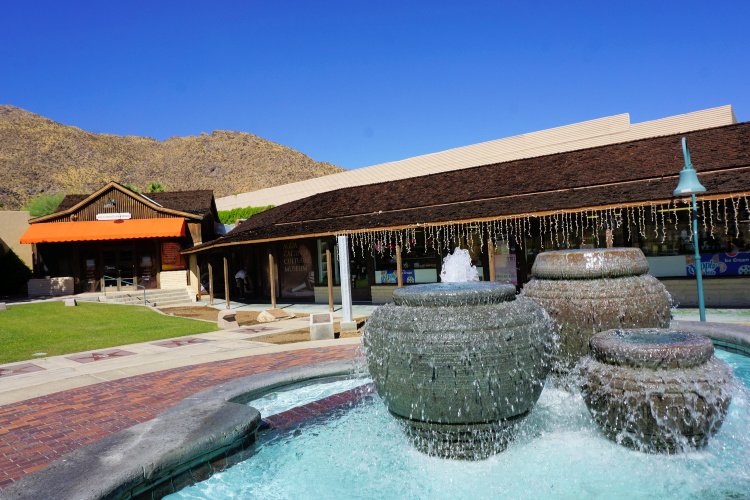 Palm Springs Air Museum
The Palm Springs Air Museum is a world-class facility exhibiting airplanes from World War II, the Korean War and the Vietnam War.  They aim to educate the public about the role these flying machines played during critical times.
Exhibitions include 40+ airplanes and helicopters built by Grumman, Douglas, Lockheed, Boeing, and other companies.
Palm Springs Art Museum
This premier art museum has permanent collections showcasing works (paintings, sculptures, prints, photographs, glass) by local and international artists.  Much of the objects found here reflect in one way or another the mid-century modernism period.
The museum also has an Architecture & Design Center, a branch in Palm Desert and theater.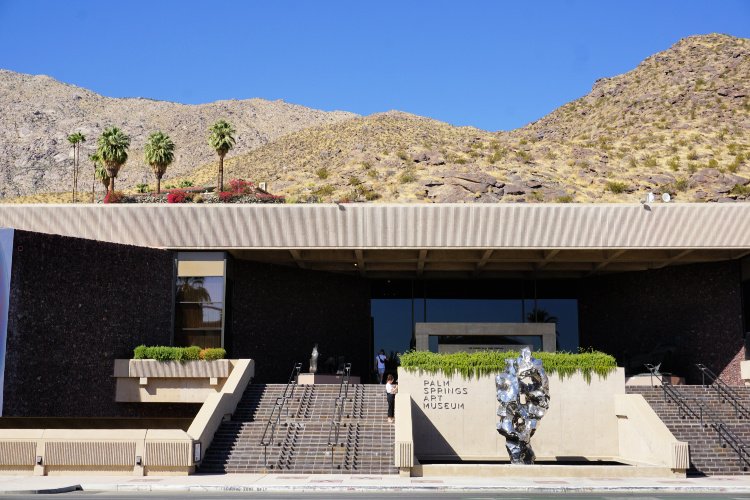 Things to Do in Palm Springs – Art 
I have already discussed the Uptown Design District and the Art Museums but I want to provide additional ideas to those who are passionate about the arts.
Palm Springs Sign
A big Palm Springs sign is located next to the Visitors Center.  This is a great photo opt.
Also, there is a mural depicting the words "Palm Springs" outside the Hyatt in Downtown.
Desert Art Center
Located in Uptown, the Desert Art Center showcases local talent art.  They offer classes (watercolors, sculpture, stained glass, drawing) and workshops often.  
Backstreet Art District
In this district, you can find artists' studios, galleries, and art-related services.  Attend the monthly art walk to learn more about this area's offerings (first Wednesday from 5:00 p.m. to 8:00 p.m.)
Downtown and Uptown Public Art
Strolling around Downtown and Uptown will put you face to face with public art. There are many murals, sculptures, and fountains to discover.
Lately, several pieces added around the new shopping/hoteling complex located between Museum Way and Tahquitz Canyon Way.
In addition, the city has acquired a famous piece of art called "Babies" by Czech artist David Cerny.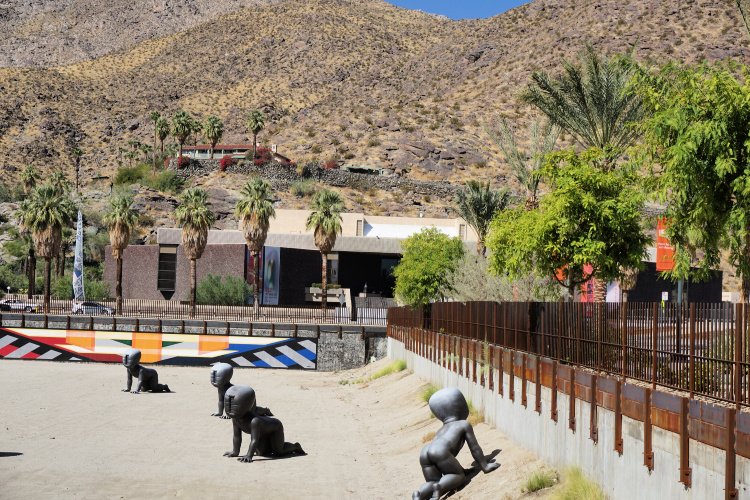 Things to Do in Palm Springs – Hotels
Visiting a hotel is not necessarily a thing to do but this is Palm Springs.  Hotels' designs need to be out of the ordinary and flashy to attract guests.
Plus, a time when Instagram is super popular, people want to take pictures of themselves with colorful backgrounds and hip wallpaper.
If you are interested in visiting a hotel and you are not staying there, you can opt to visit one of the hotel's restaurants, bars or cafes.  Keep in mind some areas may be off-limits. Also, respect the privacy of actual guests.
Below you will find the name of some popular hotels and the establishment, within the hotel boundaries, open to the public.
Parker – Norma's, Mister Parker's, Counter Reformation
The Saguaro – El Jefe
ACE Hotel – King's Highway
Kimpton Rowan – 4 Saints, High Top Bar
Colony Palms Hotel – Purple Palm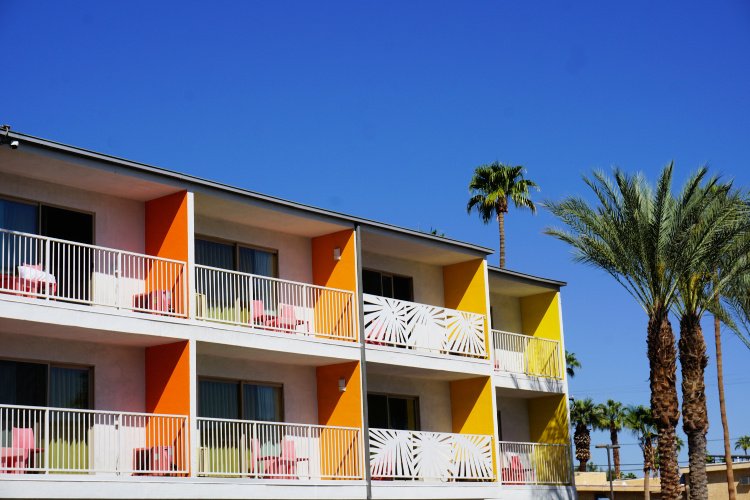 Things to Do in Palm Springs – Tours
Hold on! There is still more to do!
I have touched on a lot of attractions and activities you can do on your own. However, I know some of you prefer to relax and leave the activity planning in the hands of a professional.  Because of that, I am recommending a series of tours that cover different areas of interest.
Walking Tours – P.S. Walk with Me
Food Tours – Desert Tasty Tours
Desert Exploration – Desert Adventures Eco Tours, Adventure Hummer Tours
Modernism/Architecture – PS Architecture Tours, Palm Springs Mod Squad
Horseback Riding – Smoke Tree Stables
Other Tours – Windmill Tours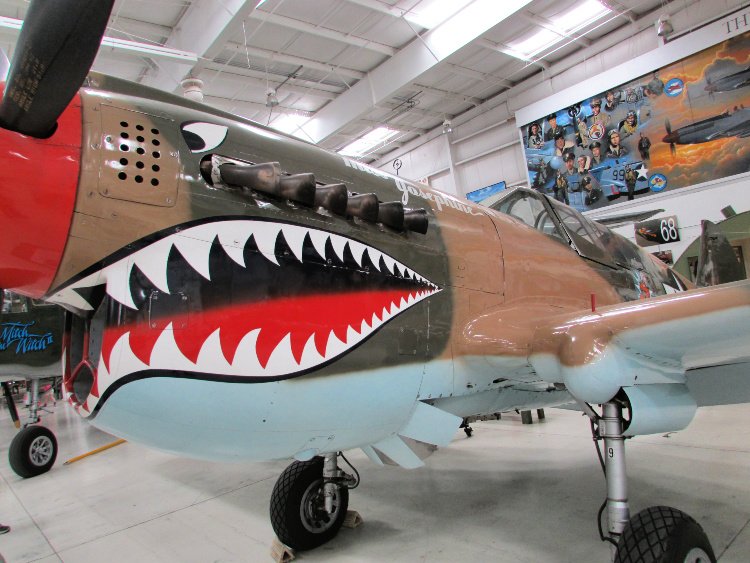 Things to Do in Palm Springs – Events
Events are another reason to visit Palm Springs.  Major celebrations and/or festivals take place every month.  Smaller-scale gatherings occur weekly. Here is a sample of some of the most popular events:
Villagefest (every Thursday)
International Film Festival (January)
Modernism Week (February, October)
Restaurant Week (June)
Comic Con (August)
Women's Jazz Festival (November)
Festival of Lights Parade (December)
World-famous music festivals like Coachella and Stagecoach take place in April.  They do happen within city limits but their effects are felt all over the Valley.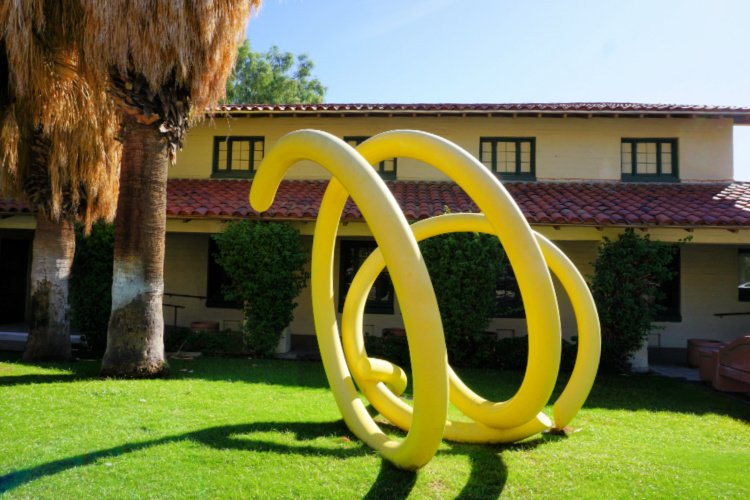 Nearby Attractions
I am pretty sure this article can help you to plan 3 or 4 trips to Palm Springs.  In case, you are looking for more, here are other attractions in the Coachella Valley.
Cabot's Pueblo Museum (14 miles) – Desert Hot Springs
Sunnylands (12 miles) – Rancho Mirage
El Paseo (14 miles) – Palm Desert
Living Desert Zoo & Gardens (17 miles) – Palm Desert
Oasis Date Gardens (32 miles) – Thermal (Best date shakes ever!)
Coachella Valley Preserve (18 miles)
Beyond the Valley, you can visit Joshua Tree National Park, the Desert Hills Premium Outlets, the Morongo Casino and the Salton Sea.
Read More: Cabot's Pueblo Museum
Things to Do in Joshua Tree National Park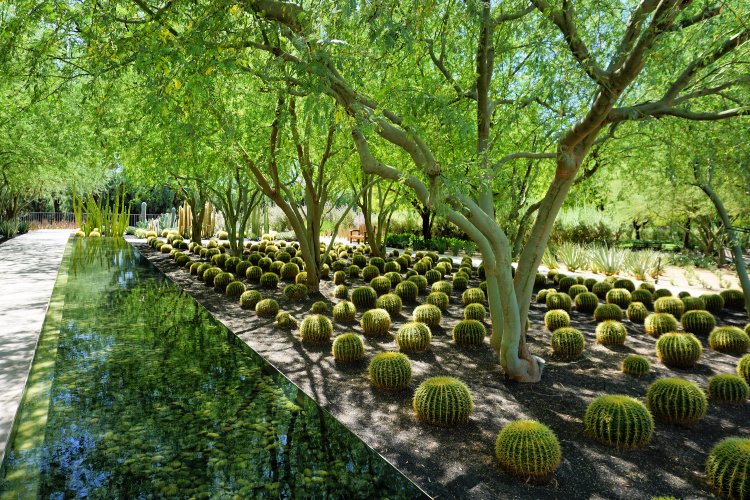 More of Southern California
Los Angeles Ultimate Bucket List
Weekend Getaways from Los Angeles
Ultimate San Diego Bucket List
150+ Places to Go in Orange County
Places to Visit in Santa Barbara
What other things to do in Palm Spring do you recommend?
Pin "Things to Do in Palm Springs" for later!