This article discusses a lot of the fun things to do in Pismo Beach, California!
For many years, I have stopped at Pismo Beach, a coastal town located in San Luis Obispo Bay.  We love to get some great food in town and check the pier.
Yet, my husband and I have never stayed in the area.  And, you know me. I am obsessed with checking out every stretch of the California Coast.  That is why we decided to add Pismo to our end-of-year vacation.
I am glad we did since our feelings for the area grew.  We had a grandiose time and I am ready to share the best things to do in Pismo Beach.
Please note: This article contains affiliate links, meaning I may earn a commission if you make a purchase by clicking a link. Of course, this comes at no extra cost to you and helps me to keep offering solid information to readers.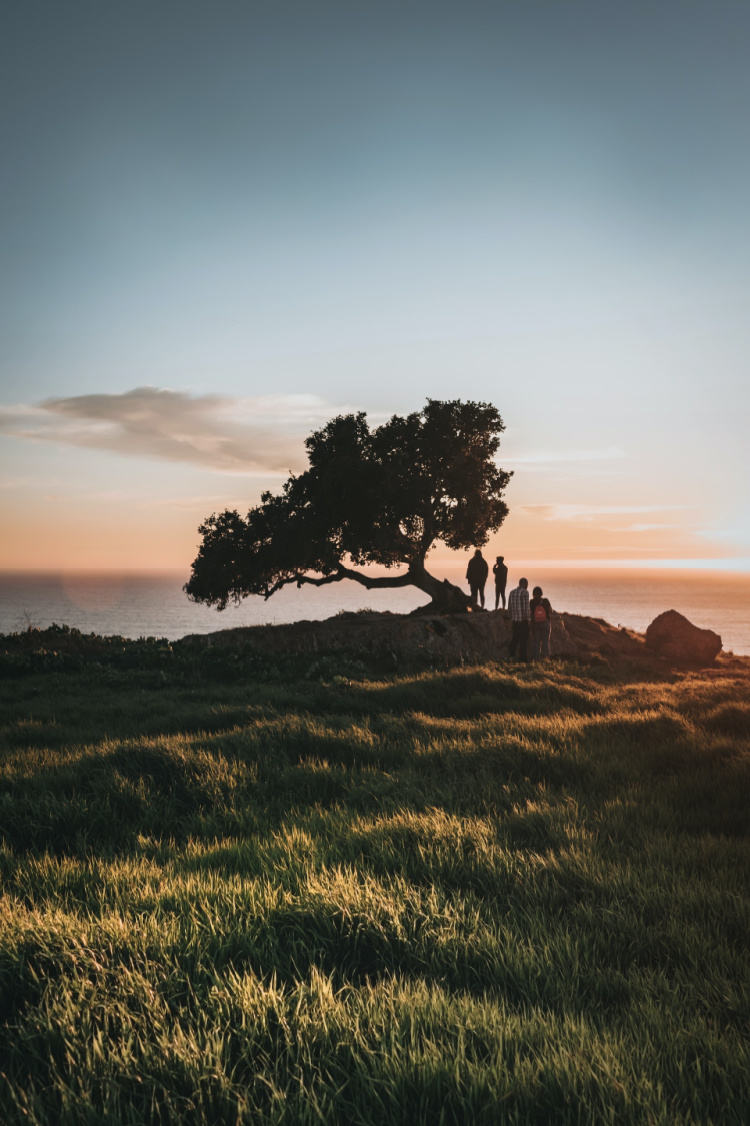 Things to Do in Pismo Beach
First, let me tell you the city gets its name from the Pismo clam, a mollusk common in the area.  So, if you visit, get ready to go on a clam chowder frenzy.
But, there is much more! You will run out of fingers and toes if you try to count all the Pismo Beach attractions! Get ready for sand dunes, bluffs, butterflies, sea caves, and hikes.  I am spilling the beans on the things to do in Pismo Beach.
Drive on the Oceano Sand Dunes SVRA
Yes, you read that right.  The Oceano Dunes State Vehicular Recreational Area (SVRA) is one of the few places in California where the public is allowed to drive their own vehicles on the beach. That fact makes this area very popular.
If we are going to get technical, as the name implies, this attraction is located in Oceano, a small community south of Pismo Beach.  Now, a lot of people refer to it as the "Pismo Dunes" since that was the former name of the SVRA. Pismo or not, these adjacent communities present themselves as a complete package for visitors in search of adventure and fun.
Now, let me tell you more about the Oceano Dunes.  The area is accessed through a beach ramp at the end of Pier Avenue.  Once at the beach, you have to drive about one mile south (to Post 2) to reach the off-highway vehicle (OHV) area.  Once there, you have a little bit more than 5 miles of sand to ride. Off-limits parts are clearly marked.
It is recommended to use a 4-wheel or all-wheel drive to get into the sand.  People take specialized motorcycles, ATVs (quads), and UTVs too. If you wish to drive the laters, there are several rental agencies in the area.  You may want to check prices at BJ's, Steve's, Arnie's, and Sun Buggy Fun Rentals.
Some things to keep in mind:
If you have never driven in this environment, start by getting a hang of it.  People want to do all sorts of acrobatics in these terrains without understanding the hazards
Consider the tides when getting in and out of the area
The SVRA may get closed because of rough surf. Always check park conditions one or two days before planned arrival
Always follow instructions, rules, and regulations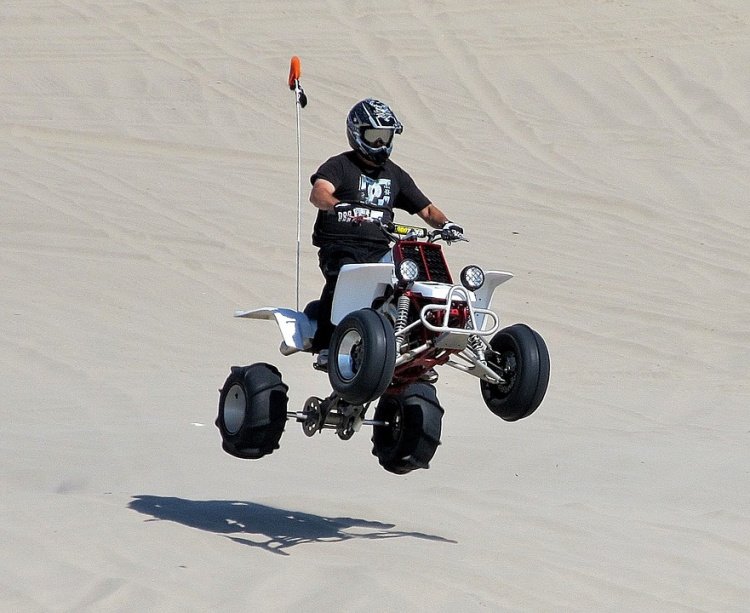 Camp at the Dunes
It is possible to camp in the dunes!
This is another feature that makes the area super popular.  There are designated camping spots next to the OHV section. Reservations are not necessary but encouraged during summer months and holiday weekends.
Do not expect a fancy campground.  Facilities are minimal here. I have heard people use the showers at the Oceano or North (Pismo State Beach) Campgrounds.  Of course, you will need to drive out of the sand to get to these. Or, dune camping may sound too primal. In that case, consider staying on the campgrounds mentioned above (which have more facilities and are closer to the towns).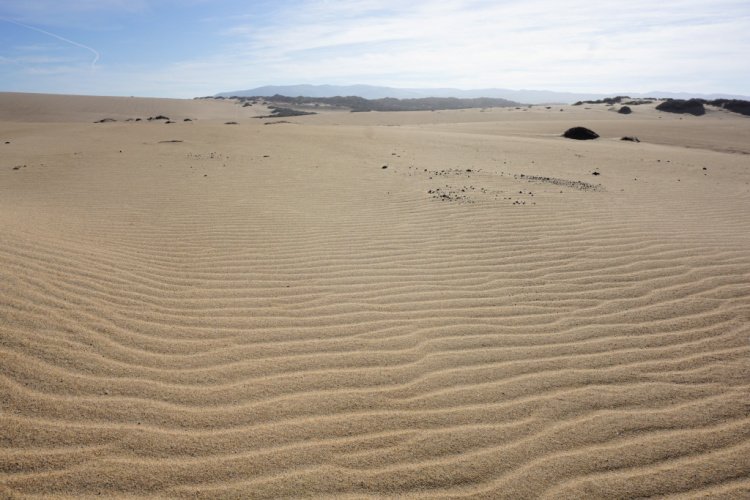 Or, Walk / Hike Around the Dunes
The idea of riding off-highway vehicles around sand dunes may sound like too much for you. Do not worry, you can still enjoy the beauty of the dunes by exploring on foot.
The section of the Pismo State Beach (central section) between Grand and Pier Avenues is suitable for walking.  Try to access the Dune Trail from Grand Avenue. North of Pier Avenue, you will find the Oceano Lagoon and a trail surrounding it. Cars are allowed to drive on the beach (close to the water) but not on the dunes.  
Cars are not allowed in the northern section of Pismo State Beach (north of Grand Avenue).  Therefore, this is the quietest park if you want to walk, hike, or practice other beach-related activities.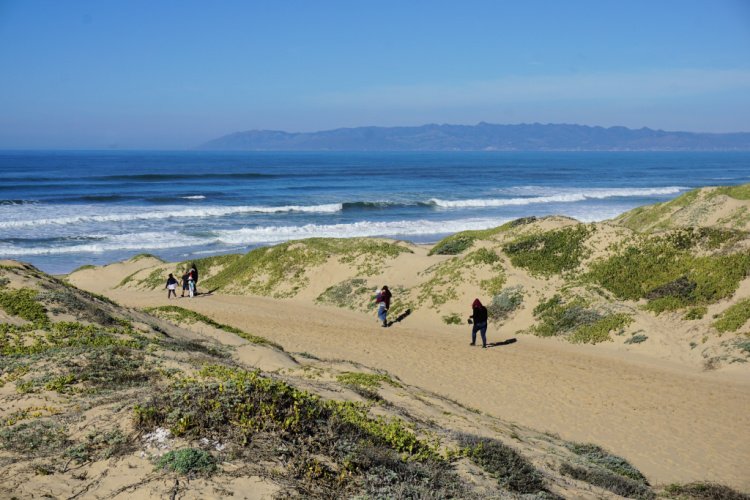 See Hundreds of Monarch Butterflies
Surprise! Surprise! Pismo State Beach has a monarch butterfly grove. From October to February the butterflies rest from their long migration at the eucalyptus trees of Pismo.  Access the grove from CA-1. Parking is available on the street.
Once in there, you are going to observe the monarchs fluttering all around and stopping over several objects (fences, benches, etc.)  As you may know, these butterflies cluster by the hundreds in branches. When I went, it was difficult to spot the clusters with the naked eye.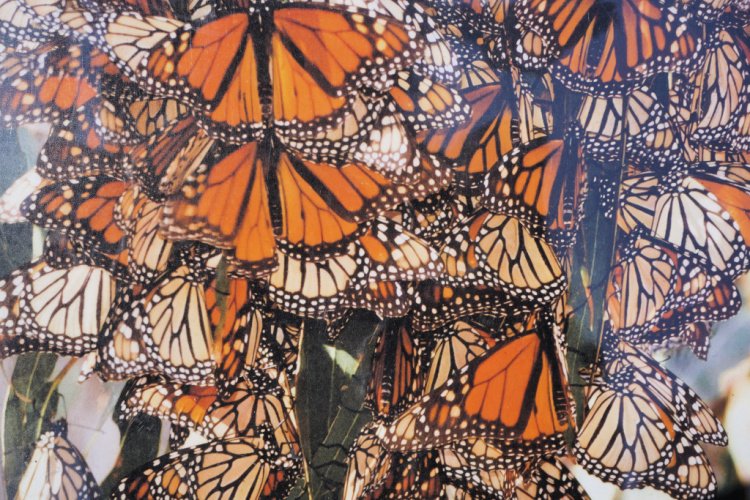 Volunteers set up telescopes so you can observe the clusters high up on the trees.  The perspective from the lens in incredible You observe all their vibrancy and movement.  
Even though the winter population in Pismo has dwindled with the years, I believe this is a must-see in the area.  You learn a lot about these fantastic creatures. In addition, volunteers offer tips on how to protect the migration of the monarch butterfly, one of the greatest spectacles on Earth.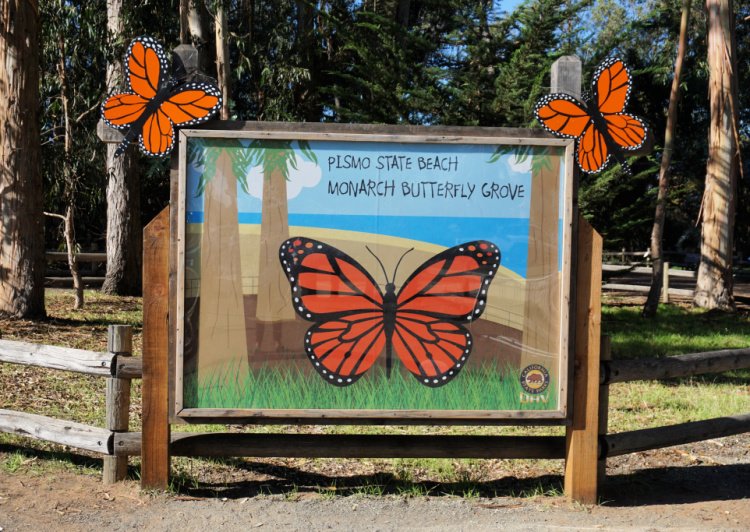 Stroll Around Downtown Pismo Beach and Pismo Beach Pier
Downtown Pismo Beach is small. Most of the businesses are clustered around Pomeroy Avenue and Price Street.  The other streets have a mix of residential buildings and hotels.
The size is one of the reasons I love this place.  It feels cozy and authentic. No wonder the city markets itself as "Classic California."  Walk around and you are going to see what I mean.
Once you get familiarized with the town, move on to the pier.  The revitalization of this long and expansive structure was finished a couple of months ago.  Now, we have a brand new pier to enjoy for many years to come. Walk north of the pier to get close to the cliffs section of the city.
From this area, you have direct access to Pismo City Beach.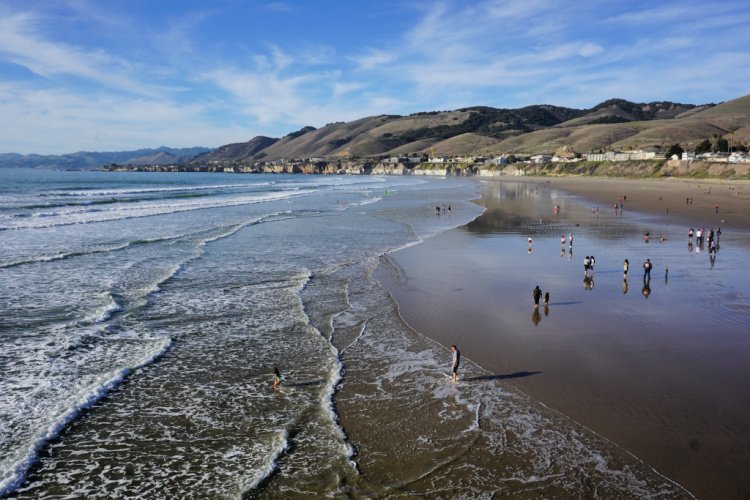 Try the Best Clam Chowder Ever!
Oh, Splash Cafe, how I love you! This unassuming business serves one of the most acclaimed clam chowders of the Central Coast (if not of all California).  I order mine in a bread bowl topped with crab and shrimp. The obsession is real. I dream about this place.
Truth be told, almost everybody sells clam chowder in Pismo Beach.  I have asked locals what is their favorite and some mentioned Hoagie's.  Guess what?  I tried the clam chowder there and it is excellent too.  
The point is that you can get into a wild clam chowder tasting around you are going to end up more than satisfied.  People around here know how to cook delicious chowder.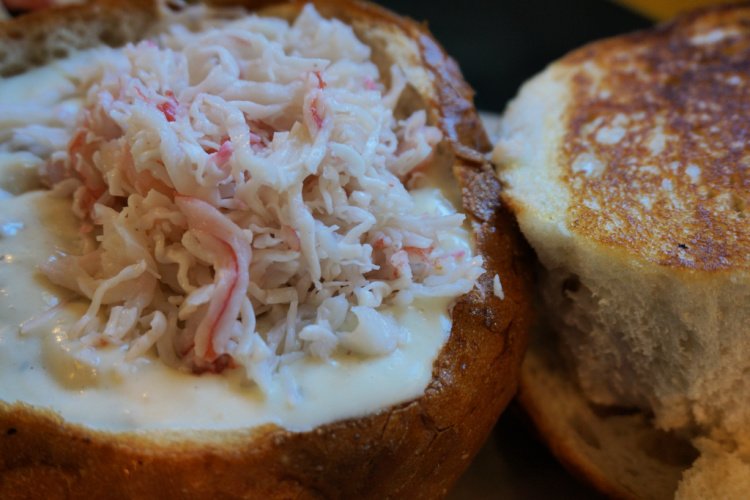 Surfing in Pismo Beach
Like in many California beach towns, locals surf north or south of the pier all year round.  The Oceano and Shell Beach areas are other hot surfing spots.
Not that far from Pismo, beginners flock the waters around the Cayucos Pier and pros to the big waves that form close to the Morro Rock.
If you want to follow their lead, you can rent boards, wetsuits, and SUP boards at Esteem Surf, Pancho's Surf Shop, Pierside Boards, Pismo Beach Surf Shop, Sandbar Surf, or Shell Beach Surf Shop.
For surfing classes, check out the services of Sandbar Surf School, Pismo Beach Surf Academy, or Zada Surf School.
Other Water Activities in Pismo Beach
Windsurfing and kitesurfing are popular sports practiced in the area (spring is prime time).  People go south of the pier or at the end of Grand Avenue in Grover Beach. You can contact California Kiteboarding for more information (they are located in town).
Kayaking along the coast will allow you to discover caves, beaches, rocks, and coves. If the views from the top of the cliffs are mind-blowing, I cannot imagine how much more amazing they are from the water.
Central Coast Kayaks offer guided tours around the most beautiful spots on the coast.  If you feel like doing your own thing, you can rent kayaks at Pismo Beach Dive Shop or Pismo Beach Surf Shop. With your own equipment, you can launch into the water using the stairs located north of Margo Dodd Park in Shell Beach.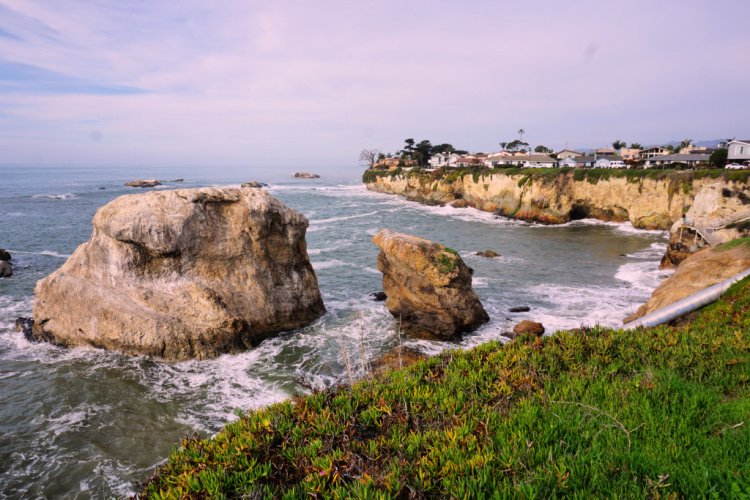 Admire the Beauty of Shell Beach
Repeat after me: "I need to visit Shell Beach, I need to visit Shell Beach."
A visit to Pismo would not be complete if you do not stop by the Shell Beach neighborhood.  This is where you are going to see some of the more breathtaking coastal scenes of San Luis Obispo County.  This long stretch is full of promontories, coves, caves, arches, and wildlife (otters, sea lions, seals, and birds).
Start by parking your car at the Dinosaur Caves Park.  From there, you can walk along different trails towards different viewpoints.  The views are incredible. Get prepared to take tons of photos. The trails are suitable for all ages since they are short and flat.  It is a great place to take kids (there is a playground) and pets.
Continue walking towards Margo Dodd Park (you are going to see the gazebo).  From this point, you are going to see one of the more iconic views of the Central Coast.  It is a joyous scene of rocks, arches, and colorful cliffs. You can get closer to the action by using the stairs located a few meters north.
I recommend, at a minimum, stopping by the spots I have discussed.  If you have more time on hand, you can continue exploring. There are more parks and views in this area.  Consider the following: Eldwayen Ocean Park, Spyglass Park, Ebb Tide Park, and South Palisades Park.
Read More: Shell Beach California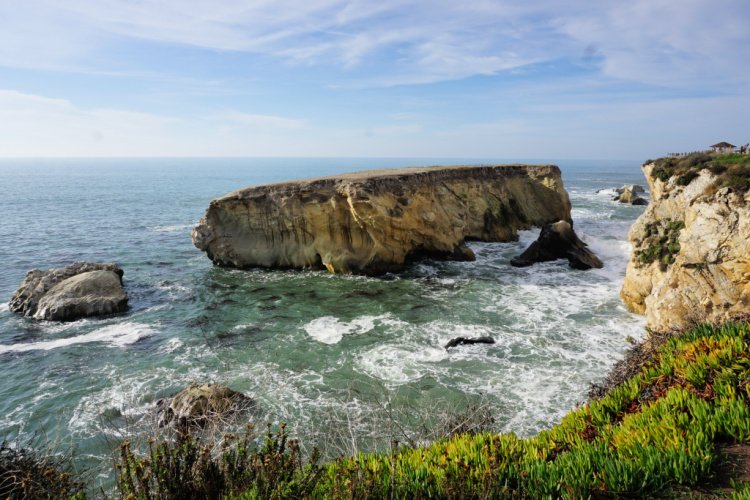 Hike the Cave Landing Trail
I said Shell Beach has some of the best views in this area but this place I am about to discuss is the frosting on the cake.  I discovered it on my last visit and fell completely in love.
At the northernmost part of Shell Beach, you will find the trailhead to the Cave Landing Trail (also known as Shell Beach Bluff Trail). You can Google the trail name for detailed instructions or drive the Shell Beach Road north and turn at El Portal Drive.  You will find the parking lot close to the intersection of El Portal and Indio Drives.
You will be able to see the cliff area and Pirate's Cove (famous for being a nude beach).
But, if you keep going, the trail is going to connect you to the Cave Landing Road.  Once in there, you are going to be able to admire what is known as the Avila Sea Caves area.  That view is pure gold! You can hike down and explore the actual caves (keep an eye on the tides).

Hike at the Pismo Preserve
The 900-acre Pismo Preserve opened to the public in January 2020.  Since then, it has offered visitors 11 miles of multi-use trails.
The Preserve has been a complete hit due to the phenomenal coastal views that can be observed from its coastal ridges.
There is no entrance fee (yay!).  Dogs are allowed on the trails on leash.
Enjoy the Fruits of the Vine
Pismo per se is not necessarily a wine tasting destination.  However, it is located very close to wine country. You can make plans to explore Arroyo Grande, the Edna Valley, and Avila Beach.  A short drive will take you to the center of the action.
If you do not have time to stop by these adjacent or nearby communities, you can go to Tastes of the Valleys (911 Price Street), Sans Liege Wines (870 Price Street), or Monarch Grove Winery (Grover Beach).
You can arrange wine tasting tours too.
Bonus: Wine Tasting Near Pismo Beach
Now, if you do have time to venture outside town, here are some wineries you should try near Pismo Beach.
Timbre Winery (Arroyo Grande, 4 miles)

Laetitia Vineyard (Arroyo Grande, 8 miles)

Alapay Cellars (Avila Beach, 8 miles)

Peloton Cellars (Avila Beach, 8 miles)

Kynsi Winery (Arroyo Grande, 7 miles)

Claiborne & Churchill Winery (San Luis Obispo, 6 miles)
As you can see, the prices mentioned can be reached in 10 – 15 minutes by car.  The nice thing is that some tasting rooms are clustered in several areas.  This affords you more tasting options.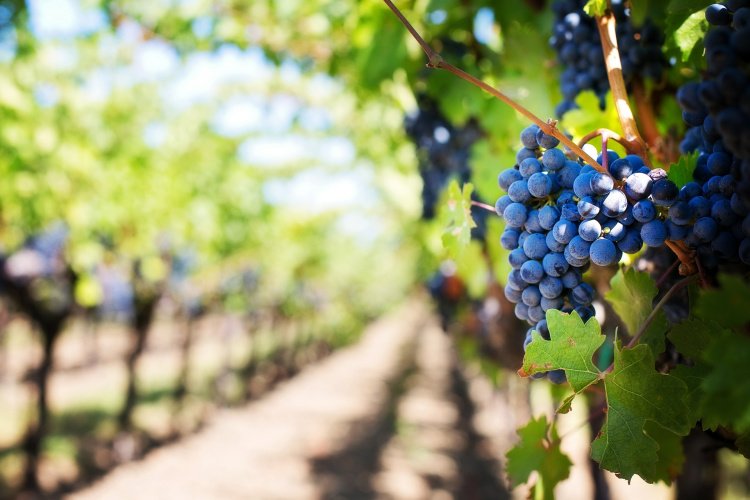 Skydive or Get into a Plane
More adventurous souls will be delighted to skydive (Skydive Pismo Beach) or get into a biplane (Banner Airways).  The meeting point for these Pismo Beach activities is the Oceano Airport.
Shopping in Pismo Beach – Till you Drop
I have mentioned many times that shopping is not my thing.  But, it is hard to talk about Pismo and not mention its outlet mall.
The Pismo Beach Premium Outlets has more than 40 premium retailers selling merchandise at lower prices than usual.  You would find brands such as Coach, Kate Spade, Nike, Ralph Lauren, and Tommy Hilfiger. I am sure the place is worth taking a look at for those who enjoy finding good deals.
Events in Pismo Beach
Attending a local event is a great way to mingle with the locals and get a good grasp of what an area is all about.
If you want to join the fun, I recommend marking these events on your calendar.
Restaurant Month (January/February)

California Western Monarch Day (February)

Taste of Pismo (April)

California Wine Month (September)

Classic Car Show (September)

Pismo Beach

Clam Festival (October)

Jubilee by the Sea Jazz Festival (October)

Pumpkins on the Pier (October)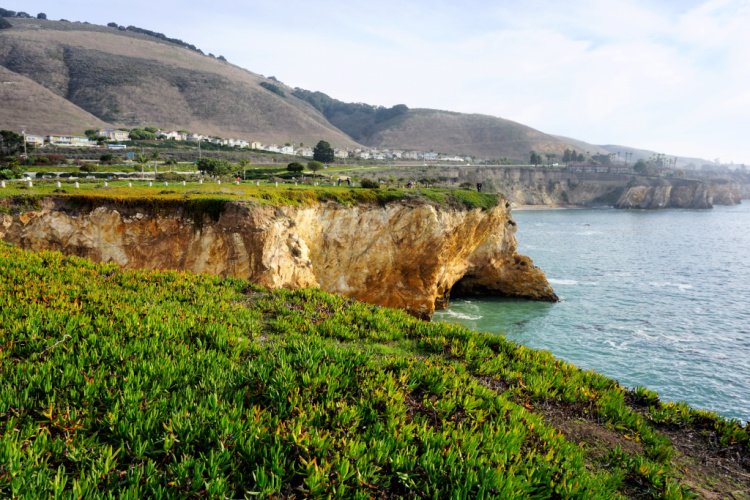 Things to Do Near Pismo Beach
As you may have noticed, you can spend several days on Pismo Beach having fun.  
Now, there is way more to do around the city.  I know, California's coast is an eternal playground.  Here are some locations to may consider adding to your Pismo vacation or Central Coast road trip:
Avila Beach – This community located north of Pismo has hot springs, a wine trail, several piers, hiking/biking trails (including the Bob Jones Trail), and a colorful center.  Things to Do in Avila Beach
Arroyo Grande – Adjacent to Pismo, this place counts with a charming Old Town, swinging bridge, and an entire valley planted with vines.  Things to Do in Arroyo Grande
Morro Bay – If you want to visit a unique place, Morro Bay should be your choice.  The panorama in this town is dominated by Morro Rock, an enormous volcanic plug.  It is one of the most beautiful places in California. For more info, check out my article on Things to Do in Morro Bay.
Cayucos – This small, almost unknown town located north of Morro Bay, is a great place to relax and meet some friendly locals.  Did I mention smoked fish tacos and brown butter cookies are sold in there? That is reason enough to go! I have an entire guide with details on Things to Do in Cayucos.
Santa Ynez Valley – An hour south (55 miles), in Santa Barbara County, you will find the beautiful Santa Ynez Valley, another grape growing hub.  This area has many charming towns such as Solvang (Danish capital of USA), Los Olivos, Buellton, and Lompoc. I visit this area often and have written numerous guides. Check them out!
Where is Pismo Beach – How to Reach the City
Pismo Beach is located 180 miles from Los Angeles (3 hours)  and 245 miles from San Francisco (4 hours) in San Luis Obispo County. It is located 13 miles from the city of San Luis Obispo (head of the county) and 80 miles from Santa Barbara.

The closest airport is located in San Luis Obispo. There are ways to reach the town using public transportation but renting a car is recommendable. If you are considering flying, the Santa Barbara airport may be a better option.  Anyway, both of these airports are small. Most visitors arrive by car.

An Amtrak station is located in Grover Beach (a couple of miles from Downtown Pismo).  If you arrive by train, you will still need transportation to reach the town and move around.
Weather in Pismo Beach and Seasonality
The weather in this part of California is good all year round. Summer reaches the mid-80s and winters the mid-60s.  
The city and surrounding areas get crowded during summer.  Make reservations way in advance to ensure availability. Spring and fall may be better times to visit.
Do not hesitate to visit during winter.  Actually, I have visited Pismo mostly during winter.  Some say it is the perfect time to hike and be active.  During this season, some businesses have shorter hours or not offerings at all.  You need to consider this while planning your vacation. However, I have never felt limited during my winter visits.  There is way too much to do!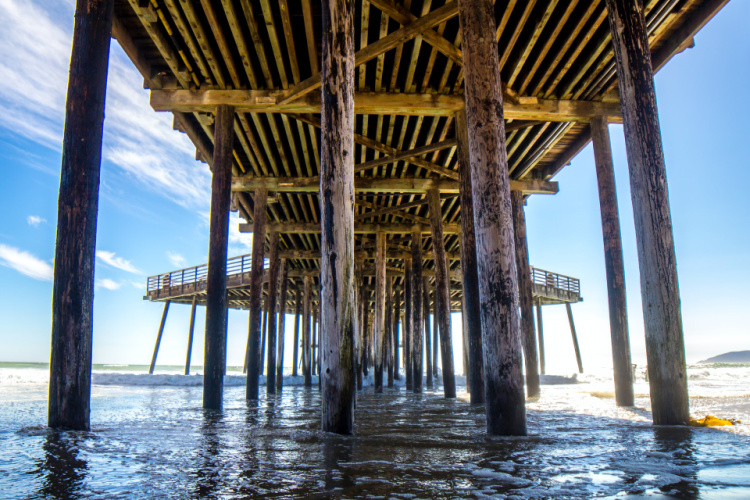 Where to Stay in Pismo Beach
In terms of Pismo Beach hotels, you have tons of options.  The city has a strong touristic infrastructure because of the many attractions in the area.
Based on my visits, here are my recommendations.  Keep in mind prices can be more affordable if you stay in the Arroyo Grande area (which is about 5-10 miles from Downtown Pismo).
Downtown / Close to the Beach
The following hotels are located close to the beach and within walking distance of the amenities located Downtown.
Edge Water Inn – Located meters away from the beach, this hotel offers fully equipped, ample rooms. Amenities include a pool, hot tub, free parking, coffee machine, fridge, microwave, TV, and free WI-Fi.  This is a great option for families, and guests with limited mobility. Check out the latest prices and more details here!
Beach House Inn – I am not sure if you can get closer to the water.  I mean, the Beach House Inn is located directly across the pier.  As for amenities, each room includes comfortable queen beds, nautical-themed decorations, a kitchenette with a full-size fridge, flat-screen TV, a small dining area, and free Wi-Fi. Check out the latest prices and more details here!
Inland
The places listed below may not be right at the beach but they may be a better value for your money.
Hilton Garden Inn – The Hilton Garden Inn is located a 10-minute drive away from the beach.  However, it is located within walking distance of the Pismo  Beach Premium Outlets.  Because of this, guests have easy access to world-class shopping and dining.  People who have stayed at the hotel have enjoyed the room service, bar, pool, fitness center, and express check-in. Check out the latest prices and more details here!
Best Western Casa Grande – This property has Western/Spanish Revival architecture, earth tones, and wood finishes.  The swimming pool, gardens, and included breakfast delight guests.  Check out the latest prices and more details here!
For more options on where to stay in Pismo Beach, check prices here.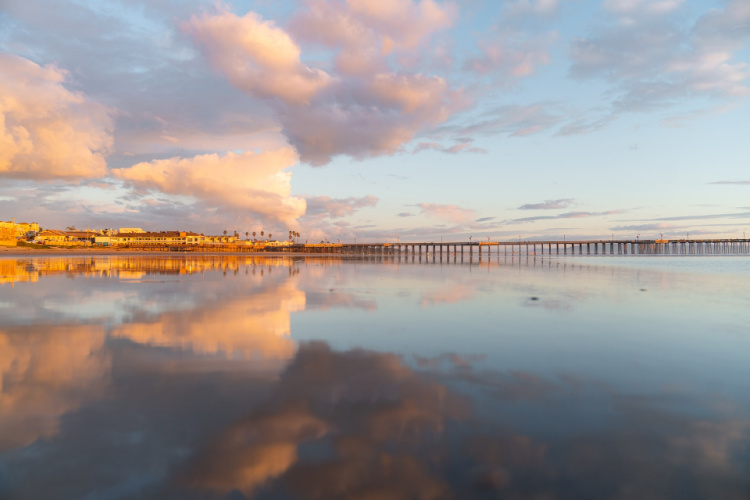 Camping in Pismo Beach
Pismo Beach, Oceano, and Grover Beach have one of the highest concentrations of campgrounds and RV parks in the county. This is because of the Pismo State Beach length and the off-road vehicular area.
Tent camping options include:
North Beach Campground

Oceano Park & Campground

 

Oceano Dunes State Vehicle Recreational Area
RV camping options include:
North Beach Campground

Oceano Park & Campground

Coastal Dunes RV Park

Pismo Coast Village RV Resort
Campsites near Pismo Beach include:
Avila Hot Springs Spa & Campground

Avila / Pismo Beach KOA

Port San Luis RV Campground
Best Restaurants in Pismo Beach
I have been to Pismo many times and, for such a small place, the food is delicious! We usually stop by to eat on long road trips.  Here are some of the best places to grab a bite:
Splash Cafe – I already described this place at the clam chowder king of the area.  In addition, they have tacos, burgers, and sandwiches. They open early so, you can have clam chowder even for breakfast.
Hoagie's – another great place for clam chowder, chili, burgers, wraps, tacos, and seafood.  You know this place is good because of the lines. Oh, they are killer breakfasts too.
Zorro's Cafe & Cantina – At the moment, this is my favorite restaurant in Pismo.  I do not even know how to describe it. Let's say it hurts when you get full and cannot continue eating.  Their specialties are Mexican dishes (chile verde, carnitas, carne asada) but they also have burgers, salads, and seafood on the menu.  Don't think twice about it, just go!
Old West Cinnamon Rolls – As the name implies, this place sells glorious cinnamon rolls.  They are totally addictive. You have to buy some to take with you.
Papi's Grill – This is the place to go to get awesome Mexican food.  Think cemitas (a type of sandwich from the state of Puebla), burritos, meat plates, and tamales
Mo's Smokehouse BBQ – Supper yummy ribs, chicken, hot links, garlic fries, and fried green tomatoes
Mon Ami Creperie – This place has good sweet and savory crepes plus paninis, croissants, bagels, and coffee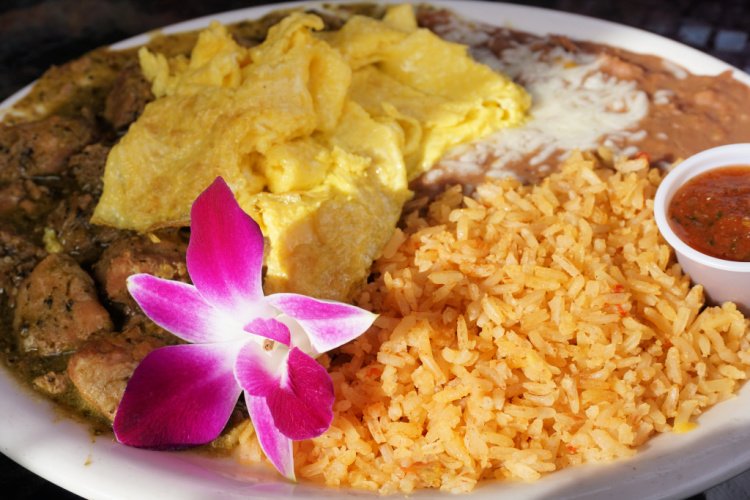 Beach Town Gear
As I spend a lot of time on beach towns, I have my gear packed and ready to throw in the car.  Here is an idea of what I take to the beach.

Frequently Asked Questions
I get a lot of specific questions about what to do in Pismo Beach.  Below, I am sharing some of the answers.
What are some things to do in Pismo Beach for couples?
A lot of what we have discussed in the article can be translated into romantic things to do in Pismo Beach.  To be more specific, couples can stroll hand in hand around Downtown Pismo Beach, Pismo Beach Pier, Pier Plaza, and Pismo City Beach.  Sunset is a great moment to do this and complement with tons of pictures.
Other couples choose to go wine tasting or book a winery hopping tour.  Some of these tours include a picnic on the winery grounds.
Couples looking to bond through a unique activity can choose to ride an ATV in the dune area, kayak around Shell Beach, or jump from a plane (together, of course).
What are some things to do in Pismo Beach with family or kids?
Most of the activities described in this article cater to families.  Kids will love to spend time on the beach, practice water activities, see butterflies, camp, and taste clam chowder.
What are some things to do in Pismo Beach with dogs?
Pismo Beach is a very dog-friendly city.  Dogs (on a leash) are permitted on the City Beach (around the pier area but not on the pier per se).  They are also allowed at the Dinosaur Caves Park.  And, there are several restaurants and businesses that are ok with having dogs around.
Olde Port Beach in nearby Avila Beach is the off-leash beach of the area.
What are some things to do in Pismo Beach at night?
There are several options when it comes to night entertainment.  Check hours since some places close at 8:00 or 9:00 p.m.
Hot Shots Billiard and Family Entertainment Center – Billiards, air hockey, arcade games, food, and craft beer
Pismo Bowl
The Boardroom Beer Pub
Shell Beach Brewhouse
Puffer's of Pismo – Wine Bar (closes around 10:00)
More of Southern California
Find out how to spend one fun-filled day in Los Angeles
Get inspiration by reading my Los Angeles Ultimate Bucket List
Ultimate San Diego Bucket List
150+ Places to Go in Orange County
Have you been? What unique things to do in Pismo Beach do you suggest?
If you enjoyed this article, remember to share!
Pin "Things to Do in Pismo Beach" for later!