For quite some time, I have wanted to visit Redlands, a city located 60 miles east of Los Angeles.
In the past, I have stopped for a short period of time but had a desire to dedicate a decent amount of time to the city.
As a history lover, I couldn't wait to witness what reminds of a place "built" by millionaires escaping the frigid East Coast winters.  The city didn't disappoint. Everything is beautiful there: the main business area, the residential neighborhoods, and even the university.
I can't wait to share with you the many wonderful things to do in Redlands.
Please note: This article contains affiliate links, meaning I may earn a commission if you make a purchase by clicking a link. Of course, this comes at no extra cost to you and helps me to keep offering solid information to readers.
Sightseeing Gear
Get ready for a day of sightseeing by bringing the right gear.  Here is a list of the items I pack to explore cities and towns in California.
Things to Do in Redlands, California
I do not know about you but I love to visit small towns with a strong link to the past.  In California, you have to escape the large cities to find places following that characteristic.
Therefore, it is always refreshing to find places, like Redlands, with a strong identity, sense of community, and a small-town feel even in the midst of a metropolis.
This article concentrates on things to fo within the Redlands city limits.  I provide some ideas on nearby attractions towards the end.
Stroll Around Downtown
Start (or end) a day of exploration by walking around Downtown Redlands.  Here, you will find unique stores, restaurants, coffee shops, and other services.  
Plus, you will be able to admire the architecture since a lot of the businesses in the district are located in historic buildings.  You will find the plaques explaining the historic context during your walk.
As with other cities in San Bernardino County, the temperatures in Redland can get burning hot.  However, the streets in Downtown are covered in trees. See the area as an entertainment oasis.
Shoppers will enjoy stopping by Jack's Toy Shop, a store full of lovely artifacts for kids, Mozart's, a place filled with gifts and collectibles or A Shop Called Quest, a local favorite dedicated comic books, action figures, and other fantasy characters. Dog and cat lovers should take a look at the goods sold at Furry Face.
For breakfast, head to McDuff's, Crepes of Wrath or The Eating Room.
You have many options to have lunch, dine or hang out.  As an example, check out the places below:
The State – The food at The State is so memorable.  It is hard to stop thinking about their ridiculously good burgers, sandwiches, and entrees.  The list of beer, whiskey, and cocktails is impressive.
Caprice Cafe – This cafe is located in a historic building and counts with an outdoor patio.  You can have dishes such as quiche, risotto or trout.
The Gourmet Pizza Shoppe – This pizza joint is celebrated by its unique (and delicious) topping combinations.  Imagine having a yellow curry, chicken kabob or orange chicken pizza. Well, it is possible here.  They serve pasta, salads, and sandwiches too.
Kluddes Kitchen & Bar – This place is notorious for its long list of local (Californian) beers.  Food served includes burgers, sandwiches, salads, carne asada fries, and tacos
Cuca's Mexican Food – This simple joint serves Mexcian classics such as tacos, burritos, chiles rellenos, tostadas, and quesadillas.  
If after eating, you still have room for ice cream, make sure to try one of the cones at Nicho's or a la Minute Ice Cream.  The State Street Winery offers wine flights or glasses.
Make sure to take a look at the Sister Cities Clock in Ed Hales Park.
Photograph Orange Street Alley
If you spend some time on Instagram (or other social networks), you may have noticed a trend where streets, around the world, are covered with umbrellas.  You can find streets like this in Bucharest, Quebec, and Bangkok.
Well, Southern California, is not the exception.  The Orange Street Alley, in Downtown Redlands, has been covered in colorful umbrellas.  You can walk by or stop by one of the restaurants that have patios on the alley. This is definitely a cool spot to check.
Tour Historic Redlands
As mentioned, Downtown Redlands is located in a historic district.  If you want to dig deeper into the history and architecture of the city, you should walk a little bit outside the Downtown area and take a look at some of the most prominent buildings.
A walking tour pamphlet can be obtained at the Visitor's Center (14 North 5th Street).
On Orange Street, north of Downtown, you can find the Santa Fe Station (the old train station), the Deming Building and other early business buildings.
South of Downtown, still on Orange Street,  you can admire the old city hall, the Fox Theater, and the Congregational Church.
There are many more structures to marvel at.  The city is full of spectacular places.
Admire the A.K. Smiley Public Library
As a book lover, libraries and book stores fold a special place in my heart.  That is why I was so excited to visit the A.K. Smiley Public Library. 
The building housing the library was gifted to the citizens of Redlands by Albert K. Smiley.  The architect in charge was T. R. Griffith.
Now, this is a building like no other.  Its design has been described as Mission Revival while others claim it is Moorish Revival.  I have to agree with the second opinion since the curvy lines of the facade make feel in Southern Spain.
The inside has high ceilings, stained glass, woodwork, and an enclosed garden.  By the way, this is a working library. You can take a look at the grounds without interrupting patrons.
A statue commemorating Smiley, and his brother, can be found in the adjacent park.
Learn About One of the Most Respected Figures in American History
The Lincoln Memorial Shrine is another one of Redlands' gem.  Robert Watchorn, an admirer of Lincoln, donated the building to the city in 1932.  The shrine was also built in the memory of his son who died from wounds inflicted during World War I.
Architect Elmer Grey, who designed the Beverly Hills Hotel and the Pasadena Playhouse, completed the initial octagonal structure.  With time, two wings, a patio, and fountains were added.
Inside the shrine, you can find a Carrara marble bust of Lincoln, murals, paintings, and statues.  In addition, the is a collection of books, manuscripts, and artifacts.
This is the only Lincoln memorial west of the Mississippi River.
Catch a Performance at the Redlands Bowl
Every summer (June – August), locals and visitors are welcomed to attend the music festival that takes place at the Redlands Bowl.
Every Tuesday and Friday, people flock to the amphitheater to hear live music or watch theatrical performances.  What makes these performances special is that they are free of charge. Everything works on a first-come, first-served basis.
A Shakespeare Festival takes place during the month of May.
Don't Miss the Period Homes
I have talked about Redlands' historic Downtown and buildings.  Well, there is way more besides what I have discussed.
During the late 19th and the beginning of the 20th century, Redlands was the winter grounds of wealthy East coast residents (because of the mild weather).  It has been called the "Palm Springs" of those times.
As a consequence, Victorian, Mission Revival, and California bungalow houses were built.  Brick-front stores and elegant hotels were erected. Palms were planted along the main streets. Not for nothing is Redlands known as the "Pearl of the Inland Empire."
Nowadays, about 350 of those structures remain.  Most are privately owned but you can drive around and admire what is left of a grandiose past.
There is a historic district around Smiley Park (around Cajon Street and Olive Avenue).  If you prefer to drive, take Cajon Street south (towards Prospect Park). That street is lined with tall palm trees and tons of beautiful houses.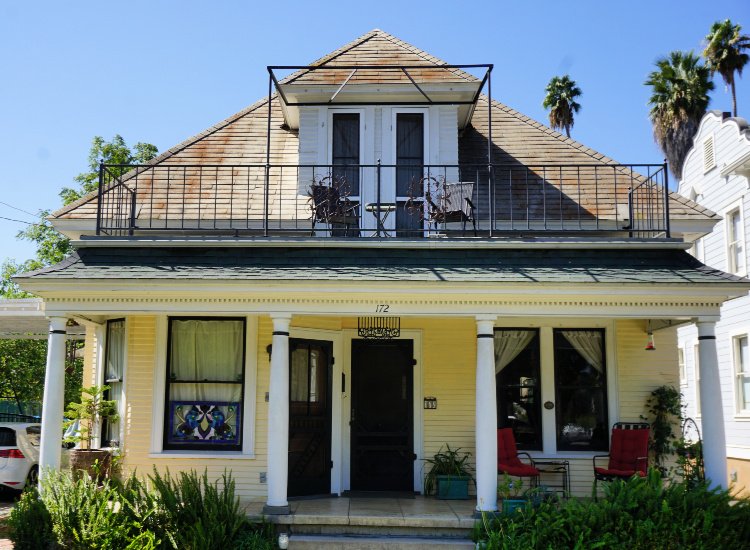 Visit the Kimberly Crest House
And, you cannot miss the queen of all period houses in Redlands, the Kimberly Crest House.
The French chateau-style Victorian mansion was built by one of Redlands' pioneers.  In 1905, the house was sold to John Alfred Kimberly, the co-founder of the Kimberly-Clark company (brands include Kleenex and Huggies).  Kimberly's wife added the gardens. The property was donated to the city of Redlands by Kimberly's daughter.
Tours are offered by docents (cost is $10).  You can visit the mansion (without entering) and gardens for free.
Stop by the Historical Glass Museum
This museum has the largest collection of American-made glass west of the Rocky Mountains.  They collect pieces from factories that are going out of business as well as from factories that are still booming.
The museum offers tours and seminars.  Also, the institution is located on a 1903 Victorian-style house.
See a Piece of Mission History
If you are familiar with California history, you may know that Spaniards colonized most of the state by establishing missions, pueblos, and presidios.  Modern cities grew from these settlements. We even continue using the route that connected them (the Camino Real which is followed by US-101).
Some missions had asistencias or sub-missions.  For example, the Mission San Gabriel Arcangel (located in the city of San Gabriel, close to Los Angeles) had the San Bernardino de Sena Asistencia.  It was a way to expand their power over the territory.
The remainings of the asistencia can be visited. The property administered by the Redlands Conservancy featured the original adobe buildings and the bells tower.  There is no staff on-site but you can call to schedule a tour (for a fee).  Drop-in visits are welcomed on Tuesdays and Fridays.
Learn About Culture and Science at the San Bernardino County Museum
The San Bernardino County Museum is a place to visit with the entire family.  You will probably want to dedicate 2 or 3 hours to the facility.  I do not recommend rushing a visit.
Exhibitions include the Hall of History (explaining how the Inland Empire was populated), the Hall of Science (presents info about fossils, tectonic plates, and similar topics), the Hall of Biodiversity (describes live in the desert), Minerals Rock, a locomotive, garden and much more!
Admission is $10 for adults and $5 for kids.  Parking is free. Admission is free the first weekend of every month if you are a Bank of America or Merrill Lynch cardholder.
Tour the University of Redlands
I know it sounds a bit weird to tour a university but people do ut all the time.  In Europe, people go to Oxford, Coimbra or Salamanca to see the old universities. In the U.S., we can go to Harvard or Standford.
So, if you are in Redlands, do not miss its university.  This private institution has some awesome buildings. You can walk around checking the Memorial Chapel and the Office of Admissions.  You can take a look at the halls, library and Greek theater. The campus has many open areas, trees and public works of art.
Nearby Attractions
If you still need more reasons to visit Redlands, here are other attractions you can enjoy in the area.
Oak Glen (17 miles) – Oak Glen's prime season is fall since this is when apples are ripe.  People visit to pick apples, eat all things apple (pancakes, cider, donuts), listen to music and walk around the Oak Glen Preserve.
Wildwood Canyon State Park (12 miles) – The park offers panoramic views of the surrounding valleys, miles of trails and picnic sites.
Box Springs Mountain Reserve Park (25 miles) – Another protected area offering views from a 3,000-foot elevation.
Yucaipa Regional Park (12 miles) – This park has lakes (with beaches), campsites, picnic spots, and many other amenities.
Casinos – If casinos are your thing, you can visit the San Manuel Casino (10 miles) or the Morongo Casino, Resort and Spa (30 miles).  
San Bernardino National Forest – Redlands is located minutes from trails, campsites, and cabins in the San Bernardino National Forest.  The resort towns of Big Bear Lake and Lake Arrowhead are approximately one hour away (40 miles).
___
I hope you have enjoyed touring Redlands with me. If you have not visited yet, I am sure you will make an effort to stop by!
More of Southern California
Los Angeles Ultimate Bucket List
Weekend Getaways from Los Angeles
Ultimate San Diego Bucket List
150+ Places to Go in Orange County
Places to Visit in Santa Barbara
What other things to do in Redlands do you recommend?  What do you think about the city?
Pin "Things to Do in Redlands, California" for later!