Do you enjoy long beaches, Spanish Revival architecture, and delicious food? Read our guide and discover the best things to do in Santa Barbara.
There are lots of exciting sites to visit and countless unforgettable things to do in Santa Barbara! 
Its long, sandy beaches appeal to locals and visitors alike, but the city also offers great restaurants, museums, historic landmarks, and other tourist attractions. 
Read this guide to get acquainted with the best places to visit in Santa Barbara, and get ready to enjoy your stay to the fullest! 
Please note: This article contains affiliate links, meaning I may earn a commission if you make a purchase by clicking a link. Of course, this comes at no extra cost to you and helps me to keep offering solid information to readers.
Things to Do in Santa Barbara
There are a lot of things to do in Santa Barbara.  Entire books have been written on the topic.
In this article, I will do my best to present to you the best places, attractions, activities, and restaurants in the city.  The idea is to get you started right away with your travel plans.
Hope you end up loving the city as much as I do!
Stop by the Visitors Center
I know sending you to the Visitors Center is not the most exciting way to start an article but bear with me.
The Santa Barbara Visitors Center is one of the best I have seen in California.  As a matter of fact, there are two Visitors Centers: one on State Street and the other on Garden Street.
There are plenty of magazines and brochures about the area. Personnel is knowledgeable and willing to help.
The best thing is that you can get a printed map of the city.  The map is surrounded by discounts for local businesses.  This is great if you are looking to save.
Check Out the Local Museums
Santa Barbara, nicknamed The American Riviera because of its Mediterranean climate, has plenty to offer! Its rich history makes it home to numerous museums. 
On top of a vast library, the Santa Barbara Museum of Art has exhibition galleries with collections ranging from 19th-century pieces to contemporary art. 
Santa Barbara Museum of Natural History has indoor and outdoor exhibits. It also holds precious collections depicting Native American people. 
The Karpeles Manuscript Library Museum is a unique museum that focuses on rare and historic manuscripts. The museum's collection includes original documents related to everything from science and literature to music and politics.
MOXI is a hands-on science museum that's fun for all ages. The museum's exhibits focus on innovation, creativity, and problem-solving, with interactive displays and activities that encourage visitors to explore and learn through play.
Finally, when visiting Santa Barbara Harbor, check out the Maritime Museum's visual exhibits and lectures. 
Visit the Old Mission Santa Barbara
The Old Mission was built by Franciscan friars and has been a local cultural pillar since 1786. In fact, the city got its name after this monumental building.

You can have a stroll through its magnificent courtyard and admire its impressive construction and signature arches that influenced the dwellings across the city. There's a colorful museum inside depicting the era when this authentic building was crafted. 
The Old Mission Santa Barbara still serves as the parish church and provides a home to the Franciscan friars' community. 
Do not miss the Mission Rose Garden, located adjacent to the Mission. It features over 1,500 rose bushes!
Stop By Santa Barbara County Courthouse
The Santa Barbara County Courthouse is a Spanish Colonial Revival building, often mentioned as the most elegant government building in the US. Though it was founded in the late 1920s, this sensational structure still serves as a local courthouse to this date. 
Its aesthetics rests on pure white walls, eclectic hallways, and a crimson roof. And the tall palm trees surrounding it contribute to its vibrant appearance. 
The inside walls and floor are covered with colorful tiles and murals. The building also has a Clock Tower accessible to all visitors to enjoy a 360-degree view of the city. Access to the tower is free.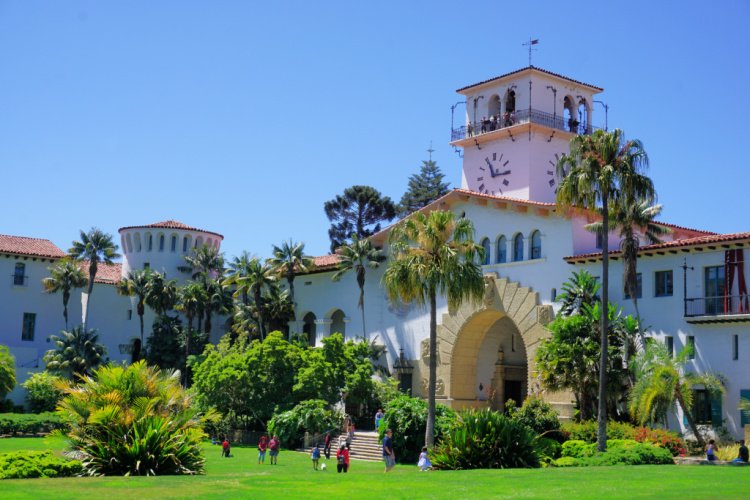 Go Back to Colonial Times at El Presidio
El Presidio de Santa Barbara is a historic landmark that dates back to 1782. It was built by the Spanish as a military fortress to protect the Santa Barbara mission and the surrounding area from attacks by Native American tribes.
Today, El Presidio is a popular tourist attraction and museum that offers visitors a glimpse into California's colonial past. The site features reconstructed adobe buildings, including the original chapel and soldiers' barracks, as well as gardens and exhibits on the history of the area.
Note: I recommend doing the Red Tile Walking Tour.  This self-guided itinerary will take you around to the most notable (and historic) structures in Downtown.  You will be able to explore the Presidio, Casa de la Guerra, the County Courthouse, and more.  You can find detailed instructions for the Red Tile Tour online or at the Visitors Center.
Soak in the Sun at One of the Wonderful Beaches
The breathtaking coastline offers some of the most enjoyable Santa Barbara activities. You can walk, ride bikes, swim, or just chill on one of the delightful sandy beaches. 
East Beach is a top choice because it offers beach volleyball, hiking/biking trails, picnic areas, a playground, and numerous water sports. 
Leadbetter Beach is a great spot for surfing and paddleboarding, with waves that are perfect for beginners. The beach also features a grassy area for picnics and games, as well as a beachfront restaurant.
Hendry's Beach, also known as Arroyo Burro Beach, is a scenic spot that's great for hiking and nature walks. The beach features a long stretch of sand, as well as a nature trail and a dog-friendly area.  Locals love to go to The Boathouse for eating, drinking, and sunset watching.
Butterfly Beach is technically located in Montecito but it is so beautiful that I cannot leave it out.  You can walk or bike here from East Beach.
Have Fun at Stearns Wharf
You can't visit Santa Barbara and skip Stearns Wharf! This busy zone is packed with bars and restaurants, particularly appealing to fresh seafood lovers and fun activities for children. 
You could hitch a water taxi ride to Santa Barbara Harbor or go whale watching with one of many cruises that depart from this area. 
This district is 2,300 feet of pure entertainment!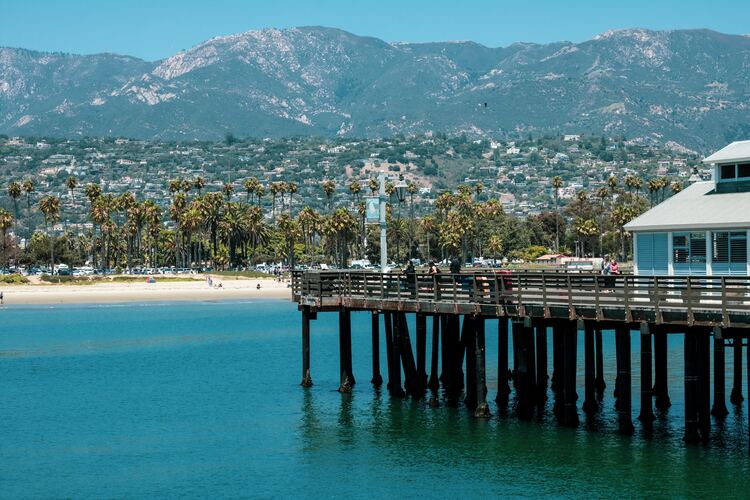 Enjoy Different Activities at The Harbor
Close to the Wharf, the Santa Barbara Harbor is a bustling area with plenty of activities for visitors to enjoy. 
This is a popular departure point for whale watching tours. You can see humpback, blue (summer), and gray whales (late fall, early spring) in their natural habitat, along with dolphins, sea lions, and other marine life.  
Several tour operators offer sunset cruises departing from the Harbor. You can enjoy great views of the coastline and mountains, along with a chance to see dolphins, sea lions, and harbor seals.
You can rent kayaks and paddleboards as well. This will allow you to explore the harbor and nearby coastline at your own pace. Rentals are available for hourly, daily, or weekly use.
Moreover, several fishing charters offer excursions for all skill levels. You can try your hand at catching local fish such as halibut, sea bass, and rockfish.
And, if you are ready for a different kind of adventure, hop on a boat to the Channel Islands, a group of islands off the coast that offer hiking, camping, kayaking, and snorkeling opportunities. You can take a ferry or a guided tour to explore the islands and their unique ecosystems.
Pay a Visit to Funk Zone
The Funk Zone is a colorful and hip district located near the Amtrak Station. It is the best pick for those wanting to try craft brews, go wine tasting, or enjoy diverse eateries. 
The neighborhood also has several art galleries and countless murals painted by local artists that blend perfectly with their charming environment.
The local boutique shops are unique and inviting, stocked with one-of-a-kind clothing items and other exceptional merchandise. 
Stretch Your Legs Down the State Street
State Street is Santa Barbara's main street and probably one of its main attractions. This thoroughfare has numerous boutiques, restaurants, coffee shops, tasting rooms, and art galleries. 
Tall palm trees provide shade and look fantastic, making this district enjoyable throughout the entire day. 
Some of the most important historical sites, like the Granada Theatre, are just a few minutes from this street. And the La Arcada Courtyard, with its exquisite ambiance, old fountains, and varicolored tiles, is located in this area. 
Catch Sight of the Moreton Bay Fig Tree
Ficus macrophylla, better known as the Moreton Bay fig tree, is gargantuan! According to experts, it's among the oldest and most massive trees in the US. 
This fig is over 40 feet wide, and the fact it was planted back in 1876 makes it all the more remarkable.
So whether you're a botanic enthusiast or not, this famous tree is an absolute must-see. 
Savor Delicious Dishes at the Public Market
The Santa Barbara Public Market is a bustling marketplace located in the heart of Downtown Santa Barbara. 
The market features over 10 vendors, each offering a unique culinary experience. You can choose from vegan falafel, and sandwiches at Fala Bar, noodle bowls at Empty Bowl Gourmet, or handcrafted ice cream at Rori's Artisanal Creamery.
In addition, you can enjoy a curated selection of local wines, craft beers, and coffee at places like The Garden, Valley to the Sea, and Little Heart Cafecito.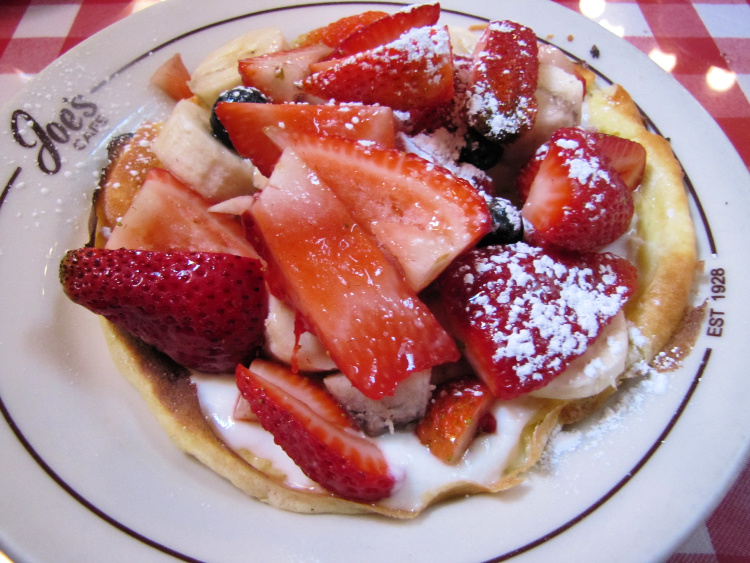 Sample Local Wine
Santa Barbara County is home to over 200 wineries and is known for its world-class wines. Take a wine tour and sample some of the region's best wines, or head to one of the many tasting rooms in Downtown or Funk Zone.
You can check out the following places:
The Santa Barbara Wine Collective (Funk Zone) – Shared tasting room that features a rotating selection of wines from some of the region's top wineries. 
Au Bon Climat (Downtown) – The tasting room offers a relaxed atmosphere and visitors can sample a variety of wines, including chardonnay, pinot noir, and syrah, all of which are known for their quality and complexity.
Margerum Wine Company (Funk Zone) – A boutique winery that produces a variety of wines, including syrah, grenache, and viognier. 
Grassini Family Vineyards (Downtown) – Family-owned winery that produces premium wines, including cabernet sauvignon, sauvignon blanc, and merlot. The tasting room offers a sophisticated and elegant atmosphere.
Jamie Slone Wines (Downtown) – This tasting room offers a fun and inviting atmosphere, with knowledgeable staff to guide visitors through the wine selection.
Municipal Winemakers (Funk Zone) – Hip and trendy tasting room that offers a unique and eclectic selection of wines. 
For the ultimate Santa Barbara wine experience, you need to visit the Santa Ynez (30 miles away) and Santa Maria (60-80 miles away) Valleys.
Discover the Craft Beer Scene
Santa Barbara is a hub for beer lovers, boasting a variety of craft breweries, pubs, and taprooms. Whether you're a fan of IPA's, stouts, or sour beers, Santa Barbara has something to offer for everyone. 
Since there are so many breweries in the city, my recommendation would be to focus on one area if you want to do your own beer crawl.
In Downtown, you can try The Brewhouse (do not miss their signature, the Santa Barbara Blond), The Cruisery, Institution Ale, M Special, and Night Lizard.
In addition, The Good Lion offers a selection of local and regional beers, as well as craft cocktails and a menu of small plates. You can also enjoy the bar's cozy atmosphere and outdoor patio.
In the Funk Zone, you can enjoy pints (and food) at Figueroa Mountain, Topa Topa, Validation Ale, and Llama Dog Tap Room.
And, if you are mad about beer, make sure to check out Goleta's breweries as well.
Explore the Taco Trail
I am pretty sure you have noticed Santa Barbara's gastronomic scene is supreme.  To sweeten the deal, make sure to eat at two or three of the joints in the Taco Trail.
Affordable options include Mony's, Lilly's Taqueria, and La Super-Rica Taqueria.  Keep in mind Mony's closes at 3:00 p.m.
For the entire restaurant experience, you can go to Los Agaves, Corazón Cocina, Santo Mezcal, and Los Arroyos.
Most Mexican restaurants in Santa Barbara do not open early (7:00 am – 8:00 am).  One exception is Lito's, an eatery where you can find breakfast burritos, chilaquiles, and menudo.
Have a Sweet Treat at McConnell's
McConnell's Fine Ice Creams is a family-owned and operated business that was founded in Santa Barbara in 1949. The company has been making small-batch, handmade ice cream using locally-sourced, all-natural ingredients for over 70 years, and has become a beloved institution.
McConnell's offers a wide variety of ice cream flavors, ranging from classic favorites like vanilla and chocolate to unique creations like Turkish coffee and eureka lemon and marionberries. They have seasonal flavors too.
The company has one store in Downtown and another in the Funk Zone.  Make sure you indulge!
Spend a Few Hours at Santa Barbara Zoo
Visiting the local Zoo is one of the unavoidable things to do in Santa Barbara. It has nearly 150 different species from all over the globe, safely tucked in their natural habitats. 
One of the most popular exhibits is the giraffe enclosure, which allows visitors to get up close and personal with these majestic animals. The zoo also features a children's play area, a train ride that takes visitors on a tour of the zoo, and a petting zoo where children can interact with goats and other farm animals.
In addition to its animal exhibits, the Santa Barbara Zoo also hosts a variety of special events and programs throughout the year. These include zoo camps for children, behind-the-scenes tours, and animal encounters where visitors can get even closer to their favorite animals.
Relax at the Andrée Clark Bird Refuge
Apart from the Zoo, there are other options for zoophilists.
If you enjoy bird-watching, don't miss the chance to go to Andrée Clark Bird Refuge, a 42-acre saltwater lake surrounded by a gorgeous park packed with various bird species, including ducks, geese, herons, and egrets. 
Visitors can take a leisurely stroll around the refuge and observe the birds in their natural habitat, or sit on one of the many benches and simply enjoy the tranquility of the surroundings.
Go Hiking in the Mountains
Santa Barbara is located between the Santa Ynez Mountains and the Pacific Ocean.  Therefore, there are tons of hiking trails in the vicinity of the city.
Here are some of the top hikes to check out:
The Lizard's Mouth could be your best choice if you seek a hike to a rock formation with a stunning 360-view of Santa Barbara. This oddly shaped mountaintop resembles a yawing reptile, earning it a memorable name. But most importantly, this easy hike implies overcoming a 0.25-mile incline, and the ideal time to climb it is right before sunset. The scenery at dusk is unparalleled.
Inspiration Point is a popular hiking destination that offers stunning panoramic views of the Santa Barbara coastline. The trail is approximately 3.5 miles round trip and is suitable for hikers of all skill levels.
The Seven Falls Trail leads to a series of waterfalls and natural swimming holes. The trail is approximately 4 miles round trip and is suitable for intermediate hikers.
The Rattlesnake Canyon Trail also leads to a scenic overlook (do you see a pattern here?). The trail is approximately 3.5 miles round trip and features a moderate incline.
The Cold Spring Trail is a more challenging option for experienced hikes. The trail is approximately 6 miles round trip and features steep inclines and switchbacks.
Hike Near the Coast as Well
Most Santa Barbara guides focus on mountain hikes but the city has some pretty awesome coastal hiking areas as well.  And, these are usually located very close to Downtown.
The Douglas Family Preserve features several trails with views of the coastline. The park is approximately 70 acres and is suitable for hikers of all skill levels.  The Preserve is located above the cliffs of Arroyo Burro Beach, so you can combine both places on a visit.
You can also hike in the More Mesa area.  This place is a bit of a local secret and accessed from a residential area.  You will have to hike a bit through open space before experiencing the breathtaking ocean views.
Shoreline Park may not be a hiking destination per se but this park is about 3 miles long and has over 6 miles of trails.  So, you can start by taking in the great views from Santa Barbara Point and then walk as much as you want.  There are several staircases connecting to the beach below.
Visit the Santa Barbara Botanic Garden
The Santa Barbara Botanic Garden is home to over 1,000 species of native California plants and is a great spot for nature lovers. Take a leisurely walk through the garden's many trails and enjoy the beautiful scenery.
Take a Break at a Park
Santa Barbara is home to many beautiful parks that offer visitors a chance to relax, play, and enjoy the outdoors. Here are some of the top parks to visit in Santa Barbara:
Alice Keck Park Memorial Gardens is a lush and tranquil oasis in the heart of Downtown. It features a large koi pond, a gazebo, and a variety of trees and plants.
Alameda Park is a historic park featuring a playground, picnic areas, and a gazebo. It also hosts festivals and events throughout the year.
Chase Palm Park is a family-friendly park that features a carousel, a playground, and a splash pad. It also offers beach access and views of the ocean.
Elings Park is a large park that offers a variety of recreational activities, including hiking, mountain biking, and disc golf. It also features sports fields, picnic areas, and playgrounds. 
Franceschi Park is a picturesque public park located in the hills overlooking the city. The park covers over 18 acres and features a variety of hiking trails, picnic areas, and scenic overlooks.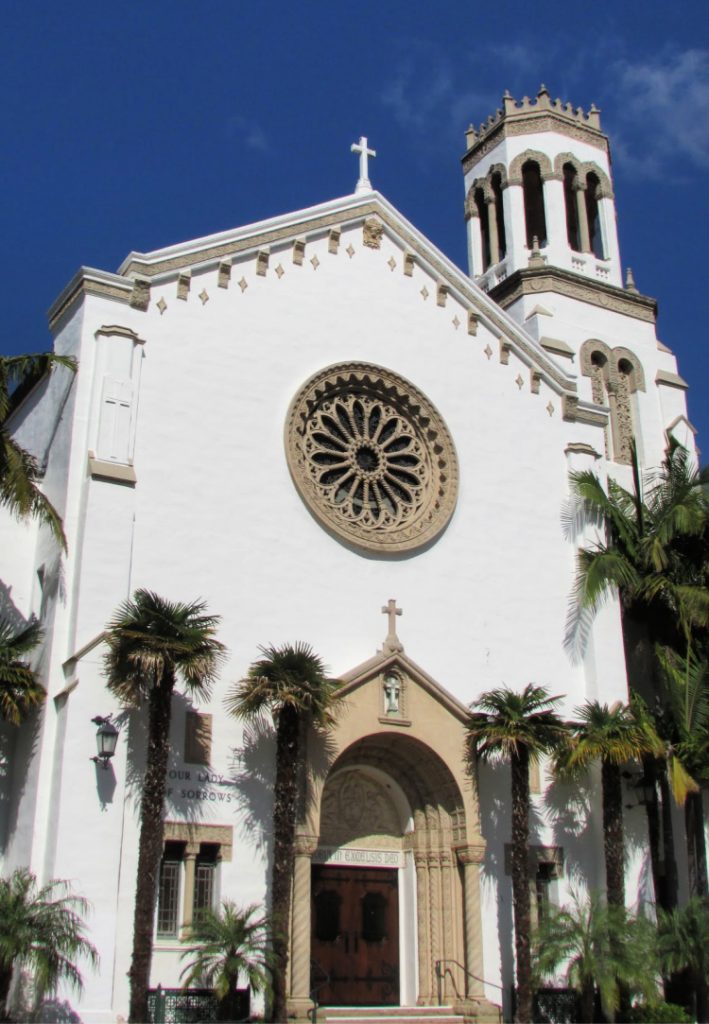 Drive the Alameda Padre Serra
The Alameda Padre Serra (also known as APS) is a scenic route following a winding road through the Santa Barbara hills and offers stunning views of the coastline, mountains, and city below.
As you travel along the APS, you'll pass through residential neighborhoods, parks, and scenic overlooks. The road is narrow and winding, so it's important to drive slowly and carefully. Be prepared for steep inclines and hairpin turns, especially in the upper section of the road.
Another notable feature of the APS is the architecture of the homes and buildings along the road. Many of the homes are Spanish-style villas with red tile roofs and white stucco walls, adding to the Mediterranean feel of the area.
Take a Bike Tour
Santa Barbara is a great city to explore by bike. Visitors can rent bikes and take a guided tour of the city, or explore on their own and discover hidden gems throughout the city.
Enjoy the Nightlife
Santa Barbara has a vibrant nightlife scene, with plenty of bars, clubs, and restaurants to choose from. Visitors can enjoy live music, craft cocktails, and delicious cuisine throughout the city.
I have touched on the many places to visit in Downtown and Funk Zone.  Those same areas are ideal for the evening.
Attend the Largest FIesta of the Year
Old Spanish Days, also known as Fiesta, is an annual festival held in the heart of the city. It celebrates the city's Spanish and Mexican heritage. The festival was first established in 1924 and has since become one of the city's largest and most popular events. 
Old Spanish Days features a variety of activities and events, including live music and dancing, horse shows, parades, and traditional food and drinks.
If you are planning to attend, you need to prepare.  If you are staying in the city for the Fiesta, book your accommodations well ahead.  If you are driving for the day, arrive early to grab a good parking spot.  Also, you will need to reserve a spot along State Street if you want a front row view of the parades.  And, keep in mind, prices are increased during those days.
Things to Do Near Santa Barbara
I have provided a whole lot of ideas on things to do in Santa Barbara.  But, wait, there is more!
I cannot stop praising Santa Barbara but have to say the entire county is a dream.  Therefore, make some time to explore beyond the city.  Here are the places near Santa Barbara I recommend:
Casa del Herrero
Distance from Santa Barbara: 6 miles
Casa del Herrero is a historic home and garden that offers a glimpse into the world of early 20th-century Santa Barbara. The home was designed by famed architect George Washington Smith and features beautiful Spanish Colonial Revival architecture and landscaping.
Montecito
Distance from Santa Barbara: 5 miles
Montecito is known for its beautiful beaches, stunning mountain views, and luxurious homes. The area is home to several high-end restaurants, boutiques, and spas, making it a popular destination for celebrities (like Oprah and Drew Barrymore). 
Montecito is also known for its lush gardens and parks, including the famous Lotusland, a botanical garden featuring exotic plants from around the world.
You may also want to stop by Summerland, another coastal community in the area.
Santa Ynez Valley
Distance from Santa Barbara: 30 – 40 miles (depends on the route and final destination)
The Santa Ynez Valley is a picturesque region just north of Santa Barbara known for its vineyards, ranches, and natural beauty. A lot of people visit to taste wine at the many tasting rooms and vineyards. But, there are plenty of family-friendly activities as well. You can visit the quaint towns of Los Olivos, Santa Ynez, and Solvang (a Danish-style town).
Wine Tasting Rooms in Buellton
Goleta
Distance from Santa Barbara: 9 miles
Goleta is known for its beautiful beaches, including the popular Goleta Beach Park, which offers swimming, picnicking, and fishing. The area is also home to several hiking trails, including the scenic Ellwood Mesa Open Space, which features stunning views of the ocean and the mountains. And, as I previously mentioned, the city has plenty of places to taste beer, cider, and spirit.
Carpinteria
Distance from Santa Barbara: 12 miles
Carpinteria is a small coastal city located just south of Santa Barbara. It is known for the Carpinteria State Beach, charming downtown area, and agricultural heritage. Carpinteria's downtown area features unique shops, restaurants, breweries, and cafes, offering a quaint and relaxed atmosphere for visitors and locals alike. At Carpinteria State Beach you can camp almost next to the beach (which is a pretty cool experience).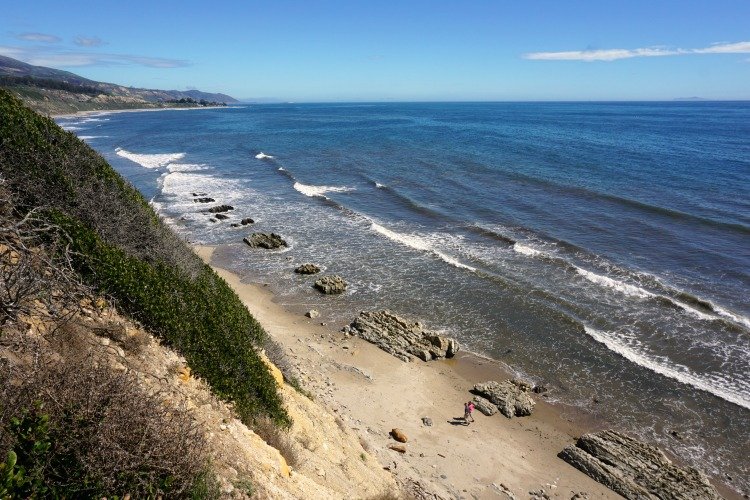 State Beaches North of the City
I also want to mention the three state beaches located north of the city, El Capitan, Refugio, and Gaviota.  These three beaches are worth the visit.  In a single day, you can visit all three (you pay only once, a pass is good for all state parks in a day).  Or, you can pick one and stay for the day.  All of these have campgrounds.
Things to Do in Santa Barbara – Sightseeing Gear
As I spend a lot of time on beach towns, I have my gear packed and ready to throw in the car.  Here is an idea of what I would take to explore Barbara.
Santa Barbara is a beautiful and vibrant city that offers something for everyone. I hope this guide has helped you plan your trip and discover all the city (and area) has to offer!
More of Santa Barbara
Places to Visit in Santa Barbara
Los Angeles to Santa Barbara Drive
More of Southern California
Los Angeles Ultimate Bucket List
Ultimate San Diego Bucket List
150+ Places to Go in Orange County
What other things to do in Santa Barbara do you recommend?