Heather from That OC Girl shares her expertise on the interesting things to do in the Salton Sea.
Bizarre, surreal, quirky, desolate…these might be some of the words you can use to describe the area of the Salton Sea.
What was once a hot spot for famous Californians to escape the LA life, the Salton Sea is now a deserted area with barely a few thousand inhabitants and dead tourism industry. Don't get me wrong, the Salton Sea still attracts some tourists, but not in the same way as back in the '50s and '60s.
Nowadays you might head to the Salton Sea if you are interested in birdwatching, geology, checking out the Instagram-famous colorful man-made mountain, or to learn more about the history of the Salton Sea. Maybe you're just looking for a unique road trip through Southern California. Or just want to check out the area where people live "off-the-grid". 
Whatever your reason for visiting the Salton Sea, use this guide to help you plan your road trip and find some of the most unique things to see in the area.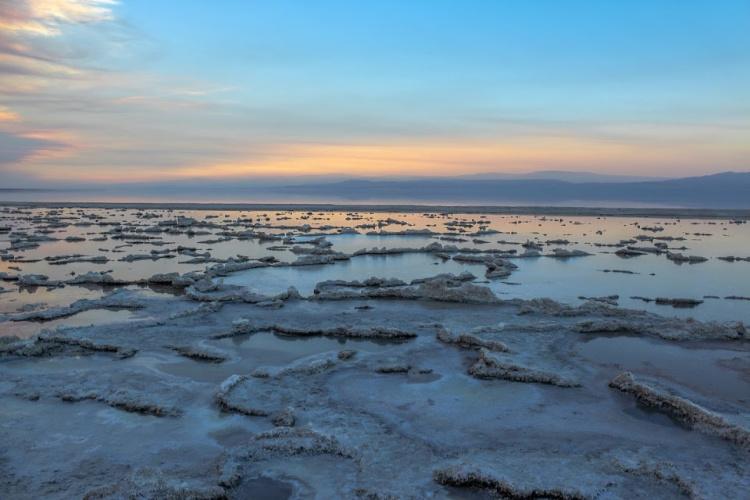 Best Time to Visit
The best time to visit the Salton Sea is October through May when temperatures are a little cooler. The summer months can have a daily temperature above 100, so it is best to avoid visiting from June through September. 
How to Get There
The Salton Sea is an easy 2.5-hour road trip from major Southern California counties such as Los Angeles, Orange County, and San Diego. From Riverside, you can expect to drive up to 2 hours and from Palm Springs, about an hour. 
The closest international airport to the Salton Sea is Palm Springs International Airport (PSP).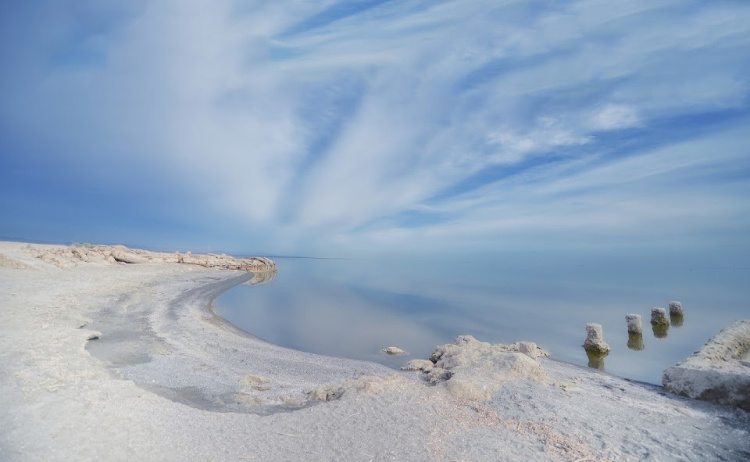 Top Things Do in the Salton Sea
From north to south, here are the most popular things to do in the Salton Sea.
International Banana Museum
Why not start this road trip with a stop at the International Banana Museum…because where else can you find over 25,000 banana-related items under one roof?! Not only will you find banana trinkets and gifts, but a banana bar with ice cream, milkshakes, and other tasty banana treats.
Admission to the International Banana Museum is only $1 per person. You should check their website or call ahead before visiting because they do have special hours.
Salton Sea State Recreation Area & Visitor Center
One of the most important stops for birds traveling the Pacific Flyway, and a highly recommended place to stop on your Salton Sea road trip, is the Visitor Center. This is of course where you can get all the information you need to know about the area and things to see and do. 
There is a day-use area for picnicking, birding, and sightseeing, as well as a campground with RV hookups. You can make reservations online up to six months in advance if you plan to camp.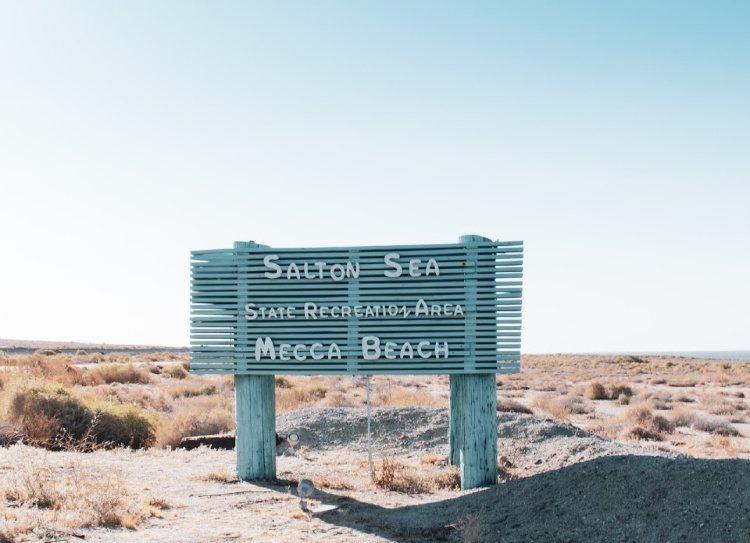 Dos Palmas Reserve
The Dos Palmas Reserve is an oasis with hundreds of fan palm trees in the middle of the desert. You might think it is odd to have so many palm trees in the middle of nowhere, but these palms are native to the area. There is a short mile or so hike through the reserve (via the San Andreas Trail), which is dog friendly and might be a nice spot for a little picnic. 
It is free to visit the reserve, just park in the designated area and follow the marked pathway.
Bombay Beach
Bombay Beach is one of the most popular stops in the Salton Sea. It might feel a little surreal walking through Bombay Beach, which is one of the last remaining areas of people living along the beaches of the Salton Sea. You can tell that the tiny little town is trying to hold on to all they have left. 
It is free to park and visit Bombay Beach, just know that you are entering a residential area and be respectful to the locals. Some popular sights in Bombay Beach include the Bombay Beach Ruins and Drive-In Theater. There is also a yearly festival in Bombay Beach called the Bombay Beach Biennale, a festival of art, music, and philosophy. The date changes every year so keep informed by checking their website.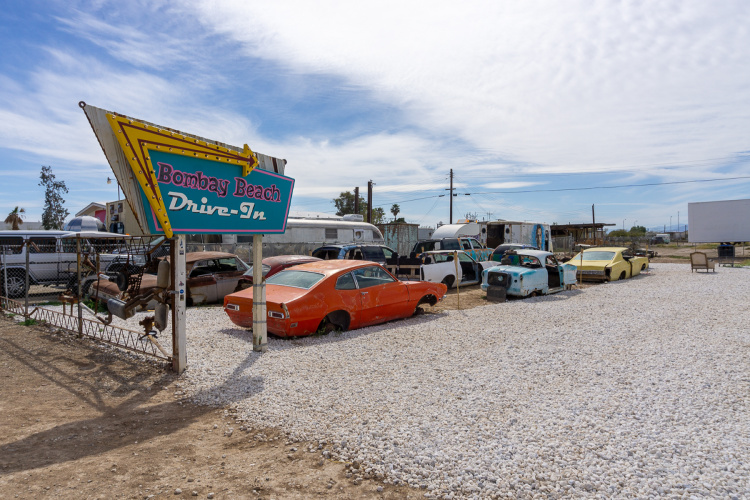 Photo by Heather Saez
Hot Springs
Did you know there are a few hot spring resorts in the Salton Sea area?! Three of them to be exact, complete with spa facilities and overnight accommodations. Day passes are even available at some, so check their website for more information. 
The three hot springs resorts in the Salton Sea are Glamis North Hot Springs Resort, Fountain of Youth Spa RV Resort, and Bashford's Hot Mineral Spa.
Salvation Mountain
What might be the coolest, or weirdest, sight on this Salton Sea road trip is Salvation Mountain. This brightly-colored man-made mountain took Leonard Knight something like 28 years to make…and it's available for anyone and everyone to appreciate.
You can visit Salvation Mountain for free, however, donations are appreciated to keep the mountain in good shape and as colorful as it can be. You will be allowed to explore the entire mountain via the "yellow brick road", and even go inside the little caves he created, or the "Hogan".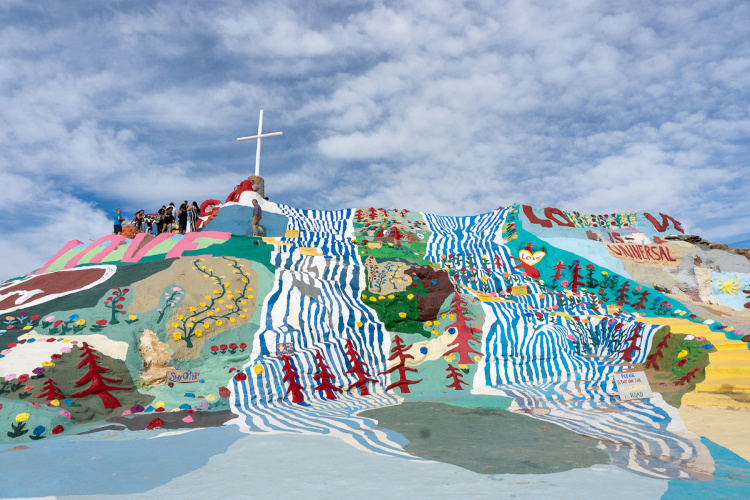 Photo by Heather Saez
Slab City 
Salvation Mountain marks the entrance to Slab City, or "The Slabs", a community of people who live "off the grid". People choose to live here to escape the normalcy of everyday life even though the living conditions are hard (especially during the extreme summer heat). There's essentially no law in Slab City, no power, no running water, etc. 
Within Slab City you can find an art museum called East Jesus. This is where it gets really unique…the art that you will see is definitely out of this world and you have to see it to believe it. Entrance to East Jesus is free, but donations are appreciated.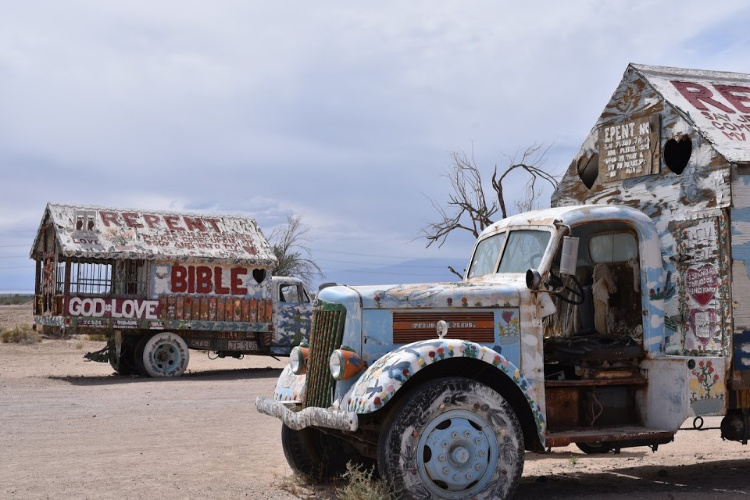 Sonny Bono National Wildlife Refuge
The Sonny Bono Wildlife Refuge is one of the best birding spots in the Salton Sea since it is located within the Pacific Flyway, an important migration route for birds. The area is known for having one of the widest arrays of bird species on the west coast. 
Your first stop should be the Visitor Center, where you can get more information on hiking, fishing, and birdwatching in Sonny Bono. Days and hours of the Visitor Center depend on the season, so check the website to plan your visit.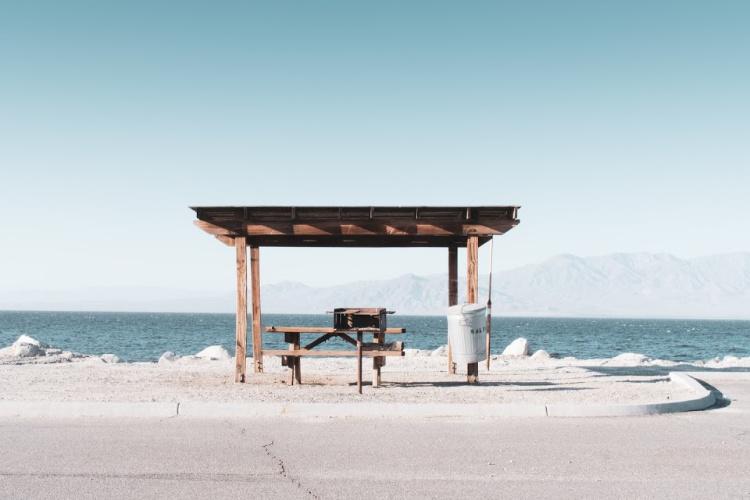 Things to Do in the Salton Sea: Nearby Attractions
If all of that wasn't enough for you, there are plenty of other cool places to explore just a short distance from the Salton Sea. Pairing some of these along with the points of interest along the Salton Sea would make a great road trip through the Southern California desert. 
Check these out for road trip inspiration:
Imperial Sand Dunes
Did you know that Southern California has sand dunes?! If you are already in the area it is worth stopping at the Imperial Sand Dunes. And if you live for adventure, rent a dune buggy! 
The Imperial Sand Dunes, aka Glamis Dunes, is one of the largest OHV sand dune recreation areas in the country. There are several places to rent one, just make a reservation ahead of time because they are extremely popular. Glamis also has RV camping sites in case you want to make this one of your overnight stops.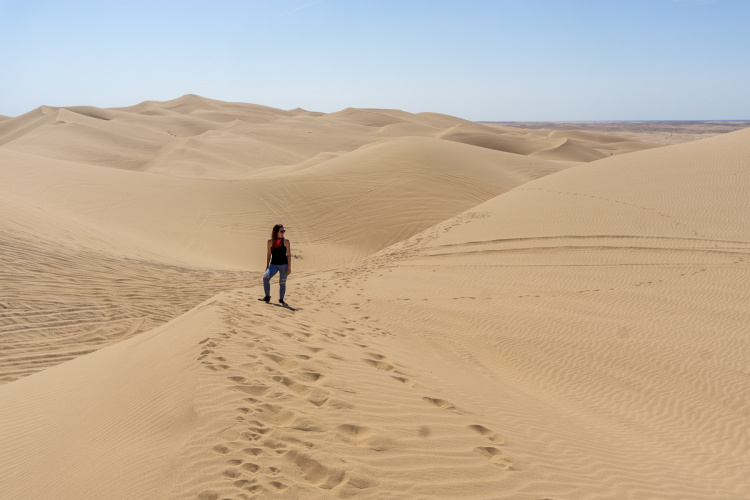 Photo by Heather Saez
Palm Springs
Most likely you had to drive through Palm Springs to get to the Salton Sea unless you came from the south. If you did, you saw the hundreds or thousands of windmills scattered throughout Palm Springs, making it one beautiful city to see. 
You could spend at least a weekend in Palm Springs because there is a lot to do. Some of the most popular things to do in Palm Springs is to take the Aerial Tramway up to Mount San Jacinto, hike Indian Canyons, and visit the Air Museum.  
Read More: Things to Do in Palm Springs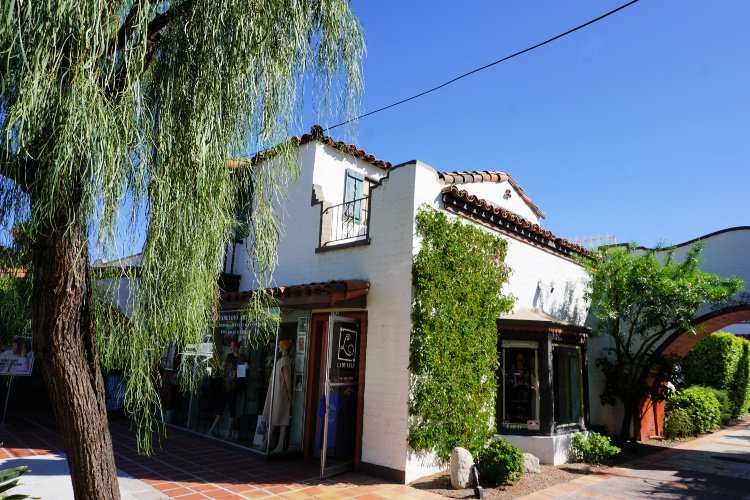 Joshua Tree
Another popular California road trip destination is Joshua Tree. What might be one of the most unique national parks in the country, Joshua Tree National Park is a must-see. And because the park is pretty small compared to others, you could drive through it in a few hours if you wanted to (about 2 hours to be exact, with no stops). 
Besides exploring the park you can also find cool antique shops and great places to eat in town. A couple of other notable places to visit near Joshua Tree are the Integratron Sound Bath in Landers and Pioneertown, a tiny little western town that used to be an old movie set. 
Read More: Things to Do in Joshua Tree National Park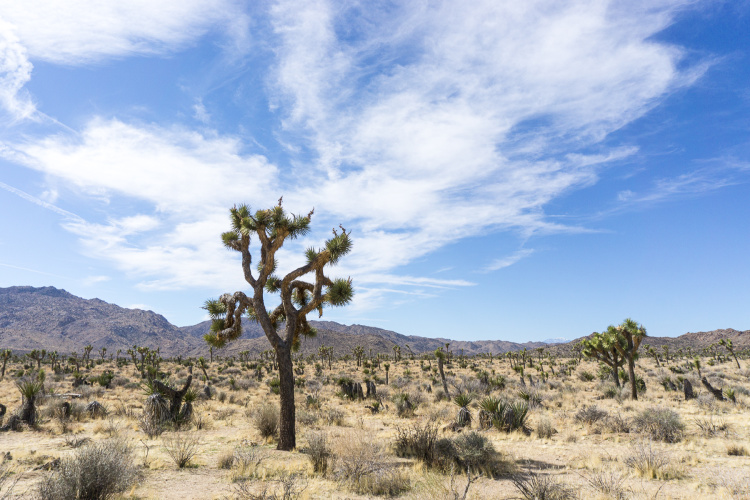 Photo by Heather Saez
Anza-Borrego Desert State Park
Surrounding the tiny town of Borrego Springs is California's largest state park, Anza-Borrego Desert SP. Being that it is the largest park in the state, there are so many things to see that you might need to make several trips here. 
The recommended things to do in Anza-Borrego are hiking The Slot and Borrego Palm Canyon Trail. These two hikes are short enough that you can do both in one day and still have time leftover. Another cool thing to do in the area is to see the giant metal sculptures in Galleta Meadows, just minutes from downtown. Borrego Springs is another great place to stay overnight.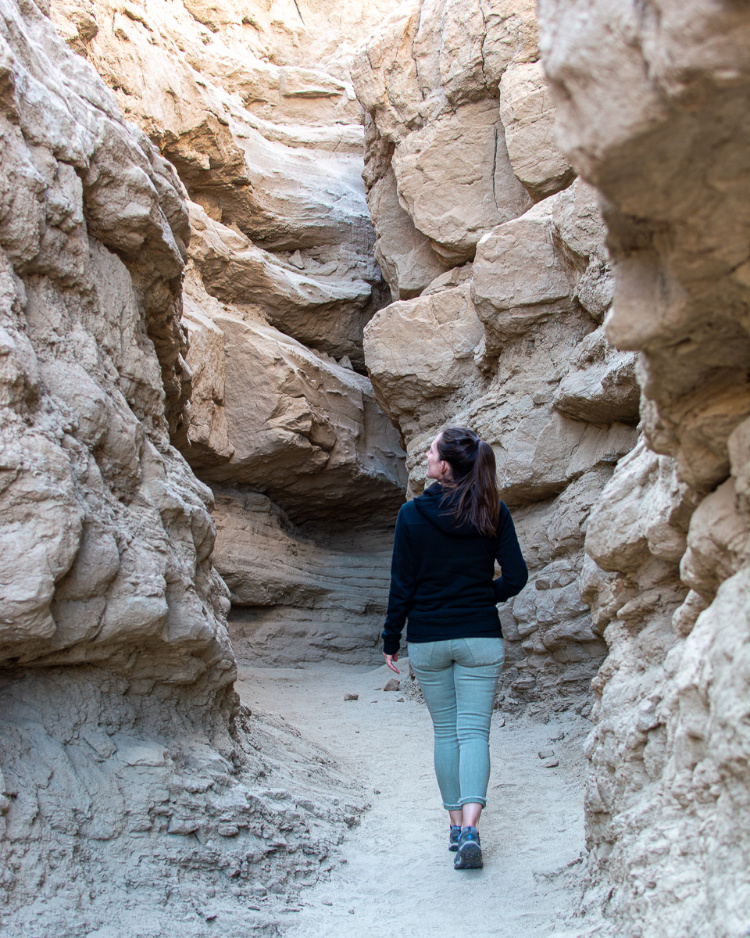 Photo by Heather Saez
Salton Sea: Eating Options 
Eating options along the sea shore are limited. Road trippers should consider bringing water, and a good variety of simple dishes and snacks (sandwiches, fruit, granola bars, etc.)  It is better to be prepared especially when you are driving around the desert.
Indio, a city located about 40 miles north of the Salton Sea area, has good restaurants.  Here are some options to consider.
Sloan's – This place has plenty of tempting breakfast (chorizo eggs, scrambles, skillets, crepes, pancakes), lunch (sandwiches, burgers), and dinner (fish tacos, honey-dipped chicken).
TKB Bakery & Deli – This deli has been named "Best in the Coachella Valley" on several occasions.  Indulge in their cold and hot sammies.  They serve BBQ on Wednesdays.  Notice this is an excellent place to grab a packed lunch for your desert road trip.
Heirloom Craft Kitchen – As the name suggests, this establishment serves superior craft salads, sandwiches, and burgers. Blackboard specials are available on a daily basis.
Brawley, a city located about 20 miles south of the sea shores, has some eating options too. Check out Virginia's Casitas and Las Californias Food.
Top Tip: If you are a fan of gastronomic delights, make sure to have a date shake from the Oasis Date Gardens in Thermal.  That shake is just sublime! You can walk around the date palms and visit the on-site store.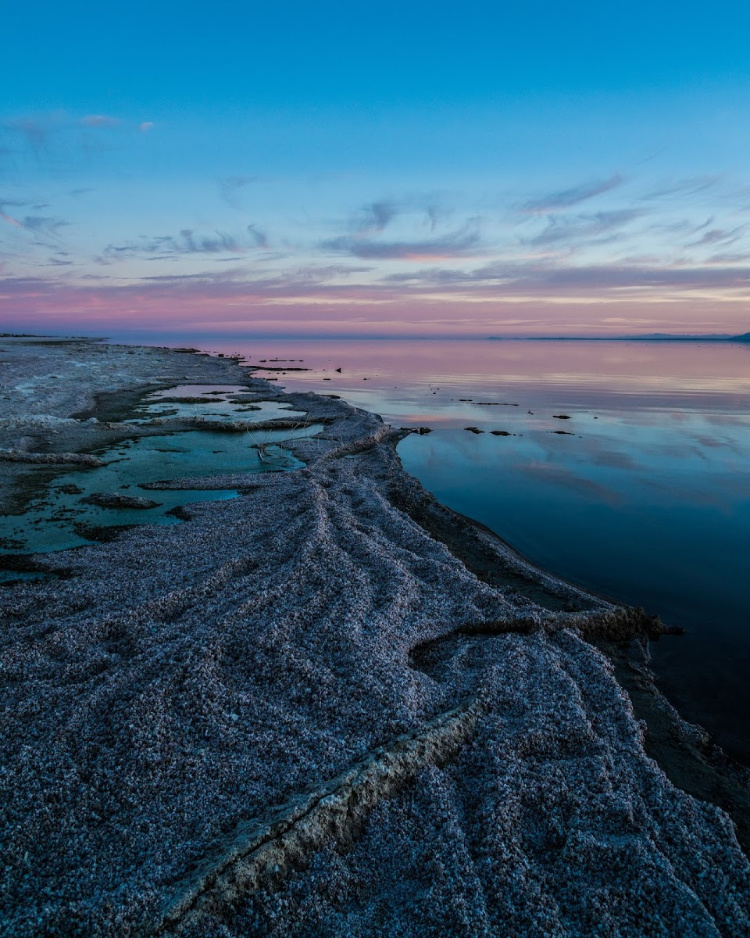 This should give you plenty of ideas for creating a road trip through the Southern California desert area. Have fun picking out all of the stops you will make along the way!
_____
Heather is the writer behind That OC Girl, a Southern California travel blog that shares all the coolest, budget-friendly, insider spots in Orange County, California, and further. She loves getting out for a day of fun in the sun and will never turn down a good hike or beach day. You can find her on Instagram @itsthatocgirl.
More of the Desert
Indian Canyons (Palms Springs)
Tahquitz Canyon (Palm Springs)
Cabot's Indian Museum (Desert Hot Springs)
More of California
What are your recommendations in terms of things to do in the Salton Sea?
Pin "Things to Do in the Salton Sea for later!