Many of you are familiar with the work of Dr. Seuss.  He gave us classics such as The Cat in the Hat, Green Eggs and Ham and How the Grinch Stole Christmas.  His work has been translated to more than 20 languages and converted to movies, plays, etc
Dr. Seuss's furry, playful and mischievous characters inhabit imaginary worlds created by the author.  It has been said that if those characters would fit in any place on Earth, that place would be Joshua Tree National Park.
Haven't heard about one of California's more iconic parks?  Well, that is fine. Get ready to learn as much as possible about the things to do in Joshua Tree National Park!
About Joshua Trees
In a previous post, I wrote about the king of the Sonora Desert (at least, in the United States): the Saguaro cacti.  Well, turns out the Mojave Desert has its own ruler and that is the Joshua Tree.
The tree-like yucca reminded Mormon settlers of Joshua, with his extended arms, leading the Israelites into the Promised Land. The particular name prevailed over time.  The species thrives in the open grasslands of Queen Valley and Lost Horse Valley in Joshua Tree National Park. A dense Joshua tree "forest" also exists in the Mojave National Preserve.
Joshua trees can have many arms.  Those arms twist and turn in many ways.  Sometimes, the main trunk is the one that presents an odd curvature due to wind or water.  Then, there are hundreds of them in the park open areas. It feels like an army of fluffy things is standing before you with all its weapons ready for battle.
In addition, the park stands out for the many boulders scattered throughout its extension.  The Joshua trees seem to be playing hide and seek with the thousands of boulders (in all sorts of shapes and sizes).
Location
Joshua Tree National Park is located about 130 miles from Los Angeles, 160 miles from San Diego and 50 miles from Palm Springs.  
From Los Angeles, if you get an early start, the main sights can be visited in a day. Driving the main park loops takes one to two hours.  If you are willing to do some shorts walks, you can get a very good grasp of the principal features in five to six hours.
The drive from San Diego is longer but I still think a day trip is possible. It would be a long day but it can be done.
A lot of people visit from their base at one of the desert communities in the Coachella Valley (Palm Springs, Palm Desert, Desert Hot Springs, La Quinta, Cathedral City, Rancho Mirage).  From one of those cities, the drive is one hour or less. If you do not want to drive, some tour companies offer daily excursions.
Those who want to make the most of their visit to the park (or die-hard adventure fans) stay close to the park's northern entrances (cities such as Twentynine Palms, Joshua Tree, and Yucca Valley).
When to Visit
Since the park is located on the Mojave desert, expect temperate winters and extremely hot summers.
Winter is the high season on the Coachella Valley.  Visitors tend to flock to the park during that time.  To be honest, I have never felt like this park gets crowded.  So, I will give it a go during that season. The con is that hotel prices are going to be higher.
When visiting during winter or spring, make sure the dates you pick DO NOT coincide with one of the big music festivals that take place on the Valley (Coachella, Stagecoach).  Accommodation prices will be exorbitant during those dates.
Late spring and fall would be the ideal time to go (shoulder season).  Crowds would be lower and prices more affordable.
I would not make plans to visit this park during the summer.  Temperatures can oscillate between 105 – 110 degrees Fahrenheit.  This is not a joke! That kind of heat is oppressing. Moreover, there is barely any shadow in the park.  You would be in direct sun contact.
Visitor Centers and Entrances
Joshua Tree National Park has three entrances: West, North, and South.  There are visitor centers at each of these entrances. Keep in mind the visitor center at the West and North entrances are located outside the actual park boundaries.  You need to stop by before entering the park.
I recommend picking up a map of the park.  Do not rely on having GPS service on the national park boundaries.  Even though the signage inside is excellent, you want to have that map at hand.
If it is your first time visiting or if you are interested in taking a look for the day, I recommend entering through the West entrance, seeing the Park (see my ideas below) and exit through the North entrance.
Things to Do in Joshua Tree National Park
What I like about this park is that it offers sightseeing opportunities and activities for all sorts of interests.  
If you are into driving around and doing short walks, you are covered.  If you are a hiker, you are covered. If you like a bit more adventure, you are covered too.  
So, no matter what you like to do or see, I am sure the park will deliver.
Here is a list of the best things to do in Joshua Tree National Park.
Do One or Two Short Walks
The Park is full of flat walks, with a length of a mile or less (one way).  You can fit several of these into your day itinerary. All of them have ample parking at the trailhead. Here are my favorite ones.
Hidden Valley
This one-mile walk takes you to a rock-enclosed valley that once rumored to have been used by cattle rustlers.  If you chose to do only one walk in the park, this is the one. I heard the rangers recommending this area to visitors over and over.  There are interpretative signs which help you learn about the Mojave Desert flora and fauna.
Barker Dam
This is another one-mile walk that takes you to a water tank (hence the name dam) built by cattle ranchers.  A cave and petroglyphs can be observed during the walk too. Plus, keep your eyes open since this is an ideal spot to observe bighorn sheep.
Cap Rock
This is a big boulder with another small boulder hanging precariously from the top.  It looks like the big rock is wearing a cap.  I felt like the "cap" was going to fall at any moment.
Ryan Ranch
This easy, flat trail takes you to a historic adobe structure.
Keys View
The drive to this view passes through a valley densely populated with Joshua trees.  Once at the top, the Coachella Valley, the Salton Sea, Mt. San Jacinto and Mt. San Gorgonio can be observed.  Pollution is a problem in here (like in a lot of valleys where gases are enclosed).  It is best to stop here during sunset or sunrise.
Saddle Rock and the Hall of Horrors
Saddle Rock is one of the most difficult climbs in the park.  Some people have died trying to get to the top.  My recommendation: observe it from afar.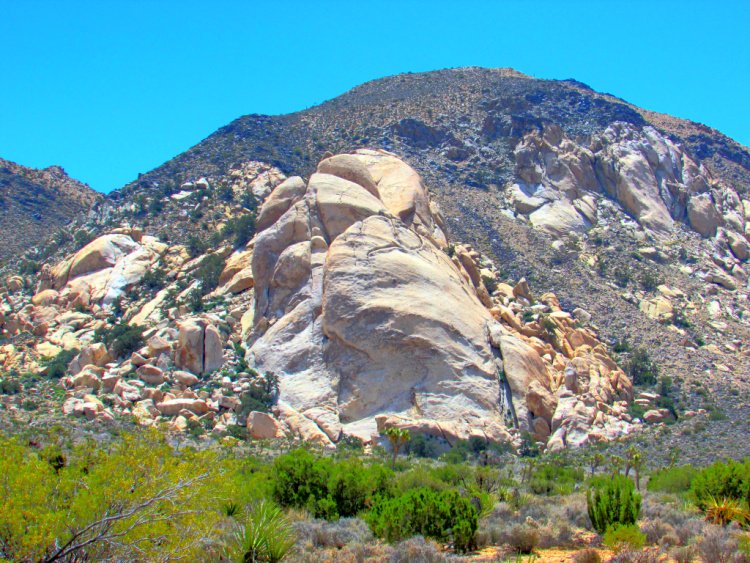 Just in front of the infamous rock, you are going to find an area scattered with a big number of boulders.  This is a favorite of those who love to climb (even without equipment).  I observed several people at the top.  And, yes, it looks like they free climbed.
Jumbo Rocks
This area has some of the biggest boulders in the park.  It is another favorite area of climbers.  Seems like it is easier to get to the top of the rocks without equipment in here.
Also, this is where you are going to find one of the most famous landmarks in the park: Juniper and Balanced Rock (at campground #17).
Skull Rock
As the name implies, this rock looks like a skull. It can be accessed from a 1.7-mile trail starting at the Jumbo Rocks campground or, you can drive directly to the base.
Arch Rock
This short walk can be accessed from the White Tank Campground. This has to be one of my favorite areas in the park.  The natural arch is beautiful.  The best views are from the rocks directly in front of the arch.
The area is full of rocks in interesting shapes and colors.
Cholla Cactus Garden
This is the place to see thousands of densely concentrated cholla cactus.  I was excited about walking around here but had to return to the car since bees were very aggressive on the trail (I feared an allergic reaction).
Cottonwood Spring
This trail, located close to the South entrance, takes you what is considered an oasis.  Therefore, if you have never seen one, this is your opportunity. You will see a conglomeration of palms around areas where water emerges.
Oasis of Mara
I found the name of this oasis pretty interesting.  If you have read the Bible, Mara is a Hebrew name that means "bitter." However, this particular place has been used by people, and wildlife, for years.  Learn more by paying it a visit (it is an easy walk).
Plan to Hike a More Difficult Trail
So far, I have described easy trails. Now, make no mistake, the park has some good moderate and challenging trails for those who are strong at their hiking game.
You can choose from the following:
Fortynine Palms Oasis – 3 miles

Lost Horse Mine – 4 miles

Split Rock – 2.5 miles

Lost Horse Loop – 6.5 miles

Lost Palm Oasis – 7 miles

Panorama Loop – 6.6 miles
Make sure to carry to proper equipment when attempting these trails.
Stay at One of the Campgrounds
The park has over 400 camping spaces at 8 designated campgrounds.  The cool thing is that most of these campgrounds are located at the heart of the action.  You would be spending the night very close to the trails and features previously mentioned.
You can make a camping reservation 6 months ahead of your intended visit day.  Take into consideration spaces are taken fast (especially for weekends). Try to book way in advance.
Different campgrounds have different features.  Go through each campground description if you want to score flushing toilets or a dumping station.
Backcountry camping is allowed too.  Consult a ranger or a specialized outfitter to prepare for an experience like this.  And, remember, follow guidelines in order to conserve the park for future generations.
Drive a Backcountry Road
Joshua Tree National Park occupies a vast expanse of land (1,253 square miles). The wild and raw parts of the park can be visiting using an established network of unpaved roads.
Now, these roads are accessible to those who have the proper equipment.  And, by that, I am referring to 4 x 4, high clearance vehicles or mountain bikes. Some of these roads are passable to all vehicles.  However, make sure you understand what you are getting into.
The following roads are available for use:
Geology Tour Road (18 miles) – One of the most popular backcountry roads in the park.  The loop takes about 2 hours to complete.

Queen Valley Road (13 miles) – Road for all vehicle (but exhibit precaution)

Old Dale Mine Road (12 miles)

Black Eagle Mine Road (9 miles)

Pinkham Canyon Road (20 miles)

Berdoo Canyon Road (11 miles)

Covington Flats Road (9 miles)
Asses road conditions at a visitor center before embarking on a journey.
Horseback Ride
The park has a bit more than 200 miles of equestrian trails.  Therefore, exploring by horse is a fun way to cover a lot of ground and reach parts that other visitor will not see.
Equestrain campgrounds are available too.
Climb or Boulder
Joshua Tree is a rocks wonderland.  As a matter of fact, its boulders are one of the features that make the park's landscape so fantastic.
As a consequence, on a visit, you would notice several people climbing in different areas.  They are so much fun to watch!
If you want to do more than watching, you are welcomed to climb, boulder, highline or slack.  If you are interested in learning this sport or have limited experience, a guide (permitted in the park) is recommended.  A list of permitted guides can be found here.
Admire a Wildflower Bloom
During spring, the desert floor and cliffs are covered with flowers and they put quite a spectacle.  People visit during this time just to see the flowers. Yes, they are that amazing!
The intensity of the bloom depends on factors such as the amount of winter rain, temperatures, and day length.  Some years are better than others. I recommend checking out wildflowers reports on a page like this.  In that way, you can have an idea of what you may see.
Californians have an obsession with flowers (for real!).  Expect a lot of people (and a fierce fight for parking) if you intend to chase flowers.
Join a Ranger Program
An experienced is usually enhanced when you are hearing or learning from the pros.  Joshua Tree National Park has a wide selection talks, guided walks, guided tours and evening programs led by rangers and/or volunteers.
You can learn more about specific areas, fauna, flora, geology and desert living.  Most of these activities are included on your entrance fee.
Things to Do Near Joshua Tree National Park
Recently, the cities and communities located close to Joshua Tree National Park have gained a bohemian, chic and quirky reputation.  Many Angelenos go during the weekend to disconnect from the big city.
If you are in the area, you can add to your visit some of the attractions mentioned below.  Just be prepared for a lot of kitsch and quirkiness!
Big Morongo Canyon Preserve – This preserve is known for its spring-fed oasis.   The abundance of water creates a marsh in the middle of the desert.  Several trails allow visitors to see native plants and wildlife
Hi-Desert Nature Museum (Yucca Valley) – This highly rated museum offers interactive exhibitions about flora, fauna, and geology.  This is a great place to take the kids.
Noah Purifoy Outdoor Desert Art Museum (Joshua Tree) – I see this place more like an outdoor gallery.  There are several works created recycled, every-day items.  They are the works of Noah Purifoy, an artist who dedicated the last 15 years of his life creating in the desert.
Desert Christ Park (Yucca Valley) – Space showcasing more than 40 white statues about the life and teachings of Jesus.
Crochet Museum (Joshua Tree) – I know you did not see this one coming. The small town of Joshua Tree has its own crochet museum.  The "museum" consists of a small booth filled with all sorts of crochet figures.
Integration (Landers) – This is another interesting spot.  Visitors can receive sound baths on a white dome designed by ufologists.  You can experience the calming effects of the baths by booking here.
Pioneertown – This spot has the remains of a movie set built on the 1940s.  Most people visit to go to Pappy and Harriet's, a restaurant, gathering place and live music venue.
Twentynine Palms' Murals – The city has over 25 murals scattered around Downtown.  You can explore by yourself by following the instructions in this brochure.
Where to Eat
You need to bring your own food and drinks inside the park.  There are supermarkets, delis, and pharmacies in Yucca Valley and Twentynine Palms.  Even if you do not bring a full meal, it is highly advised to take water and high-protein snacks.
For before and after the park, I can recommend the following eateries:
Frontier Cafe (Yucca Valley) – Great spot to grab salads, sandwiches, and soup.  They serve coffee and tea too
JT Country Kitchen (Joshua Tree) – Small dinner serving the classics: fried chicken steak, pancakes, breakfast burritos, biscuits & gravy, etc.
Crossroads Cafe (Joshua Tree) – One of my favorite restaurants in the area.  I like their corn beef hash, polenta & eggs, and fish tacos
The Natural Sisters Cafe (Joshua Tree) – This is the place to go for vegan dishes, juices, smoothies and baked good
Palm Kabob House (Twentynine Palms) – This is the place to go if you want to have scrumptious kabobs, falafel, saffron rice, hummus and more.
Kitchen in the Desert (Twentynine Palms) – This establishment sells burgers, sandwiches, and salads.  Surprised to find on the menu jerk chicken and fried sweet plantains.
Please consider spending your dollars on small business (instead of eating in big chains).
__
Well, folks, I have done my best to entice you to visit Joshua Tree National Park and its surroundings.  Now the question is, when are you visiting?
More of Southern California
Find out how to spend one fun-filled day in Los Angeles
Get inspiration by reading my Los Angeles Ultimate Bucket List
Ultimate San Diego Bucket List
150+ Places to Go in Orange County
200+ Places to Visit in Santa Barbara
In your opinion, what are the best things to do in Joshua Tree National Park? What park feature you would like to visit?
If you enjoyed this post, remember to share!
Pin "Things to Do in Joshua Tree" for later!