This article discusses the best Torrance breweries to consider during a visit to Los Angeles or as a day trip from the city.
Los Angeles is home to some of the finest things in life, and it has become a popular place for vacation. 
However, the coastal city of Torrance is hitting the headlines for all the right reasons. Breweries in Torrance are sprouting all over the place, and your experience in the Los Angeles area is not complete if you have not visited the very best of these breweries. 
To enjoy the finest handcrafted beers, consider exploring each of the top breweries that we would discuss in this article. They are not far from each other thus making a hopping exercise ideal for those short on time.
Top Torrance Breweries
In no particular order, we would be highlighting the finest Torrance breweries and discussing the unique qualities of each of them.
HopSaint Brewing Co.
HopSaint is an award-winning brewery (Los Angeles International Beer Competition, Great American Beer Festival).
They have diligently maintained their luxury style for 20 years. Their primary location is a chill space where BBQ/southern-style dishes and rotating handcrafted beers are masterfully combined. The brewery is kid-friendly, and the owners are not afraid to try out new things.
They would offer recommendations on how to combine the libations with food. For example, Kickstart My Tart, a Berliner Weiss with raspberries and sweet cherries, leaves a tangy, crispy, and fruit taste on your taste buds. Other popular beers include Bottleneck Brown, Pure Intention, Southern Hemi IPA, Mamba Mentality V2, and Proper Pils. 
You can join the "sainthood" by e-mail (you will receive newsletters with the latest creations and specials). 
Practical Info
Address: 5160 W 190th St, Torrance
Hours: Daily, 11:30 a.m. – 10:00 p.m.
Food: Yes (and a must-try)
Kid-Friendly: Yes
Pet Friendly: No
Monkish Brewery Co. 
This family-operated brewery is located on Western Avenue. Over 50 customers are able to enjoy the tasting room, flooded with natural light, at the same time.
The brewery is very neat. Its peculiar beer barrels are named with meaningful terms like "Hope" and "Love." The brewmaster intends to infuse each of these feelings into the final product. 
Hibiscus and Blood Orange Wheat Ale (4.5%) and Witbier (5%) are some of its trademark beers. The Belgian Tripel with Hibiscus (9.4%) is  Monkish Brewery's strongest beer. Many customers are partial to Rosa's Hips because of its caramel, malt, and herbal blend (and suggestive name).
Practical Info
Address: 20311 S Western Ave, Torrance
Hours: Daily, 4:00 p.m.. – 10:00 p.m.
Food: No. Outside food is allowed.  Food trucks are invited occasionally.
Kid-Friendly: Yes
Pet Friendly: Yes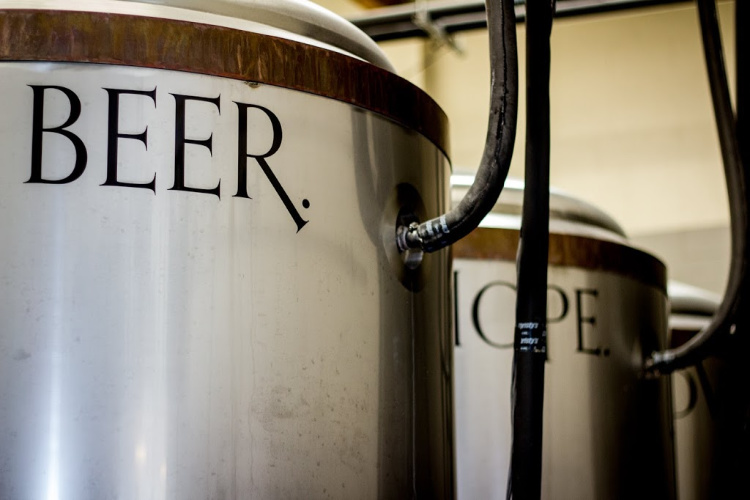 Photo by Four Brewers
The Dudes Brewing 
The Dudes has been around since 2013. While still relatively new, it has managed to expand into five locations in Los Angeles. 
They offer the public a wide selection of IPAs, lagers, stouts, and other beer types (including creative combinations). At their original location, the samplers are generous and the space is perfect for chilling. The good music and beach house garage vibes are refreshing.
Take home packs are extremely affordable at the brewery. There are amazing deals for customers all year round (you should check Groupon and other discount sites for deals). 
It's Blood Orange Ale (7%) leaves a fruity, herbal, and complex taste that makes you want to come back. It's California IPA and Grandma's Pecan are also quintessential.  
Their seasonal beers are a hit too. The only drawback is that they sell out fast of flavors like Pumpkin Spice.
Practical Info
Address: 1840 W 208th St, Torrance
Hours: Daily, 12:00 p.m.. – 10:00 p.m.
Other Locations: Santa Monica, Santa Clarita, Hollywood, Anaheim
Food: No. Outside food is allowed.  
Kid-Friendly: Yes
Pet Friendly: Yes
Absolution Brewing Co. 
ABC is located in a business park district. It brews handcrafted farm-to-glass artisan beers and ales with a rich repertoire of world recipes and modern ingredients. There are growler fills at the taproom and non-alcoholic options for those not hyped by beers.
South Bay Blonde, Cardinal Sin Red Ale, Holy Cow Milk Stout, Wicked Triple IPA, and Purgatory Hefeweizen are some of the beers in their collection. Offerings include weekly food trucks, big TVs and a game room.
Practical Info
Address: 2878 Columbia St, Torrance
Hours: Depends on the day, Mondays-Fridays, 10:00 a.m. – 7:00 p.m., Saturdays-Sundays, 12:00 p.m. to 7:00 p.m.
Food: No. Outside food is allowed.  
Kid-Friendly: Yes
Pet Friendly: Yes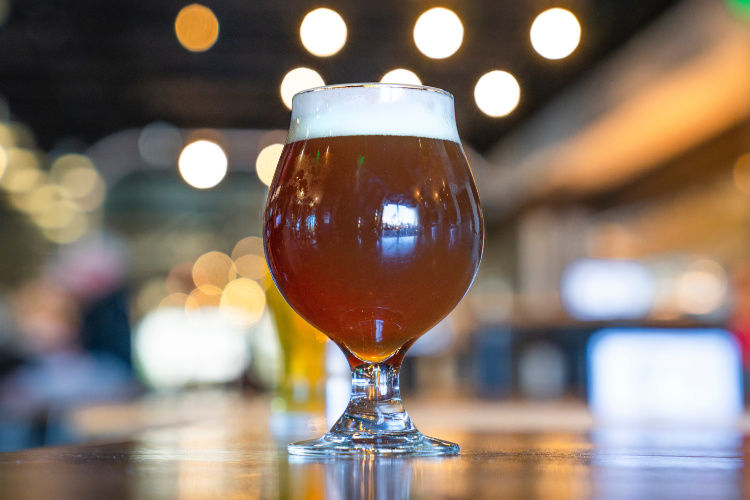 Cosmic Brewery 
Cosmic is easily one of the best craft breweries in Torrance. They stay true to their brand name by having a themed tasting room.  That appeals a lot to the thousands of aerospatial companies' employees in the area.
The cool thing is that they have a wide variety of beers (with super fun names) and a full assortment of drinks (wine, cocktails). Its family-friendly nature makes it a top choice for you and your loved ones. There are board games, beer pong, and corn hole to play. Therefore, it is a place to disconnect. 
Cosmic has a state-of-the-art self-serve system, and all you need to do is to slip in your card for a taste or a full pour. This encourages customers to drink responsibly. Its inventory of craft beers includes Cosmic Warp engine (5.3%) Hibiscus Pale Ale, Tonewood Brewing, Spacer Camper Cosmic IPA, and Lees Cosmic Brew are all excellent choices for anyone.
Practical Info
Address: End of the driveway, 20316 Gramercy Pl, Torrance
Hours: Thursdays-Fridays, 3:00 p.m. – 10:00 p.m., Saturdays, 12:00 p.m. – 10:00 p.m., Sundays, 12:00 p.m. – 6:00 p.m.
Food: No. Outside food is allowed.  Food vendors are invited once in a while.
Kid-Friendly: Yes
Pet Friendly: Yes, they even say they will let in your iguana or penguin (!)
Yorkshire Square Brewery & Pub 
We cannot talk about Torrance breweries without including Yorkshire Square. Indoor and outdoor dining/drinking space make the brewery's tasting room very inviting. A fireplace, board games, sports broadcasting and happy hours help you to relax from everyday stress. Yorkshire has a British pub feel, and the barley wine is a standout.
Other exciting features include cask offerings, very fast service and friendly locals. This brewery is particularly popular for solo dining, and its casual feel leaves you with an unparalleled beer experience. Overall, it is a highly rated brewery.
Practical Info
Address: 1109 Van Ness Ave, Torrance
Hours: Varies per day but usually open between 11:30 a.m. – 11:00 p.m., Wednesdays – Sundays
Food: Yes
Kid-Friendly: Yes
Pet Friendly: Yes
Scholb Premium Ales 
From its name, you can infer that this brewery is a must-go for ales. The small-craft brewery alongside its tasting room has a large selection of beer styles. You will be able to find blondes, stouts, ambers, IPAs, and sours.  They play with flavors too (mango, plum, pineapple, passion fruit).
The atmosphere is fun and the crowds are cheerful. There is ample space to stretch and customer service is top-notch. 
 Scholb Premium Ales invites food trucks frequently and is willing to accommodate private events.
Practical Info
Address: 2964 Columbia St, Torrance
Hours: Daily, 3:00 p.m. – 8:00 p.m.
Food: No, outside food is allowed
Kid-Friendly: Yes
Pet Friendly: Yes
Smog City Brewing 
Close to Monkish Brewing Co., you will find the family-owned Smog City Brewery. It boasts all-around excellence among the breweries in Torrance. Because of its minimalist warehouse taproom, customers can get a glimpse of everyday operations (take a look at the barrels and brewing equipment). 
In terms of beer selections, they have year-round offerings, seasonal flavors (the Kumquat Saison is a local favorite) and tons of beer that have been in contact with wood (the liquid id placed in barrels).
A standout beer is the Grape Ape IPA. It is a smooth blend of hop and grape varieties. This explores the gap between beer and wine.  
Practical Info
Address: There are two tasting rooms in Torrance.  One is located at 1901 Del Amo Blvd. The other taproom known as Smog City West is located at 22755 Hawthorne Blvd. 
Hours: The main tasting room is open daily from 12 p.m. – 8 p.m.  Smog City West is open daily from 1 p.m. – 6 p.m.
Other Locations: Smog City is also located in Long Beach (at SteelCraft, an open-air food hall built from shipping containers).
Food: No, outside food is allowed
Kid-Friendly: Yes
Pet Friendly: Yes
Red Car Brewing Co.
This brewery was named after California's renowned car line. While it has a laid-back setting, it is still one of the top breweries in Torrance. A big pro is that it is also a full-service restaurant, making it a home away from home. Here, you will find pizzas, burgers, pasta, sandwiches, and lots of other entrees. 
Red Car offers plenty of seating space, brick walls, exposed beams on the roof and a long bar. The Big Red Ale (5.74% ABV), as well as the Winsome Wheat, are worth trying out. The tasty English-style Amber Ale is a whole world on its own, and its caramel, malty, and spicy flavor make it a signature beer to have.
Practical Info
Address: 1266 Sartori Ave, Torrance
Hours: Daily, 12:00 p.m. to 10:00 p.m.
Food: Yes
Kid-Friendly: Yes
Pet Friendly: No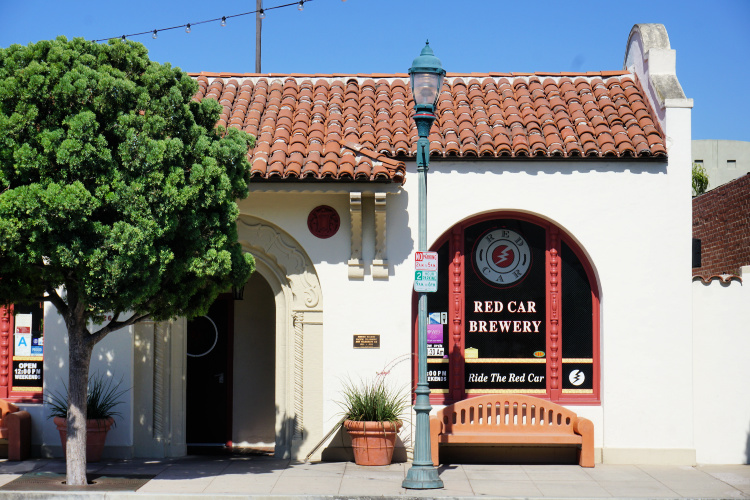 Torrance Breweries – Nearby Options
As mentioned, Torrance is the brewery epicenter of the South Bay (Los Angeles).  But, adjacent cities and towns are following the lead. Here are more options for those who want to keep exploring the beer universe.
King Harbor Brewing Company (Redondo Beach) –  This brewery has an amazing selection of beer and tons of delicious flavors.  They may have something even for those who are not beer drinkers. I am telling you.  They play with flavors in an amazing way. They have 3 locations: 2907 182nd Street (this is their main facility), Redondo Beach Pier/Boardwalk and Redondo Beach Village.
Phantom Carriage Brewery (Carson) – This brewery defines itself as a destination: one where you are going to have a unique, memorable experience.  They have mastered the art of blending old and new brewing techniques and the results are outstanding. A lot of their beers are aged in oak barrels.
Socal Vibes (Gardena) – This business offers beer, ciders, and food! What else do you need?  With 40 drinks on tap, there is a lot to try here. In addition, they are located next door to the Honest Abe tasting room.  Head there for cider, mead, wine, and cocktails.
Brouwerij West (San Pedro) – This brewery with about 18 beers on tap has huge indoor and outdoor space.  Food trucks are parked outside daily and outside food is allowed.  
El Segundo Brewing Company (El Segundo) – One of the first (and most popular) breweries in the area.  Their original tasting room has been expanded and even with the expansion, it fills quickly.  There are over 15+ beers on tap and multiple eating options in the vicinity.
Los Angeles Ale Work (Hawthorne) – This establishment has plenty of light and dark beers plus IPAs for those who favor hoppy flavors.  Seasonal or limited offerings include hard seltzers, beer/wine hybrids, and double IPAs.
Photo by Four Brewers
Torrance Breweries – Brew Pubs and Stores
In addition to breweries, Torrance and the South Bay area counts with a large number of brewpubs, gastro pubs, and stores specializing in craft beer.  These places usually serve delicious food and have a long list of international, national and local beers. Other alcoholic beverages can be found as well.
Here some places I enjoy often:
Brewport Tap House (El Segundo)
Rock & Brews (El Segundo, Redondo Beach)
BREWCO (Manhattan Beach)
Simmzy's Restaurant (Manhattan Beach, El Segundo)
Bottle Shop and Tap Room (Redondo Beach)
Torrance Tavern
Flights (Hawthorne)
Dutch's Brewhouse (Long Beach)
Torrance Breweries – How to Brewery Hop
A lot of Torrance breweries are located close to each other.  This is good news for those who want to go on a brewery tour (independent or self-guided).
Smog City, Cosmic Brewery and Monkish Brewery are within walking distance from one another (meters away from each other).  The Dudes Brewing Company is located about half a mile away from this cluster. You (and your group) can take a ride (Uber or Lyft) to one of these places and walk to another if desired.
Absolution Brewing Company and Scholb Premium Ales are located on the same street.  Both tasting rooms can be visited in one seating.
Brewery hopping by car is another option.  However, a designated driver is needed for this (make sure you have one before starting this activity).
Brewery Tours
Those who are not into planning, deciding, walking or driving, can book a tour.  Here are some options:
LA Beer Hop – Tours include transportation from a meeting point and a beer flight at each of three stops.  Breweries visited on the tour vary (they have partnered with about 15 breweries in the area). This company offers tours in other neighborhoods of Los Angeles (Downtown, Burbank, Long Beach)
SoCal Brew Bus – Tours include beer tasting at three stops, gourmet lunch, and transportation.  They have a 4-5 hour tour specializing in the South Bay. Tours of other beer hotspots are available.
More of Torrance and the South Bay
Guys, I have tons of articles about the South Bay.  After all, this has been my home for years.
I invite you to learn more about this awesome part of Los Angeles.
Terrific Things to Do in Torrance
If you are interested in a particular town, here are some destination-specific articles I have written:
Things to Do in Manhattan Beach
Redondo Beach Pier: What to Do, See and Eat
Redondo Beach Pier Restaurants
Hermosa Beach: Things to Do, See and Eat
If you are a fan of nature, I encourage you to discover the beautiful Palos Verdes Peninsula, one of Los Angeles's best-kept secrets.
What Torrance breweries have you visited?  What is your favorite?