Not long time ago, I had an entire week of vacation to burn.  I wanted to go somewhere, preferably another country, cheap and nearby.  Guess what? At that point, I have never been to Canada. Incredible but true.  So, my husband and I decided to pay a visit to our northern neighbor.

The Vancouver decision was a no brainer.  It is a relatively short plane ride from Los Angeles (about three hours). Plus, everybody seems to be awestruck with the beauty of Vancouver.  I wanted to find out if the "rumors" are true.

Our little adventure paid off.  We had a phenomenal week in Vancouver. I don't know what they feed us in there, or what.  We returned in love with the place. My husband says it tops the list of places he would like to live.  

The city seems to have all.  Friendly people, astonishing nature, a wide variety of attractions, nice weather and good food (or should I say good sushi).  I am not kidding. This is a great place to visit.

That is why I am so excited to present you this detailed Vancouver itinerary that can be used for a 3, 4 or 5-day trip.

About Vancouver

The city of Vancouver is located on the Burrard Peninsula.  Then, Downtown and other neighborhoods of touristic interest are located on another peninsula that extends like a finger from the Burrard Peninsula.

My itinerary concentrates on the attractions within the Downtown Peninsula.  I will cover some attraction in other parts of the city and North Vancouver (which is another city).

This is not meant to be a strict itinerary to follow.  Use it as an array of ideas to put together a trip you will enjoy to the max!

Vancouver Itinerary – Day 1

To start the day, you can head to places such as Breka Bakery & Cafe, Twisted Fork Bistro or Medina.  On those places, you can find hot plates, sandwiches, pastries, bread, and coffee.

Or, visit Tim Horton's and discover why Canadians seem to love this place.  They specialize in coffee and donuts.

With a full belly (hope you can properly move), it is time to check Granville Street, the main drag in Downtown Vancouver.  Pay attention to stores, theaters, restaurants, shops, and cafes.

On the northern end of Granville Street, you are going to find Canada Place. This Place has become an icon because of its wonderful white sails and the many hats it juggles.  It houses Vancouver's Convention Center, World Trade Center, and a hotel. It is also the main cruise ship terminal in the area (a lot of people board here their cruises to Alaska).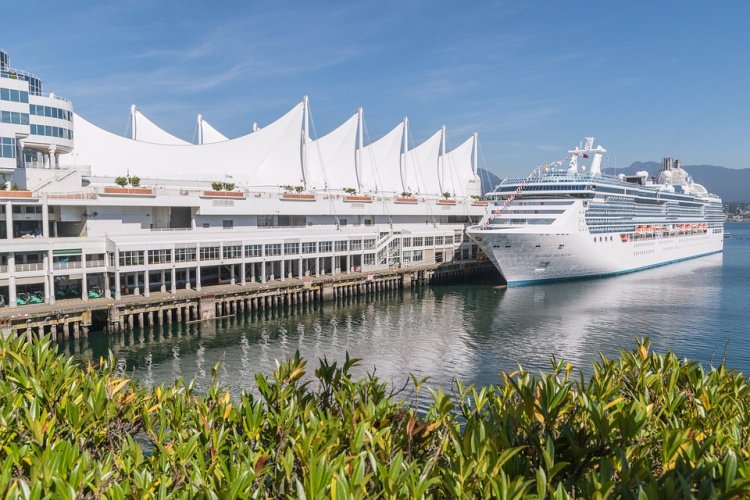 The Waterfront Station, a major transportation hub, is located next to the building. You can continue walking around since there are green areas, short trails, statues and views of the Vancouver Harbor.

The Vancouver Lookout, an observation deck more than 550 feet above the ground, is located practically across the street.  From the top, you will have 360-degree views of the city. Keep in mind a ticket costs $15-$20. The Lookout can be visited during the day or at night.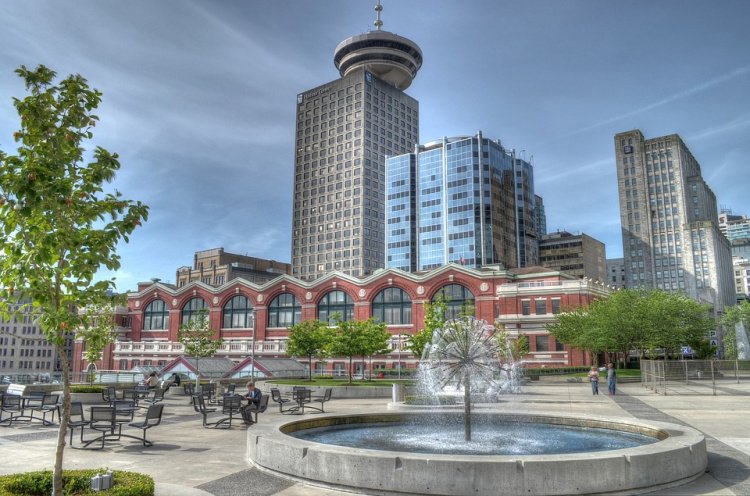 A short walk away, you will find Gastown, the area where Vancouver was founded in 1867.  The original name of this area was Gassy's, in honor of saloon proprietor Gassy Jack Deighton. The guy was famous for offering locals all the whiskey they could drink in return of helping him to build the saloon.  A village started to grow around Gassy's tavern. Today, the buildings in the area date from 1886 (rebuilt after a fire).

Gastown is a small neighborhood but it has been gaining notoriety lately. There are cobblestone streets, gas lamps, Victorian facades, and big trees.  Most people come to the area to take a look of the Steam Clock, one of only two in the world.  

Built by a local clockmaker, it's powered by a steam system originally put in place to heat buildings through an underground pipeline that snakes through Downtown. Watch for the burst of steam every 15 minutes, which sets off steam whistles to the tune of Westminster chimes.

You can take cool pictures of the clock with the Vancouver Lookout on the background.  Try to find the right angle a bit away from the clock. You can also take a look at a statue of "Gassy Jack" (at the junction of Water and Alexander Streets).

After spending some time around those two sights, it is time to shop, stroll or dine.  Hunger may have started to make an appearance. The good news is that you have plenty of restaurants to choose from.  Just to give you an idea, you can eat at places like Nuba (Lebanese), The Flying Pig (Canadian), Tacofino (Mexican) and Rodney's Oyster House (my husband's favorite).

For scrumptious pastries, head to Cadeux Bakery. Salt offers wine tasting and Black Frog Eatery has craft beer.

End the day by strolling Robson Street.  Some rank the scene on this street as the best in Vancouver.  I just can say that everything in there was really interesting.  The stores were full of fascinating things and street performers were all around even though we were there on a Monday night.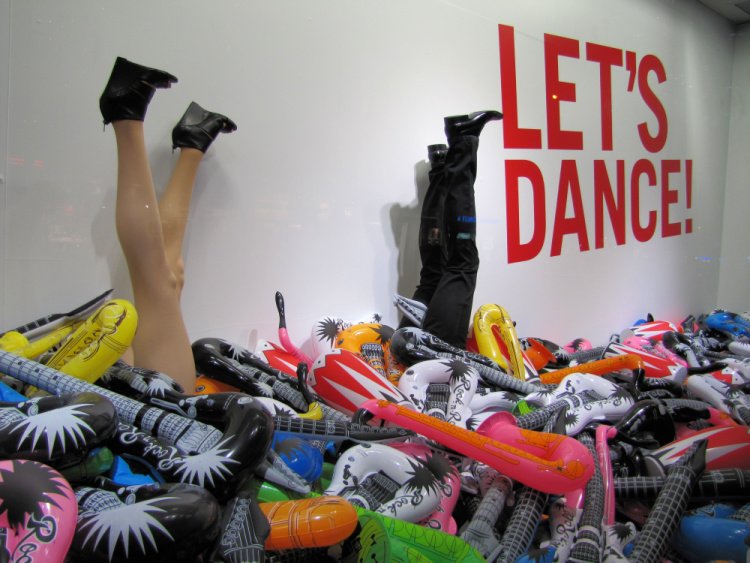 Vancouver Itinerary – Day 2

This morning head to the Granville Island Public Market.  All Vancouver experts seem to rank the place as a 'not to miss attraction" in the city.  So, make sure to pay a visit (or two or three visits).

Granville Island is not really an island but a peninsula. It is located in False Creek across Downtown Vancouver (which, as mentioned, is located in a peninsula).  The "island" used to be an industrial area. During the '70s, the place was redeveloped and today it provides amenities like the public market, marinas, hotels, theaters, galleries and shopping areas.

Additionally, it houses a large art scene. There are glassblowing, printing, jewelry, art and wood studios.  Famous organizations have named the island "One of the World's Great Places".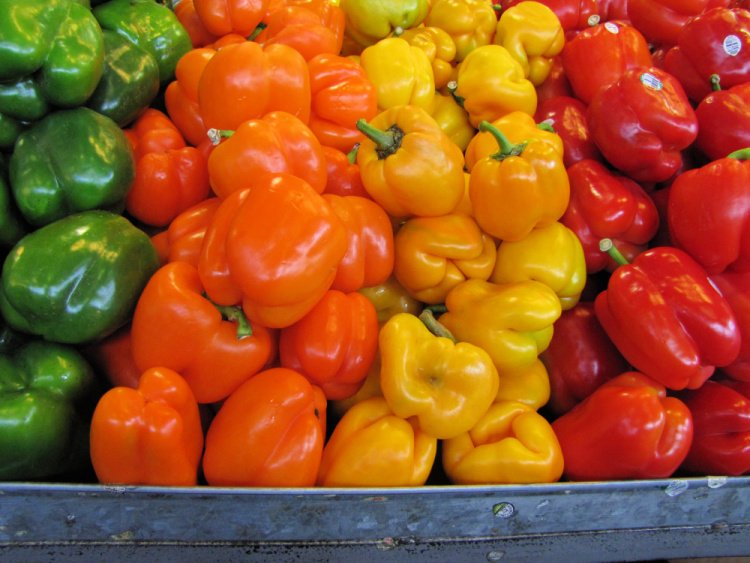 You can take a ride to the island or use the ferry that crosses False Creek. The 2-minute ride is a fun way to get great views of the city.

If you are feeling the hunger, make the food court your first stop.  An early visit will allow you to have the place to yourself. As the day progresses, the crows start to clog the halls.

The food selection is vast.  Get prepared for sandwiches in artisanal bread, freshly baked pastries, cookies with big chocolate chunks, hot coffee and steaming chocolate.  Plus, there are all types of "international" cuisine. Mexican, Italian, Chinese, Sushi, Pierogies, Gelato. I felt like I was taken to paradise.  The only problem is deciding what to eat. Huff!

After a satisfying meal, it is time to walk around the produce section.  The selection of fruit and vegetables is enormous. It is like watching an overdose of color on a surrealist painting.
Your mouth may start to salivate (even though you ate a few minutes ago) when encountering the hams, sausages, and cheeses.  I am a 100% ham lover.

I was a little surprised to find bagged soups.  I have seen bagged sauces but never soups. This is part of the beauty of going to a place like this.  People get so creative with all aspect of food.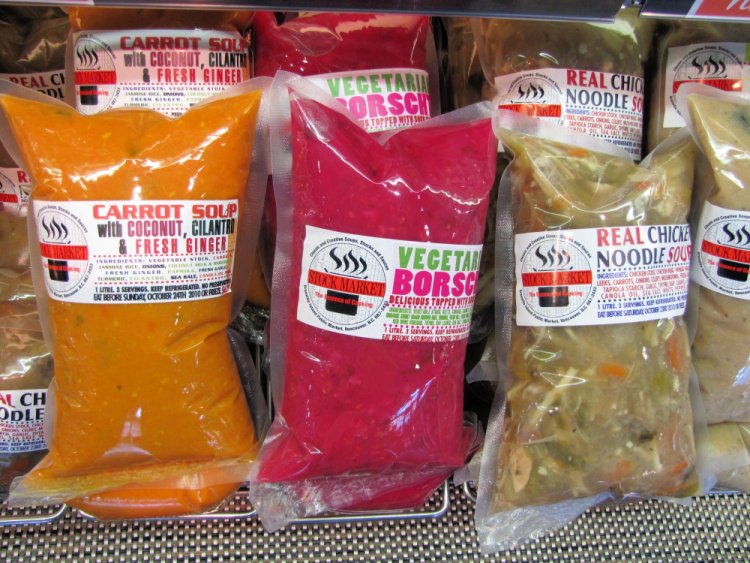 After that, I saw some shops selling goods worth of being displayed at a museum.  They were so pretty that you didn't feel like eating them but you can stare at them forever discovering new colors and shapes.  For example, look at the pasta below.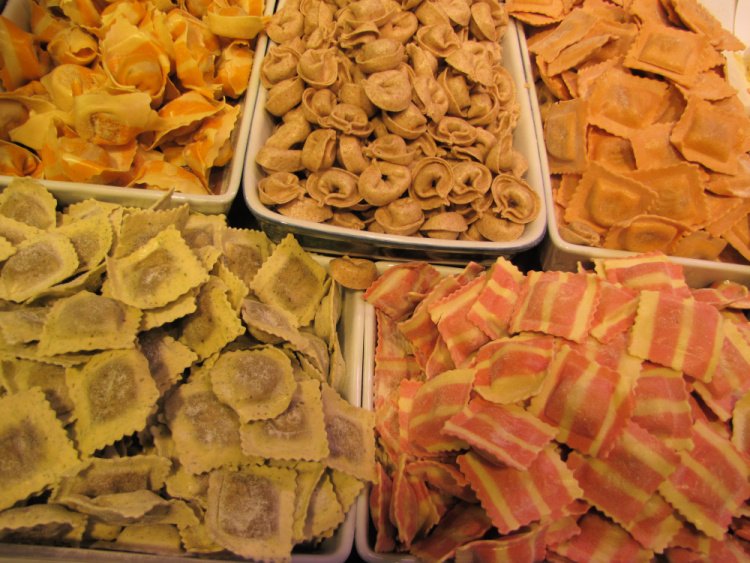 What about these cheese cups with a surprise at the bottom?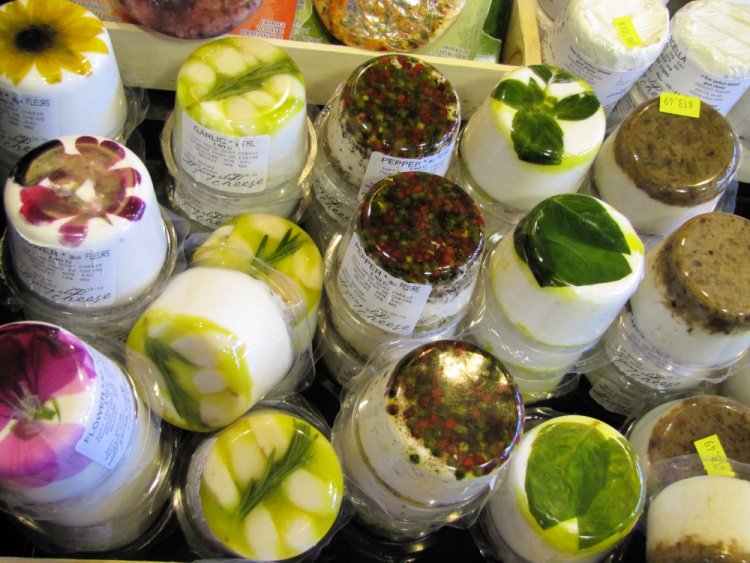 And, let me tell you, a market is not a market if there are no bakeries offering incredibly appetizing pastries (or appetizing chocolate, candies, toffee, cookies).  These were definitely some edible pieces of art.

After tasting delicious dishes at Granville Island, it is time for a walk.  Hey, you need to burn some calories!

Exit the island neighborhood (remember that is really a peninsula) and walk towards Kitsilano.  There is a shore walkway connecting the neighborhoods.  The objective is to make it to Vanier Park in order to enjoy amazing views of Downtown and the North Vancouver Mountains.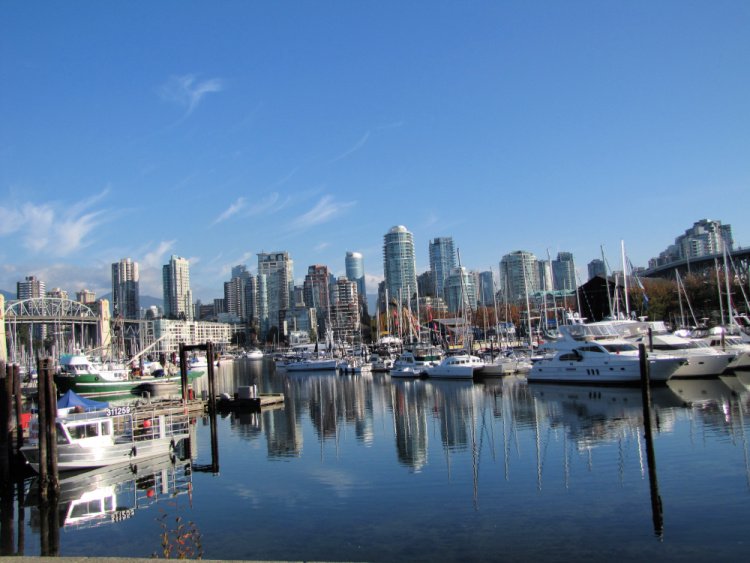 If we can arrange a contest to find the most walkable city in the world, Vancouver would be a top contender for the first prize.  Strolling gently through the city many areas is a pleasure. The shore walk filled my eyes with beauty. There were mountains, flowers, and bodies of water everywhere.  The manmade structures added to the almost perfect picture. The houses, bridges, and boats were full of charm.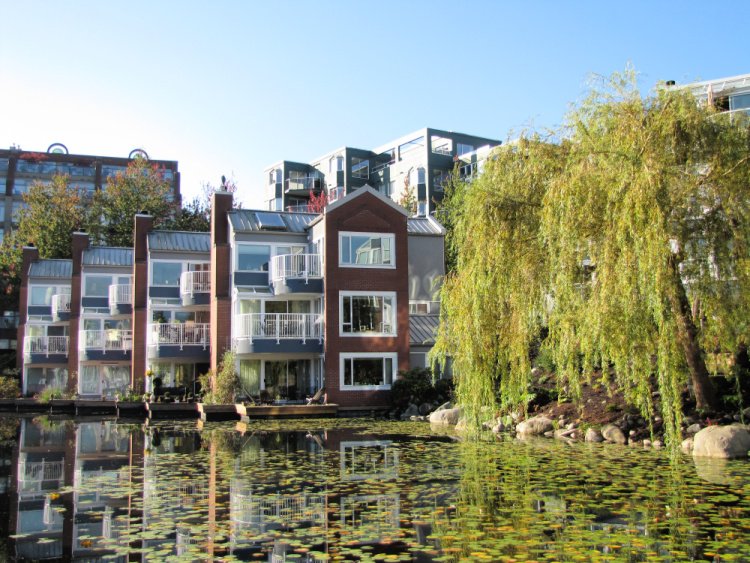 Then, there are things that are unique to Vancouver like totem poles.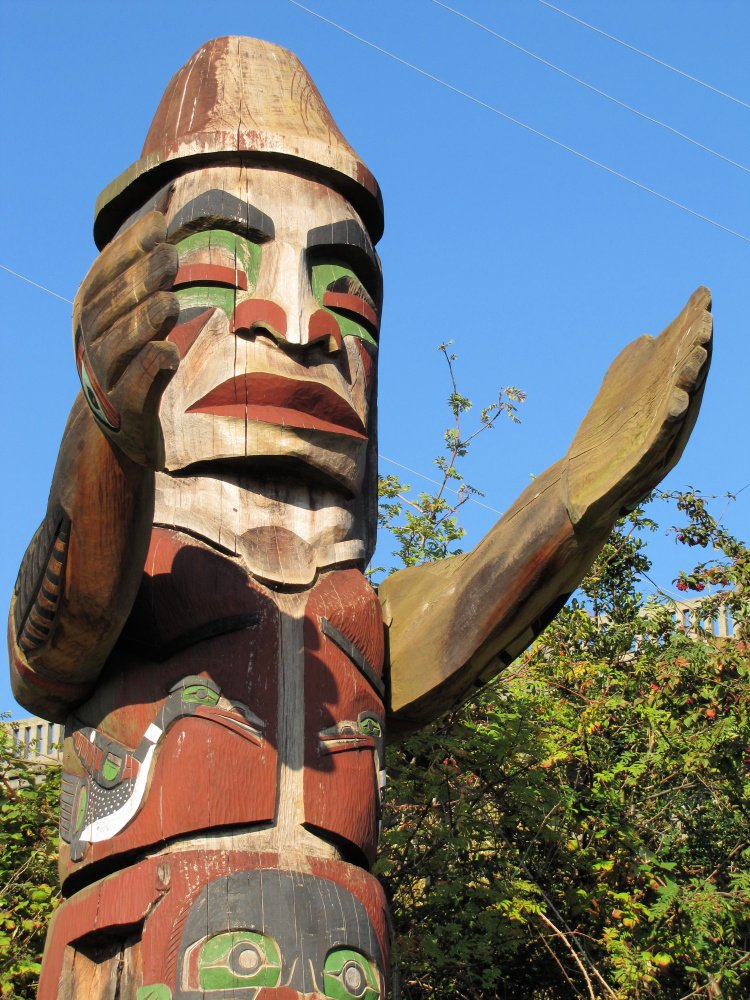 Or, particular sculptures with names like Freezing Water or Gate to the Northwest Passage.

With so much to see, you will arrive at Vanier Park sooner than later.  More remarkable views will appear.

Vanier Park, located in the Kitsilano area, offers lots of attractions.  The park itself is an ideal place to fly a kite or to attend outdoor events. Beach lovers should hit Kits Beach.  Dog Beach has space for pup owners.

The park is also the home of three major museums:
Vancouver Maritime Museum
H.R MacMillian Space Centre
The Vancouver Museum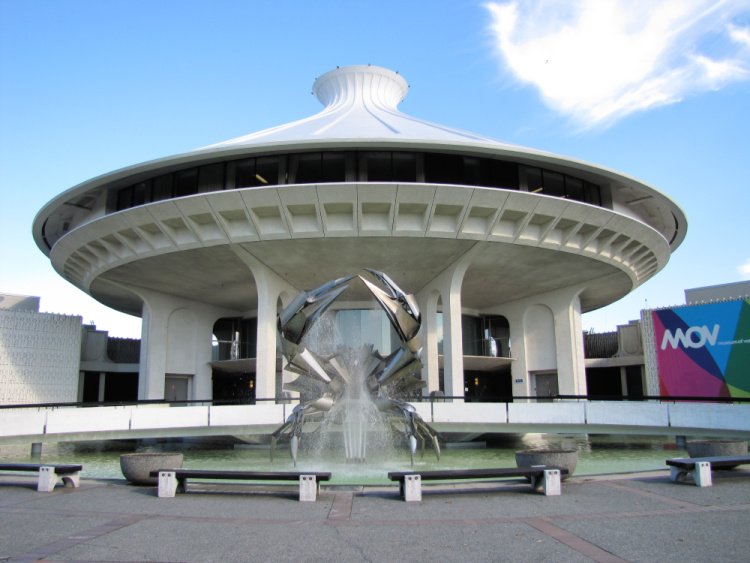 For lunch, you can choose restaurants like Octopus's Garden, Cacao, AnnaLena or Mak N Min. They are located close to the park and beach.

Hitting 4th Street restaurants and funky shops is an option too.  They have places like Maenam, Fable Kitchen and Nelly's Grill.

For the afternoon, I recommend taking the bus or a ride to the University of British Columbia. The campus of this educational institution houses the Museum of Anthropology.  This is a world class museum famous for its architecture, exhibitions, research, teaching, natural setting, and community work.

The museum is a bit away from Downtown Vancouver.  Plan to spend at least half a day to make the most out of your visit. The bus or ride will leave you at the entrance of the university campus. You will have to walk to the museum.  This fact provides a great opportunity to get a taste of college life in Vancouver.

The first thing to notice, once at the museum, is the spectacular beauty of the building.  The structure was designed by Canadian architect Arthur Erickson, who based his award-winning design on traditional Northwest Coast post and beam structures.  Go to the outdoor exhibition area to take a good look at the building.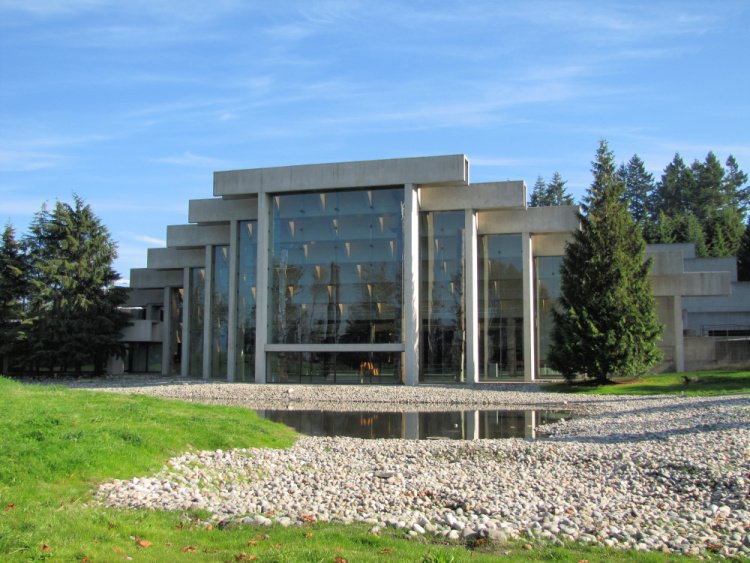 The museum is located at the cliffs of Point Grey.  From there, you can get lost in glorious views of the North Vancouver Mountains and the sea.

The outdoors exhibition area contains two Haida Houses, several totem poles and a reflecting pool.

Most visitors come attracted for only one thing: one of the best collections of totem poles and Northwest Coast nation's arts in the entire world.  The impressive collection of artifacts is mostly housed in the museum's Great Hall. This space contains 15 meter high walls and is illuminated with natural light.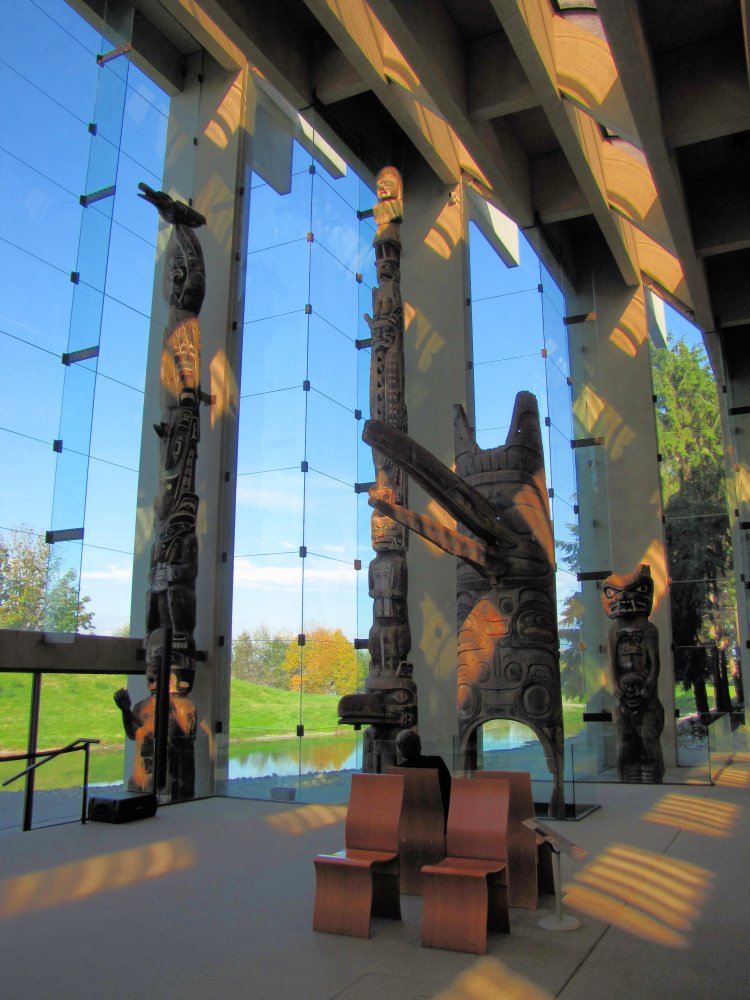 Now, let me say something about totem poles. A lot of people visualize them as objects of worship.  This is not the real purpose of these long and lean structures. These poles have multiple interesting purposes.  For example,
Recount family stories and lineage
Celebrate cultural beliefs
Part of mortuary structures
Provide stories that commemorate public persons
Represent some type of power
Show the success of families
Shame individuals or groups
The thing I loved about totem poles is that they are not erected without celebration.  Even modern poles are erected in the traditional way (several men pulling until the pole is upright).  A party of song and dance follows the moment.

The museum presents more than totem poles.  It showcases a great number of paintings and sculptures.  It also shows other objects like gates and canoes.

It is interesting to notice that modern or contemporary Northwestern Coast nation's art is given an important place in this museum.  There were several lovely pieces carved or painted in the last couple of years. They also promote collaborations with international artists. They even have a totem pole done by an African artist. The interesting thing is that it was erected in the traditional way.

There are also galleries showcasing works of art by other cultures.  The proper name of these spaces is Multiversity Galleries or Ways of Knowing (which I think is a totally cool name).  These contain more than 10,000 objects from around the world.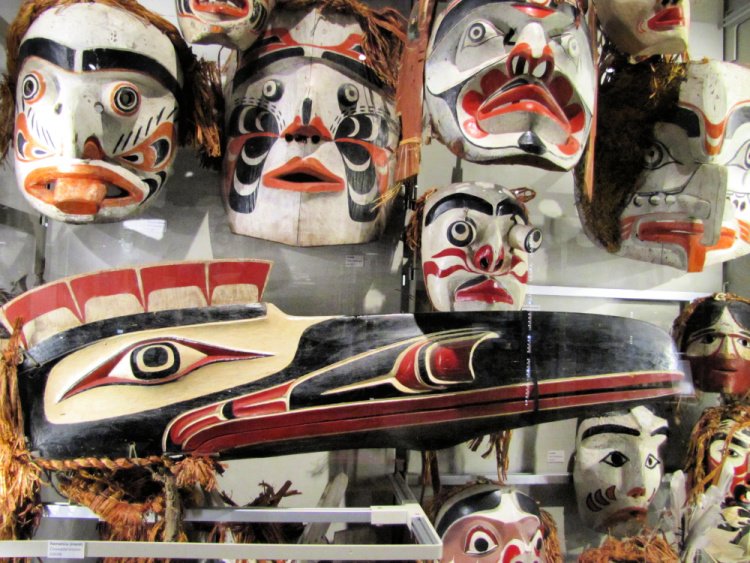 Well, I cannot forget to mention my hands down favorite work of art at the museum. It is so special that it is located in its own rotunda.  I am talking about Bill's Reid most well-known sculpture: "The Raven and the First Men.

This sculpture in yellow cedar represents the Haida legend of the raven discovering the men in a clamshell, on a beach of Rose Spit, Queen Charlotte Islands, British Columbia.  It was donated to the people of Canada by the Koerner family. The Haida celebrated the unveiling of the sculpture.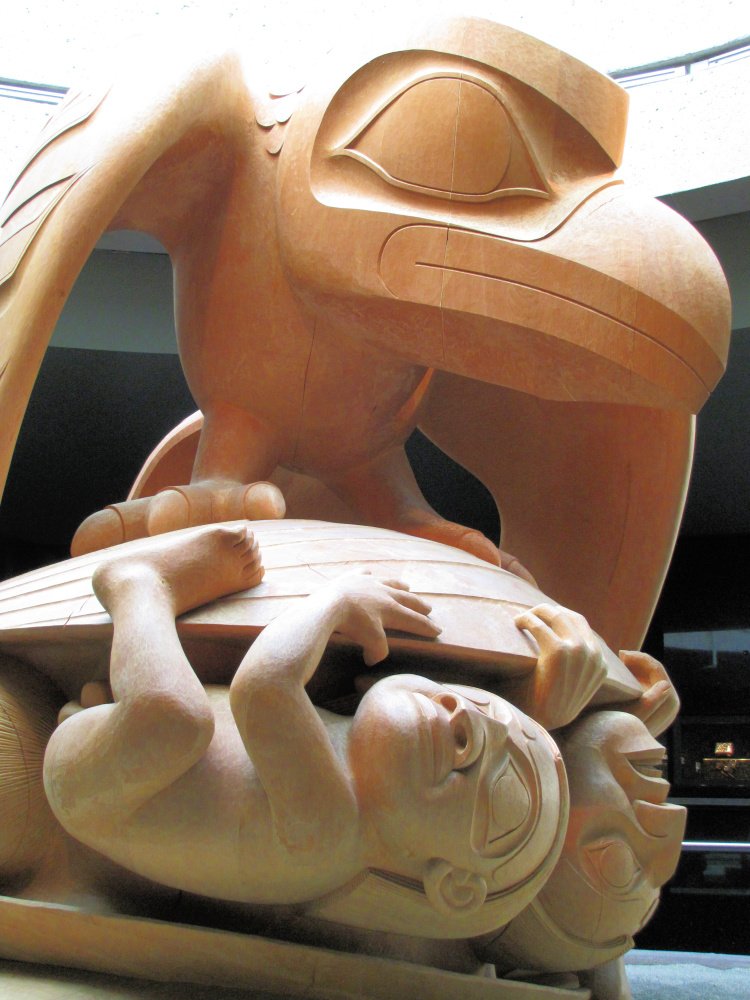 If you still have energy, check the night scene at Gastown, Kitsilano or Yaletown.

Vancouver Itinerary – Day 3

On your third day in Vancouver, venture on a short excursion outside the city!

Now, there are many options but I will be focusing on Grouse Mountain and the Capilano Suspension Bridge since those are the places I visited.

Grouse Mountain is located in the North Shore Mountains (north of Vancouver).  The mountain top is accessed by an aerial tram (or a grueling hiking trail).  The top is full of interesting amenities. In winter, you can ski to your heart's content.  Summer brings the famous lumberjack shows and the opportunity to enjoy the numerous hiking trails.  

Additionally, there are wildlife refuges where you can observe bears and wolves.  And, did I mention the views? The views of Vancouver (and even Washington State) are magnificent.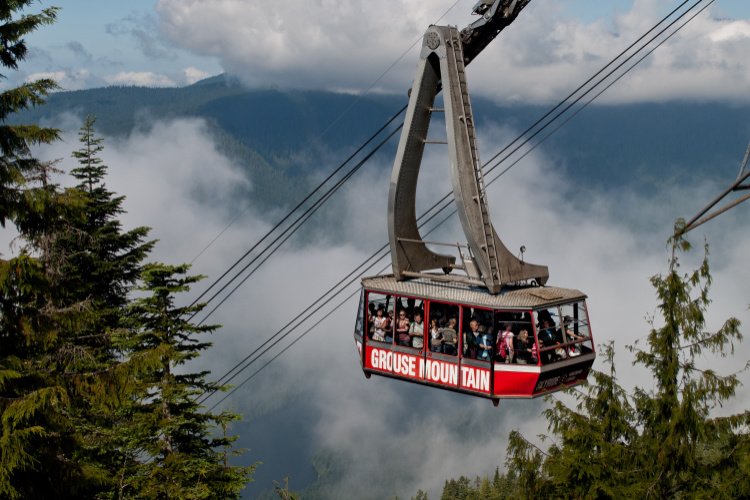 Local companies organize guided tours to this and other locations.  If you want to save some money (tours are not necessarily affordable), visiting by public transportation is doable. This is the option we used.

Getting to the mountain is part of the experience.  We took the ferry connecting Downtown and North Vancouver.  Then, a bus crisscrossing winding roads took us to the entrance of the recreational area.

We took the aerial tram to the top and were faced with glorious views.  To one side, we had Downtown Vancouver.

On another side, we had a view of the North Shore Mountains.  There are two peaks known as The Lions. Even Mount Baker, in Washington state, lured in the distance.

Grouse Mountain is an all-day affair.  To be honest, I would make the most of the money paid by staying there as long as possible.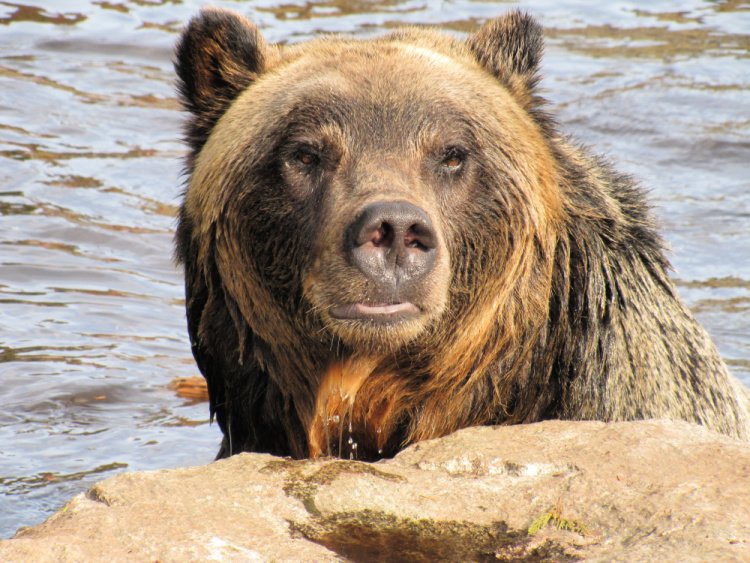 However, if you are interested in packing one more sight into the day, head to the Capilano Suspension Bridge.  The same bus that takes you to Grouse Mountain stops in front of this attraction.

You have probably seen pictures of Capilano.  This cool, long bridge hangs over a canyon. On-site, you can enjoy walking trails and adventure courses among trees.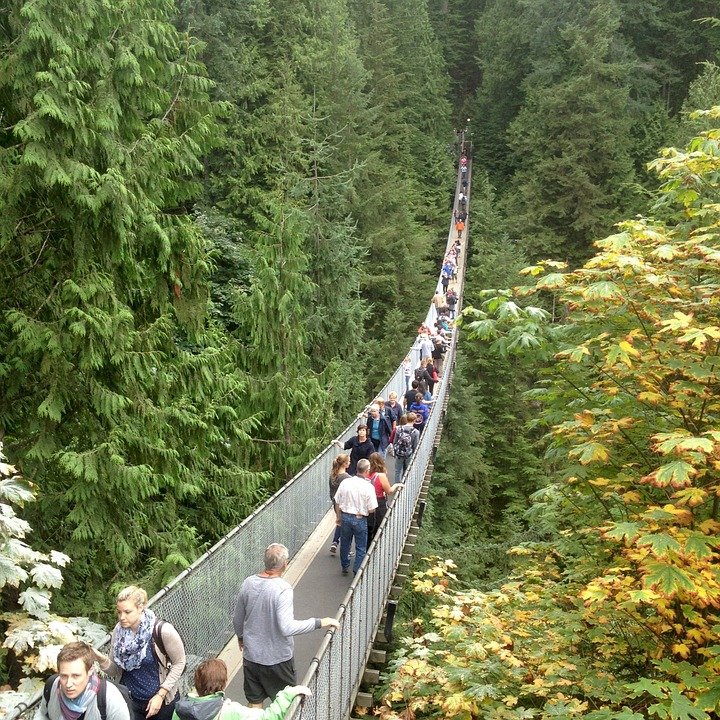 Note:  If you are visiting Grouse Mountain and Capilano, leave Grouse Mountain between 1:00 or 2:00 p.m. to have time to visit Capilano.  Some offerings at Grouse Mountain are seasonal. Check what is available, on their website, before heading there.

Before crossing back to Vancouver, grab a bite at the Lonsdale Quay Market.  This place is officially located in the city of North Vancouver and provides strategic services to the big number of people who commute daily between North and Downtown Vancouver.  

It originated as a carnival style marketplace which opened for Expo '86 Vancouver. With time, it has evolved into a space offering fresh foods, unique retailing, restaurants, and a hotel.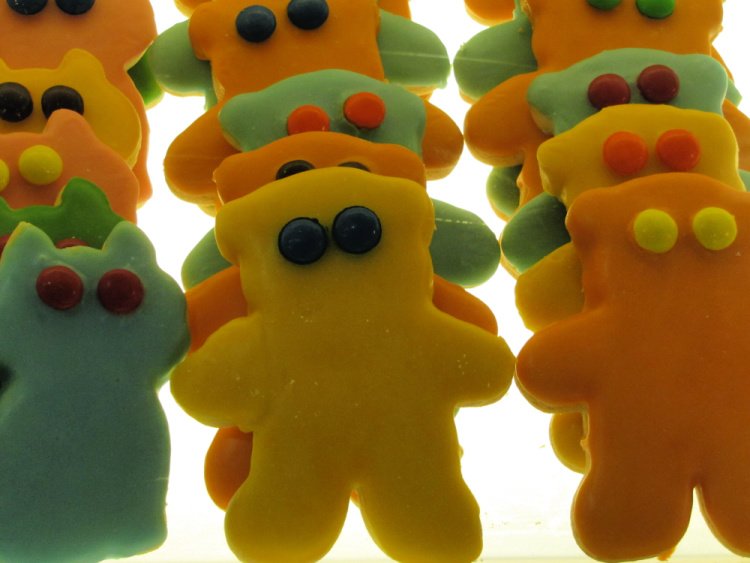 Vancouver Itinerary – Day 4

You will need tons of energy today.  I suggest having a decadent breakfast at places such as Nero Belgian Waffle Bar, Joe's Grill or Peaked Pies (Australian pies, yay!)

New York has Central Park and Vancouver has Stanley Park.  Central Park is famous for being an oasis in the middle of a sea of skyscrapers. I am not here to deny the charms of NYC's best outdoor attraction.  But sorry New York, I have to say that Stanley Park is totally different. Way, way different.

This park, located at the west end of the city's Downtown peninsula, offers amazing views of the city, the sea, and the North Shore Mountains.  Some days you are able to see the peaks of Vancouver Island. Plus, the park has numerous attractions and point of interests. What else can you ask for?  This is the closest paradise gets to suburbia.

The park is huge (404 hectares or 1000 acres).  But, don't worry my friend. It is easy to wander around.   Why? Because the entire park is surrounded by a 6.5 mile (10.5 km) Seawall.  This is basically a lane separated for walkers (or runners) and bikers.  From the Seawall, it is easy to access lanes that take you to the attractions inside the park.  In other words, there is a very good network of paths (with very good signaling and information).

The easiest way to explore the Seawall and the park is by bike.  If you don't have your own bike, you can always rent one around Coal Harbour (Georgia Street at Denman).  If you want to spend more time exploring the park, there is public transportation that can take you to the entrance and there is a trolley looping thru the park attractions.  And of course, for those athletic type, walking and running is an option.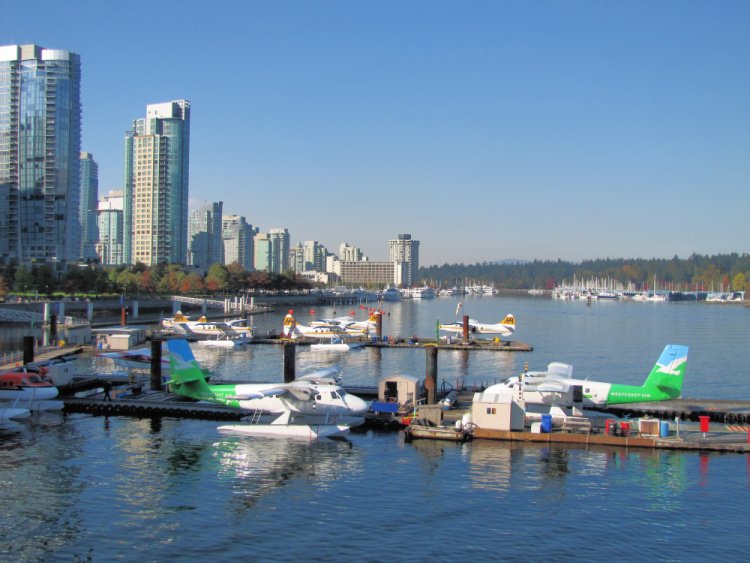 It doesn't matter what transportation mode you choose.  The important thing is to experience Staley Park in some way.  DON'T MISS IT!!! This is one of the greatest outdoor attractions in the city.  The views alone are worth the effort.

I biked the entire Seawall (and more).  We admired the beauty that makes this part of the world famous in 2-3 hours.  I highly recommend this to anybody visiting.

We started taking a look at the tall buildings, sculptures, marinas and even seaplanes around Coal Harbour. Once we got closer to the park, we had fantastic views of the city's skyline.

We took a little detour to take a look at the totem poles of Brockton Point.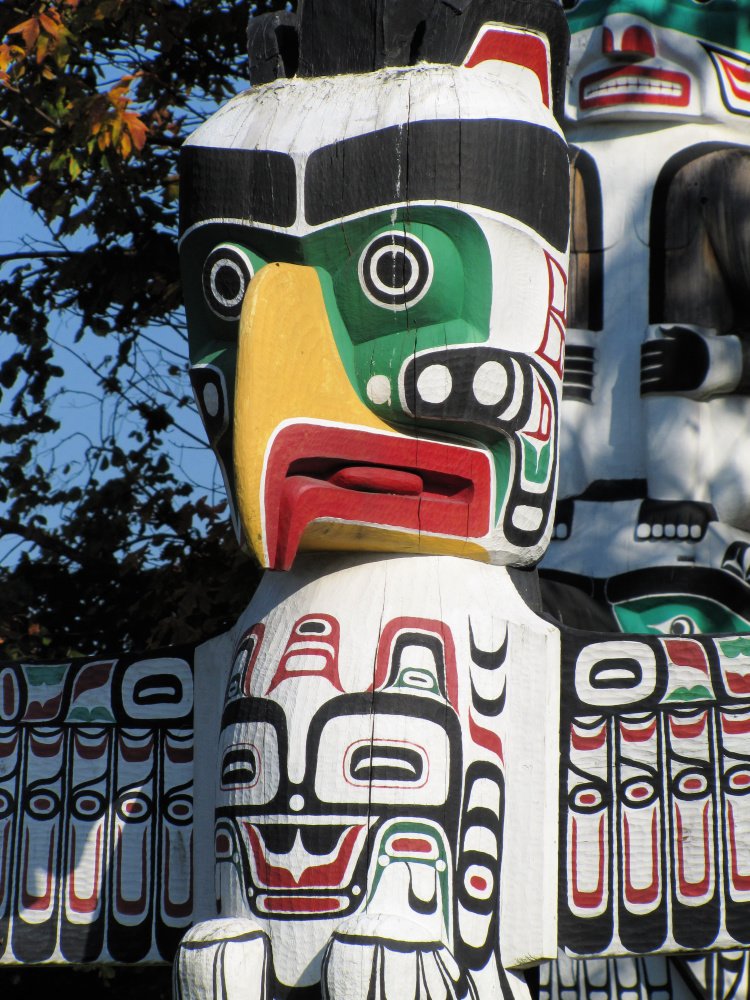 As we continued our ride, we arrived to probably the most dramatic point of our ride.  We ended up taking a good look at the Lions Gate Bridge, the North Shore Mountains, and the sea.  All this was framed by spectacular fall foliage.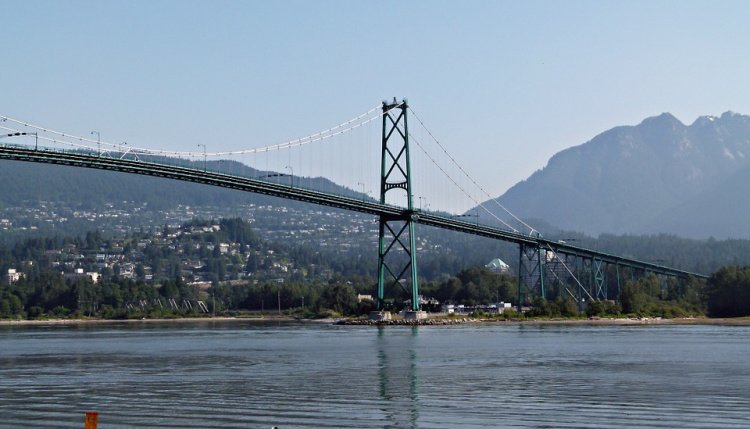 Well, once we rode under Lions Gate Bridge, we started to approach a peculiar rock formation.  It is called Siwash Rock and is made out of basalt (molten magma pushed to the surface during volcanic activity times).   While I was approaching the uncommon formation, the sun rays began to illuminate the road in a magical way. I felt like the rays were being refracted by the surrounding foliage.  It looked like a scene tweaked with a special filter.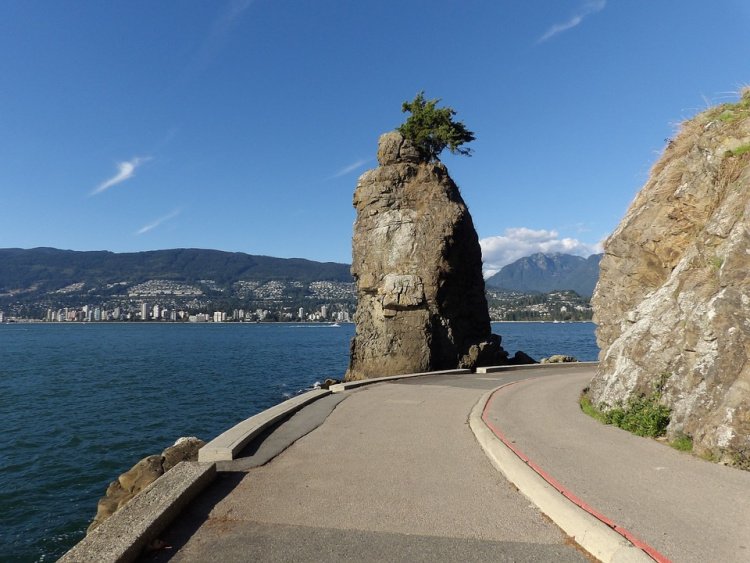 As we continued, we hit Third Beach and English Bay.  At that moment, we cut thru the inside of the park in order to return to Coal Harbor (or return our bikes, sniff, sniff).

We were able to admire the Jubilee Fountain at the Lost Lagoon.  The fountain was built to commemorate Vancouver's Golden Jubilee (in 1936).  This makes the fountain a really old girl. I guess it can still be called a girl because it is one of those things that do not age with time.

I am sure we were not able to enjoy all that Stanley Park has to offer (lucky you, residents) but we absolutely loved what we saw.

Without a doubt, I understand why Vancouver is considered one of the most beautiful cities in the world.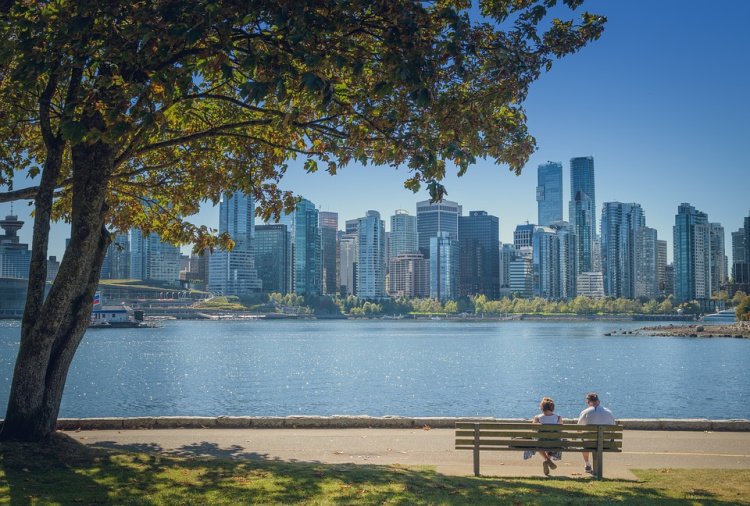 To recover from walking and biking, eat at one of the sushi joints located in the city.  There seems to be one at every corner. The best thing is that they are affordable. You can eat sushi morning and night without breaking the bank.

We ate sushi so many times that I cannot remember all the names of the places we visited.  However, here are some great options close to Coal Harbor: Momo Sushi, Domo Sushi, Miko Sushi, Kamei Royale, Sushiholic and Tetsu Sushi.

If you want to keep exploring Vancouver's neighborhoods, do not forget about Chinatown.

Vancouver's Chinatown is one of the largest in North America, even though a lot of the Asian population in the city lives in different areas nowadays.  However, the place continues to be vital and lively thanks to the many that come to shop, eat and stroll.

The Millennium Gate is the official entrance to Chinatown.  It was built in 2002 to represent both the past and the future.  It contains Western and Eastern symbols to celebrate the multiculturalism in the area.

Shanghai and Canton Alleys are probably the oldest streets in the neighborhood.  In here, the first Asian immigrants to the region settled their houses and shops.  At one point 1,000 residents called this area home. A famous theatre was built to keep the traditions alive and cultural and political events took place very often.  

At Shanghai Alley, you can find a replica of the West Han Dynasty Bell (a gift from sister city Guangzhou or Canton).  If you are interested in learning more about influential Chinese-Canadians who settle in the area, the alley has been revitalized with signs highlighting the lives of these men.

Sun Yat-Sen is considered the father of the Chinese Republic.  A garden locates in Chinatown was named in his honor. He stayed in Vancouver on three different occasions while traveling the world exposing his nationalistic ideas (or trying to get funds for his nationalistic movements).
The garden is the first full-size garden built outside China (masters from the country came to build the garden).  There is a fee to enter the garden. On the other hand, there is the Dr. Sun Yat-Sen Park which is free. However, it was built in Chinese style with North American materials (the garden materials came from China).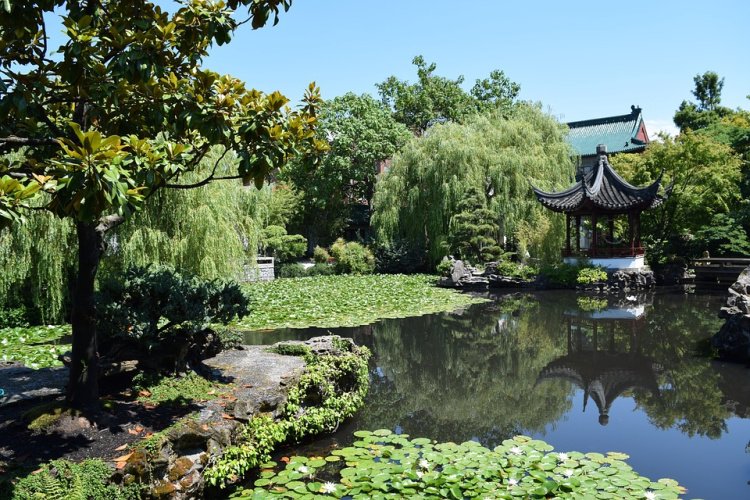 As always, it is cool to walk around and take a look at what is sold on the streets.  There was a vast variety of fruits, vegetables, fish, dried seafood, herbs, and tea. I even saw the weirdest type of mushroom I have seen in my life.  Plus, I saw a guy who was preparing (or filleting) lobsters. I am sure his mastership rivals any chef working in a big city restaurant.

I just loved the stores and shops in the area.  You can be hours and hours trying to figure out what is inside all those jars.

You can make your visit to the neighborhood as short or long as desired.  Here are other attractions in the area.
Sam Kee Building
China Gate
Chinese Zodiac Mosaic
Chinese Cultural Centre Museum, Archives and Military Museum
Canadian Chinese Monument
The Andy Livingstone Park limits the neighborhood
Narrowest commercial building in the world is in the area.  
If you are in Vancouver during the weekend, you may want to head to Chinatown in the morning to enjoy dim sum. Bao Bei and Kam Wai are good options.
Vancouver Itinerary – Day 5

You can use your fifth day in Vancouver for a day trip.  Below you will find the most highly rated options.

Victoria
Whistler
Bowen Island
Sunshine Coast
Fraser Canyon
Lynn Canyon
This page provides details on 25 possible day trips.

Or, you can book a half or full day tours.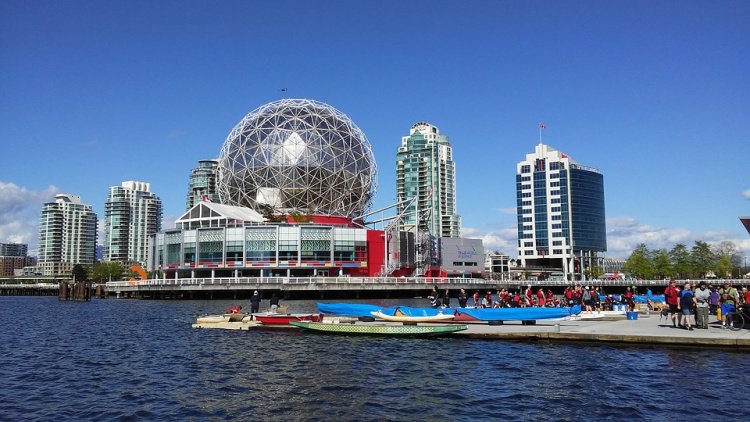 If you are not interested in leaving the city, here are my ideas for the day.

The VanDusen Botanical Garden is a public garden located in the Shaughnessy neighborhood.  It is managed by the Vancouver Park Board and volunteers. It is a fairly large garden (55 acres) which provides many special attractions (other than a huge collection of botanicals).  

In there you can admire totem poles, a Korean Pavilion, and statues that add to the serene atmosphere.  Additionally, the garden offers guided tours, lectures and workshop. Therefore, visit the official website if you want to participate in any of these offerings.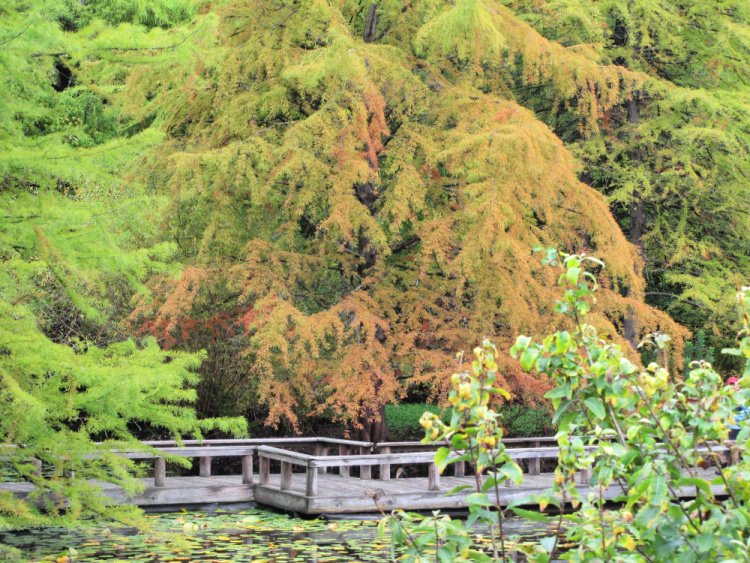 The  Vancouver Aquarium turned out to be a great experience.  It is actually the largest aquarium in Canada.  This is not a place to only see fish. There are amphibians, reptiles, mammals and birds.  The exhibitions are phenomenal. You can explore the Amazon, the Arctic, the tropics, etc. It is a real learning experience.  I found it really fun. This is an ideal attraction for families or for rainy days (that is why we went).

Richmond Night Market

If you are visiting Vancouver mid-May to mid-October, leave time on your itinerary to visit Richmond, a city located about 8 miles away.

Richmond hosts the largest night market in North America.  Organizers promise that attendees are able to "taste the world."  In addition, the market offers games, raffles and live music. Do not miss the opportunity to experience this.

How to Get to Vancouver

The Vancouver International Airport is located about 6 miles from Downtown.  There is a train connecting the airport to Downtown.  The ride takes 30 minutes.

Some people arrive in Vancouver by cruise. Ships dock around Canada Place.  Therefore, passengers are within close proximity of Gastown, Chinatown and Granville Street.

Main trail lines will leave people at the Waterfront Station.  Once again, this is close to Canada Place and other attractions.

Vancouver counts with an excellent public transportation system (land and sea). A car is not needed to explore the city.

Visitor's centers and hotel desks can help you to figure out how to get from one point to another.  Vancouver does NOT have Uber or Lyft.

___

I hope you have enjoyed my Vancouver itinerary! I cannot stop professing my love for the city.  So, if you have not visited, what are you waiting for?
More Itineraries
2 Weeks in Thailand Itinerary
Spain Itinerary: Two Best Weeks in the Country
5-Day Pacific Coast Highway Itinerary
LA to San Diego Drive: Road Trip Itinerary
What would you include on your Vancouver itinerary?
Pin "Vancouver Itinerary – 3, 4 o 5 Days" for later!