Looking for a fun hike with gorgeous views? I got you covered! Let's take a look at the Weir Canyon Trail in Anaheim Hills.
Nestled in the heart of Santiago Oaks Regional Park, the Weir Canyon Trail offers hikers a scenic and moderately challenging adventure that showcases the natural beauty of Southern California. 
With its picturesque canyon, rolling hills, and small streams, this trail is a must-see for any outdoor enthusiast. 
In this article, we'll explore the Weir Canyon Trail in detail, including its location and access, trail description, hiking tips and safety, and more. So grab your hiking boots and get ready to explore one of Orange County's gems!
Please note: This article contains affiliate links, meaning I may earn a commission if you make a purchase by clicking a link. Of course, this comes at no extra cost to you and helps me to keep offering solid information to readers.
Location and Access
The Weir Canyon Trail (or Weir Canyon Loop Trail) is located in Santiago Oaks Regional Park, a 1,269-acre park located in the foothills of the Santa Ana Mountains in Orange County. 
To reach the trailhead of the Loop Trail described in this article you do not have to go to Santiago Oaks' main entrance.
The trailhead is located at the intersection of East Overlook Terrace and South Hidden Canyon Road in Anaheim Hills.  In Google Maps, the trailhead is marked as "Anaheim Hills Riding and Walking Trail."
The Weir Canyon Hiking Trail can also be accessed from the end of Ave De Santiago.
There is no entrance fee to access the trail.  The is a (very) small parking lot close to the trailhead.  Most visitors park on the street.  There are signs indicating where is appropriate to park.
There are no restrooms on the premises.  Therefore, plan accordingly.
Weir Canyon Trail Description
The Weir Canyon Loop Trail is a 3.8-mile round trip hike.
The trail is rated moderate in difficulty and takes an estimated 2-3 hours to complete, depending on your pace.
Note: You are going to notice the trail markers rate the hike as difficult.  Do not get dissuaded by this.  After having hiked dozens of trails, I do think this is a moderate hike.
The canyon was originally inhabited by Native Americans who utilized the area's resources for survival. Later, in the 19th century, settlers arrived in the region and established farms, orchards, and grazing lands in the canyon. Today, Weir Canyon is a protected open space that provides a much-needed oasis in the midst of Southern California's urban sprawl.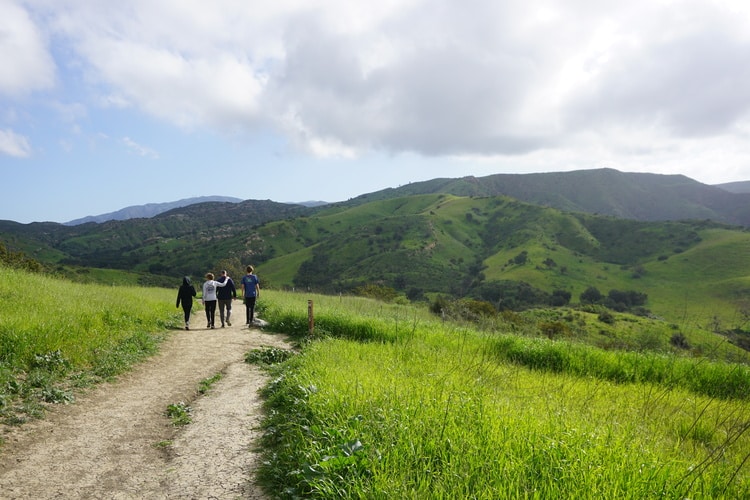 As you make your way along the trail, you'll encounter a variety of points of interest. The rolling hills offer breathtaking views of the surrounding mountains, and you'll cross several small streams that add to the serenity of the experience.  You will also enjoy great views of the city and Walnut Canyon Reservoir.
The trail's highlight, however, is the rocky canyon that gives the trail its name. As you hike up and down the canyon, you'll be surrounded by towering rock formations and rugged terrain.
Rest areas and scenic overlooks are located throughout the trail, providing hikers with opportunities to catch their breath and take in the stunning scenery. 
The canyon is also home to a variety of plant and animal species, including California sagebrush, coastal live oak, sagebrush, toyon, California buckwheat, and a range of wildlife such as bobcats, coyotes, and mountain lions. Birdwatchers will also appreciate the diversity of bird species, including red-tailed hawks, white-tailed kites, and California quail.
During late winter and early spring, the canyon is covered in wildflowers, including bright orange poppies.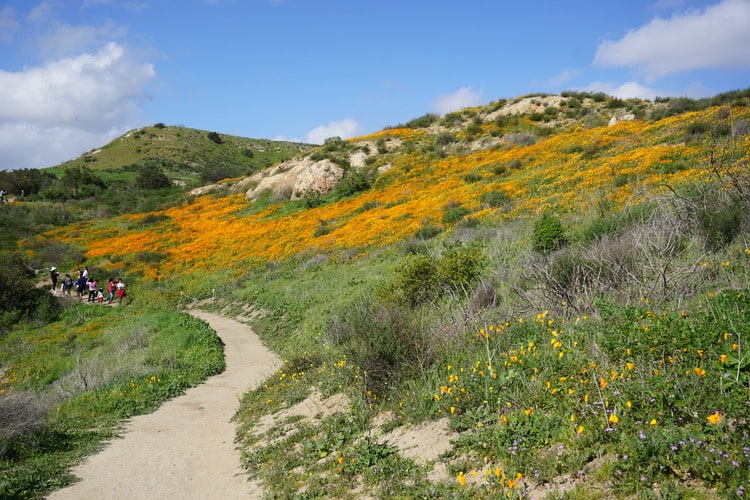 Shortening the  Weir Canyon Trail
If want to hike a shorter distance, you can go from the trailhead to the first viewpoint in the loop (the first viewpoint if you hike clockwise).
Access the viewpoint from the Weir Trail or Old Weir Trail (this trail is steeper) and hike back to the trailhead.  You will walk a total of about two miles.
Or, you can continue past the viewpoint and take a trail that cuts across the area (to the right).  In this way, you can avoid doing the entire loop.
Accessing the Trail From Santiago Oaks
Santiago Oaks Regional Park offers a wide range of outdoor activities, including hiking, mountain biking, and equestrian trails, as well as picnic areas and playgrounds for families.
You can access the Weir Canyon Loop Trail from other trails in the park such as the Deer, Barhaim Ridge, and Anaheim Hills Trails. But, let me warn you it is going to be a long walk if you do this.  For less experienced hikers, it makes sense to hike the loop as described above and hike other trails in the park on different occasions.
It's important to note that Santiago Oaks Regional Park charges an entrance fee for visitors (if you access through the main entrance), which is currently $3 per person on weekdays and $5 per person on weekends and holidays. 
The park also has limited parking, especially on weekends, so it's recommended to arrive early or carpool if possible. 
Additionally, keep in mind that the park hours vary depending on the season, so be sure to check the website or call ahead to confirm the hours of operation.
Hiking Tips and Safety
Hiking in Weir Canyon is a fun and rewarding experience, but it's important to take proper precautions to ensure your safety and enjoyment. Here are some tips to help you prepare for your hike:
Appropriate gear and attire
Wear comfortable, sturdy shoes with good traction, and consider wearing a hat to protect your face and head from the sun. Dress in layers to adjust to changing weather conditions and bring a backpack to carry water, snacks, and any necessary items.
Hydration and nutrition
It's essential to bring enough water for your hike and to stay hydrated throughout. Additionally, bring snacks or a small meal to keep your energy levels up during the hike.
Sun and heat protection
Protect yourself from the sun and heat by wearing sunscreen, sunglasses, and a hat. Plan your hike during the cooler parts of the day, such as early morning or late afternoon.
Trail etiquette
Always stay on designated trails, and avoid trampling or damaging natural vegetation. Additionally, be courteous to other hikers and share the trail by yielding to uphill hikers and passing on the left.
Emergency procedures
In case of an emergency, call 911 or park rangers for assistance. It's also recommended to carry a basic first aid kit with you on the hike.
Hiking Gear
I recommend taking into consideration the following gear for day hikes:
Nearby Attractions
After you've finished the Weir Canyon Hiking Trail, there are plenty of nearby attractions to explore in the surrounding area. Here are some of our top picks:
Irvine Regional Park
Located just a few miles from Santiago Oaks Regional Park, Irvine Regional Park offers a wide range of activities, including hiking trails, a zoo, pony rides, and paddle boats.
Old Towne Orange
For a taste of local history and charm, head to Old Towne Orange, a historic district that features antique shops, restaurants, and vintage architecture.
Huntington Beach
For a day at the beach, head to Huntington Beach, which is about a 30-minute drive from Santiago Oaks Regional Park. With over 10 miles of sandy beach, a bustling pier, and plenty of shops and restaurants, it's the perfect spot to soak up the sun and surf.
Peters Canyon Regional Park
For more hiking options, check out Peters Canyon Regional Park. This park is located just a few miles northeast of Santiago Oaks and features a variety of trails that wind through rolling hills and canyons. The main trail is about 5.5 miles long and offers beautiful views of Orange County.
Bowers Museum
For a cultural experience, head to the Bowers Museum in Santa Ana. This museum features a wide range of exhibits and collections that showcase art, artifacts, and history from around the world. Be sure to check their website for current exhibits and events.
The Outlets at Orange
If you're in the mood for some shopping, head to The Outlets at Orange. This outdoor shopping center features over 120 stores, including popular brands such as Nike, Adidas, and Calvin Klein. There are also plenty of dining options and a movie theater for entertainment.
Crystal Cove State Park
For a scenic coastal destination, head south to Crystal Cove State Park. This beautiful park features 3.2 miles of beach and over 2,000 acres of undeveloped woodland, making it a perfect spot for hiking, swimming, and wildlife watching.
Whether you're interested in hiking, culture, shopping, or just relaxing at the beach, there's no shortage of nearby attractions to explore after your hike on the Weir Canyon Trail. So, be sure to plan your day accordingly and take advantage of all the great destinations in the area.
The Weir Canyon Trail is a must-do for hikers and bikers looking to explore the natural beauty of the Anaheim Hills area. With its stunning views, diverse plant and animal life, and moderate difficulty, it's a great choice for those looking for a bit of a challenge while still being accessible for hikers of all levels. So, if you're in the area, check out the Weir Canyon Loop Trail and all it has to offer.
More Hikes in Southern California
Have you hiked the Weir Canyon Loop Trail?