Don't you love to discover stunning new places?
Or better yet, don't you love to discover stunning new places in an area you thought you knew as the back of your hand?
That is what happened to me recently.
I guess nature has the power to throw you a curve ball you weren't expecting.
My new object of affections is called White Point – Royal Palms County Beach and it is located in the city of San Pedro (where the port of Los Angeles is located).  But, what's up with the two names?
I know is kind of confusing but I can't seem to find a reason for the dual naming situation.   For what I can gather from the web, White Point is the name of the piece of land jutting out from the Palos Verdes Peninsula.  Royal Palms was the name of a recreation center that was developed in the area in the early 1900s.
Another explanation is that there are actually two beaches (or coves) at the bottom of the bluffs (but it is not that noticeable).  The northern one is the Royal Palms beach and the other one is the White Point Beach (you are going to notice the heart shape in the photos below).
Enough of discussing names. The views in here start from the top of 100-foot bluffs.   From this point, it is easy to appreciate the curvature of the beach (or beaches) below, rock formations and the silhouette of Catalina Island.
The descent to the beach is through Kay Fiorentino Road.  Once at the bottom, you can take a dip in the semi-sheltered cove.
Those who do not want to get went have the opportunity to do some tide pooling.  There is a huge rock bed exposed during low tide. However, everything is not natural in here.  Some 'rocks' in the area are really ruins of mineral baths destroyed by an earthquake in the '30s.
This is an ideal place for picnics, surfing, diving (there is a reef close to the shore), fishing and even rock climbing.
In reality, you do not have to get active in here.  Spotting one (or two) sea stars between the rocks, a group of pelicans soaring above the cliffs or a bunch of cormorants resting over rocks is my idea of having a good time.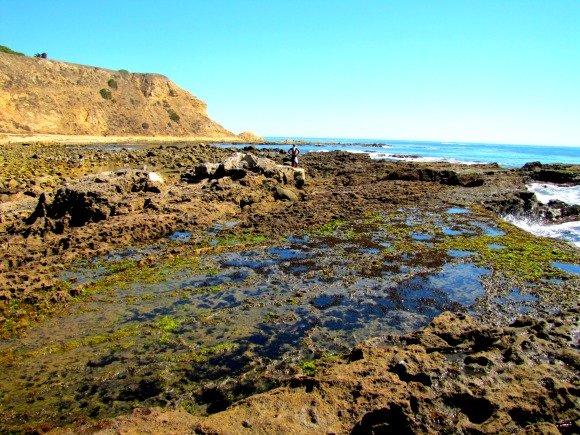 Details
The exact address is the following: 1799 West Paseo Del Mar, San Pedro
There is a fee to park in the parking lot at the bottom of the bluffs.
To avoid paying for parking, park at one of the free spots (in Paseo del Mar) at the top of the bluffs and walk down Kay Fiorentino Road.
The White Point Nature Preserve and Education Center is located across the street.
There are restroom and shower facilities in the area.
What new place have you discovered lately?