Are you a wine lover searching for a new tasting adventure near Avila Beach? Check out these top-rated spots for wine tasting in Avila Beach. 
Whether you're a wine connoisseur, a curious novice, or somewhere in between, you'll enjoy an unforgettable wine tasting experience in Avila Beach.
Located on the scenic Central Coast of California, Avila Beach is home to a century-old wine industry. The surrounding hills and valleys are filled with breathtaking vineyards, world-class wineries, and welcoming tasting rooms—making it the perfect destination for wine lovers.
Ready to savor the unique and exquisite flavors of locally produced wines? Here are the best venues for wine tasting in Avila Beach.
Please note: This article contains affiliate links, meaning I may earn a commission if you make a purchase by clicking a link. Of course, this comes at no extra cost to you and helps me to keep offering solid information to readers.
Wine Tasting in Avila Beach
Alright, this is when things get interesting.  Below you will find the best wine tasting rooms in Avila Beach (for real!).
And, so we are on the same page, this article focuses on tasting rooms or wineries in or near Avila Beach.  The city has a great number of wine tasting options in the Downtown area.  However, I have included options in Pismo Beach and Grover Beach since those are located less than 10 miles away.
Cheers!
Peloton Cellars
The best Avila Beach wine tasting spot for cycling enthusiasts is Peloton Cellars. The founders are avid cyclists, and the tasting room has a cycling-themed name and design.
Peloton Cellars is one of the best Avila Beach wineries that produces and serves wines exclusively from grapes harvested in California's Central Coast wine region. 
The winery's tasting room is located at 470 Front Street, a few steps from the beach. It's open seven days a week and allows walk-ins but highly recommends reservations.
Peloton Cellars tasting room looks like a cozy family living room, but it also has a picturesque patio for a great outdoor Avila Beach wine tasting experience.
Alapay Cellars
Located in downtown Avila Beach, Alapay Cellars is a must-visit wine tasting venue. The winery sources grapes from nearby vineyards to produce handcrafted French oak barrel-aged wines.
You can visit the Alapay Cellars wine tasting room at 415 1st Street, Avila Beach. It's open to the public seven days a week. It has a cozy, tranquil ambiance with bar stools and two huge saltwater aquariums.
Wine tasting at Alapay Cellars is free if you purchase a bottle. Otherwise, wine tasting alone costs about $20 per person. A typical wine flight includes two whites, six reds, and two dessert wines.
This wine tasting destination also has a wine club that offers members exclusive access to limited-release wines, discounts on purchases, and other benefits. There's also a good selection of wine-related gifts.
Sinor-LaVallee
Sinor-LaVallee is one of the best Avila Beach wineries known for crafting exceptional wines that showcase the region's unique terroir. This family-owned winery specializes in small-lot wines made from grapes grown in its Bassi Vineyard near Avila Beach.
Located at 550 1st Street Avila Beach, Sinor-LaVallee is open daily and allows walk-ins (reservations are suggested). It offers different flight options for wine tastings at varying fees. You can also enjoy a glass or bottles of wine and local dishes.
The winery also has a wine club membership with exclusive benefits, like discounted prices and access to members-only events.
Avila Wine & Roasting Company
Avila Wine and Roasting Company (also known as the Avila Wine Company) is the perfect tasting room and wine shop for people who love learning about the wines they're tasting and chatting with the owners and staff. It specializes in serving wine from small vineyards without tasting rooms.
Located in downtown Avila, 53 San Miguel Street, the Avila Wine and Roasting Company features a cozy indoor space and a beautiful outdoor patio. Its host, Manny, is a friendly wine connoisseur who helps visitors understand what they like most about wine.
The typical wine tasting experience at Avila Wine and Roasting starts with dry whites and finishes with fruity and sweet wines. Another option is starting with light-bodied reds, then heavy wines, followed by dessert wines.
PierFront Wine & Brew
PierFront is the perfect Avila Beach wine tasting spot for when you want to sample delicious wine while enjoying an amazing ocean view. Located at 480 Front Avila Beach, it features a beachfront living room and an outdoor patio. 
PierFront offers 90+ wines, some local and others from around the world. The wine tasting menu changes weekly, so even locals who've already sampled its selection can expect an adventure on their next visit.
If you want to spice up your experience of wine tasting in Avila Beach, you can visit PierFront when there's a music or paint and sip event. 
Kelsey See Canyon Vineyards 
One of the best Avila Beach wineries for wine tasting in a picnic setting is Kelsey See Canyon Vineyards. The winery has an outdoor picnic area with tables available on a first-come basis. Reservations are not necessary.
Kelsey See Canyon Vineyards is open daily. It allows food from outside but no beverages except water. 
It offers a monthly wine tasting menu where you can choose any four wines for a set price, typically $20. You can get a waiver on the tasting fee by purchasing two bottles.
The winery offers several wine club memberships with different shipment packages. Members get discounts on shipping, invitations to exclusive events, free wine tastings for up to four people, and other benefits.
Sans Liege
Sans Liege is one of the best wineries near Avila Beach. It has a tasting room in downtown Pismo Beach (870 Price Street), where you can sample its rich wine selections. 
All the wines served and sold at Sans Liege come from the best vineyards on California's Central Coast.
The Sans Liege tasting room is open to walk-ins, but reservations are highly encouraged. The tasting fee is $20 but is waived with a two-bottle purchase. 
Wine enthusiasts who enjoy the taste of Sans Liege's wine can also join one of the several club options to access exclusive wines, events, and discounts.
Cali Love Wine
Another great option for anyone searching for the best wineries near Avila Beach is Cali Love. It's located in Pismo Beach (180 Pomeroy Ave), has a pink theme, and hosts karaoke from 6 p.m. onwards. 
Cali Love wines are hand-made from grapes sourced from the best vineyards in California. The winery also makes three varieties of sparkling wine. 
No reservations are needed at the Cali Love Pismo Beach tasting. It's open daily except Tuesday and Wednesday.
Tastes of the Valleys
Tastes of the Valleys is a great place to sample the best wines from the Central Coast and other wine regions. It's an all-in-one wine bar, wine shop, and tasting room at 911 Price St, Pismo Beach.
Tastes of the Valleys is open every day and has a relaxed atmosphere. It's a great destination for Avila Beach wine tasting fans looking for nearby spots.
The typical wine tasting cost is $20 for about six varieties.
Monarch Grove Winery
The Monarch Grove Winery, in Grover Beach, features a large selection of wines.
With respect to reds, guests can enjoy Cabernet Sauvignons, Petite Syrahs, Zinfandels, Pinot Noirs, Syrahs, and blends.  White wine options include Chardonnays, Muscats, and Orange Blossom infusions.  There are roses, dessert wines, and snacks available as well.
A flight of 6 tastings is $12.  You select what to taste from a menu. This is a must-visit spot for those looking for affordable options.
Other Wineries Near Avila Beach
If you are looking for even more wine tasting options in the Avila Beach area, you can head to the Edna Valley, a wine producing area closer to the city of San Luis Obispo (the head of the county).
Wineries in this area are located 10 to 20 miles from Avila Beach.  Therefore, visiting two or three of them (or combining one of them with other attractions) makes a great day trip.
I have an entire article about wine tasting in San Luis Obispo.  I encourage you to check it out.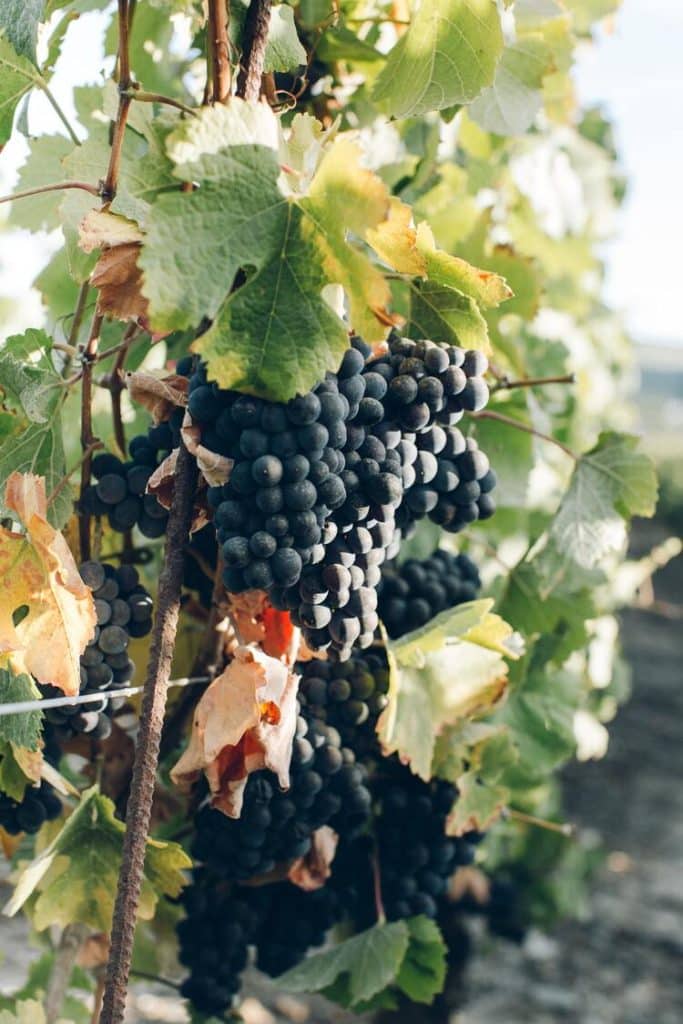 Wine Tasting in Avila Beach Cost
As mentioned, Avila Beach wineries charge $20 – $25 per tasting.  Each tasting includes 5 or 6 1oz samples.  Expect to pay more for premium wines, packages (wine tasting & tour or wine tasting & tour), and experiences.
If you are looking to save money, take into consideration the following:
Stop by the Tourist Information Center and ask if they are aware of wineries offering 2-for-1 tastings.  This information can equate to huge savings
Search for deals and coupons on websites such as Groupon or Travelzoo
Go to the wineries' websites to see if they are offering deals
Join the wineries newsletters.  A lot of times, they send discounts through e-mail
You can also save by sharing a tasting.  Do not feel obligated to get a tasting for each member of your party
Ask staff what are their favorite places to taste.  First of all, you can rely on their suggestions since they know the area well.  Second, they may give you a 2-for-1 tasting flyer for one of their nearby partners.  I have lost count of the times I have been given discounts just for talking and showing interest in the industry
Wine Tasting Considerations
Wine tasting in the Avila Beach Downtown area does not require a car.  You can park and walk to the different tasting rooms.
A car will be needed if you are venturing outside the city.  In that case, you will need a designated driver.  Please, do not drive under the influence.
If you are not familiar with wine, take things slow and easy.  In my opinion, two tastings would be more than enough.  Do not sub-estimate the strength of the wine.
It is perfectly fine to spit wine while tasting.  Use the designed containers for this purpose.  This will allow you to visit more tasting rooms.
Keep yourself hydrated and eat your meals at the proper times.  It is not advisable to start tasting on an empty stomach.
Location
Avila Beach is located 88 miles from Santa Barbara, 183 miles from Los Angeles, and 241 miles from San Francisco.
By car, the city can be accessed through US-101.
The nearest airport is located in San Luis Obispo.  There is an airport in Santa Barbara as well.  Keep in mind these are small, regional airports. The closest Amtrak (train) station is located in Grover Beach.
Sightseeing Gear
Get ready for a day of sightseeing by bringing the right gear.  Here is a list of the items I pack when exploring the best wineries in Avila Beach.
Since we are in wine country, make sure to pack insulated wine tumblers, a corkscrew, a picnic set, and/or wine tote.
More of Avila Beach
Avila wine tasting is way too much fun! However, if you are interested in other activities, check out my detailed guide to things to do in the city and other cities in the county.
More of California
 Los Angeles Ultimate Bucket List
Ultimate San Diego Bucket List
150+ Places to Go in Orange County
Places to Visit in Santa Barbara
Things to Do in Ventura County
Have you visited any of these Avila Beach wineries or tasting rooms? Which is your favorite?
If you enjoyed this article, remember to share!