The Mist Trail is one of the most popular hikes in Yosemite National Park.  This article has useful details that will prepare you to hike like a pro.
Like many people with a serious case of wanderlust, I devour travel-related magazines, websites, and newspaper articles on a constant basis.
I am always looking for that next place I want to visit.
Once in a while, I bump into a place that gets me really excited.  Then, when I start researching the details, I discover a hard truth: that beautiful and awesome place is located 5 to 10 miles from a trailhead somewhere in the world.
I must confess I am not the most athletic or fit person in the world.  Since getting my latest job, I have gotten less and less exercise due to the different pressures I have to face.
Even though that is my current reality, I have always enjoyed the outdoors.  Most of my trips include the "walk/hike" element in one way or another.
During my visit to Yosemite National Park, I was decided to do at least one decent hike.  Based on research, I chose to complete part of the Mist Trail.
And, let me tell you, that was a great decision!
About the Mist Trail
The Mist Trail has been called nature's giant staircase. The hike affords incredible views of Vernal and Nevada Falls, two of the most powerful waterfalls in the Yosemite National Park.
The picture below shows the falls seen from Glacier Point.
It is called "Mist Trail" because the spray of the falls (during spring and early summer) will totally soak you (and the surroundings).
There are different stages to the trail.  It is 0.8 miles (one way, 400 ft elevation gain, moderate) to the Vernal Fall Footbridge.  Another steep 0.5 miles will take you to the top of the fall (600 ft elevation gain, strenuous).  If you are up to the challenge, an additional 1.5 will take you to Nevada Fall (1000 ft elevation gain, strenuous).
Total distance (round trip) is 3 miles to Vernal Fall and 7 miles to Nevada Fall.
Some people continue walking towards Half Dome or merge into the John Muir Trail.
Now, you can hike as much as you want.  My recommendation is to make it at least to the base (or close to the base) of Vernal Fall.  If you feel determined, make it to the top (climbing a set of stairs is required).  
I firmly believe that almost everybody can make it to this stage without major problems.  I saw people of all ages hiking along.  If you are not a strong hiker (like me), the trick is to take it slow.  Anyway, you will stop like a thousand times to take pictures and absorb your surroundings.
Hiking to Vernal Fall can take up to half-day.  Of course, there are many factors involved when it comes to hiking but I am assuming you will want to spend some time around.  Hiking to Nevada Fall adds 2-3 hours to the time spent on the hike.
Fact: Notice I am using the term "fall" without an "s." This is because Vernal Fall and Nevada Fall are single drop waterfalls.  It is a faux pas to call one of them "falls."
How to Reach the Mist Trail
The trailhead to the Mist Trail is located in the Happy Isles area.  Since this is one of the most popular hikes in the Yosemite Valley, expect to be surrounded by a lot of people (especially during summer).
My recommendation is to head to the trailhead as early as possible to secure a parking lot, avoid traffic congestion and crowds.  The trailhead's parking lot can fill up as early as 10:00 a.m.
If the parking lot is full, you may need to drive around nearby areas to find a spot.  Keep in mind this can add to the total walking mileage of the day.  Another option is to park at a lot located farther away and take the shuttle to stop #16
Mist Trail – Hiking to the Footbridge
The first few meters of the trail are flat and wide.  The Merced River (which flows through the falls) brings a sense of coolness at the beginning of the adventure.
At one point the trail forks.  This is the beginning of the ascent. From that point, is all up to the footbridge.
The trail is mostly shaded and surrounded by big boulders, fallen logs, and small water streams.
Once some elevation is gained, you can see that you are surrounded by granite.  In fact, you are in a canyon formed by the river.
Paying attention to the flora and fauna brought some surprises.
My husband even saw a yellow and black snake.  Thankfully, I didn't see it.
Now, this is going to be confession time.  The uphill hike wasn't easy for me.  I huffed, puffed, and stopped like a million times.  It wasn't simple to find a spot to rest when there are hundreds of people going up at the same time.
But, I breathed and took my time.  I was enjoying all the beauty around me.
That is why I felt relieved when we reached the footbridge.  From here, I got my first sight of the fall.
The view in the other direction was spectacular too.
Hiking to the Base of Vernal Fall
I rested for a little bit and my husband pushed me to get closer to the fall.  I kept going.  Things got a little bit easier in terms of steepness.  After several steps, I heard a loud thunder sound.  It was the waterfall hitting the rocks.  That was the push I needed.
After making a curve, I started to see the top of the fall.  People were just praising the scene.  All I could hear was: "OMG guys! This is so cool" or "There it is. We made it."
The trail turned into stairs. And, I mean stairs next to a cliff, no handrail, no nothing.  Well, I freaked out a little bit (I am not that in love with heights) but kept pushing. At least, the stairs weren't wet because we visited during the low flow season.
For some reason, all the fear and tiredness disappeared when I was able to stand in front of the falls.
I proceeded to take a good look at all the little details.
We decided to get off the trail to a green area located to the right of the fall.  I am not sure if this is possible during high flow season.  The area is full of big boulders and mud.  People picnic and stand over the rocks.
When I looked back, I was surprised to see how high we were.
It is not that difficult to get close to the fall. The water kept changing its pattern due to the wind.  That is why we got soaked.  The mist felt so great on that hot day. Plus, it felt so surreal to be so close to this nature sight.  You feel so small when you are in front of such great power.
We stayed a little bit more than an hour around the waterfall.
Hiking to the Top of Vernal Fall
Reaching the top of Vernal Fall requires climbing a steep set of stairs.  Luckily, for scaredy cats like me, there are rails on this part of the trail.  
As you ascend, you will be rewarded with even more gorgeous views of the fall.  Once at the top, you will see the Merced River running at full force and plunging to create the fall.
Hiking to Nevada Fall
Walking an additional 1.5 mile will take you to Nevada Fall.  Once again, you can get close to the fall and not walk to the top if you feel this is too strenuous.  The views are lovely one way or another.
The plus is that the crowds thin once you leave behind Vernal Fall.  You will have more quietness to absorb the surroundings.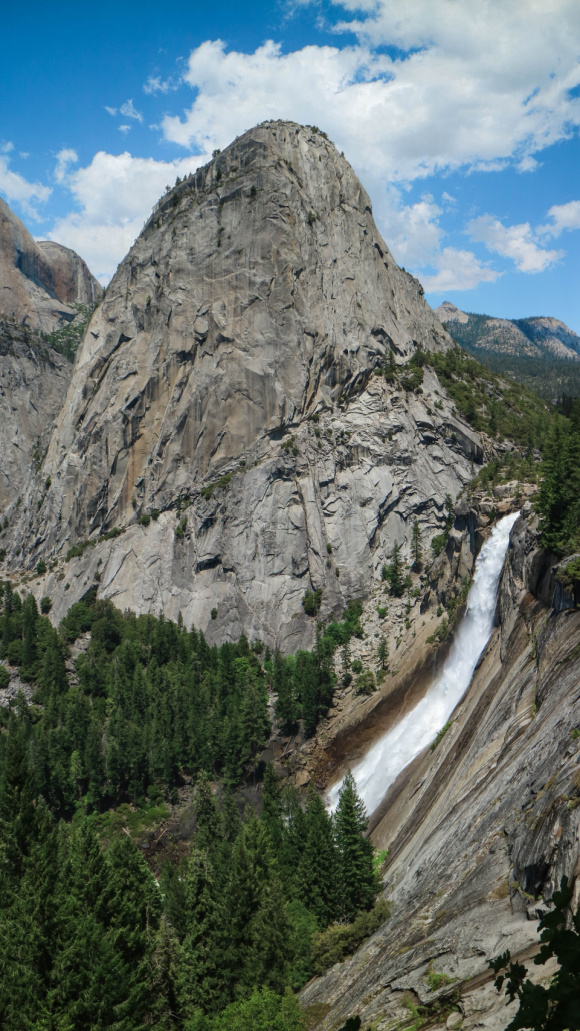 Mist Trail – Details
Wear appropriate clothes and shoes. Non-slippery shoes are essential even if you are visiting during the low flow season.
Protect yourself from the sun. The trail has a combination of shaded and exposed areas.  So, put that sunblock on.  Plus, wearing a hat, cap and glasses sound like a good idea.
Use the restroom before hitting the trail.  No worries if you do not do that.  There are washing facilities at different strategic points along the hike.
I advise doing this hike with a full belly.  You will need the energy.
Bring enough water and snacks on your day bag.  Again, there are potable water stations along the trail.
There is a food cart (selling hot dogs, sandwiches, ice cream, etc.) at the trailhead.  This is a great plus but I will not 100% count on it.  Come prepared with adequate food and snacks.
Pay attention to the trail when it turns into stairs.  As I mentioned, there is nothing protecting you from a fall (except for a rail in one particular area).  A lot of people were paying attention to their phones and cameras.  It is not cool to bump into people who are stopping out of the blue because they are not paying attention.
If you are hiking with kids, please, take care of them.  Again, I saw parents taking pictures while their kids felt lost standing in a narrow path next to a cliff.
We got off trail because, as I mentioned, we visited during low flow season.  Please take your precautions and use your judgment in determining if this is a safe activity depending on the time of the year you are visiting.  The area next to the fall is tricky and slippery.  I fell two times.
During spring, when the falls are at their maximum peak, there is no way to avoid getting wet.  Consider bringing a raincoat or waterproof poncho (single use ones can be found for cheap at convenience stores).  
Along the same line, bring something to protect your electronics.  I have seen people using a plastic bag.
Do not get into the water streams.  This is DANGEROUS.
Protect (and do not feed) wildlife.  I saw people kicking or hitting (with a stick) squirrels.  I do not think this is acceptable behavior.
Follow park rules and rangers' instructions.
_____
The walk back went smoothly except for some burn in the calves.  Ohh, but we were on such a high mood after standing next to that fall.  I can say it was the highlight of the trip.  After many weeks, we are still talking about the experience.  Therefore, I want to encourage you to give this phenomenal hike a try!
More of Yosemite National Park
Exploring the Tioga Road: Yosemite's High Country
More of the Area
Things to Do in Kings Canyon National Park
Have you done the Mist Trail? If not, is it on your bucket list?