What and Where to Eat in Budapest
I am not sure if this is a secret or a well-known fact: the food in Hungary is delicious!
I read several food related articles before my first visit to the country and found them spot on.  We found freshness, uniqueness and flavor.  To sweeten the deal, we felt the prices were modest for the amount and type of food we were getting.
This post aims to familiarize the reader with the food you will find on the streets of Budapest. Please, keep in mind the following:
By no means this is a comprehensive article about Hungarian food
Some of the dishes or drinks presented may not be "typical" Hungarian at all
This is a long article
There are tons of food pictures in here. You may feel (very) hungry while or after reading this!
So, let cut the chase and start talking about some food.  Shall we?
Breakfast
In Budapest, breakfast is a no brainer.  For what I learned, Hungarian enjoys large breakfasts consisting of a variety of breads, cheeses, ham, salami, mortadella, liver pate and head cheese.  You will have no problem finding eggs cooked to order and served with sausage, mustard and veggies.
On the lighter side, you can opt for coffee and a pastry.  Or, you can go with muesli, jam and fruit (oh so good).
In addition, there are a lot of coffee shops offering a variety of sandwiches, cakes and others sweets.  Hey, sometimes you need to rest your feel and connect to the Wi-Fi network.
Main Courses
Before discussing the dishes, it is important to understand paprika is Hungary's national spice.  It is obtained by grinding the air-dried fruit of the Capsicum annuum (long red chili, several varieties are used). Therefore, a lot of dishes in the country are seasoned with or based on this spice.
Goulash is a soup or stew of meat and vegetables, seasoned with paprika and other spices.  Several countries in Central and Eastern Europe prepare goulash too.  But, the dish is attributed to the Kingdom of Hungary which thrived during medieval times.
Goulash is one of those things you can eat over and over again (my husband is obsessed with it).  I suggest trying it in its many forms.
Try it as a soup (starter or main)…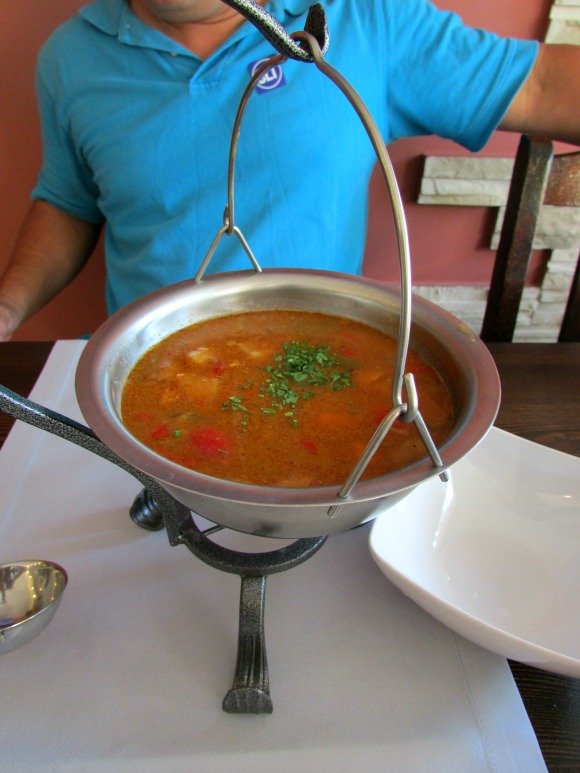 Or, try it as a stew with dumplings.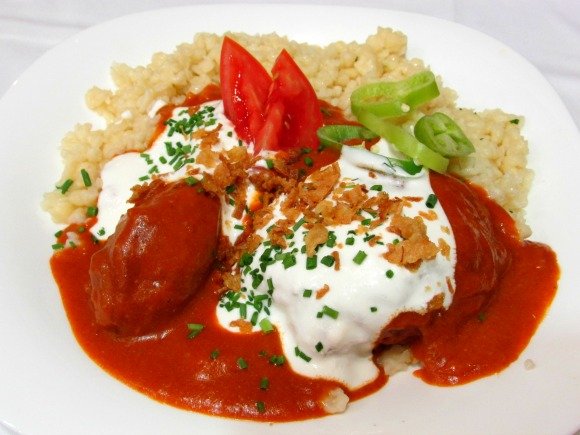 My husband tried the venison version too.
There are many more variations of this stew.  If you want to learn more, I suggest you start by reading the Wikipedia article about the dish.
Another popular dish is Chicken Paprikash. The chicken is served with a sauce made of sweet paprika and cream).  This one can be called an obsession too.
The stuffed cabbage (ground meat, rice and spices are used for the filling) is good too.
I love duck, so, I was happy to discover it is featured on many dishes in Budapest.  One night, I had a pan- roasted duck breast served with sweet potato puree and broccoli.  It was hard not to eat something like this every single day.
Hungarians are very proud of their sausages, salamis and cold cuts.  Towns in the country are well known by the quality of their sausages.  They even have a sausage made of horse meat.
You can sample the sausages in stands located all over the city.  What is better, go straight to the Great Market Hall to get a sampler of 10 to 12 varieties (it includes bacon and fried pork rinds). And, do not forget to buy salami in the duty free areas of the airport.
While in Hungary, there are opportunities to try Mangalica pig products.  Mangalica is a Hungarian breed of domestic pig and they are characterized by having long, curly hair.  Their meat has been described as the Kobe beef or pork.
Street Food
The great thing about Budapest is that you do not have to eat at a restaurant to eat well.  The city is filled with stands and carts selling delicious food.
While walking around, we saw places selling everything from sausages to a complete meal composed of a protein, a starch and a side. Plus, the prices in these places are (usually) lower than in a restaurant.  As a rule, the farther you go from the river, the cheaper the food gets.
If you want to stay in the Hungarian realm, you have to try Langos, a deep-fried flatbread. It is traditionally topped with sour cream and cheese or rubbed with garlic or garlic butter.
Of course, I opted for a less traditional Langos and ended up with a monster topped with 8 (or more) ingredients).  The combination of flavors is endless (literarily).
By the way, Langos have sweet versions too.  Do you understand better why I like Hungarian food so much?
And then, there is Kolbice.  Not sure who come up with this idea but I love that guy or gal. They consist of a whole wheat bread cone filled with small sausages, sauerkraut and cheese sausage.  My husband ordered one with six sausages (two duck, two pork, two beef).  I wasn't sold on the concept when I saw it for the first time but I was hooked the minute I tried it.  It was so good!
International Food
I added this section because I want to make a point about Budapest being a city with a diverse culinary extent.  You can find food from all over the world on its many corners.
Popular places to eat include Andrassy Avenue, Vaci Street, the area surrounding St. Stephens Basilica and the area facing the Danube.
There are great restaurants and establishments on those places but I found the eateries on the Jewish Quarter more interesting. For example, on Kazinczy Street you will find Mexican, Thai and Japanese restaurants.  I felt like I can move to the area!
In addition, the area is famous for ruin pubs like Szimpla Kert.
The street has its own food garden too.  It gets very lively at night.
Raday and Kirali streets offer the same experience (lots of restaurants, great food and ambience).
I cannot talk about the food in the city without mentioning the kabob establishments.  They are disseminated throughout the city and offer cheap, tasty and filling food.
Sweets
This is an area that needs its own section.  You can survive in Budapest eating sweets all day.  Sounds wrong but it is true.  The variety of dessert reminiscing dishes is mind blowing.
The city has a strong café culture.  Powerhouses such as Café Gerbeaud and Café New York have been opened for more than a century.  As a result, the selection of cakes, pastries and marzipan is extensive. I think you will need a year to try all the scrumptious offering on these cafes.
We visited Ruszwurm (in operation since 1827) and ordered the Dobos Torta (sponge cake layered with chocolate and glazed with caramel and nuts) and the Cream Cake. I know I am not going to be popular for what I am going to say next but the cakes from this place were just fine.  Nothing spectacular (but I am biased since my husband is a baker).
In a traditional restaurant, we had the Gundel palacsinta, a crepe filled with ground walnuts, raisin, candied orange peel, cinnamon, and rum filling, served flambéed in dark chocolate sauce made with egg yolks, heavy cream, and cocoa.
Kürtőskalács (stove cake or chimney cake) was one of the specialties I wanted to try the most.   I saw some videos on how to they are prepared before visiting the country.  A piece of dough, roller over a cylinder, is cooked over an open fire and is considered Hungary's oldest pastry.  Once it is cooked, it is dusted with sugar, nuts or cocoa powder.  My favorite way to eat is with caramelized sugar.
Strudel and poppy seed rolls are all over the city too.
The rose shaped gelatos from Gelarto Rosa attract big crowds.  The flavors are good and very reminiscent of the actual fruit, spice or nut (which talks about their freshness).  Having said that, I would not make a long line to get one (since we are discussing the amount of sweets that can be found in Budapest).
That is not all.  I do not have space in here to describe the chestnut based desserts, tarts, sponge cafes, cookies, candies, jams, jellies, sweet dumplings and the delicacies inherited from the Austro-Hungarian empire.  You get the idea.  People with a sweet tooth will feel on cloud nine.
What is you favorite Hungarian dish? What you would like to try?
Pin it for later?