After graduating from college, Elana Karp taught second graders in Harlem with the Teach for America program.  During that time, she discovered how little kids (and parents) in low-income communities knew about food and nutrition.
Once she fulfilled her two year commitment with the organization, she completed a Master degree in Childhood Education and continued teaching children (and families) about cooking and nutrition.
But, Elana felt she lacked the culinary base to continue doing the work she loved.  In order to take her skills and business to next level, she decided to enroll on a short cooking course in Le Cordon Blue Paris.  In a matter of days, Elana got the "this is it" feeling.  She decided she wanted to cook for life.  She ended up graduating with a chef's degree.
While studying in Paris, Elana explored various food establishments, hosted pop up dinners with classmates, and cooked for the Australian Ambassador to France at a major wine and food event. She returned home ready to share her experience and knowledge. Back home in New York, Elana developed a school-based food education program and culinary camp for children. In her spare time she catered, offered private chef services to select clientele, and blogged.
Life took another massive turn the day Chef Elana read in the New York Times an article about Plated, a meal subscription service company that was taking by storm their industry.  After finishing the story, she decided she had to work at the company.  So, she decided to e-mail one of the co-founders.
The rest is history.  Josh, one of the co-founders responded the e-mail and Chef Elana ended up being the VP of Culinary for the Company.
What is Plated?
Plated is a weekly box of fresh and seasonal ingredients, pre-portioned for the recipes you choose.
Basically, you decide what you want to eat, the ingredients are delivered to your house with a recipe card and you cook a meal with whoever wants to join.
Once you sign in, you can add / swap recipes and decide on a delivery schedule.
What makes Plated unique?
Chef Elana oversees the entire menu process, craft new recipes weekly and works directly with farmers and fishermen.  She believes food should be easy to make, delicious to eat and is best enjoyed when shared. In addition to the care that is put into developing a recipe and delivering only fresh ingredients, Plated provides the following advantages:
Antibiotic-free meats
Sustainable seafood
Seasonal products
100% recyclable materials (ex,. box)
Pre-portioned ingredients.  Use only what you need.
Exposition to new cooking techniques and cultures
Sample Meals
Here is an example of the recipes developed by Chef Alana.
Baby Gem Salad with Watermelon Radishes and Warm Panko-Crusted Goat Cheese
Roasted Quail with Balsamic Quince and Smashed Potatoes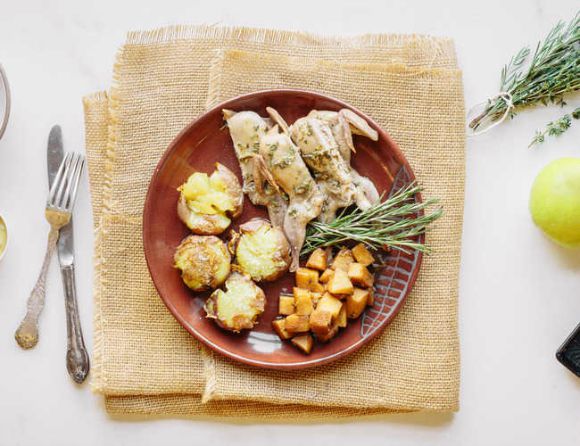 Seared Salmon with Winter Citrus Salad
Plated is On the Road!
The company recently finished transforming an Airstream camping trailer into a full-on gourmet kitchen. Why? Because the trailer is going into a nine-city campaign where members of the public can step inside, meet the company's executive chef, learn about food and eat (yeah!).
This 5,000 miles roadtrip called "Road to Discovery" aims to help people in the United States to eat better. The trip has already started (San Francisco and Los Angeles) but there are plenty of opportunities to attend one of their stops.
Dallas (9/5-9/6) – West Village Shopping Center
Austin (9/12-9/13) – The Domain
Miami (9/19-9/20) – Los Olas Blvd
Chicago (9/26-9/27) – Tribune Plaza
Washington, D.C. (10/3-10/4) – M Street Lot
Boston (10/10-10/11) – Harvard Square
New York (10/16-10/18)– Food and Wine Festival
I had the opportunity to meet Chef Alana and members of Plated's crew at the Los Angeles Food & Wine Festival.  Therefore, I can give you a good idea of what can be experienced once the trailer makes it to a city close to you.
Coffee Station
In Los Angeles, I had the opportunity to learn about coffee with 2014 US Barista Champ, Laila Ghambari.  After Laila went over some very interesting information, it was time to try one of the espressos (from Intelligentsia).
Spice Station
Inside the trailer, there was an opportunity to create a customized taste and spice profile using a short quiz.  One your spice personality was determined, a tin with that spice was given to you.  The taste profile was useful in determining what recipes from the company appeal more to you.
Tasting Station
You were able to taste different sauces including fruit chutney, chimichurri and tahini.  I had to try them all. They were delicious.
Cooking Demonstrations
Chef Alana herself was in charge of preparing some easy but flavorful recipes.  One demonstration was given by a local chef (Sara of Madcapra , a falafel shop in Downtown LA).  Stops on other cities will include guest chefs too.
Interior Design Advice
There was an opportunity to create your own tablescape with expert interior designers.
Music
While walking around the trailer and surrounding areas, music from one of six exclusive Plated Pandora stations was playing.
Lounge
Each stop includes a nice area to sit and enjoy all the samples provided to visitors.
Sweepstakes
If you want to win a month of Plated, take a photo in or around the trailer and tag it with #platedroadtrip and #platedsweeps.  Three winners will be selected at the end of the roadtrip.
More Details
Visit Plated website for more details about their services and menus: www.plated.com
Find more information about the tour here: http://roadtodiscovery.plated.com/
Many thanks to Plated an M Booth PR for inviting me to be a part of the road trip!
Sample meals photos were taken from the Plated website.
_______
This post is part of Wordless Wednesdays at image-in-ing, Wordless Wednesday at Oh My Heartsie Girl, Wednesdays Wanderlust at My Brown Paper Packages, Travel Photo Thursday at Budget Travelers Sandbox , Photo Friday at Pierced Wonderings,  Weekend Travel Inspiration at Reflections Enroute, The Weekly Postcard at Travel Notes and Beyond, Travel Tuesday at Bumble Bee Mum and Monday Escapes at Packing My Suitcase. Pay a visit to these wonderful blogs!