Are you a huge camping and outdoor lover?  Well, me too! Here I review the best camping blankets that are a must for your next adventure.
My fondness for camping is growing with time.
As I discover new campsites and meet more like-minded people (through Facebook groups, Instagram or YouTube), I start to devise plans on how to spend more time outdoors.  
So far, things are going well.  It has been super fun to tap into the possibilities.  Even the options close to home are mind-blowing.
We have perfected the science of packing for a camping trip.  I want to highlight an accessory that has come in handy a lot of times. I am referring to the humble camping blanket.
In this article, I am sharing information about the best blankets for camping.
Please note: This article contains affiliate links, meaning I may earn a commission if you make a purchase by clicking a link. Of course, this comes at no extra cost to you and helps me to keep offering solid information to readers.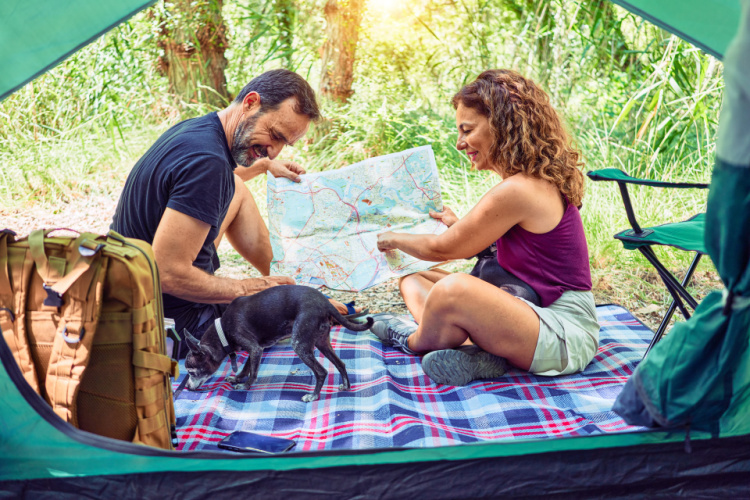 Best Camping Blankets At A Glance
If you do not have time to read the entire article, here are the top camping blankets at a glance.  Choosing a camping blanket is a personal thing. Because of that, I have chosen to include in this article a wide variety of options.  
Why Do You Need a Camping Blanket?
When it comes to a camping blanket, people are looking for an item that can protect them from the cold weather.  In other words, and I know there are other important elements to take into consideration as well, people are looking for the warmest camping blanket.
Now, if you have a good sleeping bag, why do you need a blanket at all? 
Well, based on my experience, a sleeping bag, and a blanket have different purposes.  Or, they can be seen as complementary items.
My husband and I have zero-degree sleeping bags.  On top of those, we travel with one or two blankets.  The sleeping bags may be the core items that protect us while we sleep but the blankets can help us to add an additional layer of warmth if necessary.  Plus, they can be used as an extra cushion over the mattress.
On hot summer nights, a blanket may work better than a sleeping bag.
Also, it is more viable to use a blanket while in front of a campfire, walking around during chilly mornings, or while eating breakfast.  
Camping blankets can be used for picnics, the beach, or other outdoor settings.
In short, they are extremely versatile gear.  After many epic fails, I am not leaving the house without a blanket.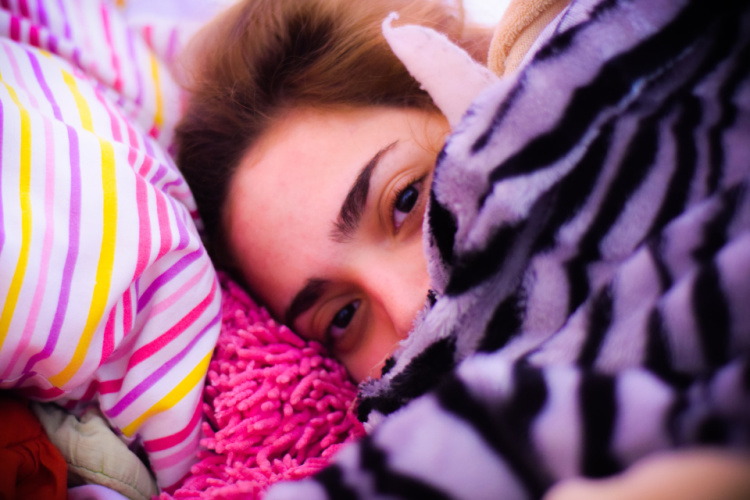 Which Are the Best Camping Blankets?
Even though the term "best" is subjective and personal,  I will provide my opinion on what factors I take into consideration when choosing a good camping blanket.
Fabric or Material – As mentioned above, many campers are looking for a warm camping blanket.  Therefore, pay close attention to the manufacturing material.  Options include wool camping blankets, fleece camping blankets, down camping blankets, insulated camping blankets, thermal blankets or blankets created using a mix of synthetic materials.
To Heat or Not to Heat – Some people opt to take heated or electric blankets on camping trips.  This may be an option if you are one of those people that are always cold.
Waterproof – Dealing with wet fabric is kind of a pain.  And, if things do not properly dry, well, the smell is not going to be pleasant.  You can avoid these kinds of situations by choosing a waterproof camping blanket.
Fire Retardant – It is a good idea to choose a blanket resistant to flames and hot ash.
Lightness and Portability – Consider buying a camping blanket that is easy to fold/roll, takes minimum space, and comes with a bag to carry.
<Size – Most camping blankets can be used for one or two people. It is up to you to choose an individual or group size.
Color – This is a less important factor on the list.  However, I would choose a dark color over a light color.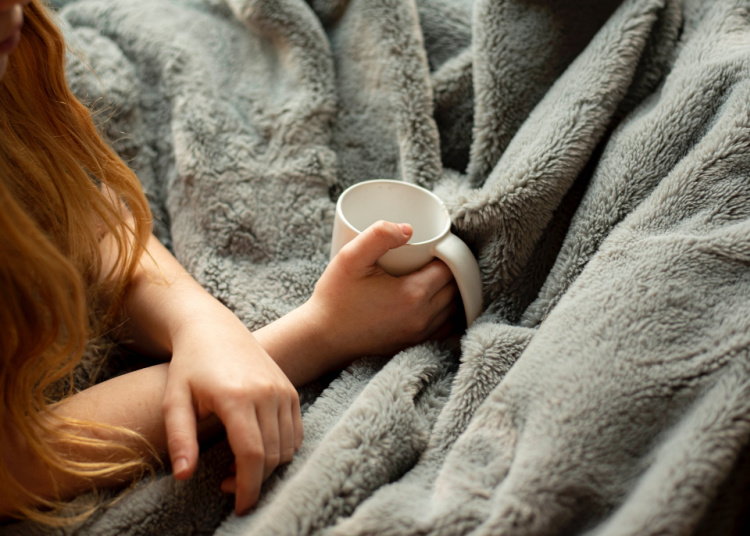 Best Camping Blanket – Top Pick
My top pick is the Down Under Outdoors Extra Thick Quilted Fleece Camping Blanket.
This product is one of the best warm blankets for camping and has other desirable features.
This blanket keeps you warm since it is quilted in a way where the layers cannot slide.  You may have noticed that after washing a regular quilt several times, the fluffy, internal material starts to move or bulk in certain areas.  Well, that will not happen to this blanket.
And, even though this is a quilted blanket, it is not bulky.  It can be easily folded and stored on the included pouch.  What is more, this is a waterproof product.  You do not have to worry if you are camping near a beach, lake, or river.
Another cool feature is that the manufacturer offers a lifetime warranty.  If something happens to the blanket, you can get a replacement free of charge.  That says a lot about the quality of this product.
Pros
Keeps You Warm
Comfortable (Quilted and Padded)
Waterproof
Windproof
Machine Washable
Excellent Guarantee
3 Colors to Choose From
Cons
Best Camping Blankets
Here are my top recommendations when it comes to camping blankets.
Fleece Camping Blanket
My second pick is the Oceas Warm Fleece Camping Blanket.  
This was not my first choice when it comes to camping blankets because I gave more importance to the warmth factor.  I believe the Down Under Outdoors is a better cold weather camping blanket than the Oceas.
However, the Oceas Camping Blanket may be the winner if we take into consideration sturdiness and durability.  This product is design to deliver under all weather conditions.  It is waterproof, windproof, and sand proof.  Therefore, it is multi-use (it works wonders at the beach, park, festival, it can even be used as a dog camping blanket).
The blanket fits up to 3 adults or a family consisting of two adults and two kids.  It can be easily folded and kept in shape with an attached belt.  It comes with a carry bag with a handle.
Pros
Cozy (Fleece Layer)
Waterproof
Windproof
Sand Proof
Large (Fits Up to 3 Adults)
Machine Washable
3 Colors to Choose From
Cons
Brawntide manufactures excellent fleece blankets as well.  Check their best camping blankets here! 
Wool Camping Blanket
Wool is a natural material that has protected humans for hundreds of years. So, it makes sense to consider the Arcturus Wool Blanket for camping.  This may be the warmest camping blanket on the list.
This blanket is thick, military-grade, and built to last decades with the proper care.  Wool is not waterproof but will keep you warm even when wet.  Also, I like that hypoallergenic fibers are used on the material blend.  I tend to stay away from wool since I get an itchy reaction.  This does not happen with this blanket.
In addition, wool is a fire retardant material.  You get this important benefit in a safe way (without the need for chemicals).
Pros
Natural Wool
Large (Fits Up to 3 Adults)
Fire Retardant
Machine Washable
3 Colors to Choose From
Cons
Heavy (Weights 4.5 Pounds)
Not Waterproof (But Provides Warmth Even When Wet)
Some Shedding May Occur
EverOne also manufactures excellent military-grade, wool blankets.  Check out their best wool blankets for camping!
Down Camping Blanket or Camping Quilt
Even camping lovers like to transfer some homey perks to the outdoors.  And, one thing that screams comfort is a puffy, toasty blanket.
If you want to enjoy this pleasant feeling while on the road, I recommend the Get Out Gear Down Camping Blanket.  
This blanket has a nylon exterior and stocky interior that block the cold weather (up to 45 degrees Fahrenheit).  The materials provide insulation as well (the heat inside the blanket does not dissipate).  And, in some way, the manufacturer has been able to provide all these features while keeping the blanket weighing a pound. Isn't that amazing? It is easy to compress the piece for storage.
Moreover, the blanket is wearable! Yes, it is built to be used as a poncho if desired.  That means that you do not have to worry about a blanket falling off while you are walking, cooking, and cleaning.
Pros
Cozy (Quilted and Padded)
Light
Portable
Wearable
Water-Resistant
Machine Washable
6 Colors to Choose From
Cons
Higher Price Than Other Articles Recommended
Ultra-Plush Camping Blanket
Continuing with the comfort theme, those who want a soft and plush blanket should consider the Oceas Sherpa Camping Blanket.  
This blanket has a layer of sherpa, a type of fleece created to resemble sheep's wool.  This type of material is associated with indoor use.  However, the Oceas Blanket has a waterproof bottom that makes it a perfect camping throw blanket, campfire blanket, or sleeping blanket.
Having a blanket like this outdoors feels like pure luxury!
Pros
Cozy
Portable
Water Proof Bottom
Machine Washable
6 Colors to Choose From
Cons
Higher Price Than Other Articles Recommended
Camping Heated Blanket
Taking a heated blanket for camping has become a popular option.
If you want to jump into this wagon, the Vremi Electric Camping Blanket is a good option.  
This particular blanket is made of soft flannel fleece.  On the inside, a network of thin wires connects to a detachable power cord.  An included remote, allows you to control the temperature (85-110 degrees Fahrenheit) and the amount of time it is on.
Believe it or not, this blanket is washing machine and dryer friendly.  You do not have to worry about not being able to keep this item clean.
The big negative is that the blanket has to be connected to power in order to work.  This may not be a problem if your campsite has a power outlet or if you are traveling in a trailer/RV.
There are three versions of this blanket.
Electric Throw Blanket with Dual Foot Pockets
Electric Blanket Standard Twin (For Two People)
Pros
Cozy
Portable
Machine Washable
Cons
Needs to Be Connected to Work
A Little Bit on the Heavy Side (4 Pounds)
Not Waterproof
Higher Price Than Other Articles Recommended
Bonus: Electric Car Blanket
The product I am going to highlight in this section may not completely fit within the camping blanket category.  It is more like a car accessory that can be used for camping.
The Stalwart Electric Car Blanket can be connected to the cigarette lighter socket. With the correct cable, you can connect the blanket to a USB Port.
In theory, with the proper cable or adapter, you can connect the Vremi Electric Camping Blanket to a car too.  However, the Stalwart Electric Car Blanket is designed to be gentle on the car's battery.
Also, the Stalwart option is a third of the price of the Vremi option.  That is a big difference.  If you want to try a camping electric blanket, you may want to start with the most affordable option.
Keep in mind the Stalwart Electric Blanket does not come with a control (one temperature only). Again, the blanket needs to be connected to work.
Pros
Good Price
Cozy
Light (2 Pounds)
Portable (Includes Storage Case)
Cons
Needs to Be Connected to Work
Not Waterproof
Non-Machine Washable
Other Electric Camping Blanket Options
I have provided two options for those interested in acquiring electric blankets for camping. Now, I have mentioned these need to be connected to some source of power to work.
I have gotten questions about battery operated heated blankets, and, even, camping solar blankets.  These products do exist but I have to say they are rare.  As an example, Eddie Bauer, Cozee, and Serta sell battery powered blankets.  The thing with these products is that they can cost a lot and the reviews are mixed.
On a personal level, I do not feel comfortable recommending these products.  I believe I have provided enough functional and versatile products that can be acquired at affordable prices.
Mexican Camping Blanket
Serapes, also known as Baja blankets or Mexican blankets, are pretty popular in Southern California.  The style and material of these blankets are used in jackets, sweatshirts, bags, and backpacks too. 
Blankets like the ones manufactured by Benevolence LA are woven on wooden looms by artisans.  They are extremely warm and are often used to cover beds (or to accent other rooms on a house or as beach throw blankets).
They are not waterproof but are durable.  It is important to notice that these are made of recycled materials.  Once a piece reaches end of life, it can be used to create a totally new piece. In addition, each piece is tied to a cause (clean water, hunger, human trafficking). Buying a piece will help somebody in need.
Pros
Durable
Stylish
Eco-Friendly (Made of Recycled Materials)
Machine Washable
10 Colors to Choose From
Each Piece Tied to a Charitable Cause
Cons
Not Waterproof
Individual Piece (For One Person, Maybe Two)
Vintage Camping Blanket
I am a big fan of vintage looks.  And, if on top of that things have an adorable pattern, well, I am smitten.
That is why I could not resist recommending the red checkered Three Donkeys Extra Large Beach Picnic Blanket.   The pattern of this blanket brings to mind tons of good vibes.  It reminds me of dinners, Vans sneakers, pajamas, fries served on a basket, and even In-N-Out Burgers.
But, it is not all looks.  This large beach blanket fits 6-8 adults, is made of three layers (including durable nylon and a plushy sponge), and it is easy to carry around (includes a carry handle).  On top of that, it is sand-proof, waterproof, and repels dirt.
Of course, this great option can be used for all types of outdoor adventures and even for photoshoots.
Pros
Large Size
Sand Proof
Waterproof Bottom
Easy Foldable
Padded
Machine Washable
Cons
May Not Provide as Much Warmth as Other Recommended Products
Pocket Camping Blanket
I am providing an option for those who want to carry their camping blankets in a purse, backpack, luggage, or pocket.  Keep in mind this is a no-frills option.  It may cover some of your needs but not all of them.
The BEARZ Outdoor Pocket Blanket, when in its included pouch, fits in the palm of your hand.  When extended, it fits 2 people and up to 4 people in a sitting position.  The blanket is easy to fold and store.  The manufacturer states it can be used as a tarp, rain cover, or water barrier since it is completely waterproof.
This blanket is on the smaller side but I am sure it will fit the needs of several outdoor enthusiasts.
Pros
Portable
Light
Waterproof
Sand Proof
6 Colors to Choose From
Cons
Minimum Protection from Cold Weather
No Padding
Hand Wash Only
Well, friends, it has been fun to deep dive into the world of camping blankets.
Now, your turn! What is the best camping blanket?
Pin for later!