I can say I have been to Wales. Don't get confused.  I never said I went to the country which is part of the United Kingdom.
During my last road trip along the Californian coast, I stopped by a small town named Cambria.  Excited to find a town with a name not preceded by "San" or "Santa", I started to wonder about the origin of such a spectacular word.
Then, the speckle of town surprised me once again.  Cambria is the Latinized form of the Welsh word Cymru which means Wales.  No wonder why the town is exalted by its old-world appeals.
The truth is I was surprised by more than the town's name origin.  I can talk nonstop about all the little details that make this town special to me.  However, I don't want to keep you awake past midnight.  Here are four reasons making Cambria worth a long stop (or stay).
Moonstone Beach
For some reason, this part of the Central Coast does not get a lot of attention.  I visited during summer and the beach was virtually empty.  The good news is that this is the place to go if you want to have a beach to yourself.  You can get crazy playing with the wild waves, spying birds nesting on the bluffs and trying to find moonstones.  The crisp and clean air caresses your face while you take a look at the candy colored cottages lining the beach.  For those who do not want to risk getting wet even one inch of their bodies, there is a mile long boardwalk ideal to enjoy wide beach and mountain views.
The Wildlife
Even animals feel relaxed in this gorgeous looking area.  A big number of squirrels (10 to 15) come off their hiding holes to greet you while you are traversing the boardwalk.  Next to the beach, harbor seals sunbath over large rocks.  They seem to be in peace with curious humans who approach them to take a better look.  Otters cuddle while floating in the frigid waters.  Even a falcon stands over the bluffs like he his patrolling the area a la Baywatch fashion.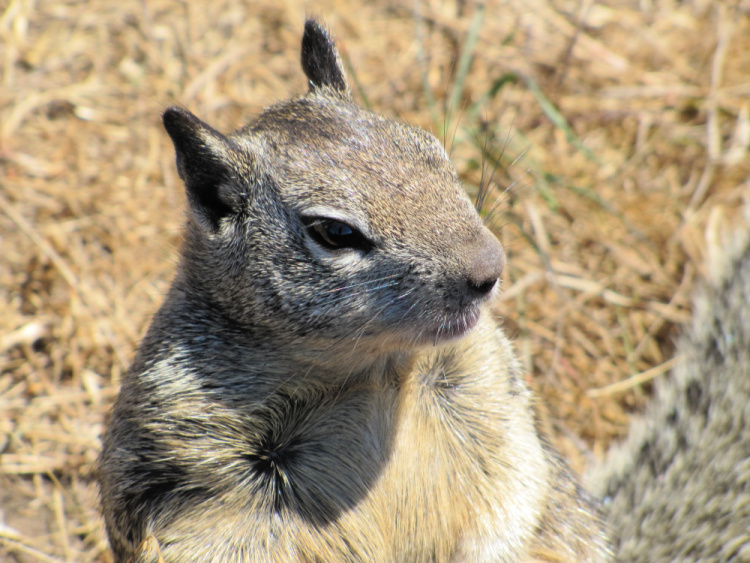 Nitt Witt Ridge
After seeing Hearst Castle, it is difficult to be surprised by any other residence.  Nevertheless, I couldn't stop laughing when I stood in front of Nitt Witt Ridge. Starting in 1928, a man called Arthur Harold Beale collected junk, trash and recycled goods to build his house.  For 51 years, he used cans, bottles, tires, tiles, car parts, shells, drift wood and even toilets to create an exuberant construction.  Today, the place can be described as abandoned (but it is still private property) and in a pretty helpless state of disrepair.  Ironically, the site is registered as a Historic Site.  Well, I don't know if I can describe it as historic or not.  I just know, I couldn't stop laughing after seeing all those toilets in the roof.
Cambria Village
The "action" in town can be found on Main Street.  Tons of shops offer the best work of artisans and artists on the area.  The place feels like a typical street in an European country. Old Victorian houses with gardens covered with flowers shelter antique shops, galleries, wineries, apothecaries and more.   There is not a chain store in sight.  Most of the goods sold are handmade.  There is even a gift shop auto proclaimed "fart zone".  I passed and heard a farting sound.  I discovered a motion detecting sensor used to activate the sound and later discovered the funny sign.  See why this place is unique?
Well, these are just some of the things that captivate my attention while visiting Cambria.
Have you visited Cambria? Let me know in the comments section below.