I am one of those persons who pay attention to road signs when driving around. That habit gets a little bit more intense when I am on a road trip.
After an unhealthy dose of fried artichokes near Castroville (so good!), we continued moving north along CA-1.
The gloomy skies started to open up just when I spotted the "Santa Cruz County Line" sign.
I felt beyond excited since I was officially on new territory.
Since I love colorful places, it was a must for me to stop by Capitola By-the-Sea.
The village presents an interesting mix of prettiness and history (more proof that California's beach towns rock).
Now, get ready to get a tour of this multicolored village
Things to Do in Capitola
Even though Capitola is small, you can spend half or full in town. There are plenty of things to see, do and eat. I encourage you to visit and make your own conclusions.
Visit the Wharf and the City Beach
Frederick A. Hihn, a German immigrant, acquired an area known as Soquel Landing (from a family who owned the land by a Mexican grant) and paid for the first wharf in 1857. The wharf was supposed to serve as an outlet for produce and lumber from the interior.
Today, the wharf is used for fishing, boat renting and other recreational activities. A walk around the structure is a necessity because of the views.
A walk around the structure is a necessity because of the views.
To one side, it is possible to admire the rocky, chalky cliffs that are so common in the Monterey Bay. Gorgeous houses hang from the cliffs with charm.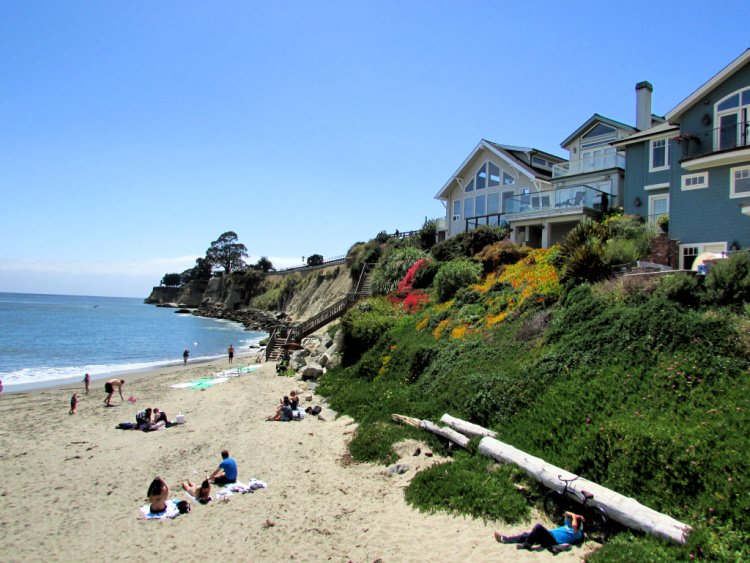 To the other side, you have Capitola's beach and town (which is a depression among the cliffs). This is where the views explode with color.
The beach is located to several restaurants, a grocery store and Esplanade Park (in case you do not want to station yourself in the sand).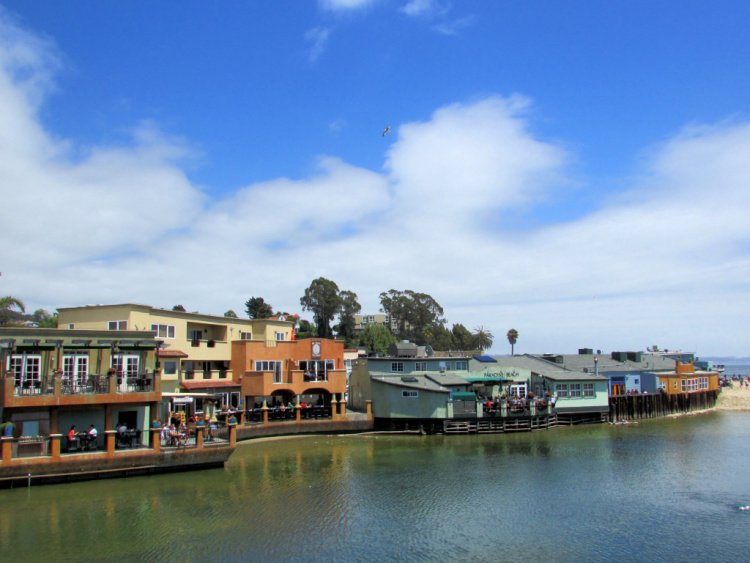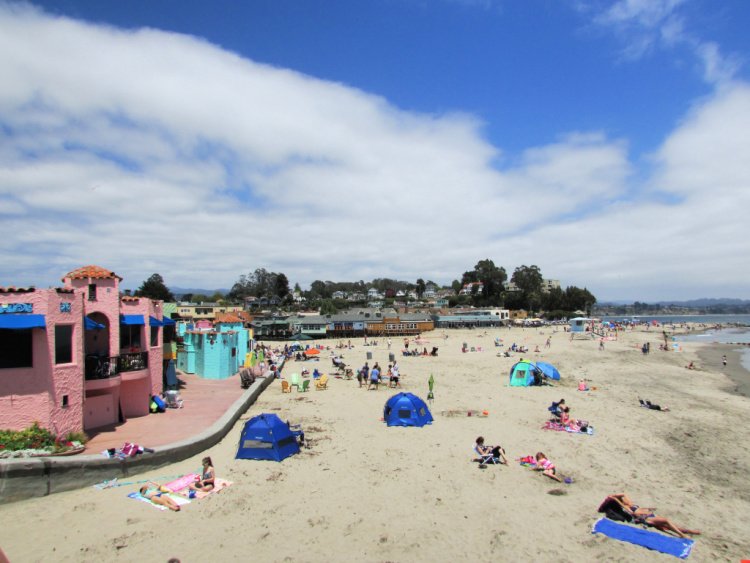 Do not miss The Venetian Court
In one of the previous photos, you probably noticed a row of colorful apartments. Almost everybody called then "The Venetians" and they happened to be one of the symbols of Capitola.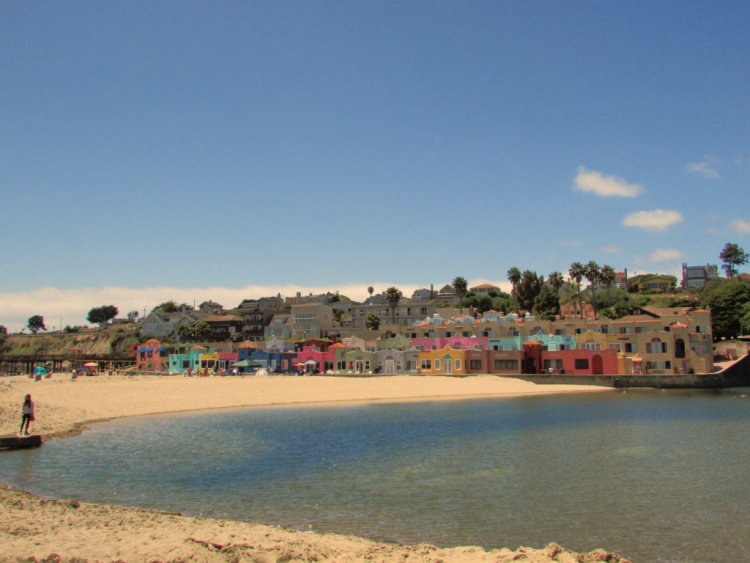 The historical references are confusing (at least to me). Some say the wharf wasn't as successful as Hinh wanted it to be. Others say he was just too ambitious (a businessman after all) and wanted to make more money of his property.
In 1869, he approved a ten-year lease agreement to Samuel Alonzo Hall (known for helping to establish the nearby town of Soquel). Hall wanted to farm the land but found himself letting beach visitors camp in his leased property.
His daughter convinced him to open a camp. After investing in sturdy tents and other amenities, he called the development Camp Capitola. It is believed Capitola refers to the main character of a book loved by Hall's daughter.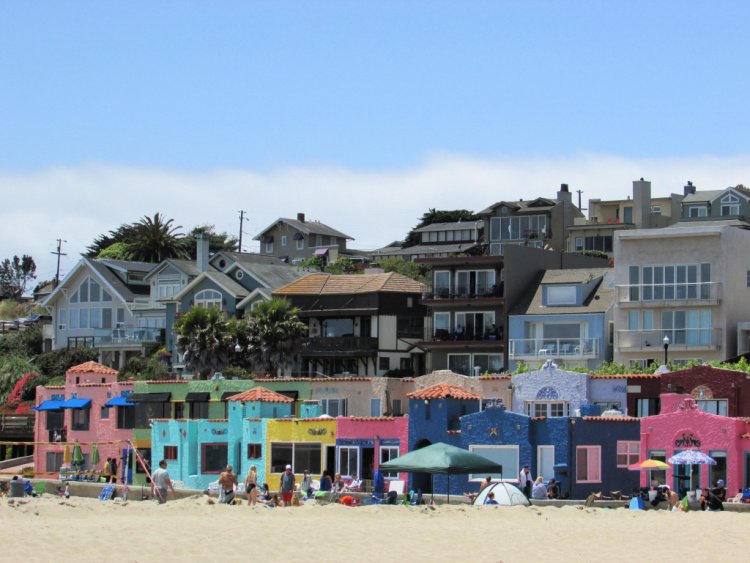 The Camp was a success. People from the interior kept coming to cool themselves during the summer.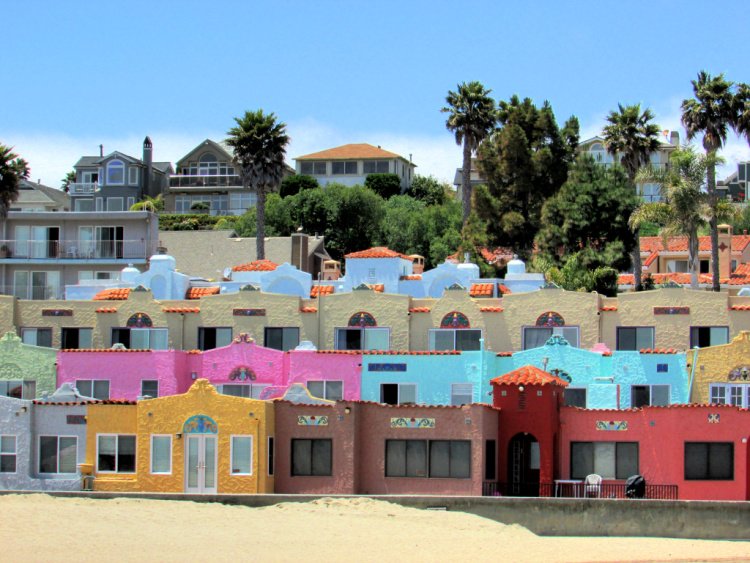 Once it was time to renew the lease, Hinh raised the price. Hall had to leave but Hihn kept exploding the land for tourism purposes.
There was some sort of hotel development while Hihn was still alive. However, construction of the Venetian Court, in the Mediterranean Revival, Spanish Colonial Revival, and Mission Revival architecture styles, began in 1924 and continued for several years.
They are inscribed in the National Register of Historic Places as one of the first condominium seaside developments in California (others claim it is the FIRST of such developments in the state).
The two rows of colorful units nearest to the beach are privately owned condos (many of which are available as vacation rentals by owner). The large brown building in the back row (nearest to the street) is now operated as the Capitola Venetian Hotel.
Since the structures are private property you cannot walk freely around. Pictures have to be taken from the beach, wharf or from other points.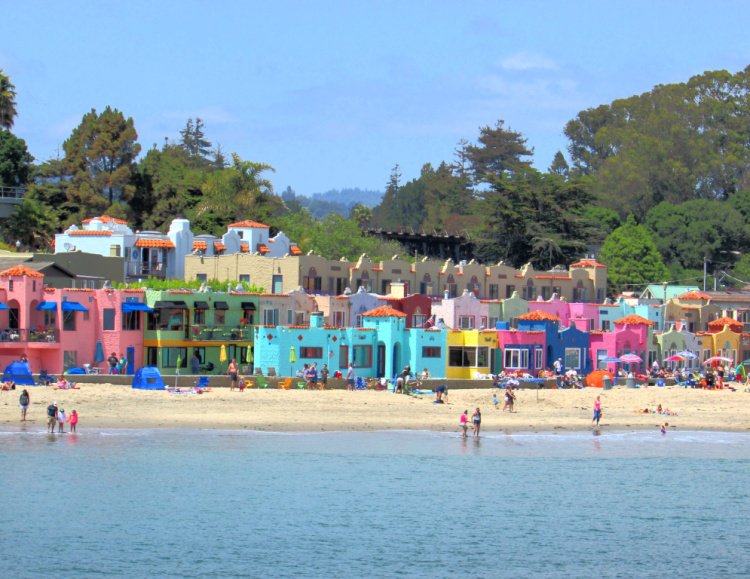 Check out the Soquel Creek
The Soquel Creek's headwaters are located in the Santa Cruz Mountains. It flows through Capitola before it empties in the Soquel Cove (in the Monterey Bay).
I have discussed at length Capitola's resort past. As you can imagine, people have built vacation houses along the stream.
These houses have more of a beach cottage feeling and come in bright colors too.
The most peculiar house is the one built to resemble a windmill.
A bridge, once used for a train, crosses the Soquel Creek. According to what I have read, the bridge can be crossed by pedestrians (sounds crazy, have you seen that altitude?).
An infamous restaurant called Shadowbrook is located next to the creek and can be reached via cable car.
Stroll The Village
The charm of Capitola goes back to its origins. Hinh made sure his property had a hint of his native Germany. He planted trees and gardens and built parks and walking paths.
When we got out of the main road and drove around town looking for a parking lot, my husband said: "Let's stay here all day."
That is how Capitola makes you feel. The town is so cute and alive that by instinct you want to stay there for a long time.
I recommend paying a visit to Lumen Gallery. There are hand-crafted jewelry, blown glass, ceramics, small paintings, mobiles, clocks and much more. Pay a visit. You are going to thank me later.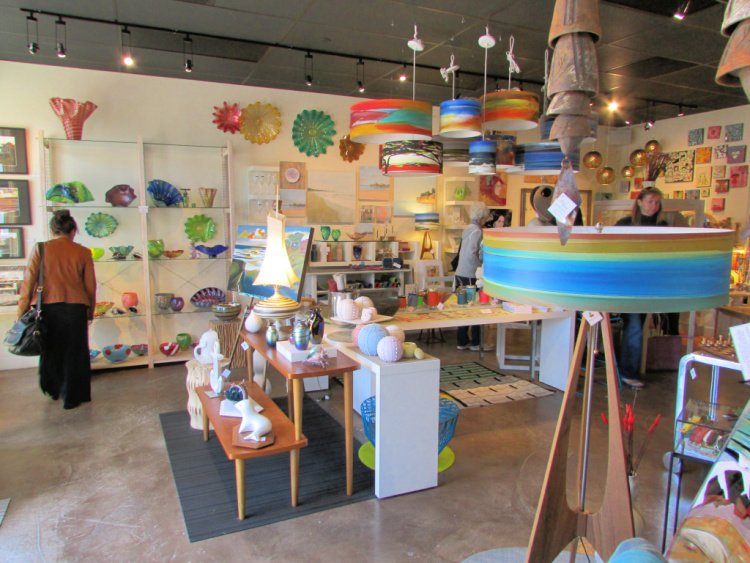 For more gallery hopping, you can stop by Art Inspired, Craft Gallery, Village Sea Glass and /or Gaia Earth Treasures.
Other unique stores are Capitola Seashells and Phoebe's.
If you are into clothes or accessories shopping, there are a lot of stores selling all sorts of goods with the characteristic hippie/surfer Santa Cruz vibe. If you want to exude that vibe, you can stop by Big Kahuna-Banana Jack, Surf N Shack, and Free to Ride Surf Shop.
Visit the Village Museum
History lovers can visit the Capitola Historical Museum, a lovely red shack highlighting historical artifacts and photos about the city. This year they have an exhibition about little-known facts of Capitola.
Opening times are Thursday to Sunday from 12:00 p.m. to 4:00 p.m.
Indulge in Some Wine Tasting
Santa Cruz County may not be associated with vineyards but let me remind you the Santa Cruz Mountains wine growing region has been recognized with its own appellation.
Therefore, Capitola is a nice place to taste local wines. However, you can find bottles from all over the world if that is your desire.
Armida Winery – This colorful tasting room located next to the Soquel Creek offers wines made with grapes planted in Sonoma County.
Capitola Wine Bar & Merchants – Cozy wine bar offering a wide selection of wines (by the glass or on flights), cheese/charcuterie plates and other gourmet items.
Cork & Fork – This place prides itself in curating the best wines of California. They have excellent reviews from the area's media. There is no doubt they know what they are doing. They serve small bites too.
Camp at New Brighton State Beach
If you enjoy camping, the New Brighton State Beach campsites are located over a bluff overlooking the Monterey Bay. It cannot get more scenic than that!
But, you do not need to camp here to enjoy the beach. Day use amenities include picnic areas, interpretative signs, exhibits, visitor's center, and junior ranger programs. Main services (restrooms, showers, potable water) are available.
From New Brighton State Beach, it is a short walk to Seacliff State Beach and its famous concrete ship. Yes, you read that right! The S.S. Palo Alto, a concrete ship, lies in a state of disrepair at the end of Seacliff's pier.
This is one of California's most bizarre attractions. Pay it a visit!
Read More: Seacliff State Beach and the Palo Alto
Shopping, Movies and More
I prefer to stay away from malls but recognize it may be handy to have them nearby. Capitola has its own mall full of big retail stores (Target, Macy's), supermarkets (Trader Joe's, Whole Foos, pharmacies, banks, and a movie theater. Some of these stores and services may be useful during your stay in town.
Attend an Event
Capitola has quite a busy community. A look at their local calendar will reveal a wide range of events planned for almost every weekend.
Bigger events include the Classic Car Show (June), Wharf to Wharf Race (July), Art & Wine Festival (September) and Begonia Festival (Labor Day Weekend).
Free concerts are offered during summer at Esplanade Park.
Capitola Restaurants
You would not go hungry in Capitola! Check out the following recommendation.
For breakfast, you cannot miss the scrumptious of Gayle's Bakery. They have a mind-blowing selection of pies, danishes, croissants, and cookies. They have on menu sandwiches, salads, soups, hot entrees, and roasted meats too.
Other breakfast options are Avenue Cafe and, in nearby Soquel, Pretty Good Advice and Sunrise Cafe.
For lunch and dinner, Shadowbrook, Sotola Bar & Grill, Carruso's, East End Gastropub and Roux Dat Cajun Creole are good options.
Those looking for affordable eats can consider Pizza My Heart, Mijo's Taqueria and Left Coast Sausage Worx.
Note: I was misled by Yelp several times while in Santa Cruz. Restaurants with nearly five start ended by leaving a lot to be desired. Therefore, research properly before visiting or ask locals for their recommendations.
Nearby Towns
Soquel – this small town, adjacent to Capitola (in theory, a census-designated place), has a center (The Village) full of antique shops, a brewery (Discretion Brewery), restaurants and cafes. Do not miss nearby-located, Bargetto Winery.
Santa Cruz – Santa Cruz is known around the world for its surfing culture, Boardwalk, Wharf, historic Mission and tantalizing beaches. You need several days to cover this city. I recommend doing a road trip to the county. Remember to include Capitola on your itinerary.
Moss Landing – Home to the Elkhorn Slough, a marine wildlife sanctuary. You can access the area through small cruises, kayaks and paddle boards.
Monterey – This city, located 40 miles from Capitola, is one of the best stops on any road trip along California. Since it served as California's capital, it is full of historical monuments. Others visit because of the Fisherman's Wharf, Monterey Bay Aquarium, and Cannery Row.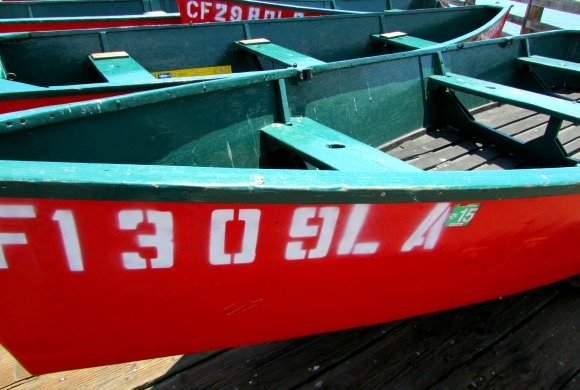 Details
Capitola is located 6 miles from Capitola, 35 miles from San Jose and 76 miles from San Francisco. San Jose has the closest, biggest airport in the area. A car rental is recommended if you intend to explore the area.
If you are accessing the town by car, use Bay Porter exit on CA-1 to go directly to the heart of town.
There are multiple public and private parking lots in town. Public lot charge per hour. A private lot may be cheaper if they charge a flat rate and you expect to be in town the entire day.
What do you think about the colors of Capitola? What are your recommendations for things to do in Capitola?
If you enjoyed this article, remember to share!
Pinned "Things to Do in Capitola" for later!