After almost 6 years in business, the husband and wife team behind Barsha, a popular wine tasting room located in Manhattan Beach, has expanded their South Bay offerings by opening a restaurant focused on North African influenced appetizers, entrees, desserts, and drinks.
Now opened in Hermosa Beach, Barsha, the restaurant (yes, same name) offers a unique menu full of bold flavors, spiciness, and tanginess.
Recently, I was invited to try a representative sample of the menu.  Here is everything you need to know about this new option in the neighborhood.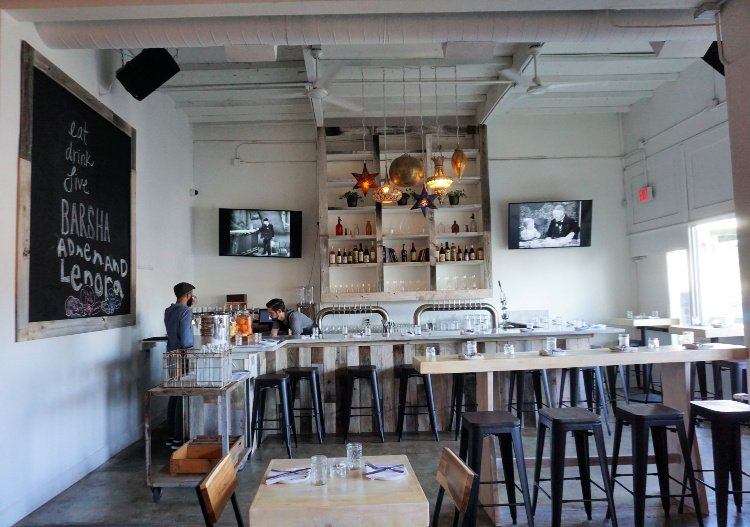 Food
Chef Lenora Marouani has worked in prestigious restaurants in places such as Las Vegas and Beverly Hills.  With her husband Adnen, a Tunisian native, she has traveled extensively through Europe and North Africa.
After working for others for several years, the duo decided to open their own business featuring Adnen's area of expertise: wine. Lenora worked on elevating the beverages with her distinctive take on food.  
Fast forward several years, the tables have turned.  The recently opened restaurant allows Leonora to display her culinary skills through an ample array of dishes.
The result is a mix of flavors that is difficult to find in the Los Angeles (and even Southern California) area.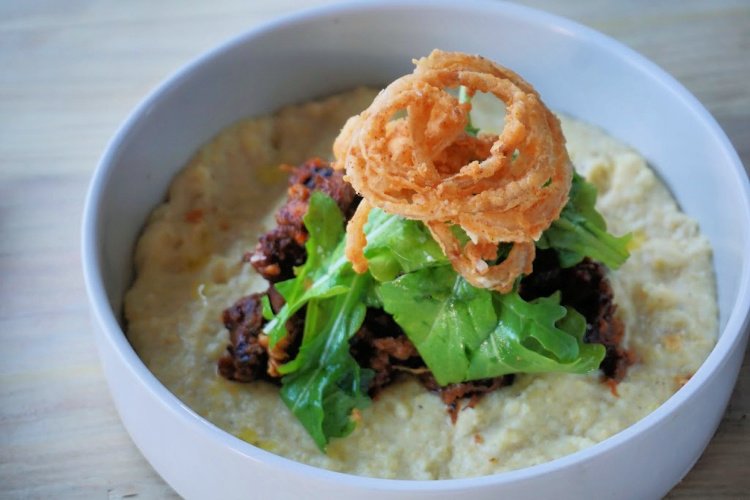 Here is what we tried at Barsha:
Hand of Fatima – This appetizer consists of hummus, harissa, pesto, tapenade, and olives served in a colorful dish in the form of a hand.  The dish is served with crunchy, warm bread.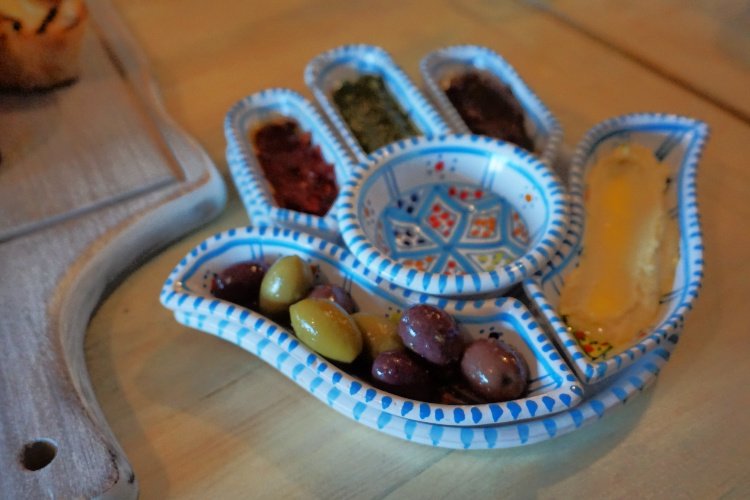 Chicken Liver Pate – A large chunk of house-made chicken liver pate is topped with Tunisian olive oil.  The pate is paired with black currant, stone fruit compote, pistachio, and crostini.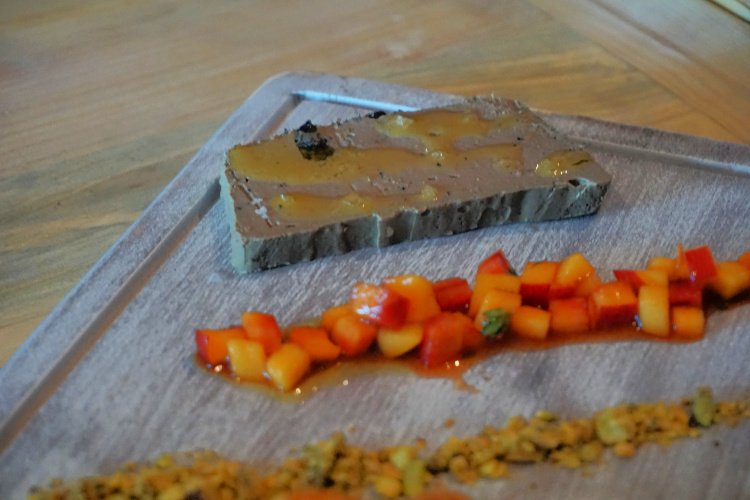 Barsha Arugula – This salad is prepared with caramelized onions, cucumber, feta cheese, spiced chickpeas, pomegranate seeds, and balsamic vinegar. I have tried similar combinations but this one is different due to the addition of caramelized onions and chickpeas.  The combinations of ingredients tasted very good.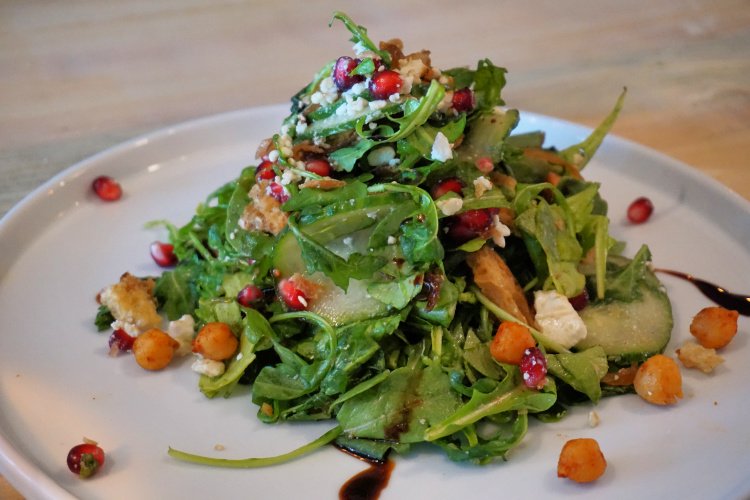 La Goulette Mussels – I love mussels and these were not the exception.  These ones were served in a tomato, caper and pilsner broth.  That broth was out of this world! Of course, we had bread to soak all the juices.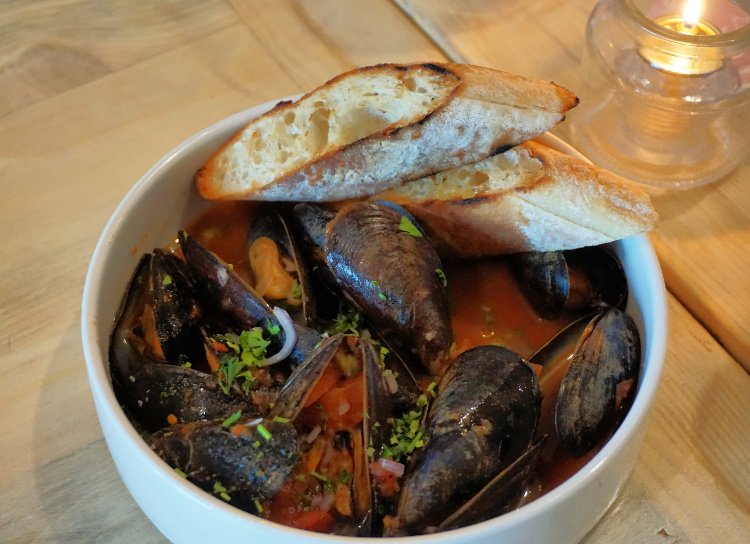 Grilled Prawns – On the bigger bites realm, we tried a dish of giant, grilled prawns served with harissa and labneh (creamy yogurt).  The prawns were placed over a bed of spiced carrots. The final touch was added with lime juice. This dish was a big hit.  It was incredibly tasty!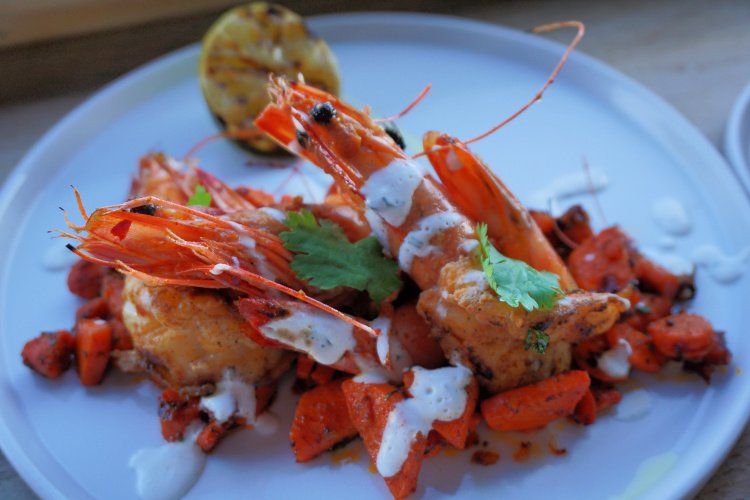 Chicken Stew – This was another winner dish (we didn't leave anything on the plate).  Two chicken thighs were cooked sous vide and finished in a pan to obtain crispy skin. Then, they were incorporated in a tomato-based stew with Anaheim chilies and potatoes (reminiscent of a tagine).  The result was delicious!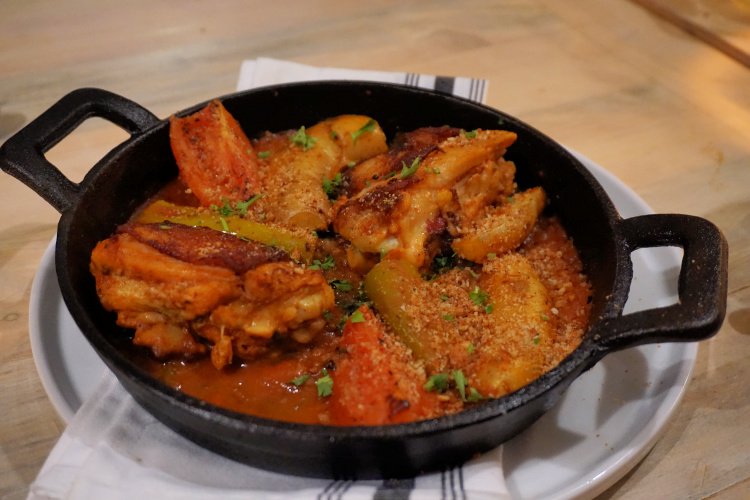 Rose Triffle – I am not a fan of rose water.  However, the ingredient was incorporated beautifully with pound cake, lemon mascarpone, and pistachios.  I had nothing to fault. The desert felt light and not overly sweet.
Fig Brownie – I am not a fan of figs neither.  Well, that is because I have not tried them incorporated into a brownie.  How addictive! The brownie was topped with vanilla ice cream and spiced Tunisian almonds.  Everything was drizzled with balsamic glaze. At first glance, the combination does not seem to work.  Believe me, it works.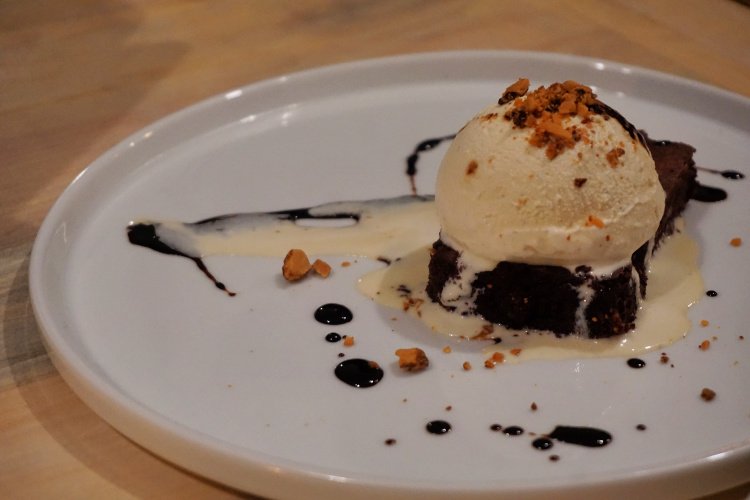 The food at Barsha surprised me.  I was not expecting the wide gamut of flavors and textures.  I encourage you to try the dishes and enjoy the opportunity to experience flavors that are not common in the area.
The other thing I love is that plates are sharable.  You can order a little bit of everything and eat family style.
The menu includes other dishes such as Tunisian bruschetta (tuna, chickpea mash, egg), braised lamb cheeks, lamb meatballs, crispy pork shanks, tagliatelle and snapper with couscous.
Drinks
Barsha serves a good selection of white and red wines.  I mean, they are wine experts. Be prepared to taste something good.
If you are not sure what to have, ask the staff for their picks and they will happily provide their suggestions.
On the same line, the restaurant has a nice selection of beer brewed in the South Bay and Southern California.
At the moment, Barsha is serving three cocktails but looking forward to expanding in this area.  Expect very aromatic and out of the ordinary flavors.
Non-alcoholic drinks include sparkling water, coffee, hot tea, and organic sodas.
Kids Menu
If you are visiting with your little ones, you do not have to worry.  A kids' menu with several options is available.
The menu includes a grilled cheese sandwich, chicken nibbles, quesadilla, lamb meatballs and mac n cheese. Everything is served with veggies and fruit.  Za'atar fries and a drink can be added to the kid's meal.
Facilities and Service
Barsha counts with indoor and outdoor (small patio) seating.  That means you have your choice when it comes to where you want to be located. 
Servers and hosts are super friendly. The ambiance is fun.  You definitely feel like you are part of a big family.
Another cool thing is that the restaurant has live music every Friday, Saturday, and Sunday (9:00 – 11:00 p.m.).  That is just another good excuse to visit.
Location
Barsha is located at 1141 Aviation Boulevard, about half a mile away from the Pacific Coast Highway (PCH). The restaurant is located 1.5 miles from Downtown Hermosa Beach and 2 miles from Downtown Manhattan Beach.  This is a great alternative for those who are coming from the beach or work (remember plates are sharable).
Ample (free) parking is available on-site.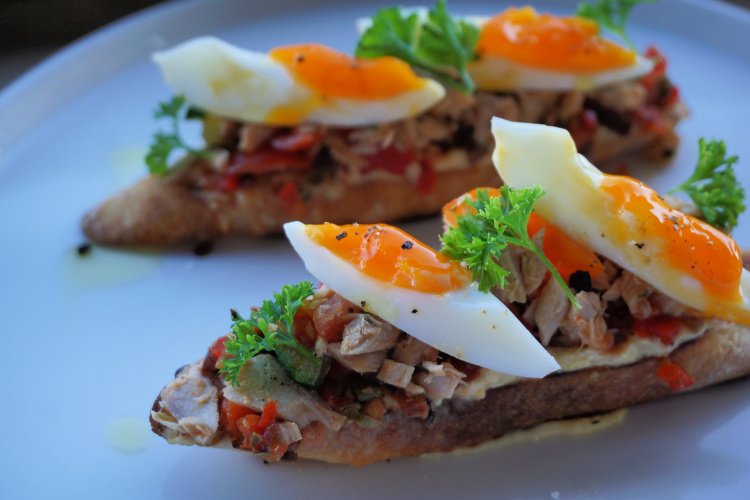 More of Barsha
If you are interested in learning more about Barsha, make sure to visit the Barsha Life website.
The tasting room in Manhattan Beach has its own website: Barsha Spirits.
In addition, you can follow all the latest Barsha new through their Instagram account.
More of the South Bay
Hermosa Beach: Things to Do, See and Eat
Things to Do in Manhattan Beach
Redondo Beach Pier: What to Do, See and Eat
What do you think of Barsha's new offerings?
Disclaimer: I was invited to taste Barsha's menu as part of a press event. As always, my opinions are my own. 
Pin for later!