This article highlights the many wonderful things to do in Hermosa Beach, California.
Not long ago, I decided to write more about the places I frequent the most, the ones I consider part of my community.  Today, it is the turn of Hermosa Beach, one of the lovely beach towns located in Los Angeles County.
I stop by Hermosa almost weekly.  Therefore, I am more than happy to share my knowledge about what to do, see and eat in the city!
Please note: This article contains affiliate links, meaning I may earn a commission if you make a purchase by clicking a link. Of course, this comes at no extra cost to you and helps me to keep offering solid information to readers.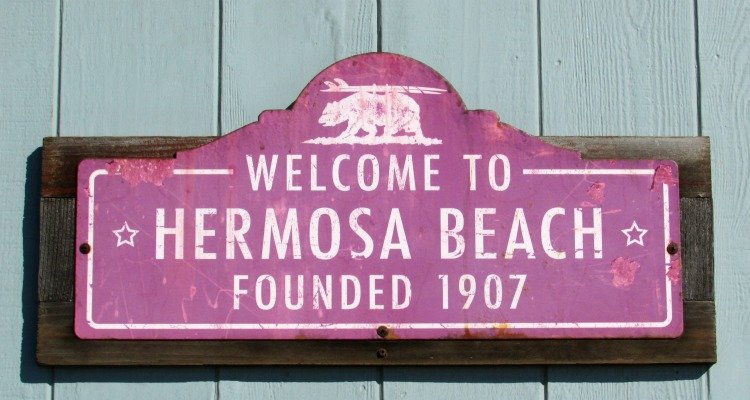 Things to Do in Hermosa Beach
As mentioned, Hermosa Beach has a small surface area and, consequently, most of the action happens in Downtown Hermosa Beach which, by the way, is next to the water. The things to do, see and eat in this guide are concentrated on Downtown.
Stroll the Hermosa Beach Pier
This 1,000 feet (300 meters) pier is an integral part of this city's identity.  Even if we are in the area for lunch or dinner, we will take some time to stroll the pier.  Follow the lead of the locals and take in the views of the Santa Monica Bay and the Palos Verdes Peninsula.  In addition, you will be able to see the piers of our sister communities (Manhattan Beach and Redondo Beach).
Fishing from the pier without a license is allowed.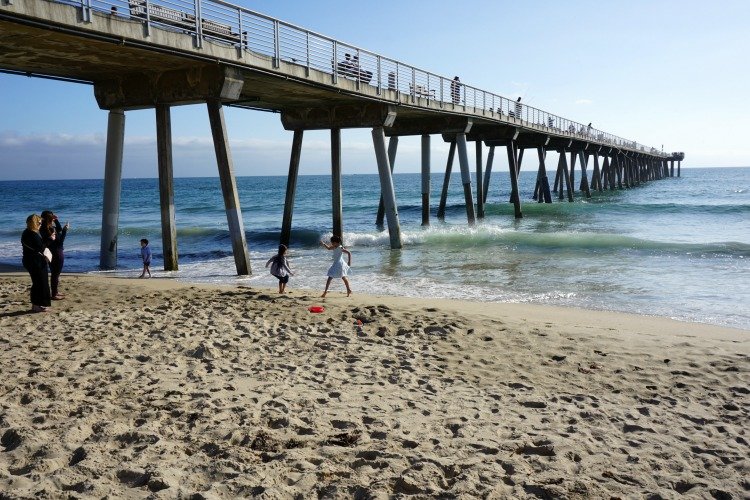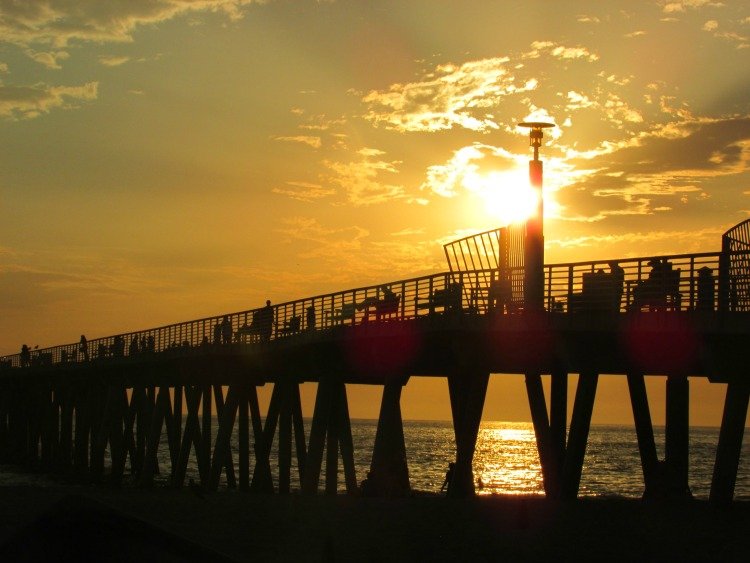 Walk or Bike The Strand
The Strand is a 22-mile paved path extending from Pacific Palisades (close to Santa Monica) to Torrance.
The section belonging to Hermosa Beach has a length of about 1.5 miles.  You can choose to walk or bike as much of the path as you want.
One of our favorite things to do is the "Pier to Pier" walk. This refers to the 2 miles section between the Hermosa Beach and Manhattan Beach piers (4 miles roundtrip).  This is a great way to see what is happening at the beach and, at the same time, exercise.  Plus, there are plenty of places to eat and drink at both ends of the walk.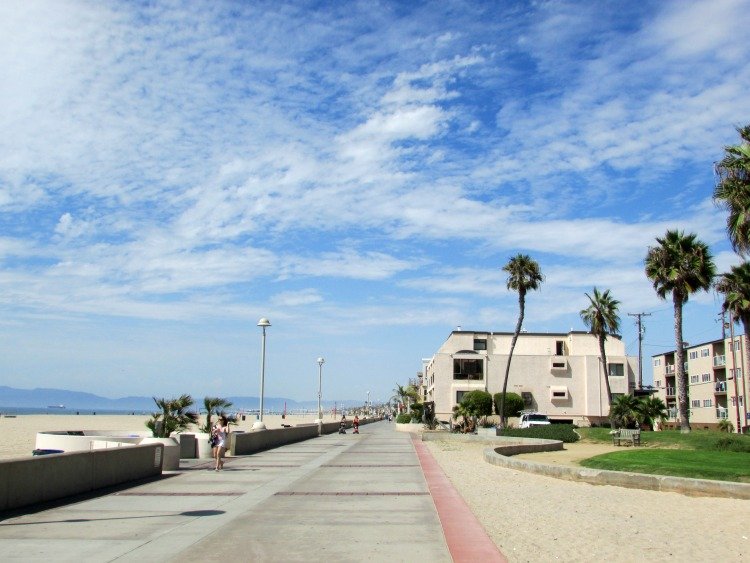 The walk from the Hermosa Pier to the Redondo Pier is 2 miles long.  This is another nice walk.  However, when going south, we prefer to use our bikes and make it all the way to the end of the path in Torrance.  This is an easy, 4 miles trip (one way).
If you do not have your own wheels, you can rent some at the Hermosa Beach Cyclery. They have cruisers, hybrids, tandems, trikes, skates, scooters, boogie boards, umbrellas, and beach chairs in stock.
Take a Dip in the Ocean
Hermosa Beach has about 1.5 miles of sandy beach.
The strip of sand is relatively wide. The stretch closer to The Strand is used for volleyball, paddleboarding, and other sports.  The rest of the sand is claimed by families or individuals sunbathing or picnicking.
The beach is more crowded close to the pier.  Walk a bit away from the pier if you are in search of a more secluded spot.
Showers, restrooms, and potable water are available next to the pier and at 24th Street. There are NO shady areas at the beach.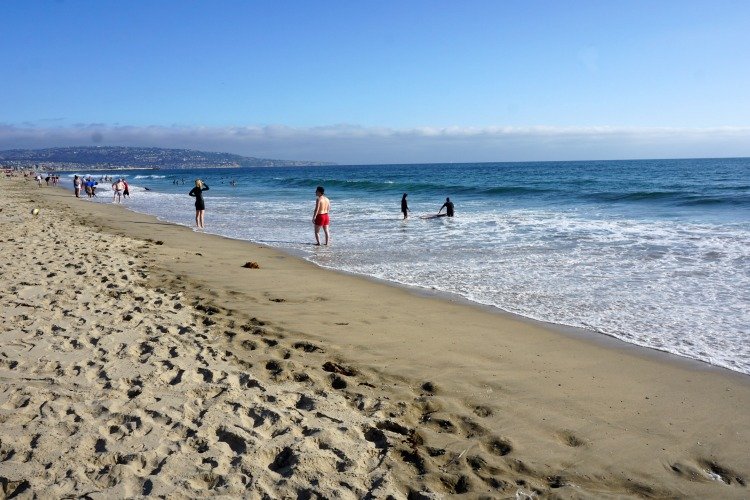 Relax at Noble Park
If you prefer not to deal with the sand messiness (or if there is somebody on your party with mobility issues), you can set headquarters at Noble Park.  This green area is right in front of the beach and does not get crowded.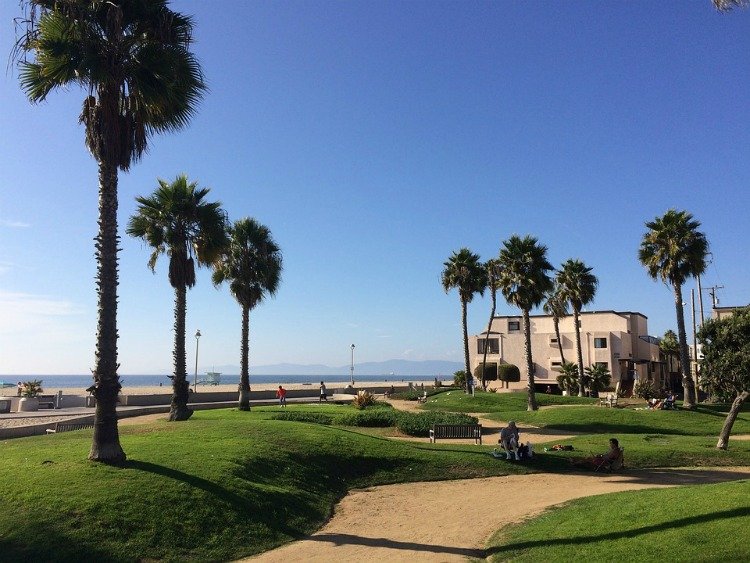 Discover the Treasures of Pier Avenue
Have you noticed a lot of towns have a main thoroughfare? Well, Hermosa is not the exception.  Pier Avenue, extending from the Pacific Coast Highway (PCH) to the ocean, has dozens of eateries, coffee shops, apparel stores, a wine shop, hair salons, and much more! There are plenty of options for those interested in dining or shopping.
This street has a terminus at a pedestrian space called the Pier Plaza.  This area is known for its many bars and its party atmosphere.  It is a cool place to be, but my recommendation is not to stay for your entire time there.  The restaurants and stores are more interesting in other parts of the avenue.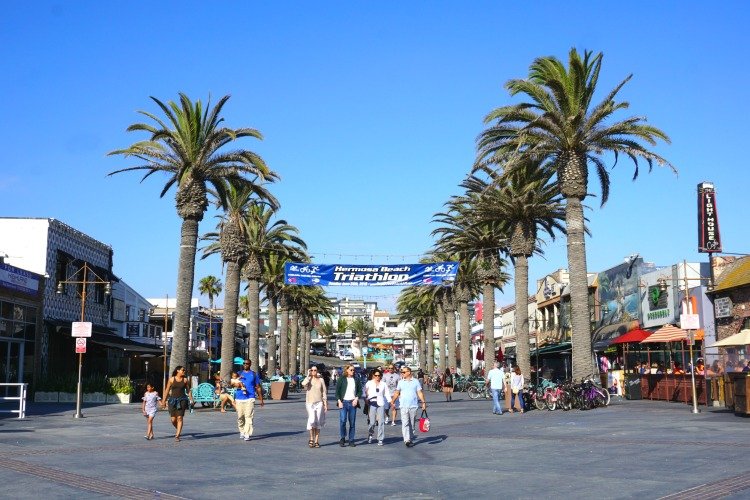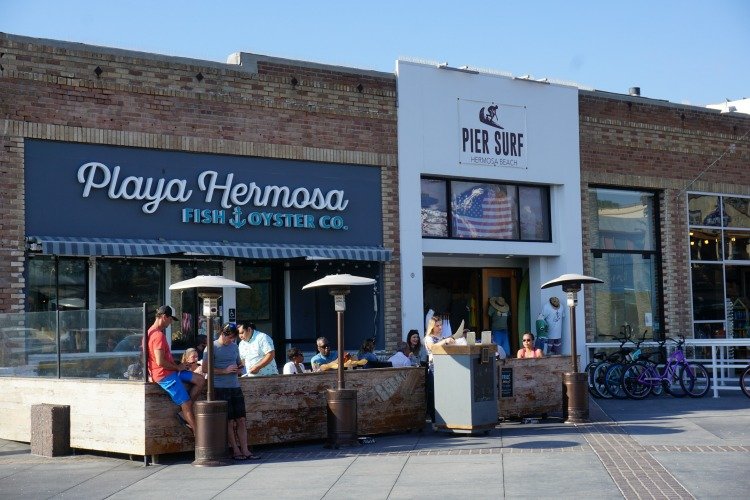 Visit the Hermosa Beach Historical Socierty & Museum
I am a big fan of history and because of that, I try to learn about a community's past every time I visit.  Local museums provide an excellent opportunity to do exactly that.
The Hermosa Beach Historical Society & Museum showcases memorabilia and other objects pertaining to the history of the City of Hermosa Beach.  In this museum, you can learn how the city has been involved in surf culture, the jazz movement in the South Bay, and the punk music phenomenon.
Admission is free (donations are welcome).  The museum is open Wednesdays from 10 a.m. to 12:00 p.m. and on weekends from 2:00 p.m. to 4:00 p.m.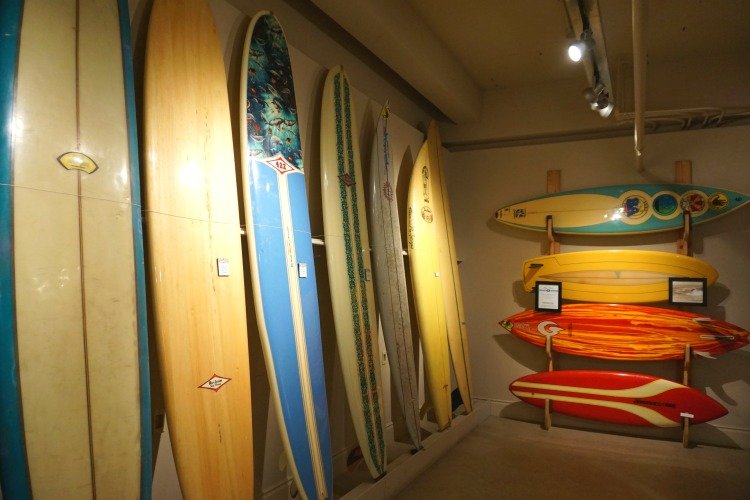 Go Mural Hunting
For a small town, Hermosa Beach has an excellent collection of art displayed on its streets.
Most of the colorful murals gracing downtown can be attributed to the Hermosa Beach Mural Project, a non-profit dedicated to enhancing the appearance of businesses and public areas through art.  Their goal is to complete 10 murals in 10 years.  So far, 7 have been completed.
Let's take a look at the murals!
Hermosa Splash Circa 1909 (Location: 140 Pier Ave)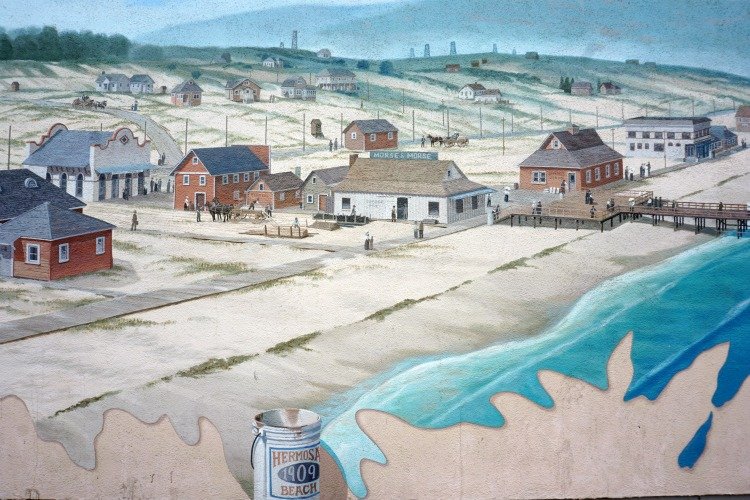 Hermosa Beach West Coast Jazz (Location: 1007 Hermosa Avenue)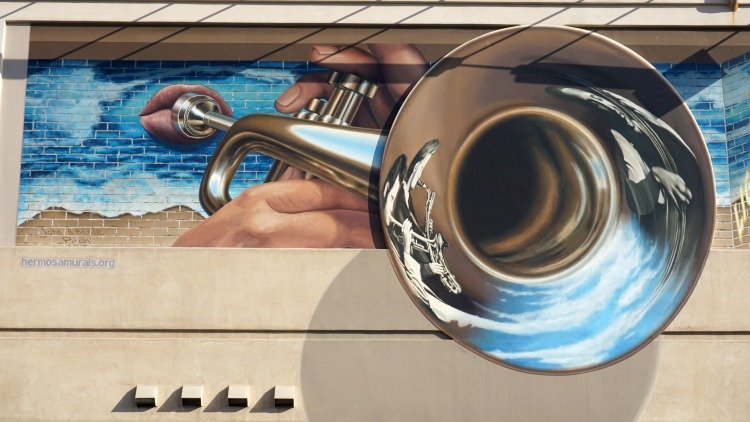 Hermosa Swimwear Evolves (Location: 500 Pier Avenue)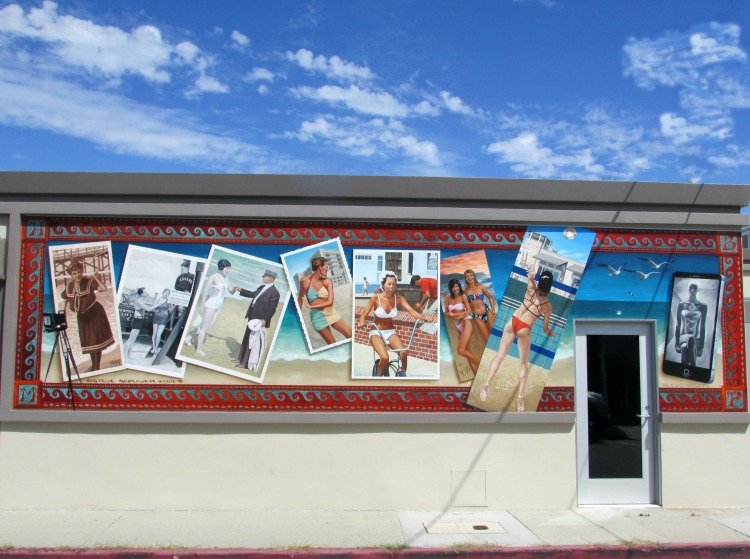 Hermosa's Great Wave (Location: Hermosa Avenue & 14th Street)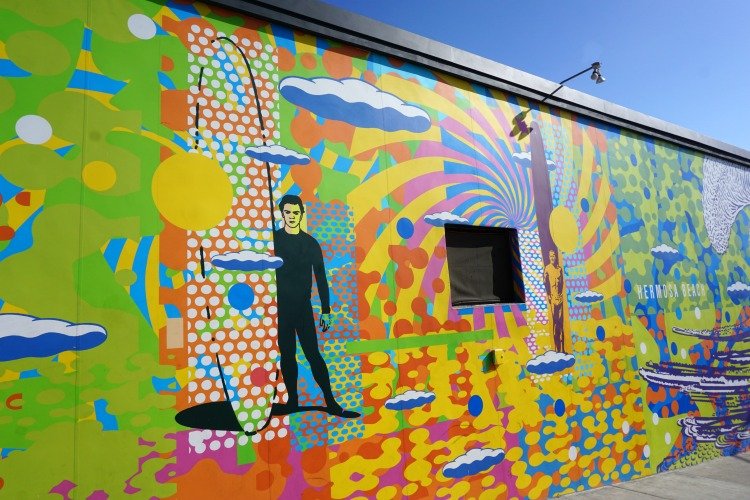 Lifeguards in Hermosa (Location: 13th Street and Hermosa Avenue)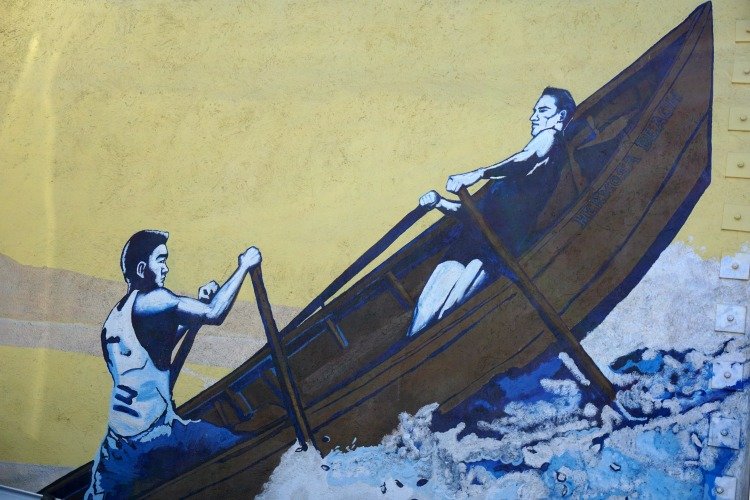 Here is information about the two additional murals of the project (do not have photos now).
Volleyball in Hermosa (Location: 13th Street and Beach Drive)
Hermosa Beach Pier Plaza Circa 1924 (Location: 14th Street and Hermosa Avenue)
There are other works of art in the city not related to the Mural Project.  The Sunny Southern California mural is located at the end of Pier Avenue.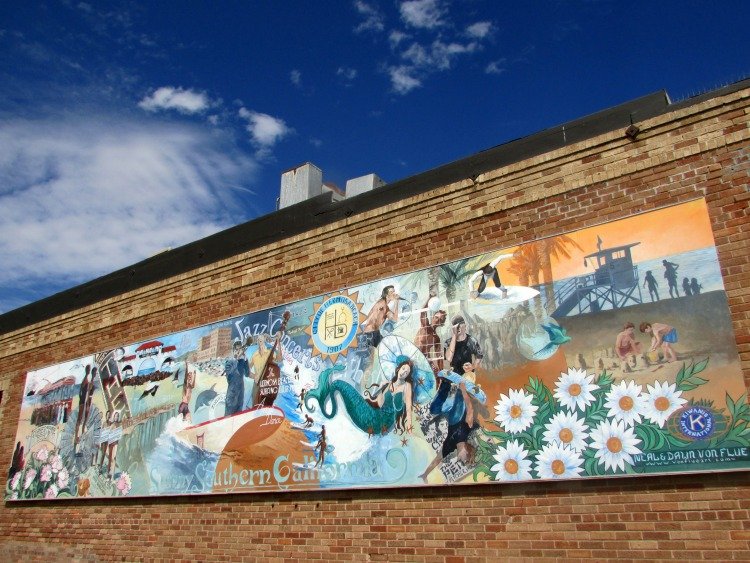 J. Harpham's underwater, hand-painted tile mural is located on 10th street and The Strand.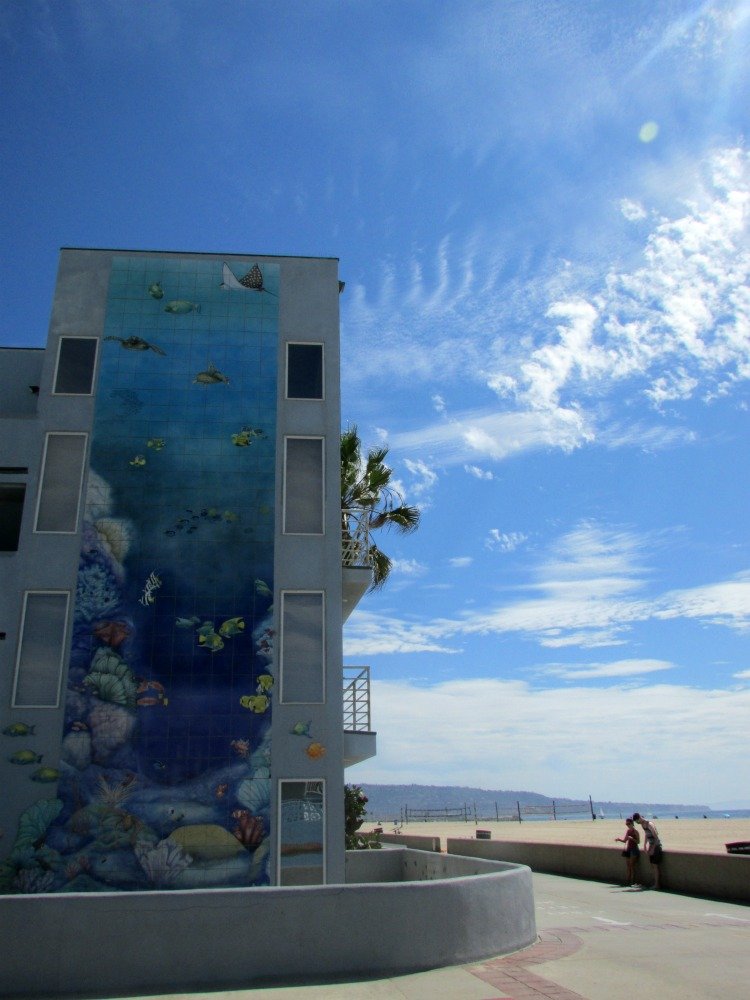 Exercise on the Greenbelt
Granted, you may not want to spend your vacation exercising.  However, I know there are a lot of folks who want to stay healthy even while traveling.
The Greenbelt or Veterans Parkway is a 3-mile long path extending from Hermosa Beach to Manhattan Beach.  This shaded path, full of benches and picnic tables, may be of interest to those staying in the city for some time (a week or more).
The walk is considered easy and you will pass Downtown Hermosa and Manhattan Beach and make it all the way to Manhattan Beach Village (Shopping Mall).  The path runs parallel to Valley Drive.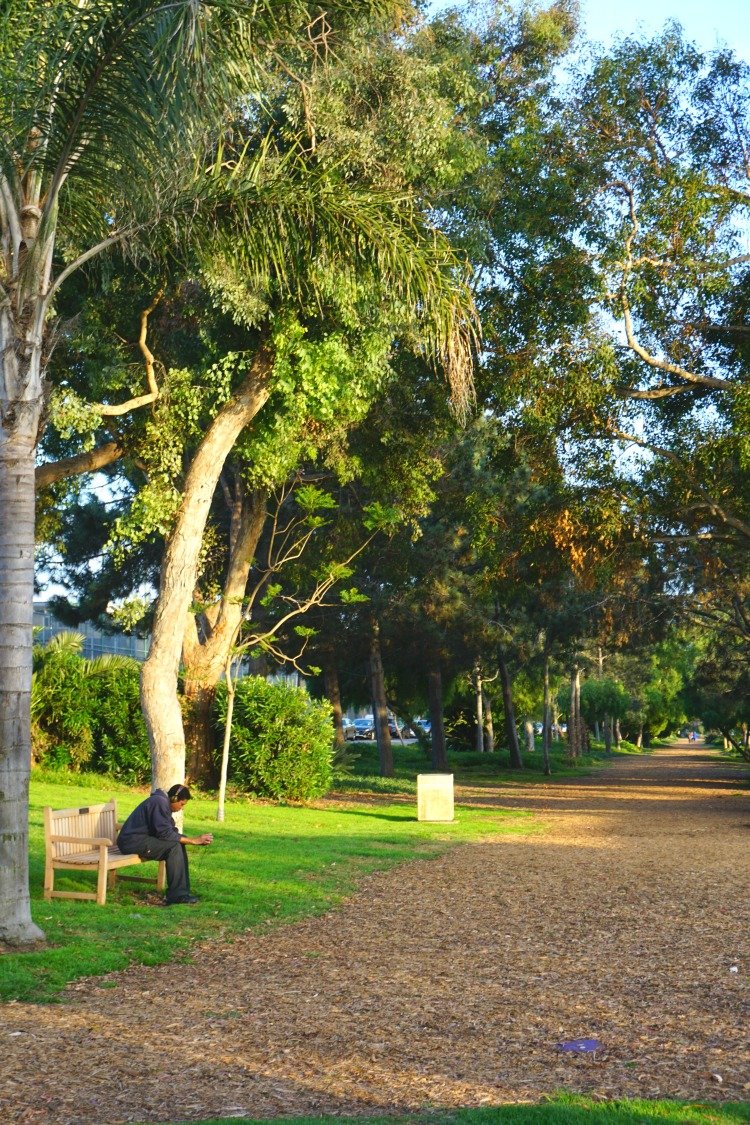 Get a Taste of Australia
No, I am not daydreaming.
Turns out one of the Gum Tree Café owners is from Australia.  He and his Southern California wife met in New York. After the couple's first daughter was born, they decided to move to California and open a café.
Gum Tree serves sandwiches and salads made with organic and locally sourced ingredients.  The Aussie touch is on the meat/chicken pies, vegemite toasts, flat whites, and tim tams served. Their coffee, chai lattes, and lemonades are delicious too.  I love this place and highly recommend it.
And, that is not all, the café is only a part of the business.  They have a store selling the most amazing books, cards, jewelry, and home accessories.  If you are in town, go and look!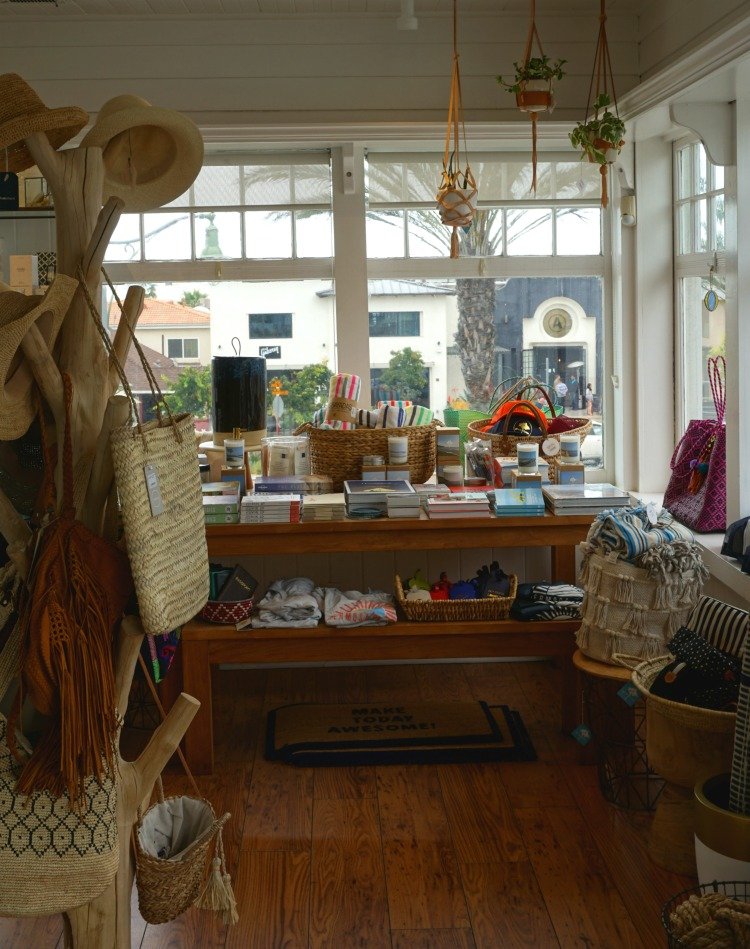 Shop (or Window Shop) to Your Heart's Content
I am not a big shopper.  However, Hermosa has some unique stores that are worth a visit.  I promise the goods on some of these stores will make you laugh hard.
Curious … is my favorite store on Pier Avenue. In this gift shop, you will find furniture, gift, cards, books, candles, and much more.  But, these are not ordinary goods.  Think along the lines of unicorn masks, mermaid tails, and tons of political incorrectness.  Really love to spend some time here.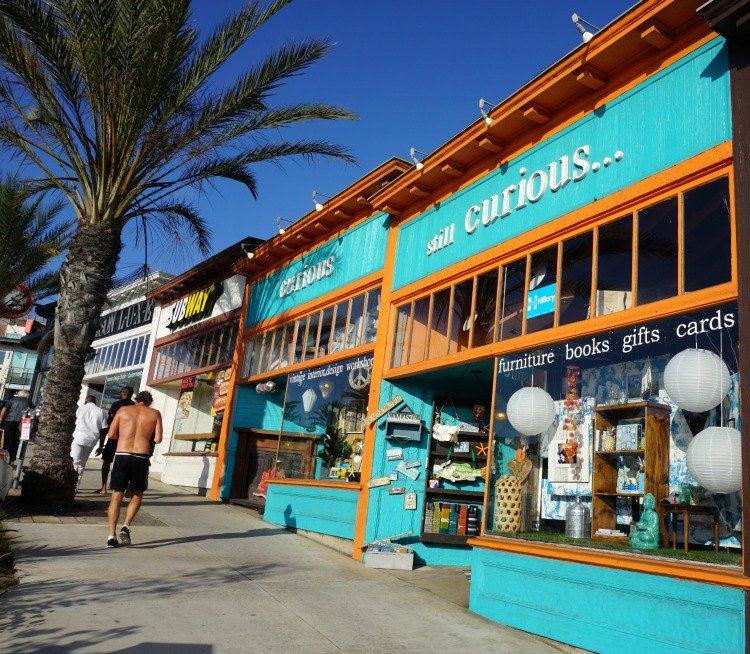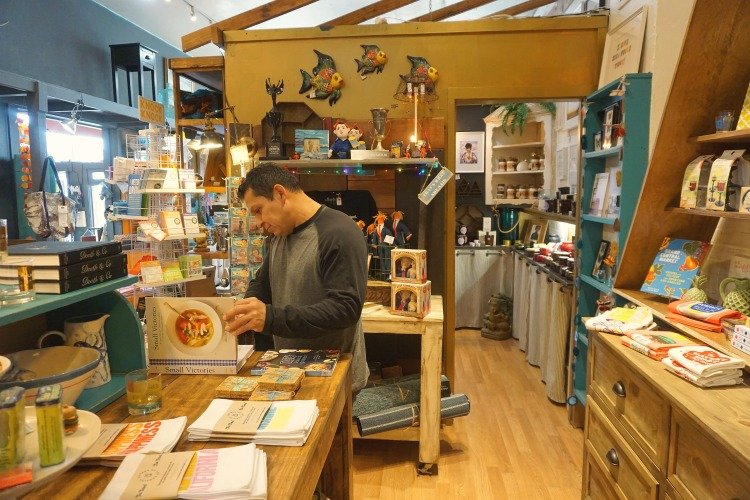 Grizzly Clothing and Wicked+ sell a nice selection of goods too.
If you are into antiques, the Star Antique Market is for you.  This red barn brings together 65 eclectic antique dealers under one roof. Featuring a wide spectrum of vintage items and collectibles, like European antiques, California pottery, jewelry, glassware, and one-of-a-kind historical items, Stars has no problems filling its 7,000 square feet of space.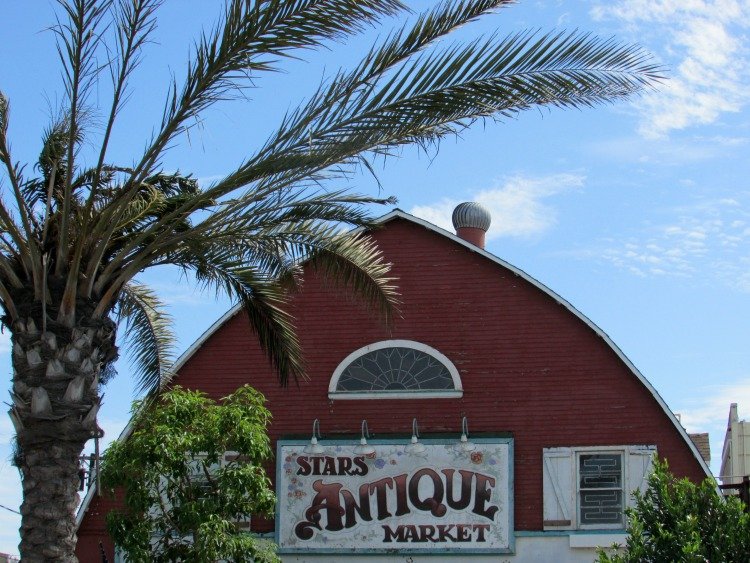 Pay a Visit to the Famous Lighthouse Café
In all honesty, I learned about the history of The Lighthouse Café when researching this article.
Even though the establishment has the word "café" on its name, this place was one of the central West Coast Jazz clubs from the 50s to the 70s.  Several records have been made on site.  Live music is presented daily.  Check the website for details.
In addition, the café was featured in the movie La La Land.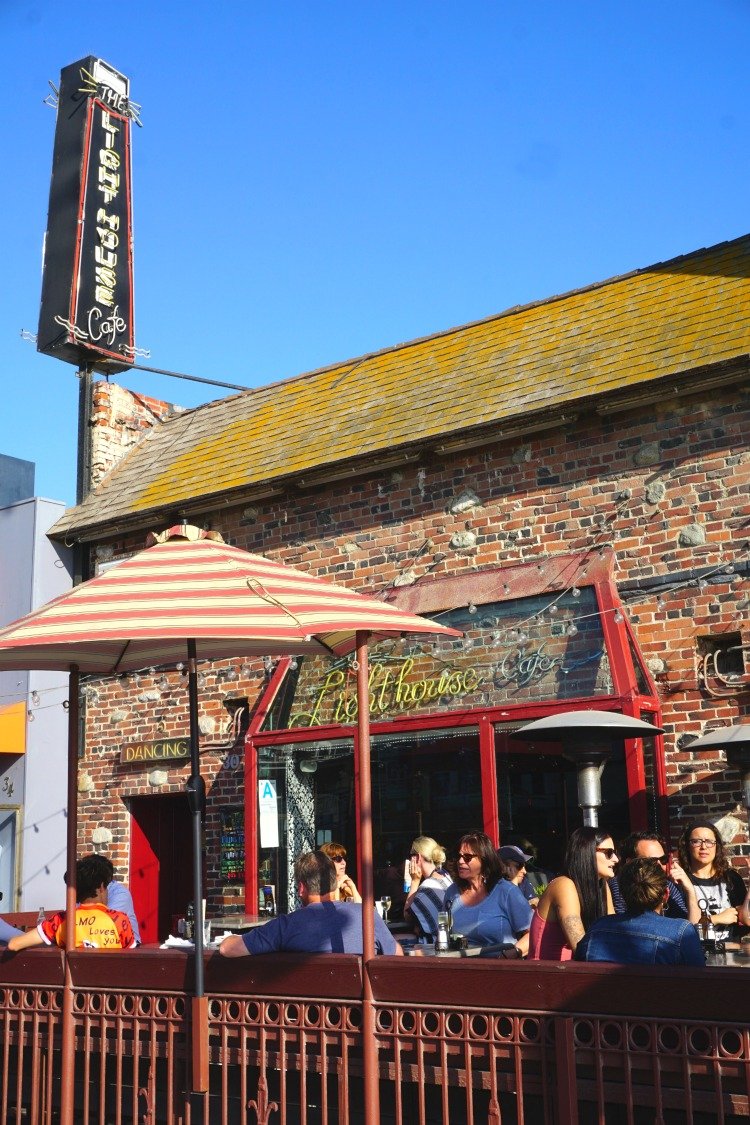 Get Fresh Produce at the Hermosa Beach Farmers Market
Every Wednesday from 1:00 p.m. to 6:00 p.m., the Hermosa Beach Farmers Markets is set up in the Pier Plaza.  This must be one of the most scenic markets in the area since it has the beach as a background.
The market features fresh fruits, vegetables, and fish, jams, preserves, honey, flowers, baked goods, BBQ chicken, and much more!
Another market takes place every Friday from 12:00 p.m. to 5:00 p.m. at 1035 Valley Drive (in the downtown area).
Hermosa Beach Skate Park
If you are visiting Hermosa with kids, you can pack their skateboards and give them some use at the city's skate park.  There is plenty of space to skate on The Strand but the park may be a bit more fun.
Location: 710 Pier Avenue
The Comedy and Magic Club
This is probably one of the most popular venues in South Bay.  Many renowned comics such as Gabriel Iglesias and Arsenio Hall have performed and continue performing here.  As a matter of fact, Jay Leno performs weekly (most Sundays).
And, let's not forget about the magic.  I have magician friends who describe the tricks performed as impressive.
The club is open from Tuesday to Sunday.  Food is served on-site and reservations can be made.  Find more details here.
Fiesta Hermosa
The organizers of Fiesta Hermosa state this is the largest arts and crafts fair in Southern California.  Every Memorial and Labor Day Weekend (Saturday, Sunday, and Monday) they bring together 300 artists including painters, photographers, jewelers, sculptors, and artisans.  There is a food court, mechanical rides, and petting zoo.
I have attended the festival for years and still find it fun.  It is a great way to spend a day if you are in the area.
Thousands of people come down to the beach for Fiesta Hermosa.  Make parking arrangements if you are thinking about visiting (park at designated lots and ride a shuttle or arrive via Uber).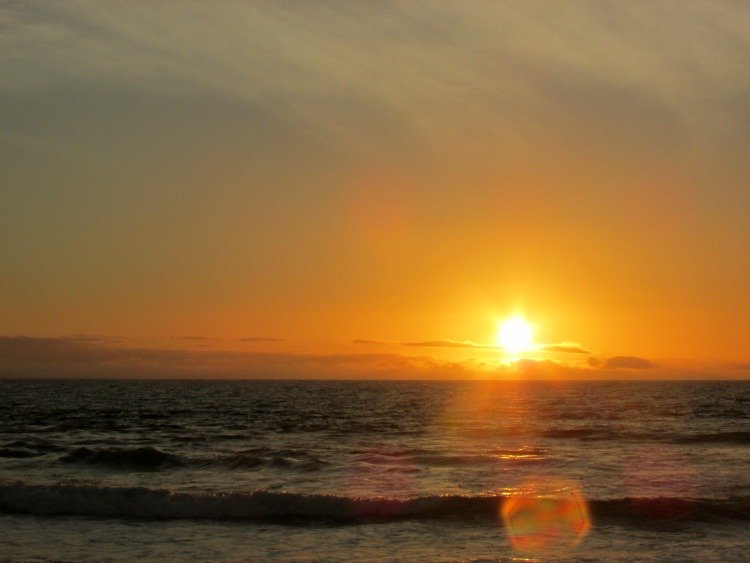 Other Hermosa Beach Events
Apart from the Farmer's Market and Fiesta Hermosa, the city host a wide range of other events.  Here is a sample of events you may encounter while visiting:
International Surf Festival (Summer)
Sidewalk Sales (several during the year)
Smackfest (Volleyball Competition)
St. Patrick Day Parade
Halloweens Celebrations
Christmas Events (with a big tree near the pier)
About Hermosa Beach
Los Angeles is known for its enormous population, heavy traffic, and clouds of smog.
As a long-time resident, I can assure you not all of Los Angeles fits that description.  Within the county, the cities of Manhattan Beach, Hermosa Beach and Redondo Beach (sometimes El Segundo is included) form a community with the characteristics of a small town.
Think about them along the lines of sun, surf, and sand.  The waterfront is not overdeveloped and goods and services are provided by small, locally owned businesses.  In other words, we live in our cocooned paradise but have first-hand access to the big city amenities (if we want to go there).
Hermosa Beach is the smallest of the Beach Cities in terms of land area (1.4 square miles) and population (about 20,000). If you want to experience Los Angeles beyond, Hollywood, Santa Monica, and Venice Beach, I encourage you to take the Pacific Coast Highway (PCH) to Hermosa Beach.
Hermosa Beach Restaurants: What to Eat
There are a lot of things to do in Hermosa Beach but, in my opinion, the food alone is a reason enough to visit the city.
There are tons of options along Pier Avenue, Hermosa Avenue, and The Strand.  You will have no problem finding something delicious.
My biggest tip is to eat between 3:00 p.m. and 7:00 p.m.  Many restaurants offer great specials during this time.  On top of that, some restaurants have special during weekends.  This is a good way to save some bucks!
Breakfast
Good Stuff and Martha's 22nd Street Grill are excellent options for breakfast.  They offer various healthy choices and have outdoor seating next to the beach.
Do not forget to check out the Australian vibe at Gum Tree Café.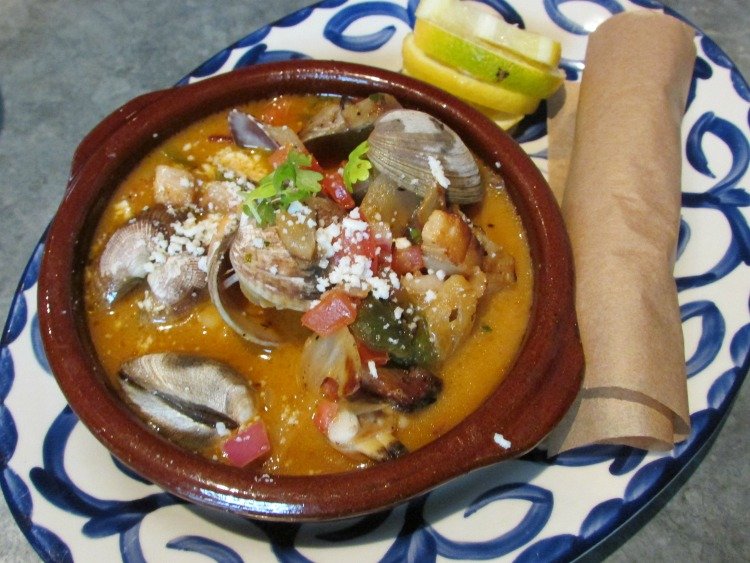 Brunch
During weekends, the following places have delightful options for brunch:
Dia de Campo – owners describe this place as a modern surf lodge, fish house, and raw bar. I describe it as modern Mexican food done right.  For brunch, they serve burritos, clilaquiles, chile verde, hanger steak and chicken & churros.  All of these have a surprising twist.
The Hook & Plow – the local California dishes serve here include short rib hash, pear and burrata salad, and roasted pork sandwich
Crème de la Crepe – this beach favorite offers options such as crepes, waffles, French toast, omelets, and benedict eggs
Palmilla Cocina Y Tequila – this establishment takes Mexican food to the next level and serves dishes such as crab benedict, mole negro enchiladas, and salchichon scramble
Lunch and Dinner
Here is a sample of where to have lunch and dinner in Hermosa Beach.  Notice this is a limited list since the options are many.
Greenbelt – Dishes: kale chicken Caesar, braised short rib pizza, truffle fries
The Standing Room – American-Korean fusion burgers, sandwiches, and appetizers
Steak & Whiskey – Dishes: a variety of steaks, lamb osso buco, stuffed chicken breast
Tower 12 – Big selection of burgers, sandwiches, pizza, and other favorites such as wings, meatballs, and pastrami sliders
Fritto Misto – The Italian food here is outstanding and the portions are huge.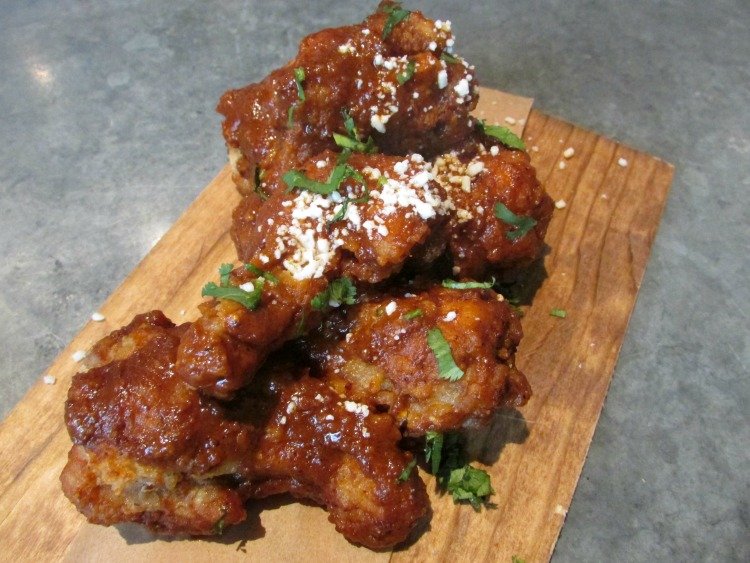 Casual Eats
The following establishments offer quick and cheap eats.
Red and Louie's Pizzeria
Paisanos Pizza and Pasta
Brother's Burritos
American Junkie
The Habit
Paradise Bowls
Ice Cream
And, if you are at the beach, you need some ice cream to deal with the heat.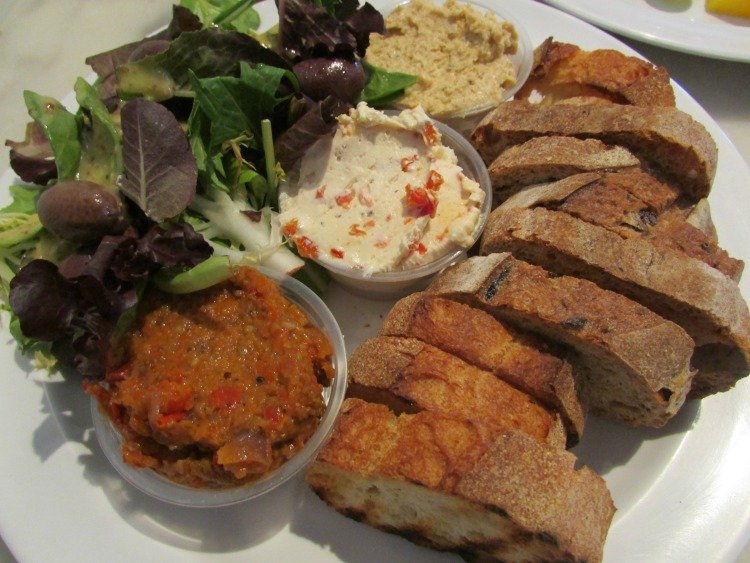 Where to Stay in Hermosa Beach
With so many things to do in Hermosa Beach, you may want to stay the night (or the weekend) in town. Also, with so much to do, the city can be used as a base to explore the area.
The following hotels are on the affordable and highly rated spectrum (please notice hotels in California's beach towns are not necessarily budget-friendly).
Quality Inn & Suites – This hotel is pretty much located at the corner of Aviation Boulevard and Pacific Coast Highway.  That places it meters away from local favorites such as Ocean Diner, El Pollo Inka (Peruvian), and Trader Joe's.  You can walk or bike to the beach.  Rooms are ample and the list of amenities is huge. Check prices and book now!
Holiday Inn Express Hotel & Suites – This hotel has been rated as excellent by guests because of the ambiance, decor, amenities (coffee maker, fridge, microwave), pool, fitness center, business center, and hot breakfast. Plus, it puts you close to the action (Hermosa Beach, Redondo Beach, and Palos Verdes).  Check prices and book now!
Hotel Hermosa – This is probably one of the most popular places to stay in the South Bay.  Hotel staff will ensure an exceptional stay.  The room decor screams California beach town to the max.  The views from the sun deck are amazing.  You will not get bored with the heated swimming pool, hot tub, game room, and outdoor fireplace. Check prices and book now!
Check Hotel Prices in Hermosa Beach
Hermosa Beach Parking
Parking next to the beach is available on a multi-level structure, lots, and individual spots.  Payment is through a meter.  Be aware that many of the parking spots close to the beach have a 2-hour limit.
There are free parking lots with 6 to 12-hour limits next to the Hermosa Beach Community Center and at Valley Drive and 11th Street.
Hermosa Beach Weather and Seasonality
Hermosa Beach is blessed with excellent year-round weather.  In summer, temperatures reach 80 degrees Fahrenheit.  Winter temperatures oscillate around 60 degrees.
Even though the weather is pleasant all the time, some businesses observe shorter operating hours during winter.  Other businesses are only open during the weekends.  If you are visiting during this season and have your eyes set on a particular place, make sure it is operating during your visit.
The beach gets crowded during summer weekends.  I recommend arriving early to secure a parking spot.
Beach Town Gear
As I spend a lot of time on beach towns, I have my gear packed and ready to throw in the car.  Here is an idea of what I would take to check out Hermosa Beach attractions.
Frequently Asked Questions
Here are some of the most common questions I get related to what to do in Hermosa Beach.
What are some free things to do in Hermosa Beach?
Pretty much all of the Hermosa Beach activities discussed in this article are free of charge.  The exception is admission to the Hermosa Beach Comedy Clubs.  There are some suggestions relating to shopping but you can take a look at the beautiful good without spending a dime.
Keep in mind you may have to spend money on parking.  If you want to find a free parking spot, refer to the parking section of this article.
What are some things to do in Hermosa Beach with kids?
Kids will enjoy the beach, parks, Skate Park, and The Strand.
A lot of parents take their kids, and their bikes and scooters, to the Pier Plaza since this is a big space to ride without having to worry about vehicular traffic.
What are some things to do in Hermosa Beach with dogs?
Dogs are not allowed in the Hermosa Beach pier and beach (on the actual sand).  They are allowed (on a leash) on The Strand, Pier Plaza, Greenbelt, and the Downtown area.
Dogs are allowed off and on a leash at Noble Park.
There are a lot of restaurants with patios in the city.  Therefore, there are plenty of options to eat without having to worry about where to leave the dog.
What are some things to do in Hermosa Beach at night?
Hermosa Beach is a party town! There is no doubt about it!
The Pier Plaza is lined with bars that open late and pump up the music after certain hours.  Choose a place (or two) from the options below:
American Junkie –  This bar/restaurant has probably the best prices in the Pier Plaza area.  They have happy hour  Mondays to Thursdays from 4:00 to 6:00 p.m. On Fridays, the happy hour lasts till 9:00 p.m.  They are open till 12:00 a.m. on Fridays and Saturdays
Baja Sharkeez – This place has some of the most unique drink offerings.  The food is not the most flavorful in all honesty buy, hey, when you are having a good time things taste better.  They are open until 2:00 a.m.
Hennessey's Tavern –  Because every party town needs an Irish pub! They offer a wide selection of whiskey, beer, wine, and cocktails.
Tower 12 – To me, this pub/restaurant has some of the best food in the area.  Apart from the delicious food, they have an impressive menu of drinks.  And, you can double the size of any drink and they will serve it in a huge cup.
More of the South Bay
Guys, I have tons of articles about the South Bay.  After all, this has been my home for years.
I invite you to learn more about this awesome part of Los Angeles.
If you are interested in a particular town, here are some destination-specific articles I have written:
Things to Do in Manhattan Beach
Redondo Beach Pier: What to Do, See and Eat
Redondo Beach Pier Restaurants
Terrific Things to Do in Torrance
Hermosa Beach: Things to Do, See and Eat
If you are a fan of nature, I encourage you to discover the beautiful Palos Verdes Peninsula, one of Los Angeles' best-kept secrets.
More of Los Angeles
Oh, and Los Angeles is cool too!
Los Angeles Ultimate Bucket List
One Day in LA: Itinerary for First-Time Visitors
Things to Do, See and Eat in Venice Beach
More of Southern California
Ultimate San Diego Bucket List
150+ Places to Go in Orange County
What other things to do in Hermosa Beach do you recommend? Let me know in the comments section.
If you enjoyed this post, please remember to share!
Pin "Things to Do Hermosa Beach California" for later!