Revised on January 20, 2014
Turns out I am a pier lover.  I am not sure how or when this fascination began.  Maybe it is a facet of life that gets developed after living near Southern California beaches for a long time.
When suggesting a new place to visit, my husband often asks, "What do you want to see there?"
I have blurted more than a couple of times, "I want to check the pier." My answer hasn't been persuasive enough since I use to get a disbelief look with an underlying question associated with it, "Haven't we been to about 100 piers already?"
And of course, the use of the word 'pier' has a profound connotation.  Close to these landmarks you can get the feel of a city's vibe. Piers are associated with beaches, boardwalks, food, surfers, festivals, interesting characters and sunsets.  The structure is the frame that binds together a lot of elements that define a particular city.
To my defense, I have to add that, after some research, I have noticed piers for recreational purposes are deeply ingrained into the California way of life.  It is hard to find a comprehensive list but it looks like the majority of this type of structures in the United States is in California.
Not all piers had a start or are exclusively for the enjoyment of the masses.  A lot of them were designed as working structures or wharves (where boats dock).  Many of them still have multiple purposes.
In addition, there are discrepancies on how to list or classify these structures.  Factors taken into consideration can include length, building material (concrete, wood, rocky path), ownership (public, private), height (raised over pillars, close to water level), use (fishing, boat docking) and location.
As you see, this is not such a vanilla topic.  It can get very interesting.
That is why I decided to compile a list of the piers I have visited. To spice things up, I have added interesting facts here and there.  I am sure this will come out as a fun, educational reference.
As I have mentioned, it is not simple to determine how many piers in California I have visited.  I have seen about 5 lists (including the one in Wikipedia) and even though there is a lot of overlap, there is also a lot of places missing from the compilations.
Without further ado, here is a list of some of California's best known icons.
Redondo Beach
This compilation has to start highlighting the pier of my home city.  This is the only pier in California shaped like a horseshoe.  It also has sail-like ornaments that seem to take flight during dawn or sunset hours.
The pier is frequented by a group of pelicans eager to catch or steal a piece of fish from the families gathering to throw some rods into the ocean.  They do not seem to be afraid of humans and stand still even when surrounded by crowds.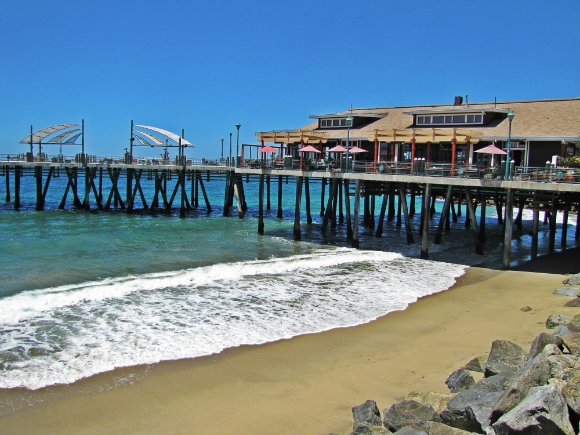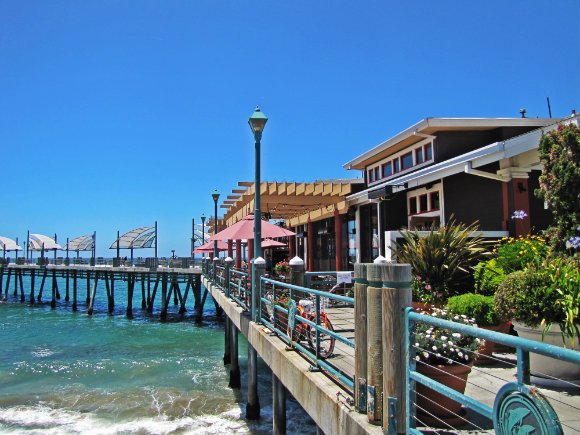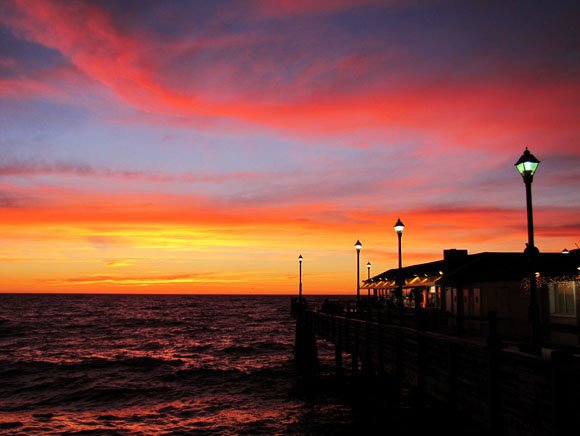 Manhattan Beach
Many consider this pier the prettiest in Los Angeles County (even Sunset magazine says so in this issue).  I believe this is the first pier I set foot on and it is still one of my favorites.
The main attraction here is the two-story Roundhouse which houses a café and aquarium.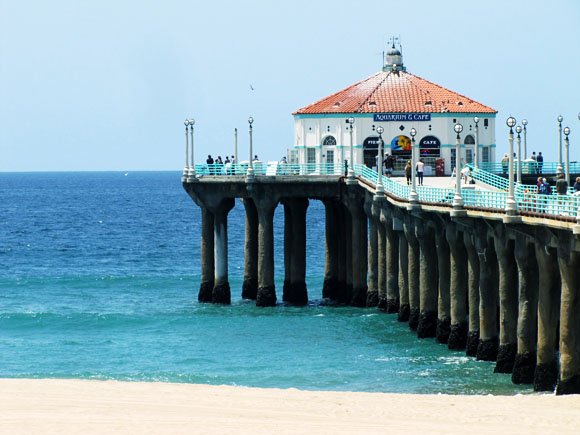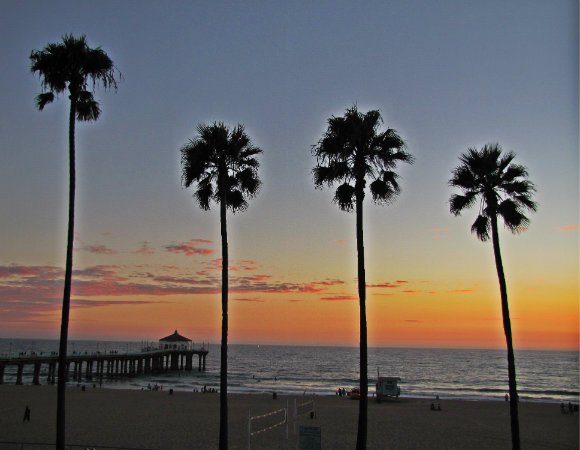 Fact: Manhattan Beach has hosted the Manhattan Beach Open for more than 50 years.  The tournament has defined the beach volleyball sport. Winners of the tournament are memorialized with bronze volleyball-shaped plaques in the "Volleyball Walk of Fame" which spans the length of the pier.
Hermosa Beach
I am not a particular fan of this pier.  However, I visit often since my husband and I do the pier to pier walk (Manhattan Beach to Hermosa Beach) several times a month.
The interesting thing is that this city hosts a lot of events in the area surrounding the pier (the biggest of them being Fiesta Hermosa).  During those times, the most popular to do is to browse the vendor booths, grab something to eat and head to the beach.  This is also a good point to watch the sailboats coming from the Redondo Beach marinas.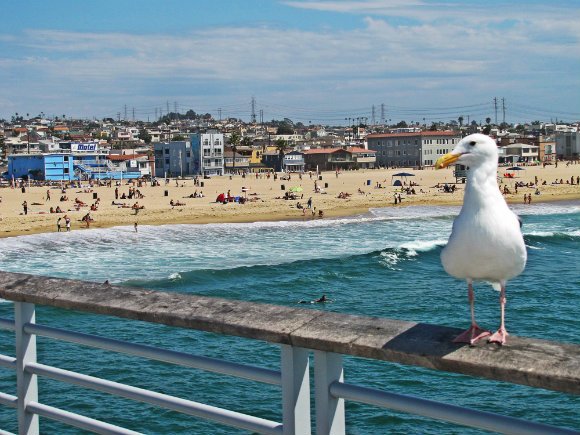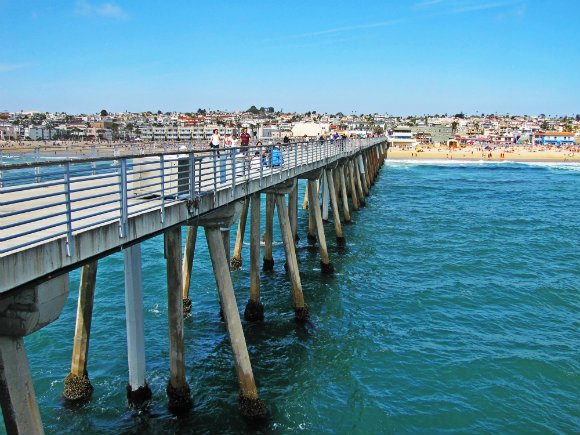 Santa Monica
This is the mammoth of Los Angeles County.  It has restaurants, souvenir shops, an aquarium, a parking lot and an entire amusement park. Even Cirque du Soleil shows are presented in here.
What else can I say? This is a destination in itself. It is world famous. It has been declared the end of renowned Route 66. It is a 100 year old landmark and has been featured in countless movies, TV programs and videos.  You cannot leave Los Angeles without checking it out.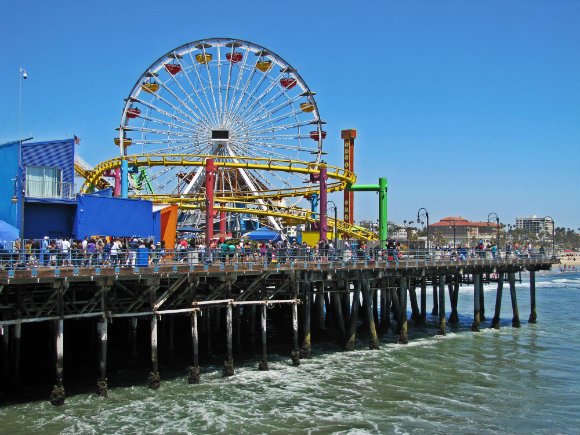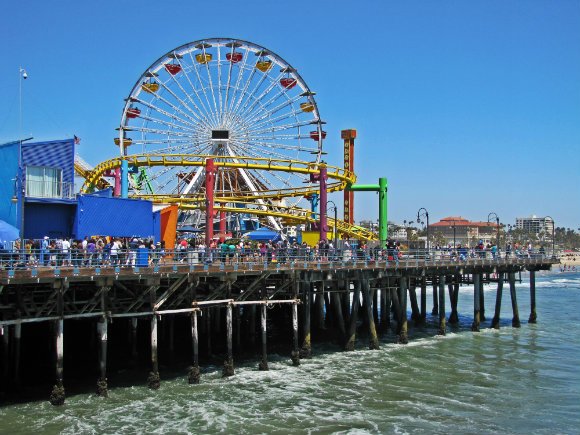 Fact: Santa Monica's Ferris wheel is the only solar-powered on the planet.
Malibu
The setting of this pier is breathtaking.  From here, you can have an uninterrupted view of the Santa Monica Mountains.  It is always fun to watch the many surfers riding the breaks of Surfrider Beach.  And let not forget about the many birds (it can be hundreds) congregating at the mouth of the Malibu Creek a few meters away.  This is everything you expect about California's beach towns and much more.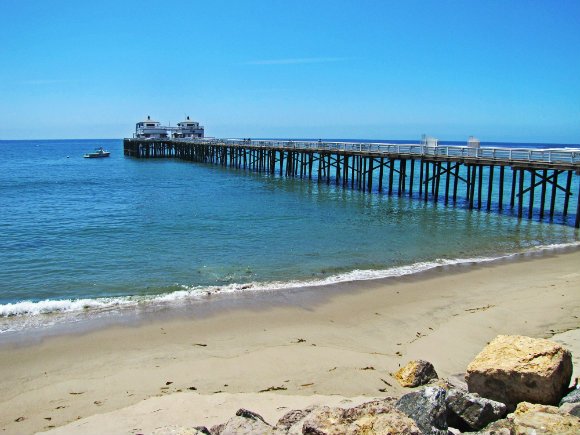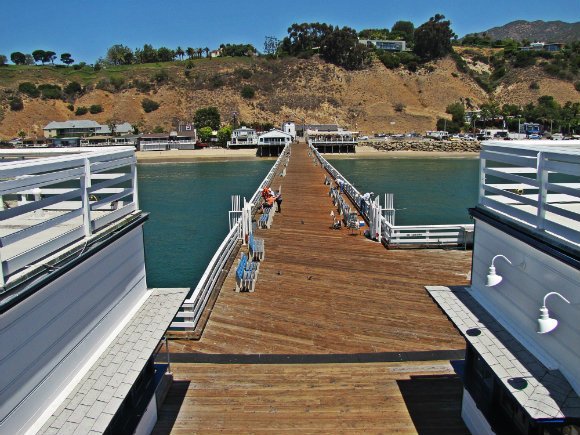 Fact: There is another pier in Malibu but it is private.  The owners of Paradise Cove charge $40 to park at their property.  There is no way to sneak in since walk-ins have to pay $20.  I guess I will not be visiting soon.
Rainbow Harbor – Long Beach
Long Beach's proper pier is located in an area called Belmont Shore.  I have only visited some small piers located around the Rainbow Harbor.  Hopefully, the big pier is as charming as those.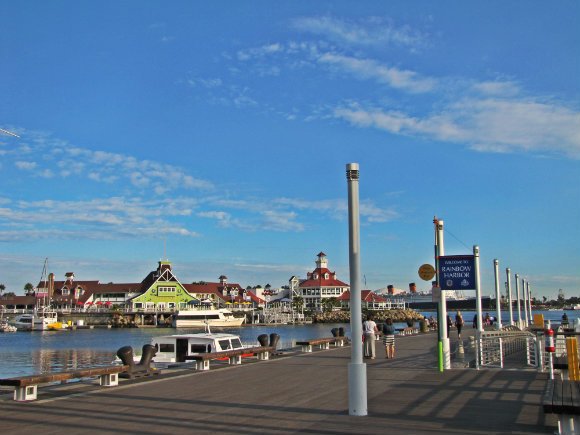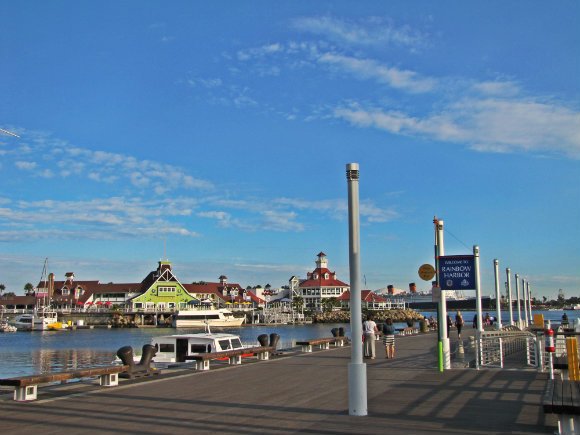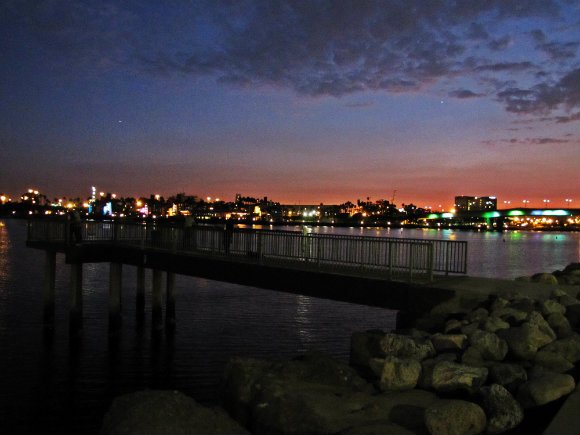 Catalina Island
Not a lot of people have visited this treasure located only 22 miles south-west of Los Angeles.  When you arrive to the island, the boat docks at Avalon's Green Pier (the buildings are painted green).  From here, you can enjoy the views of Avalon Bay, the famous casino and the mountain range that forms the backbone of the island.  I recommend a visit (not only because of the pier).  This is place too beautiful to describe.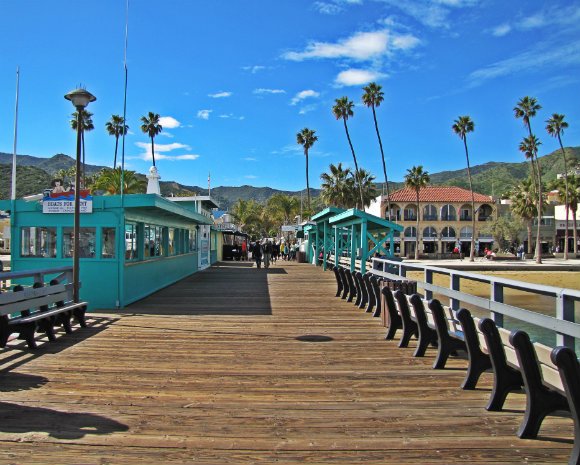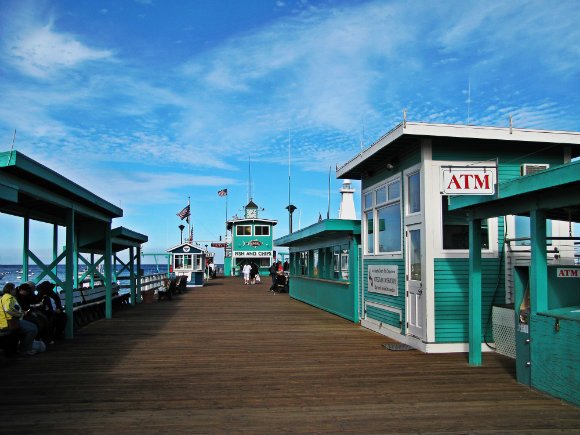 Huntington Beach
This pier is in the blood of 'Surf City USA.'  This is the place where beach culture reaches its apogee in Southern California.
This pier is quite long. The Beach Headquarters tower and a rounded structure housing a Ruby's Dinner (great burgers and shakes) gives the structure it unmistakable silhouette.  The pier gets a lot of attention during Surf City Nights (held every Tuesday) and the U.S. Surf Open.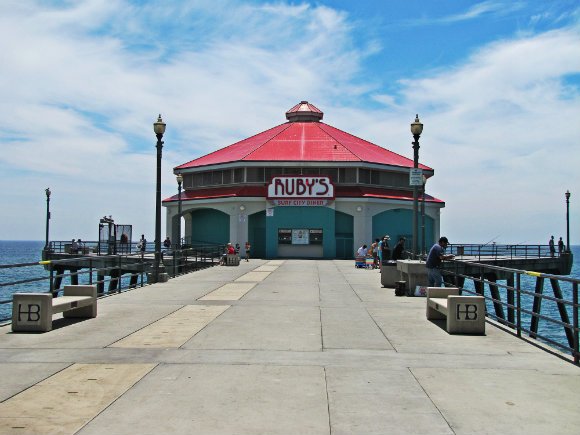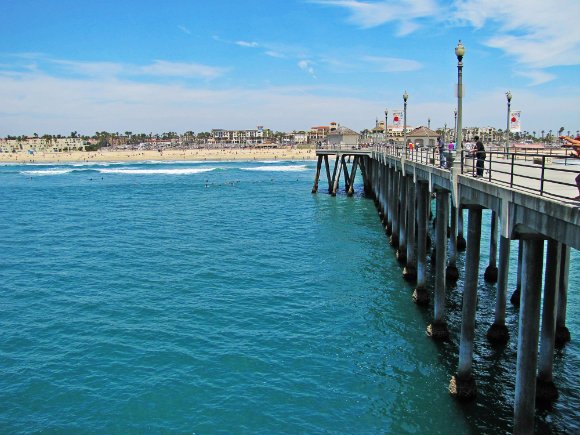 Fact: There is discrepancy on what city in California has more piers (structures raised over pillars).  Some say Avila Beach wins with three.  However, the city of San Diego has more if we include its neighborhood of La Jolla (the ones here tend to be counted separately).
Ventura
This is one of the oldest and longest piers in California.  It has an odd opening at the tip from where sea creatures can be observed (I saw starfish stuck to the pillars).
Port Hueneme
I have no idea how I finished here, a place I didn't know existed until last month.  We were visiting friends in Oxnard and went for a walk after lunch.  The area is nice and there are good facilities.  Our friends mentioned there are good biking opportunities around.  I have to go back with an exploration mindset.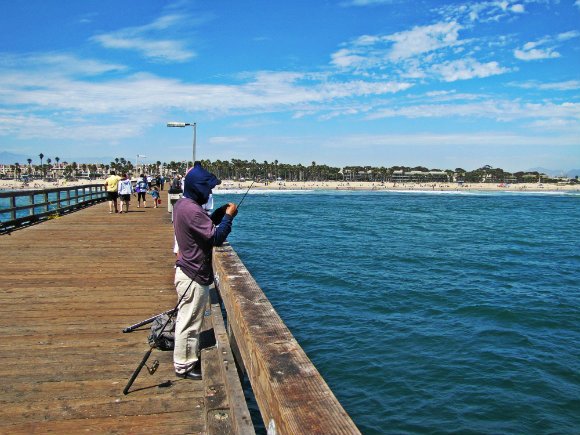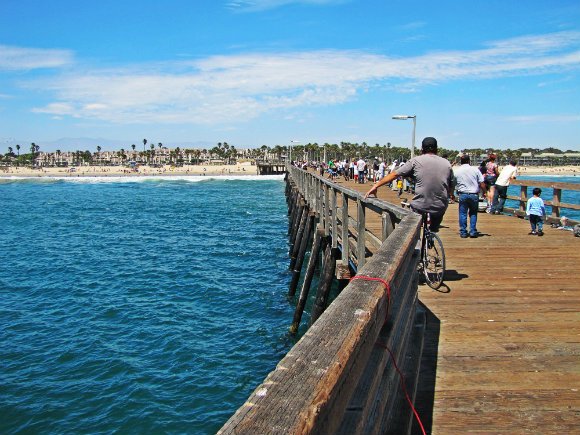 Fact: The Santa Cruz Municipal Wharf is the longest wooden pier in California and the longest over the Pacific Ocean (of any type).  There are longer concrete piers in the San Francisco Bay.
San Francisco
This is a city of many piers (in this case, wood structures almost at the water level).  Around the Embarcadero area, there are 45 numbered piers.  Past those, there are other famous landmarks like the Hyde Street Pier and the Municipal Pier.
Needless to say, I am confused on how many of these I have visited. I know I have been to Pier 1 (behind the Ferry Market Building), Pier 7 (popular for fishing), Pier 33 (from where ferries to Alcatraz depart), Pier 39 (famous for its resident sea lions) and Pier 45 (home of a submarine and ship).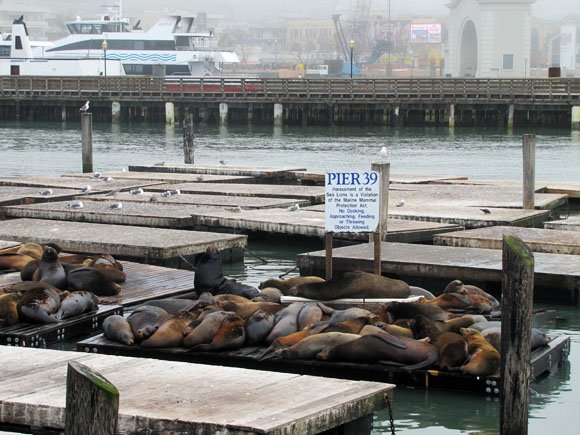 Cayucos
I am guessing you have no idea where this town is located.  Cayucos is located 5 miles north of Morro Bay in San Luis Obispo County (roughly halfway between Los Angeles and San Francisco).
Don't sub estimate the small size of this town.  This place is home of the Brown Butter Cookie Company (where they bake sea salt cookies) and Ruddell's Smokehouse (famous for its delicious fish dishes). An yes, there is a pier from where you can appreciate the view of the Santa Lucia Mountains and the Morro Rock not that far away (it looks tiny from this point even though it is huge).  What else can we love about this place? Talkative locals, miles of beaches and free beachfront parking.
Santa Barbara
The Sterns Wharf (it is named after its builder) is Santa Barbara's most visited landmark.  As a working wharf, it has seen its share of natural and economic disasters (fires, earthquakes).
Today, the pier also houses a Sea Center, restaurants, ice cream shops, a water taxi station and a cruise company. This is the place to have fun near the water.
Fact: Did you know you can sleep on one California pier? Crystal Pier in San Diego features vacation cottages.  Ahh, another thing to add to my bucket list.
Oceanside
This city received me with gray skies and rough seas.  At least, I was able to take a look at the pier which by the way it is pretty charming.  I plan to visit again during a northern San Diego beach towns hopping tour.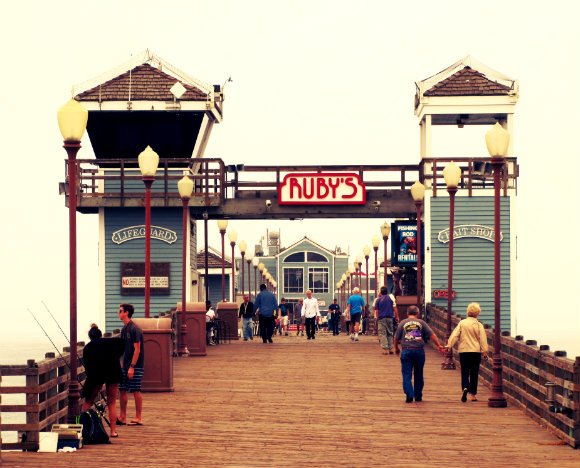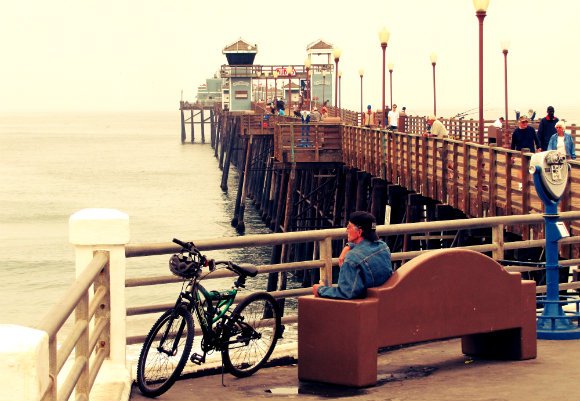 Coronado Landing
Coronado (I didn't know it was a city until researching this article) is home to the famous Hotel del Coronado (picture).
I still need to visit the famous hotel but I have felt the thrill of driving the Coronado Bridge and taking a good look at San Diego's skyline from the city beaches. The area known as Ferry Landing has a pier from where ferries depart/arrive to/from Downtown San Diego.  The area also has a collection of shops, art galleries, fine restaurants and casual eateries.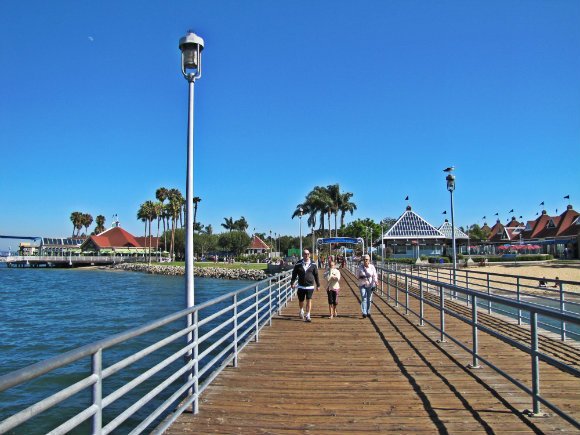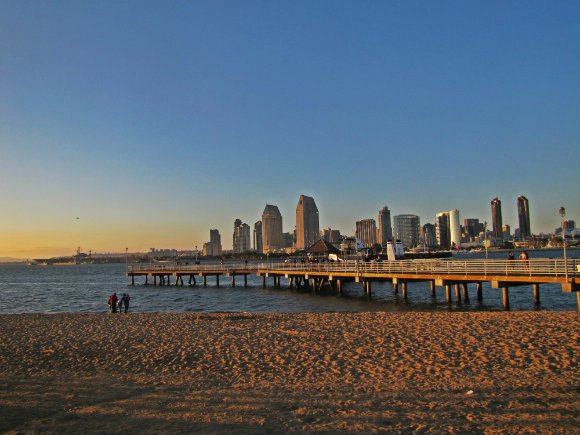 Fact: The topic of piers can get whacky and surreal. Don't believe me? The Seacliff Pier located in the town of Aptos in Santa Cruz County has a concrete ship at the end.  The ship was hauled, sank and turned into an amusement center in 1929.  With time, the company operating the center went into bankruptcy.  This pier has risen to the top of the list of things I want to visit in California (like the list is not long enough already).
Seal Beach
Seal Beach is located in the northernmost part of Orange County (adjacent to Long Beach). You may wonder about the attractions in this small town.  To be honest, there is not a lot to do here. However, that doesn't cancel the fact that this is one of the prettiest and coziest towns in the California coastline.  Come here to explore the unique stores and enjoy the seafood.
The pier is the icing on the cake.  The 'it' thing in here is to stroll the wooden structure during sunset.  Ohh, and don't forget to be alert for a possible encounter with the creatures who give the town its name.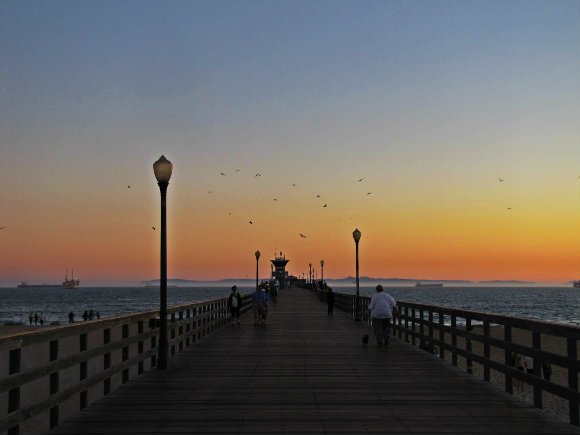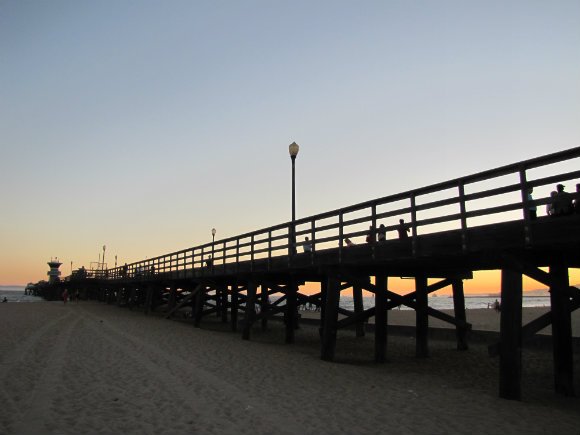 Newport Beach
If we want to talk about quintessential Californian beach towns, it is almost impossible not to include Newport Beach in the conversation. This notorious city is famous for its million dollar houses, charming islands and posh resorts. If you visit the pier area, don't forget to eat clam chowder at The Crab Cooker (it is within walking distance of the pier).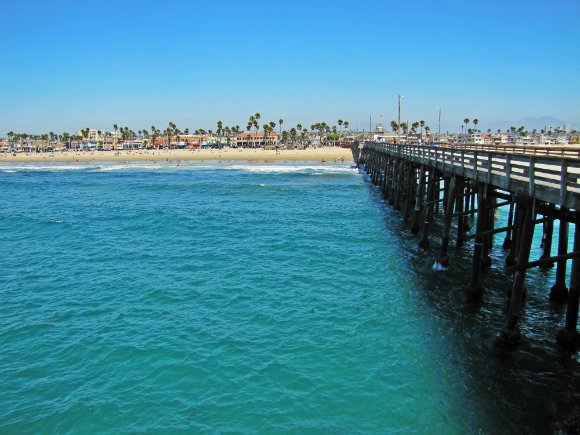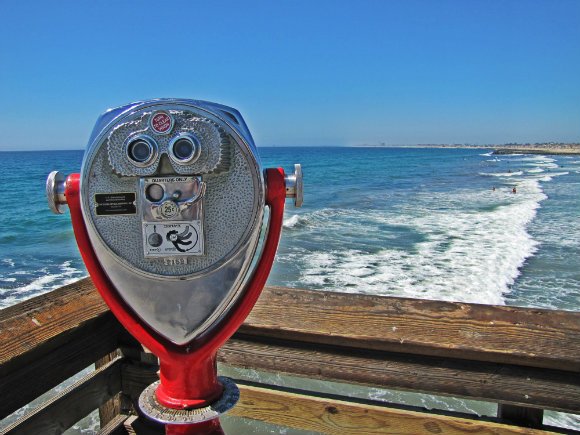 Balboa
Surprise! Surprise! There is a second pier in Newport Beach.
This one is located almost at the end of the Balboa Peninsula and it is particular famous for being the site where the first Ruby's Diner (famous California eatery) was opened. The area around this pier is where most of the action concentrates.  For a fun day, play in the Balboa Fun zone, walk or bike the Boardwalk, take the ferry to Balboa Island, eat a Balboa Bar (ice cream) and watch the sunset from the pier.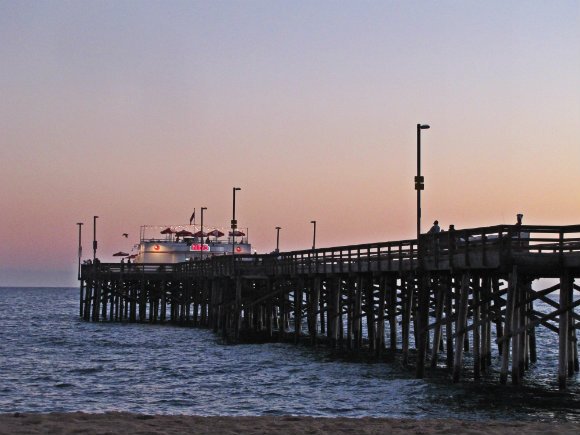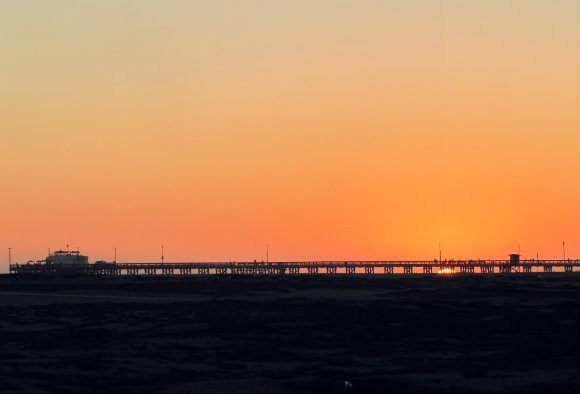 Venice Beach
I don't know how to say this but this is not the most polished pier you are going to find.  But this is Venice Beach.  The dirtiest (and smelliest), the better.  Everything has to fit with the character of this neighborhood.  This is not my favorite place in Los Angeles but visit if you want to have an encounter with some of the wackiest personalities in the city.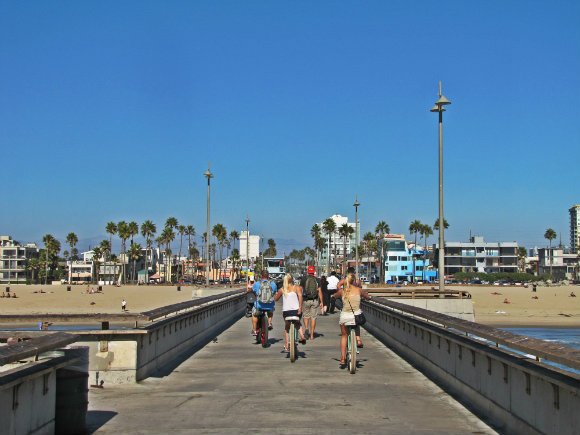 Long Beach – Belmont Veterans Memorial Pier
This pier is located in an area of Long Beach known as Belmont Heights.  In the early 1900s, the residents of the neighborhood asked the city to build a pier on its shores.  The city refused.  Therefore, residents decided to form their own city (taxes also had to do with the decision). Eventually, the area rejoined Long Beach and a pier was built. In 2001, the pier was renamed Belmont Veterans Memorial Pier to honor Long Beach area veterans. It is interesting to notice that this pier is a stop in Long Beach's water taxi system (Aqua-Link).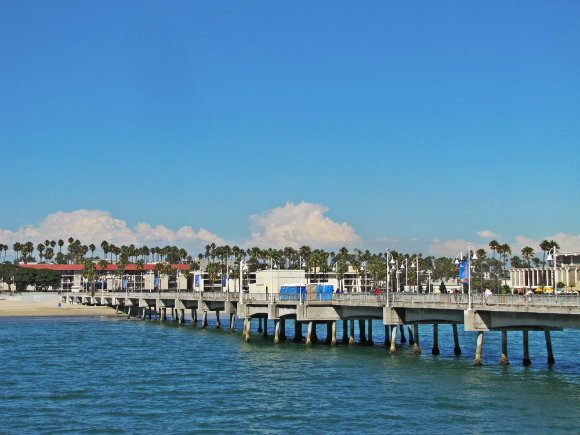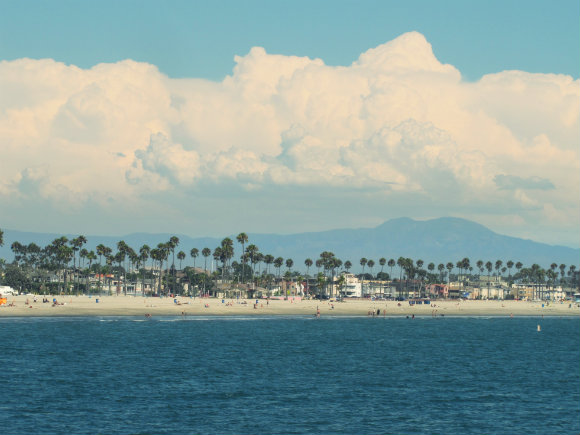 San Clemente
This is a city not to miss.  The pier has indoor/outdoor restaurant dining with affordable prices by pier standards and views that are among the best on the coast (you can see the Dana Point Headlands from here). There is an Amtrak station at the beginning of the pier.  That means you can hop to other beautiful coastal towns (preferably in Northern San Diego County) on a whim.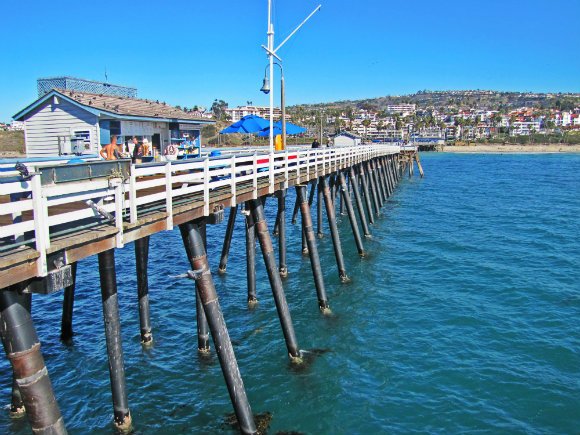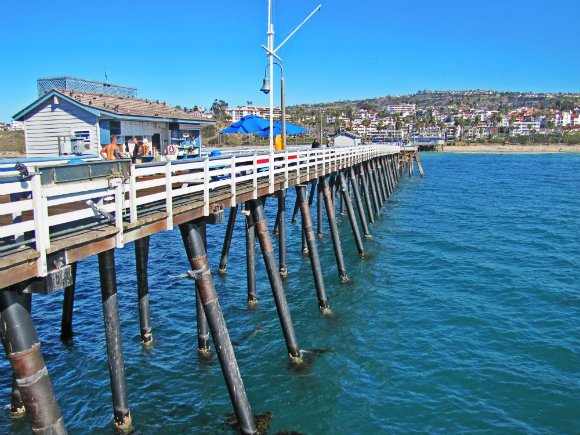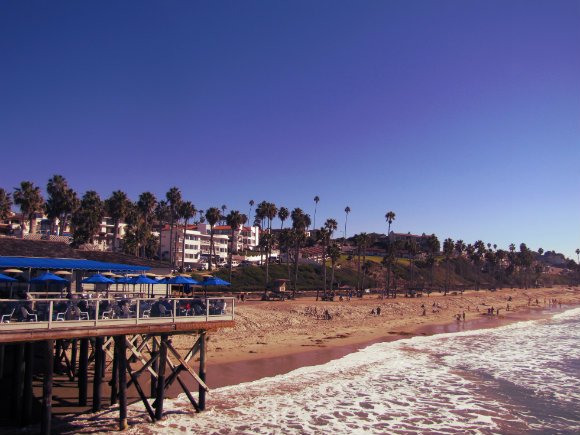 San Pedro – Cabrillo Beach
I assume not a lot of people know about this spot. This pier is protected by the Port of Los Angeles seawall and it is the best point (from land) to take a look at the famous Angel Gate Lighthouse, which has been directing ships to the port for more than 100 years.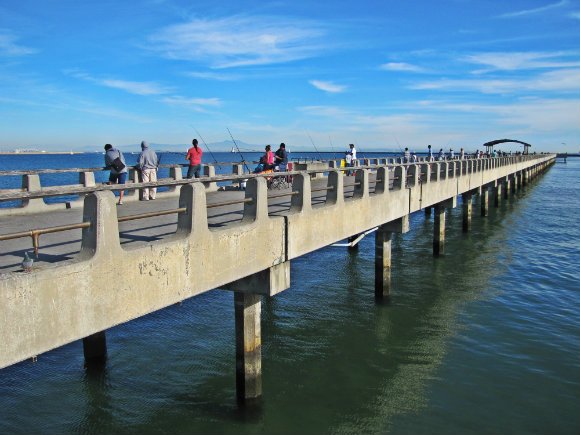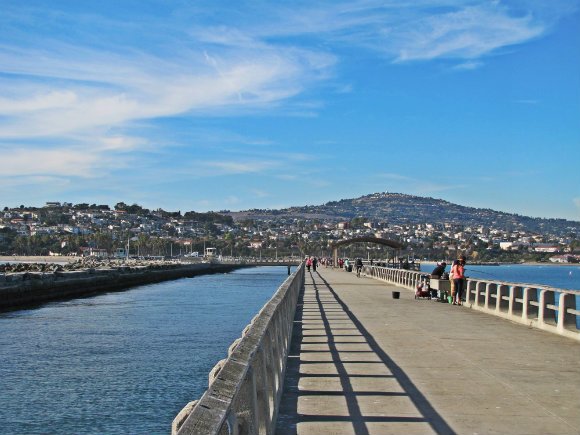 There are other piers that I have set foot on or seen from the distance but for some reason or another hasn't been able to photograph.
San Simeon
Scripps Pier (La Jolla)
This is a work in progress. I will post updates on my Facebook page.
What piers have you visited? Any suggestions? I would like to hear your comments.