For years, I have used a pair of glasses from GlassesShop.com.
If you have never heard about them before, this website offers trendy, high-quality, cheap eyeglasses. 
There are hundreds of styles to choose from.  The best part is the prices. A lot of frames are sold within the $15 to $35 range.  On top of that, they have different promotions going on at the same time.  During a seasonal/flash sale, you can score an awesome deal!
So, when it was time to retire my Ardmore Rectangle – Black Purple, the pair of glasses I had from GlassesShop, it was a no-brainer to go back to the website to order a new pair.
My Ardmore Rectangle were so good to me.  They were comfortable, sturdy, and well-built (colors didn't fade away, the frame did not peel).  And, believe me, they won me way too many compliments.
Glasses Order Process
Once at the GlassesShop website, you can go directly to the Eyeglasses page and start browsing for styles.  If you prefer, you can search by the following:
Gender (Unisex, Men, Women, Kids)
Size (Small, Medium, Large)
Shape (Rectangle, Oval, Cat Eye, etc.)
Material (Metal, Plastic, etc.)
Frame (Full, Rimless)
Color
Custom Searches such as "Popularity," "New Arrivals," "Under 20"
You will be spoiled for choice here.  There are so many cute options to choose from! 
For each frame, you are going to find several close-up pictures, specific details, a short description, and recommendations based on face shape. Also, you are going to see what current promotions apply to the frame (for example, the frame may be part of a "Buy One Get One Free" or "50% Off Frames + Free Shipping" promotion).
You can check out the Lookbook if you want to see what others are getting and how they are styling the glasses.
After deciding on a frame, I selected a lens package (if prescription glasses are needed), entered my prescription, filled out my billing/shipping information, and placed the order.
Before I knew it, my order arrived.  I love how simple the entire process was.
Glasses Review
This time I ordered two pairs of glasses.
I chose the Baldwin Blue frame. I intend to use this pair for work and formal meetings.  The pair came in a deep blue (accented with constellations) case.
I have wanted a tortoiseshell pair of glasses in like forever.  This time I jumped into the opportunity and ordered the Althea Pink Tortoise frame as well.  
These frames are so beautiful.  And, get this, they came in a pink suede case.  I have started to pair these with my turquoise jewelry.  I have so many color combinations planned for these.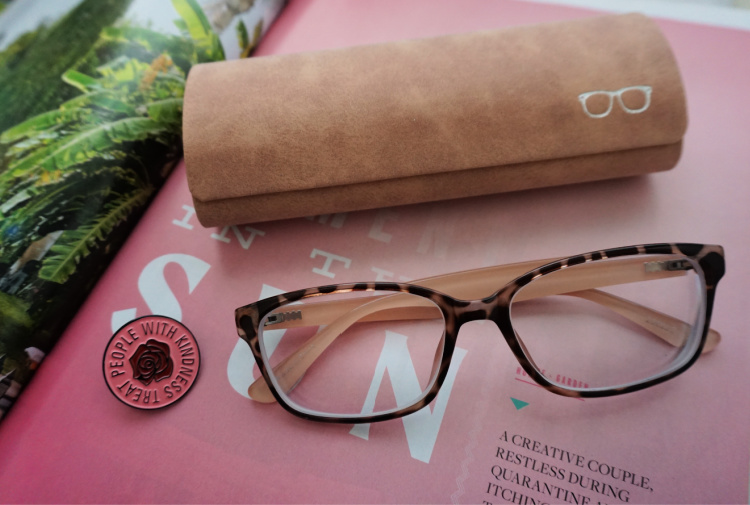 Overall, I am more than satisfied with the received order.  I hear over and over again that past performance is not indicative of future performance but I am pretty sure my new glasses are going to be as good as my last pair from GlassesShop.
Here is a detailed list of what I liked about my new glasses:
Comfortable fit
Trendy color combinations
Strong material used for the frame
Sleek and thin lenses
Correct prescription
Non-adjusting period (I have not experienced headaches or dizziness)
Cute cases
GlassesShop Review
Based on my experience, these are the reasons why I keep buying glasses frames from GlassesShop:
Affordable prices – This is a hard to beat reason
Quality products – I have used frames from the store for years without problems
Tons of styles to choose from –  Just take a look at their page and you will be fascinated by the options (men's glasses, women's glasses, and kid's glasses are available)
Easy ordering process (computer, phone, or tablet)
30 day free return and exchanges
One year frame guarantee
Free shipping options
Toll-free number and live chat
Social media presence
Over 800 positive reviews on Trustpilot
Wide variety of promotions, sales, and coupon codes (which can decrease your total price considerably)
Availability of prescription sunglasses 
Availability of clip-on sunglasses
Availability of detachable sports glasses
Availability of blue light glasses
Glasses Coupon Code
Use special coupon code GSHOT35 to get  35% off on the entire order (sale frames excluded).
Other great coupons can be found here.
—
In summary, I am very pleased with my new glasses. I am looking forward to using my new glasses on all sorts of adventures (and maybe adding additional styles to my collection).
What style of glasses (or sunglasses) would you like to try?
Disclaimer: GlassesShop.com kindly provided two pairs of glasses for review. My opinions are mine as always (as mentioned, I have used the company's products for years).