Are you a beach lover?  Well, get ready because I have some superb beach towns in Northern California to share with you.
Northern California is a place of unparalleled natural beauty. 
Residents and visitors get mesmerized due to the abundance of breathtaking mountains, lakes, rivers, forests, and vineyards.
Of course, there are many places to use as a base to explore the state's natural assets.  And, for some reason, life moves at a delicious pace when you spend time in a beach town.
In this article, I invite you to get familiar with Northern California coastal towns. We will explore their location, amenities, and nearby attractions.
Please note: This article contains affiliate links, meaning I may earn a commission if you make a purchase by clicking a link. Of course, this comes at no extra cost to you and helps me to keep offering solid information to readers.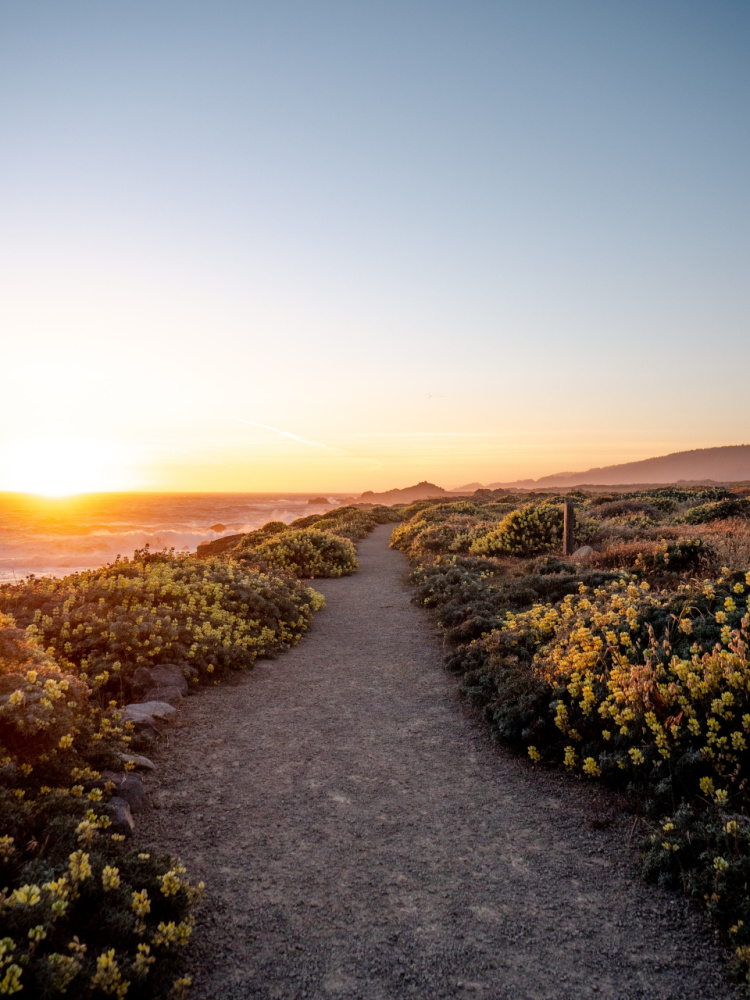 Best Beach Towns in Northern California
We can spend a good amount of time discussing what is considered "Northern California."  After our discussion, we will probably not agree on a definition.  That is ok.
In this article, I am mostly focusing on beach towns north of San Francisco.  There will be some recommendations in Monterey, Santa Cruz, and San Mateo counties.
Carmel
Carmel is one of my favorite northern coastal California towns. I feel like driving and spending time there right now!
It is difficult not to love Carmel.  The town's center looks straight out of a fable.  There are several structures built in the English Tudor, Tudor Storybook, Storybook Cottage, English Cotswold, and French Farmhouse styles.  Besides, there is plenty of interesting architecture on the coastal Scenic Road.
On top of that, the town has arcades, restaurants, bakeries, galleries, and shop sumptuously decorated.  It is recommended to walk or bike the Scenic Road while enjoying Carmel Beach, Carmel Point, and Carmel River State Beach.
Do not miss the gorgeous Carmel Mission.  You will find Junipero Serra's mausoleum inside.
A lot of people pay to tour 17 Mile Drive.  The area is worth seeing but I would visit Point Lobos State Nature Reserve.  I feel like this is an essential visit to the area.  Try to spend half a day there.  If you are short on time, walk/hike the Bird Island Trail.  You will leave astonished!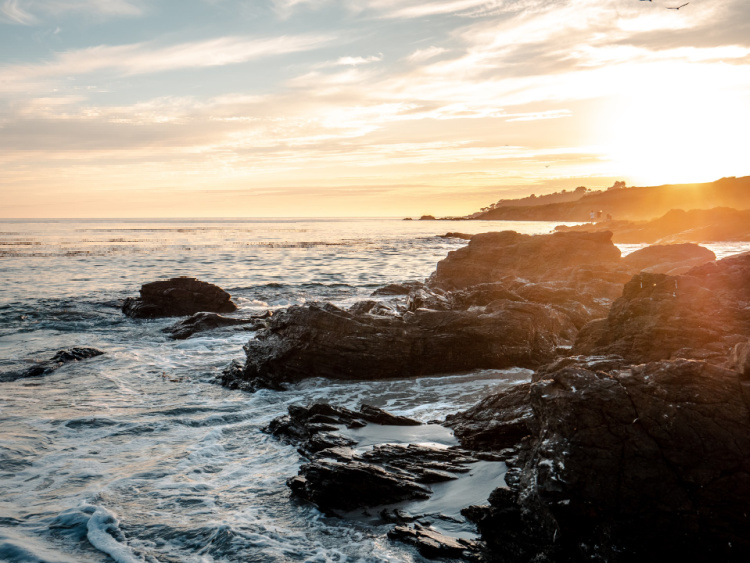 Santa Cruz
Santa Cruz is fairly big (a bit over 64,000 residents) but it has a great small beach town vibe.  And, there are few places that can surpass the classic California beach culture that can be felt there.
First-time visitors should head to the Wharf, Boardwalk, Park, and beach.  It is fun to rent bikes and pedal along the beaches on the east side of town.  I like to explore Seabright, Twin Lakes, and Corcoran Beach all the way to Pleasure Point and even Capitola.
The scenic West Cliff Drive takes you to Lighthouse Field State Beach, the Santa Cruz Surfing Museum, Pyramid Beach, and Natural Bridges State Beach.
In Downtown, you can enjoy Lupulo Craft Beer House, Pacific Cookie Company, The Penny Ice Creamery, Taqueria Los Pericos, and The Walnut Avenue Cafe.
If you like to hike, check out the easy (mostly flat) trail at Wilder Ranch State Park.  The views, rock formation, coves, and beaches are impressive!
Read More: Things to Do in Capitola
Half Moon Bay
Half Moon Bay is yet another paradisiacal town on the northern California coast.  
With over 8 miles of coastline, there are plenty of beaches, trails, and open spaces to discover.  Main attractions include Miramar Beach, Half Moon Bay State Beach, Poplar Beach, and the 5-mile long Coastal Trail.
In town, you can visit Sacrilege Brewery + Kitchen, Half Moon Bay Bakery, Dad's Luncheonette, and Barterra Winery.  Adjacent to the town, you will find Pilar Point Harbor, Pilar Point, Ross Cove, and Mavericks Beach (with a well-known surf break) in the unincorporated community of Princeton.
Close to Half Moon Bay, you can visit the Purisima Creek Redwoods Preserve, Fitzgerald Marine Reserve, and Montara State Beach.
Ocean Beach, San Francisco
Stretching over 3 miles along the western edge of the San Francisco Peninsula, you will find Ocean Beach, a wide expanse of sand and dunes. 
This is not a beach town per se. However, it needs to be included in the article since this is one of the coolest places to visit in the City by the Bay.
The beach offers exciting opportunities for surfing, windsurfing, picnicking, sunbathing, jogging, kite flying, biking, and walking.  Amenities include restrooms, showers, a designed walking/biking path, fire pits, and parking. Swimming can be unsafe due to strong currents (visitors need to take caution).
Ocean Beach is part of the Golden Gate National Recreational Area.  The beach is adjacent to the Sutro Baths, Sutro Heights Park, and Golden Gate Park.  The location is spot on! You can combine several attractions with some beach time.
On the northern part of the beach, you will find restaurants, cafes, and shops along Balboa Street. South of the Golden Gate Park, you will find great places to eat in the Sunset District.
Ocean Beach is unusually uncrowded, except for a few very warm days.  Dogs are allowed off-leash (except in a few areas).
Bodega Bay
If you are a foodie, Bodega Bay is the Northern California beach town for you.  
You can stuff yourself silly with crab, oysters, clam chowder, fresh fish, and shrimp at restaurants like Spud Point Crab Company, Fisherman's Cove, and Ginocchio's Kitchen.  The nearby town of Valley Ford has restaurants selling yummy food as well.  The Valley Ford Cheese and Creamery may blow your mind.
Apart from food, there is a lot to do in Bodega Bay.  The town is located along the shores of the Bodega Harbor, formed by the Bodega Head and Doran Spit.  The area surrounding the harbor is dotted with recreational facilities (part of the Sonoma Coast State Park or regional parks).
You can hike, sunbathe, camp, fish, and practice water sports at Doran Regional Park, Westside Regional Park, or the day-use areas of Sonoma Coast State Park (Campbell Cove, Salmon Creek, Bodega Dune).  There is a string of beaches north of Salmon Creek Beach.  You can easily beach hop or explore by hiking the coastal trail.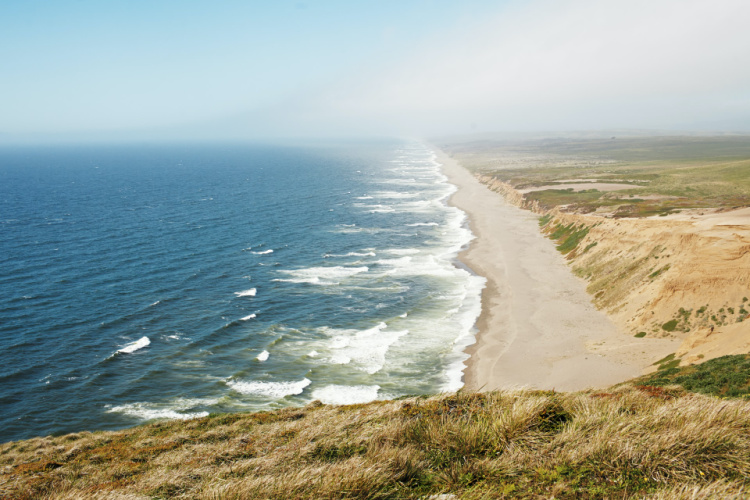 Jenner
Jenner sits on a high bluff near the mouth of the Russian River, where the river debouches into the Pacific Ocean. 
This small town in Northern California (population between 100 – 150) is known for amazing sunsets, dramatic bluffs, and stunning ocean vistas. The actual "center" is located along a short stretch of the Coast Highway (CA-1). In there, you will find some restaurants, plenty of cute places to stay, a gas station, and a business offering canoe/kayak rentals.
Jenner offers endless opportunities for exploration. North of town, you will find Jenner Beach, Jenner Headlands Preserve (administer by The Wildlands Conservancy), and Russian Gulch State Beach. I recommend getting soaked into history at the Fort Ross National Historic Landmark (a former Russian fur trading outpost) and wine-tasting at the 27,500 acres of the Fort Ross Vineyard (the views are incredible). 
Also, begging to be explored is the Salt Point State Park with stunning hiking trails and the Stillwater Cove Regional Park with redwood forests and open meadows. 
South of town you will find the Sonoma Coast State Park, a big park with plenty of amenities.  If you have limited time to explore the park, try to at least make it to Goat Rock Beach, one of the film locations of The Goonies.
Despite being a small town, Jenner is known for beautiful coastal seascapes and lots of opportunities for thrilling activities such as camping, hiking, picnicking, fishing, surfing, and kayaking.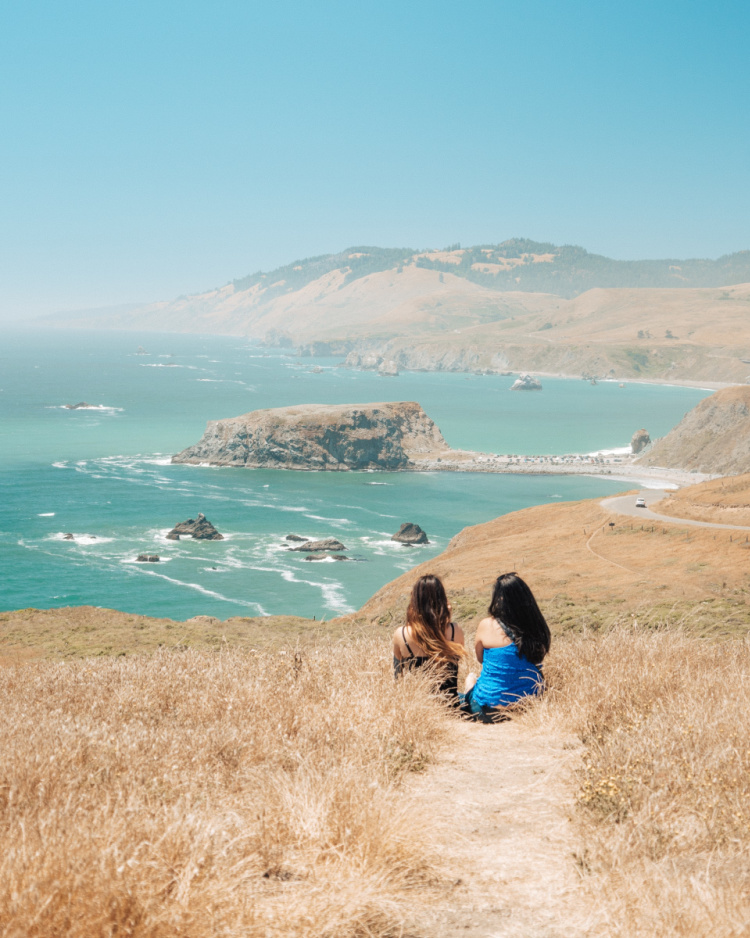 Gualala
Gualala is a quiet coastal town named after the Gualala River. Gualala means "where the waters flow down."
This small town is a great destination for anyone who wants to explore the coastline of northern Sonoma County and southern Mendocino County. 
The town is a creative hot spot.  You can enjoy the work of the locals at the Gualala Arts Center or Dolphin Gallery. 
You can also hike dunes and bluffs at the Gualala Point Regional Park, go kayaking on the Gualala River, camp at the Gualala River Redwood Park, or play golf at the Sea Ranch Golf Links.
While in Gualala, don't forget to visit the Salt Point State Park, 6,000 acres of open grassland, forested hills, a pygmy forest, colorful wildflowers, and rocky coastline with over 20 miles of hiking trails. Other notable places to visit are the beautiful Point Arena Lighthouse and the Point Arena-Stornetta Public Lands.
For a unique sight, head to Bowling Ball Beach, a piece of the coast with spherical sandstone formations.  These are seen when the tide is low.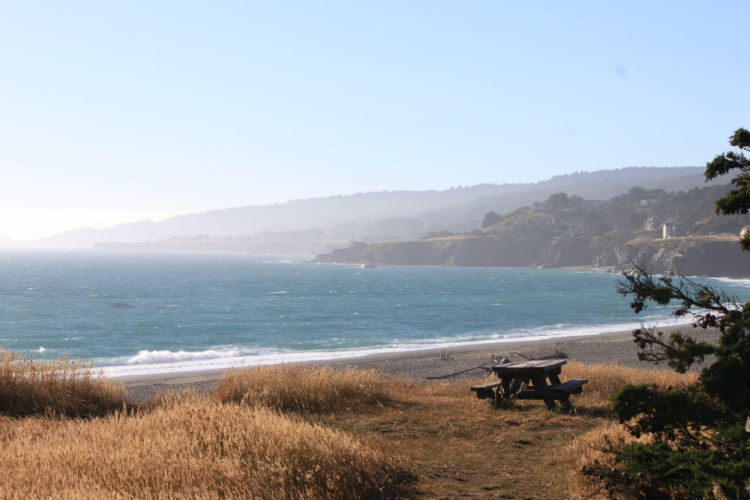 Mendocino
With an alluring coastline, redwood forests, upscale restaurants, and picturesque Victorian mansions, Mendocino is the perfect getaway destination. I have no doubt this is one of the most splendid coastal towns in Northern California. 
Mendocino is littered with attractions. Close to town, you can explore the trails at the Mendocino Headlands State Park, Van Damme State Park (the Fern Canyon Trail is gorgeous), and Russian Gulch State Park (with its famous bridge at the mouth of the Russian Gulch Creek). 
South of town, you will find the mouth of the Big River.  Several businesses rent canoes, kayaks, paddleboards, and bikes.
The Point Cabrillo Light Station and Museum is another must.  There are several easy trails in the surroundings ideal to take in the amazing views.  I also love Caspar Beach and the Caspar Headlands State Park.
Mendocino is in proximity to the Anderson Valley wine region, which has over 30+ wineries waiting to be explored. And, as the name implies, the valley is home to the Anderson Valley Brewing Company, one of the pioneers of the craft beer movement in the United States.
Note: There is a Fern Canyon Trail in Van Damme State Park and another trail with about the same name at Russian Gulch State Park.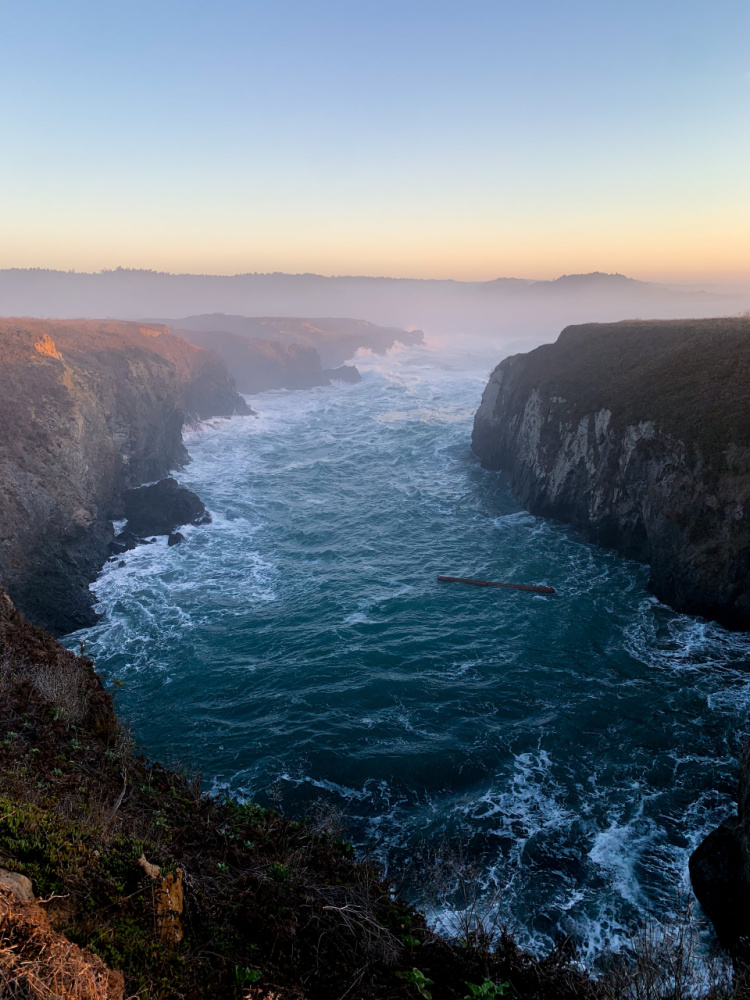 Fort Bragg
Once a military garrison and named after an army officer (Braxton Brag), Fort Bragg is currently a destination for outdoor and beach enthusiasts. As one of the most well-known Northern California coastal cities, there are spectacular landscapes (located between the mouth of a river and a creek), sand dunes, coves, rugged beaches, and scenic views of the Pacific Ocean. 
Close to town, you can spend time at Pudding Creek Beach, Noyo Headlands Park, and Pomo Bluffs Park.  Liquid Fusion Kayaks offers rentals, tours, and lessons at the Noyo River.  There are great restaurants to indulge in seafood dishes such as Noyo Fish Company, Princess Seafood Market & Deli, and Sea Pal Cove.
A popular spot among lovebirds is the North Cliff Hotel with ocean view bathtubs
Glass Beach, one of the most unique places located in Northern California, has an abundance of sea glass of varied colors. The 47 acres of the Mendocino Botanical Garden is a must-visit if you love colorful flowers and enjoy bird watching. And finally, enjoy the scenic 7-mile ride on the historic Skunk Train.  The train travels along the Pudding Creek Estuary in the heart of a redwood grove.
Read More: Things to Do in Fort Bragg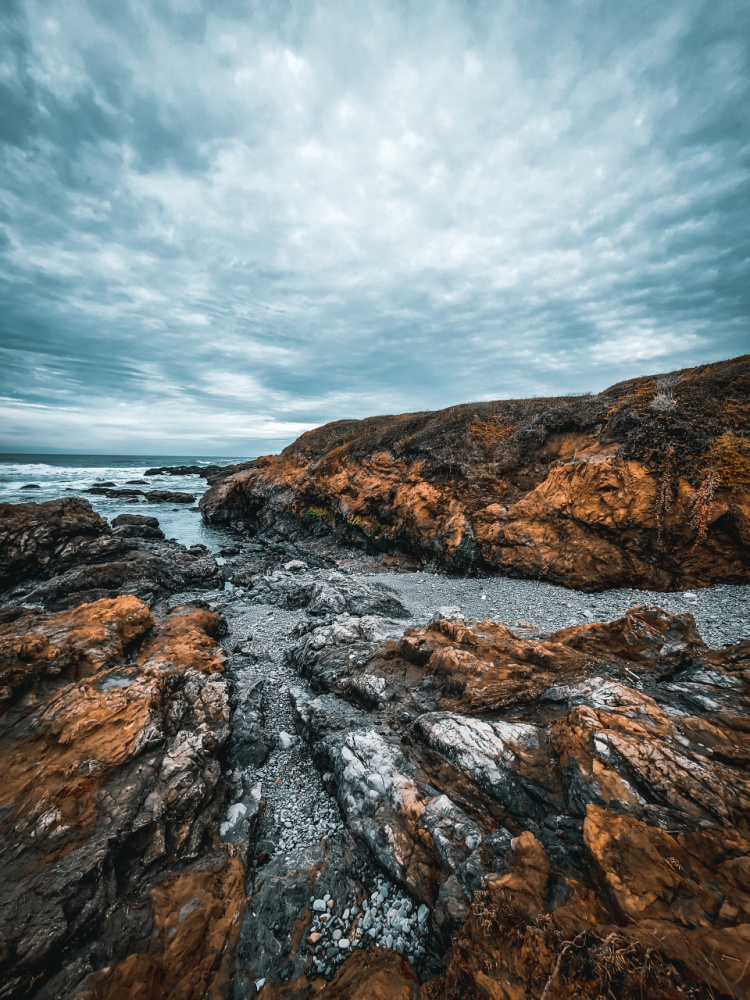 Eureka
Located a 3 hours drive north of Mendocino, Eureka is a scenic coastal town known for its Old Town lined with magnificent Victorian houses.
You can get a glimpse of the 1800s with a self-guided tour of the Eureka Old Town Waterfront District and stops by the Carson Mansion and Morris Grave Museum of Art.  Food lovers will choose to visit the Lost Coast Brewery, Chalet House of Omelettes, Los Bagels, or Cafe Waterfront.  You can make reservations to visit the Dick Taylor Craft Chocolates factory.  Or,  cross to the Samoa Peninsula to eat at the Samoa Cookhouse, a local (even historic) joint offering huge portions (and a logging museum).
The Humboldt fog goat cheese is produced in the area.  Head to the North Coast Co-op, Eureka Natural Food, or local supermarket to stock on this delicatessen (and other delicious products).
The area surrounding Eureka is redwood country.  This is where you are going to find the tallest trees on Planet Earth. The Humboldt Redwoods State Park houses the Rockefeller Forest, the largest remaining contiguous old-growth forest of coast redwoods in the world.
You can also walk among redwoods at Headwaters Forest Reserve, Sequoia Park, and Arcata Community Forest.
Of course, there is the option to drive north to visit Redwood National Park (located 40 miles away from Eureka).
If all of this I have shared is not enough, you have the opportunity to practice water sports between Arcata Bay and Humboldt Bay.  The Humboldt Botanical Garden, Humboldt Bay National Wildlife Refuge, and Sequoia Park Zoo are wonderful places to visit as well.
Trinidad
Trinidad is one of the best northern California beach towns.  And, I say this because it has an iconic pier, scenic ocean views, a lighthouse, and some of the best seafood restaurants in the area. It's a tiny and uncrowded town, yet it doesn't disappoint. 
Tour the Trinidad Museum to learn more about the history of the town, stroll along the Trinidad State Beach, fish from the pier or hike the rocky and forested Trinidad Head Loop Trail.
South of town, you will find Luffenholtz Beach, Houda Point, Moonstone Beach, Little River Beach, and Clam Beach. At low tide, it is possible to walk from Houda Point to Moonstone Beach.
Patrick's Point State Park is one of the most gorgeous parks in California.  At the park, you can hike, camp, explore tidepools, watch whales passing on their yearly migration, picnic or visit a Sumeg Village. Enjoy all sorts of aquatic activities at the Big Lagoon County Park.
Trinidad is close to Eureka so, you can enjoy the attraction of that town and the Redwood Coast.
Crescent City
Crescent City is the northernmost coastal city in California.  I can say this since it is the only incorporated city in Del Norte County. It is located about 20 minutes from Oregon's state line. 
While in Crescent City, make sure you visit the Battery Point Lighthouse, a California historical landmark.  You can walk around the harbor, Beach Front Park, and Point St. George Beach.  I recommend driving south to the Crescent Beach Overlook for amazing views of the coast.
This small town provides access to Redwoods National Park, which is home to the oldest and tallest redwoods in the world. Also, find time to explore Jedediah Smith State Park's 10,000 acres of redwoods along the Smith River. This is a delightful destination for fishing, surfing, hiking, camping, wildlife sighting, and all sorts of fun boating activities.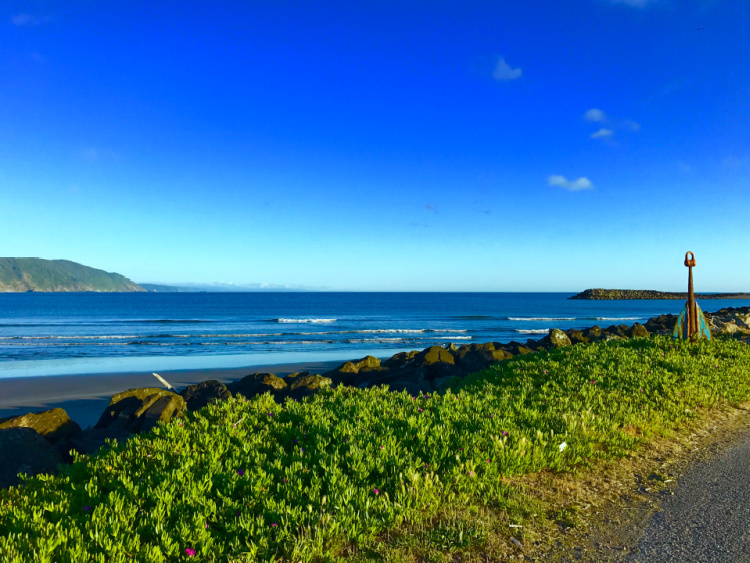 More Beach Towns in California
If you are looking for more information about other beach towns in California, I have extensive coverage of towns located in Central and Southern Califonia.  Take a look below:
Beach Town Gear
As I spend a lot of time on beach towns, I have my gear packed and ready to throw in the car.  Here is an idea of what I would take to the beach towns in Northern California.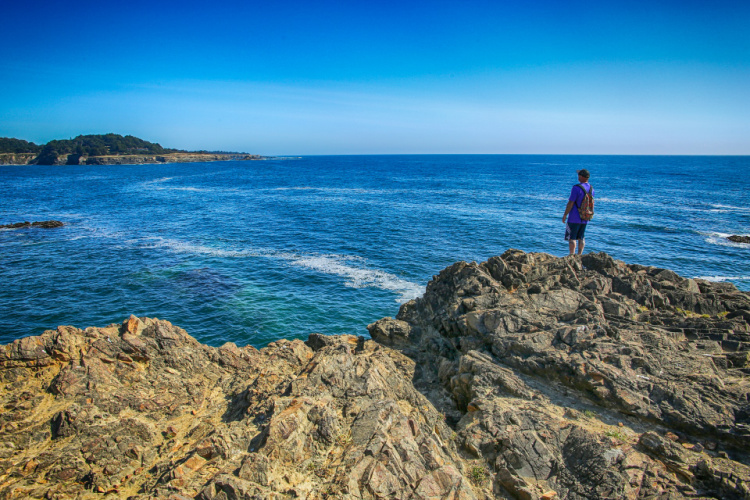 Hope you have gotten tons of idea on the best beach towns in Northern California to visit.
What are your favorite beach towns in Northern California?