A walk around my neighborhood brings a sense of nostalgia.  As I walk thru the streets, the small, one story houses originally built in the area are squished between huge apartment complexes.  In the name of progress and profits, the lot, that used to contain a one family house, is used to construct a 10 to 12 apartment building even with garage and laundry room.
A few "old" houses painted in pale blue, yellow and green shades are peppered here and there.  It makes me think about those days when kids used to play in the front lawns. Or the times when less cars use to congest the streets.
From the previous description, you can deduct I enjoy old, slightly battered neighborhoods.  It is not necessarily the looks but the character of a place.  That is why I felt so happy visiting Los Rios Historic District in San Juan Capistrano. Some sources affirm this is the oldest neighborhood in California.  So yes, I had to drive all the way to Orange County to have an encounter with one of those places I like.
 Los Rios Historic District includes 40 structures which line both sides of Los Rios Street.  It includes three adobe homes built in 1794 for Mission families.  The Montanez, the Rios, and the Silvas are all that remain of the adobes that housed the builders of the mission and the mission ranch workers in the late 1700's and early 1800's. In addition, there are numerous single-wall board and batten homes erected between 1887 and 1910. 
Even though many houses in the District are private residences, there are many businesses open to the public.  There are opportunities to eat, buy gifts or have a good cup of coffee.  There are many artist studios in the area.  So get prepared to see pieces of stained glass hanging from trees and statues, vases or colorful signs scattered around patios.
Make sure to stop by Los Rios after or before visiting San Juan Capistrano famous sight, the Mission.  It will sure take you back to California's initial years.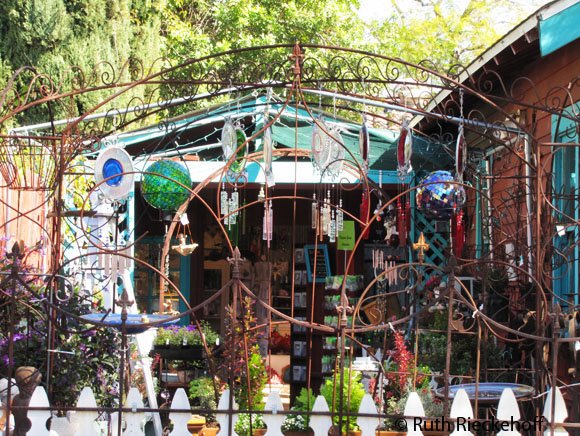 Have you been to Los Rios? Let me know in the comments section below.