This article provides details on how to explore the Los Rios Historic District in San Juan Capistrano!
A walk around my neighborhood brings a sense of nostalgia.  As I walk through the streets, the small, one-story houses originally built in the area are squished between huge apartment complexes.  In the name of progress and profits, the lot, that used to contain a one-family house, is used to construct a multi-unit apartment building.  Some developments even have garages and laundry rooms.
A few "old" houses painted in pale blue, yellow, and green shades are peppered here and there.  It makes me think about those days when kids used to play in the front lawns. Or, the times when fewer cars use to congest the streets.
From the previous paragraphs, you can deduct I enjoy old-school neighborhoods.  It is not necessarily the looks but the character of a place.  That is why I felt so happy visiting Los Rios Historic District in San Juan Capistrano. Some sources affirm this is the oldest neighborhood in California.  So yes, I had to drive all the way to Orange County to have an encounter with one of those places I like. But, it was all worthy.  Los Rios oozes tons of charm.
Below, you will find the best things to see, do, and eat in Los Rios.
About Los Rios Historic District
Los Rios Historic District includes 40 structures lining both sides of Los Rios Street (next to San Juan Capistrano's Old Town).  It includes three adobe homes built in 1794 for Mission families (Mission San Juan Capistrano is located a few blocks away).  The Montanez, the Rios, and the Silvas are all that remain of the adobes that housed the builders of the mission and the mission ranch workers in the late 1700s and early 1800s. In addition, there are numerous single-wall board and batten homes erected between 1887 and 1910. 
Even though many houses in the District are private residences, there are many businesses open to the public.  There are opportunities to eat, buy gifts, or have a good cup of coffee.  There are many artist studios in the area.  So get prepared to see pieces of stained glass hanging from trees and statues, vases, or colorful signs scattered around patios.
Time does not seem to affect Los Rios.  As an example, look at the two pictures below.  One was taken in 2012 and the other in 2020. I was surprised at how similar they are.
Things to Do in Los Rios
The area covered by the historic district is small.  Walking along the Los Rios Street can take 10 to 20 minutes.  It depends on how often you stop to check out places or take pictures.
Of course, you can extend your visit by entering the different businesses, getting something to eat, or hanging around a coffee shop.
I recommend combining a visit to Los Rios with all the other cool things San Capistrano has to offer or as part of a trip around the area (including Laguna Beach, Dana Point, or San Clemente).
 Plaza
A visit to the area starts at a small plaza located at the intersection of Los Rios Street and Verdugo Street.  The plaza has plenty of trees, benches, artworks, and signs pointing to attractions in the district.
Hummingbird House Cafe
This cafe offers visitors an interesting mix of brunch and Greek dishes.  On any given weekend, you can order crepes, French toast, eggs Benedict, or a breakfast burrito.  If you want to go in a completely opposite direction, go after the spanokopita (phyllo dough filled with spinach and cheese), moussaka (a dish made of potatoes, eggplant, ground beef, and bechamel sauce), or lamb shanks.  Oh, and did I mentioned the place is super cute?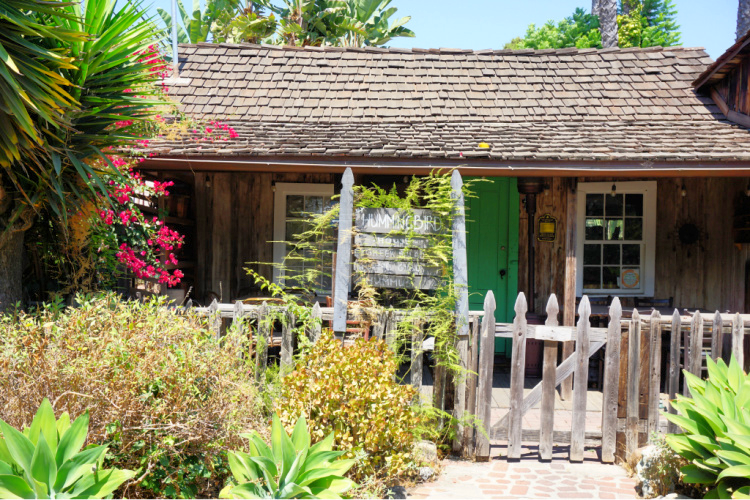 Hidden House Coffee
Hidden House Coffee is painted in a bright yellow tone and covered by the sheltering branches of a huge tree.  There is plenty of outdoor chairs and tables to enjoy an espresso or a cup of joe from a single source (farms in Ecuador, Colombia, Ethiopia, and Panama).  Their scones, croissants, cookies, and bagels are made daily.  Visit often to try their seasonal pastries.
Ramos House Cafe
If you are looking for a unique and magical place to have brunch, the Ramos House may be one of your best options.  This cafe, located in a structure dating from 1881, serves Southern-inspired dishes with a touch of creativity.  Think about creations along with the line of duck mac n' cheese or fried chicken salad with johnnycakes.  
There is a set price for brunch and drink are ordered a la carte.  In addition, there is a list of daily specials you can choose from.  Brunch is offered daily except Wednesdays.
Los Rios Park
This huge open area is home to the Montanez Adobe, a butterfly garden, playground, and semi-covered picnic site.  Restroom and drinking fountain facilities can be found on-site too.  This is a nice place to go on a walk, let your kids have a stretch, or enjoy a meal/snack.
The Tea House
As the name implies, this place is dedicated to the wonderful British tradition of afternoon tea.  Of course, things have their own twist in here.  Tea here is served from 11:00 a.m. to 4:00 p.m. (afternoon tea is served around 4:00 p.m.).  Also, the establishment has ventured into offering breakfast and lunch dishes (you do not have to order tea if you do not want to).
When it comes to tea, there are 5 packages to choose from and one package specially designed for kids.  With respect to individual dishes, the menu has options such as rosemary roasted chicken, grilled salmon, and Bombay chicken curry. Of course, there is a sizable list of desserts to choose from (like chocolate ganache cake and bread pudding with brandy sauce).
Reservations are a must here.  The place is always full.
Nest
This boutique sells fashionable pieces from a vintage 1880's cottage.
The Cottage Gallery
This space exhibits watercolor, oil painting, photography, acrylic, glass, wood, and ceramic works from Orange County artists.  Their garden is full of art too.  All works are for sale.  They also offer advice if you want to commission a specific work.
Las Catrinas
I love, love this store.  It is full of Mexican, Central American, and Southern American pieces (mostly ornamental but there are things you can wear and use).  Make sure to stop by to buy something for you or a loved one.
Farm School
I am not sure if cooking classes can be offered in a more picturesque place!  Farm School offers hands-on classes inside a cottage built in the board and batten style.  Seasonal (dishes fit for winter, fall, spring, and summer), rainbow (dishes prepared from fruits and vegetables from different shades), and private classes are offered in a professional kitchen.
San Juan Capistrano Historical Society
The city's historical society is headquartered in the O'Neill Museum (or Garcia/Pryor Residence).  A visit will give you insight into San Juan Capistrano's past through photos, documents, and artifacts.  Keep in mind cities in Southern California.
Tour the District
The Historical Society offers free, 45-minutes walking tours of Los Rios every Saturday at 1:00 p.m.  The tours start from the train depot.
Zoomars
This spot is located on River Street, within walking distance of Los Rios Street.  Zoomars caters to families with small children since it has a petting zoo, gold mining, pony rides, train rides, and playgrounds.  The facilities are colorful and bright. The owners have taken care of creating a cozy space.
More Photos



How to Reach Los Rios
San Juan Capistrano is located 30 miles from Anaheim, 55 miles from Los Angeles, and 66 miles from San Diego.  The city makes a great day trip (or weekend trip) in Southern California.
If visiting the area from outside the state, you are probably going to start your trip from Los Angeles or San Diego's international airports.  Orange County has its own international airport (John Wayne) located 20 miles away.
San Juan Capistrano's train station is located right at the heart of Old Town.  You can walk from here to Los Rios (it is literally across the street).  That means that you can hop on the train from cities in Orange and San Diego counties.
Los Rios Parking
There are plenty of parking spaces along the streets of Old San Juan Capistrano.  For covered parking, head to the train station parking lot.
Nearby Attractions
You do not have to walk far to encounter even more cool things to do.  San Juan Capistrano offers a lot.  Within walking distance from Los Rios enjoy the following:
See
Mission San Juan Capistrano

San Juan Capistrano Mission Basilica
Eat
Trevor's at the Tracks

Bueno Bueno Mexican Kitchen

Heritage BBQ (keep in mind people start to line up two hours before opening time, this seems to be the Franklin's of Orange County)
Drink
Five Vines Wine Bar (I highly recommend this place, the food is delicious too)

Rancho Capistrano Winery

Capistrano Brewing Company
Outside San Juan Capistrano, you can visit Dana Point and San Clemente. Both cities have a unique character.  I'll say a visit to both is a must (so many places, so little time).
Read More: Mission San Juan Capistrano
Make sure to stop by Los Rios after or before visiting San Juan Capistrano's most popular sights. It will surely take you back to California's initial years.
More of Southern California
150+ Places to Go in Orange County
Los Angeles Ultimate Bucket List
Ultimate San Diego Bucket List
200+ Places to Visit in Santa Barbara
Have you been to Los Rios Historic District?
Pin "Los Rios Historic District" for later!