One Day in San Diego.
If that is the amount of time you have available to explore "America's Finest City," do not worry, you have arrived at the right place.
I have lived in Southern California for more than 15 years and have extensive experience showing out of state visitors San Diego and helping friends to maximize time spent in the city
San Diego is one of the jewels of our state.  I am not sure if its beaches, history, culture, food, and funkiness can be beaten.
Get ready to have the time of your life in this fabulous city!
Please note: This article contains affiliate links, meaning I may earn a commission if you make a purchase by clicking a link. Of course, this comes at no extra cost to you and helps me to keep offering solid information to readers.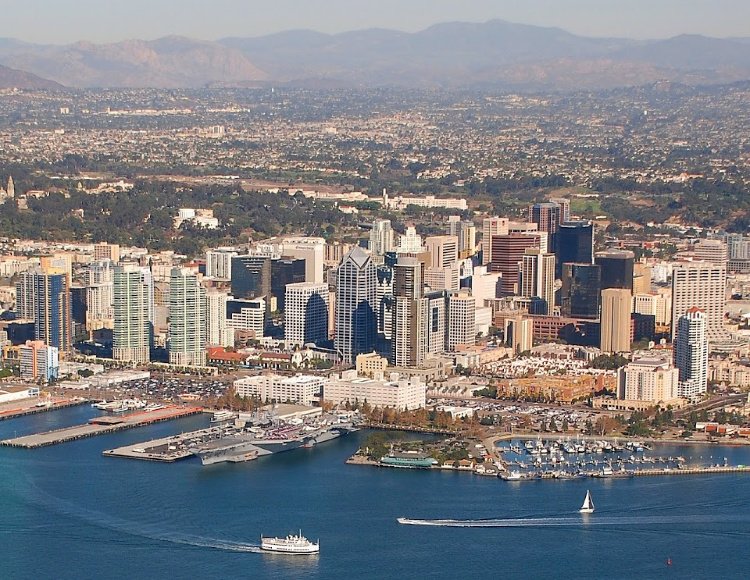 Trip Pre-Planning
Before getting into the details, I need to make sure we are on the same page.  What I discuss in this article will work under certain circumstances. I am outlining those below.
My suggestions are ideal for first-time visitors to the city.
I am assuming you are interested in seeing the top sights.  That means you will be moving around a lot. If you want a relaxing day in San Diego, you need to pick an area and spend the day there (see options on the alternate itineraries section).
This itinerary assumes you have an entire day in San Diego.  That means that you spent the night before in the city and are within close distance of the starting point.
Also, the itinerary assumes you are going to spend the night (after sightseeing) somewhere in the city
In short, you will need 10 to 12 daylight hours to follow what I have outlined here.  If you have less time, you will need to cut things short.
On the same line, you need to start sightseeing early (9:00 to 10:00 a.m.).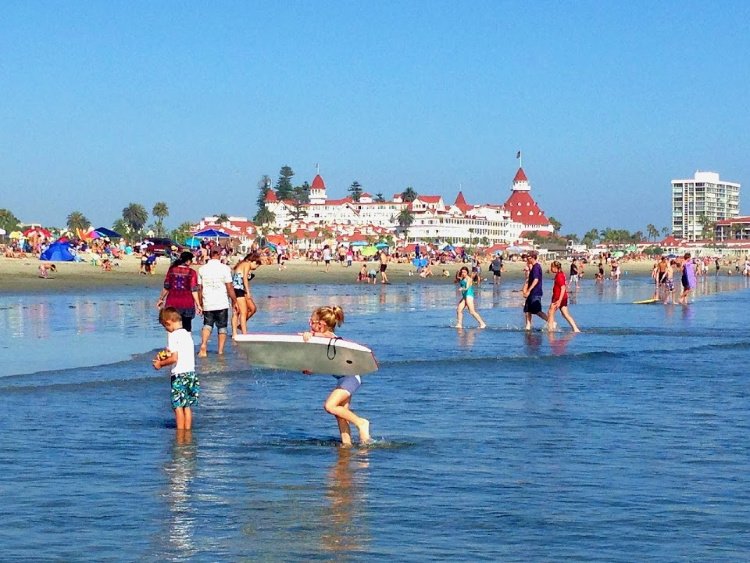 This itinerary will work better if you have a car.  As mentioned, there is a lot of movement involved since we are trying to see as much as possible in a day.
If you do not have a car, I advise you to take Uber or Lyft between places.  There are public transportation options but I would not spend time moving around on those with only one day in the city.
I will provide mileage information between stops.  In that way, you can calculate the approximate costs of using ride-sharing services (using an application such as RideGuru).
If you are renting a car, you need to take into consideration parking expenses.  In my opinion, parking costs in San Diego are affordable when compared to other big cities in the state.
Traffic in San Diego is moderate (not a nightmare like in Los Angeles).  You should not encounter any issues related to this.
I tried to keep this itinerary as budget-friendly as possible (yay for savings). Most attractions highlighted here are free.  The majority of the costs are related to transportation and food.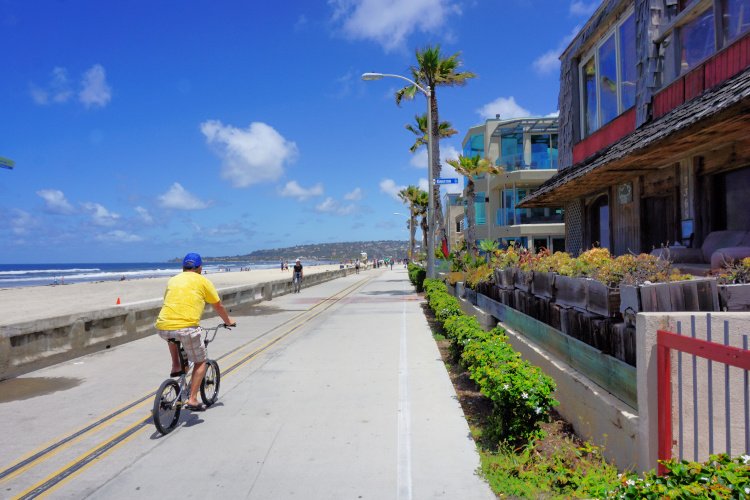 Beach Town Gear
As I spend a lot of time on beach towns, I have my gear packed and ready to throw in the car.  Here is an idea of what I take to the beach (since there will be a lot of beach time in San Diego).
Portable Power Bank – It is a pain to keep phones charged on beach trips.  Having a power bank is a lifesaver.  The Anker portable charger can charge a phone 5 times. >Buy this incredible power bank here
One Day in San Diego – Detailed Itinerary
Here is my step by step itinerary on how to spend an unforgettable one day in San Diego.
Stop #1: La Jolla  or Pacific Beach
Arrival Time: 8:00 or 9:00 a.m.
Time Spent on Site: 3 hours
Probably, the first thing that comes to mind when you think about San Diego is the beach.  So, it would be a crime not spending a good chunk of the day exploring the coastal scene of the city.
On this itinerary, I would let you pick between La Jolla or Pacific Beach.  These two areas are very different and appeal to different personalities.  
If you are into raw beauty, coastal caves, and wildlife, choose La Jolla.  If you want to experience the quintessential Californian pier, a boardwalk, taco joints, and jovial locals, pick Pacific Beach.
If La Jolla is your choice, start the day by having a tantalizing breakfast.  My favorite place to have breakfast or brunch is Sugar and Scribe.  I cannot get enough of their lemon curd pancakes, quiches and naughty skillet (oh so good!).  Leave some room in your stomach for one of their baked goods (or buy for later). I love their chocolate croissants.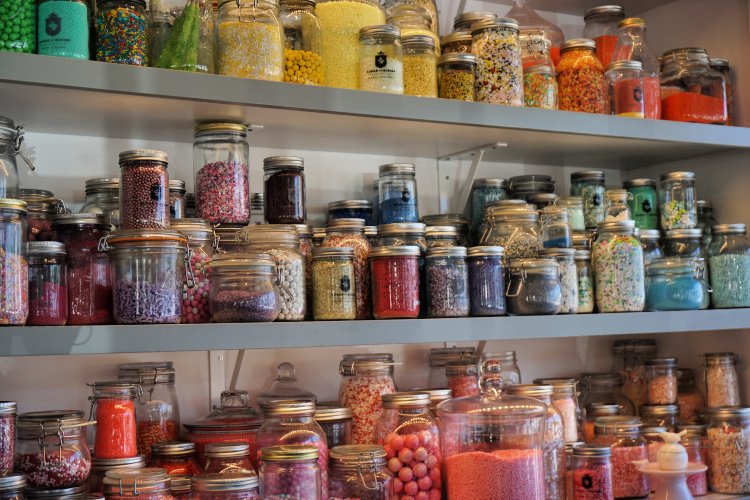 Just across from Sugar and Scribe, you will find The Cottage, a local favorite serving scones, French toast, omelets, and other classics.  Other breakfast options include Shorehouse Kitchen, Crushed and Cove House.
With a full belly, it is time to walk along Coast Boulevard to discover what La Jolla has to offer.  Towards the northern part of the road (intersection with Cave Street), you will find Goldfish Point a promontory with a cave under it.  You will be able to see the cave, full of noisy sea lions, from the street.
In addition, you can get onto the Coast Walk Trail to access the top of the promontory.  From here, to the north, you can see the other sea caves of La Jolla and wonderful views of the area.  If you have time, I recommend walking the trail (flat and easy) for even more amazing viewpoints.
Go back to the street and walk south this time.  You will encounter La Jolla Cove and the Children's Pool.  Plus, sea lions, pelicans, cormorants, and seagulls congregate on the cliffs next to the water.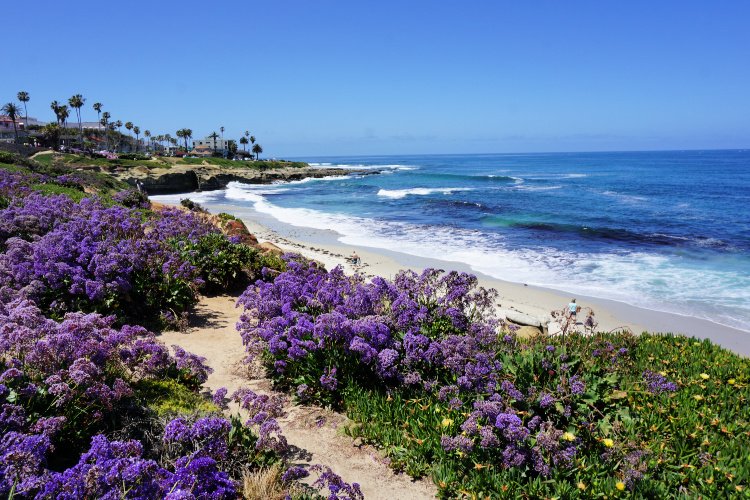 Note: You can spend your time in La Jolla doing a kayaking tour of the caves in the area.  These excursions last about 2 hours and depart from La Jolla Shores Park.
Parking: In La Jolla, there is plenty of free parking spaces along Coast Boulevard.  On busy days, you may need to drive around several times to find a space. 
If you choose to spend your time in Pacific Beach, the place to have breakfast is Kono's Cafe.  This no-frills restaurant serves breakfast sandwiches, egg burritos, scrambles, and classic plates.  You can have a burger for breakfast if you want. Get prepared to wait in line for a while.
When I am in Pacific Beach, I eat tacos for breakfast.  Hey, it is not my fault that one of my favorite taco joints opens at 8:00 a.m. Oscar's Seafood sells to-die-for fish, shrimp, octopus, and steak tacos.  They have ceviche, tortas, and grilled fish on the menu as well.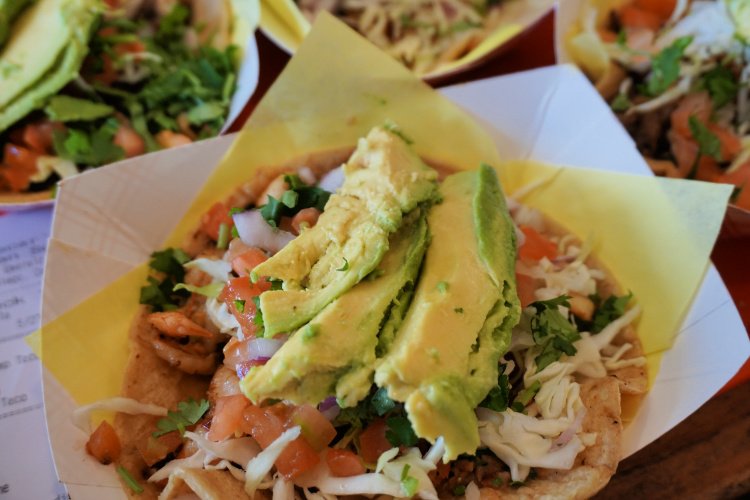 In terms of things to do, check out the pier, take a dip in the ocean, play a round of volleyball and walk (or bike) the Boardwalk till the limits with Mission Beach.  The Boardwalk continues till Belmont Park and South Mission Beach.  This is too much to walk if you have time limitations.  You can cover more territory with a bike.
Parking: In Pacific Beach, it is more complicated to find a free parking spot.  The ones we tend to find are several blocks away from the beach. I recommend parking in one of the lots (for a fee) located in Garnet Avenue, Felspar Street, and Hornblend Street.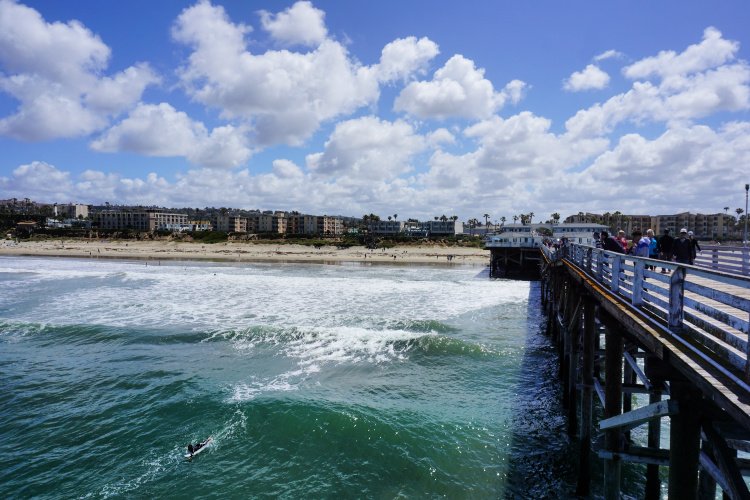 Stop #2: Old Town
Arrival Time: Around 12:00 or 12:30 p.m.
Time Spent on Site: 2 or 3 Hours
Distance from La Jolla: 11 miles
Distance from Pacific Beach: 7 miles
After the beach, change gears completely and take a look at the place where California was born. The Old Town Historic State Park marks the area where the Pueblo of San Diego started to develop (below a hill where the Presidio and Mission were located).  The neighborhood remained the center of the community until the 1860s (when Alonzo Horton started to develop present Downtown San Diego).
Nowadays, Old Town showcases a noble house, a hotel, a print shop, a blacksmith studio, a jail, a school, a plaza, stables, the Wells Fargo Museum, and much more.  Several structures are occupied by artisans or businesses selling unique goods. In one corner, a big structure is home to the Casa de Reyes Restaurant, Rose's Tasting Room, a bakery and stores selling tiles, toys, jerky, root beer, jewelry, olive oil, and house goods.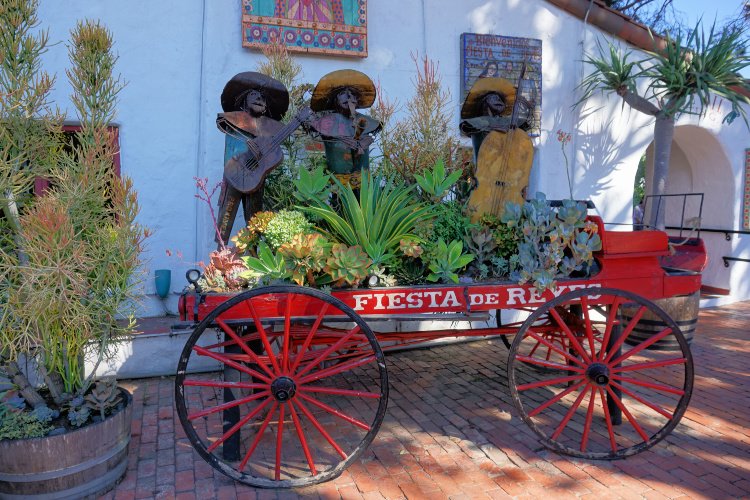 Outside the Historic Park, on San Diego Avenue, you will find restaurants serving Mexican food, the Immaculate Conception Church, the Whaley House (one of the most haunted houses in the United States), street markets and museums.
I recommend taking a look at the Historic Park and moving to the next stop.  If you are hungry, Casa de Reyes, Casa Guadalajara, and Cafe Coyote are good places to have a bite.  Let me warn you that these places do not serve the most flavorful or authentic Mexican food in the city.
I will skip eating in Old Town (or will grab a snack there) and choose a restaurant close to the next stop. Excellent restaurants such as Barrio Star, CUCINA Urbana, and The Balboa are locaters meters away from Balboa Park.
Parking in Old Town:  There is plenty of free parking on the streets surrounding the Historic Park (Congress, Juan, Twiggs and Calhoun Streets).  In addition, there are many well-priced public lots in many strategic points around the park.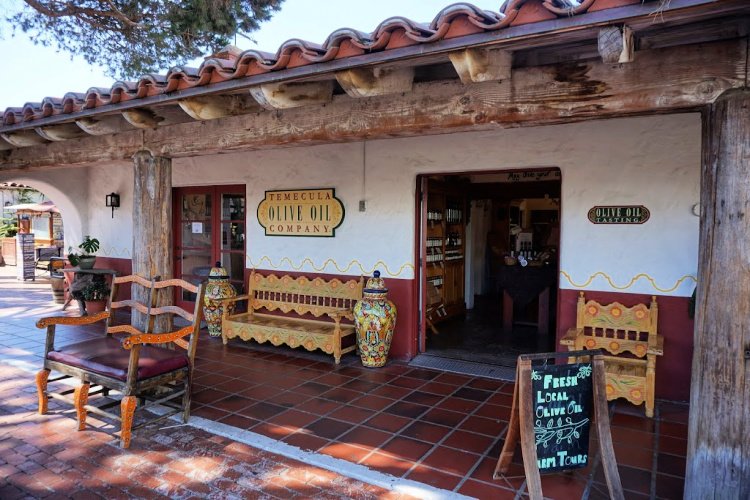 Stop #3: Balboa Park
Arrival Time: 3:00 p.m.
Time Spent on Site: 2 or 3 hours
Distance from Old Town: 4 miles
Balboa Park is huge.  The entire complex occupies 1,200 acres and it is home to museums, gardens, theaters and the San Diego Zoo.
With one day in San Diego, I recommend strolling around to have a look at the most prominent buildings and points of interest.  A walk along the main thoroughfare, El Prado, will take you to the Museum of Man (with its impressive California Tower), the Old Globe, the San Diego Museum of Art, the Alcazar Garden, the Plaza de Panama, the ornate Visitor's Center, and the Botanical Building (you can enter for free) with its immense lily pond.
If you have time, visit a particular institution of interest.
Parking in Balboa Park:  To save time, I will park as closer to El Prado as possible.  My advice is to try to find a spot at the Alcazar Garden Parking Lot, or Organ Pavillion Parking Lot.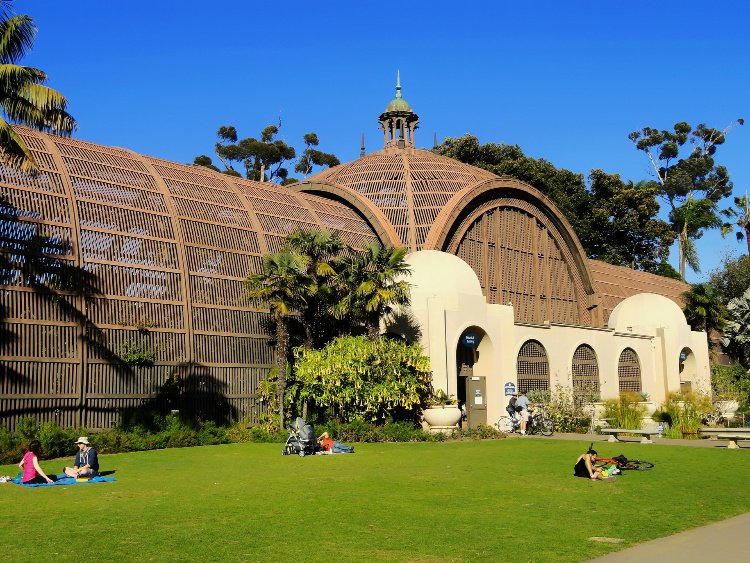 Stop #4: Embarcadero and Seaport Village
Arrival Time: 6:00 p.m.
Time Spent on Site: Rest of the Day
Distance from Balboa Park: 2 miles
Since the day started next to the water, it makes sense to end it in a similar fashion.  San Diego has a huge naval history. It is the homeport of the United States Pacific Fleet and home of the second-largest surface ship base of the U.S. Navy.
A walk around the Embarcadero will give you a glimpse of the connection between the city and the armed forces.  Get ready to take a look at the USS Midway (you can visit the museum if you want), the Unconditional Surrender Statue, the National Salute to Bob Hope and the Military Memorial and the USS San Diego Memorial.  
Further along, you will find the Seaport Village, an open-air shopping and dining destination.  You can grab something to eat while taking the views of Coronado Island and the Coronado Bridge.
There is the option of taking the ferry to Coronado Island from the Broadway Pier.  This is an activity I highly recommend since you are going to get great views of the San Diego Bay and skyline.
The 15-minute ride costs $5 one way and operates from 9:00 a.m. to 9:00 p.m. (till 10:00 p.m. Fridays and Saturdays).  On the Coronado side, you can stroll around the Coronado Ferry Landing, Coronado Beach, Centennial Park, and Bayview Park.
And, in case you ask, the famous Hotel del Coronado is located on the other side of the island (technically, it is a peninsula).  The easiest way to reach it is by bus or Uber since I am assuming you will not want to walk the 1.5 miles between the ferry landing and the hotel.
Parking in the Embarcadero: There are big (public) parking lots along the Embarcadero.  Seaport Village has its own parking lot.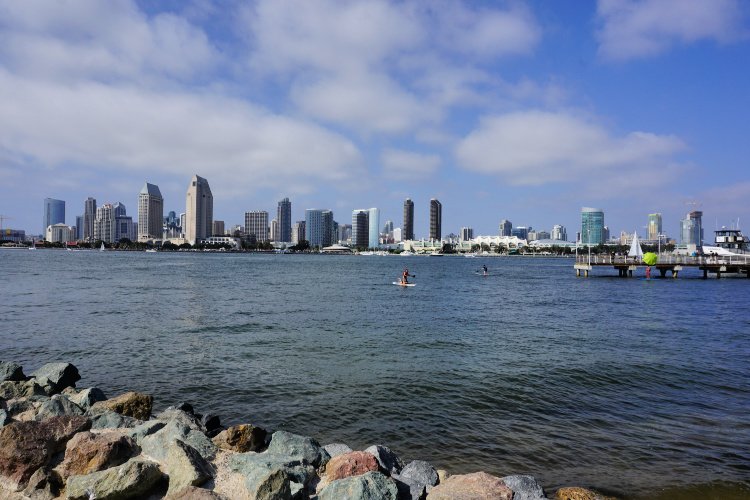 Stop #5: Little Italy (Optional)
Arrival Time: 8:00 or 9:00 p.m.
Distance from Balboa Park: 1 mile
I have added an optional stop on this one day in San Diego itinerary.  I know I have jammed packed the day but I couldn't leave one of my favorite parts of the city out.
If you only take a quick look at the Embarcadero (and do not go to Coronado), head to nearby Little Italy.  The neighborhood is full of eateries, pubs, and breweries.  I love everything about this place. Most establishments close between 10:00 and 12:00 p.m.  Hours may be extended on the weekends.
For delicious pizza, head to Landini's (you may have to wait in line).  For great Italian food and ambiance, try Davanti Enoteca, Barbusa, Nonna + Zucchero or Civico 1845.  Other superb choices include The Crack Shack, Supernatural Sandwiches, Puerto La Boca and Cafe Gratitude.  The places I have mentioned here are a small selection of what the area offers.  You can spend days here eating and drinking around.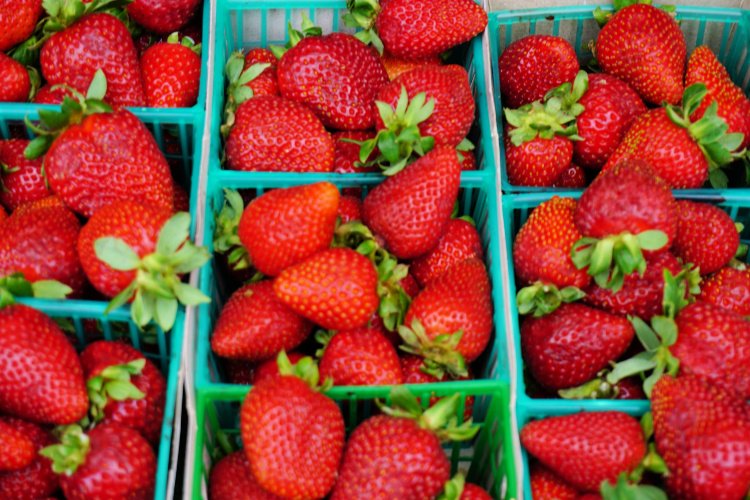 Parking in Little Italy:  Finding a good parking spot in Little Italy is complicated due to the popularity of the area.  The ideal situation would be to grab a spot in one of the main streets (2 hours max, pay at the meter).  
If you drive around a couple of times and do not find a parking spot, leave the car at a private garage.  Beware since some of these places charge a lot of money. Cheaper public parking lots are located south of Little Italy.
One Day in San Diego – Alternative Itineraries
The detailed itinerary presented above is a great way to hit San Diego's most famous sights in a day.  But, it requires a lot of movement and limited time in a single stop.
If you are looking for something more relaxed, here are some options.
Option #1 – Beach Hopping Day
If you can only think about California beaches, spend the day beach hopping in San Diego.  Instead of choosing between La Jolla or Pacific Beach (as the main itinerary suggests), spend the day between the two locations.
Spend half-day in La Jolla (no rush) and then move to Pacific Beach.  Extend the day by checking Mission Beach (adjacent to Pacific Beach) or end the day in Ocean Beach, one of San Diego's quirkiest neighborhoods (this is the Venice Beach of San Diego).
Option #2 – Spend the Day at the San Diego Zoo
Visiting the San Diego Zoo will take you all day.  And, in all honesty, a day may not be enough to tackle everything this place has to offer. 
There are exhibitions, animal encounters, shows, tours, a theater, play areas, an aerial tram and much more.  This is a great place to visit with the entire family.
Option #3 – Museum Hop in Balboa Park
If you are a culture vulture, what about spending one day in San Diego museum hopping?  Well, this is an easy task since a lot of the top museums in the city are concentrated in Balboa Park.  Spend your day visiting the Museum of Man, the Botanical Building and the San Diego Museum of Art.
If you are visiting with kids, you can check out the San Diego Natural History Museum, the Fleet Science Center or the San Diego Air and Space Museum.
Do not forget to head to photogenic spots such as the Japanese Friendship Garden, the Rose and Cactus Gardens and the Spanish Villa Art Center.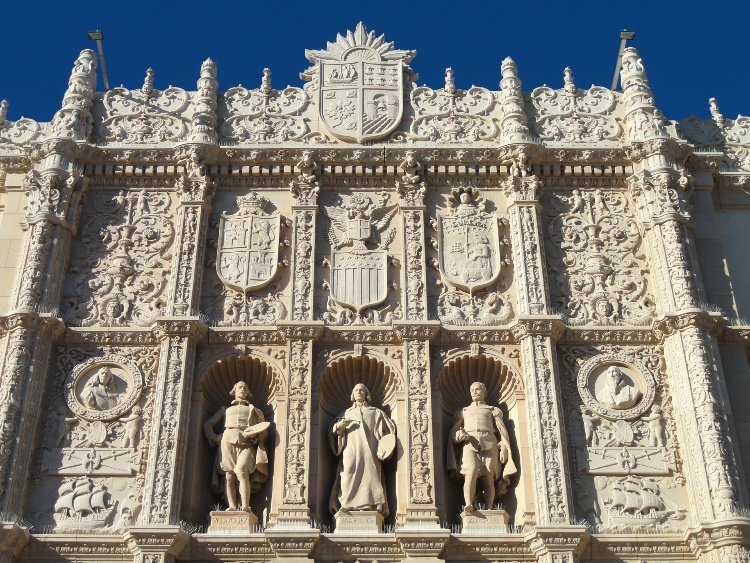 Option #4 – End the Day In Point Loma
As an alternative, you can head to the Point Loma area after Old Town.  At the tip of the Point Loma Peninsula, you can visit Cabrillo National Monument.  The monument commemorates the trip where Europeans settled foot in California for the first time.  Plus, you get to see magnificent views of the San Diego Bay, Downtown and Coronado Island.
After that, you can end the day in Liberty Station, a neighborhood featuring a public market, a huge beer garden, museums, galleries, and the well-known Corvette Diner.  This is another of my favorite parts of the city.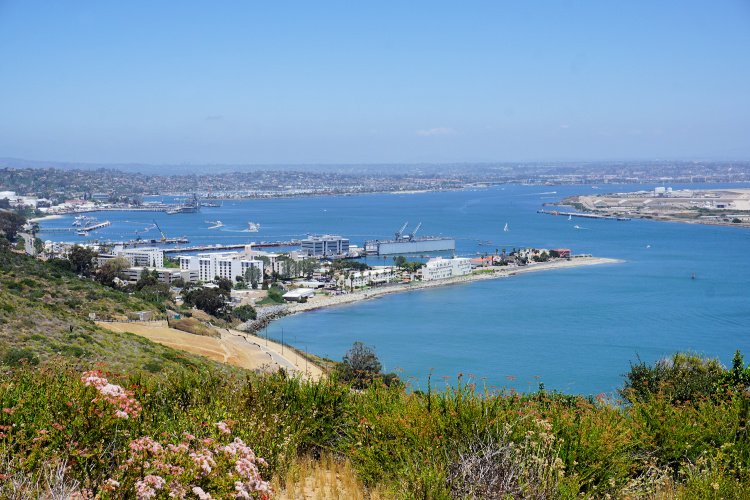 One Day in San Diego – Resources
For more information about the city, I recommend checking the following resources.  They may help you to get discounts or deals for events and restaurants.
San Diego Magazine
Time Out San Diego
The Infatuation San Diego
Eater San Diego
Groupon
Yelp
TripAdvisor
Travelzoo San Diego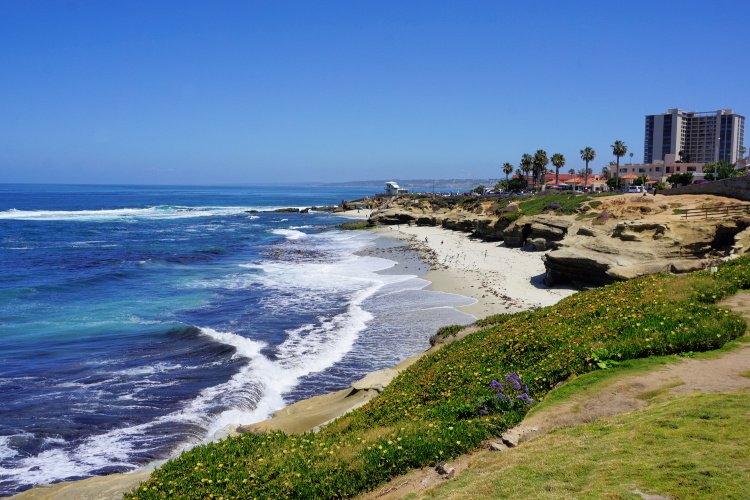 This is quite a fabulous itinerary! I hope this helps you conquer San Diego in a day.  I am sure you will have a great time and makes long-lasting memories.
More of San Diego
Ultimate San Diego Bucket List
Visit Cabrillo National Monument
Los Angeles to San Diego Drive: Road Trip Itinerary
More of Southern California
One Day in Los Angeles: Itinerary for First-Time Visitors
Los Angeles Itinerary: 2, 3 or 4 Days in Los Angeles
Los Angeles Ultimate Bucket List
Places to Visit in Santa Barbara
150+ Places to Go in Orange County

Have you spent one day in San Diego? What are your suggestions?
Pin for later!