This post covers the best scenic spots, beaches, and viewpoints on a drive around Lake Tahoe.  We'll tackle the Nevada side of the lake first!
___
I am sure most of us have over planned for a trip.  During the research phase, we prepare and gather pages and pages of things to do, places to visit and dishes to eat. Then, when reality hits, we are able to cover maybe a third (if we are lucky) of the original intent.
Have to confess I am guilty of over planning.  To my defense, I have improved over the years.  My last couple of trips have been fluid and relaxed.
But, let me tell you something, during my first visit to Lake Tahoe, I completely missed the mark.  And, it was not necessarily because I was in over plan mode.  It was because I was not counting on the hugeness of this lake.
Yes, I have heard tons of times about how big the lake is.  However, you do not understand the real measure of this place until you set your eyes on it for the first time.
Your eyes become wide open and you hold your head with your hands.  To be more specific, Lake Tahoe is 22 miles long and 12 miles wide.  It holds 39 trillion gallons of water.  That makes it the largest alpine lake in North America. Now, tell me that is not huge!
Drive Around Lake Tahoe
A lot of first-time visitors (like me) have a desire to do a scenic drive around Lake Tahoe.  This activity is so popular that many call it "The Most Beautiful Drive in America."
The entire drive is 72 miles.  Now, here is the thing: advertisement assures the drive will take between 3 and 4 hours to complete.  Keep in mind that estimate does not include proper stops. In other words, if you set apart that amount of time, do not expect to see much.
My first day in the area, I attempted to do the drive and it took me an entire day to cover about a third of the lake.  Now, the longer the day, the more time you will have for exploration.
The point is that I do not believe several hours, or even a day, are enough time to enjoy what the lake has to offer.  I would set up a Lake Tahoe 1 day itinerary for the California side and another one-day itinerary for the Nevada side.  Bear with me two or three days may not be enough to cover do a compelling road trip but something is something.
This post covers several exciting options for the Nevada side of the lake.
This guide assumes you start your scenic drive from South Lake Tahoe and start moving counterclockwise.  However, you can recreate this itinerary starting from any point around the lake.
Zephyr Cove
Zephyr Cove refers to a geographical feature and a popular resort on the lake.
The resort offers lodging, land/sea activities and areas for big events.  In addition, it has a marina from where scenic, charter and sunset cruises depart.
Photos by Don Graham
The public is welcome to use the beach facilities of the area but there is a parking fee ($10 at the time of publishing).  The parking fees apply if you want to participate on any of the activities offered by the resort but are not staying there.  My advice?  It would be a nice idea to plan an entire day of activities (cruise, kayaking, horse riding) in order to make the most of the parking fee.
Photo by Ken Lund
Cave Rock
Cave Rock is one of the most well-known features on the lake.  The large rock structure is called "The Lady of the Lake" by the Washoe Indians.  They affirm the profile of a woman can be seen on the rock from the lake.
It is almost impossible to miss this spot.  You are going to see the rock as you approach by the car (or boat).  A tunnel allows cars to pass underneath it.
If you want to hike to the top of the rock and get impressive views of the lake, access a short trail through Cave Rock Drive.  If you do not feel like walking, stop by the Logan Shoals Vista Point to take a good look at the rock.
The Cave Rock Lake Tahoe Nevada State Park offers picnic, swimming, boating and fishing facilities.  This is a fee area but you can use the ticket to visit Spooner Lake and Sand Harbor on the same day.  Now, that is a good deal!
Spooner Lake
Close to the junction of highways 50 and 28, you are going to find Spooner Lake.
I know you may be thinking it is crazy to visit a small lake if you are circumnavigating a big lake but there are several lakes in the Tahoe Basin.  Some are larger than others but they are full of beauty.  That kind of complicates sightseeing (not a lot of time to see all of them!).
I liked the Spooner Lake area because it offers a flat, 2-mile trail around the lake.  It is ideal for the entire family and for pets.  What is better, it wasn't crowded and it was easy to find a parking spot.  It is a peaceful place full of nice people and beautiful views.
If you are into hiking, the park offers 50 miles of trails including the 5-mile trail to Marlette Lake. There is a fee to use the area but remember your ticket is valid for other state parks.
Skunk Harbor
This harbor may not have a pleasant name but I can assure you it is pleasant to look at it.
This "hidden" beach can only be accessed by a 1.6-mile long trail.  It is considered an easy trail but you should be vigilant if you intend to do it with kids.
Now, the trailhead is easy to miss (there is no sign pointing to it).  On Highway 28, about two miles north of Highway 50, you are going to find parking space on a turnout along the road.  The right spot to start the hike is marked by a green gate.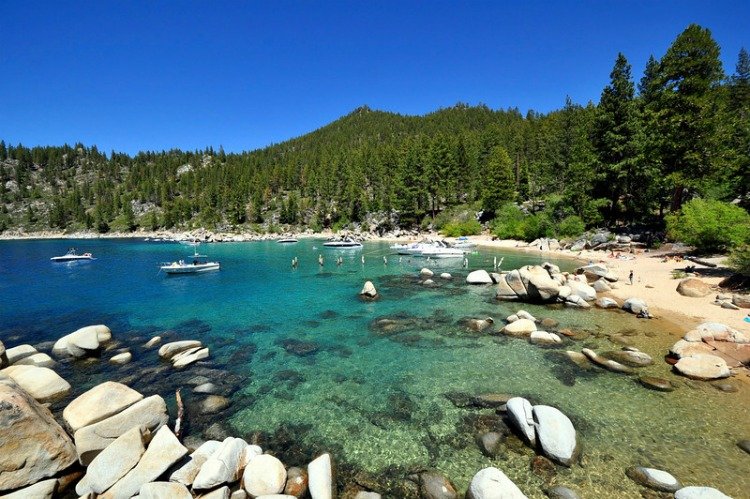 Secret Cove Beach / Harbor
I think the secret is out because a lot of visitors to the area are after this beautiful spot.  There is no sign pointing to the beach but you are going to see an actual parking lot (north of Skunk Harbor).  The gorgeous emerald colored water is going to be noticeable right away.  Take in the breathtaking views before attempting the hike down.
I say "attempting" because, in my opinion, this is not an easy walk in the park.  The "trail" is quite steep and rocky.  I have the word trail in quotes because I didn't really see a trail.  It is more like find your own trail or take the less dangerous path.
Oh, I forgot to mention there is a nude beach down there.  So, get mentally prepared.
But, do check the spot since, in m opinion (and I am sure in a lot of minds too), this is one of the most scenic spots around the lake.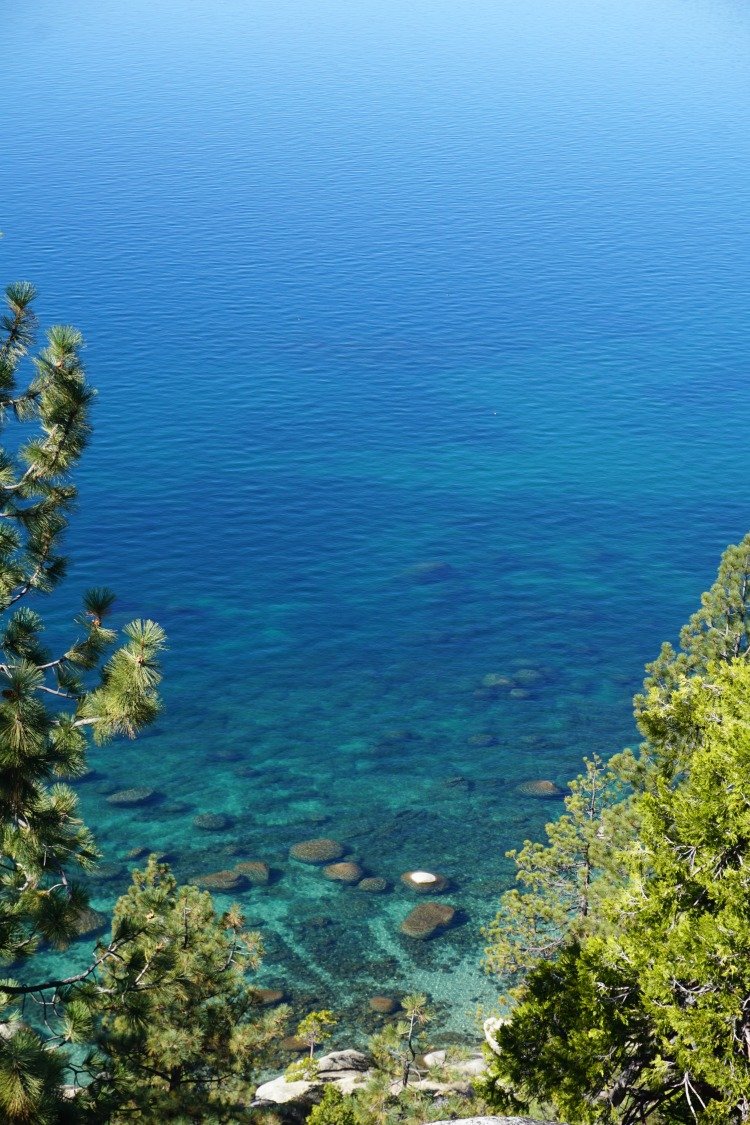 Sand Harbor
If you want to check out gorgeous views without breaking a sweat, Sand Harbor is the place for you.  I completely adored this place.  There is so much to see and you have tons of facilities.  It is another spot to spend the entire day
You can start your exploration by checking out the Ramada Point Rocks. From there, you can see the marina and several people kayaking or paddle boarding.
Then, you can walk the Sand Point Nature Trail.  This trail is handicap accessible, kid-friendly and full of gorgeous views of the lake.  Interpretative signs teach you about the geology, flora, and fauna of the area.
The park has a visitor's center, grill and gift shop on site.  Boating, non-motorized water activities, and diving are permitted.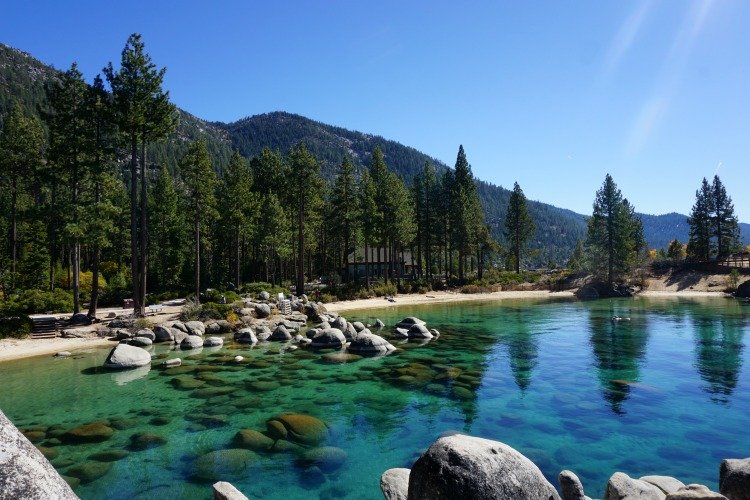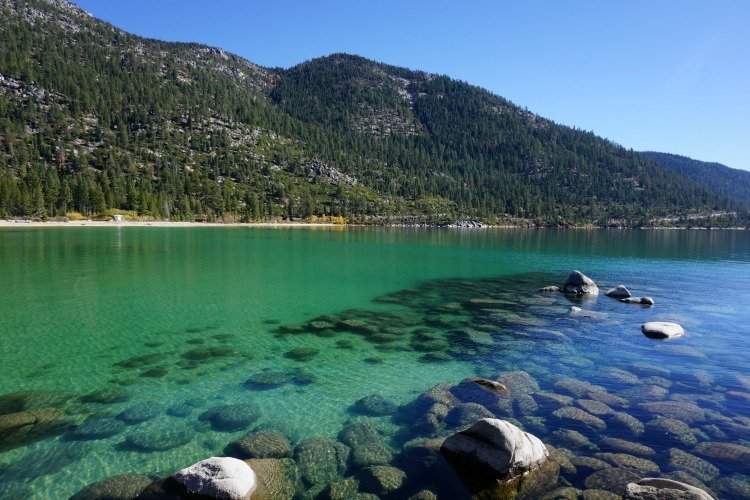 Memorial Point
This viewpoint offers excellent views of the lake.  You can walk/hike here from Sand Harbor.
Other Points of Interest
Your Lake Tahoe sightseeing does not end here. In a place like this, there are tons to see.  Here are some spots I was not able to visit:
Nevada Beach
Chimney Beach
Hidden Beach
Bonsai Rock
Incline Village
Useful Tips
Remember you can cover a decent amount of ground in one day.  However, I recommend taking some time to drive around Lake Tahoe and savor each stop on your road trip
However, if time is a limitation, this post has enough information to prepare a Lake Tahoe 1 day itinerary
Lake Tahoe is visited by 3 million people each year. Expect slow moving traffic and congestion during high season
It is preferred to visit during low season (spring, fall). Even during those times, some areas may be congested
Parking spots are very limited. I recommend hitting the most popular spots early in the morning.  I found the Nevada side less crowded than the California side
Do not ever think about parking on non-permitted areas or driving aggressively. Rangers and sheriffs seem to be on top of things in here
Weather can have wild swings. Dress in layers to tackle whatever comes at you.  Do not forget to pack a warm jacket
Remember to wear adequate hiking/walking shoes.  You will need them for sure!
Do not risk your health.  There are many beautiful spots along the drive but avoid strenuous/steep trails if you do not have the condition to use them
Respect the environment and keep areas clean
Some parks are located in bear country. Respect signs and rules (unless you want to be visited by some friends)
Additional Resources
Visit the following websites for information on where to eat and stay on your sightseeing trip:
More Lake Escapes
California is a land of lakes.  If you enjoy these bodies of water, check out these posts:
Have you done a drive or road trip around Lake Tahoe?  What are your recommendations for the Nevada side?
If you enjoyed this post, remember to share!
Time to pin!