This article discusses the best beaches in El Salvador.
Beaches have the power to capture us. A lot of us have sweet memories of being close to the water.
I grew up in Puerto Rico and moved to a Californian beach town as an adult.  Therefore, I have lived all my life near the ocean and believe this is going to continue being my reality.
I do not seem to get enough of beaches.  I guess you can tell that from the places featured in this blog.
With my Salvadoran husband, I have toured the coast of El Salvador many times.  It is a delight to discover the beautiful coastal areas in the country.
Today, I invite you to learn more about the beaches in El Salvador.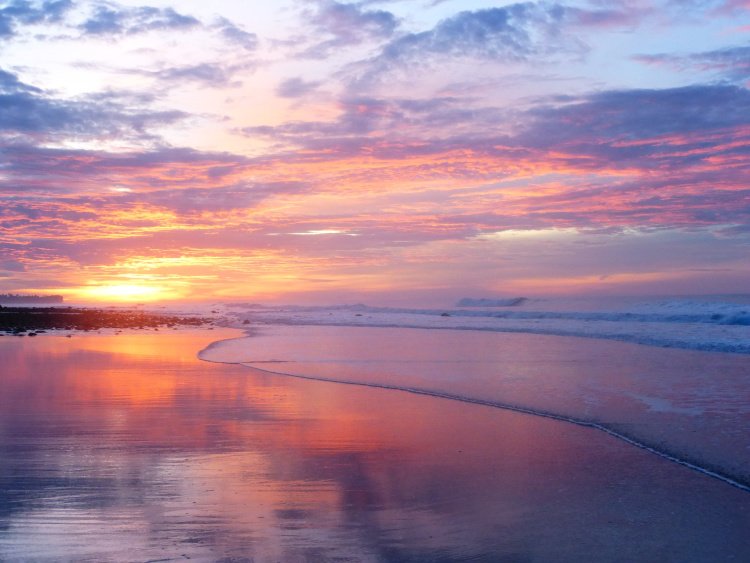 Beaches in El Salvador
El Salvador has 191 miles (307 km) of coastline along the Pacific Ocean and the Gulf of Fonseca, a body of water shared with Honduras and Nicaragua.
Imagine how many beaches can be found along that shore!
I am making emphasis on this because I am not going to be able to cover every single beach in this article.  I need to choose some based on certain criteria.
Now, I think I am discussing some awesome places below.  That is why people from all over the world visit the beaches in El Salvador.  All hardcore surfers I know have been or want to go badly.
Hope you get some inspiration based on this article!
Fact: El Salvador is the only Central American country without a Caribbean coastline.
Barra de Santiago
If you do not mind spending some time in paradise, listen to my advice and head to the Barra de Santiago.
This natural wonder of El Salvador consists of a narrow strip of land (hence the name "barra") separating from the ocean an area where several rivers end.  As a consequence, an estuary, full of mangroves, birds, crocodiles, and turtles has been created.
Due to the calm waters, water sports such as kayaking, sailing, water skiing and stand up paddling are practiced.  Fishing excursions can be arranged too. It is very common to see dozens of dolphins when navigating the estuary waters.  Also, there are shallow areas where you can jump from a boat and stand on the open sea (an incredible experience).
On the actual "barra," you can find several restaurants offering estuary/sea views and excellent food.  If you want to dine over the water, head to Merendero Jaragua.
For views of the spot where the estuary opens to the sea, visit the Villas del Mar Restaurant.
It is advisable, to spend one or two nights in the area.  There are some nice resorts such as La Cocotera (very posh and pricey), Capricho Beach House and Katymar.
Distance from San Salvador: 78 miles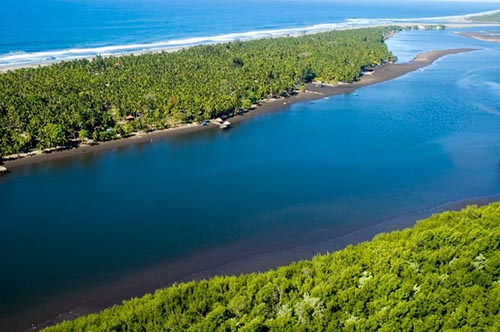 Photo by Gama Benitez
Playa Acajutla
This beach counts with complete touristic infrastructure.  In the area, you will find a promenade, a fisherman's wharf (where fresh fish can be acquired), a varied culinary offering, two viewpoints, surf breaks, and multiple lodging options.
For incredible views, head to the El Majahua Viewpoint, Acajutla Restaurant or La Cueva Restaurant.  Your jaw will drop when you see the cliffs and caves carved by the ocean.
To the north, there is a scenic point where two sandbars almost touch but are "cut" by the mouth of the Sensunapan and La Barranca Rivers.
This is the perfect place to satisfy your salty air craves without not much effort.
Distance from San Salvador: 50 miles
Playa Los Almendros
If you want to set your sights on a rarity in El Salvador, white sand, head to the gorgeous Los Almendros Beach.  This crescent piece of terrain is located a bit off the beaten path.
A stretch road will take you to the coast but expect no services (there are some private properties).  You can buy supplies for your adventure at the nearby town of Acajutla.
This beach is lined with trees.  Therefore, it is easy to find a shady spot (if desired).  Man-made pools, filled with ocean water, are located at one of the crescent ends.  Playa Las Flores is located directly to the north.
Distance from San Salvador: 53 miles
Playa Los Cobanos
This golden sand beach is well-known for its easy access, gastronomic offerings and panoramic views of Punta Remedios.
Some parts of the beach offer soft sand while other spots are rocky.  The good news is that natural pools, suitable for relaxing bathing, are formed.
Take into consideration the Royal Decameron Salinitas, a huge all-inclusive complex, is located less than 5 miles away.  Los Cobanos can get busy with visitors coming from the resort. If you are looking for a peaceful ambiance, try to walk as east as possible to claim your own spot.
The nice thing about Los Cobanos is that you can book snorkeling (a protected coral reef is located offshore), diving and whale sightseeing excursions.  Ask around town for service providers.
There are plenty of eating and lodging options on-site (or nearby).
Distance from San Salvador: 55 miles
Playa El Zonte
El Zonte is a small surf town bounded by Route 2 (almost in its entirety) and the ocean.
Visitors prefer its laid-back vibe over the hectic scene of more popular beaches in the area.  The crowds are minimal, the surf is good and prices are affordable.
The counterpart is that there is not a lot to see and do.  Of course, this is a relative observation. For some, surfing, bodyboarding, beach soccer, fish grilling, bathing in the ocean, hanging in a hammock and socializing with friends is more than enough.
Or, you can base yourself on this beach and take cheap public transportation to the more developed beaches in the area or to som fun businesses on Route 2.
Distance from San Salvador: 30 miles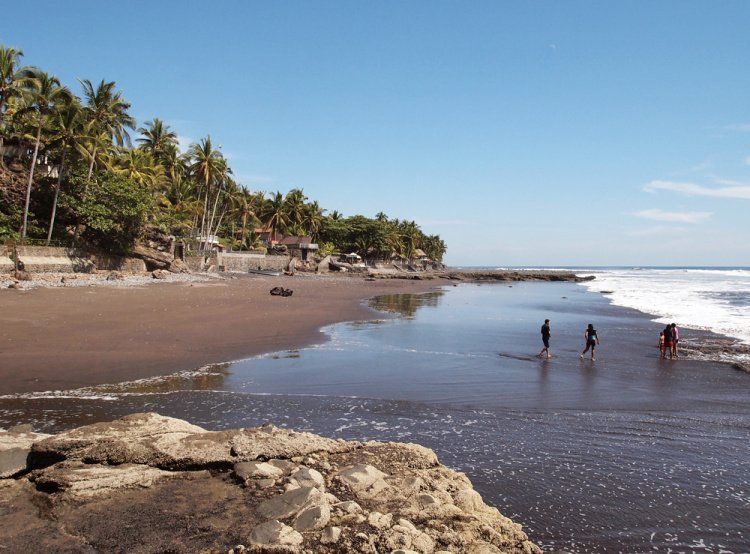 Photo by Martin Haeusler 
Atami and Playa El Palmarcito
After El Zonte, Route 3 turns a bit inland and creates and an elliptical shape with respect to the ocean.  Inside the ellipse, you will find the town of Atami. The town's beach is known as El Palmarcito.
This is another low key surf town full of resorts, hostels, and seafood shacks.  The beach is within a cove flanked by tall cliffs. On the two ends of the cove, you have great viewpoints (Punto Palmarcito and Mirador Altos del Palmar). Head to La Isla to dine while admiring wonderful ocean views.
Atami has gained certain notoriety because of the photogenic Atami Escape Resort and its rock pools.   It is the ideal place to take some photos for Instagram. Also, restaurants such as EL Pelicano, Donde Tiola, and Bar de Mariscos are right on the beach.
Distance from San Salvador: 30 miles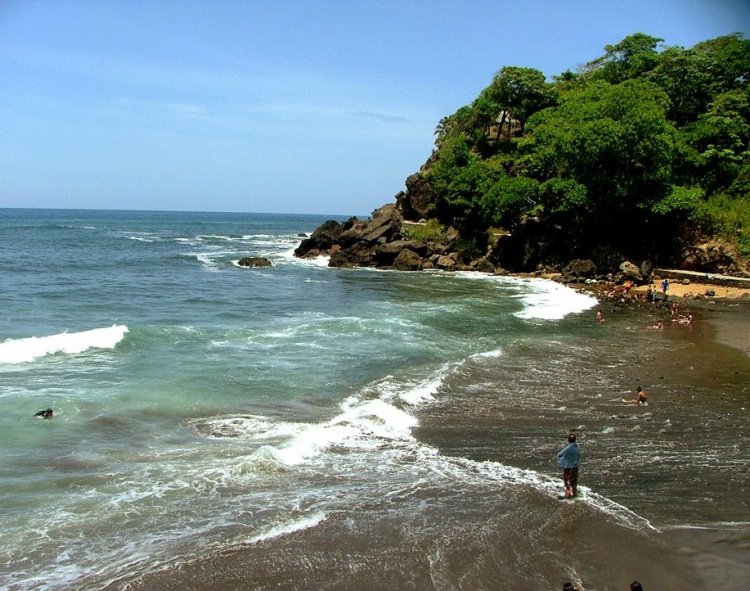 Photo by Lashetalee
El Tunco
Without a doubt, El Tunco is one of the most popular beaches (at least with tourists) in El Salvador.  Chances are photos featuring the famous beach rock formations that are going to come up when looking for photo of El Salvador.
Due to its popularity, lodging options in town cater to international visitors.  You will find eco-lodges, posh beach houses, surf lodges and spaces designed for yoga retreats.  Simpler options are available too (keep in mind this place is popular with backpackers).
In terms of food, you can find tacos, wings, sushi, burgers, pizza, and modern plays of Salvadoran food.  Typical dishes (pupusas, fried yucca, empanadas, seafood) are easy to find as well.
Also, this is one of the top places in the country to find healthy food offerings such as grain bowls, fruit plates, salads, smoothies and pressed juices.  
Even though the town offers a lot, that doesn't change the fact that this is a small place.  People come here to surf, learn to surf, beach hop and be part of the night scene.
Operators such as Tunco Life offers daily tours to the Ruta de las Flores, Santa Ana's Volcano and the Tamanique Waterfalls.  In addition, you can arrange tours to Suchitoto, San Salvador and archeological sites.  
West of El Tunco, you can walk to check El Sunzal, another cool surf town with a golf club, a well-known coffee shop, and beachfront accommodation.
East of town, before reaching La Libertad, there is another nice string of beaches (El Majahual, Conchalio) featuring beach resorts, eco villas, breweries, and seafood restaurants.  If you do not enjoy crowds, it may be a good idea to stay in one of these areas. You have quick access to the most popular towns but can retrieve to your quiet place when needed.
Distance from San Salvador: 25 miles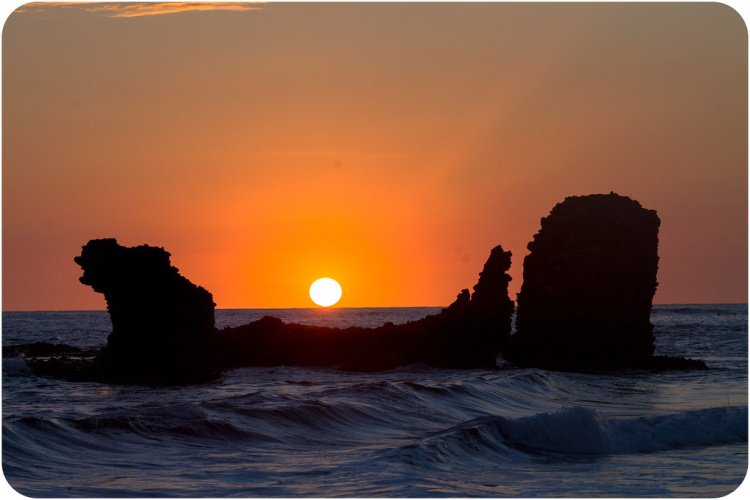 Photo by Alexander Bonilla
La Libertad
La Libertad is a hugely popular place with locals (not like El Tunco that resonates more with tourists).  This is the place to go during the weekends to escape the city. On top of that, there are major roads connecting the town to the capital and the international airport.
Now, this is not necessarily a place to go to take a dip in the water (even though there are designated bathing areas).  The main attractions here are a pier, the fish market and the dozens of seafood restaurants lining the sea promenade. People go to eat cocktails (shrimp, black clams, octopus, snails), fried fish and shellfish stew.  
There are plenty of restaurants selling typical dishes, ice cream, pastries, and coffee.  Do not worry if seafood is not your thing. There are shops and stands selling handicrafts, clothes, shoes, and souvenirs.
Tour operators such as Tunco Life, Nahuat Tours, and EC Tours take visitors to colorful towns, volcanos, archeological sites, lakes, waterfalls, and thermal pools.  Transportation to other cities in the country and other points of interest in Central America can be arranged.
South of La Libertad, you can visit the Walter Thilo Deininger National Park, the Walter Deininger Adventure Park and several beaches (Ticuisapa, San Diego and El Amatal).
My advice is to stay in one of the other beaches we have discussed (El Zonte, El Sunzal, El Tunco) and dedicate some time to La Libertad.
Distance from San Salvador: 15 miles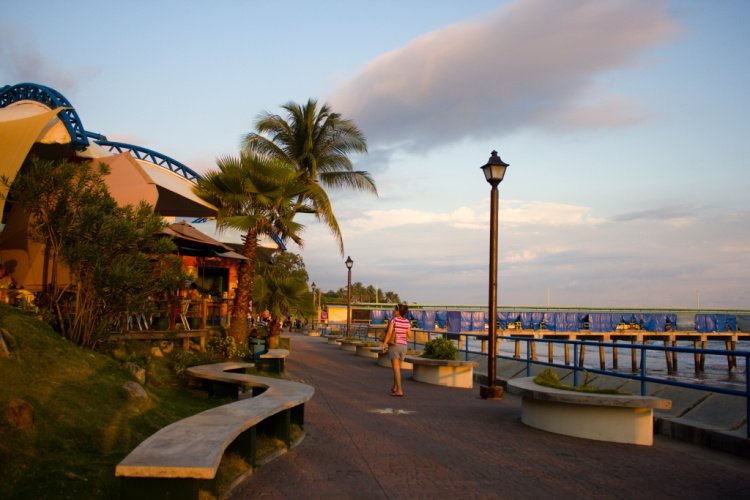 Photo by Ayaita
Costa del Sol
According to experts, Costa del Sol is the most developed coastal resort in El Salvador.  Plus, it has the longest beach in the country (about 8 miles, even though some see it as different beaches).
The area bears a geographical similarity to the Barra de Santiago.  The Costa del Sol Boulevard, where most amenities are located, extends over a narrow strip of land.  To one side you have the ocean and on the other side the Jaltepeque Estuary.
From the different marinas, you can tour the different islands on the estuary (for bird, mammal, and reptile watching), arrange a fishing trip or explore the mouth of the Lempa River (the river with more water volume in El Salvador).
The other fun thing is that there are businesses renting jet skis, kayaks, surfboards and stand up paddles.  If you prefer land adventures, you can rent bikes or quads.
A touristic center with two pools and cabins can be enjoyed for an affordable price.  
In terms of food, you are not going to suffer since there are restaurants for different tastes.  Seafood reigns here.
Keep in mind you can access the Jaltepeque Estuary from San Luis La Herradura.
Distance from San Salvador: 40 miles
Bahia de Jiquilisco
This is another paradisiacal place in El Salvador.  The Jiquilisco Bay has been declared a Ramsar wetland because of its diversity and singularity.  It is home to about 90 species of birds, 4 species of marine turtles and land-based mammals. 
The main access to the bay is through Puerto El Triunfo.  In there, boats tour the canals formed by mangroves, floating restaurants, the main islands in the bay and a protected area where spider monkeys can be observed.  The Isla Espiritu Santo (Holy Spirit Island) is of particular interest since organic coconut oil is produced.
Another option is to access the bay through Puerto Barillas.  A lodge with its own marina arranges cacao plantation, sportfishing, boat, walking and bike tours.
Distance from San Salvador (to Puerto El Triunfo): 68 miles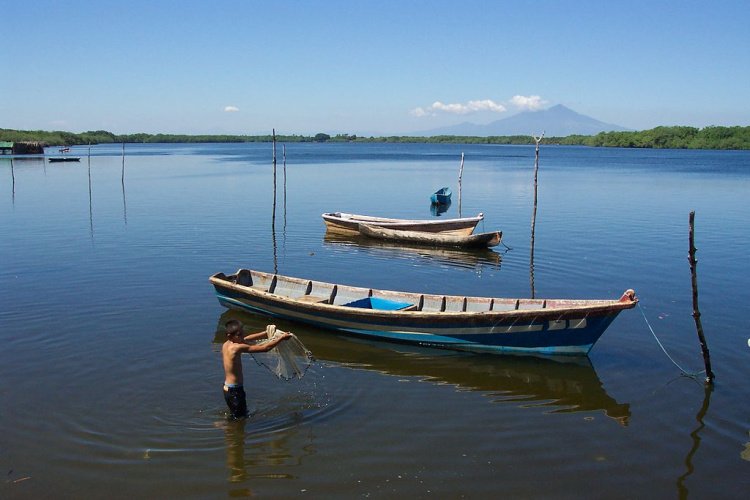 Photo by Metztli
Playa El Cuco
The list of beaches in El Salvador would not be complete without mentioning El Cuco.  This is another famous beach and one of the most visited spots by people who live in the east part of the country.  Personally, this is one of my favorite beaches in El Salvador.
El Cuco is known for its long stretch of black sand.  There are several areas where the water is calm. So, it is feasible to hang in the water without being swept by the waves.
Now, the town of El Cuco is very small. Get prepared to relax.  If you prefer more action, head next door to Las Flores Beach. This surfing spot is sheltered by cliffs and offers panoramic views.  There are excellent lodging options for those who are into the surfing lifestyle (or want to learn how to surf).
From El Cuco, you can explore the coast (Punta Mango, El Esteron Beach) and other areas of the San Miguel Department (Olomega Lagoon, Chaparrastique or San Miguel Volcano).
Distance from San Salvador: 106 miles
Distance from San Miguel: 20 miles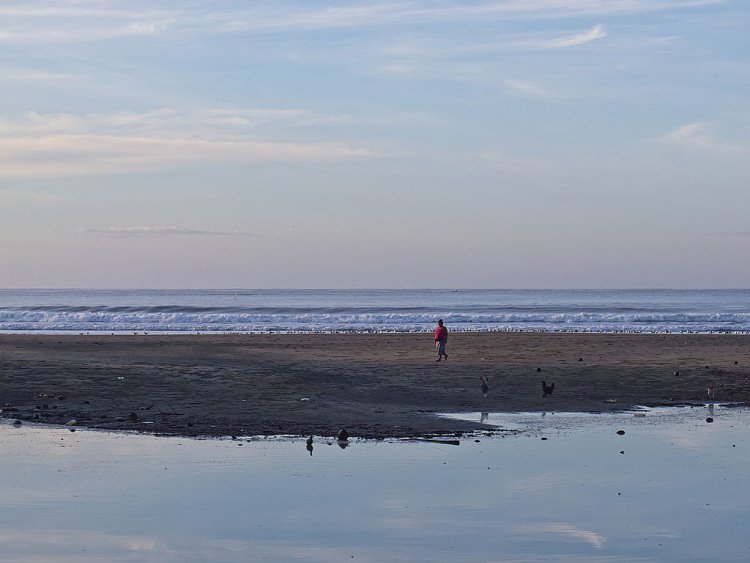 Photo by Ll1324
Playa El Tamarindo
This beach is one of the most beautiful in El Salvador.  It is undeveloped and remote. Because of this, it is seldom visited. The beach is located almost at the tip of a peninsula and in the distance, you can observe the Conchagua Volcano, the islands in the Fonseca Gulf and the coast of Nicaragua.
You can find lodging and restaurants in El Jaguey or Las Tunas Beach.
Distance from El Salvador: 105 miles
Playitas
This is another place I like since the beach is located inside a small bay.  That means that the water is calm and ideal for swimming. From the shore, you have views of Conchaguita, Martin Perez and Zacatillo Islands.
The spot features a few places to eat and you can rent a hammock to rest.  If in the area, it is better to stay in La Union. From Playitas, fishermen offer transportation to Conchaguita Island.  Make sure these operators have safety measures in place.
From La Union, boats depart to Zacatillo Island.  Other activities include hiking in the Conchagua Forest.
Keep in mind there is virtually no information online about many places in eastern El Salvador.  If you want to visit, you will need to gather good information in the big cities (San Salvador, San Miguel) or visit with a local.  Since these places do not cater to foreign visitors, minimal or no English is spoken.  
Make no mistake.  People will make an effort to help you if you are in need (Salvadorans are the best) even if a language barrier exists.  However, do not expect them to be fluent in your language.
Distance from San Salvador: 135 miles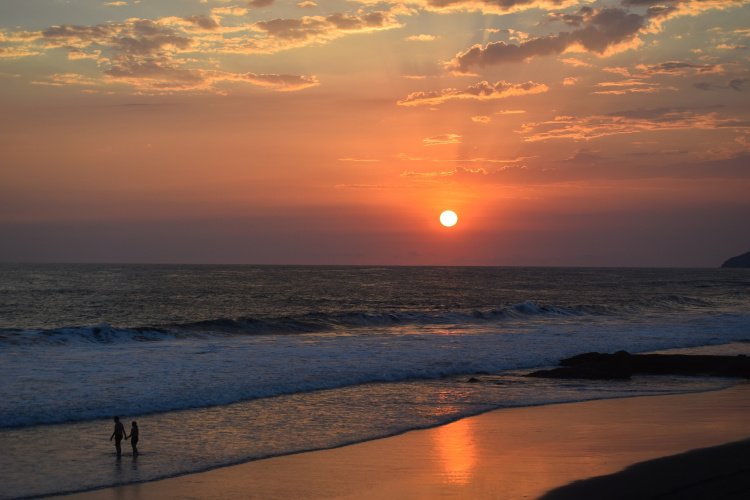 More of El Salvador
The Colorful Town of Concepcion de Ataco
Exotic Fruits Discovered in El Salvador
What beaches in El Salvador are your favorite?
Pin "Beaches in El Salvador" for later!