Heading to Central America? Make sure to stop by El Zonte, one of the coolest beach towns in El Salvador!
Given the recent sociopolitical changes, El Salvador is quickly becoming a popular tourist destination in Latin America. The smallest country in Central America is popular for its beaches, mild tropical climate, and scenic landscapes. 
Anyone who's been to El Salvador, or planning a visit, is most likely thinking about San Salvador or El Tunco. However, there may be a more charming and attractive destination, El Zonte. 
Like El Tunco, El Zonte is a place to relax, binge on delicious food, and enjoy the warm weather. But, El Zonte has more pristine beaches and rustic charm, as crowds seem to have not discovered it. Plus, there are many things to do and see in El Zonte. 
Read on to find out why El Zonte should be your destination the next time you are planning a visit to El Salvador.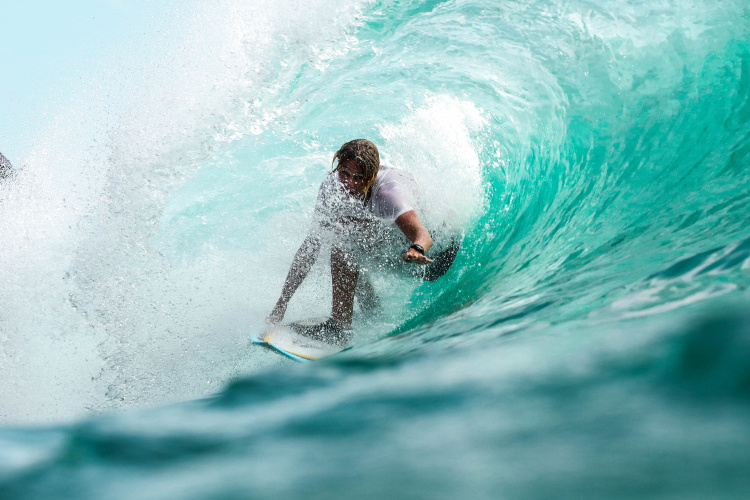 About El Zonte El Salvador
El Zonte is a small town located in La Libertad Department (one of El Salvador's 14 departments).  The town is located 32 miles (50 km) from El Salvador's International Airport and about the same distance from San Salvador, the country's capital.
El Zonte is a very small coastal town.  It consists of a couple of streets with easy access to the main road (highway) in the area.  Now, the vibe here is bohemian and chic. Hotels and eateries tend to be more sumptuous than other towns in the area.
Beaches here are black or gray due to the volcanic nature of the country.  Expect to find rocks and pebbles when walking around.
The waves put on a show on the shore.  Why do you think surf is king in the Salvadoran Coast?  You may need to move along the coast to find a beach suitable for bathing or take a dip when the wind is calm.  
This guide will explore what to see, do and eat in El Zonte.  Nevertheless, I am going to take the liberty to discuss other towns and interesting spots on the coast.  The idea is to show you how to use El Zonte as a base to explore the area. Even if you want to chill, you should read this article.
What to Know Before  Your Visit
Before we move on, let me answer the question a lot of people ask me about different towns and cities in El Salvador.  Is El Zonte safe?
Yes, I can ensure you El Zonte is safe.  Since this is a popular tourist spot in the country, security is taken seriously.  The town is patrolled often by the touristic police. Thousands of people visit monthly without any negative incident.
Now, do not forget to follow the usual traveler principles: be aware of your surroundings, follow common sense and exercise caution.
There are no big supermarkets, pharmacies or chain stores in El Zonte.  If you need to pick up some goods (food, snacks, beach gear), I recommend stopping in La Libertad (town) before heading to El Zonte.  La Libertad is en route from the airport or San Salvador (so you are not deviating).
There is a limited amount of mini-markets/convenience stores in El Zonte.  If you need something, head to La Canasta or Ostal El Chele.  However, do not expect huge availability and diversity of goods.  Zonteland can help you with gear needs. Many surf-centric hotels sell or rent sporting goods. Nearby stores such as Sunzal Surf Shop or Cubson are great options too.
There are no ATMs in town.  Therefore, you need to bring cash to cover your needs. The closest ATMs are located in El Tunco.  Several businesses within the city limits accept credit cards. I recommend using credit cards as much as possible and saving your cash for when it is the only payment method accepted.  Keep in mind your hotel can keep you an open tab and you will pay when checking out.  
Given my experience with Salvadoran banks, I would arrive in town with cash on hand (dollars are used in the country).  I will not wait until the weekend to sort out my cash situation.
When to Visit
Due to its tropical weather, El Salvador is a year-round destination.  In El Zonte, temperatures oscillate, on average, between 76 and 80 degrees Fahrenheit.  Keep in mind daily maximums can reach 90 degrees Fahrenheit any month of the year. And, yes, humidity is the real deal there.
Dry season goes from December to March (this is the best time to surf) and the rainy season goes from June to October.  April, May, and November are considered shoulder months (rain is low or moderate).
Note: Salvadorans consider the rainy season their winter even though the season falls on the northern hemisphere summer.
How to Reach El Zonte El Salvador
Here is how to reach El Zonte from different points.
From San Salvador's International Airport
The cheapest way to reach El Zonte from the airport is by taking an Uber ride.  Prices range between $25 to $30 for a one-way ride. Taxis charge $30 to $35 for the same service.
A private shuttle may charge $45 to $60, or more, per person, for transportation.  Transfers are included in some accommodation rates. Contact your hotel for more info.
Note: You can buy a SIM card from one of the main data providers (Tigo, Claro, Movistar, and Digital) at the airport.  Remember you need an unlocked GSM phone to use the card.
From Another Beach Town in La Libertad
If you are coming from another town in La Libertad or Sonsonate Departments, you can opt to take an Uber ride or use the public bus (for about 50 cents).
There is only one main route connecting the different beach towns along the coast.  There is a reliable bus service between La Libertad (town) and Los Cobanos (in the Sonsonate Department).  All beaches discussed in this guide are located between those terminal points. You usually hail the ride from the road (make a signal and the driver will stop).
Locals and visitors use the bus daily without any problem.
From Other Points in the Country
If you are coming from other points in the country (Santa Ana, Ahuachapan, Suchitoto, El Cuco), you will probably have to transfer to San Salvador or La Libertad before reaching El Zonte.  
If you want to move around by public bus, you can make plans using a website such as Centrocoasting.  They have step by step instructions on the most popular routes around the country. 
However, I do not recommend traveling long distances in the country by public buses (this may work if you are in a group, you have previous experience using public transportation in Central America or if you are traveling with Salvadorans).  If possible, reserve a seat on a private bus or shuttle (or Uber around with a group of friends)..
From Other Countries in Central America
You can reach El Zonte from cities such as Antigua (Guatemala), Copan Ruinas (Honduras) and Leon (Nicaragua). Many companies (El Salvador Travel Network and Tunco Life, for example) offer private shuttle services.  Now, private shuttles will usually take you to El Tunco (7 miles away).  You need to Uber or take the bus to El Zonte.
Or, you can leave your trip in the hands of big companies like Tica Bus, King Quality, and Pullmantur.  These may take longer to reach a destination but are cheaper than a private shuttle.  
How to Move Around
I am pretty sure you already know how to move around.  That is right! Uber or the public buses connecting the coastal towns.  Both methods are beautifully affordable.
Some people prefer to rent a scooter (for about $25 per day) and move around at their own pace.  This is a great option if you want to beach hop.
I do not see the necessity of renting a car if you are going to stay on the beach.  I would not recommend renting a car even if you want to move outside the area. Like in most of Latin America, Salvadoran drivers can be quite aggressive (or plain crazy).  Traffic signals are not usually respected and rules of way are nonexistent.
Things to Do in El Zonte El Salvador
All right! You should be a semi-expert on all things El Zonte by now.  Let's explore all the wonderful things you can do in the town.
Surf
If you are a surfing enthusiast, then you probably know that El Salvador provides one of the best surfing experiences in the world. Surfing in El Zonte is better suited for experienced surfers but there are opportunities for amateurs along the coast.
In El Zonte, you can surf right off the coast.
Breaks to the west of El Zonte include:
K59 (5 miles or 8 km)
Mizata (20 miles or 32 km)
Breaks to the east of El Tunco include:
El Palmarcito or Atami (2.5 miles or 4 km)
El Sunzal (6 miles or 10 km)
La Bocana (7 miles or 11 km)
Punta Roca (9 miles or 15 km)
Playa Conchalio (9 miles or 15 km)
La Paz (11 miles or 18 km)
Take Surfing Classes
If you are not good at surfing, why not take a surfing class? In El Zonte, there are many places offering surfing lessons. 
If you have a decent budget, go to Puro Surf, a high-end hotel that has a surf academy. You do not have to stay at this hotel to enjoy their surfing lessons. However, some of the accommodation packages include surfing lessons at no extra cost. 
Another great place for surfing classes is the Surferos Surf School. The instructors here can have you standing on the surfboard in a day or two.
For what I have experienced, taking surfing classes in El Tunco can be more affordable.  A class can set you back $30 (that includes equipment rental).
Check out the following surf lessons and camps offered by these businesses.
Tunco Life
School Tunco Beach
Wayo, Surf School & Rentals
Beginners like the tamed waves of Playa San Blas.  A local shop called Surf Strong El Salvador offers classes in the area.
Join a Surf Camp or Retreat
Spending time with other surfers is a great way to enjoy a vacation. There are several surf camps in El Zonte. The best ones include:
Horizonte – Located on the beach of El Zonte, Horizonte is a nice place to meet other surfers. Aside from surf camps, Horizonte has accommodations, a restaurant, a bar,  two swimming pools, and other high-end amenities.  
Esencia Nativa – This hotel offers accommodation, surf lessons, and surf camps. As it is popular, you will get to interact with large groups of surfers. 
Also, companies such as Salty Souls and Kohamea plan surf and yoga retreats.  The experience includes luxury accommodations, nutritious meals, surf lessons, yoga classes, transfers and much more.  Previous attendants rave about these kinds of trips.
Take a Guided Surf Trip
If none of the surfing-related options mentioned above fit your needs, you may want to join a guided surf trip.  Eternal Summer, a tour company operated by locals, offers daily guided surf trips around La Libertad Coast (including El Zonte).
With this option, you do not have to worry about moving around with your equipment and finding the right spots.  They will take care of everything and may show you a secret spot or two. In addition, they offer professional photography services (because you want to show people back home the awesome surfer you are).
Release Turtles
Turtles lay their eggs along the Salvadoran coastline, particularly on the western side of El Zonte. One location in El Zonte where you can participate in turtle releasing is La Mision Hatchery. You can ask workers if you have arrived at the right time to release hatchlings into the sea. 
The hatching season for turtles is between September and November. Usually, they release the hatchlings at around 4 pm, just before sunset. 
Another location where you can join in the action of releasing baby sea turtles is at the Palo Verde Hotel. 
Practice Yoga
What a better place to practice yoga than with the beautiful view of the beach? Yoga is the right thing for your body after surfing or hiking the El Zonte landscapes. 
Zonset and Esencia Nativa are some of the locations offering yoga sessions. 
Learn Spanish
Is learning Spanish in your bucket list? What a better way to learn than in a country where Spanish is the native language. 
Spanish School El Zonte is a great place to learn Spanish. This institution teaches Spanish from the Palo Verde hotel grounds at a small tropical garden. You'll learn the language with a beautiful view and the sound of waves in the background.
Of course, it's not practical to learn Spanish in one vacation. Luckily, Spanish School El Zonte has online classes, meaning that you can keep learning with the same teacher once you are back home (or continue traveling).  
Eat Seafood at La Libertad
About 12 miles east of El Zonte, you will find La Libertad, a town famous for its fish markets, seafood cocktails and pier. Fresh catches of shrimp, clam, squid, lobster, crab, and fish find their way to restaurants along the coast. 
Pelicanos Restaurante and Tsunami Seafood Grill & Bar are some of the best places serving seafood delicacies. 
Some of the Salvadoran seafood dishes you must try in La Libertad include:
Pescado Relleno de Camarones – Grilled (after being basted in garlic), or breaded, stuffed fish with shrimp, usually topped with cream sauce
Ceviche de Camarones – A bowl of lime-cooked shrimp mixed with onion, chili, avocado, tomato, and lemon
Coctel de Conchas – Cocktail prepared with blood clams.  This one is for those with an adventurous palate
La Libertad has a wild selection of dishes and preparations.  You can eat to your heart's content here. You can have seafood in EL Zonte but La Libertad is a unique experience.
Try Salvadoran Food
Salvadoran cuisine is one of the most delicious in Latin America. In El Zonte, you can enjoy Salvadoran food at small restaurants, food kiosks along the streets, or high-end restaurants along the beach. 
However, your stay in El Salvador should not come to an end before indulging in pupusas. These grilled round cornmeal tortillas stuffed with wild veggies, cheese, and refried beans are the Salvadoran staple. 
Another Salvadoran special is nuegados, dumplings of yucca with sugarcane syrup. 
Some of the best places for Salvadoran Cuisine in El Zonte include Pupuseria Geisy, La Zonteña, and Merendero El Teco. 
If you want to learn more about Salvadoran food, I have a detailed article on the topic.
Food in El Salvador: Besh Dishes, Dessert and Drinks
Visit Nearby Beaches
Playa El Zonte is a perfect beach for swimming, surfing, basking in the sun, watching the sunset, and so on. But if you feel it's crowded or you have an adventurous spirit, you can try nearby beaches such as:
Playa de Shalpa
Playa de Shalpa is located only 5 miles from El Zonte. It is secluded yet a scenic volcanic cove beach. The temperature of the water is perfect, all-year-round for both swimming and surfing. But perhaps the best thing about this beach is the beautiful views of the ocean cliffs. 
Playa La Perla
About 9.5 miles west of El Zonte, you will find Playa La Perla. It is a small, remote beach along the gorgeous Carretera del Litoral. This picturesque location is suitable for surfing. 
For a more immersive experience of this part of the Salvadoran coast, hitch a boat ride from a local fisherman or camp all night at the shores. 
Bahia Dorada
Further west of El Zonte is Bahia Dorada. It is very private (not a lot of people know about it) and provides the same incredible surfing opportunities as other beaches along the Salvadoran coast. In this hidden paradise, you might just be lucky to join in the action of releasing turtle hatchlings. 
East of El Zonte, you will find El Majahual Beach, Conchalio Beach, Punta Roca Beach and Obispo Beach, El Sunzal Beach, El Tunco and El Palmarcito Beach.
Take a Tour
Take a break from the beach by touring El Salvador. From El Zonte, you can take a day tour to the famous Ruta de las Flores or even hike the Santa Ana Volcano. The options are limitless. 
Several tour companies and hotels in El Zonte provide tours. They include:
Salvadorean Tours – This company provides tours from different locations in El Salvador, including El Zonte. They have attractive tour packages and discounted prices for large groups. You can tour El Zonte or go on more immersive tours through attractions such as Mayan sites, volcanoes, and different national parks. 
EC Tours El Salvador – This company has different packages for groups and individuals. They have full-day, half-day, and layover tours through lakes, national parks, cities, and other sight-seeing locations such as Ruta de Los Panchos. 
Eternal Summer – They specialize in surf and fishing trips.  Adventure tours include volcano trekking and ATV driving through coffee plantations.
If you are comparing prices, you may want to check the offerings of tour companies based in El Tunco (Tunco Life, Surfo's & Tiki Travel or Surf & Trips).
Have Lunch or Dinner with an Ocean Backdrop
There are many restaurants with outstanding views around El Zonte.  But, if I have to pick one place, I would go with La Isla, an eatery located over a cliff at Punta Palmarcito.  The tables are so well arranged that you are guaranteed a good view anywhere you seat.
The menu features an extensive array of dishes such as beef tenderloin skewers, garlic shrimp and seafood casserole.  
The fun part is that there is a humongous dinosaur statue on the property (go figure).  So, add a selfie with a dinosaur to your list of things to do. 
East of El Zonte, you can get great views from Restaurante Kilometro 59, Restaurante La Perlita, and Restaurante La Chivas.

Spend the Day at a Luxury Hotel
If you are staying in a budget-friendly accommodation, that doesn't mean you can't enjoy the offerings of a top-notch beach resort.
Several popular hotels offer day passes to visitors.  For a fee (usually $20), you can use the hotel installations (pools, private beach, chairs towels, etc.)
Half of the fee goes towards the installation and the other half goes towards consumables.  That means you have an eating and drinking credit (make sure you use it).
Hotels offering day passes include Los Farallones and Atami Escape Resort.  Hotel Tekuani Kai does not charge a resort fee.  If you consume $10 or more (per person), you can use the hotel facilities.
Watch the Sunset
In the evening, you can just watch the sun's rays disappear on the horizon. Grab a chair, swing on a hammock, or just lie on the beach – whichever you choose, El Zonte provides beautiful sunset views all year round. 
More Things to Do in El Zonte El Salvador
If you want to keep learning about El Zonte and the surrounding coast, I recommend checking my comprehensive guide to El Tunco, the most popular and visited town in the country.  I have tons of additional ideas on things to do there.
El Tunco El Salvador: The Ultimate Travel Guide
In addition, I have an article outlining the best beaches in El Salvador.
The Best Beaches in El Salvador
El Zonte El Salvador Restaurants
I have already mentioned several places to eat in this guide.  Nevertheless, I want to highlight several spots.
El Vikingo – Some consider this the best place to eat in El Zonte.  The restaurant serves a wide array of international dishes such as pad thai, burgers, ribs, Belgian fries, and hummus.  If you are not sure what to order, the friendly owners will give you their recommendations.
Olor del Mar – This restaurant, serving fusion dishes, has simple decor and amazing ocean views.  I will not miss it! You can find carpaccio, ceviche, oyster, seafood casserole and rustic pizzas on the menu.  Their list of alcoholic and non-alcoholic drinks is long. You can visit for breakfast, lunch or dinner.
Covana Kitchen – Located inside the Puro Surf Resort, Covana Kitchen specializes in seafood dishes, tacos, artisan sandwiches, salads, and ceviches.  They get supplies from local brands.
There are more restaurant options in nearby Atami / Playa El Palmarcito.  You can stop by restaurants like Tomadulu, Donde Tiola or Ostrero Chepe Aleta.
El Zonte El Salvador Hotels
A lot of the free-spirited/upscale vibe of El Zonte can be attributed to the grandiose hotels located in town.  There is no lack of modern architecture and amenities designed to pamper the body.
 Here are some hotels to take into consideration:
Hotel Michanti – This hotel prides itself on offering its guests an excellent taste of El Salvador.  They count with comfortable rooms, a pool, a hammock lounge, and personalized service.  They can arrange tours and all sorts of adventures.
Rancho Lokoo Resort – This hotel, known for its two palapa-style roofs, offers apartments, suites, and rooms. It is located pretty much at the beach and has a pool, restaurant, bar, lounge, and area for family activities.
Hotel Palo Verde – As one of the poshest stays in the area, the hotel has been designed to be surrounded by nature.  Stays include breakfast, morning coffee, beachfront access, infinity pool, and daily housekeeping service.
Ewok Hotel – This budget hotel (you can find room for around $40) offers guests a pool, shared kitchen and concierge services.  
Hostal Punta Zonte – The hosel offers basic rooms and bungalows (stay here for the best views).  While staying there, you will have access to picnic areas, sun deck, terrace, garden, laundry, and 24-hour front desk.
If you are interested in taking a look at even more spectacular beach stays in and around El Zonte, check out my detailed article.
Alright! I had tons of fun writing this ultimate guide to El Zonte El Salvador.  Hope you find it helpful in planning your trip!
More of El Salvador
The Colorful Town of Concepcion de Ataco
Exotic Fruits Discovered in El Salvador
Have you been to El Zonte El Salvador? What are your recommendations?
Pin "Things to Do in El Zonte El Salvador" for later!