This article explores the beautiful Bolsa Chica Ecological Reserve in Huntington Beach, California.
In an effort to know better the area where I reside, I decided to visit the Bolsa Chica Ecological Reserve.  This coastal wetland was designated a protected area by the California Department of Fish and Game since it is a haven for threatened and endangered birds. 
Ironically enough, the reserve is surrounded by the city of Huntington Beach, a place known for its surfers, not its migratory birds (Huntington Beach claims to be the "original" surf city in the United States).
Let's take a look at what this respite of nature has to offer to visitors.
Please note: This article contains affiliate links, meaning I may earn a commission if you make a purchase by clicking a link. Of course, this comes at no extra cost to you and helps me to keep offering solid information to readers.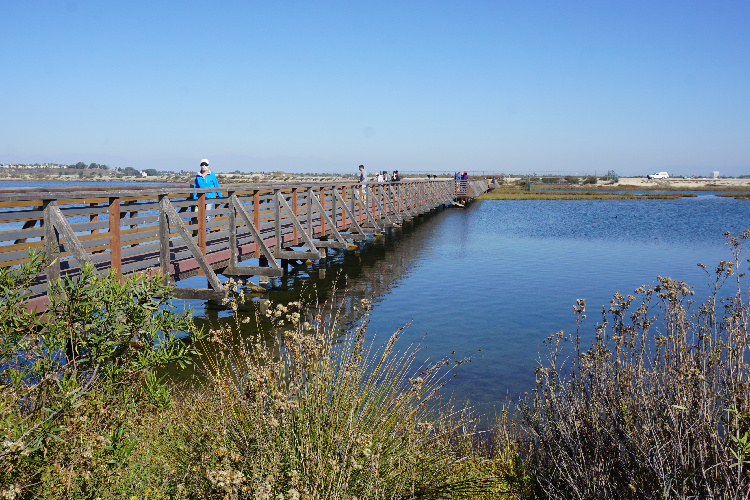 How to Reach Bolsa Chica
Notice I said this reserve is "surrounded" by the city of Huntington Beach. Even though it is seen as part of the city by many, the ecological reserve is governed by the state of California (thus, technically, is not part of Huntington Beach).
Huntington Beach is located 40 miles from Los Angeles, 25 miles from Anaheim, and 95 miles from San Diego.
Due to its location, Bolsa Chica is a great place to visit as part of a day trip, weekend getaway, or road trip.  The preferable way to arrive at this spot is by car.  
The reserve can be accessed from the Pacific Coast Highway.  The exact address is 18000 CA-1.  If you enter the name of the reserve or the exact address on a GPS, you will be taken to a parking lot from where you can start to walk the 1.5 mile Loop Trail (or Inner Bay Loop Trail).  From this trail, you can extend your walk by connecting to other trails
Notice the parking lot is quite small.  If you cannot find a space, wait a bit since there are people coming and going all the time. Do not park where you are not supposed to park or block the way (why people do this is beyond me).
A second entry point is through the Bolsa Chica Conservancy Building or Interpretative Center (3842 Warner Avenue).  You can learn all about the flora, and fauna of this coastal wetland. Then, you can explore the area by hitting the Mesa Trail. It is about 0.6 miles (one way) to the Mesa Trail Overlook.  From the Overlook, you can continue to walk around the Bolsa Pocket or connect to the Loop Trail.
You can also enter the reserve through the Brightwater Trail.  There are several entry points in the residential area behind the reserve (Brightwater Drive, Oceanridge Drive, and Bolsa Chica Street).
In total, there are about 5 miles of trails located in the Bolsa Chica Ecological Reserve.
Visiting Bolsa Chica
It is hard to believe a place like this, surrounded by heavily transited streets, residential developments, and oil extracting machines exists. At the beginning of the hike, the sound of the city echoed even in the open spaces.  
Once we started to move more and more into the heart of the reserve, the song of several birds started to fill the air.  Quietness followed a brisk walk.  We started to worry about the menacing look of the humongous predatory birds instead of thinking of the terrible traffic that was plaguing the freeway at that time.
I was able to see birds such as egrets, herons, ducks, sandpipers, seagulls, and more.  The best time to visit is during spring and fall when migratory birds rest their wings in the many ponds.
This visit got me thinking.  How much importance do we give to the preservation of places like this?  Do we want more places like this in our communities?  Are we taking full advantage of what a place like this offers?  Are natural areas still necessary in a world where we want to be entertained with "more exciting" options?
Of course, I know how I will answer these questions.  My hope is that many others align with my thoughts.
Tips for Visiting Bolsa Chica
Facilities are minimal.  Come prepared with everything you need (water, food, or snacks).
Restrooms are located in parking lots (but not along the trail).
Come ready with walking shoes, comfortable clothes, and appropriate sun protection.  The reserve does not have areas with shadows.
Please respect the rules and regulations.  If a sign says you should not go beyond a specific point, do not do it.  Remember that when you do not follow the rules, you are affecting a natural habitat or areas that have been restored.
Take all your trash with you.  And, if you are able, pick up any trash you see along the way (dispose of later).
Consider making a donation to community organizations such as the Bolsa Chica Conservancy or Amigos of Bolsa Chica.
Other Wetlands in Southern California
If you enjoy wetlands and marshes, you should consider visiting the following places in Southern California:
Ballona Wetlands (Los Angeles County)
Madrona Marsh Preserve (Los Angeles County)
Los Cerritos Wetlands (Orange County)
Agua Hedionda Lagoon (San Diego County)
Batiquitos Lagoon (San Diego County)
San Elijo Lagoon Ecological Reserve (San Diego County)
Nearby Attractions
A visit to Bolsa Chica can be combined with other nearby attractions.  I have listed some examples below:
Downtown Huntington Beach (including Pier and Beach)
Huntington Beach Harbor
Bolsa Chica State Beach
Dog Beach (dogs are allowed to roam free here)
Pacific City (shopping center with open and closed areas)
Huntington Central Park
Downtown Seal Beach
Balboa Peninsula
Balboa Island
Upper Newport Bay
Little Saigon
Beach Gear
As I spend a lot of time on the beach, I have my gear packed and ready to throw in the car.  Here is an idea of what I take to the beach (and would take to Bolsa Chica and surrounding beach communities).
Easy Set Up Beach Tent –  This is essential since most beaches in California do not have shaded areas.  >Check out this great tent option here
Big Portable Umbrella –  Sometimes, we prefer to use an umbrella since we want to sit on a chair verse lying on the floor.  Plus, I find it easier to adjust/move the umbrella to block the sun.  >Buy a beach umbrella
More of Southern California
Los Angeles Ultimate Bucket List
Ultimate San Diego Bucket List
150+ Places to Go in Orange County
200+ Places to Visit in Santa Barbara
What is your favorite reserve or preserve?