It all started when I made plans to visit Palm Springs without noticing the date.
As the trip approached, a realization settled in.
August 8, 2015. That date marks my 7th wedding anniversary.  In the most innocent (or clueless) way, I discovered I have been planning my anniversary weekend for about three months.
In retrospective, I can say we went back to our beginnings.  We visited Palm Springs for the first time shortly after getting married.
But, this time, everything was different.  We wanted to experience the city we have visited many times in a different way.
That is why we stayed at the Hyatt Palm Springs.
We wanted ample space to rest and relax.  We wanted a place where somebody cleans your room, makes your bed, cooks a fabulous dinner and, on top of that, brings you a cookie in the afternoon in case you were craving something sweet.
We got exactly that and much more.
Rebranding
The history of the hotel goes back to 1990. Formerly known as Hyatt Regency Suites, the hotel completed a rebranding (to Hyatt Palm Springs) last year. 
Changes included a refreshening of public areas, including the pool area with new splashes of color, additional fire-pits and unique heat lamps to heighten the contemporary lounge-like atmosphere. Other changes were related to the addition of amenities, food options and experienced personnel.
Guests have the opportunity to stay in a fresh, fashionable hotel while taking advantage of the staff's years of experience in the service industry.
Location
I loved the hotel's location in Downtown Palm Springs.  There was no effort involved walking to restaurants, businesses, and retail shops along Palm Canyon Drive.  As a matter of fact, we walked to town from the hotel two times each day of our stay.
In addition, the Hyatt Palm Springs is located a short drive from the city's most popular attractions such as the Aerial Tramway, Indian Canyons, Tahquitz Canyon, Museum of Art, Air Museum and others.
Check-In
Check-In was easier than eating a piece of pie (and I think it took less time too).
We arrived, took out our luggage, left the car with the valet attendant, entered the lobby, greeted the guys in the front desk, received our keys and took the elevator to our room.  It was that easy.
I didn't have to look for a parking lot while checking in, wait in line or answer tons of questions before receiving the key.
Accommodations
The Hyatt Palm Springs' 197 rooms were renovated and completely revamped during last year's rebranding period.  And, get this: this is the only all-suite hotel in Palm Springs.
We stayed in a two room suite with views of a golf camp and the mountains.  The living room and office area faced the door while the bedroom was located next to the balcony. The ample bathroom (marble with excellent lighting) was situated between the two rooms.
The suite was equipped with two flat screens TVs, cell/device charging ports, fridge, iron, coffer maker, hair dryer, safe, wireless Internet and the softest bed you can imagine (Hyatt Plush Grand Bed).
If you want to take things to the next level, the hotel has available 5 Executive Suites and 4 VIP Suites with more than 1,000 square feet of contemporary elegance that includes two bedrooms, two marble bathrooms, three furnished balconies, and living room.
Pool and Other Areas
The large outdoor, beautifully appointed pool located alongside the hotel is open dawn to dusk; fire pits and unique heat lamps heighten the cozy, contemporary lounge-like atmosphere. Specialty poolside cabana suites offer guests a unique pool/patio experience. Suites along the pool are equipped with their own cabana that doubles as a covered patio.
Other common areas include a fitness center, business center and lounge.
Full concierge services are available (you can even tweet them if you need help).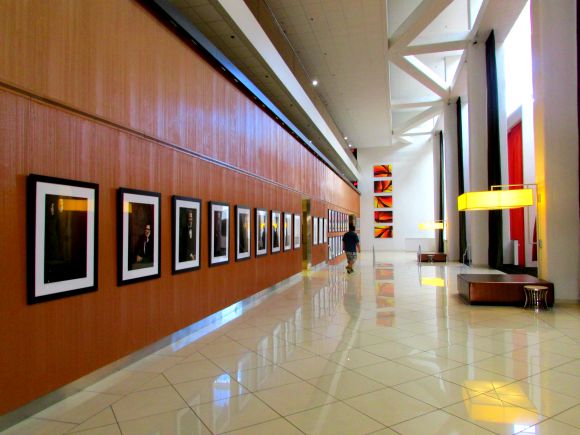 Breakfast
The first meal of the day was served at the Shade Restaurant.
In here, I experienced some of the best service in the hotel.
Each morning we had the option to have a custom made omelets paired with our choice of fresh fruit, cheese, yogurt, cereal, potatoes, bacon, sausage, bread, pastries, coffee or orange juice.  The omelet preparer, Jose, was really funny and positive.  We already miss him.
Dinner
Dinner is also served at the Shade Restaurant.
Chef James Wallace, a native of Oregon, trained at Horst Meger Culinary Institute inPortland, under retired European Master Chefs, is the head of the kitchen. He has used his two decades of culinary experience to develop a menu full of fresh ingredients and bold flavors.
As the name of the restaurant implies, the menu is designed to create a cozy, fun and entertaining atmosphere while sharing several dishes.
My husband and I took the sharing theme seriously and ended up tasting 5 plates.  To start, we ordered the soup of the day (chicken noodle) and a pecan, blue cheese, tomato and ham wedge salad.
For the entrée, I ordered the Pistachio Crusted Pacific Salmon, which features toasted pistachios, warm spinach salad, red onion jam and herb aioli.  All I could say was "wow."  This dish was creamy, crunchy, salty, sweet, tart and fresh at the same time.  The fish was perfectly cooked.
My husband ordered the Griddled Day Boat Scallops with pan charred Swiss chard and California orange nag. I think we had never tried scallops so thick (they were about one inch wide).  Well, I am glad we ordered this dish because I love scallops.  These were melt-in-your mouth sweet.
To end the evening, our waitress Ashley suggested the Chocolate Ganache Cake.  I loved this desert because the sweet balance was right. The bitter sweet cake paired well with the chocolate, cherry and pineapple syrups.
Do you understand why the restaurant was my favorite part of the hotel?
Outdoor Lounge
The Hoodoo Lounge is the only outdoor café with live entertainment in Downtown Palm Springs. The popular outdoor lounge features outdoor fire pits in winter and cooling water sprays in summer.
Highlights from HooDoo's new menu include a selection of tender and juicy skewers such as the Hibachi Chicken Satay and the Herb Marinated Scallops.  Sharables include the Duck Confit Quesadillas, the Salmon Seacuterie  and the Stone Ale-Battered Fish Nuggets.  Favorites such as Angus beef burgers, lobster sandwiches and red Anjou pear salads are also available.
The nice thing about this lounge is that you do not have to be a guest to enjoy it.  You can relax in the comfy sofas, order a dish or drink and enjoy the live music.
Going the Extra Mile
I have given a lot of details about why I enjoyed my stay at the Hyatt Palm Springs. To be honest, a lot of hotels can offer similar amenities.
However, it is the little details that take the entire experience to the next level.  To me, the hotel excels on imprinting a human touch to the stay.  I say that because I was greeted and asked about my stay many times.  Employees were always smiling and eager to help.  Waiters discussed their favorite dishes from the menu.  The customer services manager distributes complimentary cookies, water and soda in the afternoon.  I even engaged in a conversation with the concierge through Twitter.  It is hard to beat that authentic interest in the guests well being.
Overall Impression
This has probably been our best anniversary celebration.  I was more than satisfied with all the attentions I received.  I felt a little sad when it was time to leave.  The positive?  The hotel is located only two hours from the house.  We can return as many times as we want.
Details
What hotel has provided you a memorable experience?
Pin it for later?
___________


___________
This post is part of Wordless Wednesdays at image-in-ing, Wednesdays Wanderlust at My Brown Paper Packages, Travel Photo Thursday at Budget Travelers Sandbox , Photo Friday at Pierced Wonderings,  Weekend Travel Inspiration at Reflections Enroute, The Weekly Postcard at Travel Notes and Beyond, Travel Tuesday at Bumble Bee Mum and Monday Escapes at Packing My Suitcase. Pay a visit to these wonderful blogs!