This article focuses on all the wonderful things to do in the Coachella Valley!
It is not often that one comes across a region that offers spectacular scenery, rich history and culture, a unique landscape, and an abundance of activities and attractions to suit all tastes and budgets than The Coachella Valley in Southern California.
It is impossible to see and experience everything in just one trip as the attractions of The Valley are endless. Don't even try it! Below is just a small selection of highlights, to help you choose the very best things to see, do, taste, and experience.
Please note: This article contains affiliate links, meaning I may earn a commission if you make a purchase by clicking a link. Of course, this comes at no extra cost to you and helps me to keep offering solid information to readers.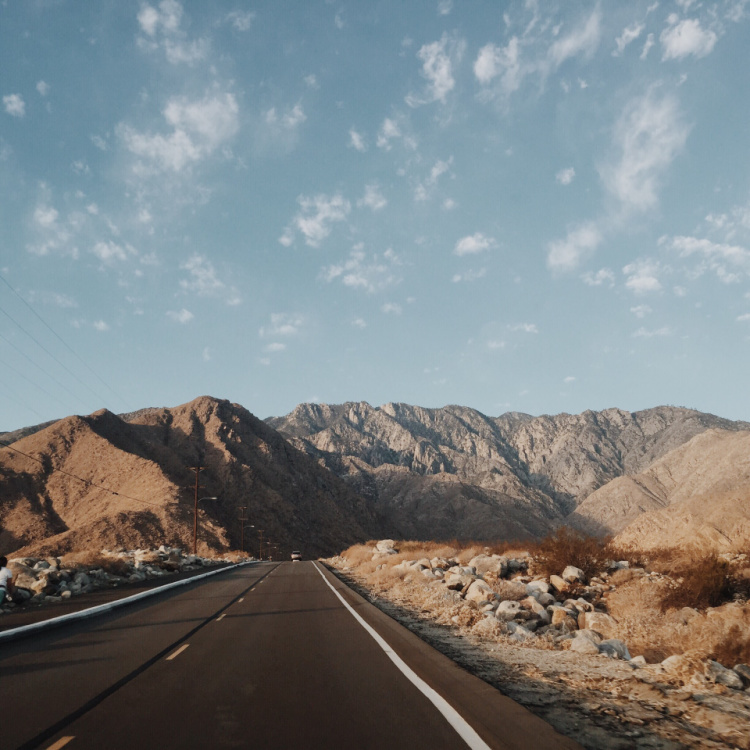 Coachella Valley: Location and Access
The Coachella Valley is located about 120 miles from Los Angeles and 130 miles from San Diego.  The exact mileage depends on your starting and ending points.  Keep in mind The Valley extends for 45 miles.
The Valley is served by the Palm Springs International Airport.  The area receives flights from Toronto, Vancouver, Boston, Denver, Chicago, Boston, and many more cities.  
Even with a well-served international airport in The Valley, a lot of visitors arrive by car through the Los Angeles and San Diego airports.
The main cities in The Valley are Palm Springs, Palm Desert, and Indio.  Other cities and communities include Cathedral City, Rancho Mirage, and La Quinta.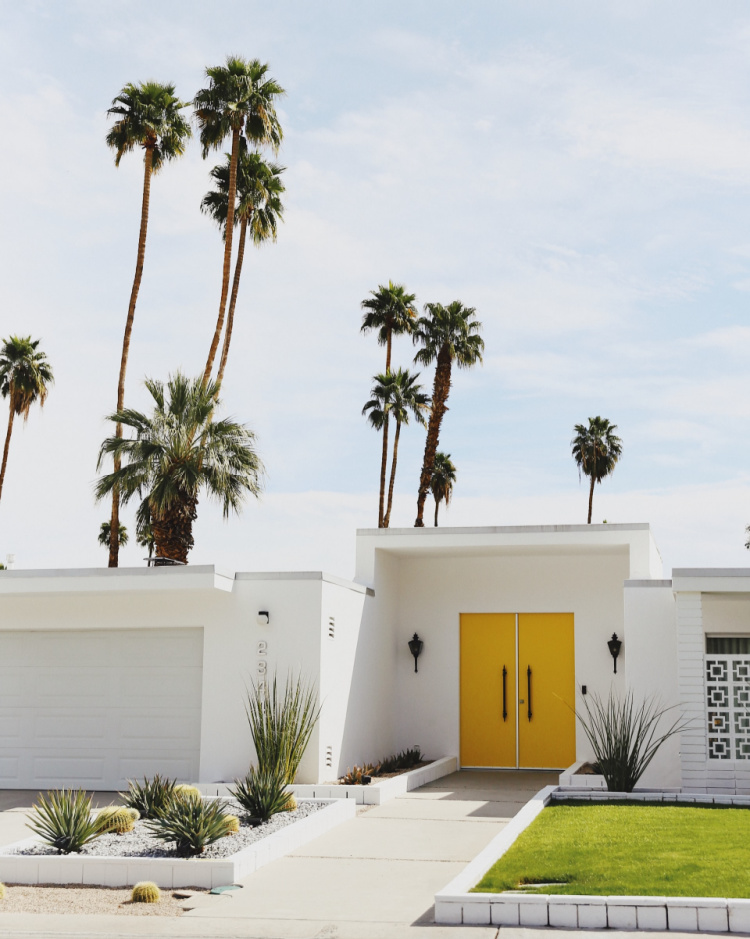 When to Visit
If you are not aware, The Coachella Valley is located within a desert.
Therefore, temperatures can reach more than 110 degrees Fahrenheit during summer.  Temperatures can be high even during May and October (over 90 in, shoulder season).
Therefore, late fall and winter (November to April) are the prime times to visit.  The weather is going to be pleasant (maybe a bit chilly at night) and perfect for outdoor activities. But, expect higher prices and crowds during the high season.
If you are considering visiting during the hot months, no, you are not crazy.  As a matter of fact, the Valley portrays itself as an all-season tourist destination.  You just have to avoid direct sun contact from 10:00 a.m. to 3:00 p.m. You will find plenty of indoor activities in this article.
Another important thing to take into consideration is wind conditions. When driving from Los Angeles or Orange County, along the US-10, you are going to notice an abundance of wind turbines.  This is because the area (the San Gorgonio Pass, to be exact) is one of the windiest places in the United States.
April is the windiest month of the year.  During a wind "storm," you may need to stay indoors (staying outdoors becomes a hazard).  Road closures can happen during this time.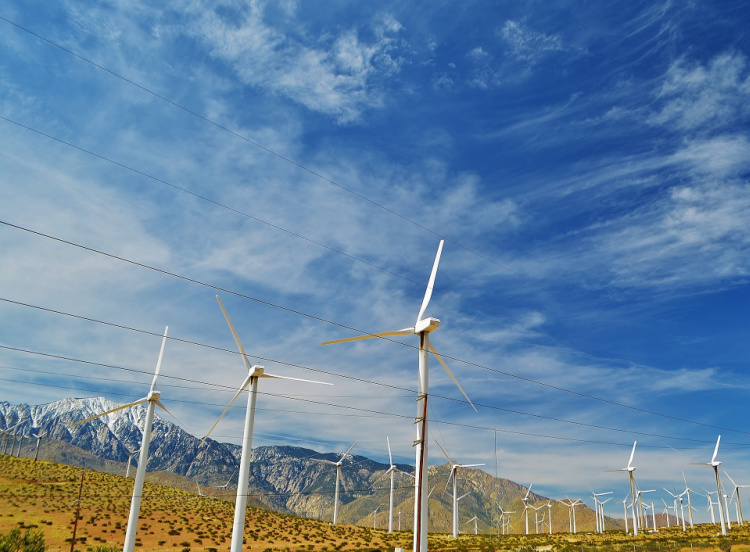 Sightseeing Gear
Get ready for a day of sightseeing by bringing the right gear.  Here is a list of the items I pack to explore cities and towns in California.
Things to Do in The Coachella Valley
It is time to start discovering all the great things The Coachella Valley has to offer.
Start by Exploring the Heart of the Cities
I have a feeling you would like to start your adventure by taking a look at the core business, leisure, eating, and drinking districts.
In Palm Springs, you will find all sorts of restaurants, cafes, breweries, shops, and museums along Palm Canyon Drive.  This thoroughfare is also home to the Walk of the Stars (similar to the one in Hollywood), and the Palm Canyon Theather.
Do not forget to check Uptown Palm Springs.  Since this is the design district, you will find stores selling mind-blowing pieces, public works of art, and murals.
Palm Desert can be seen as Palm Springs' upscale cousin.  The action concentrates along El Paseo, a street lined with boutiques, galleries, eateries, and shopping centers featuring modern architectural touches and gardens.  
La Quinta has a charming Old Town bustling with pizza parlors, bistros, bars, tea houses, artisan studios, and art foundations, and a park featuring a beautiful lake.
Read More: Things to Do in Palm Springs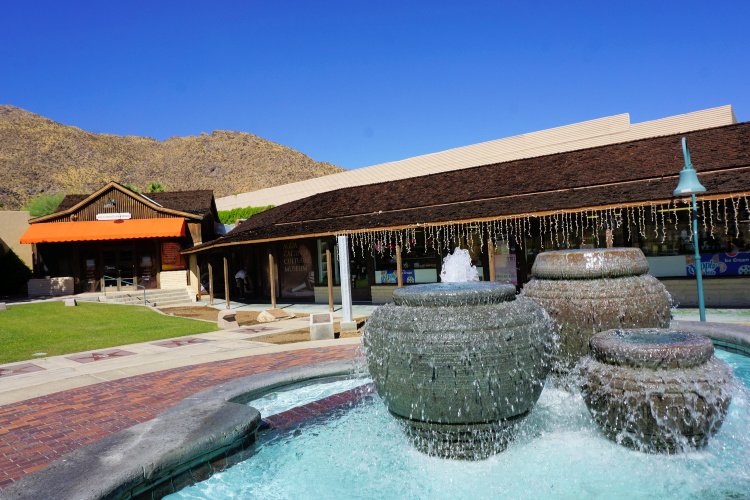 Soar to New Heights at the Palm Springs Aerial Tramway
If it's breath-taking scenery that you're after, there is no better way to find it, than by taking a short drive from Downtown Palm Springs and hopping into the Palm Springs Aerial Tramway. The world's largest rotating tram car gives spectacular 360° views as you climb nearly 6,000 feet within 10 minutes, through the majestic cliffs of Chino Canyon. 
At the summit, observation decks and hiking trails will leave you in awe as you gaze down onto Palm Springs and the pristine alpine wilderness of Mt. San Jacinto State Park. Two restaurants catering to all tastes and pockets are also located onsite. 
Taking the Aerial Tram is the perfect way to escape the heat during the summer months. Because of the upper station's altitude, temperatures can be 20 to 25 degrees lower than on The Valley's floor.  Expect a snowy landscape during winter (and go prepared with the right clothing).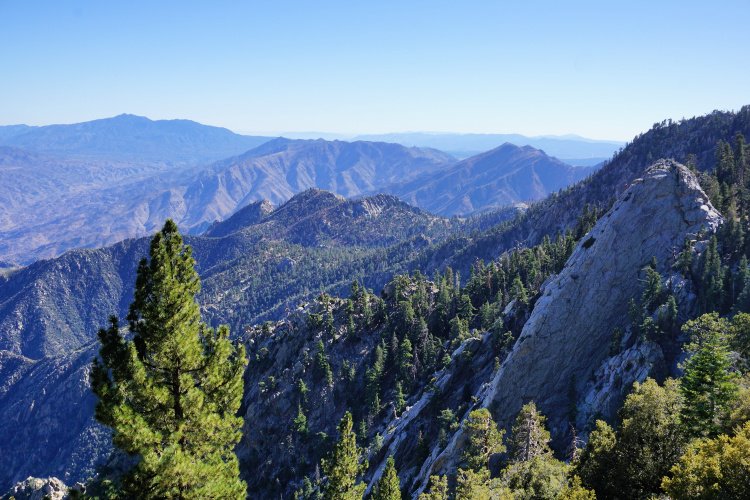 Meet the Residents at the Living Zoo and Gardens
Who would have thought that you could watch a cheetah run, walk with a wallaby and feed a giraffe, in a single location in The Coachella Valley? 
Mountain lions, leopards, giraffes, zebras, and cheetahs are a few of the 140 mammal species that roam freely in the 80-acre landscape owned by the Living Desert Zoo and Gardens. Add 150 bird species, 30 reptile species, 30 butterfly species, and over 1600 plant species and you will realize that there could not be a more relaxed way to spend time with the family.
You can have lunch or snacks in one of the cafes, or even bring your own food and drinks.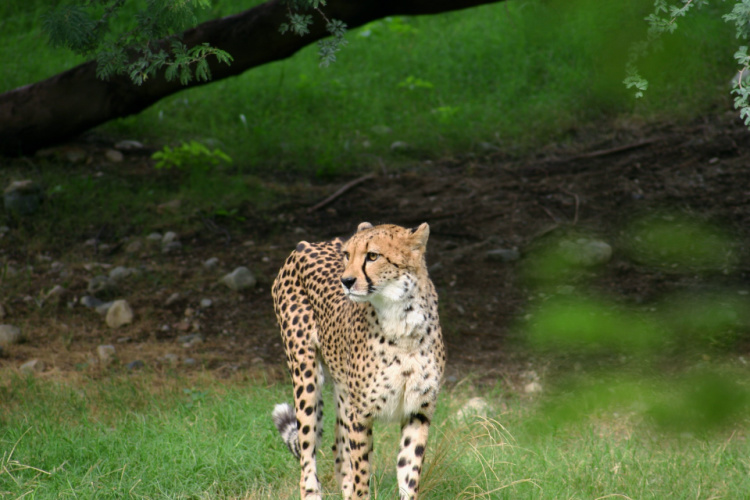 Visit a Museum
For the "culture vultures', you will be spoilt for choice, with several museums in close proximity. 
Coachella Valley History Museum (Indio)
The richness of this quaint, must-see museum, preserving the fascinating history of The Valley, will transport you back in time the moment you enter its doors. Filled with artifacts from the earliest inhabitants, the Cahuilla Indians, and a nostalgic meander through the countless displays will remind you of the way of life of the early pioneers of the 19th and 20th centuries.
The interesting farming, blacksmith, weaving, and household implements exhibits, the refurbished 1900s schoolhouse, the magnificent gardens, and the only Date Museum in the world, are only a few of the attractions.  
Palm Springs Air Museum 
Regarded as one of the finest air museums, it houses the largest collection of flyable WW2 aircraft in the world, such as the iconic Spitfire, P51 Mustang, and B17 Flying Fortress. Vintage aircraft from the Korean and Vietnam wars, such as the American Sabre and Russian Mig are also on display. The famous F16 Falcon and other more modern warbirds, plus various fascinating combat helicopters, will keep young and old, captivated for hours on end. 
Palm Springs Art Museum
Being the only major art museum between Los Angeles and Phoenix, it contains an impressive collection from the 19th 20th, and 21st centuries, featuring Californian, Native American, Mexican, classic Western, modern European art, sculpture, glass art and American photography. 
It also offers art classes, lectures, and films. The Annenberg Theatre holds regular Broadway, cabaret, jazz, and classical shows that cater to all cultural tastes.
The Palm Springs Museum has a branch in Palm Desert.
Do Not Miss Sunnylands
Sunnylands, located in the city of Rancho Mirage, was owned by Walter and Leonor Annenberg.  The property was declared a Historic Site since it hosted 8 US presidents during the lifetime of the Annenbergs, Queen Elizabeth, Prince Philip, Prince Charles, Frank Sinatra, Margaret Thatcher, and other notorious figures.
The structure itself is a mid-century masterpiece designed by A. Quincy Jones.  The interior is full of works by Picasso, Van Gogh, and Monet.  The property includes a golf course and 13 man-made lakes.
Nowadays, the estate can be visited on guided tours.  Those who do not want to spend money on the tour can still visit the visitor's center and gardens (free of charge).  I recommend doing this since the gardens are incredibly beautiful.  At the visitor's center, you can watch a movie explaining Sunnyland's history.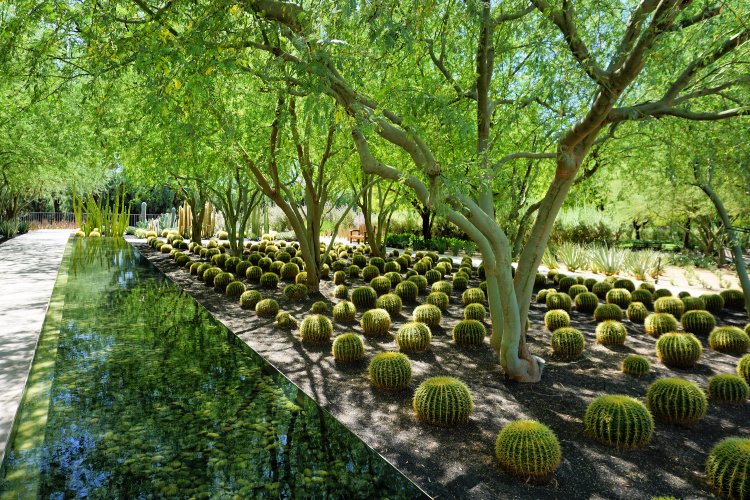 Explore the Quirky Side of The Valley
If you want to get off-the-beaten-path, the Cabot's Pueblo Museum is for you.
A gentleman called Cabot Yerxa was a homesteader (somebody who cultivates a piece of land for several years to obtain the rights of that land) in The Coachella Valley at the beginning of the 20th century.
Over time, he built a Hopi-style Pueblo on his property.  These pueblos can be found in the Four Corners regions (the area where Arizona, Utah, New Mexico, and Colorado meet).  But, a Pueblo in California?  Well, it exists in the Coachella Valley.
You can enter the structure on a guided tour.  You will learn about Yerxa's adventurous life.  In addition, you will get a glimpse into the not so easy life of a homesteader.
Read More: Cabot's Indian Museum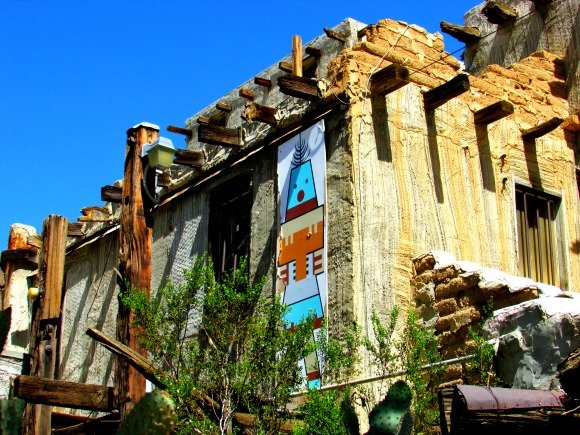 Play a Round or Two of Golf
It will only take a quick drive through this region, to realize you are now in the Golf Capital of the World! There are well over 120 magnificent courses to choose from, to suit and challenge golfers of all skill levels, from the pro to the novice. 
The landscaping designs of each course will leave you breathless, with manicured greens, tree-lined rolling fairways, lakes, water features, and sculptured bunkers to test your swing and fill your senses, all at the same time.  
Although each course has its own unique features, the one common feature they all share, are the majestic views of the surrounding mountain ranges. Word of warning to all golfers – do not come here without your clubs!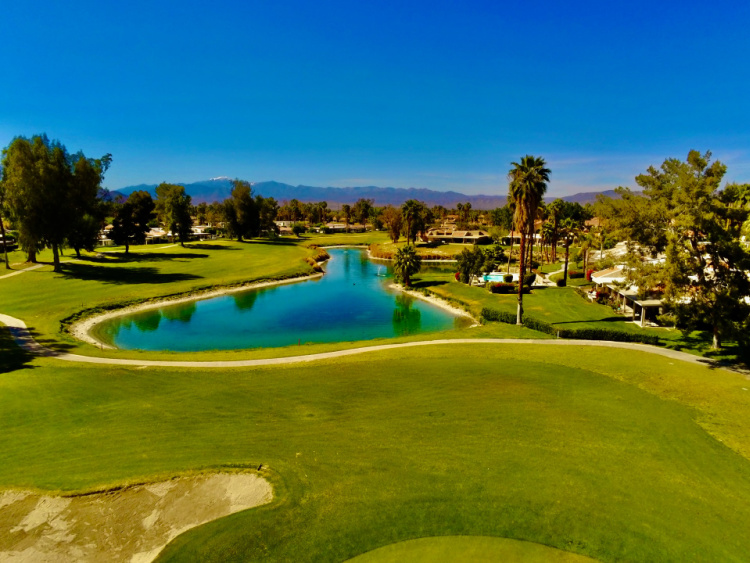 Go on a Hike
For hikers, campers, and outdoor lovers, the Coachella Valley will not disappoint. Trails vary from a leisurely one-mile stroll to a three hour guided or unguided hike for the more active folks. Below are just three of the numerous hiking trails in the valley.
The Indian Canyons, on the edge of Palm Springs, offers spectacular walking, hiking or horseback trails, to experience stunning desert scenery filled with lush palm oases, Indian rock art, soaring colorful cliffs, unusual rock formations, a water cave, and even waterfalls.
Near the town of Mecca lies another hiking jewel with amazing colorful rock formations that look as if they have been painted by an artist – The Painted Canyon. A photographer's paradise! Need we say more?
The Coachella Valley Preserve is a serious contender for the best-hiking spot in the area. There are 25 miles of hiking trails inside this vast 20,000-acre sanctuary. It is the home of some rare and unique wildlife including 180 bird species, which inhabit the desert and its numerous palm oases, and the spectacular Thousand Palm Oasis. The water pool at this famous oasis contains the tiny endangered pupfish. One last point on this special place is that entry is free! 
If you are interested in learning more about hiking options in the Coachella Valley, I recommend checking my Day Trips from Palm Springs article.
Note: We already discussed weather at the beginning of the article.  However, I need to emphasize the dangers of hiking during extremely hot weather.  Please do not attempt to hike when temperatures are over 100 degrees Fahrenheit.  
Read More: Indian Canyons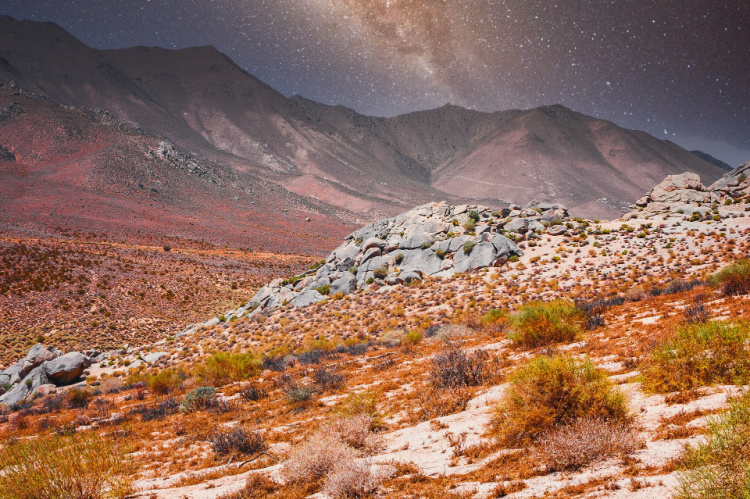 Have a Delicious Date Shake
Nobody can rightfully claim to have been to the Coachella Valley, without tasting a delicious date shake. 
The Oasis Date Gardens may just be the perfect place to do that, as well as enjoy a quick bite while relaxing in the picnic area. 
This unique venue offers a quick film on the history of the date and free date tasting, allowing you to sample some of the 15 or so varieties organically cultivated on their 175-acre ranch. The gift store will have you salivating with date bread, jams, and other mouth-watering packaged date delicacies, which make ideal gifts…that's if they survive the trip home.
This is a unique experience and I seriously recommend you give it a try (even if you believe you do not like dates).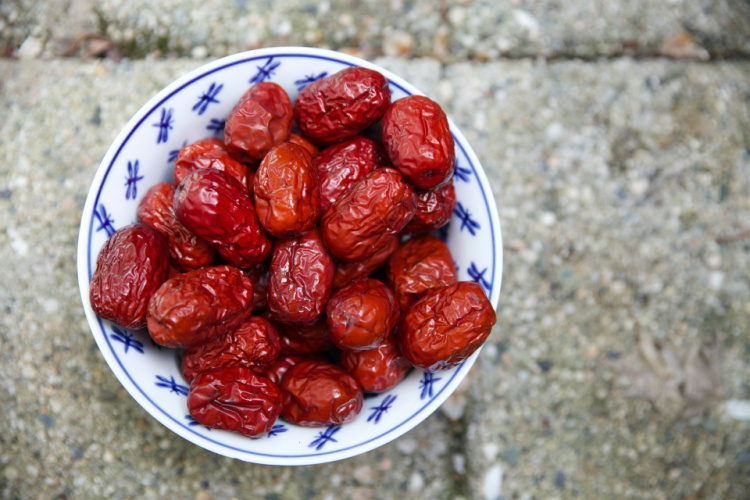 Relax at a Hot Spring
For those needing to be indulged, why not enjoy one of the things The Coachella Valley is actually famous for? The springs! There are countless establishments that provide full-on accommodation, hot mineral water pools, spa therapies, beauty treatments, and all the pampering you can imagine. 
Highly recommended are the El Morocco Inn & Spa, Springs Spa Desert Hot Hotel, and Two Bunch Palms Spa Resort. All three are conveniently located in Desert Hot Springs, barely 10 miles from Downtown Palm Springs, 12 miles to the airport, and close to many must-see attractions. They all offer entertainment as well as a wide range of fancy and casual dining.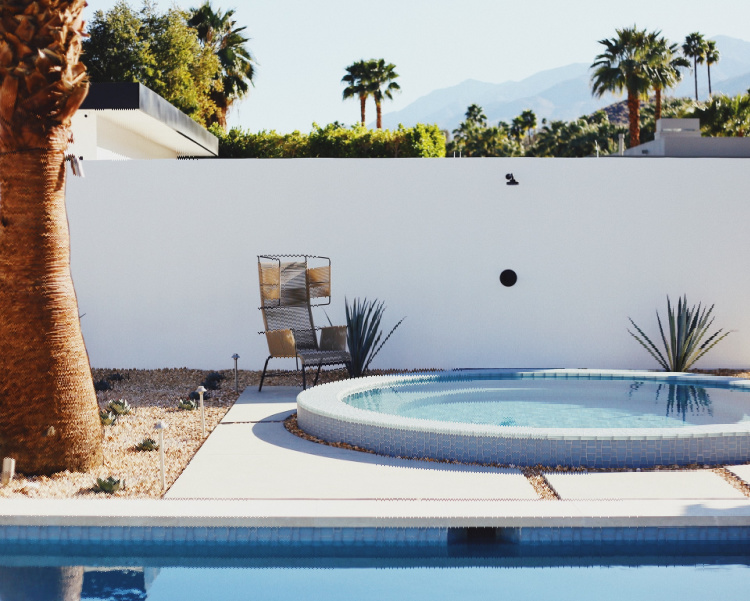 Balloon Flights
There is no doubt that the splendor of The Valley is best seen from above, so why not indulge yourself in a hot air balloon flight for a thrilling experience you will never forget? Floating gently over a stunning landscape of natural desert, date palm orchards, rolling hills, elegant estates, and golf courses against a majestic mountain backdrop, could easily become the highlight of your visit to The Coachella Valley.
Several companies operating in the valley, offer daily morning and evening flights, and prices are around $200 per person. The flight itself lasts around an hour and ends with the traditional glass of champagne to toast your adventure.
Note: You can get close to hot air balloons, witness an 80+ balloon launch, and enjoy a ride during the Cathedral City Hot Air Balloon Festival.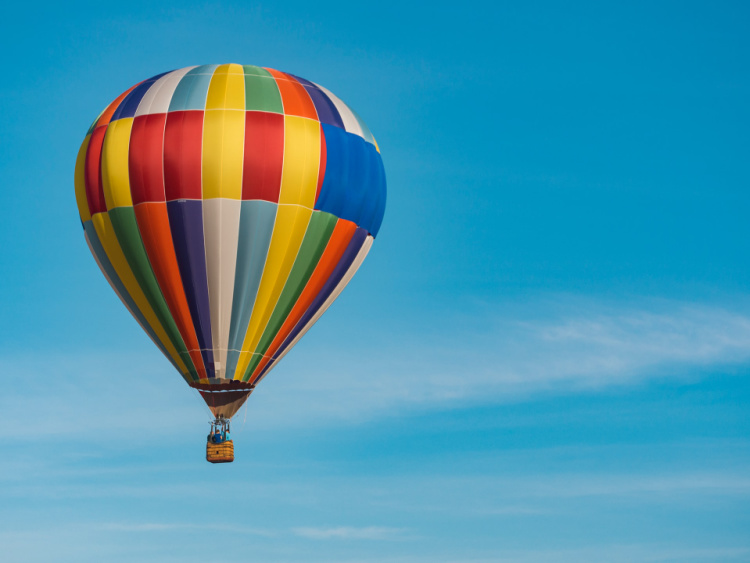 Feel Like a Celebrity
Since the early 20th century, Palm Springs has been the playground for many Hollywood stars and other notorious figures. Several companies offer guided bus tours taking you to lavish homes that were once occupied by celebrities such as Elvis and Priscilla, Frank Sinatra, Kirk Douglas, Albert Einstein, Dean Martin, and Marilyn Monroe. You can also discover where current stars like Leonardo DiCaprio live. 
The 1-2 hour tours are jam-packed with information as guides share historical facts of the city plus secrets of the stars, of marriages, divorces, and scandals. You will not find all these juicy details anywhere else. 
Historic home tours in Cathedral City are available seasonally.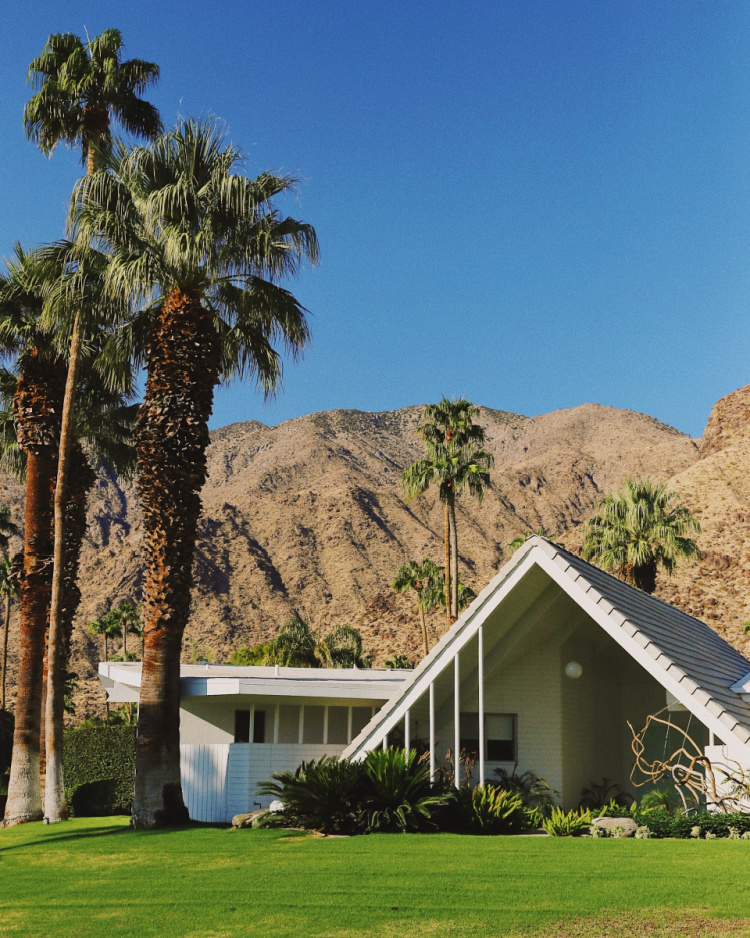 Go on a Desert Adventure
Discover the ecological wonders of the desert, from the comfort of a 4WD, by booking a guided tour to various fascinating locations. You can experience one of California's most active faults, the San Andreas Fault, and other tectonic features while learning about the culture of the Cahuilla Indians and the unique plants and animal life of the desert.
Jeep tours are also available to hard to reach pockets of the Indian Canyons and Joshua Tree National Park.
A company called Off-Road Rentals allows visitors to ride ATVs on private desert property.  Safety equipment is provided and a driver's license is not required (but there are age restrictions).
Read More: Things to Do in Joshua Tree National Park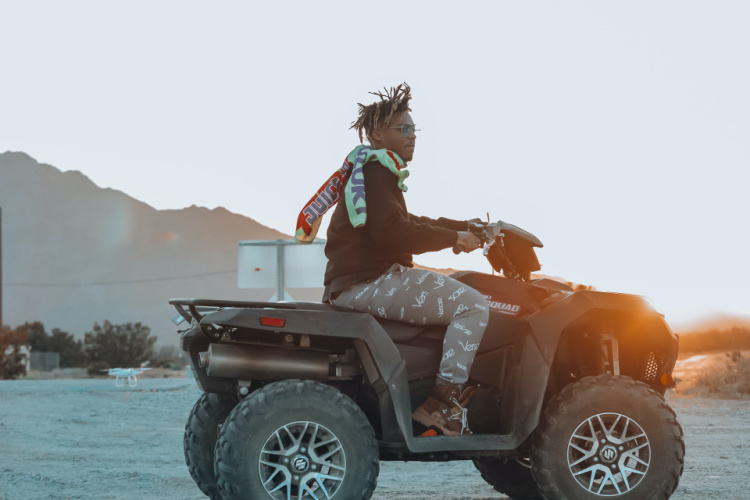 Lounge by the Pool
There has to be some serious relaxation between all the frantic activities we have proposed in this article. As one would expect, there is no shortage of things to do that in The Coachella Valley. 
Although there are countless resorts and lodges in the area, the following three establishments are highly recommended if you want to rest by the pool.
The Indian Wells Resort & Spa offers superb accommodation with excellent amenities, including a stunning pool and hot tub, where you can sip tropical drinks overlooking the Santa Rosa Mountain and the magnificent greens of their championship golf course. 
The Renaissance Esmeralda Resort, also located at Indian Wells, is an exclusive resort that will spoil you rotten the moment you arrive with all the amenities you may desire. Spacious rooms, private balconies with breath-taking views of the mountains, stunning golf courses, spa and wellness treatments, the largest and most spectacular pool in the valley, and yes, a sandy beach too!
The Saguaro Hotel is perfectly situated a stone's throw from the foot of the San Jacinto Mountain, three miles from Palm Springs downtown and nine miles from the aerial tramway. All rooms of this colorful 3-story hotel look onto a beautiful palm-fringed pool, where you can book a poolside daybed and spend the day doing nothing. It also offers a range of recreational activities including two spa tubs, a fitness center, bar, and restaurant.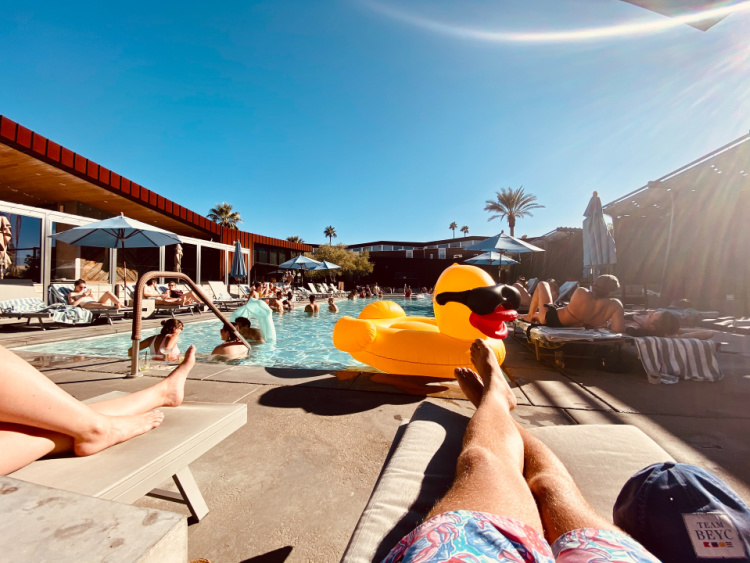 Have Fun with the Kids
When it comes to traveling with children, The Coachella Valley offers numerous attractions for the entire family.
The Children's Discovery Museum's interactive exhibits will have all children captivated for hours on end, stimulating their creative skills while coming face-to-face with dinosaurs or investigating and discovering amazing secrets of science and nature. 
The Get Air Trampoline Park is the ideal place for the children to burn off some steam, bouncing, climbing, and swinging while negotiating obstacle courses or experiencing a hurricane simulator.
The obvious pull for water makes The Palm Desert Aquatic Center, the perfect spot for the whole family to spend a few leisurely hours, cooling off in the three crystal clear pools. The various water slides, diving boards, and other fun water features will have you battling to get the kids out of the water.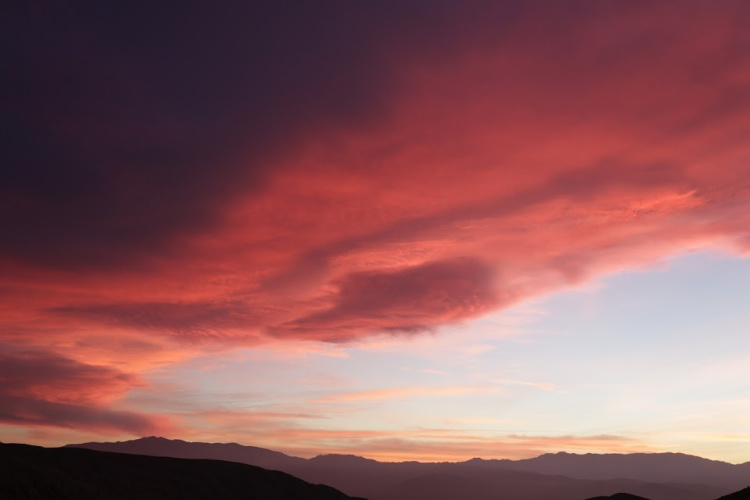 More of Southern California
Los Angeles Ultimate Bucket List
Ultimate San Diego Bucket List
150+ Places to Go in Orange County
Places to Visit in Santa Barbara
What other things to do in the Coachella Valley do you recommend?
Pin it for later!