Have you heard about San Clemente?  If not, check out this guide with the best things to do in this beach town located in California's Orange County.
Did you know California has a "Spanish Village by the Sea"? Yes, that distinction goes to San Clemente, Orange County's southernmost beach city.
San Clemente was developed as a resort community featuring Spanish Colonial Revival architecture.  That is why the moniker/slogan stuck.
Nowadays, the white (or light-colored) buildings with terracotta roofs stand against the deep blue of the Pacific Ocean.  A delightful mix of Old World beauty and beach culture awaits to be discovered.
In this article, you find local insights with respect to the best things to do in San Clemente.  Let's dig in!
Please note: This article contains affiliate links, meaning I may earn a commission if you make a purchase by clicking a link. Of course, this comes at no extra cost to you and helps me to keep offering solid information to readers.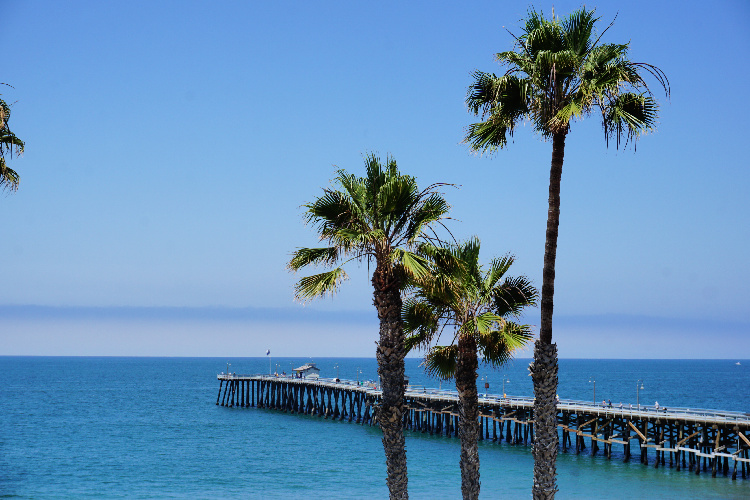 Things to Do in San Clemente
At first glance, it looks like there is not a lot to do in San Clemente.  Nevertheless, I am here to convince you of the contrary.
Once you start exploring, you discover more and more interesting things to do.  Let's take a look at what the city has in store for you.
Spend Some Time at the Beach
Well, I guess my recommendation to spend some time at the beach is not a surprise.  After all, much of San Clemente's activities have to do with the ocean.
The city has about 5 miles of coastline.  Depending on who you ask, those 5 miles can be divided into a dozen or more beaches (locals name the beaches based on the streets with coastal access).
For the purposes of this article, we will break the coast into 4 beaches: Poche Beach, North Beach, Central Beach (beach around the Pier), and Calafia (or San Clemente State Beach).
All beaches are great for swimming, sunbathing, and practicing water activities.  Some have more facilities than others.  As a rule, Poche Beach and North Beach provide more space and seclusion.  The beach around the pier is the closest to Downtown (and restaurants, shops, etc.)  Calafia seems to be the most popular beach (especially for families) but it can get crowded.
Let's take a closer look at these beaches.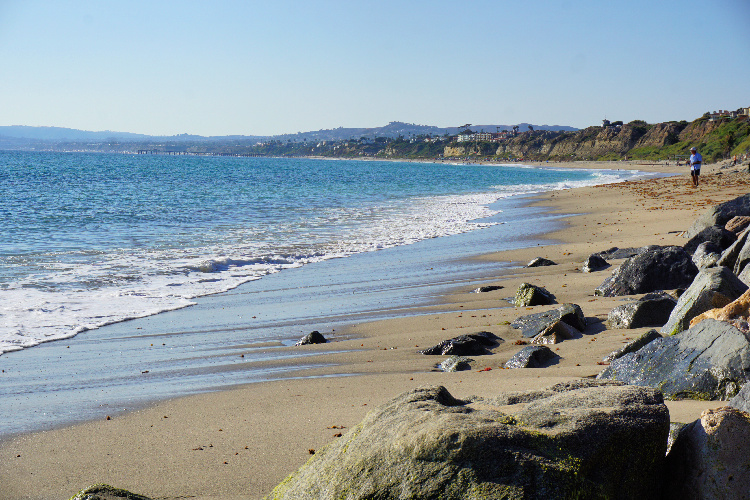 Poche Beach
You can find this beach in the area where Camino Capistrano becomes El Camino Real (it is located at the border of Dana Point and San Clemente).  I would recommend this spot for people who enjoy off-the-grid, undeveloped beaches (there are no public facilities here).  Also, there may not be much of a beach during high tide.
San Clemente North Beach
North Beach is located across the San Clemente Train Station (do not confuse it with the pier station/stop, San Clemente has two train stops).  
This beach has parking facilities, picnic tables, playgrounds, volleyball courts, restrooms, and a water fountain.  It tends to get less crowded than the other public beaches in the city.
There are restaurants, a convenience store, a surf shop, and a bike rental facility located nearby.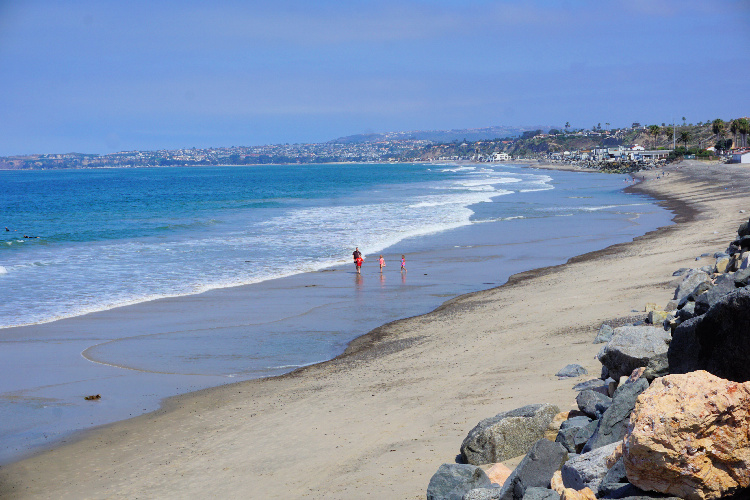 Center (City Beach)
The beach I am calling "center" refers to the strips of sand at both sides of the San Clemente Pier.  In this case, the beach is meters away from restaurants, cafes, and shops.  In addition, there are all sorts of amenities (rentals, showers, restrooms, parks).  
Therefore, this is one of the busiest strips of sand but, at the same time, it is buzzing with positive energy.  On top of that, the sand is white and soft.  I am not kidding when I say this part of the city transports me to the Caribbean.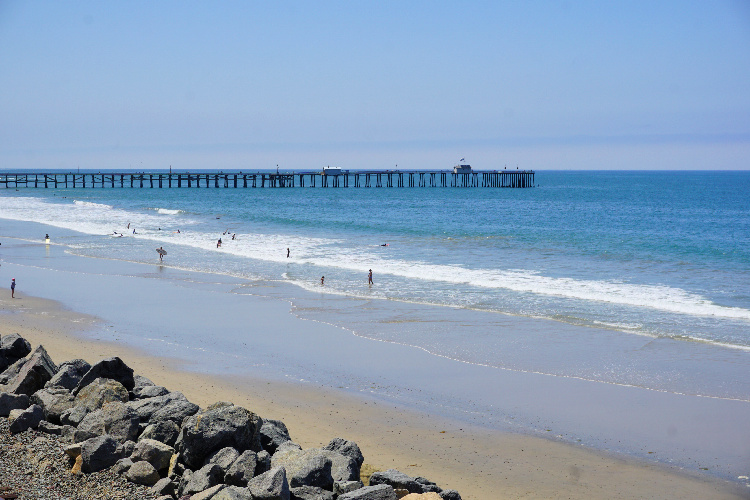 Calafia
The southernmost part of the coast in the city is administered by the state (officially called San Clemente State Beach) but everybody calls it Calafia (a mythical queen that gives the state of California its name).
This beach has a good number of parking spaces, restrooms, showers, a cafe (seasonal), and a campground.  This is a popular place because of the area's beauty and facilities.  I have even seen dolphins putting a show in the water while humans on the sand cheer.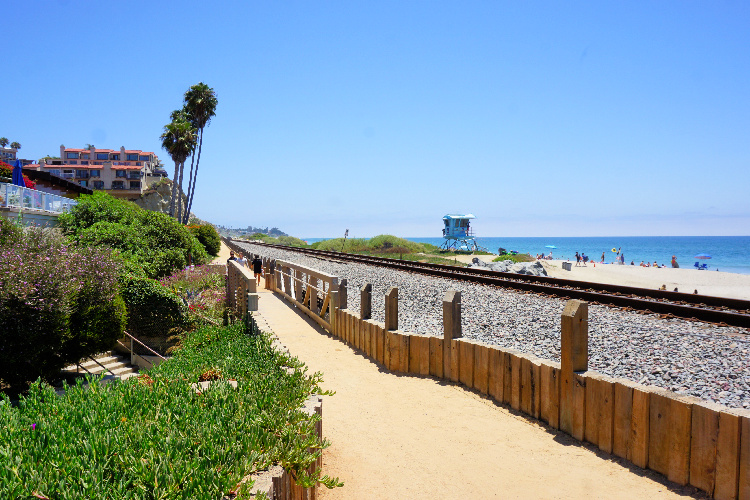 South of San Clemente
South of San Clemente, you will find Trestles and San Onofre State Beach. These beaches are well-known in surfing groups.  
While these beaches are not part of San Clemente, I am including information about them here since the land surrounding them is off-limits to the public (the land belongs to a military base), and, as a consequence, they are located on a strip without services.  San Clemente can be seen as the access point or closest city to these areas.
The trail to Trestles Beach can be accessed from Cristianitos Road (you can reach this point from El Camino Real or from the Cristianitos Road exit on I-5).  People park on the street and then walk or bike the half-mile to the beach.  There are basically no services here (except for one or two Porta-Potties). Bring everything you need.  Trestles can be accessed from Calafia too (walk south until you reach it).
San Onofre State Beach is 3 miles long.  According to the California State Parks website, this beach has 3 districts: San Onofre Surf Beach (the north portion, day use), San Onofre Bluffs (day use and camping), and San Mateo Campground (inland campground with a trail connecting to the beach). This is a fantastic place to swim, surf, walk, bike and fish.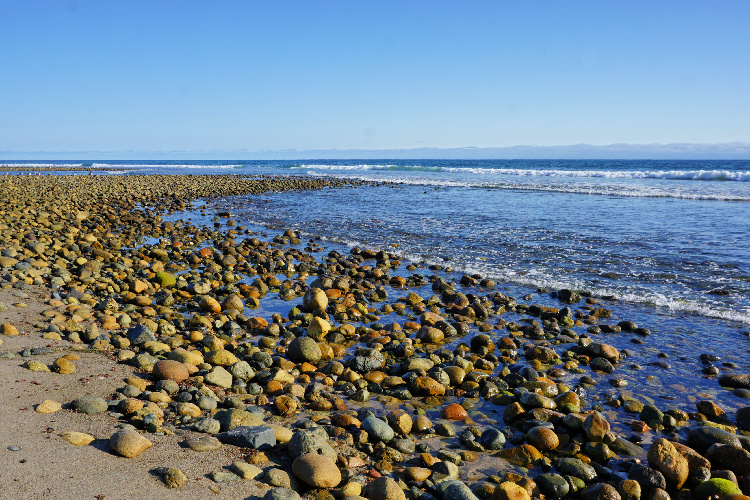 Surf or Learn to Surf
Surfing in San Clemente is big.  Many publications dedicated to the sport rank the city high on the best surfing towns in the US list.
Of course, the surfing fame of the area has a lot to do with Trestles and San Onofre.  While technically part of San Diego County, they form with San Clemente a world-class surfing zone.
In San Clemente, people surf all along the coast but one of the favorite breaks is called T-Street (located south of the pier).
In Trestles, you can find the following breaks (north to south):
Cottons
Uppers
Lowers
Middles
Church
In San Onofre (or San O), you will find the following break at the Surf Beach district (north to south):
The Point
Old Man's
Dogpatch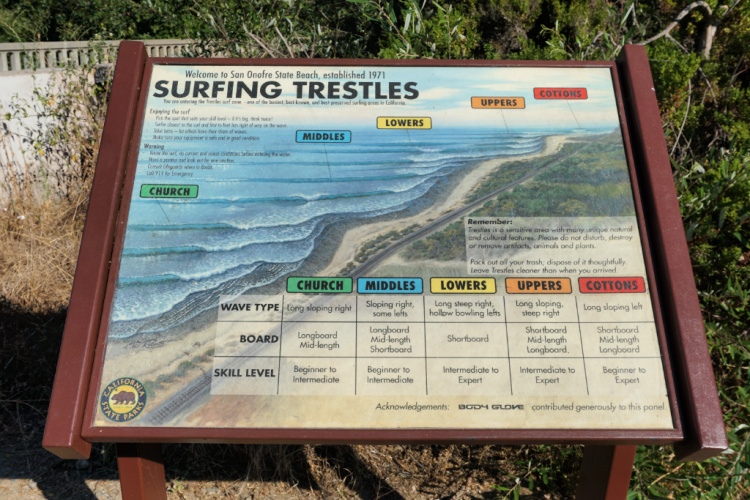 Those looking to learn how to surf have the following options in terms of schools and camps:
369SURF School
Surflife Academy
Volcom Summer Camp
Endless Summer Surf Camp
San Clemente Surf School
The number of businesses selling surf equipment or offering rental services is staggering.  I am including a partial list here:
San Clemente Surf Rentals
T-Street Surf Shop
San Onofre Surf Rentals
Icons of Surf
Hobie Surf Shop
Catch Surf
Pyzel Surf Supply
Lost Surfboards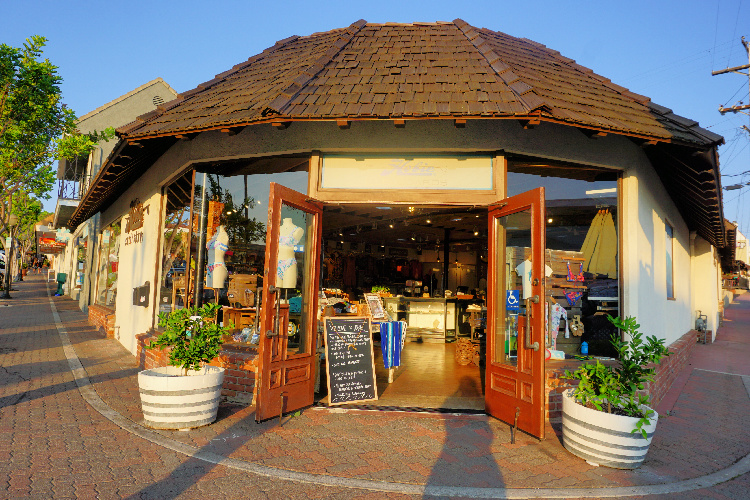 Camp at the Beach
I am a big fan of camping.  And, let me tell you camping in and around San Clemente is the real deal.  There are multiple options to camp right at the beach.  Plus, it is incredible to be surrounded by nature and, at the same time, close to restaurants, cafes, and shops.
The San Clemente State Beach has 160 individual sites (72 RV, the rest for tents) and 2 group sites.  The sites are equipped with tables and fire rings.  There is a short trail connecting the campground to the beach.
In the vicinity, you can find the following campgrounds:
Doheny State Beach (6 miles) – 122 sites, direct access to the beach
San Onofre Bluffs (6.4 miles) – 175 sites, located above the beach, super scenic area
San Mateo Campground (4 miles) – 157 sites, located inland but a short drive to the beach, there is a trail connecting to the beach
All these campsites fill up fast. You have to reserve with time or be on the lookout for sites that free up after cancelations.  Your best bet to find a space is the San Mateo Campground.
I have stayed on all these campgrounds and have enjoyed them enormously.  Now, they have cons but, in my opinion, the pros are more than the cons.  If you are a camper and an outdoor enthusiast, I am sure you will enjoy them.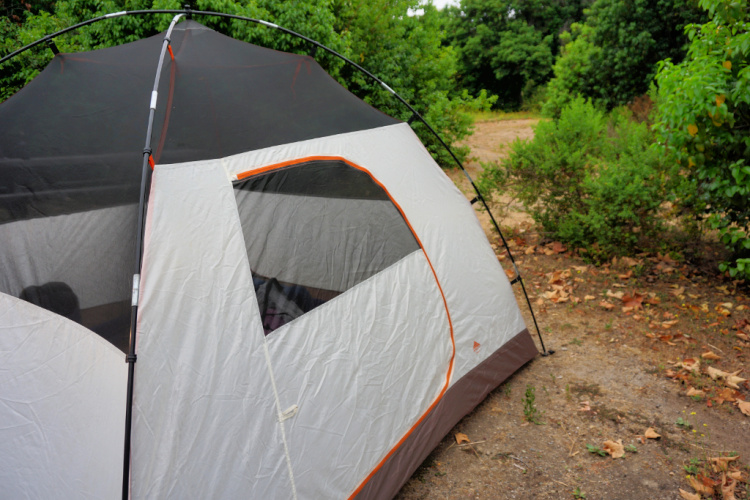 Walk or Bike the San Clemente Beach Trail
Walking the Beach Trail (or San Clemente Coastal Trail) is one of my favorite things to do in San Clemente!  In my opinion, this is one of the best coastal walks in Southern California.  You can see the Dana Point Headland, San Mateo Point, and the north shoreline of San Diego County.
This 2.3 miles (one way) easy trail goes from North Beach to Calafia.  Here are some ideas on how to tackle the trail:
Park at North Beach and walk all the way to Calafia.  You can stop in the Downtown/Pier area for a break.  This is a 4.6 miles round trip walk
Park at North Beach and walk to the Pier (1 mile, one way)
Park at Calafia and walk to the Pier (1.3 miles, one way)
Park at one of the Pier lots and walk north or south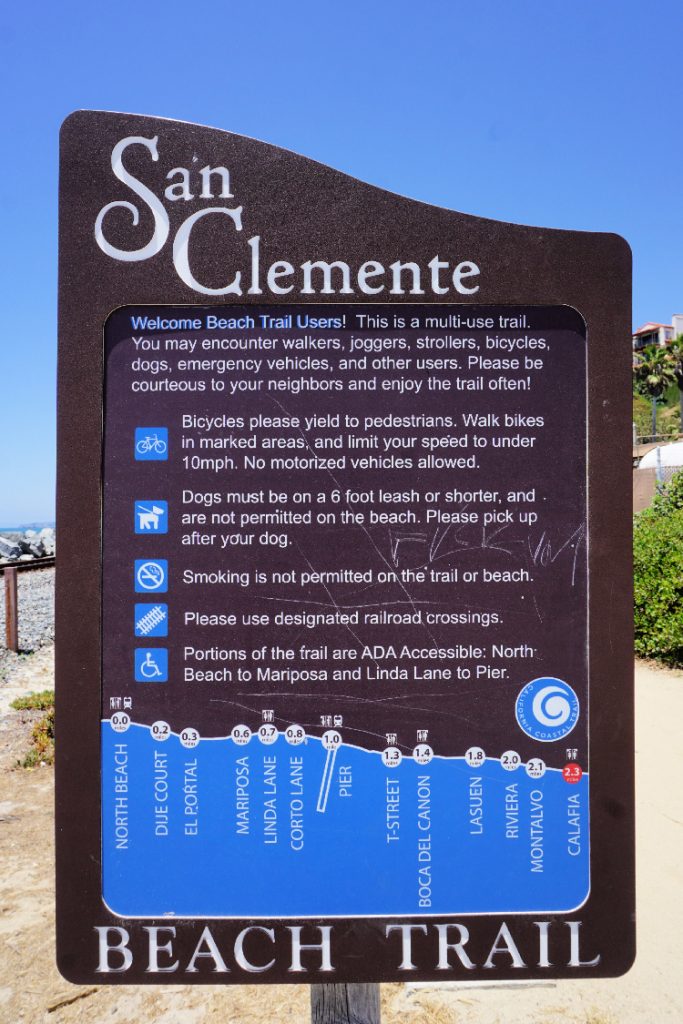 Hit the Other Trails
San Clemente has a vast network of trails on the inland portion of the city.  These trails have a moderate and moderate to hard level of difficulty.
Moderate trails include Cristianitos North, Cristianitos South, Prima Deshecha North, and Prima Deshecha South.  Moderate to difficult trails include Sea Summit and Talega.
It is possible to connect to trails located in San Juan Capistrano and San Onofre State Beach.  Find the exact details here.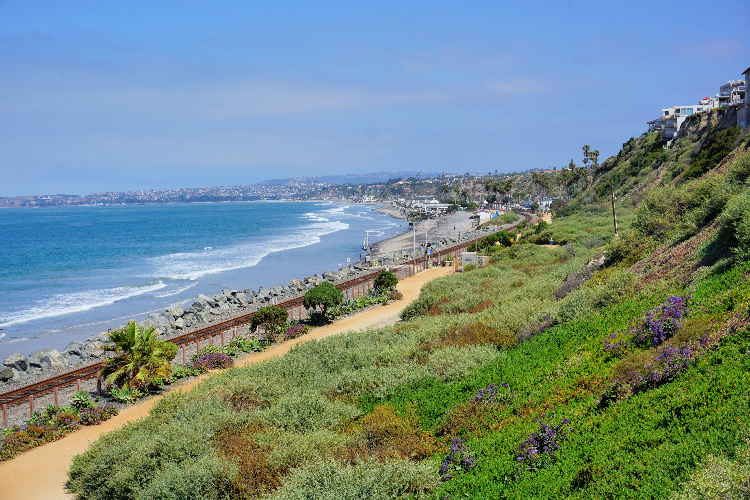 Stroll the Pier
I have already mentioned the pier several times but I have to make sure you get the message: do not forget to check out the pier!
I mean, strolling a pier is a classic in California.  San Clemente's Pier is no exception.  You can enjoy the scenic views, fish, watch the surfers, or grab something to eat at Fisherman's Restaurant.  Across the Pier, you will find Cosentino's Pizza, Bear Coast Coffee, and La Gallette Creperie.
Sunset is the prime time to head to the pier.  I like to sit in the sand and watch the sun setting behind the pier.  You can also watch the scene from Avenida Victoria or Parque del Mar.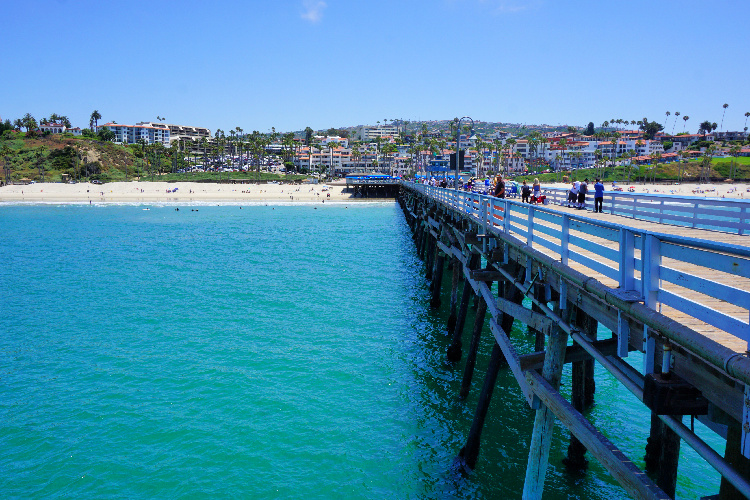 Dine and Shop in Downtown
To experience the true charm of San Clemente, you have to explore Downtown.  Make no mistake, this is one of the best places to go in San Clemente (of not the best place).
In this area, you will find a high concentration of structures in the Spanish Colonial Revival style (white walls, terracotta roofs, arches, tiles).  You will feel transported to a Meditteranean town when noticing the attractive architectural designs, colorful flowers, and establishments selling locals goods
Most of the action takes place at Avenida de Mar.  There are more businesses at El Camino Real.  The Historic City Hall is located at the intersection of these thoroughfares.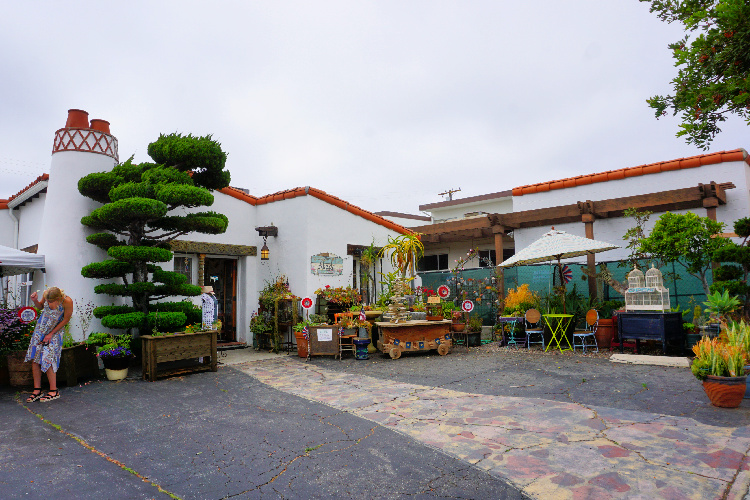 Here are several recommendations on where to eat, drink, and shop:
Restaurants (Great Places to Eat in San Clemente)
Nic's
H.H. Cotton's
BeachFire
Billy's Meats (Seafood & Deli)
Vine Restaurant
Rocco's
Brussels Bistro
Muse Sushi Bar
Beer & Wine
Pizza Port
The Cellar
Rancho Capistrano Winery
Coffee
Sur Coffee
ZebraHouse Coffee
Sweets
South Swell Hand Dipped Ice Cream
Paradis Ice Cream
Sugar Blossom Bake Shop
Donut House
Rocket Fizz
Shopping
Beach Town Books
Tuvalu – Furniture store
Russell Stationers – Cards, paper, envelopes, and more
The Surfer's Outlet – All things surfing
The Adobe – Home goods in a super cute building
Oliver's – Olive oil and balsamic vinegar
San Clemente Wine Company
Three Dog Bakery – Pet store with freshly baked good for your pups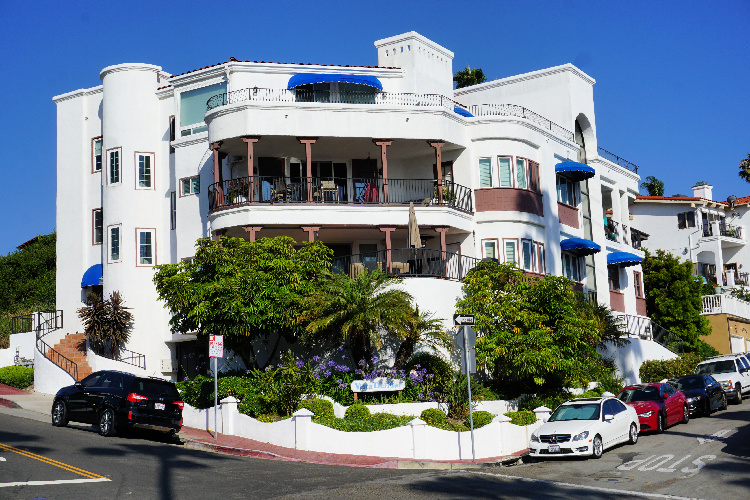 Stop by Los Molinos Business District
Those who are interested in supporting local businesses should definitely check out Los Molinos Business District, the oldest industrial area in San Clemente.
The district is home to Rainbow Sandals, a business specializing in beach sandals (flip flops).  They claim to make "The World's Best Made Sandals" and their customers seem to agree.  They are well-known for giving back to the community. For example, if you think your sandals have reached the end of their life, you can return them.  Rainbow will attempt to repair and give them to a person in need.  If it is not possible to give them a second life, the pair will be recycled.
In addition, the district is full of surfboard manufacturers and surf shops.  It is cool to walk around and take a look at places like Basham's Factory, Terry Senate Surfboards, Cole Surfboards, and Dewey Weber Showroom.
If you feel like having a great meal while around, I recommend heading to The Shwack Cantina or La Colombiana.  I love the burgers from the first place and the bandeja paisa from the second (they call it bandeja colombiana on the menu.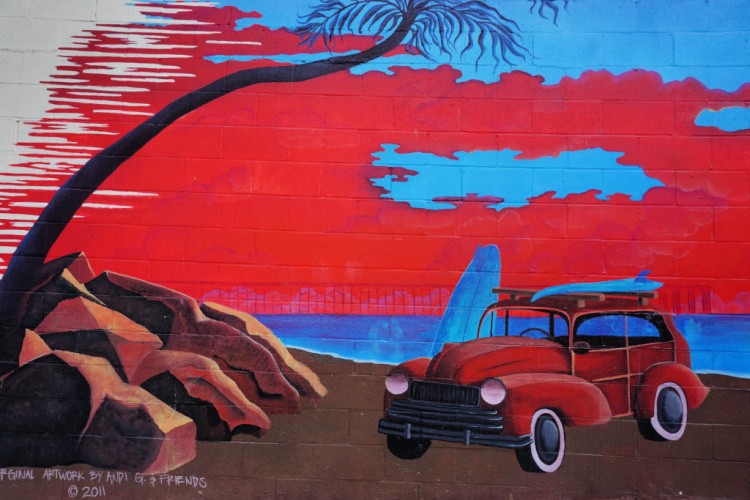 Learn About the City's History at Casa Romantica Cultural Center
Casa Romantica was the former home of San Clemente's founder, Ole Hanson.  This entrepreneurial Wisconsinite developed what was known as Rancho de Boca de la Playa as a resort-style community with Spanish Colonial Revival characteristics.  Hanson's house, constructed over a blufftop, served as a model for the rest of the project.
Nowadays, the Casa Romantica Cultural Center can be visited on self-guided and docent-led tours.  The mansion features tiled fountains, crystal chandeliers, wooden floors, fireplaces, and octagonal rooms, gardens, and views of the Pacific Ocean (and San Clemente's Pier).
This is such a dreamy place! I highly recommend paying a visit.
Visit a Local Brewery
For such a small city, San Clemente has a fantastic craft beer scene.  
The only thing is that you have to drive a little bit inland (2 or 3 miles) since the breweries are located in business parks or industrial areas.  Visiting a brewery will provide a change in scenery and a respite from the heat (believe me, you will need to escape the sun during summer).
You have the following choices:
Lost Winds – This brewery has over a dozen beers on tap (with a lot of options for those who prefer low IBU), a large indoor/outdoor space, and a friendly staff.  On top of that, they have gorgeous art decorating the common spaces.  
Artifex Brewing Company – This is my husband's favorite brewery in the area.  You can try their beers on their tree-shaded, outdoor patio.  They usually have a food vendor on-site. Lost Winds and Artifex are located less than a mile apart.  You can visit both breweries on the same day.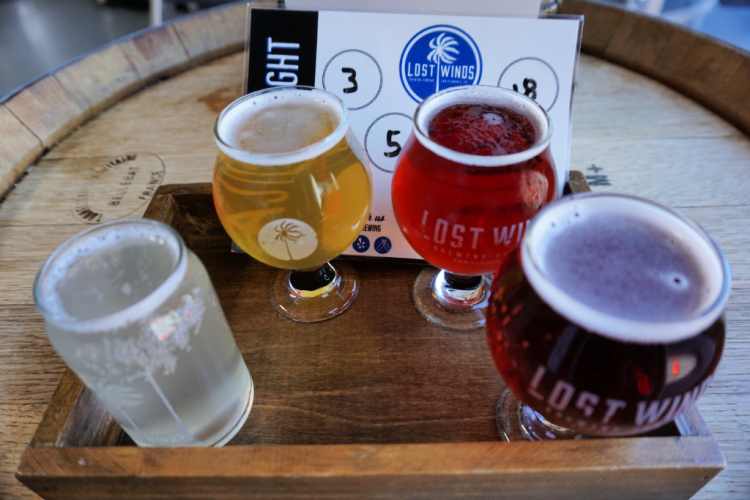 Left Coast – What started as a humble operation in San Clemente, is little by little becoming a mini-empire.  Left Coast has a tasting room in the Talega Business Park and a smokehouse, brewery, and distillery in Irvine.  
Board & Brew – This chain, focusing on specialty sandwiches and craft beer, is spreading like wildfire in Southern California.  I know it is not a brewery per se but I have to include it because it is crazy good.  Each location carries about a dozen beers on tap (mostly local).
Pizza Port – Last but not least, the notorious Pizza Port is located in the Downtown area.  Again, this chain of breweries/restaurants started small in San Diego County and, several years later, owners have multiplied and diversified the business.  The good thing is that they have tons of beers on tap, offer other drinks such as ciders and seltzers, and have a menu with extensive food offerings.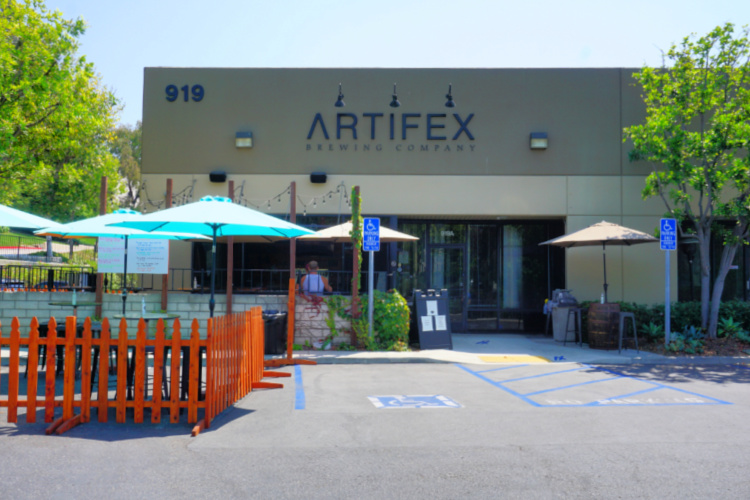 Or, Spend Some Time at a Distillery
If you are looking for a fun experience with a twist, Drift Distillery is the place for you.
Not only the spirits from Drift are made in San Clemente but the grain used comes from the owners' parents' family farm in Kansas.  How cool is that?
The distillery offers a wide range of cocktails made with its rums, vodkas, and whiskeys.  Also, they offer basic cocktails, beers, and food (starters, salads, sandwiches, BBQ plates, and eats.
Drift Distillery is located across Artifex Brewery and less than a mile away from Lost Winds Brewery.
Visit the Surfing Heritage and Culture Center
I have already discussed how big surfing is in San Clemente and in its vicinity.  Therefore, it is not surprising that the city is home to the Surfing Heritage and Culture Center.
I recommend you pay a visit even if you are not a fan of surfing or a fan of museums.  Surfing museums are so interesting (we have been to ones in Santa Cruz and Oceanside).
However, let me tell you the Surfing Heritage and Culture Center is more than a museum.  Their mission is to preserve, promote, and present surfing's heritage and cultural impact.   This is done by presenting the public with photos, artifacts, videos, exhibitions, and opportunities to interact with the local surfing community.
Locals and non-locals rave about this place.  Come and see it by yourself.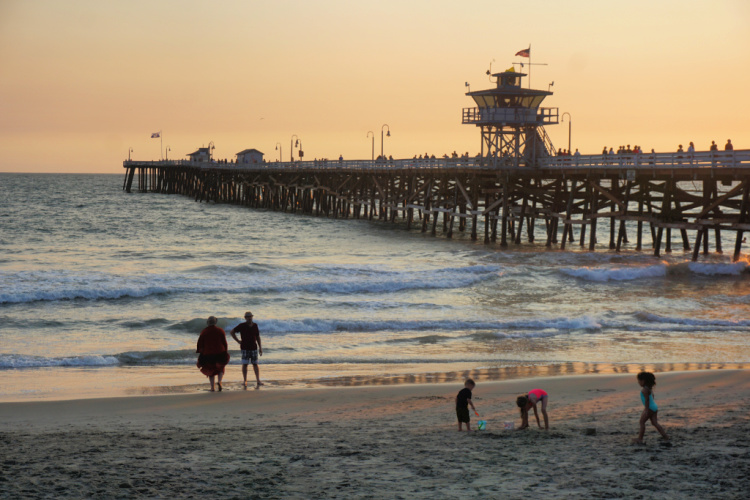 Shop Until You Drop
Guys, you know I am not a big shopping fan but the San Clemente Outlets impressed me.  Moved by curiosity, because the structure looks quite posh, we visited one morning.  And, let me tell you, the shopping center itself is gorgeous.  There are quite nice views from the upper parking structure too.
The Outlets have stores such as Clarks (loved this store and the deals were awesome), Columbia, Nike, Sketchers, Tillys, Tommy Hilfiger, and Vans.  There is plenty to eat around (if you are hungry).
Within city limits, you will find these other shopping centers:
Plaza Pacifica
El Camino Plaza Shopping Center
Keep in mind Downtown and Los Molinos Business District have local stores too.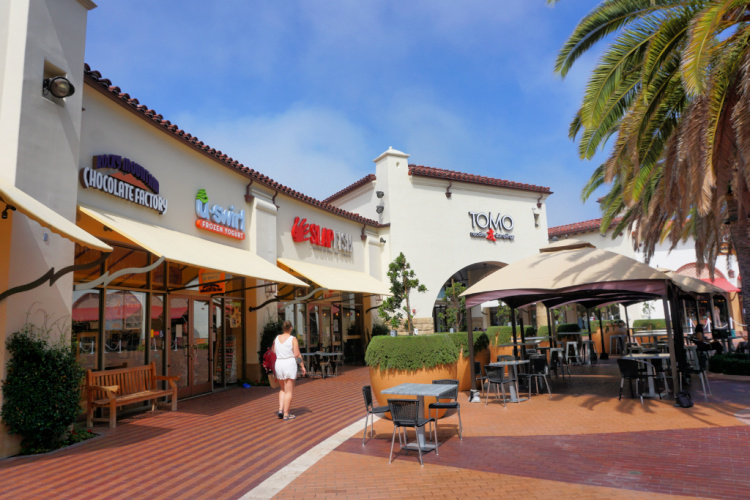 Play a Round or Two of Golf
As you may have noticed, there are tons of outdoor activities to enjoy in San Clemente.  
If that has not been enough, I have yet another fun open-air activity. The Talega Golf Course offers an 18 hole, highly-ranked golf course.  The beautiful clubhouse has Spanish Revival architecture on par with other buildings in San Clemente.
The on-site Signature Grille and Bar has a full breakfast and lunch menu. The Sunday brunch has a set price for made-to-order and chef-prepared offerings (buffet style).  Reservations are recommended.
Attend an Event
Like other cities in Southern California, San Clemente has a varied event offering catering to both locals and visitors.
Annual events include :
San Clemente Day (February)
Easter Extravaganze (March/April)
San Clemente Micro-Brew Fest (April)
San Clemente Ocean Festival (July)
The Village Art Faire (September)
San Clemente Car Show (September)
Pumpkin Splash (October)
Taste of San Clemente (November)
The San Clemente farmers market takes place every Sunday from 9:00 a.m. to 1:00 p.m. Location is on the north side of Avenida del Mar between Ola Vista and Calle Seville.
Things to Do Near San Clemente
San Clemente activities are aplenty but the surrounding area is fun as well. Here are some nearby places to visit:
Laguna Beach – Laguna Beach has a long coast (full of beaches, coves, and caves), a fun Downtown, an arts district, and scenic overlooks.  The Treasure Island Park and Heisler Park offer some of the most beautiful views in the area.
Dana Point – Dana Point, San Clemente's northern neighbor, has scenic beaches, a mammoth headland, a harbor, walking trails, and fun dining districts.  The city offers opportunities to practice water activities, take a whale-watching excursion, or visit Catalina Island.
Read More: Things to Do in Dana Point
San Juan Capistrano – If you are into historic and charming towns, make sure to stop by Old San Juan Capistrano (Downtown) and its Mission.  I see San Juan Capistrano as San Clemente's inland twin.  This is another city full of Old World loveliness.
Read More: Things to Do in San Juan Capistrano
Disneyland Resort – Anaheim, home of the original Disneyland, is located 30 miles away.
Knott's Berry Farm – The other big theme park in the county, Knott's Berry Farm, is located 35 miles away (in Buena Park).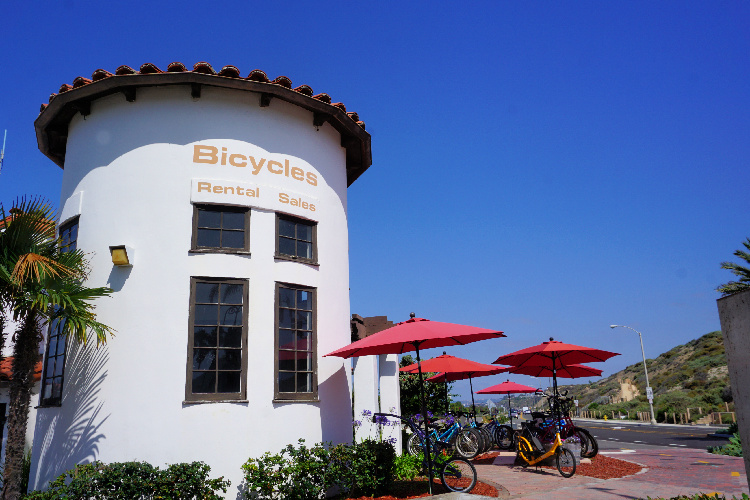 San Clemente Location
San Clemente is located 38 miles from Anaheim, 62 miles from Los Angeles, and 60 miles from San Diego.  Those distances make San Clemente an excellent place for a day trip or weekend getaway from different points in Southern California.
The easiest way to access the city is by car.  A lot of people fly to the area through Los Angeles or San Diego international airports.  Orange County has its own international airport (John Wayne) located 28 miles from San Clemente.
San Clemente has two train stations/stops: one is located in North Beach and the other one in Downtown.  Arriving and leaving by train may be a good option for those who do not want to rent a vehicle or for those who are looking to do something different.
Fun Fact: San Clemente has a sister city in Argentina (called San Clemente del Tuyu).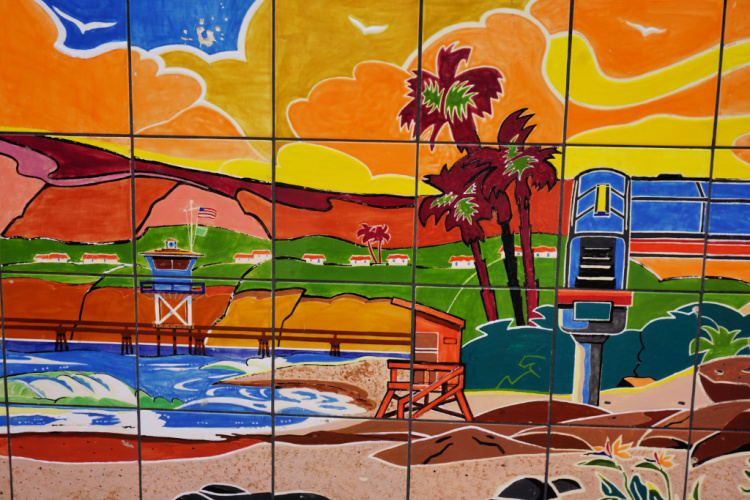 Where to Stay in San Clemente
With so many things to do in Dana Point, you may want to stay the night (or the weekend) in town. Also, with so much to do, the city can be used as a base to explore the area.
The following hotels are on the affordable and highly rated spectrum (please notice hotels in California's beach towns are not necessarily budget-friendly).
Casablanca Inn – This beautiful hotel is all about the Old World vibes with San Clemente's characteristic Spanish revival architecture, inner courtyard, and central fountain. But, make no mistake. The hotel interior is sleek, trendy, and full of warm tones. The location is very close to the beach. Check prices and book here!
Comfort Suites San Clemente Beach – This hotel, located towards the south part of the city (close to Calafia, Trestles, and San Onofre), includes many amenities (pool, breakfast room, fitness center) and rooms are immaculately clean. Family rooms are available. Check prices and book here!
The Patriots – This is self-described as a boutique motel. But, do not be fooled by the "motel" reference. This probably one of the coolest motels you will get the chance to stay in. The rooms are full of vivid colors, comfortable beds, and large bathrooms. There is a hang-out area with chairs, tables, and a fireplace. Book in advance because the place sells out fast. Check prices and book here!
Check Hotel Prices in San Clemente
Beach Town Gear
As I spend a lot of time on beach towns, I have my gear packed and ready to throw in the car.  Here is an idea of what I would take to explore San Clemente attractions.
Frequently Asked Questions
Here are some of the most common questions I get about San Clemente.
What are some romantic things to do in San Clemente?
Pretty much, most places and activities in San Clemente have a romantic twist.  I am saying this because the city's architecture, aesthetics, and location contribute to that feeling.
Couples can spend time on the beach, walk or ride the San Clemente Beach Trail, stroll the pier, watch the sunset from the Ladera Linda Park, visit the Casa Romantica Cultural Center, have dinner or cocktails Downtown, stop by different breweries, take a surfing class or shop at the San Clemente Outlets.
What are some things to do in San Clemente at night?
Downtown San Clemente is a lively area, especially during weekends.  Establishments to visit include Ole's Tavern, Goody's Tavern, and Red Fox Lounge.  Outside Downtown, you can head to Blooms Irish Pub and Outrigger Tavern.
Breweries are also nice places to spend part of the evening.  The San Clemente Outlets close at 8:00 p.m.
What are some things to do at San Clemente Pier?
At the San Clemente Pier you can enjoy the scenic views, fish, watch the surfers, surf or grab something to eat at Fisherman's Restaurant.  Across the Pier, you will find Cosentino's Pizza, Bear Coast Coffee, and La Gallette Creperie. Sunset is the prime time to head to the pier.  The San Clemente Beach Trail can be accessed from the pier area.
What are some things to do in San Clemente with a dog?
Dogs are not allowed at the San Clemente beach or pier.
Dogs are allowed at the San Clemente Beach Trail, Downtown, Linda Lane Park, Parque del Mar, and San Clemente Outlets.  There are many dog-friendly restaurants in San Clemente (look for restaurants with outdoor patios).  Breweries are pet-friendly as well.
Dogs are allowed off-leash at the San Clemente Dog Park and San Onofre Dog Beach.
Well, that was a lot of fun! Hope you have a clear idea of what to do in San Clemente. Have fun!
More of Southern California
150+ Places to Go in Orange County
Los Angeles Ultimate Bucket List
Ultimate San Diego Bucket List
200+ Places to Visit in Santa Barbara
What other fun things to do in San Clemente do you recommend?
Pin "Things to Do in San Clemente California" for later!