Chris, a San Diego-based blogger and long-term local, shares the absolute best Encinitas restaurants!
With its laid back beachy vibe and endless summer, Encinitas is also delicious! The Encinitas foodie scene has something for everyone from vegan and gluten free to secret ethnic hot spots and fresh, organic fare. 
As a San Diego-based blogger who's lived here for almost 30 years, let me give you a quick local's tour to where to feast! I hope you enjoy my ultimate food guide to Encinitas.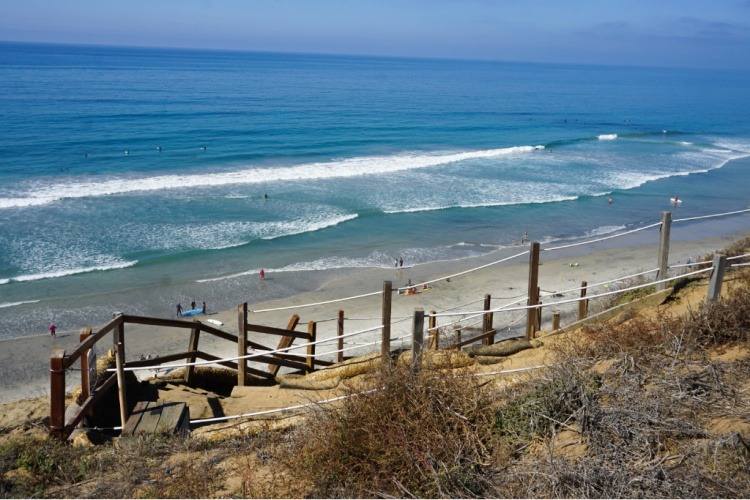 Encinitas Restaurants: Breakfast & Brunch
I am always on the lookout for a great breakfast dive when I'm traveling California!
If you'll be spending time at the beach, be sure to start the day off indulging in some iconic breakfast spots nearby. First up is Pannikin, a breezy local favorite in Leucadia (north Encinitas) right on the historic 101. 
While there are other Pannikins in San Diego County, this one is housed in a converted train station that has been serving up drool worthy pastries and fair trade coffees since 1968.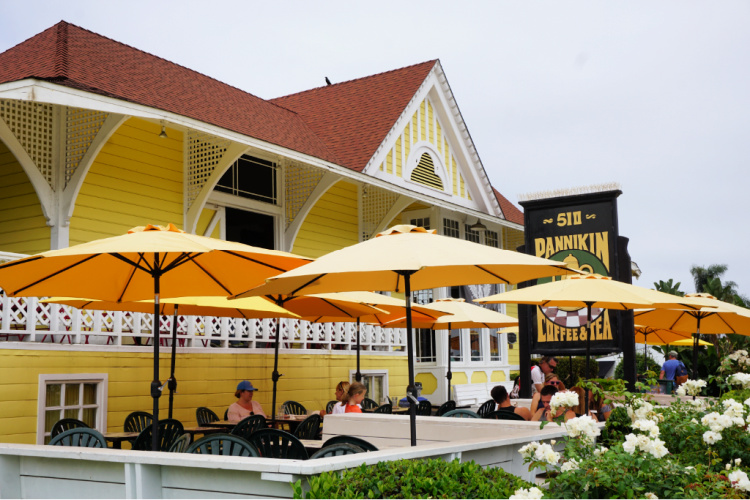 Pannikin is also a great spot for a full breakfast or brunch. My favorite: Huevos rancheros with steamed eggs. Yum! Bring a sweatshirt though as you'll likely be wrapped in coastal fog here sitting on a terrace here until at least mid-morning.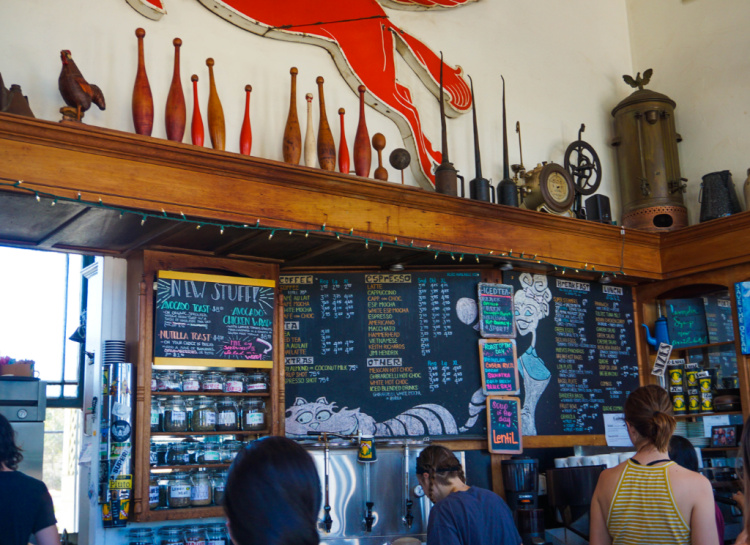 Pipes Café, just down the 101 (and technically in Cardiff-by-the-Sea) is another local haunt and surfer favorite. Head here for hearty  all day breakfast, including their legendary Pipes egg burritos.
For fancier fare, check out Breakfast Republic. If you're looking for a cozy (but casual) brunch spot to bring a date or the in-laws, this is your spot. From lemon coconut pancakes to shrimp ricotta frittata, Breakfast Republic has you covered, with lots of choices for vegan, gluten-free, and vegetarians.
A similar option—and one of my personal favorites—is Beach Plum Kitchen. While technically in La Costa, I've been introducing out-of-towners  for years to this spot tucked away in a strip mall next to the library. Beach Plum Kitchen is owned by my neighbors and is phenomenal. 
Egg dishes are particularly wonderful here. Try the smoked salmon scramble or machaca green chilaquiles.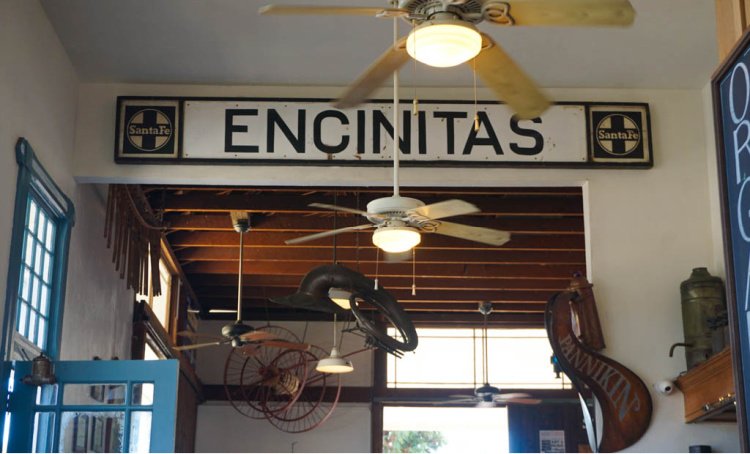 Encinitas Restaurants: Lunch and Dinner
There are so many incredible choices in Encinitas for a fabulous lunch or dinner. Here's a run-down of a few of my favorites:
Fish 101
If you love all things fish, do not miss this place! You'll want to arrive early or late though because this casual eatery doesn't take reservations and it's popular. There are two locations to choose from: one in nearby Cardiff and one in coastal Leucadia.
This fish is FRESH. While there are some standards on the menu—their fried shrimp with a side of brussels sprouts is the bomb—there is also a catch of the day. You can order your fish as a taco, burrito, bowl or cooked with a side of black beans, rice, French fries (highly recommended) or seaweed salad.
While you're here, consider also donating a meal to local first responders.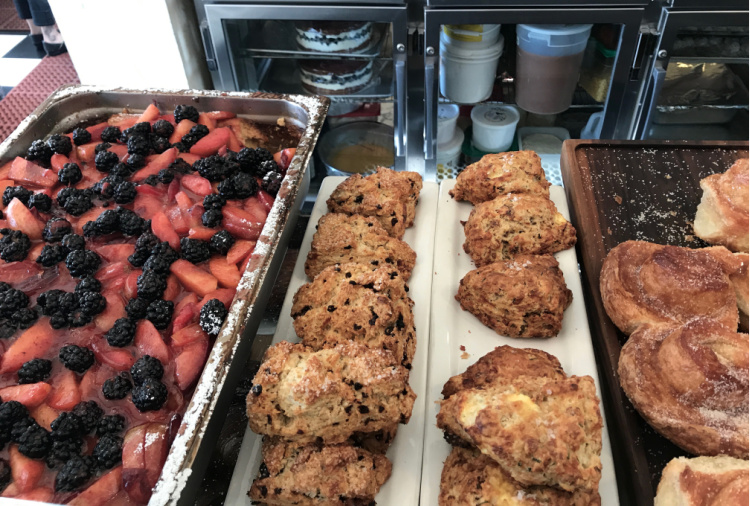 Crack Shack
When Crack Shack came to town a few years ago, it seemed like I heard about it from everyone I knew. At the heart of the menu is locally raised, free range chicken, and let me tell you, it's incredible. 
All those rave reviews? They were for Crack Shack's fried chicken sandwich…and there are many versions. You could get a BAE with bacon avocado and a sunny side egg on brioche or try a Double Clucker with two ground chicken patties, cheddar, pickles, fried onions on a potato roll. And that's just for starters.
Gluten-free folks—and those looking for lighter fare—will enjoy the "anti-salad" power bowl and Baja Chop salad.
Alice's Italian Gourmet
I first discovered Alice's after yet another disappointment at nearby Buona Forchetta. Here's the thing: Buona Forchetta gets great reviews, but it's tough to get in due to long lines, ever changing rules about reservations, and disorganized staff.
So my advice? Go to Alice's instead. While I was raving over my first meal there, diners at a neighboring table felt compelled to tell me (unprompted) how they loved Alice's much more than Buona Forchetta. See what I mean?
The lasagna here is to die for. It comes with a tangy red meat sauce poured over one half and a creamy béchamel over the other. Alice's bills itself as street food so you'll also find great panini here. Do not skimp on dessert. The tiramisu is YUM.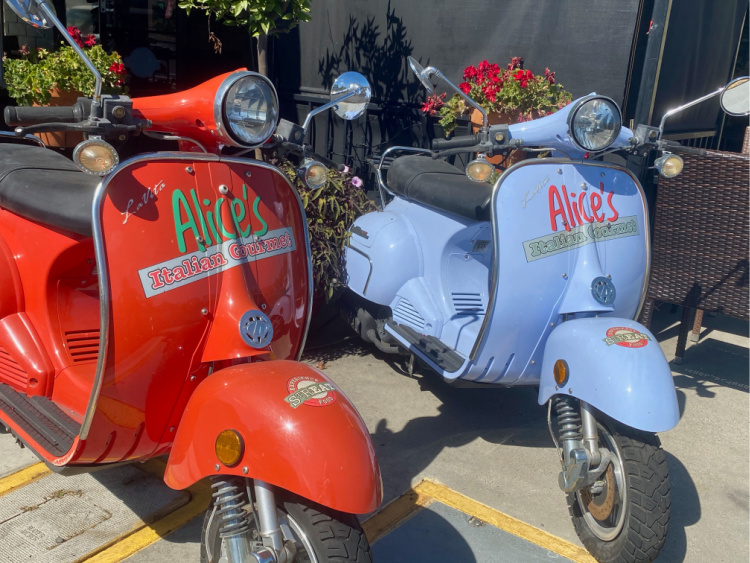 Thai Society
Looking for great Thai food? Thai Society, tucked back into a strip mall in the Target center is just the ticket. Our family has been dining in or ordering take out here for a decade. 
What to order: Veggie lovers will enjoy their delicious wok dishes. Basil wok with bamboo shoots, basil, onion, bell pepper and chili garlic sauce is a favorite. (Choose your protein). My go-to order here though is the Penang curry with green beans and bell pepper.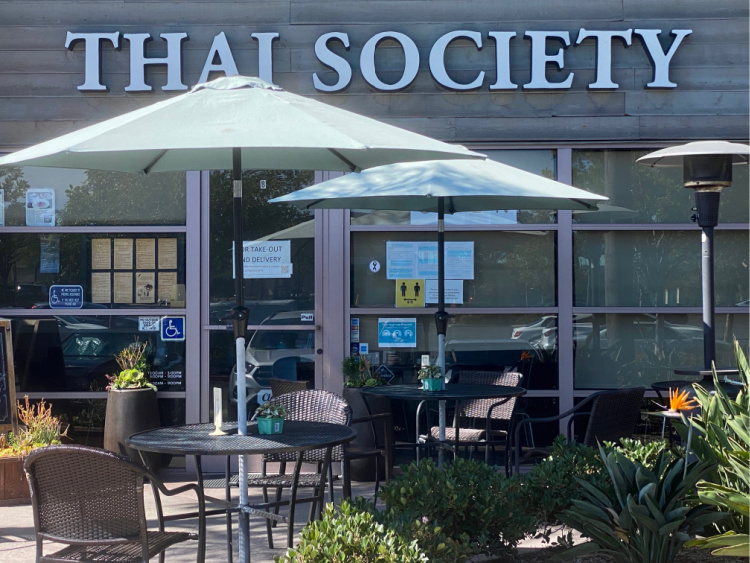 Le Papagayo
If I'm looking for a special place to bring guests that really emphasizes Encinitas' unique ambiance and foodie fare, I'm likely to take them to Le Papagayo right on the coast.
While I wouldn't call this place fancy, I would call it "magical." Reserve ahead here and be sure to request a table on the patio. There's live music every night so it can be a bit loud and busy inside. On the patio, however, tables include soft colorful cushions and twinkling white lights.
Le Papagayo is a cozy, upscale place that specializes in a fusion of Mediterranean and Latin American cuisine. And it totally works!
My recommendations include the paella, fresh Carlsbad mussels in garlic and chardonnay, and their skillet prosciutto mac and cheese.
Q'ero
Foodies in search of a truly unique experience need to head directly to Q'ero in downtown Encinitas. This is an intimate Peruvian dining experience—there are fewer than 10 tables in a single tiny dining room here—but every bite is amazing. Reserve ahead and don't be surprised if tables for more than four people are not available.
If you had a Peruvian grandma, this is the delightful food she'd serve you. You'll likely choose a selection of small plates…empanadas, black beans and plantains, and ceviche. However, the Lomo Saltado (garlicky flank steak seasoned with garlic, red onions, and tomatoes) is definitely a fan favorite.
The best part of the meal here though is the tres leches (three milks) cake for dessert. This moist, delicate, sweet cake makes our family's top five favorite desserts in the world. In fact, you can order a cake to bring to a party here. It arrives in a rectangular glass pan decorated with flowers, looking homemade and tasting incredible.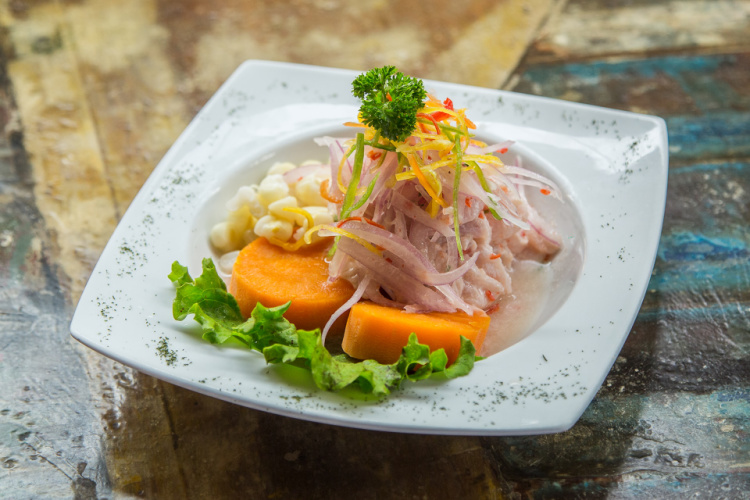 Encinitas Restaurants – Casual Eats
The Taco Stand
Looking for Mexican? The Taco Stand in downtown Encinitas on the 101 is everybody's favorite. The tortillas are homemade here and you can taste it. 
There will likely be a line out the door but the line moves quickly. Since everything's made to order, it can sometimes take a bit for your order to arrive so be sure to plan ahead with guacamole and chips. Also, the tacos are small so order a few. Burritos are also a great choice here.
Kotija Junior
It wouldn't be San Diego without fish tacos. And having tasted my way all over the county, Kotija Junior is my pick for best local fish tacos. Order them grilled or Baja style (deep-fried). Either way, they'll arrive with shredded cabbage, rice and beans…and always steaming hot.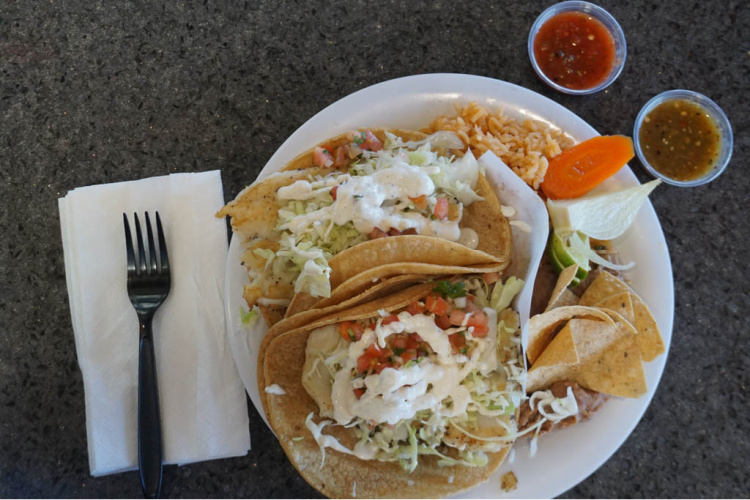 Seaside Market
Before you decide on a plan for lunch, you owe it to yourself to head over to the swank Seaside Market in nearby Cardiff to ogle all of the choices there. Think Whole Foods on steroids. 
While it's most definitely  pricey here, the opportunities for fantastic food are endless. In addition to deli sandwiches, you'll find incredible gourmet salads to go and no end of lovely desert options. Their prepackaged sushi gets top marks from me, with only the very freshest of fish.
If you'll be barbecuing later, be sure to order some "Cardiff crack" from the butcher. This burgundy tri-tip is marinated and infused in Seaside's secret Burgundy pepper marinate, making it a local favorite.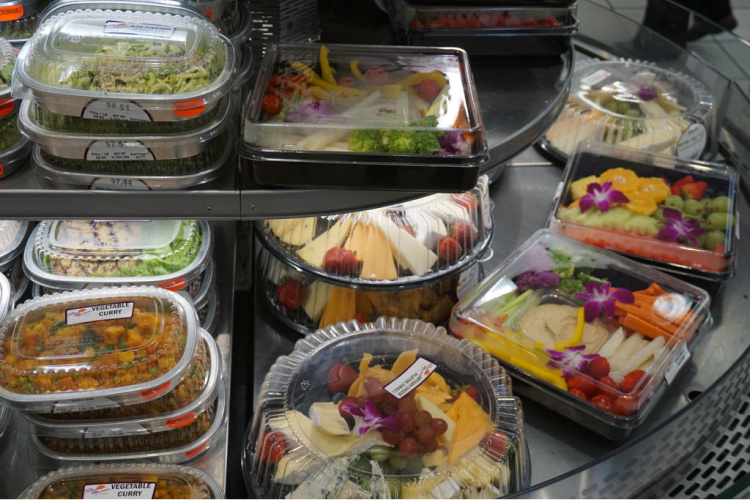 Moto Deli
Looking for sandwiches to pack for the beach? Moto Deli—look for the motorcycles parked curbside— offers generous sandwiches that are best in class. In fact, you could likely split one with a friend unless you're starving. 
Try the turkey pesto with arugula pumpkin seed pesto or the Banh Mi with chicken breast, cilantro, and pickled carrot. Sandwiches on gluten-free bread are also available here. In fact, if you order one, you'll essentially get two (gluten-free) sandwiches for the price of one.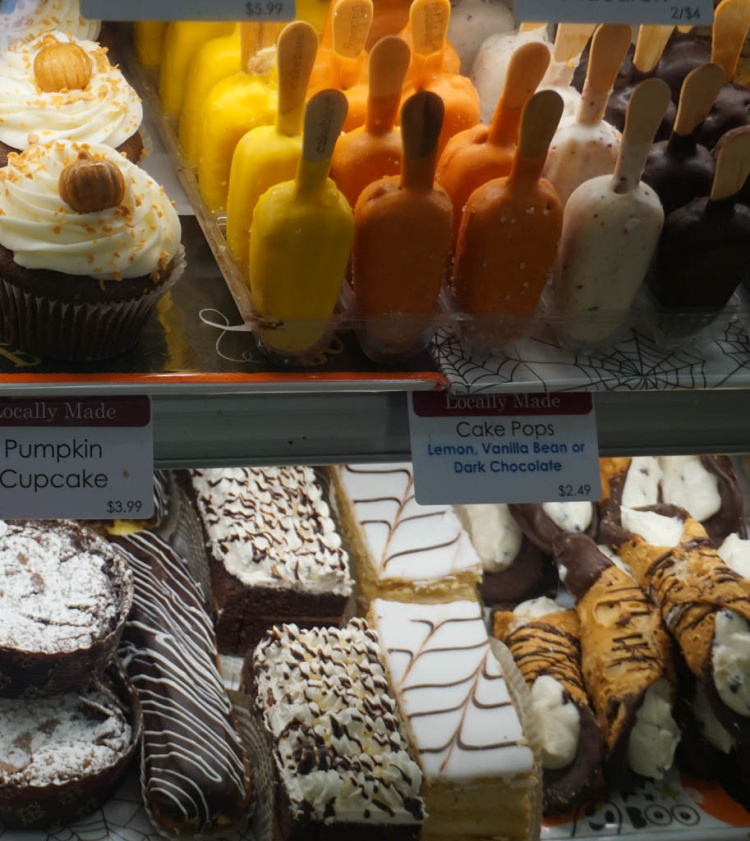 Encinitas Restaurants: Healthy Eats
Eve
Eve in downtown Encinitas is vegan paradise. It's also paradise even if you're a carnivore. Light, breezy, and filled with plants, this is a great lunch spot for a long catch-up with a girlfriend or someone who appreciates creative, healthy fare.
This was also the first place I tried a meatless burger and I was sold. Try the Bam Bam with sriracha mayo, caramelized onions and blue cheese, or my favorite, the mystic burger. You'll also find plenty of delicious burritos, flatbreads and bowls here.
Cava
Cava is a franchise new to the scene and has won locals over quickly with its low cost, made-to-order bowls and salads. Think Mediterranean, flavorful, and fast food made healthy. You'll choose your grains, greens, protein, dips, and add-ons…everything from pickled onions to Fresno peppers.
Healthy Creations
Healthy Creations is gluten-free Nirvana and even completely safe for Celiacs. It's a dedicated gluten-free facility. I've been ordering gourmet wraps, sandwiches, lemon bars and brownies here since forever. 
They also have a complete breakfast menu and sell ready-to-heat Paleo dinners. My faves: the roasted Mediterranean chicken panini with pesto, goat cheese, and artichoke hearts. The twisted Reuben is drool-worthy, too.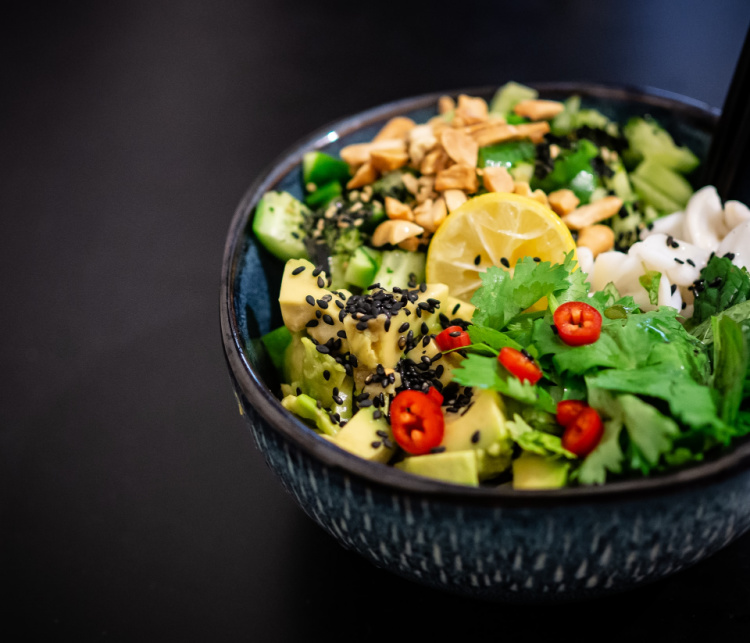 Encinitas Restaurants: Coffee and Ice Cream
There are no shortage of coffee or ice cream shops in Encinitas so be sure you head directly to the best of them. Here's my short list:
Philz
Philz, a franchise that started in the Bay Area, is truly a special Encinitas restaurant. Philz specializes in custom coffee blends, but more subtle and sophisticated than you'll find in Starbucks. I'm partial to the Philharmonic, which has hints of maple and cardamom. I order it "Philz Way" with a little cream and sugar but not over-the-top sweet!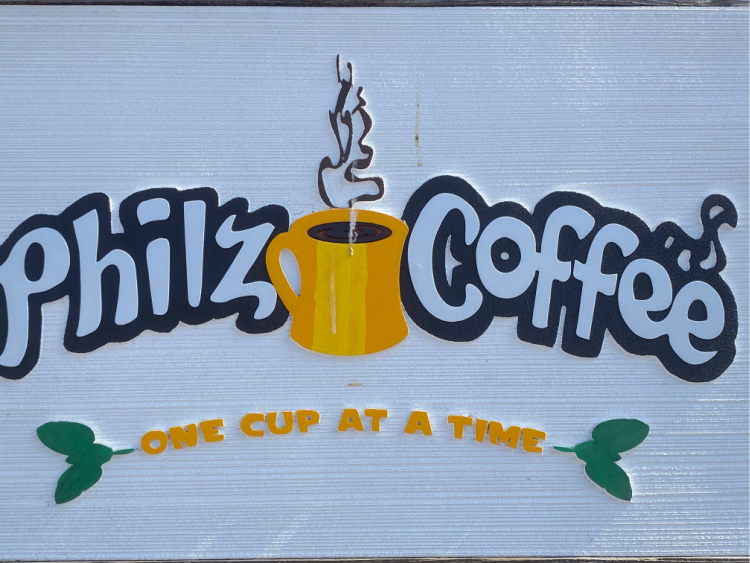 Better Buzz
If you're in Encinitas for the afternoon and looking for somewhere to fully feel the So Cal vibe and people watch, head to Better Buzz right downtown. The location feels a little more swank than your average hole-in-the wall coffee joint and there's usually a line.
So take a seat at the bar with the open air windows to the street and sip your favorite organic small batch brew. You'll find the usual coffees for purists here or choose from inventive handcrafted coffee drinks like the honey latte or hazelnut divinity.
JoJo's Creamery
If you've hit the beach and had lunch, your next stop should definitely be JoJos Creamery on the 101 in the Lumberyard. This is artisanal, homemade ice cream always served with a chocolate chip cookie. Who can resist?
Every flavor is made with organic dairy from Straus Family Creamery. Plus, four vegan flavors made from cashew milk and coconut milk are also available. From crowd pleasers like vanilla bean and mud pie to inventive combinations like cayenne sea salt caramel and lemon raspberry shortbread, you'll find it here!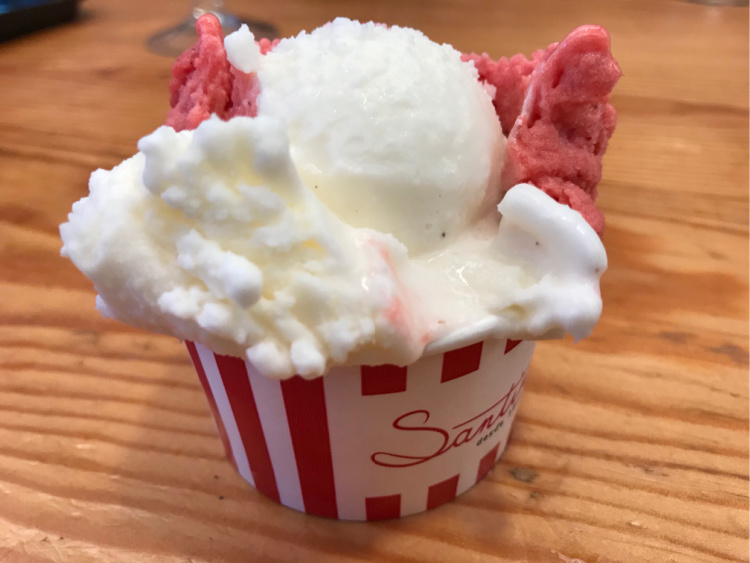 Chris Román is a San Diego-based writer and photographer. Her travel blog, Explore Now or Never, offers inspired itineraries and global travel guides so you can see the world with fewer crowds and more magic moments. When she's not indulging her wanderlust, you can find Chris curled up with her two cats in her tropical garden. 
The photos in this article have been provided by Chris and are subject to copyright laws.
More of San Diego
One Day in San Diego Itinerary
Ultimate San Diego Bucket List
LA to San Diego Drive: Road Trip Itinerary
More of Southern California
Los Angeles Ultimate Bucket List
150+ Places to Go in Orange County
200+ Places to Visit in Santa Barbara
What Encinitas restaurants do you recommend?
Pin "Encinitas Restaurants" for later!