Cities. Cities. Cities.  Oh, how we love cities.  Itineraries such as Rome-Florence-Venice, Prague-Budapest-Vienna or San Francisco-Los Angeles-San Diego can send mass excitement shivers to hard core explorers and good life lovers.
I am guilty of being a city devotee (the bigger the better).  I have thought about moving to a place with a slower pace but, ironically, this thought gives me an inexplicable sense of anguish.  Maybe that is why I have chosen chaotic, out of control Los Angeles as my home base.
But one thing I know: never underestimate a town or place for being small, remote, hidden.
Every time I comment about my visits to the Santa Ynez Valley (or Santa Barbara), a necessary question arises.
"Did you go to Los Olivos?" adventurous soul ask.
Yes, at last I visited the tiny town of Los Olivos.  So tiny that in fact, I almost missed it because I got distracted looking at some maps while my husband was driving around.  The centrally located flagpole got his attention.
"Have we arrived?" he asked while scanning the streets.
"Ewww," I murmured while taking a look at the flagpole, "Yes. Pull out here."
A few hours walking around was enough to discover how this town is small only in physical terms.  There are a lot of factors contributing to the star status of Los Olivos.
Some History
Everything started during the 1880's when a young, rich man bought several acres close to the Alamo Pintado Creek.  He planted five thousand olive trees and called the property Rancho De Los Olivos.  The state of California was booming during those years (people moved to the state during the Gold Rush) and the Pacific Coast Railway extended the train lines to the area.  The town was later called Los Olivos (The Olive Trees) because of the nearby ranch.
Rising Fame
Today, the Victorian-styled town is a census designated place in Santa Barbara County.  With about 1,000 residents, the town has been featured in the award winning movie Sideways, episodes of The Bachelor and several wine related documentaries and shows.
Various celebrities including Steven Segal, David Hasselhoff and Bo Derek, call or have called this area home.  The ranches of President Regan and Michael Jackson were located in the vicinity.
All this indicates the allure of town (and of the surrounding rolling hills) with the rich and famous.
Wine is at the Center of Everything
Los Olivos is in the middle of wine country and the town takes its surroundings very serious.  It is not necessary to get out of town to get a taste of the valley's most famous product.
Nobody seems to know how many wine tasting rooms are in town (this number doesn't include the nearby wineries).  Some number them at two dozens and others at more than thirty.  But, who really cares about the exact number?  The important thing is that there is something for every taste.  Plus, you can spend days in town with the excuse of wanting to visit yet another tasting room.
These two links give detailed information about tasting rooms in Downtown Los Olivos:
http://www.losolivosca.com/town-map/
http://en.wikipedia.org/wiki/Los_Olivos,_California
Tastings are, in general, $10 per person.  Check local visitor's center for discounts (ex. 2 for 1).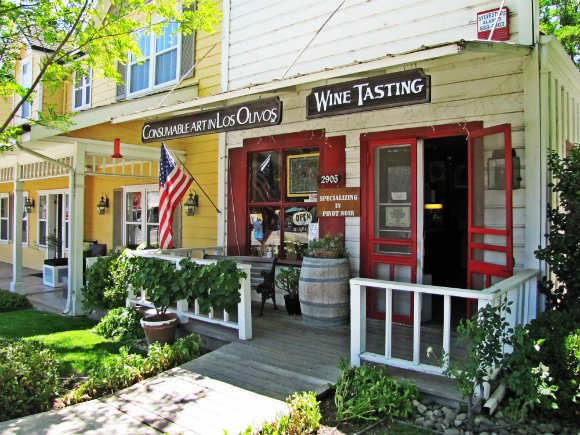 The Food is Great
Corner House Coffee – This is the perfect place to relax in comfy sofas.  For what I experienced, locals seem to be crazy about the place.  Besides coffee, you can get sandwiches, wood fire pizza and ice cream.  There are magazines to read and art for sale.
Los Olivos Café – This is the place to get fresh salads, artisanal cheeses and hearty entrees.
Panino – This small Santa Barbara County chain serves soups, sandwiches and salads.  There are locations in Solvang and Santa Ynez too.
Petros Los Olivos – Oh, yeah.  The list of great places to eat would not be complete without an excellent place to get Mediterranean food. Go for the fresh fish, savory dips with homemade pita bread, rich cheeses and crisp salads drizzled in Greek honey.
Side's Hardware and Shoes – This restaurants serves Californian favorites such as burgers, fish tacos, tostadas and fried chicken.  Dinner reservations are a must.
To satisfy your sweet tooth visit Enjoy Cupcakes or Stafford's Famous Chocolates (they even have lavender infused flavors).
Beautiful Things to Buy and Admire
Los Olivos have some of the most beautiful stores I have visited.
Make sure to visit J.W. Oeste.  A big outdoors patio is filled with fountains, statues, bushes, flowers and too many more objects.  You can spend hours trying to see every offering in the store.  The personnel are very nice and two cute dogs welcome you upon arrival.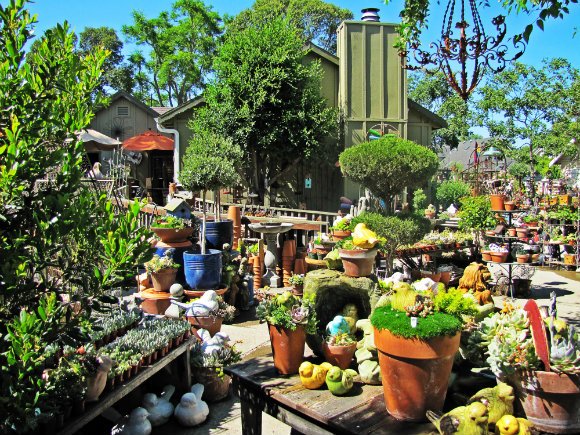 Artisans Gallery is another cute shop (they even have a pine tree created with horseshoes). The recently restored old silversmith workshop is now a quaint retail store offering handmade leather designs by a local artist.
For fine and funky home décor, olive oils, soaps, cosmetics, skin and hair product, kitchen utensils, cookbooks, jewelry and gift, visit Los Olivos General Store.  Plus everything for sale is made by local artisans or with local products.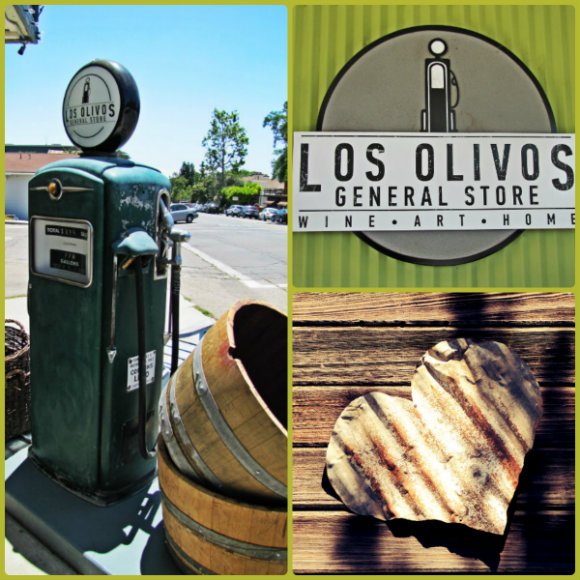 For more interesting shopping and artistic venues, follow this link:
http://www.losolivosca.com/
Festivals
Each June, the town celebrates the Olive and Jazz Festival.  July sees the celebration of Bastille Day with tons of food. Other celebrations are the Quickdraw and Artwalk and the Annual Day in the Country.
Natural Surroundings
My post highlighting The Backroads of the Santa Ynez Valley has many pictures showing the beautiful hills and mountains surrounding Los Olivos.
Last but not Least: The People
"From where are you visiting us?" asked a shop owner.
"From Los Angeles," I replied
"Oh, please. Los Angeles is so general. From where are you visiting us?"
Well, I get it.  People living and working in Los Olivos are not interesting in the broad and superficial stuff.  In a friendly way, they are genuinely interested in knowing you.  They make conversation, give recommendations and talk about their own lives.  You feel like you are surrounded by old friends.  I find this refreshing since people there are actually interested in giving you some of their time.  The human factor increases my desire to revisit this town over and over again.
What do you think of Los Olivos?
Ready to pin? Let's do this!