Outdoor enthusiasts, today I am presenting you with the best lakes in San Diego County!
San Diego is a big county with tonnes of jaw-dropping views and picturesque landscapes. San Diego is certainly a tourist's dreamland with 70 miles of spectacular coastline, a wide range of activities, and restaurants offering scrumptious dishes.
On top of that, San Diego has many lakes catering to individuals who love to camp, fish, and boat.  Yes, you read that right. You can enjoy a lakeside retreat in San Diego.  The best part is that, in most cases, you do not have to drive far from the city.
Without further ado, here is a neat selection of beautiful lakes to visit in San Diego.
Please note: This article contains affiliate links, meaning I may earn a commission if you make a purchase by clicking a link. Of course, this comes at no extra cost to you and helps me to keep offering solid information to readers.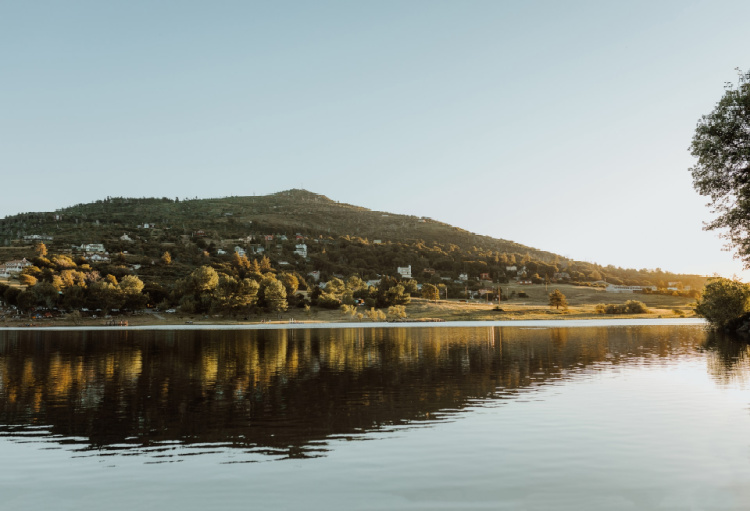 Best Lakes in San Diego
Before we start digging in, let me make sure we are on the same page.
When I am talking about "Lakes in San Deigo," I am referring to lakes in San Diego County.  I am including the distance between the recommendations and Downtown San Diego as a reference.
Besides, the lakes featured here are suitable for many activities.  While some are good for fishing and swimming, others are the walking, picnicking, people-watching kind of spot.
Lake Miramar
Distance from San Diego: 17 miles
The Miramar Reservoir is a popular recreation site for outdoor enthusiasts. The lake is situated within the Scripps Ranch community and open to the public (since it is owned and operated by the City of San Diego).
Fun activities including fishing, kayaking, boat riding, picnicking, hiking, and biking can be practiced in and near this spot.
On a beautiful day, you can enjoy a scenic walk or ride on the 5-mile trail around the lake. This site is popular among anglers and is known for producing some of the biggest large-mouth bass in California. 
The lake surroundings have a host of amenities to ensure a pleasant and memorable stay. There are barbecues, picnic tables, restrooms, and water fountains for family outings. Onsite boat, kayak, and bike rentals are available (these may be seasonal). 
Parking space is limited, and finding a space can be a challenge, especially on weekends. 
Camping is not allowed.  Dogs are allowed on a leash.
Close to the lake, on Miramar Road, you will find one of the beer epicenters of San Diego.  There are over 10 breweries offering tastings, pints, and other delicious goodies.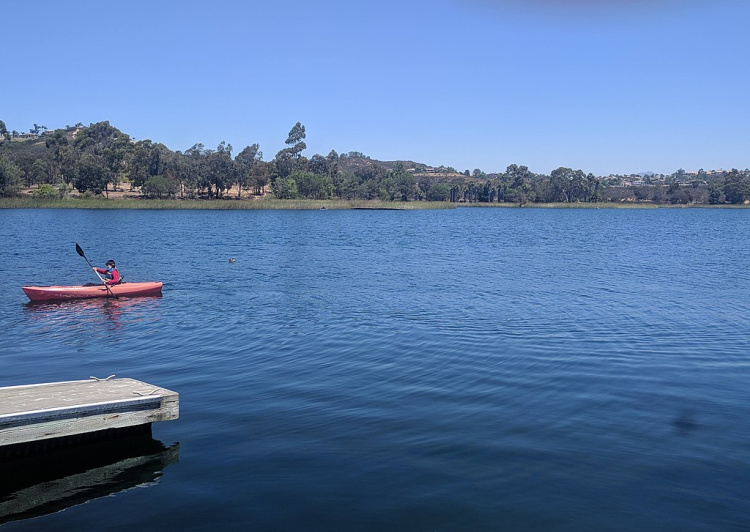 Photo by Ramesh Ialwani
Lower Otay Lake
Distance from San Diego: 23 miles
Lower Otay Lake (or Lower Otay Reservoir) is known for being the rowing training grounds of US teams competing in international games.
Besides, the lake has a relatively long shoreline (25 miles) and lots of trails offering scenic views. This is a great destination for anyone who wants to experience nature without having to drive hours from the city. You can enjoy brightly colored wildflowers, wildlife sightings, and lots of fishing and boating. 
And, talking about fishing, the lake has an abundance of largemouth bass, bluegill, sunfish, catfish, crappie, and carp. Swimming is not allowed but you are welcomed to canoe, kayak or boat.
Private boaters are required to pay a small launch ramp usage fee. Anglers are permitted to fish and take home what is caught based on maximum limits (which are set up per species).
Amenities include picnic tables, barbecue areas, restrooms, and potable water. Lower Otay Lake opens to the public for fishing and other fun activities on Wednesdays, Saturdays, and Sundays all year round. 
The Otay Open Space Reserve is located adjacent to the lake.  This area with 8.3 miles of multi-use trails is also known as the Otay Valley Regional Park.  Campers and RVers can head to the nearby Pio Pico Resort.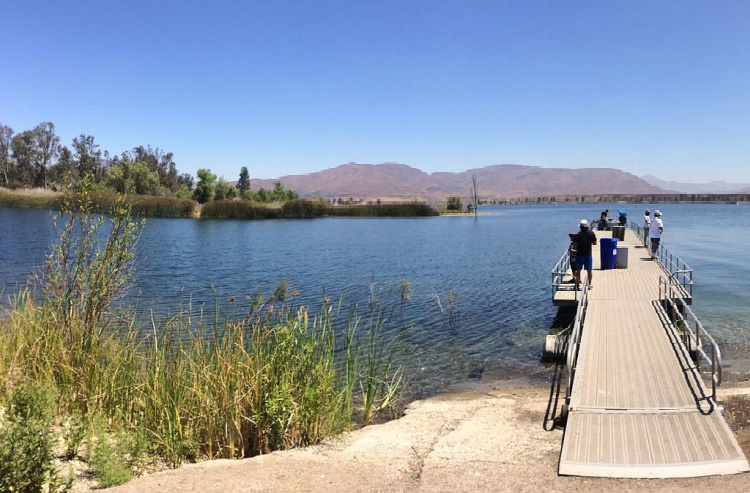 Sweetwater Reservoir
Distance from San Diego: 14 miles
Sweetwater Reservoir is an artificial lake that spans an area of 960-acres.  The reservoir was created by damming (Bonita Dam) the river of the same name.  The nerd inside me wants to tell you the Sweetwater River is born in the Cuyamaca Mountains (close to Lake Cuyamaca, another lake discussed in this article).
Shoreline fishing is just about the only recreational activity permitted on the lake, and it can only be done along a limited 2.5 miles belt on the southern side. The lake is home to an impressive number of freshwater fish, including largemouth bass, channel catfish, crappie, bluegill, and carp.
The good news is that the Sweetwater Summit Regional Park is located a stone's throw from the lake.  The park's amenities include over 100 campgrounds, 15 miles of multi-use trails (for hiking, biking, and horseback riding), a seasonal splash pad, play areas, an exercise course, coin-operated showers, picnic tables, and spaces designed for big gatherings.
Note: Shoreline fishing is also allowed at the Loveland Reservoir, another reservoir created by the Sweetwater River.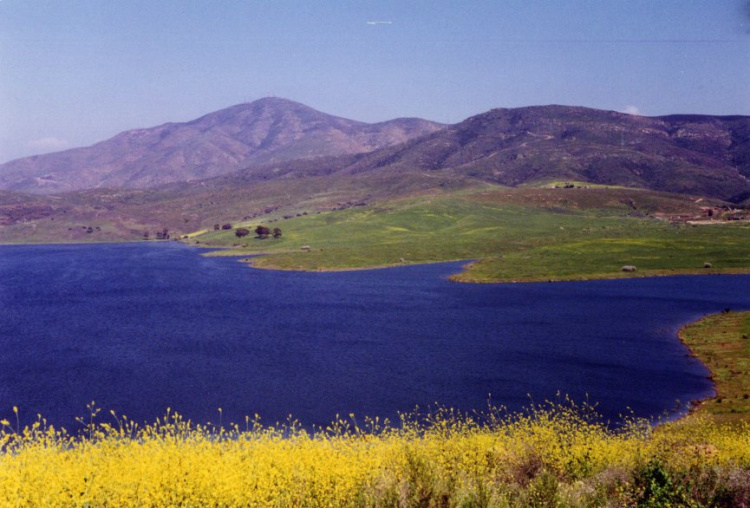 Photo by John Niekrasz
Lake Morena
Distance from San Diego: 56 miles
Southwest of the Laguna Mountains, in Eastern San Diego County, you will find Lake Morena County Park (which for some reason is not that well-known in Southern California).
The lake is surrounded by spectacular desert, coastal, and mountain habitats at an elevation of 3,000 feet. As the most remote reservoir in San Diego County, it offers a refreshing escape from the daily bustle of city life. 
The entire recreational complex covers an area of 3,250 acres and offers lots of activities including camping, hiking, biking, fishing, boating, horse riding, picnicking, and wildlife sightseeing. There are 86 campsites (about 58 sites come with electricity and water hookups), wilderness cabins, playgrounds for kids, picnic tables, restrooms, showers, and boat launching facilities.  It is possible to rent a boat for day use.
The famous Pacific Coast Trail (PCT) passes near the park.  Avid hikers can attempt to tackle part of this trail.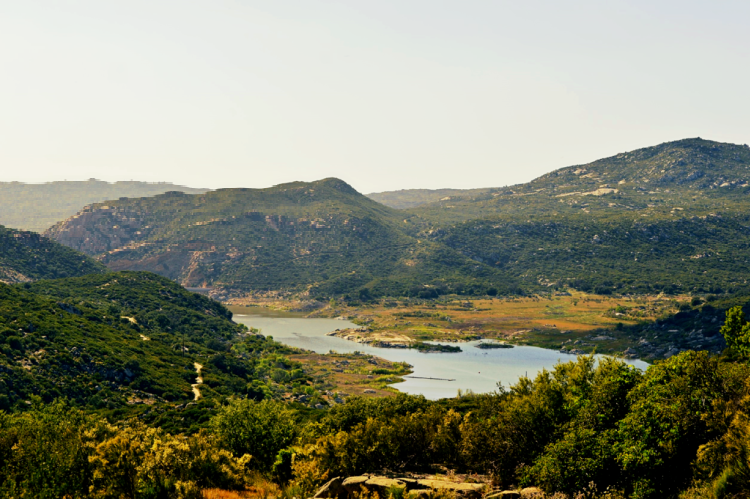 Photo by Rickbramhall
Lake Jennings
Distance from San Diego:  24 miles
Situated in Eastern San Diego County, Lake Jennings has a variety of amenities including campsites, picnic areas, rentals, trails, and much more.
When it comes to campsites, you can choose among full-hookups, partial-hookups, primitive sites (no water or electricity), and tipi sites.  In addition, there is a lounge area, Wi-Fi, picnic tables, fire rings, and some essentials for sale.  Kids can enjoy fun activities such as foosball, scavenger hunt, ladder golf, horseshoe pits, and air hockey.
Shore fishing is allowed during day hours.  The lake is well-stocked with trout and catfish.  You can also pull bass, sunfish, and bluegill.  
Onsite rentals are available (paddleboats, rowboats, motorboats). Hikers can choose among a trail around the lake (5.5 miles, moderate), a campground loop (1.25 miles, easy and suitable for kids), and the Flume Trail, a trail connecting to the ridge of El Monte Valley.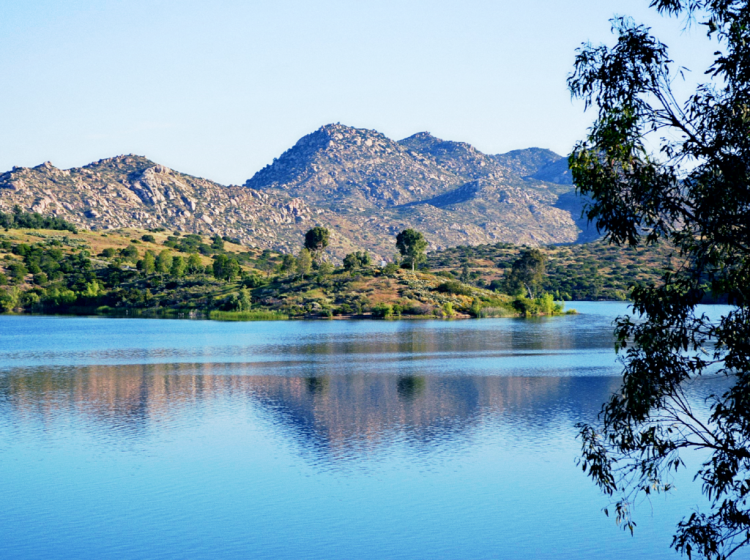 Photo by Rickbramhall
Lindo Lake
Distance from San Diego: 22 miles
Lindo Lake is located inside Lindo Lake County Park. It is a small, shallow lake originally fed by Quail Creek and other mountain streams. 
This little lake is home to a number of fish species and attracts all sorts of migratory birds from wood ducks to Canadian geese. 
Lindo Lake County Park is open to the public for a variety of outdoor activities such as birdwatching, picnicking, skating, walking, running, and jogging. Amenities include barbecues, picnic tables, a playground, a softball field, horseshoe pits, tennis courts, and ADA-friendly trails. 
This park is located close to Lake Jennings (see above) and Louis A. Stelzer County Park, a wonderland of oaks and coastal sage scrub.
Santee Lakes
Distance from San Diego:  18 miles
Santee Lakes Recreation Preserve is a 190‐​acres privately-owned park with 7 beautiful lakes that are stocked with fish all year round. 
As the name implies, the preserve is located in the city of Santee (East San Diego County). It may not sound familiar but the city is adjacent to the super popular Mission Trails Regional Park.
Santee Lake welcomes more than 700,000 campers every year with fun activities such as fishing, boating, biking, walking, running, and bird watching. 
The site has 300 full hook-up campsites along with 10 rental cabins, 7 on the lakeshore, and 3 floating on the water. Park amenities include special events areas, picnic sites, rentals (bicycle, surreys, pedal boats), grilling facilities, an off-leash pet area, laundry facilities, cafes, and swimming pools. 
The preserve is open daily and you can enjoy year-round fishing with a permit from their General Store (no state license required).
Read More: Santee Lakes Recreation Preserve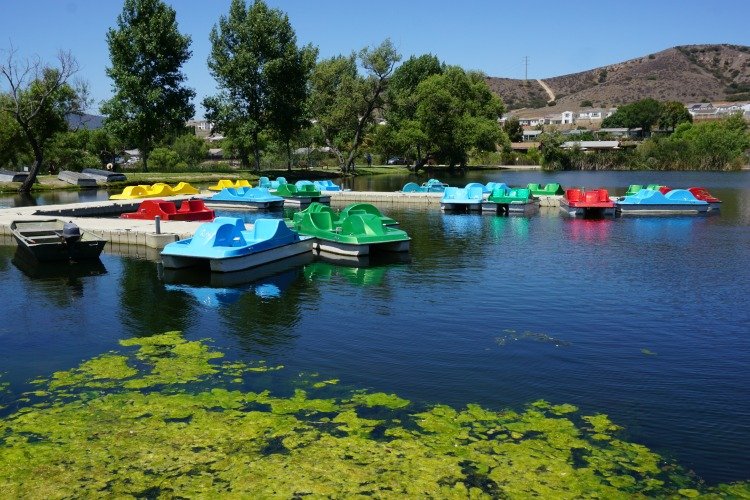 Big Laguna Lake
Distance from San Diego:  58 miles
Big Laguna Lake is located in the Mount Laguna area, one of the most beautiful places in San Diego. 
The lake can be accessed in different ways.  The Big Laguna Lake Loop starts from the Penny Pines Trailhead (on Sunset Highway).  This is an easy, 5.8 miles loop.
From the Laguna Campground, you can walk about 2 miles to Little Laguna Lake and Big Laguna Lake.  Keep in mind your total walking mileage depends on how much of the shoreline you explore.
Close to Big Laguna Lake, you will find Los Rasalies Lake.  It makes sense to walk a bit more appreciate this lake as well.
There are many hiking, biking, horse riding, and camping opportunities in the Mount Laguna area.  Check the Cleveland National Forest specific page for more info.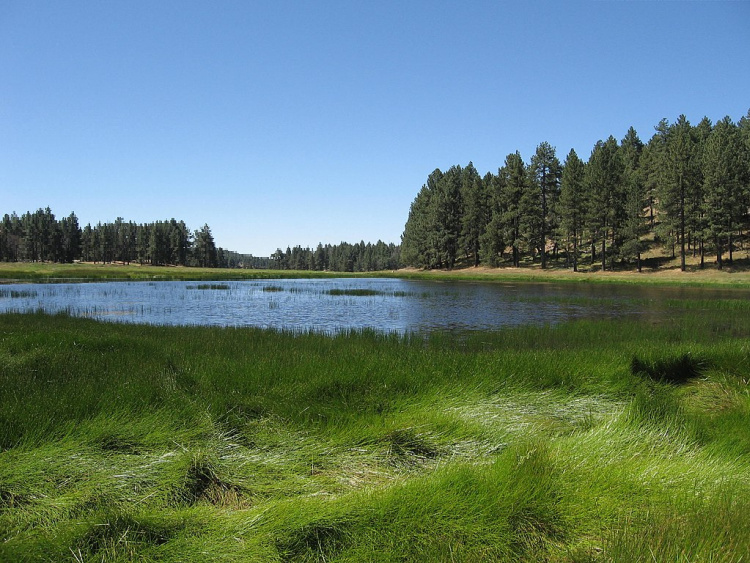 Photo by Bob Perry (Photo shows the Little Laguna Lake)
Lake Henshaw
Distance from San Diego:  65 miles
Lake Henshaw is located at the foot of the Palomar Mountains. This is a relatively unspoiled place even though it is located close to the San Diego metro area.
Depending on the season and the level of water, offerings may vary but the site is a great place to unwind and get mental rest. Though swimming is prohibited, there is a pool and spa on-site. Other activities include boating, birdwatching, wildlife viewing, and nature walks.
The two campgrounds (Upper and Lower) are located under a lovely grove of oak trees. The Roundup Grill has a full menu with wonderful lake views. Pets are allowed.
The lake is located 17 miles away from Julian, a town known for its mining past and shops selling apple pies.  Rancho Cuyamaca State Park, Lake Cuyamaca, and the Volcan Mountains are located nearby as well.
During the weekends, wineries located close to Warner Springs open their door to the public.  Also, close to Warner Springs, you will find the trailhead to Eagle Rock, a peculiar rock formation.
Read More: Things to Do in Julian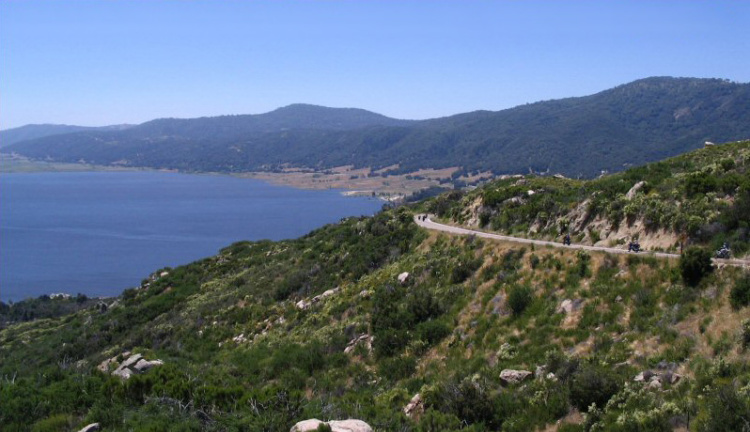 Dixon Lake
Distance from San Diego: 38 miles
Nestled in the hills above Escondido, Dixon Lake shines like a jewel in a crown. You will not believe the color of the water!
This lake is equipped with 45 campsites (RVs, tents, and trailers). Eleven of those sites have full hook-ups. 
Campground facilities include restrooms with flush toilets, drinking water, an amphitheater, and the Jack Creek Nature Trail (1 mile).
Lake Dixon is known for its excellent fishing opportunities. Be ready to catch trout, bass, and catfish. The best part is that you can fish from the shore, from a dock, or from a boat (rentals are available).
Daley Ranch is located next door (or we can say Lake Dixon is part of Daley Ranch).  This huge nature preserve features trails, views of Downtown Escondido and a ranch house.  Escondido has much more to offer.  You can check the Elfin Forest Recreational Recreational Reserve, Del Dios Highland County Preserve, and Lake Hodges.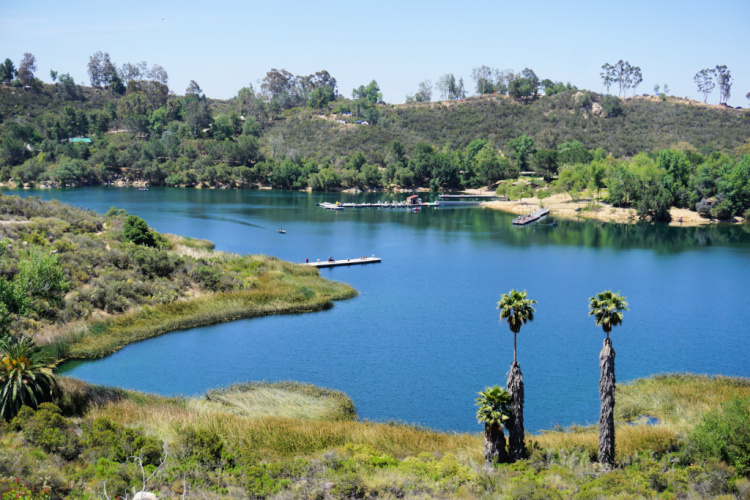 Lake Hodges
Distance from San Diego: 33 miles
I have the feeling Lake Hodges is not that well known by residents of Southern California.  Because of that, it is a great place to enjoy the outdoors away from the crowds.
There is a day-use area open to the public.  In there, you will find barbecues, picnic tables, and restrooms.  Dogs are allowed on a leash.  Boats, canoes, rowboats, kayaks, and stand-up paddleboards are allowed on the lake.  An on-site concessionaire rents water equipment.
The lake is stocked with bass, sunfish, catfish, crappie, and carp. The lake store sells fishing supplies (open only during the fishing season). 
There are over 7 miles of hiking trails in the area.  As a matter of fact, the trail on the northern shore of the lake is part of the Coast to Crest Trail, a 70-mile planned trail (over 65% of the trail has been completed).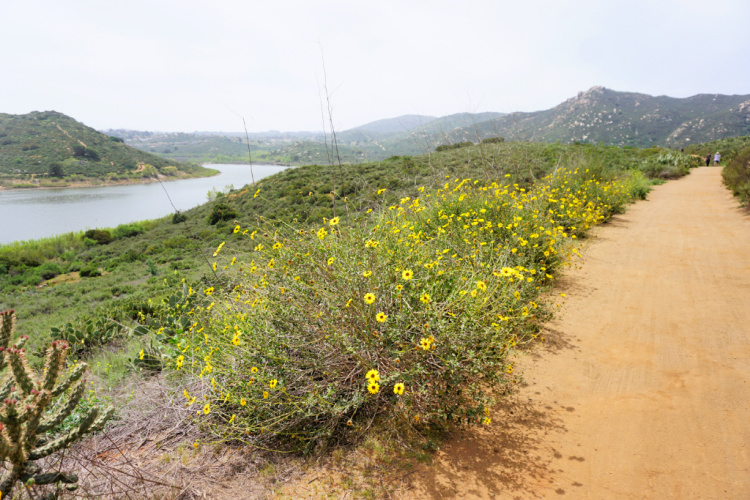 Lake Murray
Distance from San Diego: 14 miles
The good thing about Lake Murray is that it is located inside the popular Mission Trails Regional Park.  Since the lake is located within San Diego's city limits, it is one of the residents' favorite playgrounds.
There are 60 miles of trails, a visitor's center, guided tours, and opportunities to spot birds, butterflies, and small mammals.  Camping is allowed in the Lake Kumeyaay area. This is one of the easiest places to grab a campsite in San Diego (even in high season).  Overall, this is a fun area to explore with the entire family.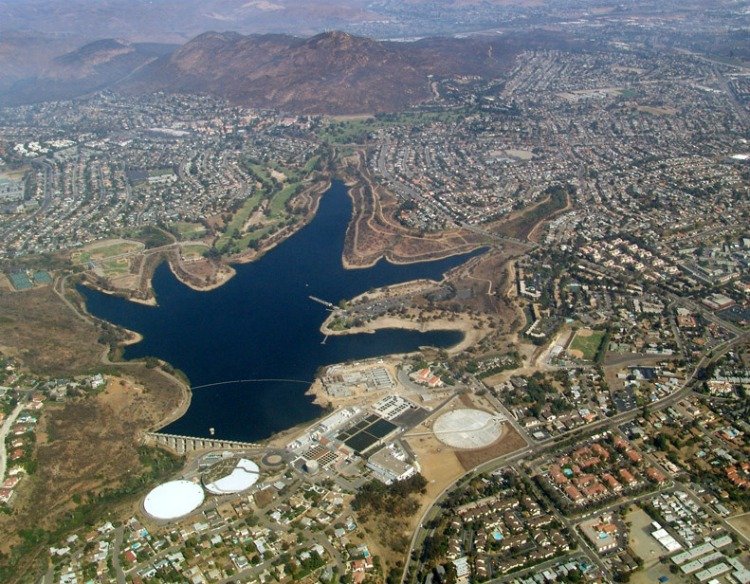 Lake Cuyamaca
Distance from San Diego: 52 miles
Lake Cuyamaca is surrounded by some of the most beautiful scenery I have seen close to home.
There are campsites and cabins surrounding the lake.  There is more camping at nearby Rancho Cuyamaca State Park.  In addition, the lake is popular with boaters and fishermen.
On top of that, there are miles of hiking trails located in Cuyamaca State Park and Mount Laguna (suitable for all ages and skills).  It is easy to spot wildlife such as deer, woodpeckers, squirrels, and rabbits.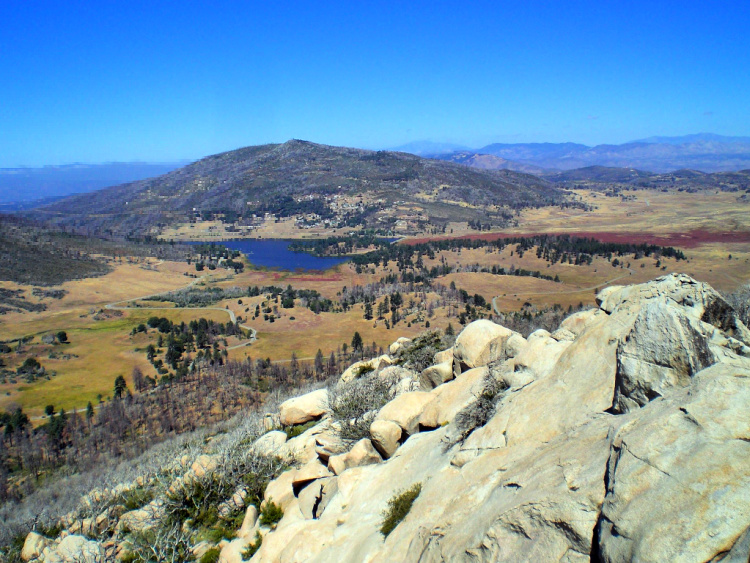 Lake Calavera
Distance from San Diego: 40 miles
Lake Calavera has a 4.8-mile loop with spectacular scenery of the lake and Mount Calavera, a volcanic plug. Yes, Mount Calavera is one of the smallest volcanoes in North America and it can be easily climbed.  
Lake Calavera is a man-made reservoir with sapphire-colored waters.  From the trailhead, it is easy to reach and explore its shorelines.  This is a simple walk that can be completed with kids.
My recommendation is to walk from the trailhead to the top through the designated trails.  When we visited, we kind of decided 5 miles was too much for us (it is not).  We said we only wanted to circle the lake.  Well, once at the skirts of the volcano, we decided to go to the top.  We ended up scrambling through the incorrect face.  It had been 10 times easier to take the easy trail.  Don't be like us.
Hiking is the main activity in the Lake Calavera area.  I included it in this article since I consider it a hidden gem in northern San Diego County.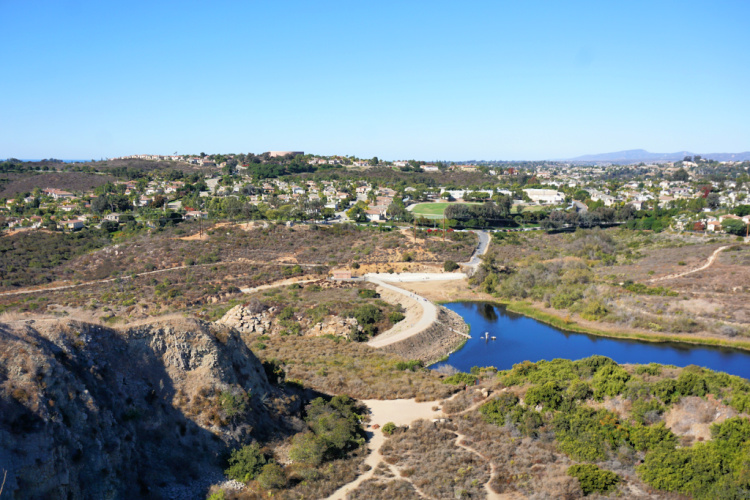 More Lakes in San Diego
Here are some additional lakes and reservoirs in San Diego.
Sutherland Reservoir (fishing is allowed)
San Vicente Reservoir (fishing is allowed)
El Capitan Reservoir (fishing is allowed)
Barrett Reservoir (fishing is allowed)
Lower Otay Reservoir (fishing is allowed)
There is a lake and a pond inside Guajome Regional Park.  The park has trails, picnic areas, and campsites
Olivenhain Reservoir (you can access the trails around the reservoir from the Elfin Forest Recreational Reserve or Del Dios Highland County County Preserve)
Lake Poway (fishing and boating are allowed)
Lake Ramona (can be accessed from the trails at Big Sky Ecological Reserve
The Doane Pond is located in the Palomar Mountain State Park
More Lakes in California
I am pretty sure you noticed I love lakes.  If you want to learn more about other lake options in California, check out these articles:
Lake Gear
As I spend a lot of time near the water, I have my gear packed and ready to throw in the car.  Here is an idea of what I take to the beach, lake or river.
Easy Set Up Beach Tent –  This is essential since most lake beaches in California do not have shaded areas.  >Check out this great tent option here
Big Portable Umbrella –  Sometimes, we prefer to use an umbrella since we want to sit on a chair verse lying on the floor.  Plus, I find it easier to adjust/move the umbrella to block the sun.  >Buy a beach umbrella
What are your favorite lakes in San Diego?